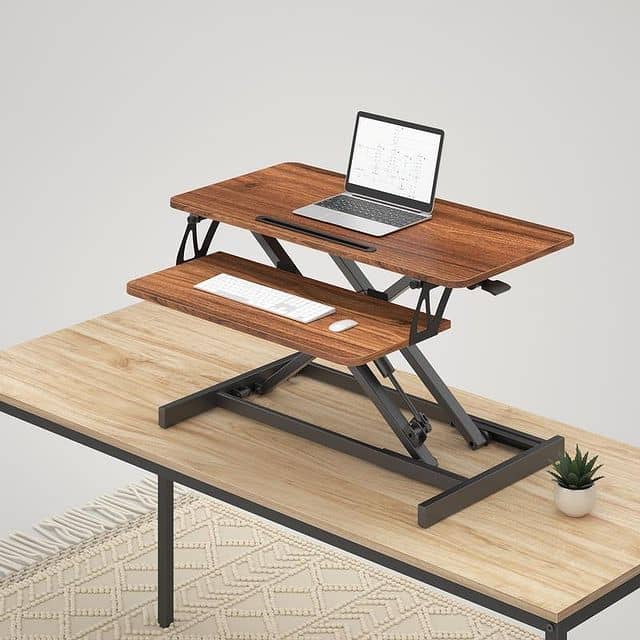 Standing desk converters can offer a better working space without the need to purchase an entirely new table. It's a more economical and space saver solution.
Standing desk converters are the best alternative to the more expensive standing desks. Also called toppers, these portable desks offer more flexibility. If you're just transitioning to a standing working position, a standing desk converter is an ideal choice. You just place it on top of your desk so you can still make use of that old desk that you love.
Furthermore, these converters are compact. So it's ideal even for small rooms with tight spaces. More so, if you need to use two monitors. Standing desks with dual monitors give you the needed working space with a lesser footprint. And desk converters are easier to set up too. Some brands are delivered fully assembled already.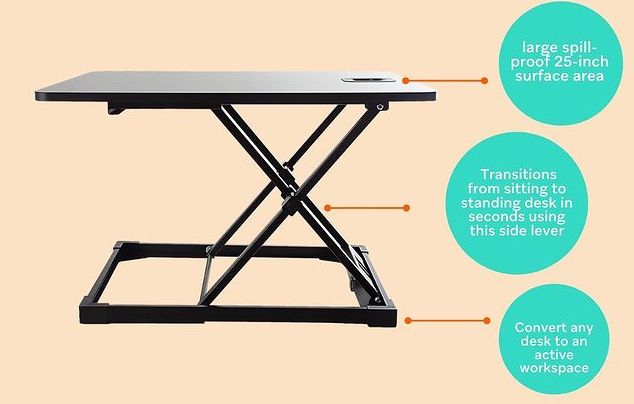 We've rounded up a list of the best standing desk converters that you can buy for your home office this 2023. Let's check it out.
This 2 tiered adjustable standing desk converter gives you a lot of working space. Even the keyboard tray can accommodate more than just your keyboard.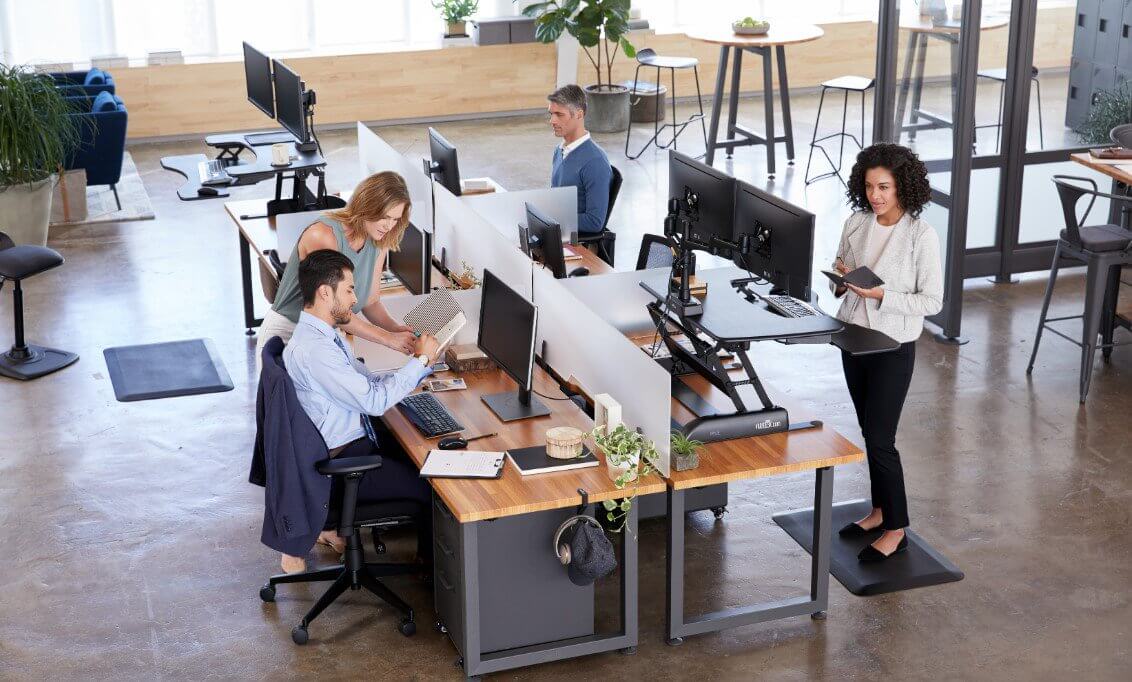 You'd enjoy the wide working area of the Varidesk Pro Plus. It can hold two 24 inch monitors at the same time. And we love how the top tray is wide and deep at the same time. Even with two monitors on the top tier, you still have an extra space at the side where you can write some sticky notes.
About Stability and building, it can wobble just a bit when putting some force into it. But it's pretty much stable. And the desk height is adjustable, the Varidesk Pro Plus has a rowing lift and spring assisted lift. 
And the base is fitted with rubber stoppers. It's an anti-skid feature that comes in very handy.
The top tier can extend up to 10 inches when fully extended. It actually has a lot of adjustment levels, 11 of them. So it's perfect for almost anyone. You'll definitely find a suitable height to work on whether you're on the shorter or taller side.
In fairness to the brand, it made sure that all the inner workings were kept hidden from your view. There are no parts that are poking out. All were covered with plastic panels bearing the brand's logo. And all the parts are black. So from the screws to the tabletop, it has cohesiveness in color. 
It's so easy to transition from sitting to standing position. Anyone who is looking for a more working area should get this standing desk converter. 
Pros

Comes in fully assembled

Offers a wide working space

Smooth adjusting from sitting to a standing position

Quite stable and durable

Cons
Eureka Ergonomic
A large working space plus a quiet desk will let you work in peace.
The ultra-quiet lift system makes Eureka one of the best standing desk converter in the market. It has an X-lift system that transitions directly from a sitting position to a standing one.
The working space is also something to not be shy of. It has a spacious 31-inch tabletop. And offers a decent working space that doesn't feel too cramped up. And oh, you can fit 2 monitors on it.
It has a weight capacity of 50 lbs and we find it quite stable too. The construction is rather solid and somehow feels like it's built like a tank. 
The Eureka standing desk can reach up to 19 ⅛ inches at the highest setting. It takes about just 15 seconds to fully extend the desk to its maximum height. It's a smooth and quiet transition. There's no banging of the desk on the working surface. It's also equipped with a rubber stopper that prevents the desk from banging on the surface when it's adjusted to the lowest setting. 
The design comes in an all-black finish. But what stands out with the design is that it has a built-in slot that can hold your phone while it charges in the USB port.
It's a perfect standing desk converter in an office or cubicle where you really need to keep things quiet. Transitioning from sit to stand position won't bother anyone. And you also have a large working space.
Pros

Features an ultra-silent motor

Solid and sturdy construction

Offers a wide working area

Has a buffer system

Cons

Can be too bulky for some
This ergonomically designed standing desk converter is designed to lessen back pain.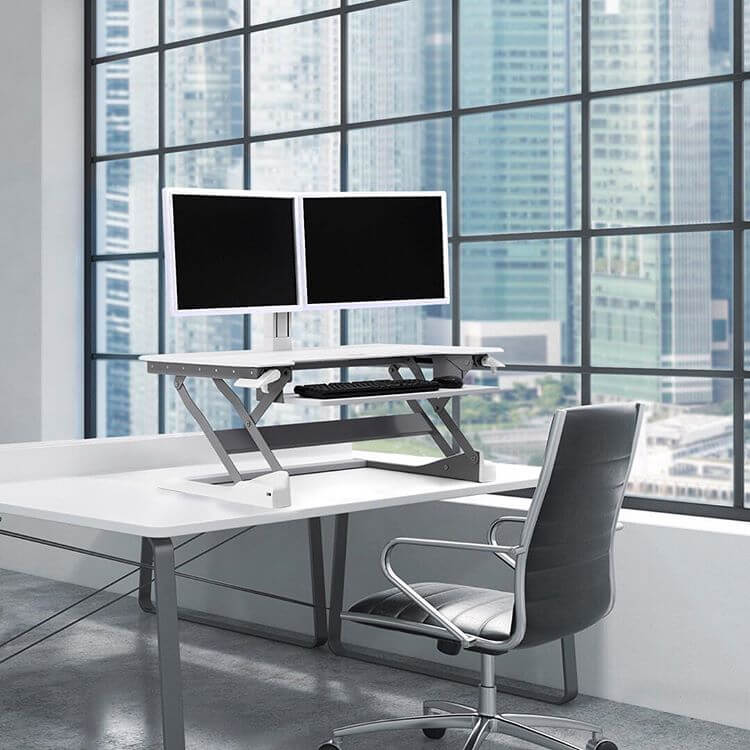 It's one of the most adjustable and ergonomic standing desk converters for 2023. Even the keyboard tray can be adjusted. So you have lots of options and you'll definitely find the best working position for you.
Though it's a post and base standing desk converter, you will still need to clamp this one on your desk.  
It also boasts of a counterbalance mechanism at the back. So it's pretty stable at whichever height. 
Adjustability
The Ergotron work desk is one of the highly adjustable sit-stand desk converters in 2023. It also has a great focus on ergonomics, so you're sure to save your back from a lot of pain. 
The bottom keyboard tray can also be tilted. You can actually choose where to place your keyboard since the two tiers are unoccupied. So you can choose the best position of the keyboard for your height.
It's also easy to adjust the desk. All you have to do is push it up and down to your desired height. 
Design
It boasts of a vertical design that's tilted away from your back. It has a base mount where you can place your monitor. And you have two tiers, one for the keyboard and another one for other office supplies. 
You have 4 color options you choose from- river walnut, black, white, and mahogany. The pristine look of the white one comes with a silver base. This one looks quite stylish.
Why should you buy it?
If you're looking for a dual ergonomic standing desk, this is a great option for you. 
Pros

A highly adjustable sit-stand desk

Stable and feels solid

It's an ergonomic standing desk converter

It will only eat up a small space on your table

Easy to adjust

The keyboard can be lower below the desk

Cons

The keyboard tray is a bit small

Quite challenging to assemble
This product is one of the most stable standing desk converters on our recommendation. It seamlessly transitions from sit to stand position without any wobbling. Even with numerous adjustments, this product still maintains its integrity. It can last up to 6000 adjustments without fail.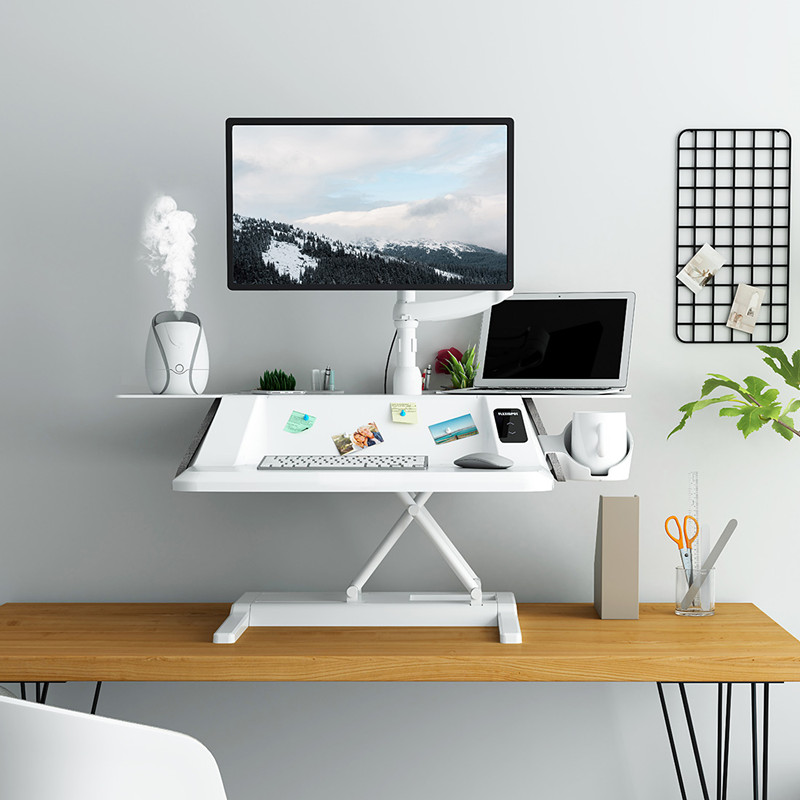 One of the biggest advantages is the design of its keyboard tray. This removable keyboard tray is durable. Hence, even if it's set at any height, it remains still and stable. You won't experience any shaking when you're using the keyboard.
And unlike other brands that tend to shackle when setting at the highest level, this keyboard tray won't. In fact, it still maintains a stable and even typing surface. Plus, the keyboard tray is quite roomy too. You can even place your cup of coffee beside your keyboard and still have a lot of extra space.
Furthermore, the Flexispot M2W features 12 variable height settings. So it's easy to find a height that works for you well. But do take note that the desk tilts a bit forward. So it's best for spaces with a bit more room.
Also, it entails a gas spring system. This Makes transitioning smooth and easy.
Overall, this product is one of the most stable-standing converters in the market today. It can support weight up to 35 lbs. But expect no wobbling or bouncing at any point.
Pros

Quite stable

Variable table height adjustment

Very easy transition from sitting to stand

Easy to assemble

Compatible with most ergonomic monitor stands

Cons

Not recommended for tight spaces

The desk for the monitor is quite small
Where to buy
Flexispot Classic M2
It may have the features that you're looking for in a standing desk converter. From the large working area, a larger keyboard tray, and decent stability, it's a nice addition to your home office.
This two-tiered standing desk converter has two gas cylinders on each side. It's quite easy to transition or to change the height adjustments. And won't make any annoying noise. 
Stability and build
The desk platform is made of medium fiber particleboard. This material is not flimsy though it's not the most durable one. But the brand made use of a thicker particle board to render the standing desk converter more durable. So there isn't any flimsy plastic feel. 
In terms of stability, it has a nice and fluid transition. It's quite silent too. The straight up and down lifting pattern is quite fluid. And to keep the desk from sliding off your table, it's fitted with rubber stoppers. 
The table doesn't lay flat on the desk. So you can expect just a bit of bounce if the desk is positioned at the lowest level. A small side-to-side movement is still considerable and won't affect your productivity. 
A lever found at the right side of the desk can be used to adjust the desk height. It's a no-brainer to adjust it. You just need to hold and press the lever to adjust it up and down. 
And once you've reached your ideal desk height, just release the lever and it will automatically lock in. And you should be hearing a click, that's the cue that it's safely locked in place. 
The design looks basic but it doesn't look cheap or feels flimsy. And the keyboard tray can be removed if you don't want to use it. 
With 12 adjustment heights, it can work for almost all individuals. And the huge working space is also a bonus. 
Pros

Easy to assemble. You don't need any tools or screws

Has more height adjustment settings

Comes in a lot of color options

Has an easy lift up and down mechanism

Offers a wide working space

Cons

Doesn't have infinite lock positions
Where to buy it
Compare Flexispot standing desk converter: 
The best standing desk converter might be too much for your budget. We've found just the perfect solution for you. This SHW standing desk converter is a steal for its price tag.
It's the best option for those looking for a cheaper but functional standing desk. An upgrade can wait if you have too much on your plate but you still need a functional sit-stand desk converter.
It comes in two sizes 32 and 36 inches. Even the 36-inch desktop is affordable for its large working area. The top tier is large enough to fit two monitors
This affordable standing desk converter can hold up to 30 lbs of weight. So it's not the most durable, but it's not flimsy either. So it fits in the mid-range tier when it comes to stability. But the steel frame legs are quite sturdy. It's at par with some of the more expensive standing desk converters.
The desk can be lifted to 11 inches while the lowest height setting is at 4 inches. So that still provides a good range of desks enough for most people to comfortably work. 
About the design, it's made of a stainless steel frame with an X-shaped design. Though it might look just basic, it has a contoured edge at the center. This makes it easier to fit in a keyboard in there and allows for a bit more range of motion. It also features a built-in tablet or phone holder, quite convenient right?
It's also available in three colors black, white and gray. So you still have color options albeit it's a very cheap price tag.
It was darn cheap! But it still has a large working area and decent stability. The little wobbles won't hamper your productivity
Pros

Has a large top tier desk

Offers three color options

Has a really cheap price tag

Boasts of a contoured edge

Has a built-in tablet holder

Cons

The keyboard tray is quite small
Where to buy
Duke Vesa
If you stand taller than 6 feet, you have to look for a standing desk converter that can accommodate your taller stature. Otherwise, it can put a strain on your neck and can be too uncomfortable for oyer arms. 
The Duke Vesa has height adjustments up to 17 inches this is comfortable for those who stand extra tall at 6'5". It has a wide range of height adjustments for the monitor as well, up to about 33 inches. This allows taller people to find that sweet spot where they are most comfortable.
Also, it is quite solid and well built. It has several components that are made of thicker steel material. Just be ready to do a bit of lifting when assembling this standing desk converter because almost the entire unit is made of metal.
Quite stable compared to other standing desk converters. But at the highest setting, you can experience a bit of a rocking motion. But compared to other brands meant for taller people, it's still the most stable.
In terms of adjustability, it's very easy to switch from a sitting position to a standing position. Height range runs from 26-43 inches, which can really accommodate taller people.
The BTOD Vesa may look a bit bulky and can eat up space on your desk. By the all-metal unit looks like it means serious business.
Pros

Durable and well built

Has a wide height adjustment

Easy to assemble

Offers an extra space for some of your office supplies

Comfortable for taller people

Cons

Can consume a lot of space
This dual-monitor converter may have the most ergonomic features on our list. It also offers customizable options so that you can work with the utmost comfort.
To start with, it features an adjustable keyboard. So you can conveniently change the angle of the keyboard to conform to your preference. This is also called the sloping keyboard. And it's a nice treat for your hands and wrists.
Another great feature is the unlimited height adjustment. With its maximum height of 20.5 inches, it has the most variable height settings. And it's quite easy to adjust too.
And finally, it has a grommet hole where you can easily screw on an additional monitor arm. Thereby, maximizing your working space.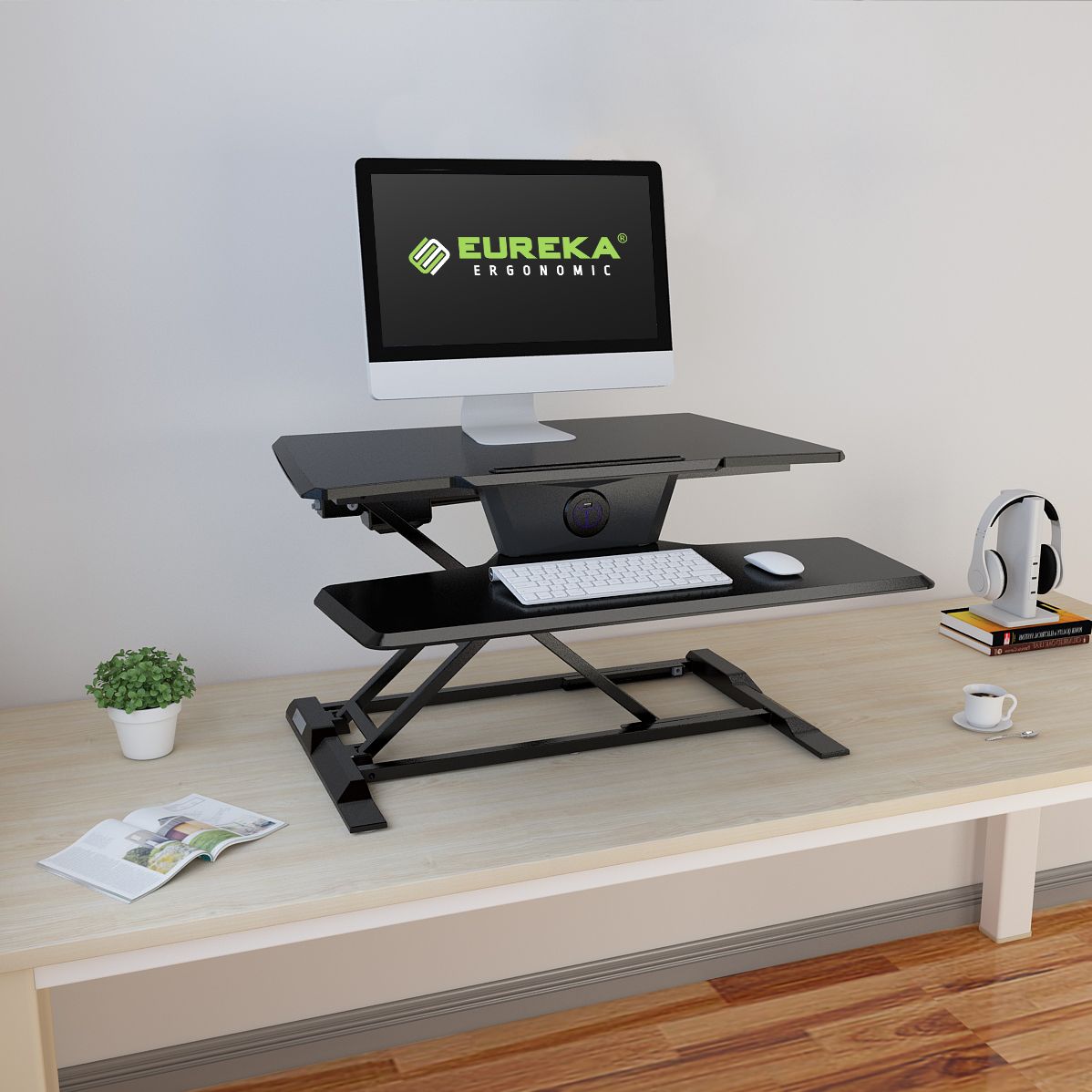 Also, it has a decent weight capacity of 35 lbs. And it doesn't wobble and is quite stable too.
All in all, this product can be an upgrade from your old standing desk converter. If you're willing to pay a few more bucks for the added features, this will serve you well. But the added costs are all worth the extra convenience that you can get.
And it would look chic in your home office with its compact and slim profile. All thanks to its hidden spring design.
Pros

Compact and low profile design

Ergonomic design

Customizable

Cons
Where to buy
This standing desk converter is perfect for those who dislike DIYs. it comes in fully assembled so you don't have to install or set it up.
It also has features that you'll surely find very convenient.
Firstly, it boasts of a sliding keypad tray. What sets it apart is that you can veer it a little bit further away from the monitor. This could save you from eye strains.
Secondly, it's easy to adjust the height of the desk. All you have to do is squeeze the two levers on each side and pull them up. And it offers 5 variable height settings ( 6.5-16.5 inches)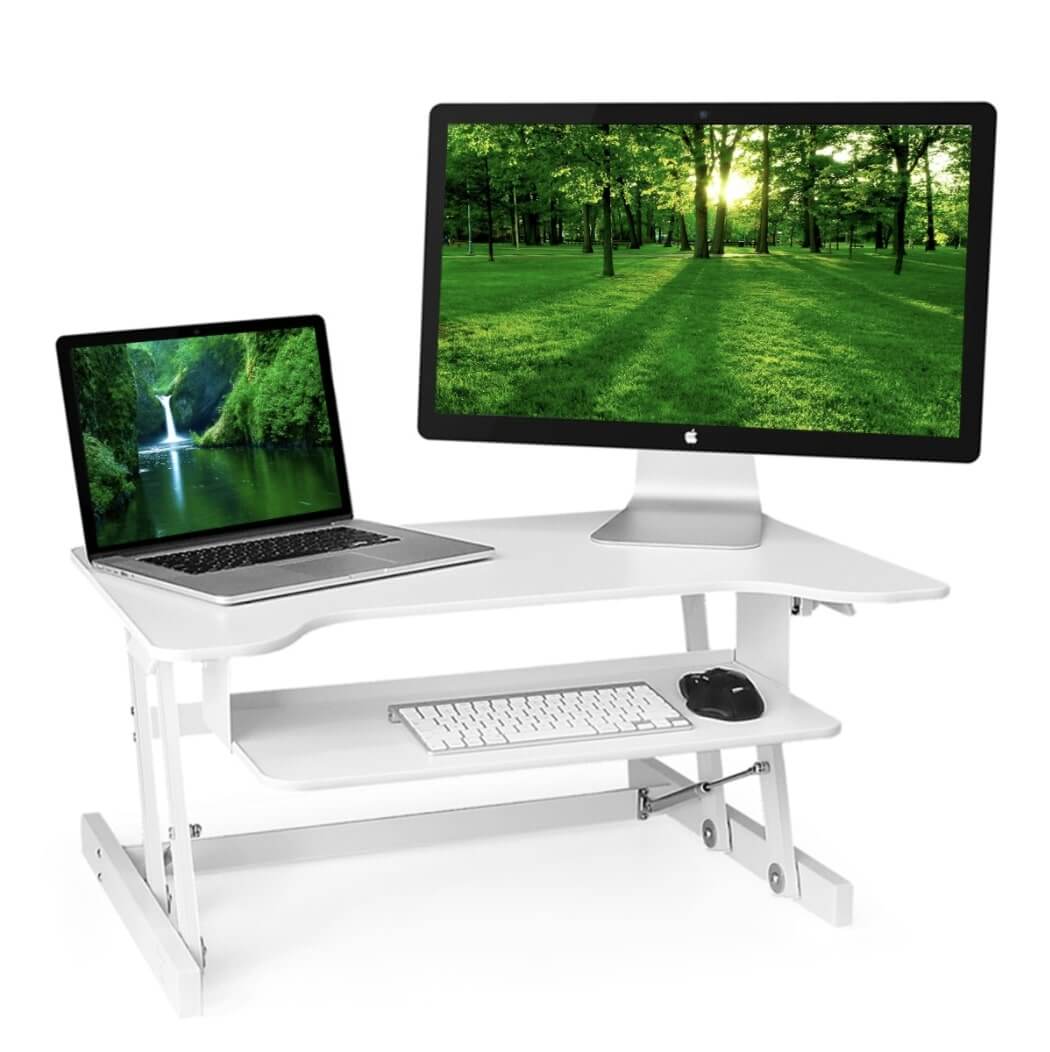 In addition, this standing desk converter is also comfortable to work on when seated. Hence, it offers a smooth transition from sit to stand.
And lastly, this product is quite durable. It has a weight capacity of 50 lbs. And the frames are made of stainless steel with a polished finishing. You can even learn a bit of your weight and everything will still be on the table.
In a nutshell, it's a convenient standing desk converter that comes in fully assembled. It's perfect for those who do not have the patience or the basic DIY skills.
Pros

Versatile

Sliding keyboard shelf

No need for installation

Sturdy

Cons

The keyboard shelf is quite small

A bit heavy
Where to buy
Check: https://www.amazon.com/Standing-House-Trade-Adjustable-Retractable/dp/B019GTZ5ZA/
LOCTEK LXR48
Measuring 48″, this standing desk converter offers a larger workspace. The top shelf offers a lot of working space. And even with two monitors, it can still accommodate more office supplies.
And the keyboard shelf is quite roomy too. It also has a unique U-shape design. And this opens up more space for you to access your keyboard. Hence, it would make you feel that you're working on a real desk instead of a converter.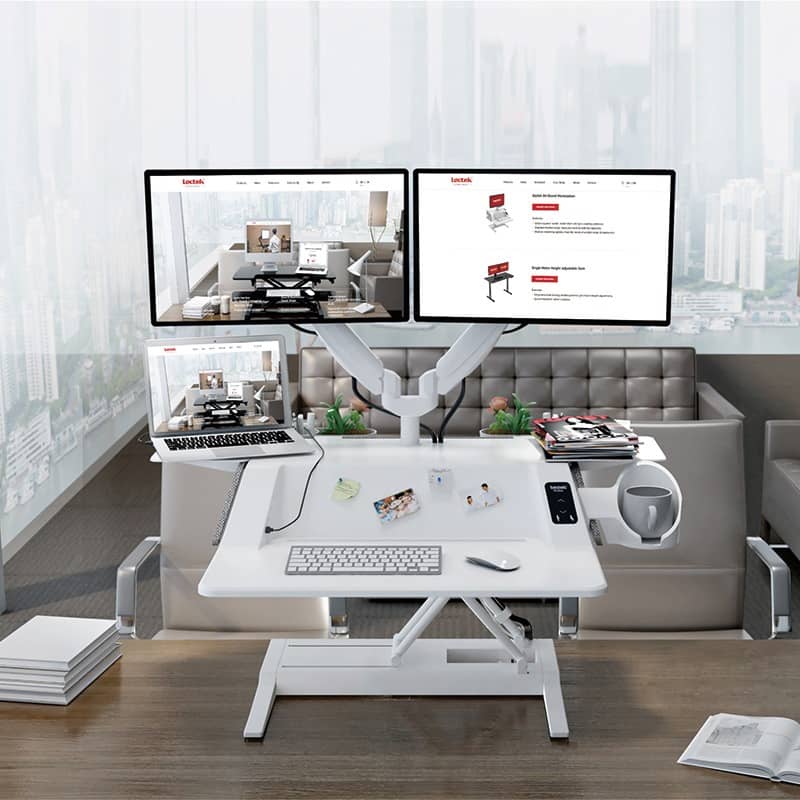 Another advantage of the product is that it makes use of a low gas spring to change for easy lifting. This type of lift system is quite easy to use. And you can choose from 12 variable height settings. And it doesn't tilt back nor forward when you adjust it. It holds its own position, thereby maintaining a smaller footprint.
And you can get pretty organized too. It features USB ports for your convenience. You can also charge your phones via the ports.
You'll also love how solid it looks and feels. With a weight capacity of 45 lbs, you have more allowance for additional office supplies.
In addition, it comes in fully assembled already. So all you have to do is unwrap it and it's ready to use. It saves you time as well, especially if you're not Mr. Handyman. Not everyone has basic DIY skills nor the patience for it.
All in all, it's a spacious standing desk converter that's perfect for tight spaces. And you'd be happy to hear that it operates quite silently too.
Pros

Offers a larger working space

Operates silently

Ideal for tight spaces

Has USB ports

Comes in fully assembled

Cons
This SIMBR standing desk converter is built for the big league but with a lower price point. This product is spacious enough for a complete computer set up. Along with two monitors, it can also accommodate a laptop and other office supplies. And yet there is still plenty of room for some more.
Even the desk space is still roomy. Everything about this product is spacious. And the keyboard shelf is no exception. Thus, this offers a more comfortable working space. Especially if you have tons of office stuff. You may also opt to remove the keyboard shelf if you're not going to use it.
Another great feature of this product is the beveled edges. Both the upper and lower shelf have curved edges. It has an ergonomic design too. Thus, it offers a great angle and position for your arms.
Furthermore, it's quite stable and won't slip off your desk. The frames are built from stainless steel. And they are equipped with leg protectors, making them slip-resistant.
Also, this adjustable standing desk converter can accommodate taller people up to 6'2 feet in height. And it's quite easy to change the desk height. You just need to squeeze the lever located on the right side of the desk. Then lift or push it down to reach your desired height.
It makes use of a dual gas spring force. Hence it's safe and easy to adjust the height of the table
In conclusion, SIMBR standing desk converter can give you a spacious work area. And it's ergonomically designed too. So you can expect maximum comfort. Furthermore, it also has one of the most competitive prices in the market today.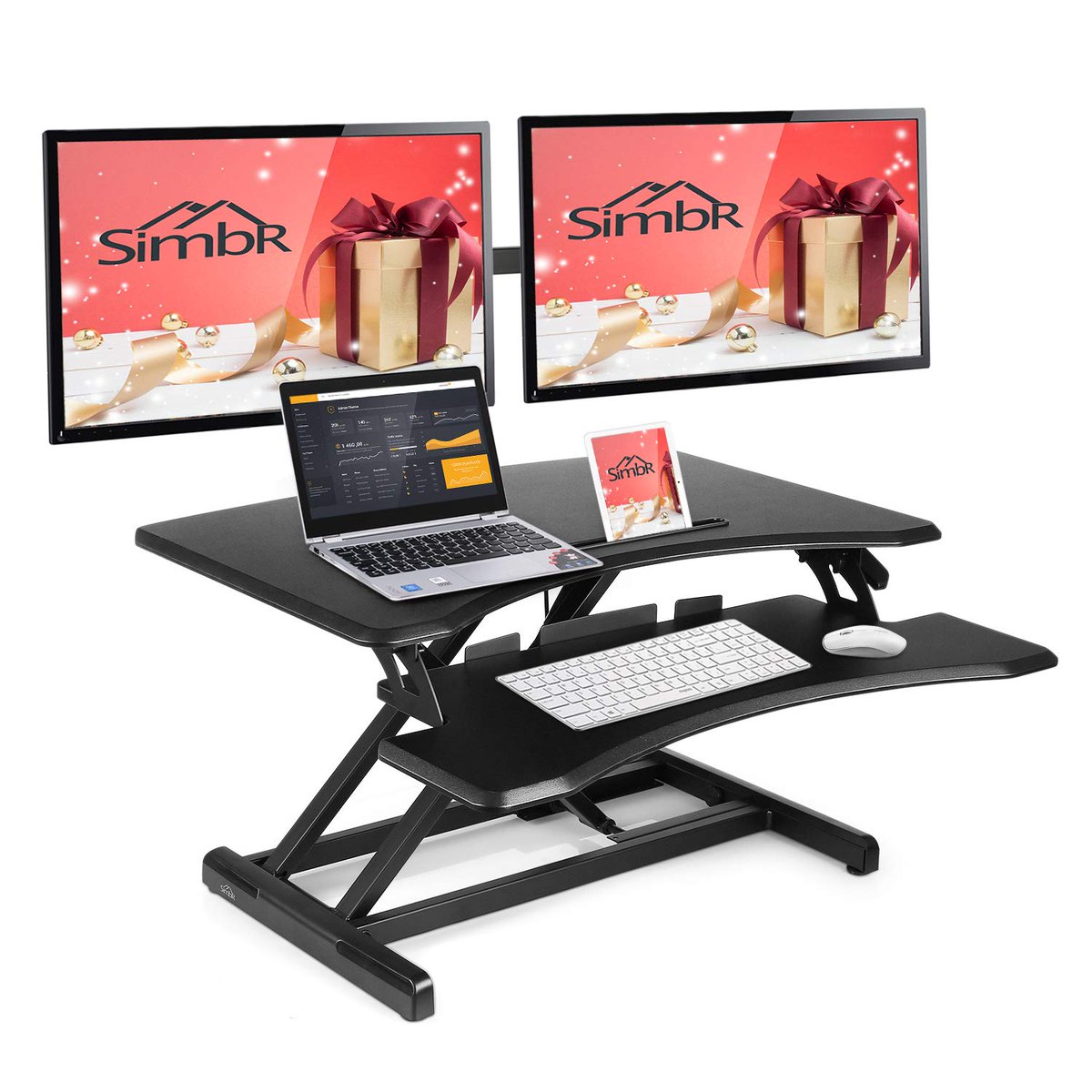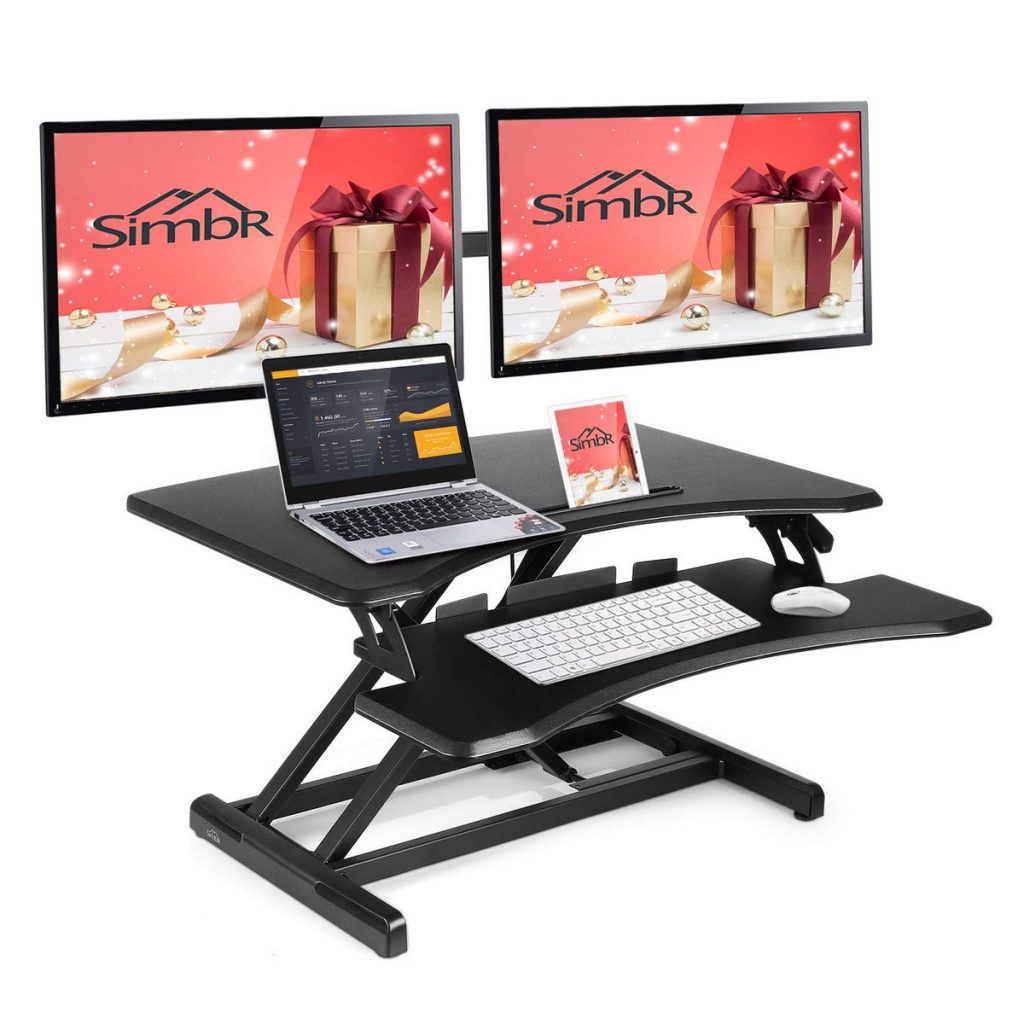 Pros

Ergonomically designed

Has adhesive strips for wire management

Spacious shelves

Removable keyboard tray

Excellent layout

Cons

Not that comfortable to use when seated
Where to buy
Check: https://www.amazon.com/SIMBR-Adjustable-Converter-Sit-Stand-Workstation/dp/B07ZQ9FKM1
Ready Desk 2
This wooden standing desk converter is a breath of fresh air. It's quite versatile and can be used in more than two ways
. This lovely wooden standing desk converter is made in the USA. So you can be assured of high-quality materials. And the craftsmanship reveals a lovely standing desk converter that has a certain appeal. It would look lovely on your desk!
It offers a variety of options where you can place your monitor so you can find that sweet spot. It's also quite comfortable even in a sitting position.  And it's quite easy to configure and navigate the desk. So it wouldn't take much of your time to find the right position for your monitor. 
It's quite stable and has a weight capacity of 75 lbs. But it can handle a bit more than its weight capacity.  The Ready Desk 2 is enforced with a shake-free cross birching, so you have no issues with wobbling or rocking.
The Ready Desk 2 features 10 height-adjustable options. It's also quite comfortable for people who stand from  5'0' up to 6'3", so that's quite a wide range. So most people will find it quite comfortable to use.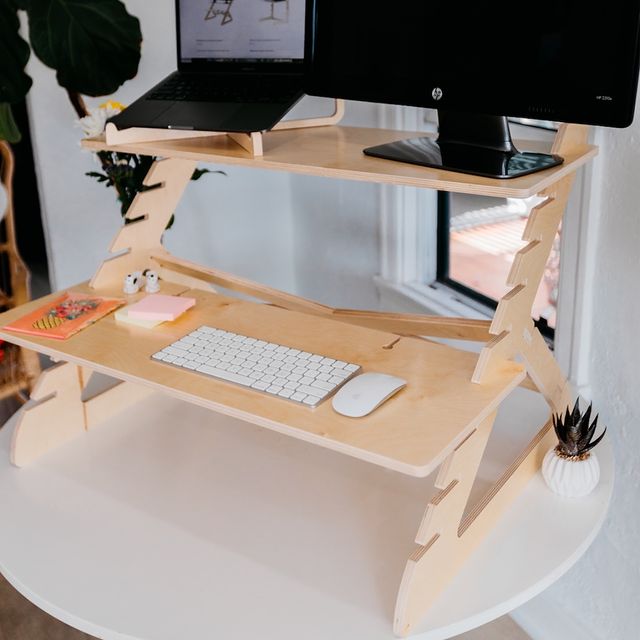 It has a minimalist, simple, yet classic design. This standing desk converter is made of engineered wood, which is a more sustainable source.
 It consists of just three parts so you'd also have no problem in the assembly. You won't be confused with screws and parts that you need to attach together. 
The pale birch wood with grain lends it a charming appeal. And you also have an option to upgrade to a keyboard platform. 
Why should you buy it? Well, it's versatile and it makes use of high-quality material. And it's made in the USA too.
Pros

Has cable slots

Wide height adjustment range

Mae of  sturdy wood material

Easy to assemble

Doesn't wobble

Cons

Some units may have rough edges
Where to buy this desk: https://amzn.to/3kjIvdd
The Best Stable Stand Up Desk Converters for dual monitors
If you need a standing desk converter that will accommodate a more elaborate work setup, you've come to the right spot. We have listed our top 3 favorite standing desk converters for dual monitors. Let's see what each unit has in store for you. 
Innovative Winston E
The Innovative Winston is configured in a rather different way. This unit is a column-style standing desk converter. Though this design may not be everyone's cup of tea, it can be very useful, especially for people. It can provide dual ergonomics that are not common in desk risers.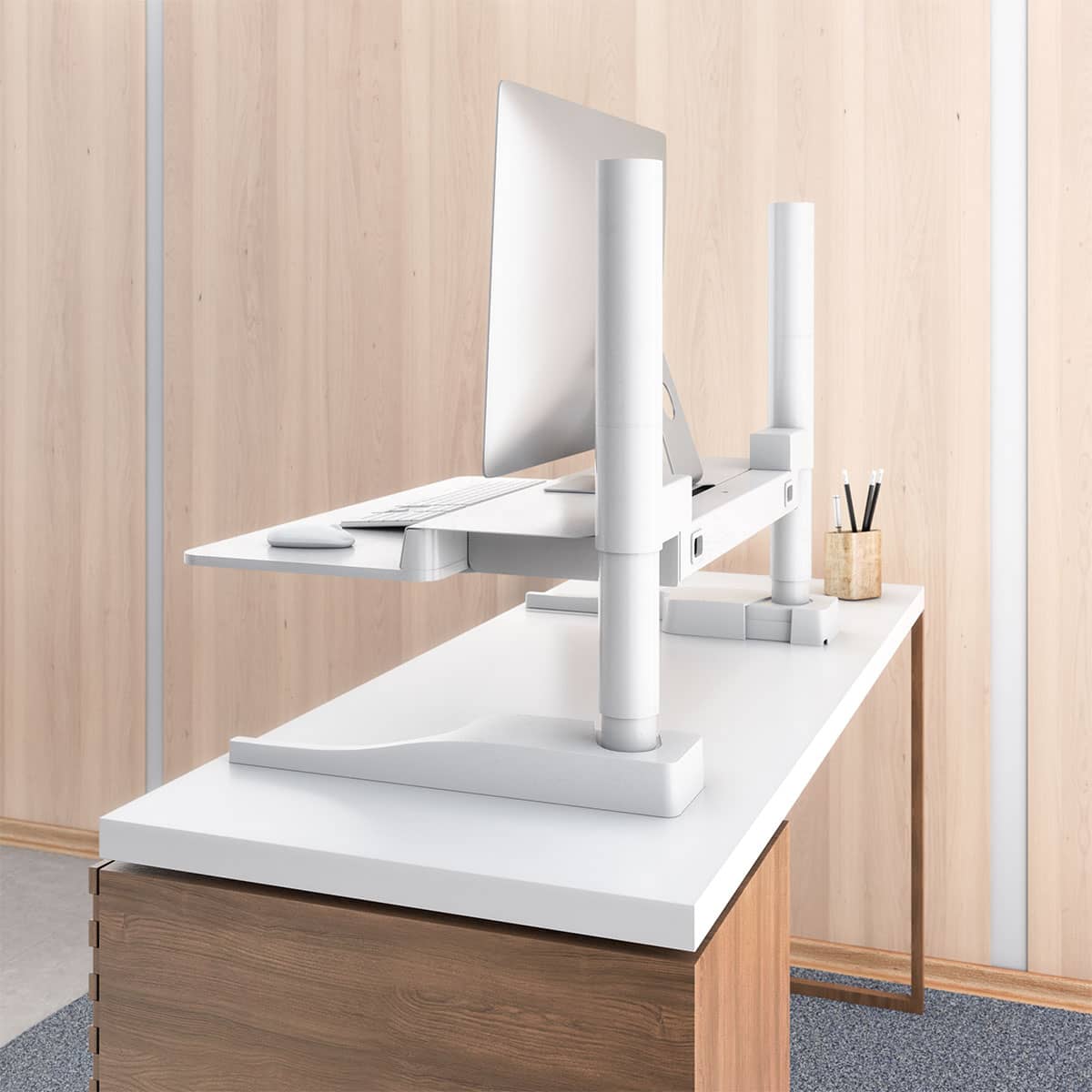 You will be able to change the height of the two monitors separately from the working space. So this will give you more liberty to adjust the monitors to your preferred height without sacrificing the comfort of your wrists and forearms when using the computer for a longer period.
This is one of the few desk risers that uses such a mechanism. The vertical adjustment can accommodate those who stands over 6 feet. 
We also find it rather easy to transition. It uses an electric lifting monitor so you do not have to use any force or bear the weight of the monitors when adjusting the height.
And another feature that makes it shine among the other standing desk converters is that you can easily adjust the depth of your monitor. So this is quite ergonomic. Desk risers are notorious for limiting your movement. This unit, however, it's the exact opposite of that. 
Moreover, we find this type of desk riser rather stable. The pole column is very stable and doesn't wobble. And we also love how the desk features a somewhat curved edge. This can help make the writs more comfortable when you're working on your computer for a longer time. 
One of the downsides, however, is that it's not the easiest to assemble. In fact, we had quite a challenging time putting the desk converter together. We even needed to readjust, disassemble, and assemble the desk again just to make sure that everything is aligned. It took us more than one hour just for the initial assembly. So overall, we had to spend about two hours. Unless you got it right away, then over an hour would do. 
So if doing DIYs is not your strength, better have someone put it together for you or better look for another option. Because trust us, it will give you a hard time.
Overall, this standing desk converter is very solid and perfect for taller people. And if you need a dual ergonomic desk riser, this is going to be a perfect choice for you. 
If you need a lot of room on our desktop surface, then this Mount It! dual monitor desk riser should be on the top of your list. 
It's solid enough to be able to hold two large monitors without any issues. And apart from that, the work surface is very roomy. You will be able to place 2 more laptops and still have a hefty room to move around. So if you find your previous standing desk converter too limiting, this is a nice upgrade. The 36-inch wide platform is a lot of room for a basic work setup. 
This desk riser transitions via a gas spring lift. So you will not do any strenuous lifting when lowering or increasing the height of the deks. It's fairly easy that even old folks will be able to do it without any problem.
Apart from that, we are very happy with its price tag. It costs under 300 dollars and yet you will be able to enjoy a decently durable desk with a lot of room to spare. And oh, before we forget, it also has a keyboard tray. And it's wide enough for a standard keyboard.
It is also fairly easy to assemble. So if you find the Winston Innovative very cumbersome to set up, this is a great alternative. The setup is very intuitive that you will not need to read the instruction manual any more. 
And for the bad bits, we find that the working surface is not scratch-resistant. It can scratch. So you have to be mindful of any sharp objects when working on this desk riser. And this might not be a great option if you are taller. The desk does not transition straight up. Instead, it tilts towards the user as it goes higher.  
So it can still go high enough. But the higher it goes, the more it will tilt forward. And this will make the desk unstable and it can topple over.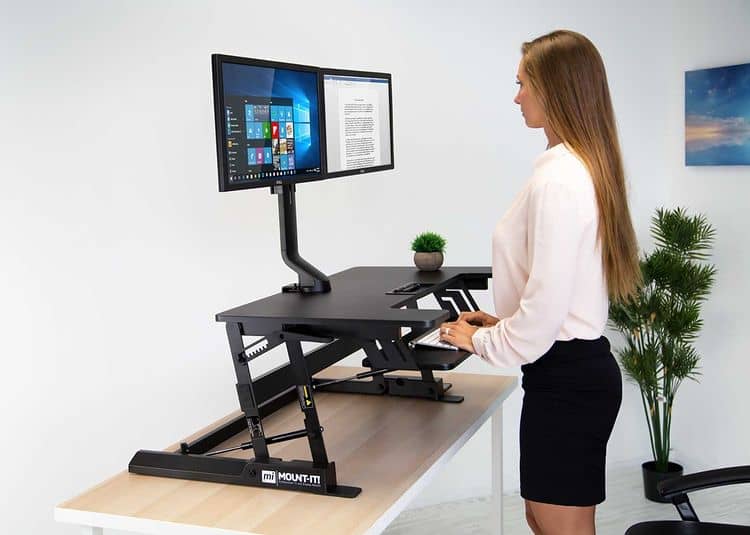 So overall, we recommend this desk riser for average-sized persons who need a lot of room in their working space. If you are taller than 6 feet, the desk will tilt way towards you. At this point, there might be wobbling issues already,
Vertdesk
The Vertdesk converter is our midrange desk riser pick for dual monitors. This may be made in China, but it veers away from low-end China-made desk risers. The Vertdesk is not cheap and flimsy. In fairness to the brand, it belongs to the high-end China-made units. So even if it's not the most durable in the market, it is sufficiently solid and stable. That also makes up for the adorable price tag.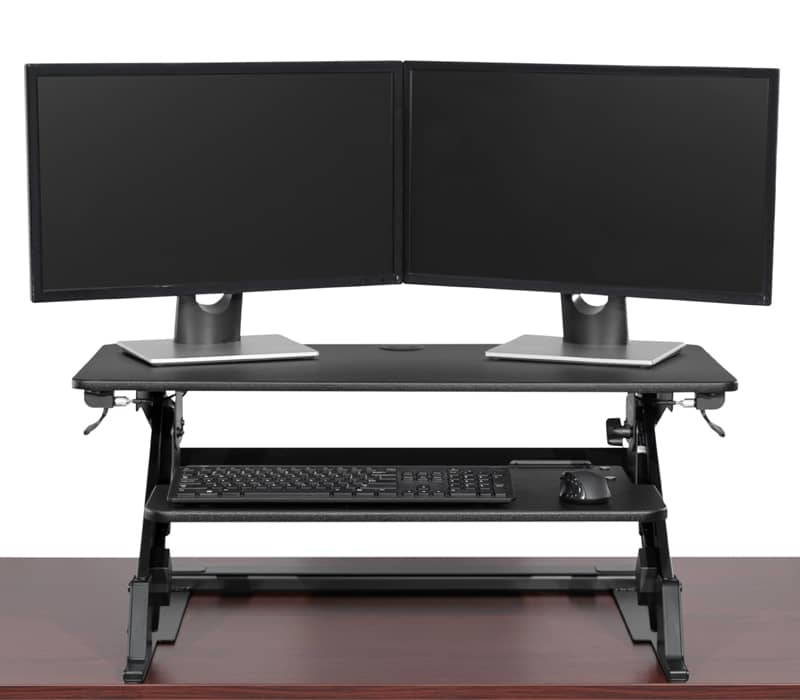 We actually find the metal material rather strong and sturdy. So you will not have any wobbling or shaking instances. It's also rather silent when it operates.
And we were surprised that a desk riser made in China can be solid. We were not expecting that it would have a nice and sturdy built and construction. In contrast to our expectations, this desk riser has a solid construction and it feels well made. Everything is tightened pretty well.
This is also a great option if you do not want to do any DIYs. If the Mount-It! desk riser that we have mentioned above is very easy to set up, this unit does not need to be put together. You can use it straight out of the box. So if you don't want to be bothered with connecting parts A to B, then you'll find this very convenient. 
It's also very light and portable. You'll have no issues changing work locations.
Do take note, however, that this can eat up some space, especially if you set it to the highest desk setting. Like the Mount-It! desk riser does tend to tilt forward as it transitions. That's why we also don't recommend this for taller people. Aside from the desk riser tilting way too forward, it can't go high enough for those who stand above 6 feet.
And of course, when you adjust the surface with the monitors, the keyboard tray also moves. So it has less scope of users and It's not dual ergonomic.
Overall
If you are looking for a desk riser that is dual ergonomics, the Winston Innovative is a perfect choice. It's also one of the best for taller people.

The Mount It! desk riser is very spacious and roomy. It can accommodate a more elaborate word setup. But it's best for use by average-sized people. 

Finally, the Vertdesk is pretty solid and stable. Like the Winston Innovative, you'll never experience shaking or wobbling. It's also quite portable and easy to move from one place to another
When looking for a standing desk converter for dual monitors, stability and no wobbles are two of the most important things that you have to look for. Yes, you also need more room for a more hefty setup. 
And a two-monitor setup is also a more elaborate one. But stability and solid construction shall always be the top priority. And you will never be disappointed with our top three picks!