Standing desk converters can offer a better working space without the need to purchase an entirely new table. It's a more economical and space saver solution. 
We've rounded up 5 of the best standing desk converters that you can buy for your home office this 2021. Let's check it out.
This 2 tiered adjustable standing desk converter gives you a lot of working space. Even the keyboard tray can accommodate more than just your keyboard.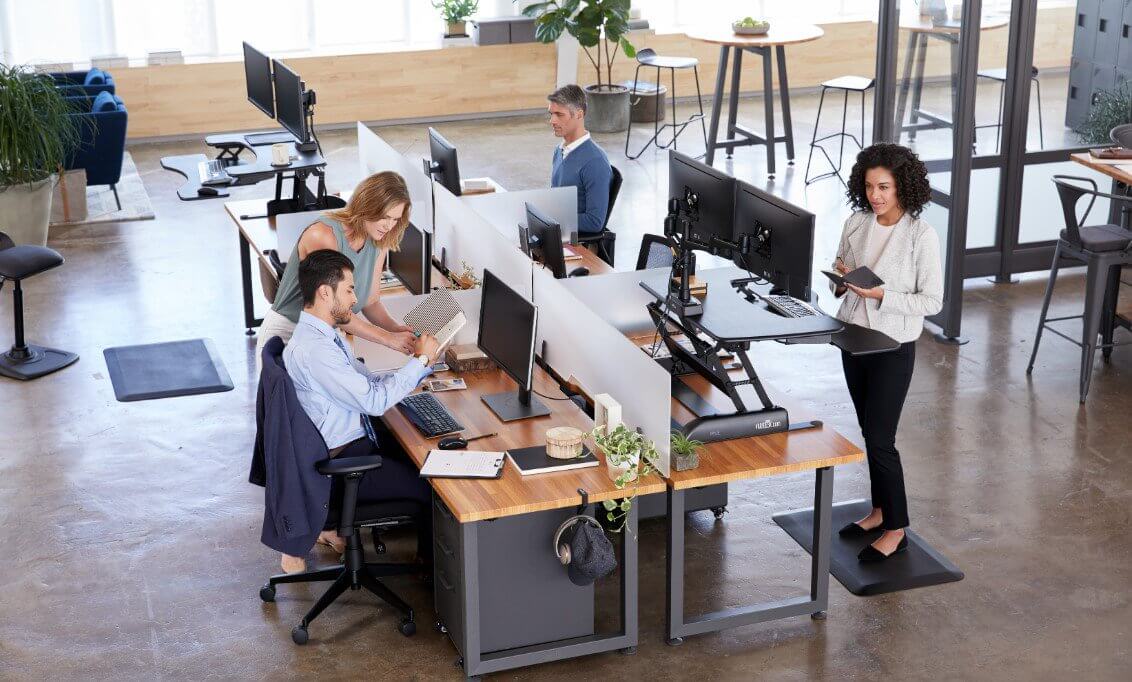 Best feature
You'd enjoy the wide working area of the Varidesk Pro Plus. It can hold two 24 inch monitors at the same time. And I love how the top tray is wide and deep at the same time. Even with two monitors on the top tier, you still have an extra space at the side where you can write some sticky notes.
Stability and built
It can wobble just a bit when putting some force into it. But it's pretty much stable. And the desk height is adjustable, the Varidesk Pro Plus has a rowing lift and spring assisted lift. 
And the base is fitted with rubber stoppers. It's an anti-skid feature that comes in very handy.
Adjustability
The top tier can extend up to 10 inches when fully extended. It actually has a lot of adjustment levels, 11 of them. So it's perfect for almost anyone. You'll definitely find a suitable height to work on whether you're on the shorter or taller side.
Design
In fairness to the brand, it made sure that all the inner workings were kept hidden from your view. There are no parts that are poking out. All were covered with plastic panels bearing the brand's logo. And all the parts are black. So from the screws to the tabletop, it has cohesiveness in color. 
Why should you buy it
It's so easy to transition from sitting to standing position. Anyone who is looking for a more working area should get this standing desk converter. 
Pros
Comes in fully assembled

Offers a wide working space

Smooth adjusting from sitting to a standing position

Quite stable and durable
Cons
A large working space plus a quiet electric desk will let you work in peace.
Best features
The ultra-quiet lift system makes the Eureka one of the best electric standing desks in the market. It has an X-lift system that transitions directly from a sitting position to a standing one.
The working space is also something to not be shy of. It has a spacious 31-inch tabletop. And offers a decent working space that doesn't feel too cramped up. And oh, you can fit 2 monitors on it.
Stability and built
It has a weight capacity of 50 lbs and I find it quite stable too. The construction is rather solid and somehow feels like it's built like a tank. 
Adjustability
The Eureka electric standing desk can reach up to 19 ⅛ inches at the highest setting. It takes about just 15 seconds to fully extend the desk to its maximum height. It's a smooth and quiet transition. There's no banging of the desk on the working surface. It's also equipped with a rubber stopper that prevents the desk from banging on the surface when it's adjusted to the lowest setting. 
Design
It comes in an all-black finish. But what stands out with the design is that it has a built-in slot that can hold your phone while it charges in the USB port.
Why should you buy it
It's a perfect standing desk converter in an office or cubicles where you really need to keep things quiet. Transitioning from sit to stand position won't bother anyone. And you also have a large working space.
Pros
Features an ultra-silent motor

Solid and sturdy construction

Offers a wide working area

Has a buffer system
Cons
Can be too bulky for some
This ergonomically designed standing desk converter is designed to lessen back pain.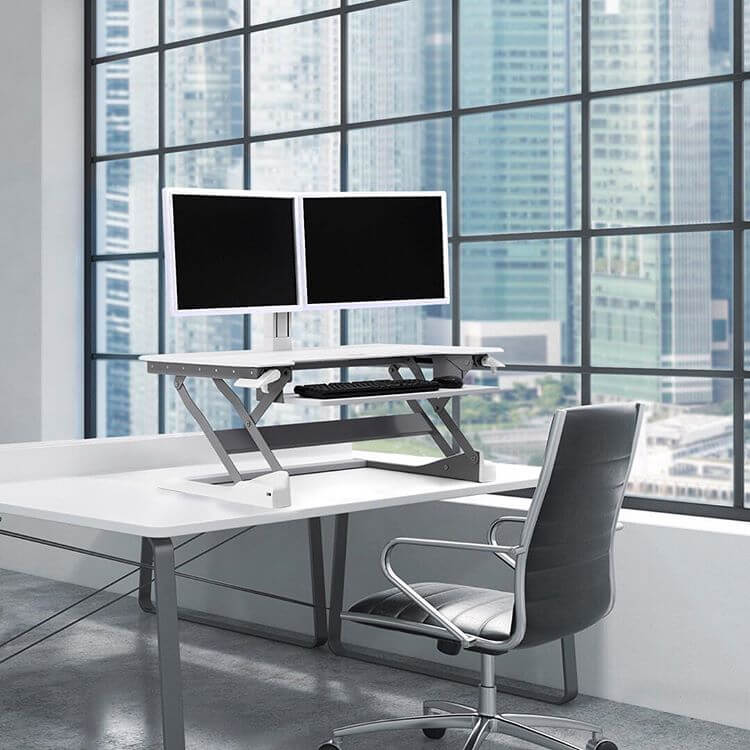 Best features
It's one of the most adjustable and ergonomic standing desk converters for 2021. Even the keyboard tray can be adjusted. So you have lots of options and you'll definitely find the best working position for you.
Stability and built
Though it's a post and base standing desk converter, you will still need to clamp this one on your desk.  
It also boasts of a counterbalance mechanism at the back. So it's pretty stable at whichever height. 
Adjustability
The Ergotron work desk is one of the highly adjustable sit-stand desk converters in 2021. It also has a great focus on ergonomics, so you're sure to save your back from a lot of pain. 
The bottom keyboard tray can also be tilted. You can actually choose where to place your keyboard since the two tiers are unoccupied. So you can choose the best position of the keyboard for your height.
It's also easy to adjust the desk. All you have to do is push it up and down to your desired height. 
Design
It boasts of a vertical design that's tilted away from your back. It has a base mount where you can place your monitor. And you have two tiers, one for the keyboard and another one for other office supplies. 
You have 4 color options you choose from- river walnut, black, white, and mahogany. And I love the pristine look of the white one, it comes with a silver base. This one looks quite stylish.
Why should you buy it
If you're looking for a dual ergonomic standing desk, this is a great option for you. 
Pros
A highly adjustable sit-stand desk

Stable and feels solid

It's an ergonomic standing desk converter

Will only eat up a small space on your table

Easy to adjust

The keyboard can be lower below the desk
Cons
The keyboard tray is a bit small

Quite challenging to assemble
It may have the features that you're looking for in a standing desk converter. From the large working area, a larger keyboard tray, and decent stability, it's a nice addition to your home office.
Best features
This two-tiered standing desk converter has two gas cylinders on each side. It's quite easy to transition or to change the height adjustments. And won't make any annoying noise. 
Stability and build
The desk platform is made of medium fiber particleboard. This material is not flimsy though it's not the most durable one. But the brand made use of a thicker particle board to render the standing desk converter more durable. So there isn't any flimsy plastic feel. 
In terms of stability, it has a nice and fluid transition. It's quite silent too. The straight up and down lifting pattern is quite fluid. And to keep the desk from sliding off your table, it's fitted with rubber stoppers. 
The table doesn't lay flat on the desk. So you can expect just a bit of bounce if the desk is positioned at the lowest level. A small side to side movement is still considerable and won't affect your productivity. 
Adjustability
A lever found at the right side of the desk can be used to adjust the desk height. It's a no brainer to adjust it. You just need to hold and press the lever to adjust it up and down. 
And once you've reached your ideal desk height, just release the lever and it will automatically lock-in. And you should be hearing a click, that's the cue that it's safely locked in place. 
Design
The design looks basic but it doesn't look cheap or feels flimsy. And the keyboard ray can be removed if you don't want to use it. 
Why should you buy it
With 12 adjustment heights, it can work for almost all individuals. And the huge working space is also a bonus. 
Pros
Easy to assemble. You don't need any tools or screws

Has more height adjustment settings

Comes in a lot of color options

Has an easy lift up and down mechanism

Offers a wide working space
Cons
Doesn't have infinite lock positions
Where to buy it
Read more about Flexispot standing desk converter: 
SHW HEIGHT ADJUSTABLE STANDING DESK CONVERTER
The best standing desk might be too much for your budget. We've found just the perfect solution for you. This SHW standing desk is priced below 100 bucks. And it's a steal for its price tag. 
Best features
It's the best option for those looking for a cheaper but functional standing desk. An upgrade can wait if you have too much on your plate but you still need a functional sit-stand desk converter.
It comes in two sizes 32 and 36 inches. Even the 36-inch desktop is affordable for its large working area. The top tier is large enough to fit two monitors
Stability and built
This affordable standing desk converter can hold up to 30 lbs of weight. So it's not the most durable, but it's not flimsy either. So it fits in the mid-range tier when it comes to stability. But the steel frame legs are quite sturdy. So I reckon it's at par with some of the more expensive standing desk converters.
Adjustability
The desk can be lifted to 11 inches while the lowest height setting is at 4 inches. So that still provides a good range of desks enough for most people to comfortably work. 
Design
It's made of a stainless steel frame with an X shaped design. Though it might look just basic, it has a contoured edge at the center. This makes it easier to fit in a keyboard in there and allows for a bit more range of motion. It also features a built-in tablet or phone holder, quite convenient right?
It's also available in three colors black, white and gray. So you still have color options albeit it's a very cheap price tag.
Why should you buy it
It's darn cheap! But it still has a large working area and decent stability. The little wobbles won't hamper your productivity
Pros
Has a large top tier desk

Offers three color options

Has a really cheap price tag

Boasts of a contoured edge

Has a built-in tablet holder
Cons
The keyboard tray is quite small
Duke Vesa – Best Standing desk converter for tall people
If you stand taller than 6 foot, you have to look for a standing desk converter that can accommodate your taller stature. Otherwise, it canp[ut a strain on your neck and can be too uncomfortable for oyer arms
Best features
The BTOD Duke Vesa has height adjustments up to 17 inch this is comfortable for those who stand extra tall at 6'5". It has a wide range of height adjustment for hte monitor as well, up to about 33 inches. This allows taller people to find that sweet spot where they are most comfortable.
Stability and built
This Duke Vesa is quite solid and well built. It has several components that are made of a thicker steel material. Just be ready to do a bit of lifting when assembling this standing desk converter because almost the entire unit is made of metal.
The BTOD Vesa is quite stable compared to other standing desk converters. But at the highest setting, you can experience a bit of a rocking motion. But compared to other brands meant for taller people, it's still the most stable.
Adjustability
In terms of adjustability, it's very easy to switch from a sitting position to a standing position. Height range runs from 26-43 inches, which can really accommodate taller people.
Design
The BTOD Vesa may look a bit bulky and can eat up space on your desk. By the all metal unit looks like it means serious business.
Pros
Durable and well built

Has a wide height adjustment

Easy to assemble

Offers an extra space for some of your office supplies

Comfortable  for taller people
Cons
Can consume a lot of space
Ready Desk 2 – Best standing desk converter made in the USA
This wooden standing desk converter is a breath of fresh air. It's  quite versatile and can be used in more than two ways,
Best features
This lovely wooden standing desk converter is made in the USA. So you can be assured of high quality materials. And the craftsmanship reveals a lovely standing desk  converter that has a certain appeal. It would look lovely on your desk!
It offers a variety of options where you can place your monitor so you can find that sweet spot. It's also quite comfortable even in a sitting position.  And it's quite easy to configure and navigate the desk. So it wouldn't  take much of your time to find the right position for your monitor. 
Stability and built
It's quite stable and has a weight capacity of 75 lbs. But it can handle a bit more than its weight capacity.  The Ready Desk 2 is enforced with a shake free cross birching, so you have no issues with wobbling or rocking.
Adjustability and design
The Ready Desk 2 features 10 height adjustable options. It's also quite comfortable for people who stand from  5'0' up to 6'3", so that's quite a wide range. So most people will find it quite comfortable to use. 
Design
It has a minimalist, simple, yet classic eign. This standing desk converter is made of engineered wood, which is a more sustainable source.
 It consists of just three parts so you'd also have no problem in the assembly. You won't be confused with screws and parts that you need to attach together. 
The pale birch wood with grain lends it a charming appeal. And you also have an option to upgrade for a keyboard platform. 
Why should you buy it
It's versatile and it  makes use of high quality material. And it's made in the USA too.
Pros
Has cable slots

Wide height adjustment range

Mae of  sturdy wood material

Easy to assemble

Doesn't wobble
Cons
Some units may have rough edges
Conclusion
Whether you're looking for the cheapest or the more ergonomic one, you can find one in our list of the best standing desk converters.