Xdesk Air has been in the frontline of the rapid progress of the standing desk market. 
In a world full of standing workstations, it keeps up through it's thinnest desk surface. So thin that it appears to float in the air! Plus, it is the only desktop that is made of solid aluminum. Wow, so much for standing out! 
The moment you unbox this desk, you'll witness how Xdesk has exerted passion and commitment to the art of creating desks with a soul.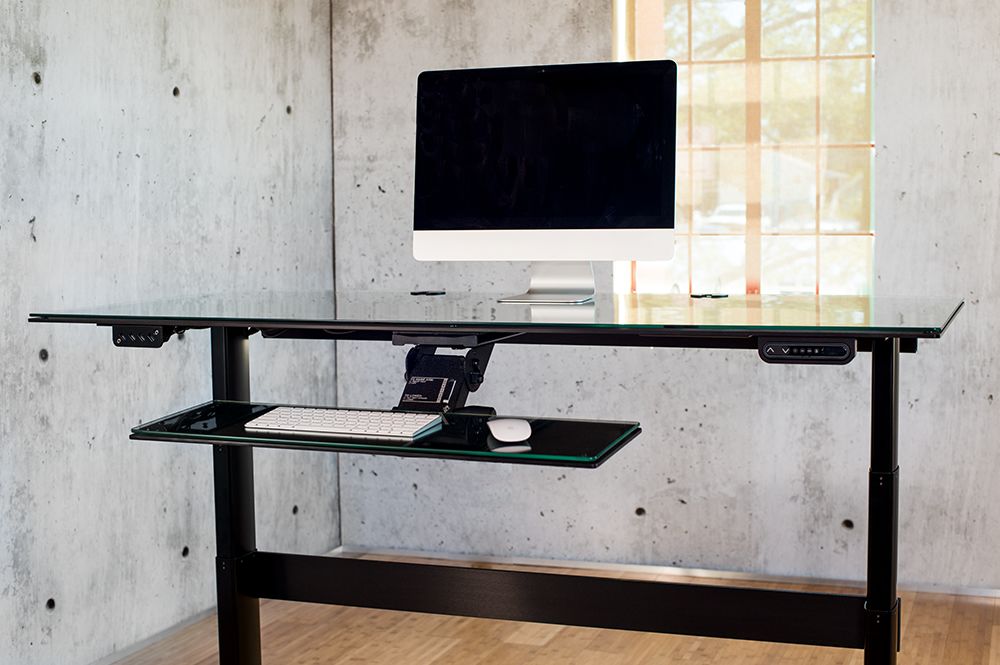 The very popular Xdesk, formerly known as NextDesk, is known for manufacturing high end standing desks. You can visit their page here for all their work of art. 
Accordingly, you might see online that the Xdesk Air is still referred to as NextDesk Air. 
Now, let's go into the specifications of the Xdesk Air.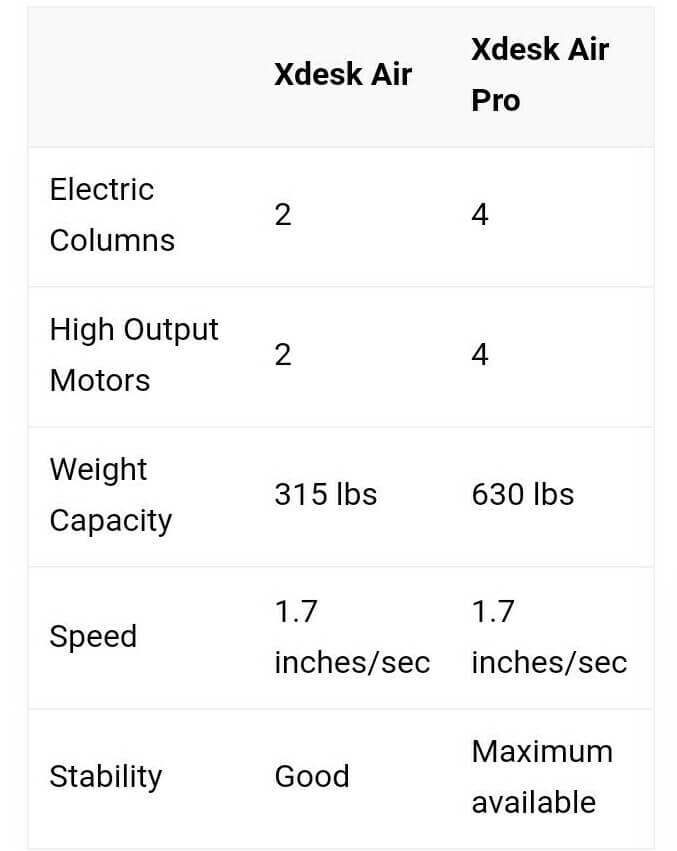 As mentioned above, the most outstanding feature of the desk and one that makes it very unique from others is its ultra-thin appearance manufactured with an aluminum desktop. 
You may ask, why did Xdesk choose aluminum? Although it is more expensive than steel, no other material in the world compares to aluminum – especially when it comes to strength and visual beauty. 
To maximize strength, the Air tabletop surface is machined from a solid piece of recycled aluminum. 
There's more! The use of aluminum is not limited to the desktop. From the legs, the frame, to the feet – the entire standing desk is made out of aluminum. In fact, the material used is the same stuff used in aerospace engineering. To say that it is durable would be an understatement! The choice of material makes it a high-quality desk that will last you in the long run, and with a touch of luxury. 
Do note that the aluminum desktop is topped with a thin layer of tempered glass, providing a stunning visual depth and light refraction to it. 
The heavy build also offers another advantage – minimal wobbling. Indeed, this is a sturdy standing desk. Even with fast typing or gaming on the desk while standing up, users have written testimonies that it's stable without any hint of shaking that other desks are known to suffer from.
The Xdesk Air has a wide range of height adjustability, from 24 inches to 50.5 inches. Optimum height placement is very important when using a standing desk as the height of the desk will significantly influence your posture. The wide height range makes the Xdesk Air suitable for both short people when sitting at the desk to tall people when standing.
To add, because of its sturdiness, Xdesk Air allows support to a generous weight capacity of 315 pounds, sufficient for most users. 
Each aluminum frame is available in anodized or powder coated and in brushed aluminum or solid colors. Brushed aluminum offers a distinction and simplicity that blends seamlessly with this age of technology. But some settings simply call for the purity of white or the boldness of black.
Xdesk offers both anodized and dry powder coating, an advanced environmentally friendly color process that delivers a finish harder and tougher than paint.
Powder coating is a clean process that eliminates the "off-gassing" that may continue for months after a painted desk enters a home or office.
Unlike paints, powder coating contains no solvents and releases zero to very little volatile organic compounds (VOCs) into the atmosphere. Air from the coating booth is so clean that the air can be returned to the facility. Up to 98% of overspray that does not adhere can be reused, virtually eliminating all waste.
Solvent-based paints that contain VOCs may cause watery eyes, sneezing, coughing, and in some cases even an asthma attack. To keep Xdesk clean and pure, an advanced technology called powder coating was chosen.
This standing workstation hits all the right spots – functionality, quality, and elegance – but what makes Air more striking is its sustainability. 
Aluminum is the most abundant metal in the earth's crust. Chosen for all of Xdesks' frames and also the top surface of the Xdesk Air, recycled aluminum is highly sustainable. Aluminum has an amazing life cycle.
Recycled aluminum uses just 5% of the energy required to make new aluminum, with no difference in quality or strength. And since Xdesk is aluminum, it's much more likely to be recycled and reused again at the end of its long and productive life.
Standingdesktopper's pick
ADD-ONS 
Let's discuss here a few favorite add-ons. 
Xdesk has thought of an added solution that is both effective and looks good, accurately named as the artisan crossbar. 
Instead of going across the desk and below the desktop as a standard crossbar does, the artisan bar is attached to the bottom feet of the desk. It then curves up in a 90 degree angle to provide stability while looking like a work of abstract art. It is also made out of recycled aluminum alloy, a strong material that is environmentally friendly and sure to last. Plus, the shape and positioning of this bar makes it a convenient footrest!
If you are the kind of person who likes to accessorize, you will love this add-on of Xdesk Air, as there are quite a few interesting options. My personal favorite would be the Xdesk Pulse.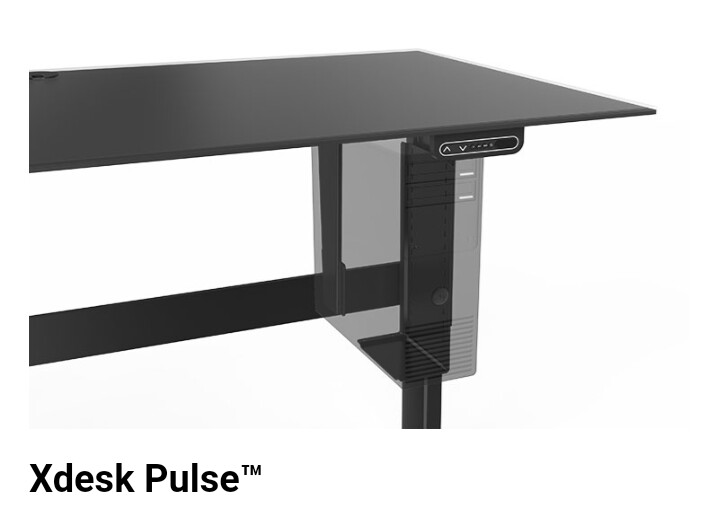 This is a health-oriented computer program compatible with both Mac and Windows that allows you to use the standing desk to meet your fitness goals.
It collects detailed stats about how many times you stand or sit, the duration of standing, and the number of calories you have burned, great for those of you looking to shed a few pounds. Based on your daily routine, you can then set goals in the app to keep challenging yourself towards better health.
Other features of the Pulse program include sit-stand reminders, 3 preset positions, goal reminders and a display of the desk height. Finally, you can also raise or lower the desk from your PC using this app, particularly handy if you don't want to take your eyes off the screen!
Another cool add-on option for the Xdesk Air is the Integrated Harmon Kardon Sound System. If your work requires audio or if you simply just love music, you will know the annoyances of having a sound system on a standing desk. It adds weight, takes up space, and can look messy.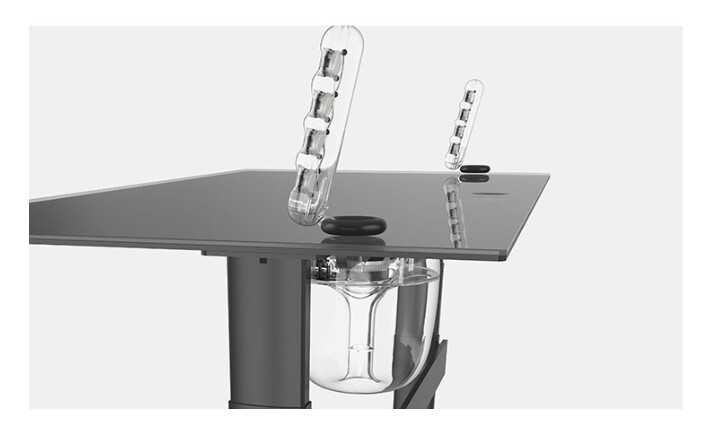 Well, worry no more, with the Harmon Kardon sound system add-on, there will be no more chunky speakers and wires cluttering up your desktop. The subwoofer is set up underneath the desk to direct sound downwards, so the sound doesn't echo off your walls. It is also completely transparent, giving it a subtle, but futuristic appearance.
The NextSpace™ keyboard platform achieves perfect wrist placement. 
NextSpace accommodates any sitting or standing position so your wrists are never strained or overextended. All complicated levers are hidden from view to maintain the clean design of Xdesk. Customized to match your aluminum or bamboo desktop, NextSpace is the secret to ideal ergonomics.
There are more conventional add-ons to choose from such as casters, monitor arm, keyboard tray, anti-fatigue mat, and leveling pads. These help for added comfort, extra stability, and even with fixing uneven flooring while working. 
POSSIBLE DOWNSIDES
I've mentioned a couple of great add-ons to the Xdesk Air earlier. Of course, the pleasure of enjoying the added features will cost you extra. 
Say, for example, the artisan bar. It will cost you $497 extra, to be precise.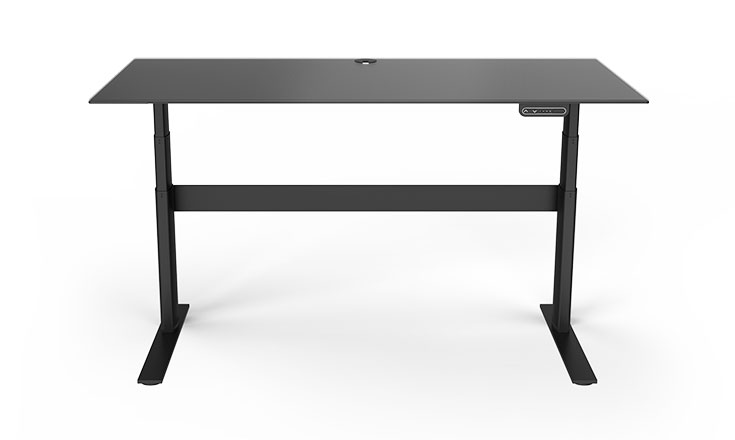 With that being said, even without the artisan bar, the standard crossbar is still a good feature. It's just that there have been complaints about the placement of the standard crossbar. 
Yes, it adds stability, but it can get in the way when sitting down.
Secondly, the functionality, quality, and elegance of Xdesk Air comes with a price. In fact, one of the highest price tags on the market. Just a heads up, it has an official retail price of over $2000. Definitely not something you buy on a whim!
There is a very thin line that actually justifies its high cost to its beauty and quality. One thing is for sure, if you view it as an investment piece to keep with you over the years, it may be well worth it. 
Apart from that, Xdesk also has a monthly payment system, which allows you to space out your payments and ease the burden on your wallet.
Lastly, delivery times are relatively long with the Xdesk Air. The official Xdesk website provides a delivery estimate of 4 weeks, but some reviews have mentioned users having to wait much longer than that for the desk to arrive. Delivery is also charged extra, adding on costs to an already expensive standing desk.
International shipping is also available, as follows: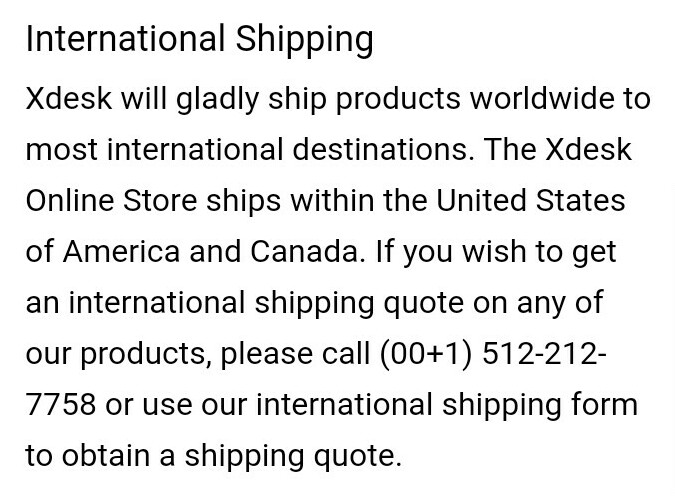 The shipping weight of the Xdesk Air can reach 290 pounds. Therefore, an extra pair of hands is almost necessary; it would be rather difficult for you to handle this package on your own. 
Air is preassembled at the factory. Only final assembly is required, but no worries, it is straightforward and there are plenty of downloadable brochures to help you out.
Preassembly allows the user to remove it from the packaging and complete final assembly in approximately 25-35 minutes.
OTHER XDESK PRODUCTS
If the Xdesk Air's glass tabletop does not sound appealing to you and you are looking for something made out of a more natural material, Xdesk offers a choice of bamboo or rubberwood tabletop with one of their standing desk models, the Xdesk Terra.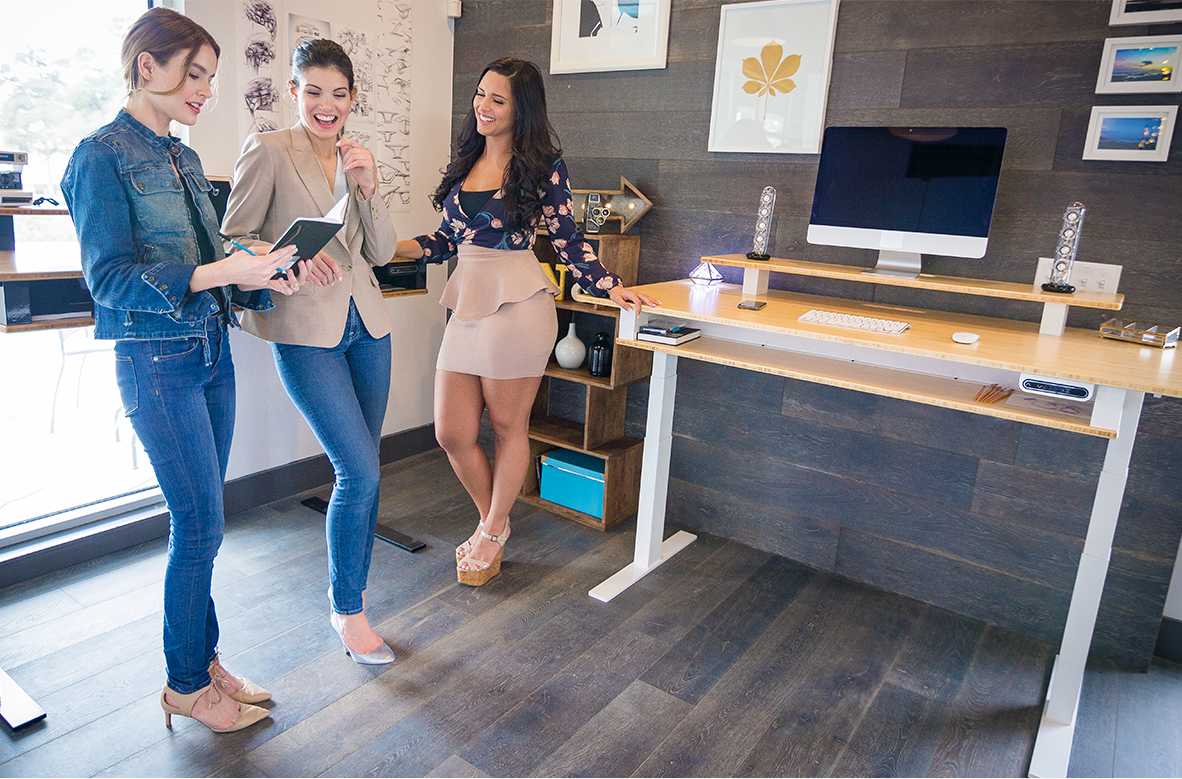 Also, if you are looking for a standing desk with truly outstanding weight capacity, it is suggested to upgrade to the Xdesk Air Pro, which has a weight capacity of a whopping 630 pounds.
If costs are an issue to you, rest assured that there are plenty of standing desks out there that can get the job done at a fraction of the price with very similar specs, such as the Uplift 2 Leg Desk for under $1000 or even the StandDesk Pro Adjustable Height Standing Desk.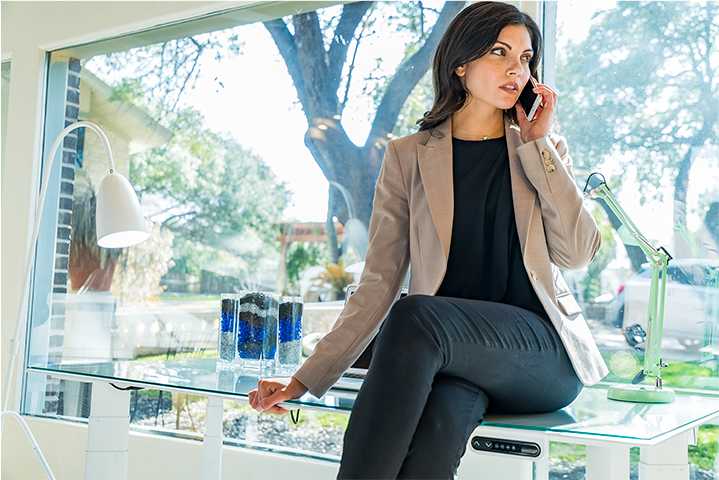 The StandDesk Pro Adjustable Height Standing Desk has similar dimensions, a better weight capacity than the Xdesk Air, but with a slightly slower adjustment speed.
WARRANTY
With the premise that your desk will stand with you through every day, Xdesk provided a best-in-class, 5-year limited warranty. 
This is a reasonable period, ensuring that you are covered should anything go wrong with the standing desk within that time frame.
All Xdesk standing desks are designed and hand-crafted in Austin, Texas. 
CONCLUSION

 
If you are looking for a top of the range high end standing desk that is functional and beautiful, the Xdesk Air is a good choice. This is a premium standing workstation that makes a design statement no matter where you place it and as we all know, luxury is never cheap.
A lot have said that the desk itself is high-quality and certainly a top range standing desk. 
The question you should ask yourself is whether or not you can find the same quality for a cheaper price. Also, are you willing to buy from a brand which has had some negative reviews surrounding their deliveries and customer service?
In the end, the concerns have nothing to do with the integrity of the desk. 
Ultimately, the choice is up to you and your expectations from your standing desk. Do you need something truly artistic and beautiful regardless of cost? Or are you in the market for a mid-range model that looks good, functions well, but doesn't break the bank?