Kids love to fidget and move around. A standing desk allows them more movement while they're studying. So it makes them more focused on their schoolwork and lessens boredom. And an adjustable standing desk is worth your money, these desks can grow with your kids so it can be used for quite some time too.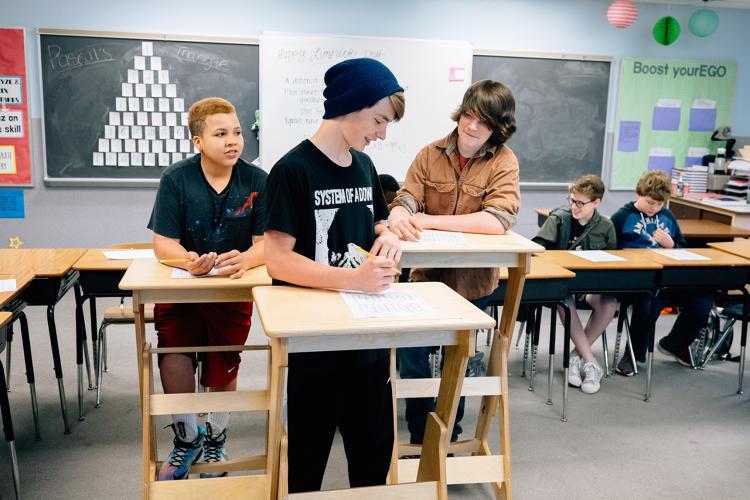 We're going to list down some of the best kids standing desks. And some of these desks are also perfect for a classroom setting.

Jarvis standing desk for kids
The Jarvis standing desk for kids comes in two desk options- a whiteboard top and a more eco-friendly bamboo desktop. The bamboo top is extremely durable and can withstand heavy use. So You can expect this standing desk to last for years to come. And in terms of the design, it's sleek and looks rather pristine too.
It's a perfect desk that can fit into a small space, but it still has enough working area. The desk height can be seamlessly adjusted too.
This kid's standing desk is also built with an anti-collision safety feature. The table stops with the slightest motion. This is something that all-electric standing desks for kids must-have since kids aren't that mindful yet compared to adults. 
Pros
It's versatile and can also be used by an adult who stands 5 feet

Durable has a sturdy construction

Has an anti-collision features

The desktop comes in two options

Sleek and lovely design
Cons
The work area is not that wide
The Jaswig standing desk boasts of a decent work area where your kids can write, color or draw, though the desk is not that wide, it's enough. And since it's adjustable, your kids can still use it as they grow. It's best for kids aged 5-13.
There's also a simple footrest where kids can place their feet. And you know how kids can get restless and they start fidgeting. This desk allows for that.
The desk is lovely and made of FSC certified plywood. It looks a bit vintage with its all-wood ensemble. The assembly is easy and fast, it'll only take you about 30 minutes. But you'd need a screwdriver for this one.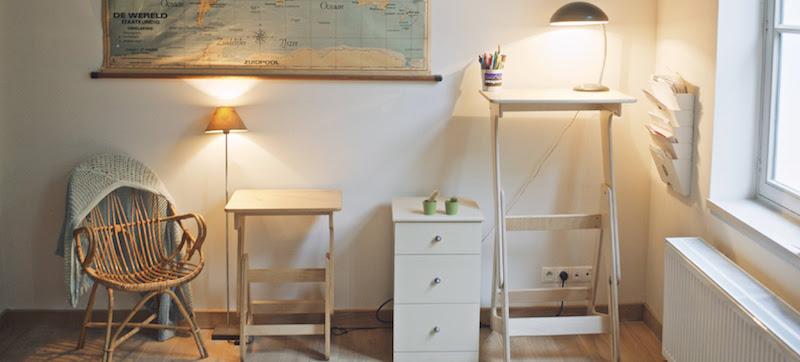 The desk also has sizable storage underneath. You kids can store their crayons and pencils. And in terms of adjustability. It's easy to adjust that even the kids themselves can do it.
Furthermore, the desk is stable and won't easily topple off. So it can accommodate some moving around because well, kids are kids.
Overall, the Jaswig is a lovely wooden deck that is stable and easily adjustable.
Pros
Easy to assemble

Kids can easily adjust the table themselves

Has lovely all wood ensemble

Has a footrest

No pinch points
Cons
Larger kids may find the desk area a bit small

Check available of these desk here
The desktop is angled so it reduces eye strain. And this desk also comes in a double or triple form. This encourages collaboration between 2-3 kids. And with a weight capacity of 300 lbs, this desk is quite sturdy with a larger working area too.
Also, the desktop is round and void of any rough edges. It's perfectly safe for children. And it perfectly suits children who are in kindergarten up to the 5th grade.
And in case your kids get a little tired from standing, this kids' standing desk from Varidesk has a two-level footrest. And it's made of stainless steel frames too. 
The desk height is adjustable from 26 to 36 inches. So it's suitable for most kids. It's also very easy to set up. Directions are clear and very straightforward. And all the tools that you need for setup are already included in the package. 
In case your kids want to pair it up with a chair, it's compatible with almost any type of chair. So if it has been outgrown as a standing desk, it's easily convertible to a regular desk.
Overall, it's a highly ergonomic desk that offers more comfort with its dual footrest.
Pros
Has a dual footrest

Durable and sturdy

Offers a wide working area

Easy to assemble
Cons
 A few issues with the desktop and legs not aligning properly
Check the price here
The Alphabetter from Safco is one sturdy kid's standing desk. In terms of construction, it's one of the best. It's made with high-grade tubular steel. So it's built of tough material and can afford more movements. Because kids can be anxious and all. So a lot of movement here and there won't affect the stability of this standing desk.
And the frames are finished with a black powder coat. This makes the desk chip and scratch-resistant. While the desk has a 3D laminate coating that makes it durable and can last for years to come. 
Apahabetter is perfectly suited for children who are in the third to twelfth grade. It also has a footrest where kids can fidget in case they get tired from standing. 
The desk also boasts of two storage spaces. One, more enclosed storage below the desk. And two, a small open storage space beside the footrest where the kids can place more books and writing materials.
Furthermore, the footrest is one of its kind. Its patented pendulum footrest. So It allows for more movement and it can be pushed back. And the movement won't be disruptive as it doesn't make any noise.
Overall, it's a durable standing desk that has more storage space. And it also allows for more fidgeting and movement.
Pros
You have 3 options for the desktop material

Has a patented pendulum footrest

Offers 2 storage space

Durable steel construction

Chip and scratch-resistant
Cons
Kids might find it challenging to adjust the desk by themselves
Learnfit is an easily adjustable standing desk for kids. The hand lever can easily be accessed and adjusted, and even the kids can do it by themselves.
It's a sleek and simple staining desk that has features that makes it rather comfortable. It has a back hook where your kids can hang their bags so they don't need to place it on the floor. It also boasts of a tablet hook and a pencil holder. These are convenient features that make learning more conducive.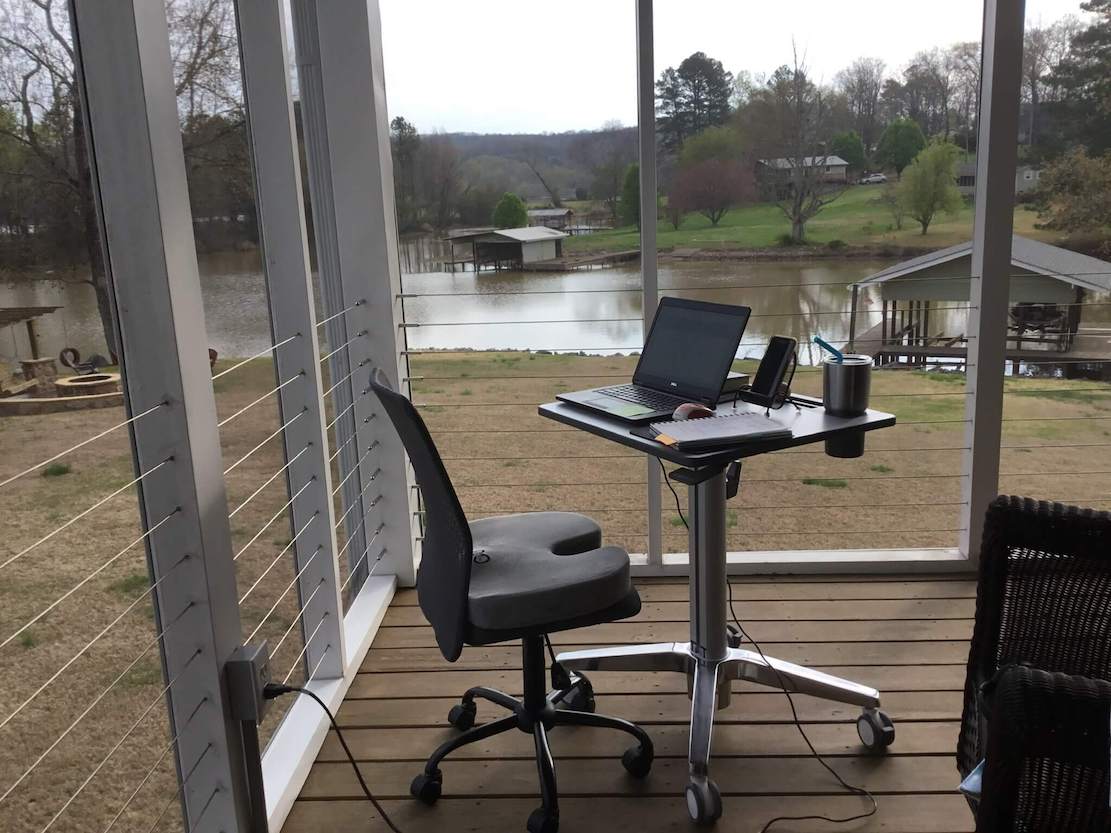 Moreover, it's equipped with 4 caster wheels. So it's quite portable and can easily be transferred from one room to another. And to prevent the desk from sliding on its own, the wheels have a locking system. 
You also have the option to purchase a storage bin. So that your kids have more room to place their books and study supplies. 
All in all, it's an easily adjustable and portable standing desk that is perfect for secondary students. 
Check the price here
Marvel office desk is a US brand standing desks that are highly ergonomic and extremely stable.
It doesn't require tools and can be easily adjusted by the kids themselves. It can be adjusted from 26 to 36 inches. Marvel Focus desk also has sizable storage underneath the desk. And it can accommodate several books, papers, and school supplies.
It also has several unique features that make it perfect for use in a classroom setting. One, it has a fitted privacy screen. So cheating will really be impossible. And it gives the kids more privacy too. And two, it has a fold-down shelf that comes in handy when the kids need extra space to do their homework.
It's also equipped with a utility hook so their bags stay close to their side and not on the floor. It's one portable standing desk too as it's equipped with caster wheels.
In a nutshell, it's a highly ergonomic and versatile standing desk that's also perfect for a classroom setting.
Pros
Has optional privacy screens

Portable with caster wheels

Easily adjusted by kids

Comes with a utility hook

Has a lot of storage space

Boasts of a fold-down shelf area
Cons
Check the Marvel kid's standing desk price available here
Conclusion
Even kids can benefit from standing while working on their homework. And what better way to introduce a healthier lifestyle than now. So start them young with the best kids standing desk. We hope you get the best one from our list.