IKEA is known for its affordable furniture. This brand is the pioneer of DIY furniture. To give way to more economical furniture, the brand came up with the idea of selling the furniture in its rawness. It also gives consumers an exciting DIY experience.
IKEA has a range of furniture. Today, we're going to dive into some of the popular Office Desks from IKEA. These are budget-friendly, but let's see if it can serve you well despite its cheap price. 
This pristine white monitor stand is small enough that it can fit in a corner of a room. It's also available in four different colors, but We find the white one easily blends in just about any room. 
It has a little hole on the side where you can manage your cords and cables. It keeps things nice and tidy. The workspace is quite large, We are using it to hold a desktop, a laptop, and several other office supplies. But it doesn't feel too cramped up. Though you can get the Micke on a larger desktop, the basic one already offers a decent amount of space. 
The desk that we're using measures 28 3/4×19 ⅝. But the Micke is also available in a 55 7/8×19 5/8 " size.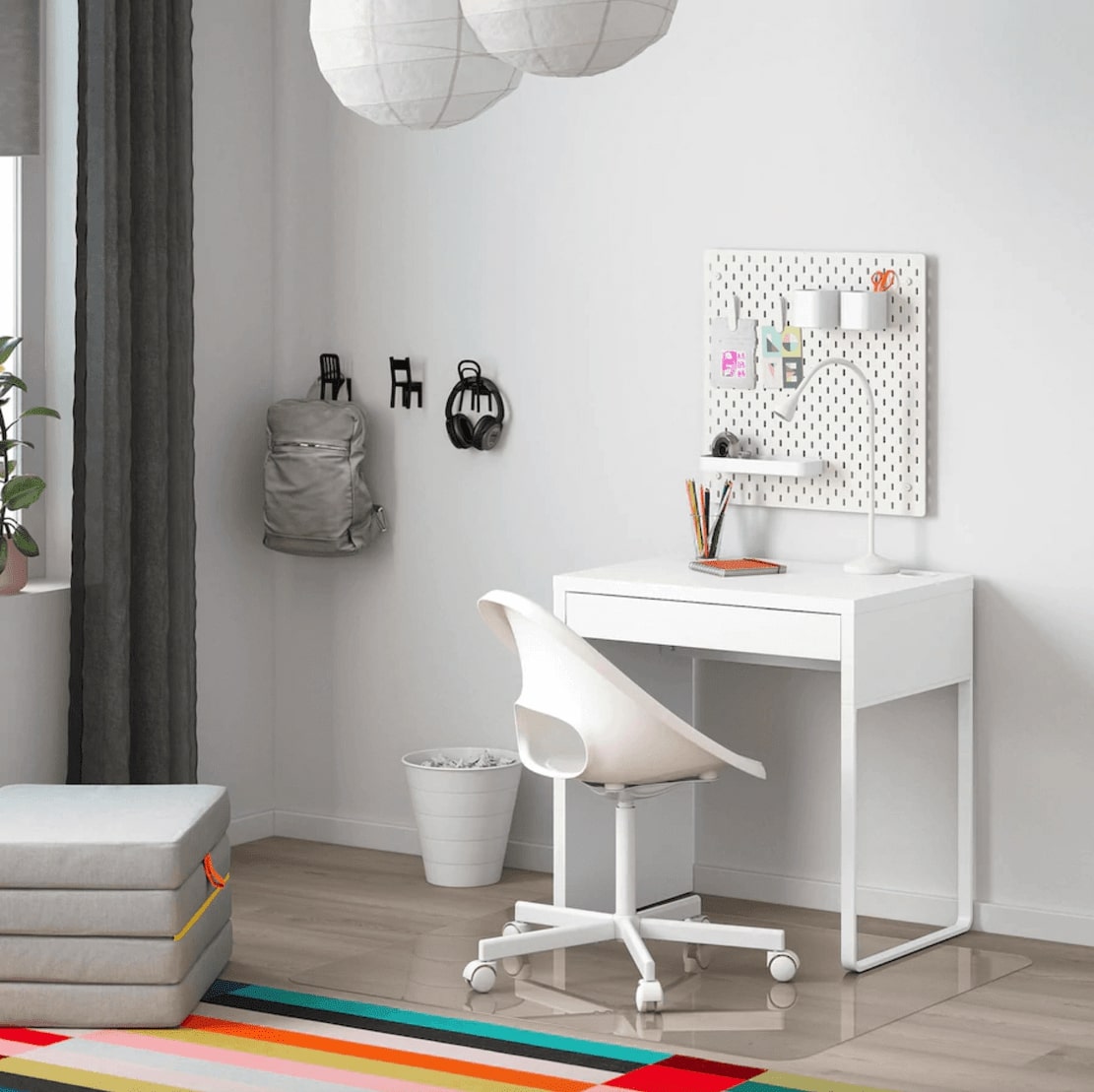 The Micke has one wide pull out drawer where you can store your things to get organized. And the depth is substantial enough, so it's really a usable storage space.
The design of the bottom of the desk is quite unique. One side boasts of an open cut design and the other side is made of a metal material. It feels quite sturdy, and We reckon this gives stability to the table. While the other parts are made of particleboard. 
The design is clean and simple. And even if the rest is made of chipboard, you would not be able to tell.
In terms of the setup, it's a bit challenging to put this up together. It took me more than 45 minutes. 
Pros
Has a cable management system

Feels sturdy and stable

Has a wide working space

The pullout drawer has substantial depth
Cons
Where to buy it
The Linnmon/ Alex monitor stand is a combination of two IKEA pieces- the Linnmon table and the Alex cabinet.
You actually have the option of purchasing it with two Alex cabinets on each side. But what We have with me right now is the Linnmon stand with one Alex cabinet on the side. The Alex cabinet has 5 drawers-two smaller drawers at the top and two large ones below.
The cabinet feels sturdy and solid. Though some of the drawers might feel a bit flimsy. So We don't advise putting something too heavy in it. A couple of office supplies and some paperwork are what it's best suited for. The cabinets do glide smoothly, there wasn't any creaking sound or friction.
It's also easy to access the drawers, it has a cutout design so you just grasp it by the hand to open it. The Linnmon table is also quite long and measures 59×29 1/2 ". So you have ample space to mount up to three monitors and still have some extra space to put a couple more things.
One trade-off We guess is that the tabletop isn't actually attached to the drawer. Instead, there's a rubber stopper that prevents the tabletop from sliding or from moving. Though it hasn't really moved yet, We are just not confident with the thought of not having the tabletop attached to the drawer. One advantage though is it'll be easy to reorient the top since it's not attached to the drawer.
Though it might have some sharp edges and the trims can come off. So if you have kids you might want to childproof the cabinets to avoid injuries. 
To add more stability to the table you can opt to put a pillar and have it fitted at the center of the table. Though the basic one does not have it. But it's a great idea especially if you're going to mount more than two monitors on the table.
Another thing We also like about the Linnmon Alex desk is that you can also outfit it with several drawers on the other side. You can choose from a range of IKEA drawers that can serve your needs. Though the Alex desk is one of the top choices due to sufficient storage space.
Pros
Offers substantial storage space

Easy to assemble

Has a wide working space

Cabinets glide smoothly
Cons
No cable management system
Where to buy it
The Alex desk is a minimalist desk that's quite functional and very affordable. What we love most about the Alex desk is how clean the set up is. You have a cable management system that keeps all the wires and the cables out of sight.
And the back of the cabinet is also finished. So you don't have to worry if you won't be able to place it against a wall. The basic desk measures around 51 5/8×23 ⅝. So there is sufficient space for one or two monitors and a couple more for some lamp or other supplies.
In terms of construction, it doesn't feel too flimsy and doesn't wobble. It has two drawers, though they're a bit shallow and more suited for paperwork and mobile chargers. Though you won't be able to pull the cabinet all the way out. One advantage is that it won't drop to the floor. 
The finishing is quite smooth, but it's not shiny. It looks pristine and clean. It also comes in a couple more tabletop colors.
It's one versatile desk that you can actually use as a vanity desk and would work perfectly fine too.
Pros
Sturdy construction, it doesn't feel flimsy

Has a cable management system

'A versatile desk

Occupies a small space

Lightweight and easy to move
Cons
The drawers are quite shallow
Where to buy
The IKEA Malm desk looks sturdy and stable. The tabletop is not that super thick, but it's thick enough to hold a couple of monitors and office supplies. It has a weight capacity of 100 lbs, which is more than decent.
The desk looks quite professional too. The design is seamless and demands authority. The finishing itself looks quite professional. And the back of the desk is finished so you can place it anywhere in the room. You only have to always confine it to the corners. 
Another thing that we love about the Malm desk is that it has a cable management rack. You won't have your wires and cords dangling on the floor. It truly looks professional and clean. And this is an important feature, especially if you have lots of equipment connected to an outlet. And not all desks come with a cable management stem.
As for the storage, it has two drawers, a small drawer on top, and a bigger one at the bottom. And both drawers open differently. One opens like a door and the other drawer is a rollout. Though it doesn't have any handles, you can open it easily since it has slight curvature where you can insert your hands.
Overall, the Malm desk is affordable and sturdy. It's quite versatile too and can also be used by gamers. The weight capacity is something not all cheap desks have.
Pros
Has a substantial weight capacity

More storage space

Sturdy and stable

Has a professional finish

Can be mounted in both ways

Easy to assemble
Cons
May lack legroom for some
Where to buy it
Conclusion
These IKEA desks with drawers are one of the most affordable in the market. Though you won't be able to compare the quality to high-end desks, in terms of the price range, it performs well