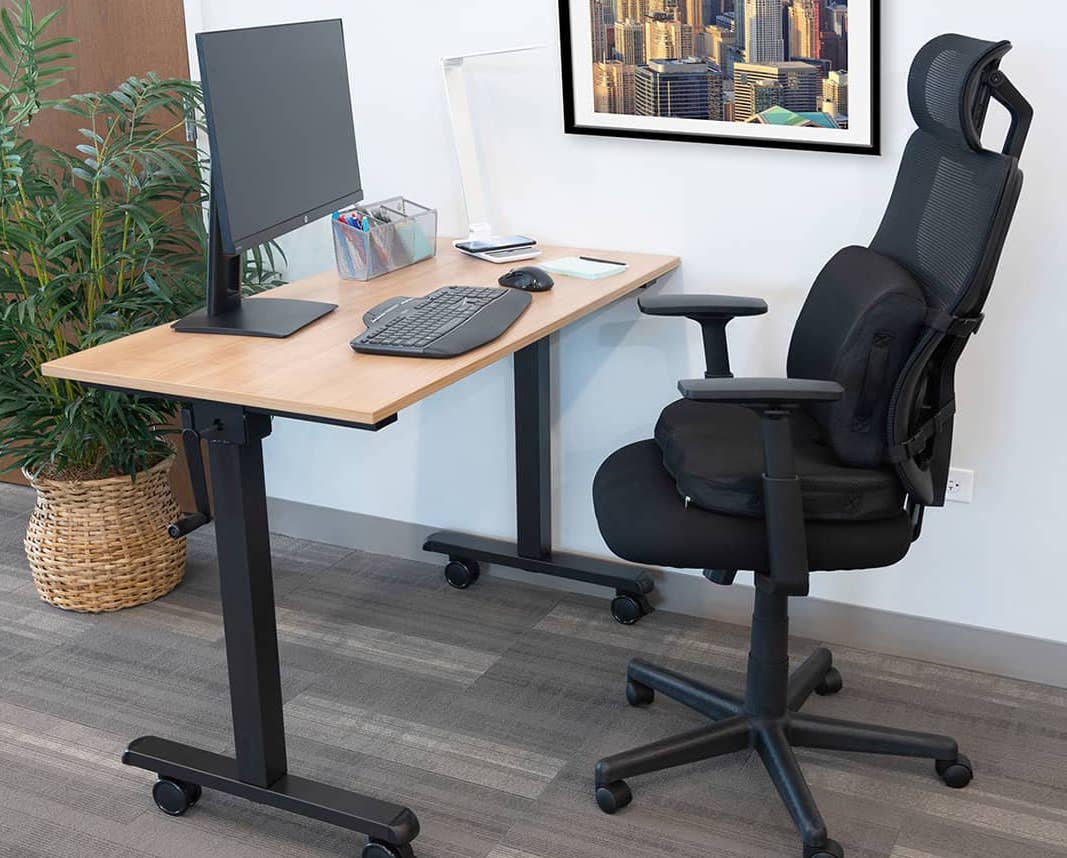 Manually operated standing desks do not have a motor, power cord, or electronics. So you have to manually rotate a lever, often called a crank, to change the height of the desk.
Albeit a slower transition and added labor, some still choose manual desks over electric standing desks for several reasons.
One, since it doesn't have a motor or electronic parts, it's exempted from glitches. So there is also no maintenance needed. Electric standing desks do not need electricity to run. So people who live in areas that often experience blackouts are better off with a hand-cranked desk. 
Two, hand-cranked desks are certainly more economical. You can get a bigger tabletop at half the price of an electric standing desk. 
Why you should buy a crank adjustable height standing desk
They are easy to adjust and even if they do not adjust high enough for you, they also work as sturdy writing desks or computer tables at their lower heights. Their compact footprint is excellent for smaller homes and offices. The cranks used to raise and lower these desks take up less space than other adjustable-height mechanisms like motors or hydraulic pistons.
If you need further convincing as to why crank adjustable height standing desks might be right for your home or office, here is some information we think will help
Crank adjustable height standing desks are more affordable than motorized or hydraulic piston desks. Hence, they won't cost you nearly as much money. If budget is your primary concern when shopping for an adjustable-height desk, this may be your best option.
If you don't know, we already have an article explained that which one we should choose, the electric or the manual standing desk. But don't worry if you don't read that first, because we put the key differences below and we'll also help you choose the best manual standing desk in the market
Standing Desk
The Manual Crank
The Electric
How to adjust

the height

Manually adjusting by turning on the hand crank or lever
By pressing the button on the control panel/electronics
Pros

Cheaper
No glitches and does not require electricity
Features larger desk at more decent prices

More convenient
Compatible with apps
Has modern features
May have a higher weight capacity

Cons

Can be tiresome to adjust
Not all users are fit enough to adjust the deks manually
Lower weight capacity
Slower adjustment

More expensive
Needs electricity
Susceptible to glitches
The motor can be noisy

That's why brands still manufacture and sell manual desks. Because it still has its value even though it seems like it was left behind by modern technology. 
With a crank adjustable height standing desk, you can raise and lower the work surface simply by turning a handle. You'll find these desks among the most affordable types on the market for this reason.
Plus, their adaptability and smaller footprint mean they occupy less floor space than other options. If you're short on time to spend searching through our massive guide for the best adjustable-height standing desks, we've provided a handy shortcut at the end of this article that'll lead you straight there.
Crank adjustable height standing desk – How they work
The cranks used to adjust these types of desks are typically located along with the back or side panel and make small adjustments possible. When fully extended, they allow enough room for users up to 6'2″ (or more) with no obstruction to their legs. After turning the handle in either direction, the desk will extend or retract in a matter of seconds.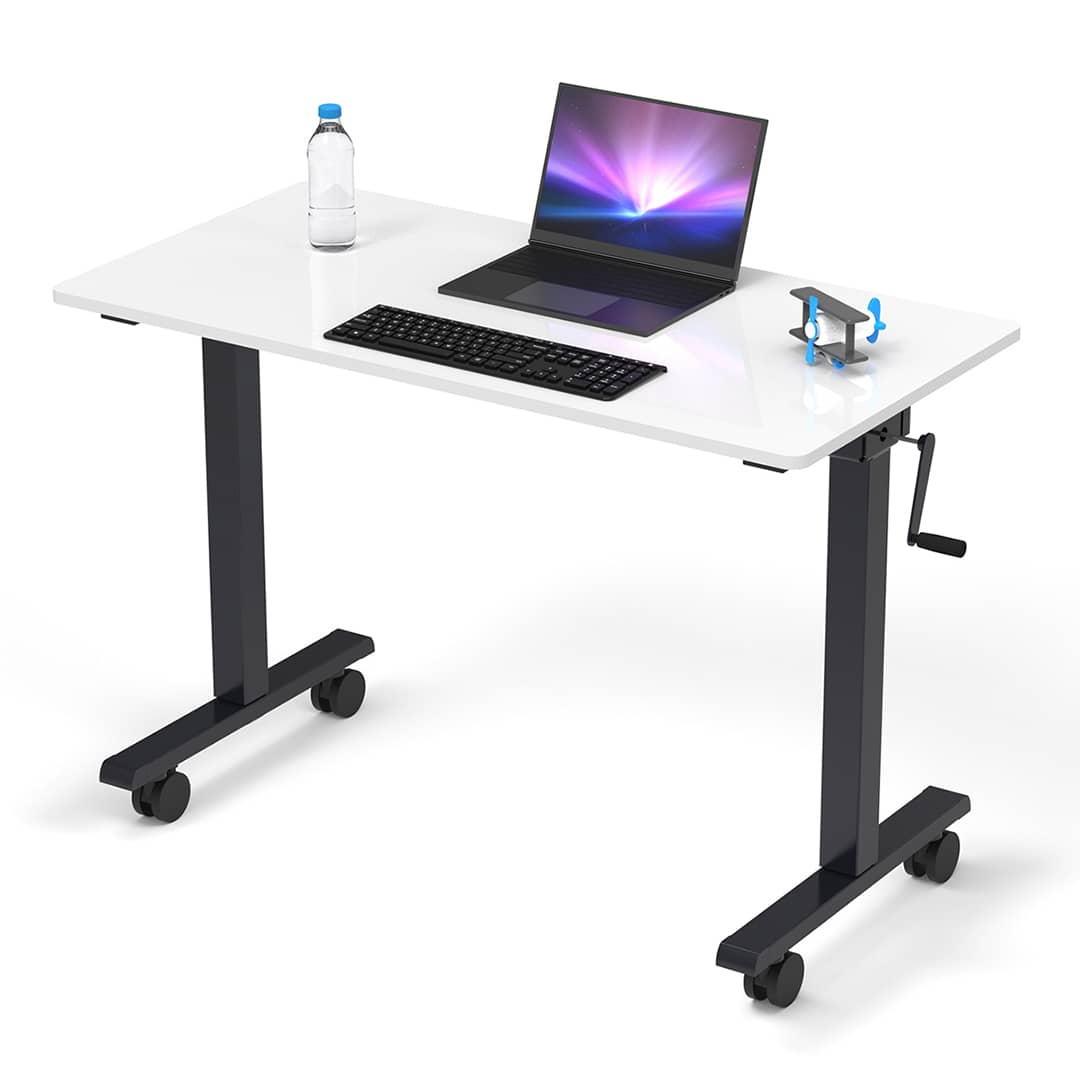 If you are short on time, check out the top 5 best crank adjustable height standing desks below.
Best manual crank adjustable standing desks
Our top picks for hand-cranked standing desks this 2023
IKEA Skarsta
The IKEA Skarsta is a full-on metal hand crank desk. 
Well apart from the tabletop, everything is constructed from metal. So this gives it a very durable look and feel. It costs less than 300 dollars but it does look quite premium. 
The weight of the desk is also evenly distributed on both sides. And this speaks a lot about the stability of the desk.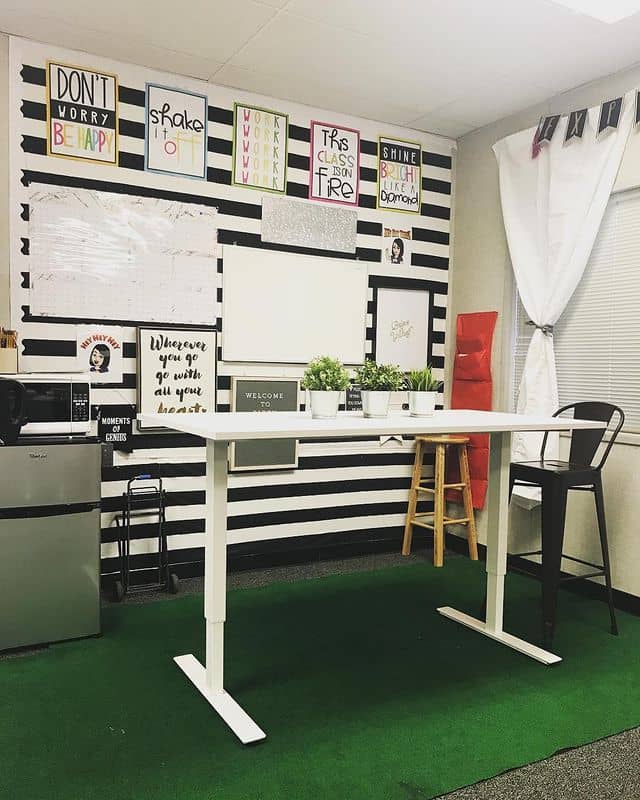 A convenient feature of the desk is that it can stay stable and solid on whatever surface you put it on. It's stable on the carpet as it is on concrete floors. So it's pretty universal and you do not have to think twice if you need to remove your high pile carpet or transfer the desk to another room.  
The brand had an upgrade on the tabletop. Though the same metal frame was used, the upgrade last 2020 made the SKARSTA more versatile. The desktop before was directly drilled on the frames, so this makes it a permanent connection.
The upgrade had plastic inserts attached to where the table will be screwed into. So you will be able to change tabletops should you wish to use a different desk in the future. 
Durability-wise, we're all in for the frame, though we can't say the same with the tabletop. It's a bit thin and flimsy and doesn't look premium. 
On a side note, the SKARSTA was on hiatus about 10 months ago for some reason. But now it's back in stock with the abovementioned upgrade too. 
As for the gripes, we wished the tabletop was a bit thicker. And the steel frames lack drill holes where you can manage your cables and wires.
| | |
| --- | --- |
| Dimensions | 63"x 31" |
| Height range | 27½" -47¼".  |
| Warrant | 10 years |
| Location of crank or lever | Either side |
| Weight capacity | 110 LBS |
DEVAISE Sit to Stand Up Desk Workstation
The frame and base of the DEVAISE are made of a combination of steel and aluminum alloy. Though not flimsy it's different from the feel of the SKARSTA desk. And that also accounted for the lower price range and the lower loading capacity.
DEVAISE offers two types for their manually adjustable desks. You can opt for the unit with a hand crank at the side. And you also have an option to purchase the desk with a lever at the front. 
The model with the crank at the sides has this crossbeam at the center, and this takes away a sleek look. Though the unit with the lever at the front doesn't have that crossbeam. In terms of the design, we love it better. Though the hand crank at the font may take time to get used to adjusting. Adjusting the lever at the front may seem awkward at first. 
You can also slide the lever inward to make way, this is convenient if you have a small space, you don't want your hips to bump against the crank 
But we have noticed some offs. The crank components are a bit more fragile. And oh, the warranty is a stingy one too at one year. So this is more of an entry-level desk for those who are on a tight budget.
| | | |
| --- | --- | --- |
| | Front crank | Side crank |
| Dimensions | 55"x 23.6" | 55″ x 23.6" |
| Height range | 29.5"-45" | 29"-45" |
| Warranty | 100 lbs | 100 lbs |
| Location of the  crank/lever | Side or at the front | Side or at the front |
| Weight Capacity | 1 year limited warranty | 1 year limited warranty |
What sets this apart is that it comes with lockable caster wheels. So this unit is also convenient for ladies or those who are physically challenged. Should you want to move the desks to another room, you can do it by yourself.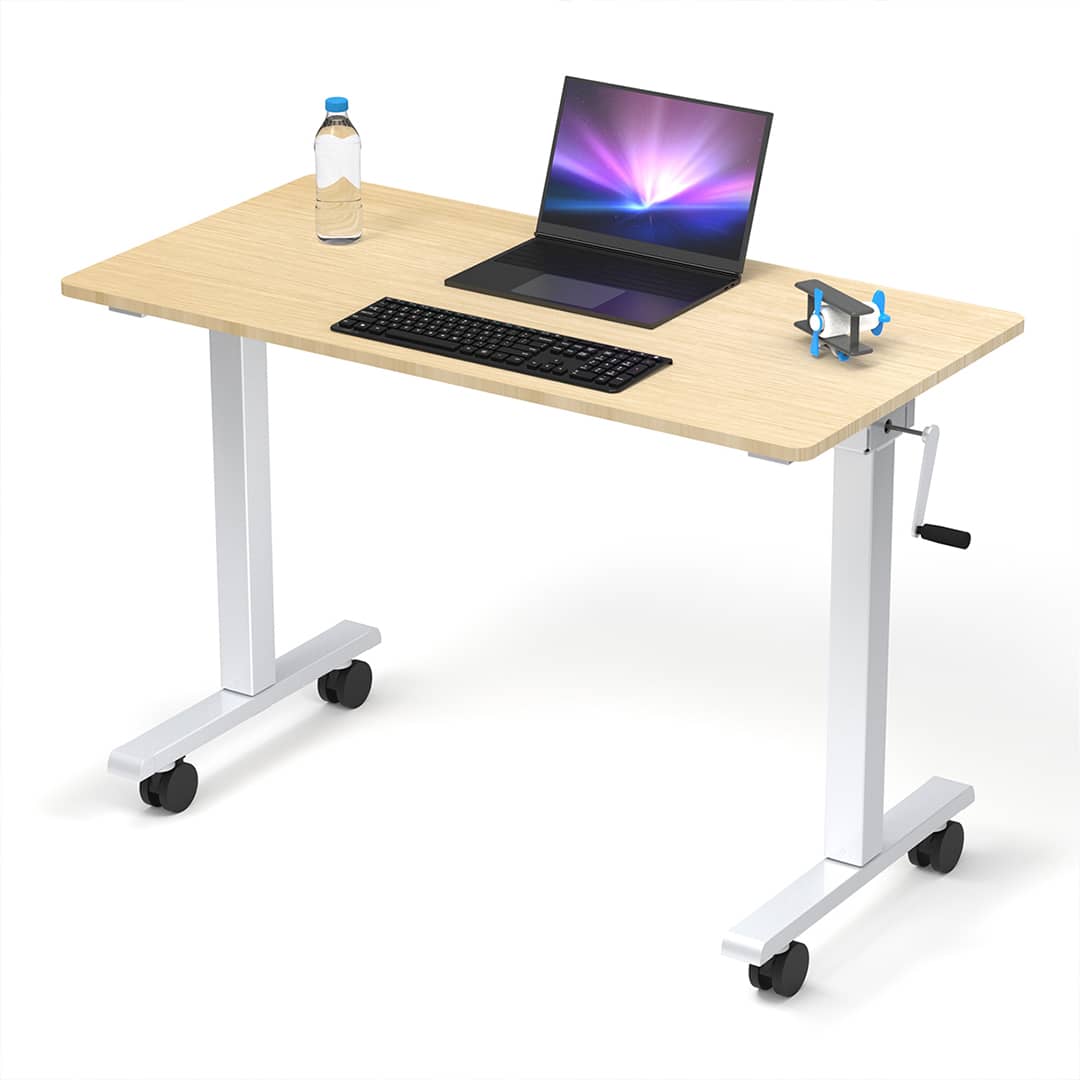 You also have the option to place the crank at either side of the front, you'll find this useful if you have a very small space. And we do find the workmanship very nice. It looks more high-end and durable. It gave us almost the same feel as the IKEA SKARSTA
One of our gripes, though, is that the cracking effort is low. Though it can be an advantage to those who are physically challenged, it can result in more cranks or tuning needed to adjust the desk. 
Though many will still find it easier to adjust the lever compared to other brands, it will take more revolutions before you can reach the max desk height.
| | |
| --- | --- |
| Dimensions | 47"x 29" |
| Location of crank/ lever  | Side or at the front |
| Height range | 29.5"-45.25" |
| Warranty | 100 lbs |
| Weight Capacity | 1 year limited lifetime warranty |
Where to buy: https://amzn.to/32xSO8u
VIVO Height Adjustable Stand Up Desk, Crank System
This is a really big and heavy one (63×32″). But don't let its weight and size fool you, the VIVO Height Adjustable Stand-Up Desk can store all your equipment and support it well even with its extended height limits which go up to 50 inches high. So this puts it high enough for someone at 6.4′ to stand straight up with my feet contacting the floor perfectly flat with no strain on my neck or anything else (my neck's slightly bent when typing).
People who are less than 6 feet will be able to find comfort in standing comfortably since their feet won't touch the ground but instead rest on top of either of the castors or the rubber stoppers.
The tabletop is a good size too with its 3 sectioned design, measuring 63 inches long by 32 inches wide. You also have a lot of workspace space to play around with- not too much and not too little. And it's nicely finished as well so no worries working away on your laptop or whatever equipment you'll put up top here.
The bad part about this table starting from the left side of where you'll be putting your laptop or mousepad is that there's no cable routing underneath nor are there any cutouts for wire management. So make sure to buy some small clips to manage all those wires if needed. And don't expect it to be the lightest desk either at 78 lbs (35.5 kg) which is still manageable but can get tiring if you're moving it around often since it doesn't have any built-in rollers or wheels.
Stand Steady Tranzendesk
The Tranzendesk has almost the same dimensions as the DEVAISE desk. It also features a wider and larger working area. And it also gives you a bit more options for customization. 
You have the option to add a second tier to your desk. This will add more space and a bit more loading capacity to the desk.  
You can also have a 48-inch desk, but we find the 55 inches with more value. 
It's easy to adjust the crank. Though it can be a bit flimsy and can prop out of place.
One of the major gripes is the lower weight capacity, it's only around 85 lbs. So that's the lowest of the bunch. And the design may not be of everyone's liking. It has a crossbeam at the center and this makes it look more industrial, not sleek.
We recommend this for those who are looking for a larger desk area at the lowest price. Though you have to bear with the small weight capacity. But in terms of desk area vs the cost, this is a winner.
| | |
| --- | --- |
| Dimensions | 55"x 23.5" |
| Height range | 29."-46" |
| Locations of the crank | Either sides |
| Warranty | 85 lbs |
| Weight Capacity | 1 year limited warranty |
UNICOO – Crank Adjustable Height Standing Desk
This standing desk is a little different from the norm. It's made of wood and steel- 4 not 2 legs.
So it looks more conventional than other standing desks out there. The frame is entirely made of metal but uses wooden panels for the tabletop instead of glass or plastic. On top, you'll get a laminated tabletop that's smooth enough to be used as a writing space apart from being electrically adjustable.
The height range on this thing isn't so bad either. The lowest setting goes down to 26 inches while the highest goes up to 46 inches high which should be good enough for most people's needs even if they are 6ft tall or higher. You will have no problems with your feet touching the floor when in stand mode.
The UNICOO is a very sturdy desk despite the swivel cranks used to make it height adjustable. The weight capacity of this desk though isn't too impressive- 225 lbs tops. But if you are not overweight, this shouldn't be a problem for you even if your computer set up or peripherals weigh more than that limit.
One thing we found with the UNICOO is that it takes some time to get used to using the cranks on each side of the table to adjust its height. If you never did, then get ready for a little bit of a learning curve here before getting everything adjusted just right- which can take about 5 minutes so per leg depending on your height.
Flexispot Crank H1 standing desk 48×24″
This is a really smooth-standing desk. The tabletop surface isn't laminated but is instead finished with a very nice-looking wood grain top which feels great to the touch and looks very stylish too.
The frame of this desk uses a metal construction making it feel solid and durable. You get lift heights from 23 ½ inches off the floor all the way up to 50 ½ inches- enough height for you to stand while still being able to use your feet flat on the floor without having your legs locked straight out.
You'll have plenty of space at 48 x 24 inches wide, giving you lots of room for multiple monitors or other equipment while still leaving open ample room for writing while standing. But if you want to add more equipment, there's an opening at the back for cables.
The downside is that there's no steel top included in this model so you'll have to purchase one separately- and it will also add weight which may impede its portability even with the wheels provided.
About the price of this Crank, Flexispot is so confident that you'll be satisfied that they offer a satisfaction guarantee. So if for whatever reason you don't like your purchase, all you have to do is return it within 30 days and get your money refunded back to you.
To buy this desk at their official website, click here
Our expert's recommendations
The best part about crank adjustable height standing desks is you can have them at your desired height in seconds–at least compared to the other types of options out there. Hopefully, this article has helped you learn more about all the different types of adjustable-height desks on the market today.