A pneumatic height adjustable desk might not be that popular. Since electric standing desks are quite the thing nowadays, these manually adjusted desks are left in the dark. But the Realspace Magellan pneumatic adjustable desk has lots going for it. Let's shed some light on it
About the brand
Realspace Magellan is created by Office Depot. It's a leading brand in office space solutions and products. Along with Realspace, Office Depot owns other companies such as TUL, Foray, DiVOGA, OfficeMax, Grand & Toy, and Ativa among others. Office Depot operates thousands of e-commerce sites and retail sales. The company ships from Florida USA.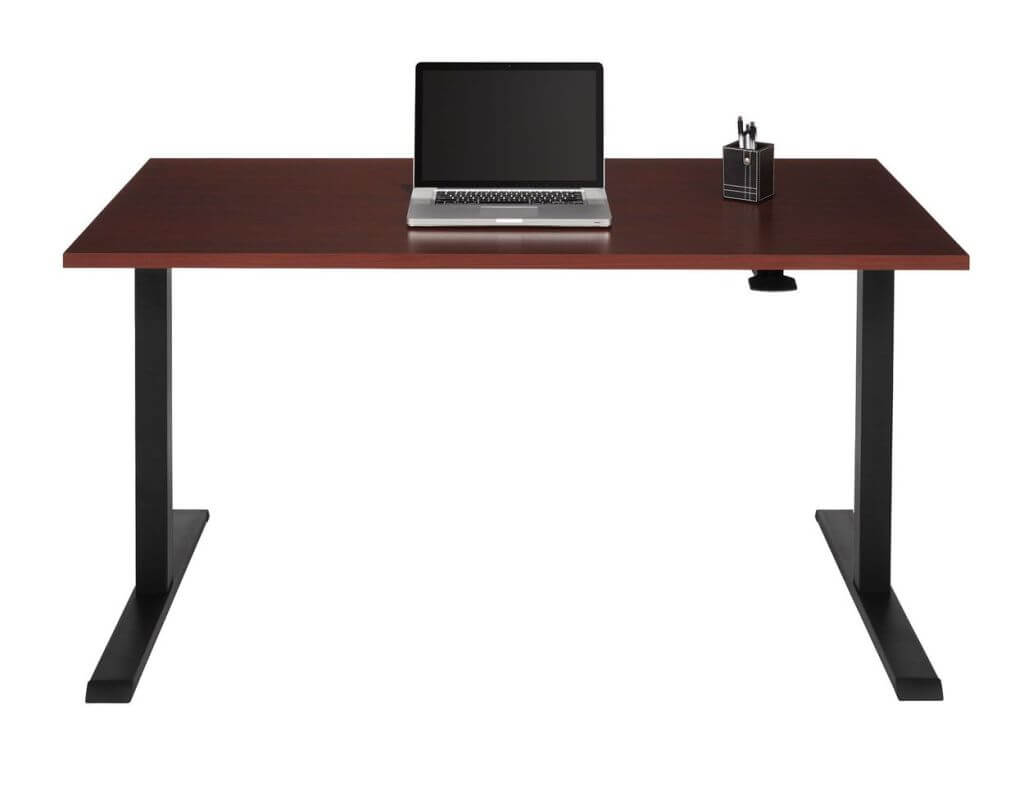 Pneumatic feature
This desk rises easily. But it's not for everybody. It might need a little bit of strength to lift it. So it might not be a good choice if you're an elderly, young, or those who are physically challenged. And lowering the desk is fairly easier because you're standing already. You also have the help of gravity there. 
Height adjustment
I'd say it's for average-sized users. It can go up to from 30 -43 inches, So I find it too short. And if you are over 6 feet, this might not work for you well. 
Decently stable at a lower height 
This standing desk is quite stable. There may be a little bit of shaking but it's not really an issue. When you accidentally bump the desk, your monitor may wobble a bit. But it's not to the point that the desk shakes when you use the keyboard.
I think this minor wobble comes from some slop in the connection between the upper and the lower legs. So when you adjust the top half of the leg, the lower half tends to go a bit loose. I think it would help if there was some sort of way to tighten the brushing on the connection. So that even if you adjust the desk, the lower half of the legs will stay in place.
But as you increase the height of the desk, you'll experience more shaking if you intentionally move the desk. But it isn't going to shake if you're just typing. It will wobble if you put force into it. So still decent. It's way stable than other popular electric standing desks such as the Jarvis, Varidesk, or the Uplift.
If we're going to compare it with the Realspace Magellan electric desk, this pneumatic model is indeed far more stable. Its electric counterpart starts wobbling even at the lowest height setting. And the wobble worsens as you increase the height. 
Technically if we are going to compare pneumatic adjustable desks to fully electric sit-stand desks. the latter is more wobbly. So albeit a manual adjustment, you'd be better with a pneumatic adjustable version of the Realspace Magellan sit-stand desk.
It has the same sturdiness and stability as a hand-cranked sit-stand desk such as the Tranzendeks and the Standing Desk from S Stand up store. With a stable desk, you might not mind the lack of an electronic control panel. 
Large working space
This sit-stand desk is also a viable solution if you want to load up your workstation with more stuff. It's wide and spacious. And even with two motors and a laptop, you still have more room for your documents, papers, and other office supplies. 
It has a weight capacity of 200 lbs. So that's a lot before you can overload it. The 6-inch desk can accommodate two 27-inch monitors and still has a lot of room to spare. So I reckon it can fit three monitors if you're going to use monitor arms. 
A handsome and sleek sit-stand desk
It's sleek, it's black, and it's one handsome piece of the desk. If you love modern and contemporary furniture, you'll love this sit-stand desk more. It looks very polished. The desk isn't too thick nor too thin. It looks luxuriously sleek. At first glance, it's a premium looking table, stylish to say the least. It looks really well made.   
You can place it alongside more premium brands such as the Kinetic M1 and the Herman Miller Renew. And it'll fit right in. You won't be able to tell the price difference until you see the lever under the desk.
Packaging and assembly
So far so good. The table and the leg frames are bunched up in one box. So it can be pretty heavy. All the parts are carefully protected and cushioned, so there isn't any scratch or dent. Due to its heavyweight, some often opt to have it delivered via freight. 
And the small parts are properly labeled. So it got everything you need for the setup on the box. So I'm giving it two thumbs up for the packaging. You can't complain about the weight because it tells of a solid build.
The assembly is straightforward, nothing that you can't wrap your brain around. But take note that it does contain a lot of bolts and screws. The smaller parts were labeled accordingly so it eases up the time spent in putting it up. 
The holes were already pre-drilled, so you just need your screwdriver for the setup. 
Heavy desk and solid build
It's pretty heavy at 150 lbs, just 50 lbs short of its max carrying capacity. So take note that this might not be a one-man job. Both in terms of bringing it inside your doorstep and assembling it. And because you have to flip the desk over three times to align the holes and tighten the screws, you'll definitely need your friend to help you with the setup. And it's also best to assemble the desk where you're going to use it. So that you don't have to move it anymore.
The desk is solid wood and the steel legs are sturdy, so you can expect a heavier weight. But you would be happy about it because that means that it's rock-solid too. 
What I wished were better
I wished that there was a tighter connection or better brushing between the upper and the lower leg. While the shaking isn't noticeable. it could have made the desk even better. Would have ticked more boxes on my list. 
Most pneumatic adjustable desks lack these safety features- overload protection and anti-collision safety. Since this feature somehow requires a more advanced electronics, it's expected for a manually adjusted desk to lack this. Albeit the higher weight capacity of the desk, you should still be careful not to overload it. Yes, it's sturdy, but it doesn't have protection from overloading. so best to be still careful about it. 
Who is it for
This pneumatic adjustable standing desk from Realspace Magellan can be a great value for your money. it's affordable, sturdy, and decently stable. There may be a bit of wobble but it's not something that will put you off from working. If you want a more affordable desk with a larger workspace, it's a good buy.
And if you're looking for a wide desk that can fit two large monitors, this is a great choice. The weight capacity is higher and the surface is wider. So you won't have any problems with larger monitors.
And who should not use this desk? Since the desk is adjusted manually, you need to flex a bit of muscle to increase the height of the desk. For most, this may not be an issue. But for the elderly of those who are physically challenged, this can be a hassle.
Final say
This pneumatic desk doesn't need the power to adjust, unlike electrical ones. So there won't be any glitches. And it won't be stuck in the middle of transitioning, in case of sudden blackouts. But it does need a bit of "power" when lifting the desk. It's a great value for your money if you don't mind the minor qualms that come with it.