What are the best standing desk frames in Canada at the moment? Keep scrolling as we list down what's hot in the Canadian market this year – 2023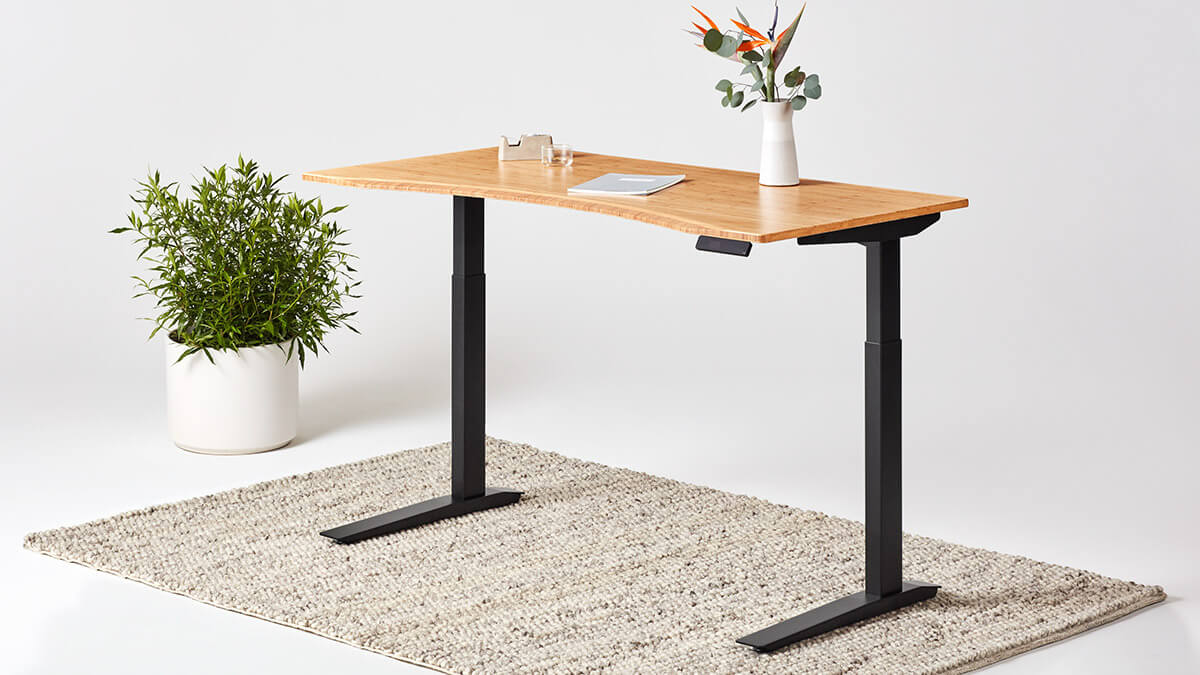 What you'll instantly notice with the Mount-It! electric standing desk frame is its robust and solid construction. It's pretty solid and looks great too. we have full confidence in the durability of this frame. It can support up to three monitors and a huge PC without any problem. You can even stand on it and it'll still remain in one piece, though it's not advisable it's just to test the build of the frame. And we weren't disappointed with it. 
Assembly process? we find it pretty easy to set up and the instruction is straightforward, simple, and clear. Though we have some issues with the alignment of the holes. Some of them don't seem to line up so you might spend a few minutes lining them up. But apart from that, it's all good.
For the shipping, we are giving it 2/10. It came pretty trashed. Though the content is still in one piece the package seemed like it went through a lot. So it isn't presentable, so to speak.
This electric desk frame has a pretty good height adjustment range. You can adjust the desk from 28.7 to 48.4 inches. That's a pretty good working height for almost all users, so it can accommodate more people. 
On the flipside, some of the things that we wished were different have something to do with the electric and motor parts. Though you won't encounter these issues every single time, you will one of these days. The motor tends to get stuck, it can stay idle for a couple of minutes. And the LCD sometimes disappears. So we need to plug and unplug it again. In short, the motor and electrical component of this standing desk frame isn't the best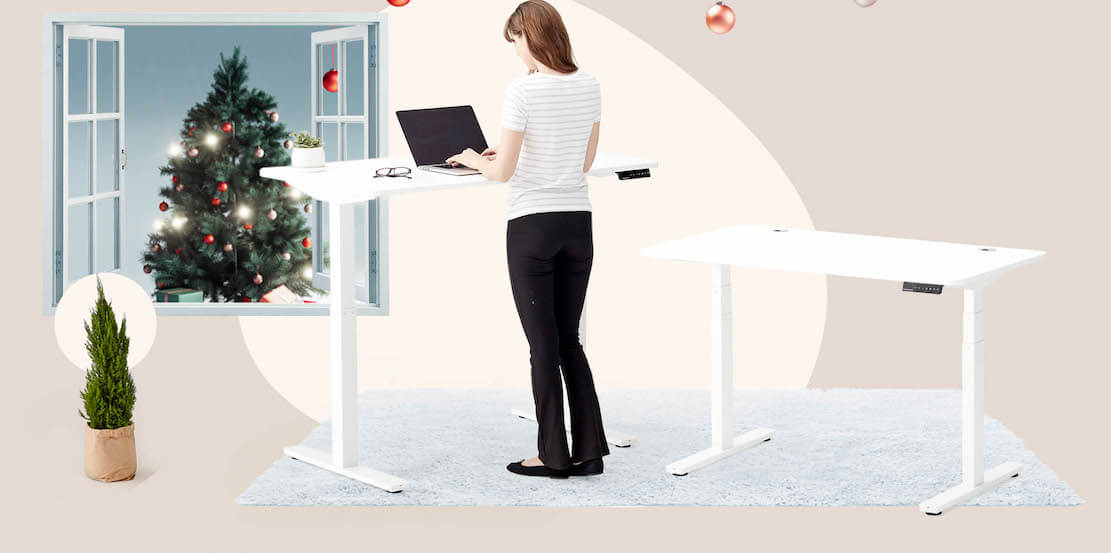 In nutshell, it's a rock-solid and robust standing desk frame but you can encounter some glitches with the motor every once in a while.
Pros
Robust construction

The control panel has sleep features

 Wide height adjustment range

Easy to assemble 
Cons
Glitches in electrical components.
Where to buy it
When you're looking for a standing desk frame, there are two components that you'll often check. One, the build should be solid and durable. And two, the motor and electronics should be running well. And you can get both with the VIVO Electric standing desk frame
From the get-go, we noticed how heavy this desk frame can be. For me, I'd like that in a desk frame since it means that it's solid. we would not want a lightweight and flimsy frame to hold my monitors and PC. And though the frame can be heavy, once you align the holes properly, it's easy to set up. Maybe you'll just need to ask for assistance to have the holes lined up. But after that, it's a walk in the park.
The motor is also something that we like. The mechanism moves rather fast and smoothly. So far, we haven't experienced any glitches or stalling yet. It's also easy to use and has a good weight limit. And from the feel and look of this desk frame, we don't think there's going to be any problem with the stability even if the weight capacity is maximized.
The height adjustment range of the VIVO desk frame is also one of the advantages of this unit. You can raise the desk from 30.2 to 50 inches, so it can accommodate tall users. 
All in all, this standing frame ticks all the boxes! Though it can't go low enough for shorter people, so that's the limitation of this frame.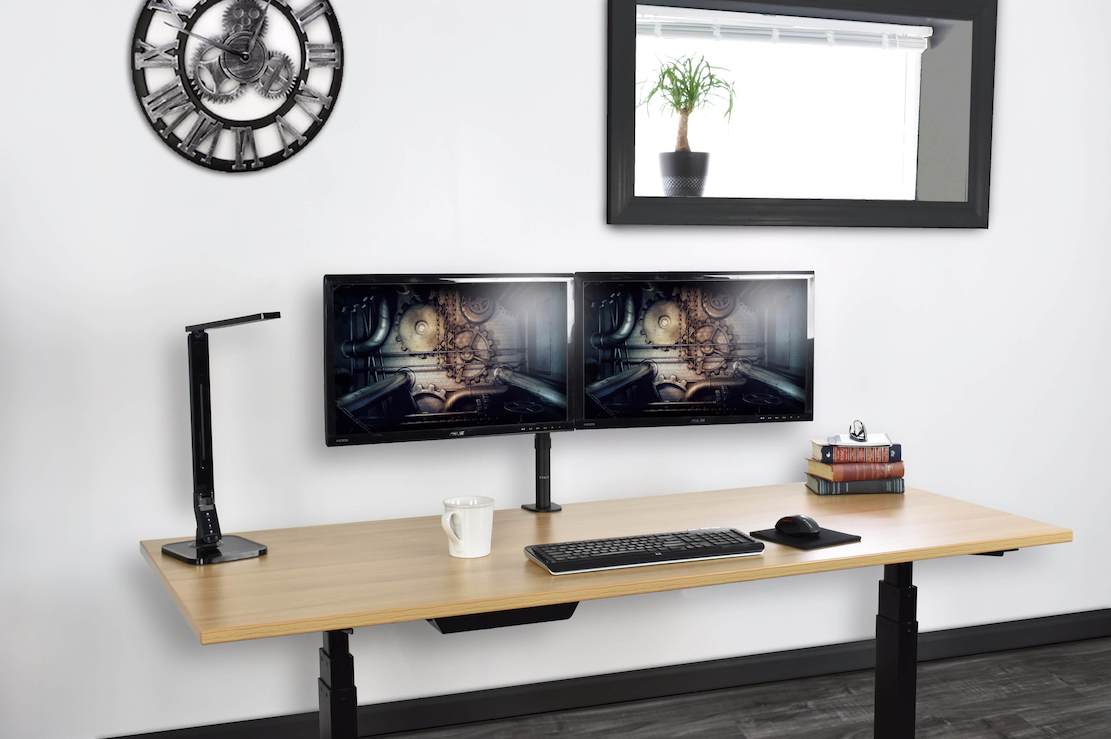 Pros
Easy to assemble

Operates quietly

Fast and smooth transition

Stable and no wobbling

Comes with gel pads for desktops to sit on

Great customer service

Good height adjustment range

Wide desk space
Cons
Some screws were missing in the package

The highest setting might still be too high for shorter people
Where to buy in Canada
This standing desk frame has a simple and minimalist design but it can serve you pretty well. It can accommodate wider desks for a more elaborate workstation. One of the main advantages would be its high-quality materials. This standing desk frame is made of industrial-grade stainless steel. So it can be a workhorse that can serve you for years.
In addition, the legs are scratch-resistant and can adapt to any surface. So it's quite versatile and you can set it up almost anywhere you want. And with its minimalist design, it can easily blend in any office or working space. 
As for stability, it might be a little bit wobbly when set at the highest setting but it can still pretty much hold a couple of monitors and a PC. So the little shaking might not be an issue for most. we still find it quite stable and sturdy. And the hand crank is easy to adjust, it won't feel like an arm workout.
The assembly is fit for the lazy DIYer. It came in a few pieces so setting it up is never a chore. Everythings pretty fast with this standing desk frame. The shipping won't even take 3 days.
One of the limitations, however, is that shorter people might not be able to use it comfortably when seated. Their feet might not touch the floor. So it can't go low enough for them.
Pros
Easy to assemble

The hand crank is easy to adjust

Can accommodate wide tabletops

Sturdy and solid

Minimalistic and simple design
Cons
Might be too high for shorter users
Where to buy: https://amzn.to/3rYPQCg
A width adjustable desk is so convenient. You can configure it to fit wider tabletops in case you need larger working space. And it's not often you come across a decent electric standing desk frame with adjustable width. You might not even encounter a lot.
And this is where the Rise UP electric desk frame excels. It's both a height and width adjustable desk. So it can be configured in more ways than one. So you have more options for tabletops and it's fit for a busy workstation.
The frames also have anti-collision technology for added safety. And the weight capacity of 250 lbs is more than enough for the novice employee. And apart from the solid laser-cut stainless steel legs, this standing desk frame offers more. 
The motor is smooth and quiet. And the control panel is complete with an up & down button, and 4 programmable memory settings. The control panel is quite responsive too, there's no stalling or lagging. 
Overall, it's a sturdy frame that can handle a large tabletop. And the motor feels premium too. Another notable feature is that when you press the stop button, the motor doesn't abruptly halt the operation. Instead, it goes slowly until it comes to a full stop. And this prevents the monitors from tipping over. It's a simple yet clever feature that not all desk frame motors have.
Pros
Has several safety features

Can accommodate wider and bigger tabletops

Responsive control panel

Smooth and quiet motor
Cons
Some users complained of poor quality assurance
Where to buy in Canada: https://amzn.to/3jw7YQh
This Prime Cables desk frame is king when it comes to durability. It's made from a sturdier construction- double steel tubing. So this desk frame is for the heavier and larger tabletops. It can also accommodate desktops that measure 39-63 inches, that's a pretty wide wrong space.
Another feature that we love is the sophisticated motor and electronics on this desk frame. It has overload protection and the motor is pretty efficient with low noise. And it's easy to pre-program your preferred desk height in 2-3 memory spots. 
The loading capacity isn't the highest at 154 lbs, so this desk frame is ideal for light to medium-duty use. Albeit the wide desktop, the weight capacity may be lacking for some. 
The setup was easy and it comes with cable guides. So you can neatly organize all the wires and the cables. Though it also comes with a cable management tray fitted under the desk, we find it a bit narrow. we wished it had a more decent width so that it'll be easier to hide the wires from plain sight.
All in all, it's a medium-duty frame that can accommodate wider tabletops. It has a great motor. One of the limitations, however, is that it can't go low enough for short people. 
Pros
Sturdy steel legs

Efficient and quiet motor

Can accommodate wider tables

Has an overload protection system
Cons
Narrow cable management tray
Where to buy: https://amzn.to/3lHMeDJ
Conclusion
So these are the most popular standing desk frames in Canada! Each unit has something going for them and of course, a bit of qualm and could have been better features. 
Why are these desk frames hot in Canada? The best frames aren't necessarily the most popular. The Canadian market has a keen sense of getting a more stable desk frame albeit being an unpopular choice.