UNICOO offers one of the more affordable electric stained desks in the market. The brand may be new to standing desks, but it isn't new to offering more affordable solutions to satisfy the needs of its customers Let's take a look if this desk can be of benefit to you. 
About the brand UNICOO
UNICOO is a US brand that offers affordable yet decent quality standing desk solutions. The brand has been around for over 7 years and is more known for manufacturing display shelves, shoe racks, and plastic cube storage. It has a few selections of standing desk options- electric, hand-cranked, and a two-tier standing desk.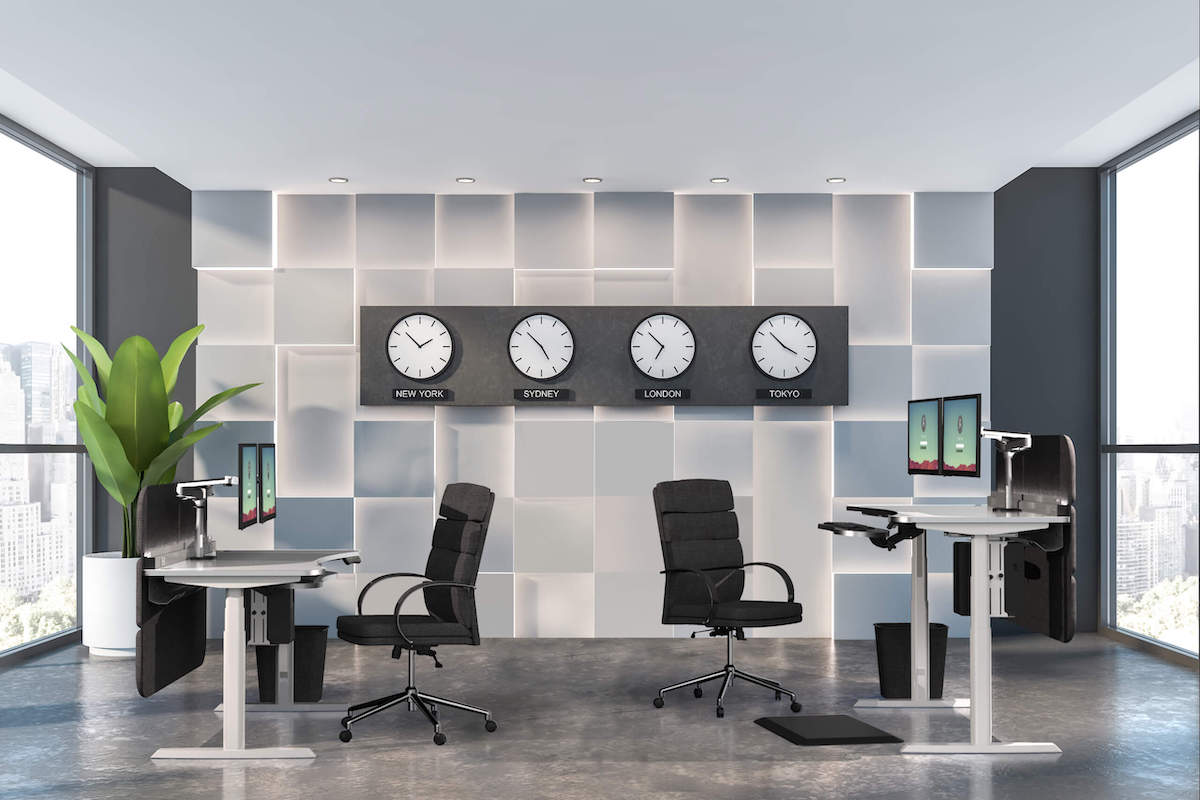 UNICOO electric standing desk – The desk's features
Shipping and set up
I was able to get my UNICOO desk just a few days from the time I placed an order. So if you're in a rush and need a standing desk asap, you'll be able to get this desk instantly. 
Upon receiving the desk, I noticed that it got a nice heft to it. Honestly, I was expecting something a bit more flimsy with an electric desk of this price tag. So first impressions are rather good. I even asked help to get it up to my unit because it's quite heavy.  
The parts are arranged nicely in a box with the accessories separated and placed in different plastic bags. So you know which set of washers goes with the frame and other parts. 
The assembly was rather intuitive. I was able to figure everything out quickly without the need to rely much on the instruction manual. And oh, you might not be able to get clear instructions from the manual. So it's a good thing that the setup was intuitive. 
The brand could have done a better job of making the instruction manual more comprehensive. It can help a lot who are new to DYIng and putting stuff together. 
Also, the packaging was great, it was intact and properly protected from dents and scratches. You'd also get the desk true to its size. So you'll get what you saw in the advertisement, no more no less. 
Tabletop and frames
The tabletop is made from MDF wood. Though it's not real wood, It looks like real wood, you won't be able to tell the difference from afar. It's the type of desk that you would not be worried about if you're going to write over it. It doesn't feel like it's going to leave dents or leave an impression. 
And if you're going to place your coffee cup, it won't stain nor damage the wood should your cup leave watermarks. I also like how the edge is about round and the laminate top is folded all the way down. So even if it's not real wood, it still looks natural and seamless. 
However, I have some concerns about the durability of the MDF wood. Though it's scratch and stain resistant, it feels like it won't be able to last that long. 
As for the frames, I find them pretty sturdy and strong. This is where most of the heft of the standing desk came from. The legs are pretty heavy and solid. 
Lastly, the connection between the top and the frame is rather good. This also makes the desk pretty stable. There aren't any parts that feel loose when the desk is transitioning. 
Motor and controls
It transitions fast and does not make any noise. This can make up for a really decent and productive desk for your home office. Also, the maximum height is 48 inches, so it will be comfortable for taller users. Though if you're petite, it might not go low enough for you.
It's also easy to set your preferred desk height with the 4 memory preset. But I did notice that there were instances when the control panel had a delayed response. There were times when I needed to press the button twice or put a little bit of force for it to respond. So the control panel is not that responsive.
On the flip side, for an electric desk with its price range, it's impressive to see a control panel with memory presets. Most desks of the same range would just feature an up and down button, so this feels like an extra from the brand. 
Moreover, even at standing height, the desk is pretty stable and solid. I didn't experience any noticeable shaking. 
Customer service
UNICOO is also one of the few standing desk brands that have great customer service. You won't be disappointed with how they handle your queries and concerns. So that's a big check on my list. 
Overview
The UNICOO electric standing desk looks more expensive than it really is. What will give you the most bang for your buck will be its sturdy steel frame legs. This I can vouch for. And the shipping is very reliable. Even in this COVID time, I was able to get my desk in 3 days. So that really would help a lot those who are getting this for their home office.
In fairness to this desk, it offers several features that you might see in more expensive desks. For a really lovely price, it does offer several safety features. First. it has an anti-collision feature that will put the motor to a halt if it comes in contact with anything. This works much like that of the Jarvis and Uplift desk. If you have kids, this is something you should look for.
Secondly, it's equipped with overheat protection. So should the motor become overwhelmed, it will come to a full stop. That will prevent the motor from getting damaged. .And thirdly, it has an auto-balance protection function. The desk will stop if it's tilted to 2 degrees. It's one way of letting you know that you have assembled it wrongly.
Also, the warranty for the brand is at 5 years for the motor and frame and 2 years for the controller and the switch. The 2-year warranty for the controller is a bit stingy though.
The Achilles heel of the desk, however, would be the not so sturdy tabletop. Though it looks more expensive than it is, it might not be able to stand long use and abuse. And I find the working space a bit too small for me. 
Who will find the desk useful and who will not
This desk will benefit you if:
You are looking for an affordable electric standing desk. Compared to the price of a hand-cranked desk, you just need to add a few dollars to get an electric one.

If you are on a budget and need a decent standing desk for your basic workstation at home.

If you need a desk that can be delivered in the shortest time possible, this is a good option. 
The desk isn't for you if:
You are petite. It can't go low enough to accommodate shorter people.

If you need a large workspace, you'll find this lacking.

It's a relatively small desk. So it fits a small home office well.
Where to buy it
Final say
The UNICOO is a budget standing desk that does not look like one. And for the robust legs, it's like paying less for more. Though keep in mind that albeit with sturdy legs, the entire desk is not the most durable so don't attempt to sit on it to test it. 
Finally, if you are in the market for an affordable and decent electric standing desk, the UNICOO is a good option.