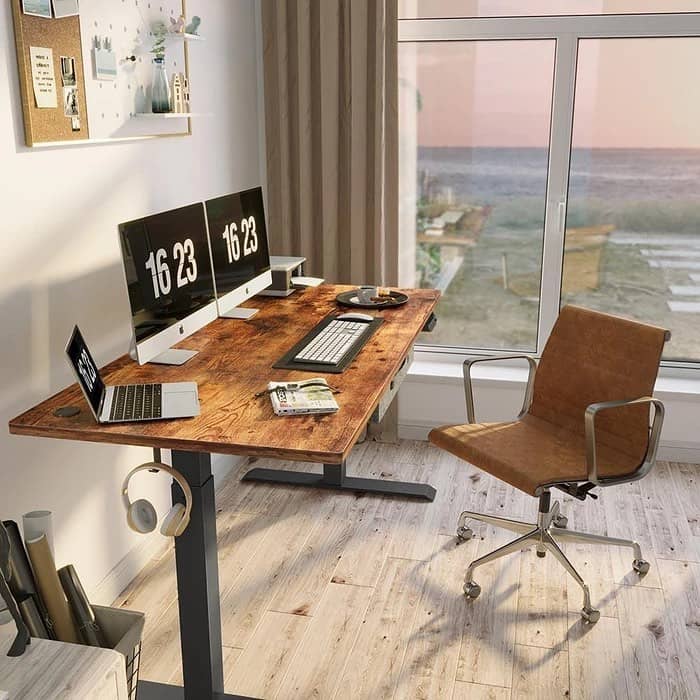 Take a look at the picture above. What do you think about this standing desk? Yes, it's from Fezibo. Their standing desks may not be the best in the market, but have enough pros and options for you, especially when you just want to buy a frame only for an adorable price
Purchasing a standing desk frame only may have its advantages. And if you just love your old heirloom tabletop but the frames are annoyingly wobbly, a desk frame is a great solution.
Let's review the FEZIBO standing desk frame. They're pretty affordable but let's see if it's worth every cent. 
FEZIBO – A deeper look
You might not have heard of the brand FEZIBO, but it offers one of the most cost-effective yet stable sit-stand desk frames. And the brand also manufactures accessories that can make working on standing desks more comfortable. To see their best seller is FEZIBO Dual Motor Height Adjustable Electric Standing Desk with Keyboard Tray, 55 x 24 Inch >>> check it here
What about the FEZIBO sit-stand desk frame?
Before The FEZIBO only sold the frame. It can be an advantage or disadvantage depending on your circumstances. But at the moment, they have several options like the standing desk with drawler, or ever the stand-up desk converter.
It's an advantage if you want to still make use of your old desk. And if you decide to upgrade your tabletop desk in the future, you don't need to buy the motor and the frames.
But if you don't have any yet or plan to replace your old desk, you just have to buy a separate one. 
And if you're going to buy a desk, it has to be between 48 inches to 90 inches in length to fit in the FEZIBO sit-stand desk frame. So it's rather easy to find a tabletop, or you might have one at home that you no longer use.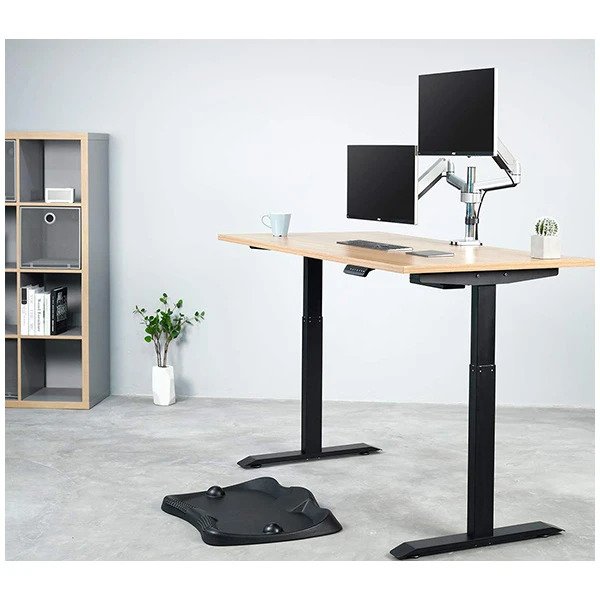 Assembly and set up
Don't worry if you don't know how to do. The brand FEZIBO provides a guide to make sure you can get it easier
In terms of the assembly, it did take us a while to set the whole thing up. But the instructions are very clear and pretty straightforward. And most of the work involved was more on tightening the screws with an Allen wrench. It's a plus that the brand tossed in an Allen wrench so that you don't have to scramble through your toolbox for one.
We find the frames solid and sturdy. It also has a substantial weight, so you know from the get-go that it means serious business. It's made of commercial-grade and heavy-duty laminate and steel. It doesn't feel or look flimsy at all. So the overall unit is quite impressive for its price. 
Stability and motor
The FEZIBO sit-stand desk frame is available in a single motor or a dual one. The single motor retails price, you can check it here for the greatest option. It costs similar to the VIVO White Electric Stand Up Desk Frame Workstation. Though the VIVO desk is a tad bit shorter with the maximum length at 83 inches. 
In terms of weight capacity, both brands have a carrying capacity of 176 lbs. But what we don't like about the VIVO is that it gets pretty rocky if you're going to maximize its weight capacity. The connection between the lower leg to the foot can be improved to remedy it. For now, we didn't experience any wobbling at any point with the FEZIBO frame. So it's a more sensible purchase. 
And the FEZIBO sit-stand desk frame also has an anti-collision feature. Not all standing desks are equipped with it.

The dual-motor costs a little bit more bucks. See the price at the moment here
And it has a carrying capacity of 270 lbs. It belongs to the medium-duty sit-stand desks. So it's pretty decent too. And it transitions smoothly and is quite stable at the highest setting.  
You can even place a cup of water on the desk as it elevates, and the water would stay still. And it pretty much operates quietly and there's no wobbling or shaking to the sides. 
The telescoping legs also add up to the stability of the FEZIBO sit-stand desk frame.
But if you need a more heavy-duty steel frame, the Uplift V2 frame has a carrying capacity of 355 lbs. The cost of this frame you can check here. But you need to upgrade to get all the works done. It's pretty customizable and can be configured to your needs. But of course, you have to shell out more money for every feature that you upgrade to.
Operation
The FEZIBO sit-stand desk frame operates via a control panel which is a small plastic material. But some might find it too flimsy. And you might be comparing it to the all-metal frame structure of the FEZIBO. So the plastic control panel can be quite noticeable.
In my opinion, any flimsy plastic material can make a sit-stand desk sort of look a bit cheap. But hey, this standing desk frame is quite affordable. So I'll give it that.
So it's still pretty good. The control panel is quite responsive so it works okay. You can use the up and down arrows to increase the height of the desk. And It also offers a preset setting located on the right side of the panel.
One of the best features is that it can reach up to 52.56 inches in height. So it's a perfect fit for the taller ones. Its height range makes it more flexible and versatile. So a lot of people can find this desk frame quite comfortable. See more detail about the height of the Fezibo 63′ here
Only Autonomous A2-A294 Premium Dual Motor Electric Standing Desk is the best alternative, compare to Fezibo 63′.
Another stable and quiet standing desk frame comes from Flexispot. Their bestseller is the Electric Height Adjustable Standing Desk Frames which retails adorable price here. It's a single motor desk frame. But in terms of the height adjustment, the FEZIBO  fared better.
The Flexispot frame can only go as high as 47 inches. And it only includes an up and down arrow control panel. You need to get an upgrade if you want one with the preset height adjustment settings.
The Flexispot is also relatively quiet during operation. And it also transitions quite smoothly.
The messy part
Now for the not-so-fun party. What lots of users hate most about it is the messy cable. Though the band threw in some cable ties to keep the cords and wires together, you'll still find everything in disarray. And you have to make sure that your power strip has a long cable too. 
So if you're looking for a sit-stand desk with a more organized cable management system, the Uplift V2 or the UPlift V2 commercial is a great choice, with the latter being more expensive. One more con is, the range of Uplift is too limited. It's not for a super tall person. Such as a normal guy with 6'5″, the max height of this desk is a little low for him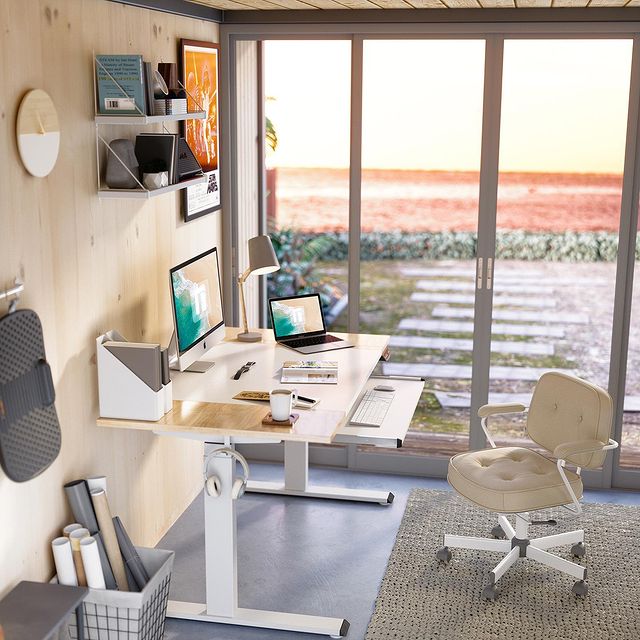 FEZIBO customer service, what's wrong?
The truth is, FEZIBO is one of the cheapest yet functional and stable standing desks in the market right now. And despite some of the what could have been better stuff, many are still looking at getting one of these desks. Most also understand the tradeoffs that come with a cheaper unit. But what many find disappointing is the bad customer service, which also happened to others like Autonomous.
Other users even labeled it as one of the worst they have come across. Let's take a quick and brief look at what many are encountering.
We also can't help but ask, what's up with your customer service FEZIBO?
Customer service is very important, it can spell a lot of difference, it may even be the deciding factor in revenue or a return. 
The brand does have its own website. And they also have a functional email where you can contact them for any queries.
Yes, they do respond in a reasonable amount of time. But what was discussed via email was very different from what they will send you to your doors.

In some instances, this can be a win. One user had an issue with a broken plastic part. Then the brand ended up sending a whole new desk! Now, this is one mistake from the brand we will not be complaining about haha.

You can ask for troubleshooting tips if the motor fails you. The brand will send you an email. But oftentimes, the instructions were too general and it does not seem to work. It would also be lovely if the brand will do a follow-up on the more serious complaints on the motors.

The brand claims that it has dedicated tech support. As we have mentioned in number 3, it will help if the instructions were made more specific and if there was a follow-up. Troubleshooting tips generated by the tech support really don't help resolve the issue that much. You have to email or call them again for an alternative solution. Of course, there's still the waiting time, though not ridiculously long, it is still time wasted. You could have been working on your standing desk right now.
If the customer service is that bad, why are many still buying products from FEZIBO?
Customer service is one of the gold standards of buying, right? It can make or break a sale. It can dictate revenue or a return. As simple as that. Well, for FEZIBO, not really. As bad as their customer service is, many still buy from the brand. 
And here are possible reasons why
1, FEZIBO offers a very affordable yet "stable" standing desk. Literally, there are no wobbles and shaking. The units are very durable and seem to last a long time. So many users will not care if the tech support is not that awesome at their jobs. If the desk is serving them well at a very cheap price, they will still buy their second desk from FEZIBO. 
For an L-shaped desk, it is very rare to get one that costs less than 700 dollars. Many, or almost all of the more decent standing desks will run at 700-1500 dollars. So if you are tight on the budget but need a larger space, you will not mind the awful customer service.

Because they get away with it! Yes because they do not see their sales going down, they will not do any improvement, right. Sarcastically speaking, why would they spend more resources attending to user complaints when they can just get by and still have good sales lol.
So these are just our thoughts, these are not coming from another user's mind haha. But this is where we see the problem lies.
So on to a more sunshiny road, allow us to enumerate our favorite brands when it comes to customer service. 
Standing desk brands with the best customer service
Fully is one of the more popular standing desks in the market. And their customer service is also one of the best. The standing desk Fully looks posh and sleek, but they do not have the most stable or steady units. And even if people are aware that they use a cheap Chinese-made Jiecang motor, many still love the brand.
One of the reasons is because it has impeccable customer service. Many have raved about how the brand handles all their complaints, queries, returns, and exchanges well. They were made on time and the correct product was delivered to their doorstep. There was also minimal time in waiting for a response from their tech support. And the troubleshooting tips provided by the brand do work most, if not all the time. 
Same with Fully, this brand also uses a cheap China-made motor. But still, many would love to have an UPLIFT desk in their home office.
It's a bit head-to-head with Fully when it comes to the overall look and features. And also, UPLIFT has great customer service. They were able to deal with the customers' queries and complaints right away. And all of their customer service representatives were able to respond on time. 
And all their reps know the brand quite well. They know all of their products rather well. Everyone seems to have impeccable knowledge of everything that concerns their units. Thus. they will be able to give you the most effective solution, rather than just sending you a copy-pasted general instruction. 
Apexdesk offers a quick response both in answering queries and delivering returns and exchanges. Users were pretty happy with how they were able to receive their replacement desk. 
The standing desk from the brand is impressive in terms of looks, build, and stability. Apexdesk also offers a wide range of standing desks, they have a lot of impressive and gorgeous units too. And the customer service is equally impressive as well. 
Conclusion
So those are some of the reasons why FEZIBO's customer service is one of the worst. And the very affordable price compared to the value of the desk may have caused the brand to be complacent. They might be thinking that this can take the place of good after-sales. And we do hope that this can be resolved by the brand.  
While many are shrugging this off. And a lot of people still consider FEZIBO as a great value for their money, who knows in the future right? You never know. And you can never tell when customers will have their fill of bad customer service. 
Overall, the FEZIBO sit-stand desks frame is a great buy. And it's best for those who love DIYs since you have to either purchase or install a different tabletop. But a lot of people find it as an advantage rather than a disadvantage. It makes upgrading in the future easier and more cost-effective. And since the desk frame itself is stable, durable, and can cater to even tall folks, it can save you money when you want to upgrade your desk in the future.
And it offers a reasonable warranty period for its price. You get a three-year warranty on the motor plus a five-year warranty on the steel frames. Their customer service is friendly and easy to deal with too.