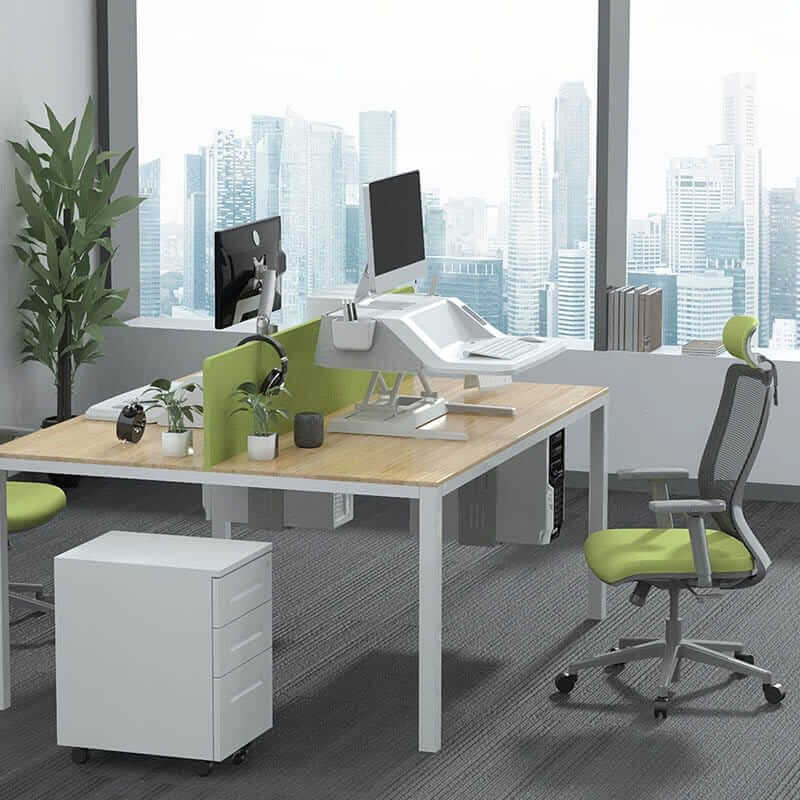 With that being said, let's discover the most stylish and smart FlexiSpot EM6S sit-stand workstation that will be your aid to experience less daily anxiety, improved job performance, work engagement, and overall quality of life.
This Flexispot EMS 6 workstation is the answer to your bad, sloth-like working habit. This will definitely help you eliminate that problem. Goodbye back pain and numbness! This product is tested to lessen your back issues. In just three days! And eventually, you'd feel even better. 
If this is your first experience purchasing a sit-stand desk and don't have a reference for all of the products in this category, no worries, as FlexiSpot has since then received good reviews not just for this product, but for many of their products as well. 
You're still not assured? FlexiSpot desks have undergone extensive fatigue tests, sustaining more than 6,000 back-to-back height adjustments. 
Going back to our main focus – the EM6S. This sit-stand workstation is designed to be sturdy, ergonomic, spacious, versatile, and easy to control.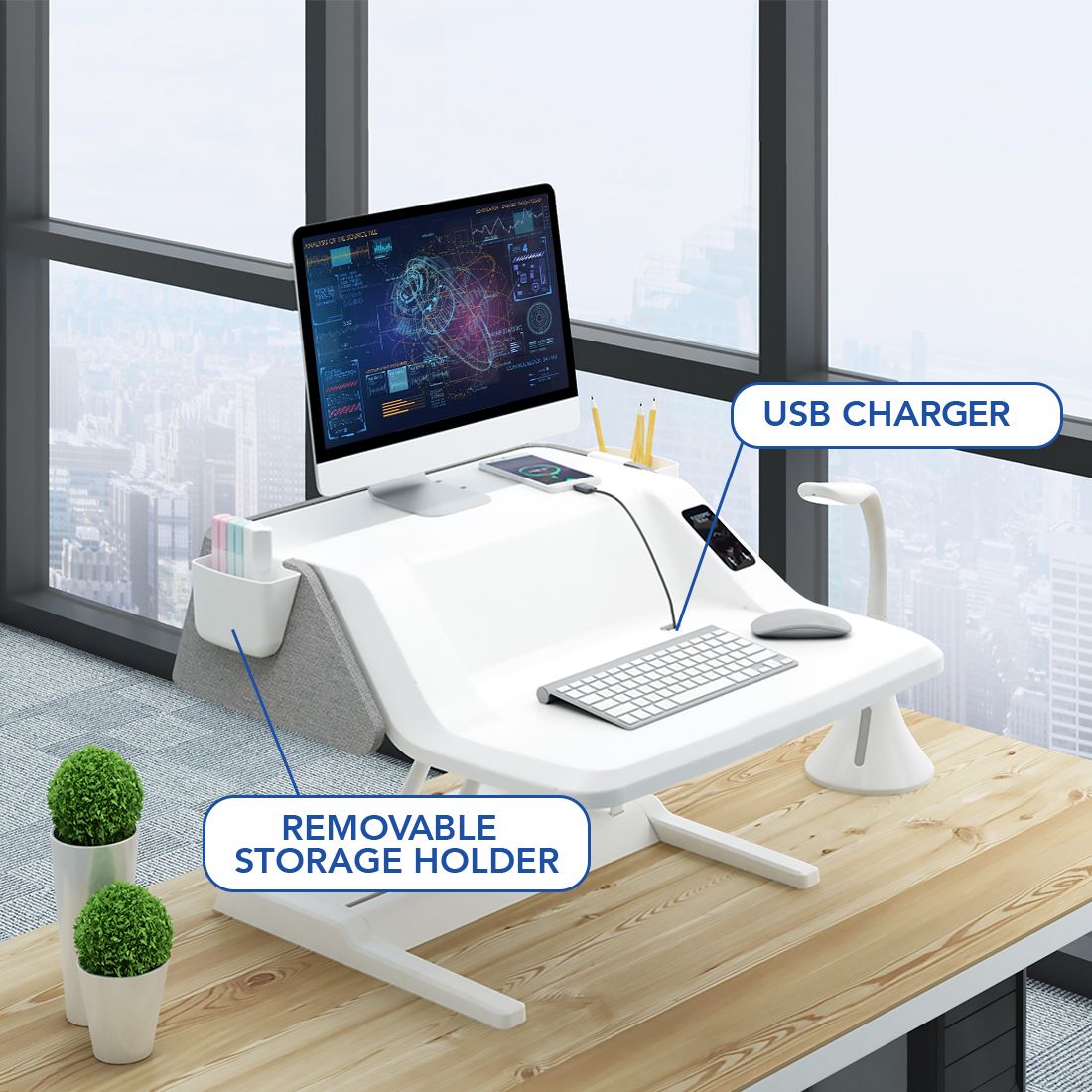 It has a patented design that displays a sleek, minimal, and modern aesthetic look to it. 
For sure, it's the perfect blend of design and function!
All that, but it fits into any workspace. Amazing.
Sounds inviting, right? Wait no more! Check out the product detail page here: https://flexispot.com/stylish-sit-stand-smart-workstation-em6s
In the paragraphs below, we'll discover the features of the EM6S, but first, let's get to know its specifications.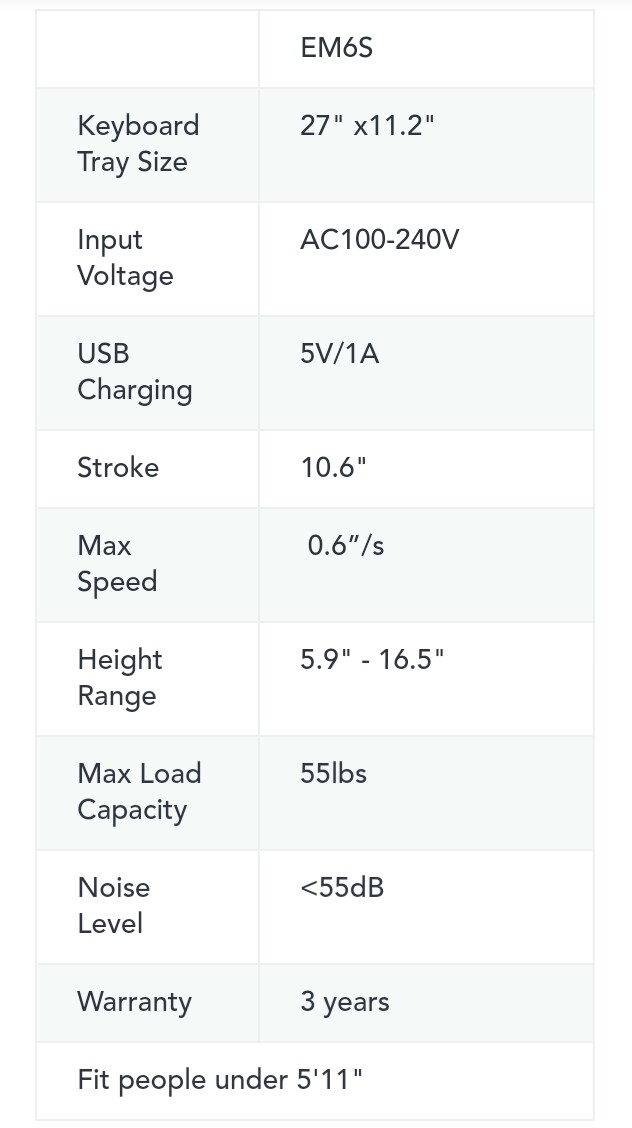 Now, for the most awaited features of this sit-stand workstation. 
Straight up and down movement
Our space-saving workstation rises and folds vertically, within its own footprint. 
The operation is silent. It lifts and lowers very smoothly. Not only it is so smooth, but super easy as well. You can basically go from a sitting to a standing position even while on a phone call with a client! Featuring a one-tap touchscreen that saves your sitting and standing heights. By simply pressing a button, you adjust the desk straight up and down. No manual lifting is necessary, with memory presets to save your preferred heights.
How it travels vertically is much appreciated by buyers because it saves valuable space in their workstations. This transition offers better stabilization as well when raising and lowering. 
This is often the key factor that users opt to buy this desktop. 
Do note that it has a height range of 6.0″-16.5″ and the riser is compatible with anyone under 5'11". 
Multifunctional accents
It has a creative and nice-looking design that allows convenient and useful accessories to be attached directly, such as pen containers and cup holders. Pens, flowers, cups, and other desk essentials can then be placed, making your workstation organized. 
This desk is so vibrant because of its colorful cloth finish. The fabric border around the back and sides of the desk adds some color and life to your workspace. 
The USB charging is also a huge plus!
Also, a favorite feature is a functional and realistic surface, especially how it caters to notes and files in front of you. It's spacious enough to accommodate a laptop with a 15-inch monitor or your MAC. 
For added coverage, it has dual monitor mounts, too. 
To add, it has a wide keyboard area with plenty of room for a full-size keyboard – even the standard Apple Magic keyboard – and your mouse. 
What a sleek design for your iMac, MacBook, personal computer, or laptop on the top level and keyboard and mouse on the lower level. 
 Here's more! It is very sturdy and thus, you don't feel the movement when typing on your keyboard or moving your mouse. Such a good frame! 
Convenient electric operation
No more heavy lifting! It is a power lift, but not much more expensive than a manual lift, which makes it definitely a good buy!
For your reference, the input power is 150W.
Hassle-free and minimum assembly 
Say goodbye to painful installation and confusing instructions! The product is literally ready to go out of the box. This smart workstation comes fully assembled, so you can get this set up easily and quickly – even in a few minutes! 
Anti-collision technology
Technology put to good use! The converter will automatically reverse if it encounters an obstacle, which ensures the safety of its users. 
Warranty info
It has a 3-year warranty for the frame, medium-fiber desktop, and mechanisms.
Shipping and return policy
FlexiSpot ships to 48 states in the U.S. from four US warehouses via FedEx for free. 
If you're shipping to Alaska or Hawaii, you will be charged the FedEx posted rate. 
For orders shipping to Puerto Rico, or any country other than the U.S., you can give them a call at (855) 421-2808.
You are free to return almost any item within 30 days of receipt. A 30-day risk-free policy applies to all items. No restocking fee is applied for items returned in "like new" condition. No shipping fee is applied for the return of the item.
Certain FlexiSpot products are eligible for our premium delivery services. For more information on FlexiSpot warranty coverage, you can find it in their policy page
Other FlexiSpot products for your reference
FlexiSpot imagines, designs, and brings to life ergonomic solutions that help people lead healthier and more productive lives. See two, out of the many, of their ergonomic products for your office or home. 
This is one of their best selling models – the Value Electric Height Adjustable Desk EC1
Experience industry-leading stability and noise levels desk that is thoughtfully engineered and thoroughly tested.
Here we have an out of the box product – the All-in-One Desk Bikes – Deskcise Pro
It is partly a standing desk at the same time partly an exercise bike. Wow! 
Stay active even during otherwise sedentary activities, like checking emails, watching TV, or in the case of the picture above, painting. 
Available in colors white and black.
Absolutely, you can turn downtime into uptime! 
CONCLUSION
Overall, EM6S is a great product! 
Every detail of this product is designed to help you maintain an ergonomically correct position. It has a contemporary design that in reality, supports your wellness and productivity. 
The straight up and down movement plus convenient electric operation has got to be every buyer's favorite! Its functional and spacious surface comes next. 
All the great benefits, but it still doesn't come with a price. Just the right amount for you to have an investment at the same time a good buy. 
Congratulations! You've found the perfect sit-stand desk for your home or office. Otherwise, FlexiSpot has other great options for you to choose from. If this isn't the perfect product for you, perhaps, this can still be the shop where you can find one.