DESINO is not an adjustable gaming desk, but you will still be able to find more value in it. And oh, it is quite affordable. Even the 55" desk can be a great option for novices. And even if you're not a great spender, you can still indulge in a more liberating space.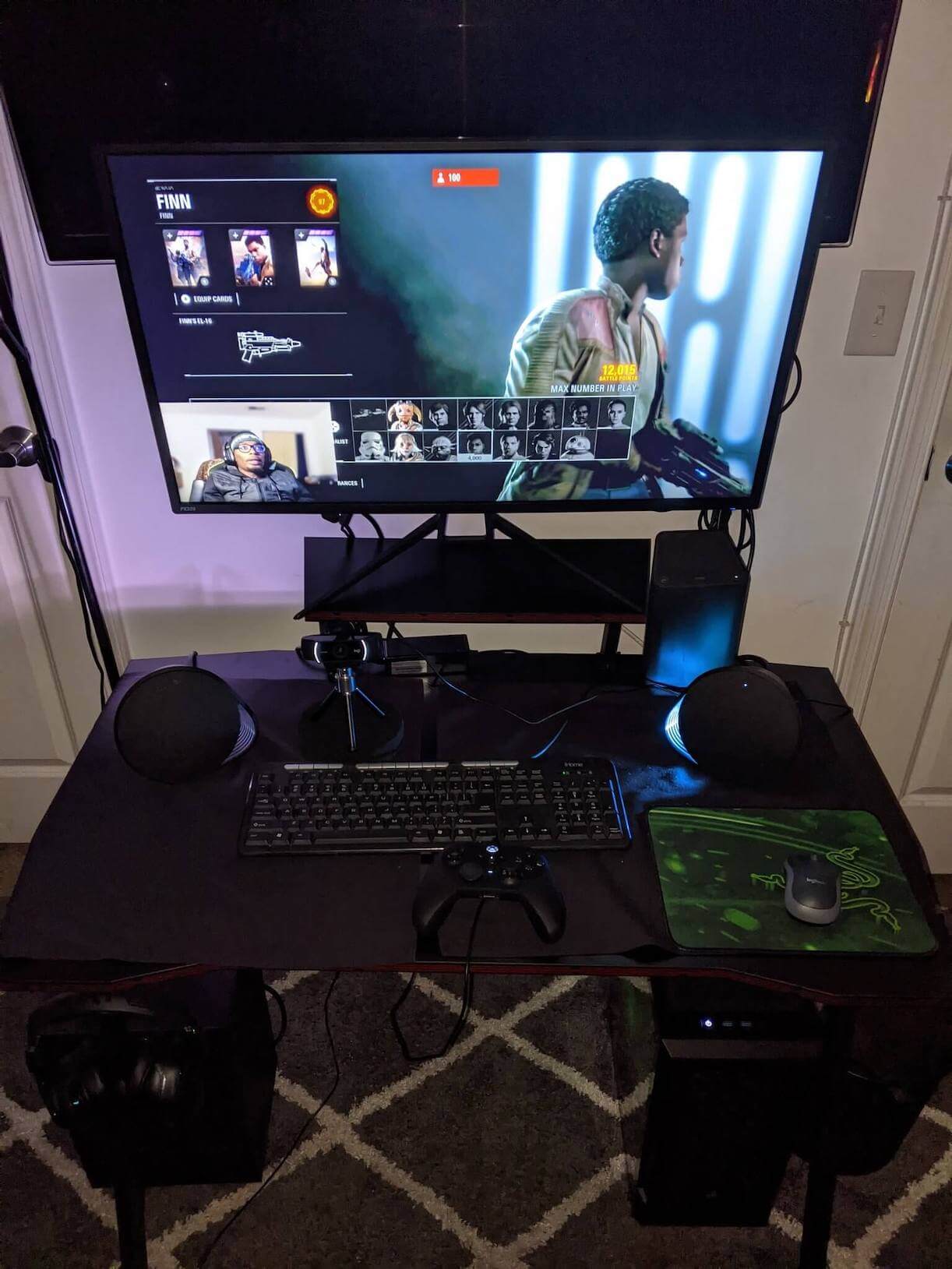 You can opt to buy the rectangular DESINO either with Z-shaped legs or V shape legs. We'd love to elaborate more on the Z-shaped legs, it looks racier and it can have an extra amp to it.
We'll also see which DESINO desk size is a better steal.
Why Z shaped gaming desks may be a great option
Now let's elaborate more on the Z-shaped legs. While these types of legs are not often, if not totally, found on desks for work, it's popular on gaming desks. And these are some advantages of desks with Z-shaped legs.
They will give you a lot of legroom. 
You can place your printer and CPU below and you will still have enough room to sprawl your legs. So if you need lots and lots of space below, you can never go wrong with this. 
And when you have tons of stuff and equipment, having extra space both below and on the tabletop surface is a luxury. 
And the thing is, with the shape of the metal legs, your gaming peripherals, or office essentials will neither be too close nor too near to you. These types of legs make everything within the perfect reach. It's easier to level out all the things you have on your desk. 
It kind of makes up for a less cluttered desk. The structure of the legs, for some reason, makes it easier to manage wires and cables.
It looks edgy but it's ergonomic at the same time
Let's talk about the ergonomics of the DESINO. 
It is a rectangular desk but it does have a more easy-to-access design compared to other brands within the same range. 
For instance the HOMALL and DESIGNA both have rectangular desks, also with various sizes that the DESINO also offers. But you'll find the DESINO more shapely, so to speak. 
It has more subtle contoured edges that make it look a notch higher. This will also be more comfortable for most people since there are not any straight edges. And this can ultimately make the desk very accessible for most people. 
It is pretty stable
And oh, it's not adjustable. So not only is it free from electronic glitches, but it is also pretty stable. The metal legs seem to be holding up pretty well. And there are also thinner metals at the back that serves as a reinforcement for added stability. 
And though not that thick, the metal legs are quite stable and steady. The reinforcement at the feet also made it more steady.
Carbon fiber print vs actual carbon fiber
Carbon fiber printed desk is different from a true carbon fiber desk. The top is carbon printed only. So you still might need a mouse pad. 
We saw several complaints that users were disappointed with the carbon fiber laminate. The desk is often misrepresented as having a true carbon fiber top. Though at first glance you will not be able to tell the difference. It still looks very gamey and racy, as what carbon fiber, true or laminated, is supposed to look.
And so, if you're looking for a desk that has true carbon fiber, this is not it. Gaming desks such as the MOPTK will be a better choice. 
Who can be happiest with it
Number one, is, of course, gamers who need a wide desk that is pretty stable and who are on a budget at the same time. 
The desk can give you easy access to all the stuff that you're placing on your desk. 
That's why this can also be used as a working station for the DIY crafter, or if you need to work on large spreadsheets, blueprints, and stuff like that.
Number 2, If you love a legit gamey-looking desk that's cheap but stable,  you'll want this.
It looks similar to the DESIGNA Z-shaped desk minus the RGB lighting. But we find it more stable than the DESIGNA desk since it has a horizontal metal bracket at the back as additional reinforcement. And it is more ergonomically shaped.
DESINO 55" vs 47" vs 40" gaming desk showdown
Going to the desk size options, you have three choices. 
Apart from the width, everything else is the same. 
You get the same no splice carbon laminated desk with contoured edges. All three size options also come with a fixed desk riser. They also offer the same add-ons, side hooks, and a cup holder. 
The price difference between the 55 and 47-inch desks isn't too much. That's why we are all in for the 55-inch desk. 
Normally, the most ideal gaming desk size is around 60", though it also depends on your gaming setup and how elaborate your gaming rig is. But the 40 " desk will feel too cramped up. 
Best Alternatives
Outen 55" Z shaped desk
This can pass off as a DESINO twin. 
It has the same add-ons, a cup holder, and a desk riser. The desk also comes in one single piece and has a carbon fiber laminate top. 
Though the DESINO is more ergo contoured and looks a bit edgier and has a reinforcement bracket at the back. But from afar, you might not be able to tell the difference. 
Vitesse 55" desk
If you are looking for more functionalities, this desk will be a better option. Aside from the add-ons that the DESINO offers, this deck has charging ports. What you would not like is that the desk comes in more than one splice. So this may affect the overall stability of the unit.
Preenex 55" desk
It's the best alternative that has RGB lighting. Though it lacks a desk riser, it does have an expansive pad that can render a safer and more indulging space for your gaming peripherals.
Like the DESINO, it is also pretty stable and has reinforcements on the legs for added stability. 
Bigger is always better
Unless you have a spatial challenge, a bigger gaming desk is always the better route, provided that it still remains steady. With the additional reinforcements, the DESINO remains steady even with the biggest desk size.  
Upgrades are inevitable if you're serious about gaming. Even green blood can't help but rack on gaming peripherals every other month or so.  So you'll also be needing all the space that you can have, both on the desk and below it. And DESINO can satisfy both spatial needs.