Stand Steady may be one of the most affordable brands you can find in the market. While we are all for a cost-effective product, how functional are they? Because if it's cheap but a pain in the butt to use, it's not a good deal.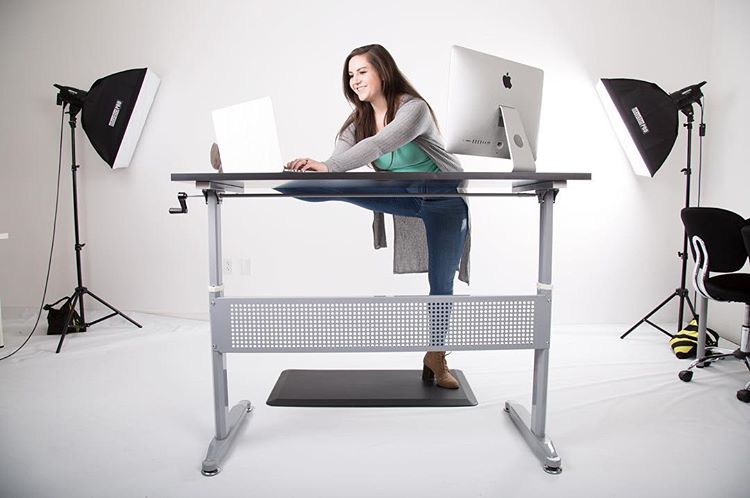 So let's review three of the brand's standing desks and standing desk converters. 
About the brand

 
When it comes to affordable desks and converters, Stand Steady is one of the more popular brands. It's ideal for those who don't have a budget yet for a made in the US standing desk. The Stand Steady desks are manufactured in China, which also accounts for its lower price tag. 
Stable and steady
I find this fully electric standing desk converter such a treat. It has one of the cheapest yet powerful motors for a standing desk converter that I've encountered. If you find your old desk a pain in the ass but don't have a budget yet for an electric standing desk, an electric desk converter is a great solution..
And of course, you want to find a brand that would not give you further nuisance, so it has to be stable. And by far, the Flex Pro is stable and sturdy. I didn't experience any shaking or wobbling at any height. And even if it's moving, your computer, mouse, and anything on the table stays where they are. There wasn't an instance where I felt that my monitor could fall off the table. 
In terms of stability, it can be as stable as a Versa desk standing desk converter. This brand also has a solid build, but the keyboard tray feels a bit too cramped up for me. The 36 x 24 desk converter retails at a great price you can check it here, though its main advantage is that it's made in the USA. It's more expensive than the 36-inch Flex Pro desk
The weight capacity is 45 pounds, so it's decent enough for an affordable desk converter. It even has a higher weight capacity than a Humanscale Quickstand Eco desk converter. This brand is also stable and sturdy, but the weight capacity is lower at35 lbs. And you also have to set it up, which can be a painstaking process
Spacious
In terms of working space, it offers two tiers so you can place up to two monitors on the top tier and your keyboard and mouse on the bottom tray. And won't feel too cramped. The distance between the first and the second is spacious enough. It doesn't feel too tight and you still have lots of freedom for movement.  
What wished were different
Surprisingly, I didn't really feel like I wanted something to be better. It's just that the Flex Pro is made in China. And we all have your hesitations for all products that are made in China. 
One of the more spacious and affordable standing desks from the brand is the Tranzendesk. With the55 inch desk, it offers a ton of working space. It can accommodate up to three monitors and you still have a lot of room for your other things. With a carrying capacity of 70 lbs can afford, it's at the light-duty to the medium-duty range. 
Tranzendesk is also one of the cheapest yet decent standing desks that we've tried. Well, partly because it's not electric. The height of the table can be adjusted via a hand crank. For most, this can be a disadvantage, especially when you want everything to be fast and changes with just a click of a button.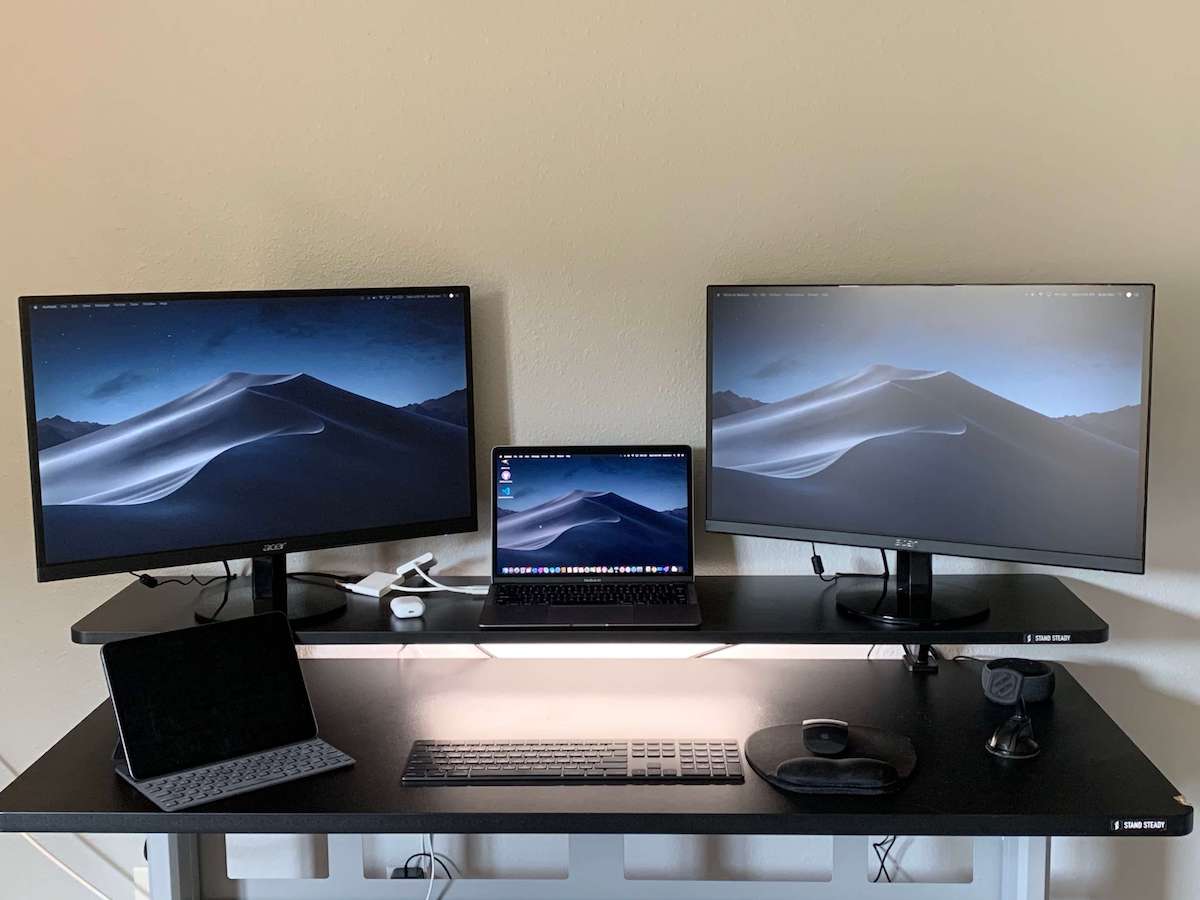 Though the hand crank is pretty easy to adjust. It's quite easy to handle compared to others standing desks that are adjusted via a hand crank. It's even easier to move up and down than a Seville airlift desk.
So If you don't mind the manual adjustment, this is a great and steady desk. This type of desks may have its advantages too. They're free from electronic glitches
And it also gives you an option to clamp on a second tier. So if you need more space, it's a great inexpensive upgrade. I also like that you can also have a keyboard tray attached to the desk, not all brands offer a clamp-on keyboard tray.
Cheap yet stable
The Tranzendesk is equipped with telescoping legs and it has a steel frame that runs across the frames. This feature adds up to the stability of the desk. I didn't experience any wobbling or shaking. But as much as the parallel bar gives stability to the desk, it can be a nuisance to some. Some may find their knees bumping against it, but that may be a matter of personal preference. Though I think mostly taller people will have an issue with it. 
What we wished were better
Some features would have made this standing desk more popular to everyone. One, it lacks caster wheels. It's a huge desk so moving it from one area of the room to another might not be that easy. There's also the risk of the end of the foot frames marring your floor. So you need to lift it a bit. This is where caster wheels could have made things easier.
And of course, you have to adjust it via hand crank. Though it's sturdy, stable, and easy to access, some people might not be too keen on buying a standing desk that isn't automatic. 
Stand Steady also features a fully electric standing desk converter, the Flex Pro power. Albeit it's a standing desk converter, it's also cheap and I have no qualms about it. It lifts and lowers easily and smoothly. So it's great for those who want to hover through their tasks with just a touch of a button. 
Overall, the Tranzendesk is a sturdy, stable, spacious, and affordable light duty to medium duty desk. if you don't mind the manual adjustment via hand crank, you'll be happy with it. 
Stand Steady Uptrack standing desk
The Stand Steady Uptrack is another budget-friendly standing desk converter from the brand. It's actually a perfect standing desk kit for cubicles. In terms of the overall look, this standing desk converter veers away from the conventional desk converters in the market. 
And it does require a full assembly. You have to harness your DIY skills with this one. Compared to the Flex Pro that's fully assembled, you'll receive your Uptrack standing desk in all its bare glory.
If you're fond of DIYs you'd be happy as a chimp to assemble this one. But if not, best of luck. The assembly may be longer, you have to connect all points A to B. If you love playing lego or building blocks, you'd have no trouble with it.
Operation
This standing desk features a single tier, though it's roomy enough for a single monitor and keyboard with additional space. It's quite easy to glide the desk up and down, you just need to unlock the levers and manually adjust it to your preferred height. Though you might need to have the middle part supported with what a support column.
It's a slide-type of a standing desk and the platform is held in place by a couple of plastic brackets at the back. For me, I find the bracket and the supporting column a bit too flimsy. And the adjustment itself may or may not be a nuisance. But I think it depends on your mood. If you're rushing to get things done, you might find it a pain in the butt to have to glide the table, pinch the brackets, then place the supporting column in the middle. But if it's a good day, you might not mind it. 
What wished were better
This slider type desk converter is very cheap, costing less than 150 bucks. But be reminded that you get what you pay for. The weight capacity is 25 lbs so don't attempt to test it or whatnot. Though it hasn't happened yet, I just find that the supporting column in the middle can easily slide if you accidentally bumped it. But again, it hasn't happened yet.
So it's another thing to consider if you're keen on buying this standing desk converter. So maybe no unnecessary movement?
And take note that this converter has a lot of small parts. So be careful around children when setting this up, it can be a choking hazard. 
But if you want a stable yet affordable standing desk, your extra bucks will get its best value from a Flexpro power electric standing desk.
Overall, it's ideal for those who don't want to spend money and will just be using the standing desk converter in one position. The cheap price tag is there for a reason. But for its intended function and price, I think the stand steady uptrak standing desk will perform as to what is expected of it. 
Final takeaway
In nutshell, Stand Steady standing desks are great for those who don't have much moolah to spend but still need a stable and decent work area. The Uptrack glide standing desk converter may be new to most since only a few brands have this type of standing desk converter. But for its price, you can't be unhappy with it.