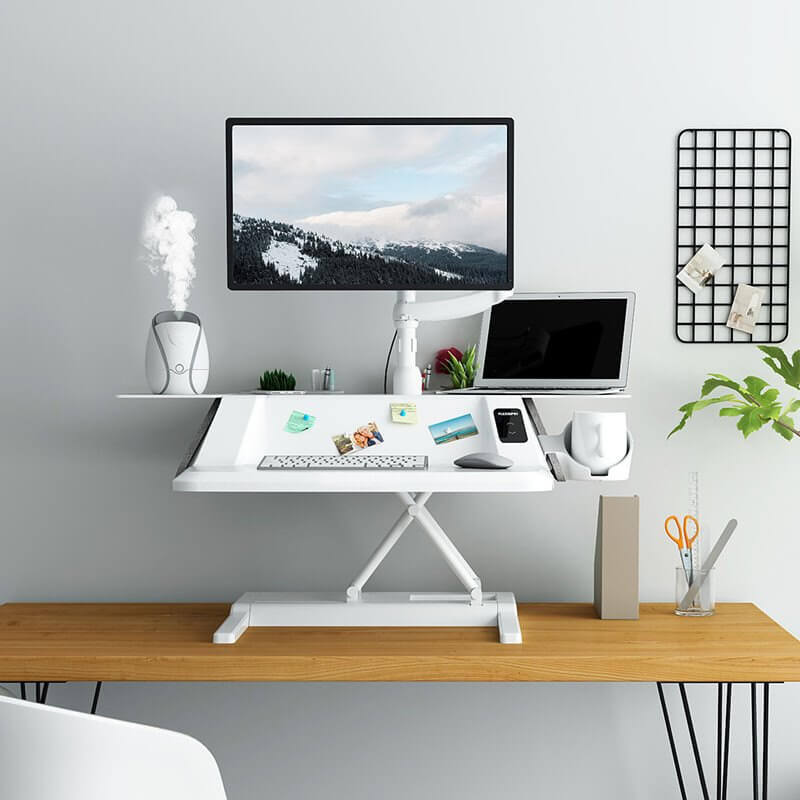 Flexispot offers affordable mounting monitor arms that are perfect for those who are just starting to hook up their home office. The brand is known for its standing desk converters and sit-stand desk, so let's see if this affordable mounting arm can serve you well.  Let's take a  look at some of the brand's more popular mounting arms. 
About the brand – Flexispot
Flexispot also offers a wide range of office accessories and ergonomic office products. Sit-stand desks of Flexispot are particularly made in China. Though one advantage it has over other China-made desks and ergonomic office products is that it's made of a more sturdy and higher-end Chinese motor. 
Top 3 best Flexispot Mounting Arms this 2023
This dual monitor arm is a perfect fit if you need your monitor to be placed side by side. This model boasts of a pole mount. we find it very convenient to reposition or adjust the height of the monitors. And you don't have to remove each to make it happen. It's easily adjustable even whilst the monitors are still mounted. 
However, if you need to have a significant increase in downward or upward tilt, you might need to remove the monitors from the mount. But if you just need to make minor adjustments on the tilt, you can do so without removing the monitors from being mounted.
These pole-mounted monitors come in really handy when you need to compare graphs or charts. It's ideal for laboratories, dental offices, kiosks, or anywhere where you need to have two monitors side by side. You can conveniently compare entries from each monitor as if you're working on a single large unit. 
Furthermore, it allows for a great range of movement. It gives a full 360 rotation. So you can easily reposition your monitors vertically or horizontally. In addition, you can tilt the monitor up to 85 degrees upward and 15 degrees downward. Though the downward tilt may be lacking, this is common with pole-mounted monitor arms. 
You can have one monitor in a vertical position while the other in a horizontal one, and it'll still hold pretty well. we didn't experience any wobbling or shaking when typing. 
Having a great range of motion is one thing. But having to be able to reposition it easily without any effort or friction is another. And this dual monitor mount allows you to do both. 
As for the scope, it can pretty much accommodate most monitors with sizes For 17″-36″. And each arm can hold monitors that weigh as much as 26.4 lbs. So it's pretty much gearing towards the heavy-duty tier.
This heavy-duty pole mount is also easy to install. With the quick-release VESA plate, you'd have it installed in less than 20 minutes. It's intuitive to set up, so to speak, almost dummy-proof. 
This monitor arm also has a decent cable management system. we like how organized it looked at the bottom. But when it comes to the top part, it's a little bit tacky. The wires tend to come out from the top of the tube. Though it does not interfere with the overall function, it looks a bit cluttered for me. 
And if you need to adjust the resistance, there are two side by side Allen head screws. You can adjust these to achieve the desired tensions for each monitor. 
In a nutshell, I'd say that it is extremely adjustable. It gives you more liberty to reposition and tilt the monitors as you please. And it's quite sturdy too, and for the price, you cannot be sad about it. It'll serve you well. And oh, if you need to return it in case you're not satisfied with the product, you might be charged for the shipping return.
Maybe you also like
The difference between the pole-mounted dual monitor arm and the D5D is that it's mounted via a grommet system or C clamps. It can be mounted on desks with thickness from .8-3.94 inches. So it pretty much can be installed on most sit-stand desks.
And the installation is also a breeze. Like the pole-mounted dual monitor, it will only take you less than 20 minutes. The product includes all the needed hardware and instructions are very clear and straightforward. But it's more of a two-job person since the monitors need to be screwed directly into the arms rather than on the VESA plates. 
You can also easily tighten the tension while the monitors are still mounted. And it'll be easier to do so if it is mounted via a grommet system. 
I'm also loving how adjustable and easy to move the monitors are. You can place them in almost any way you want. You can even position the monitors back to back. It rotates 360 degrees, tilts 90 degrees both up and down. And it also has a 180-degree swivel. So it'll even work as a shared computer mount. It's very convenient and versatile. So in terms of adjustability and flexibility, this model gives you more liberty compared to the pole-mounted one. 
The arms are also very responsive and respond to the slightest touch. So there isn't any friction or resistance when you're repositioning the monitors. In addition, it can even be lowered enough to touch the desk itself. 
In terms of the weight capacity, the monitors can hold a maximum of up to 11 lbs each arm. And this is where the pole minted has more advantages. The latter is sturdier and meant for bigger and heavier monitors.
For as long as you don't exceed the weight capacity, this unit is pretty stable and sturdy. So it's a great choice for designers and financial analysts who need to have monitors side by side. Or when you need to compare charts and reports, this is a perfect tool that'll make your job easier and more efficient.
It also has an efficient cable management system. And we like this system better than that of the pole mounted.
In terms of adjustability, it's a great value for your money. Especially for the price that it bears. It's even comparable to the more premium Ergotron monitor arms. 
Flexispot single monitor mount F7
This single monitor mount from Flexispot can hold 10- 27 inches of monitors that weigh up to 11 lbs. It is also available in another model, the F8L which can accommodate 24-36 inch monitors. 
This unit is fully adjustable and easy to move. That's why we love gas spring arms, they're very convenient. And you don't even need the pressure to reposition the monitors. It can also be extended forward up to 27 inches and the maximum height of the arms is 15.75 inches. Not to mention, the 360-degree rotation allows you to position it in almost any way that makes you comfortable. It almost has the same arm extension as the Reach Articulating monitor arm at 24 inches.
It's an almost full-motion arm mount except that the bottom arm can't rotate all the way around. It stops when it reaches 110 degrees on both sides. But still a good adjustable monitor arm. It's as adjustable as an AmazonBasics monitor arm and an Ergotron LX, except that these two can carry a heavier monitor. 
It also has considerable weight. So that gives hints that it's durable and solid. It can hold the monitors pretty well. And another thing to love is the cable management. It's easy and does a good job of concealing the wires on top. 
Final thought
We particularly love the adjustability and almost full swing motion of the grommet system or C clamp mounted dual monitor arms of Flexispot. Though there is nothing fancy about how it looks, it performs rather well. If you love how adjustable an Ergotorn or Ergotech is but can't do away with the cost yet, the Flexispot dual-arm mount is a great alternative. Don't just take a word for it.