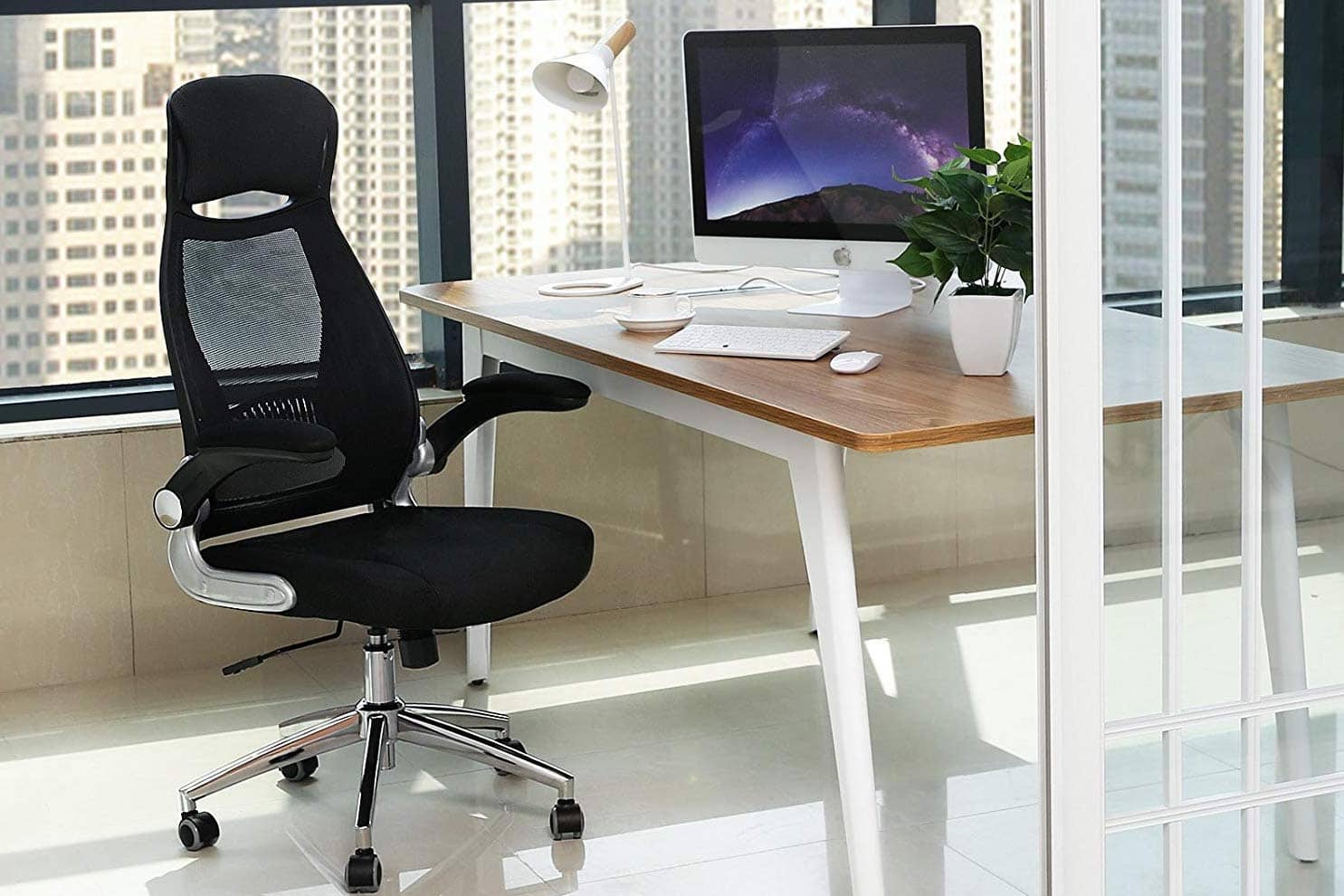 SONGMICS Executive office chairs look sleek, sexy, and presentable. But it's also one of the lower-priced executive chairs in the market. And being made in china, We all have our initial thoughts about it. 
Will the lower-cost account for something else? Like the case with IKEA furniture, the lower cost accounts for the more tedious setup shouldered by the consumers. That's why the brand was able to maintain such an affordable rate. But how about for SONGMICS? Will the lower price mean something else? That's what we'll find out in this article. 
About the brand
SONGMICS is an off-brand outfit that sells cheaper China-made products. It manufactures gaming, office, and executive chairs among others. And there's little to be seen or heard about this brand. That's why consumers have a hard time discerning if the chair is worth the buy. 
>>>> Click here to Visit the SONGMICS Store
A review of SONGMICS Highback Office Chair with Tilt function
We will be focusing on this particular SONGMICS executive chair, the highback chair with tilt motion( UOBG57B). This will also largely give us an idea of the other chair of the brand. It seems like most models share almost the same qualities, except for minor differences in some of the features. 
Features and comfort
This particular high-back chair features a combination of a larger seat and a tilt option. One of the advantages it has over other executive chairs is that it can offer a more ergonomic function. 
It can be rocked back and forth. And this type of motion can help relieve pressure points. It can also help you feel more relaxed in between breaks. This, when combined with the adjustable tilt tension, can make you more comfortable even when seated for long hours.
The tilt tension can be easily adjusted via a knob located beside the seat height lever. In addition, the tilt can be locked. And we did not feel any wobbling or shaking. There isn't also any feeling of unsureness. One of our team members weighed 275, which's a bit close to the max weight capacity of the chair which is 330 lbs. And there wasn't any feeling that the chair would get loose or it would collapse at that point. 
Hence, the stability of this executive chair is satisfactory. So the brand's claim of the max 330 lbs is true. Even when the tilt was locked, it can hold up pretty well. 
As for the comfort, heavy-duty users will find this chair comfortable. Apart from the higher weight capacity, the seat is also wider. It also has a good cushion and is well padded. It didn't sink when we sat down on it, so the seat was able to support our 375 kg user.   
And heavy-duty users will love how deep the seat is. Though you won't be able to adjust the seat depth, it is already designed to accommodate the needs of heavier people.
It also felt nice on the lumbar and the entire back. The backrest is also sufficiently padded and it's not too soft nor too firm. It has the right firmness that will make you comfortable enough.
Packaging and installation
We were happy with how the chair was packaged. We have received a box containing six large pieces. And the accessories were put together in another small box, with the instructions attached to one side of the box. So everything is in order. The wheels, other plastic parts, and a toolset came together. 
The toolset comes in clear packaging and the parts that go together were grouped. We find this convenient and it's easier to crosscheck if you have everything you needed in the package. 
The brand threw in additional screws and wheels. So you have a backup if ever the wheels start to deteriorate after prolonged use. 
In addition, shipping was rather fast. So if you need a chair that you need for your work from home setup, this brand is an option. You don't have to wait for weeks to get your hands on this executive chair. 
Aesthetics
This SONGMICS executive chair looks more expensive than it cost. Though it's made of faux PU weather, it doesn't look cheap. It can easily blend in with a sea of more expensive executive chairs. 
Customer service
Customer service was decent and satisfying for us. And we've come across several happy customers. So the after sales and POS inquiry is great. Any items that needed replacement was replaced in a decent amount of time 
What's not to like
For the gripes, the instructions could have been a bit clearer. But since there were only a few parts, we can assemble it easily anyway. And because we are used to setting up office chairs and desks and we're seasoned DIYers already. We don't think that'll be the same case with beginners, they might not find the setup as easy given that the instructions were lacking. 

Those who are petite and small will not fit into this chair. The seat will not go low enough and the armrests will be too high. This is ideal for users who stand 6'2 and above. However, if you are close to 6 feet and have longer legs than the torso, you might also fit into his chair. 

Though the armrests are comfortably cushioned and padded, it is not adjustable. So if you don't fit into the chair, there's no way to make the armrests work for you.

The biggest gripes, however, of the chair are its longevity and durability. Sure the chair did feel pretty stable with no creaking sounds or loose screws. And from the first impressions, it seems that this chair can hold up pretty well. But we have discovered that it can pretty well hold up for about 1-2 years only. So the big gripe here is that within a year or so, the chair will start to show signs of use. 
Highlights
This executive chair is made for the big league. The features are made to fit and meet the needs of heavy users. And this chair will also make them comfortable even when working for longer hours. 
It's ergonomic enough to release tension at the back with the rock and forth motion and the adjustable tilt function. The seat is also wide, well-padded, and sufficiently firm, thereby, making it comfortable for the lumbar and the entire back too. And it doesn't make any sound when you are reclining the chair. So you know that the chair can support you very well.  
In line with that, petite or users with average size and height will not fit into this chair. They will feel like a little kid in a big man's chair. There's going to be too much room to move around. and it will not go low enough for their feet to touch the ground. 
This executive chair does feel and looks more expensive than it is. But we have to address the issue of longevity and durability. As we have mentioned above, the chair might not be able to stand the test of time. Over time, it will start to show its age. And this can be expected from a cheaper China-made chair. 
To lower down the cost, lower-quality materials were used. You still will be able to enjoy the nice features of the chair but it won't last long. The chair will not be able to stand against the strain of heavy daily use. So it can last longer if you will not use it as often.
And here is another SONGMIC high back chair that also caught our attention.
Songmics high back chair with flip-up arms
Unlike the UOBG57B, this unit has flip-up arms. So if you find everything about the chair comfortable except for the arms, you have the option to pull it up so you can still take advantage of what this chair has to offer
In addition, like the previous chair model, this unit also features a tilt option. It has the same weight capacity as the UOBG57B but it features a larger seat and a more plush sofa-like seat. So if you favor a softer and less firm cushion, then you might want to take a look at this particular unit. 
Where to buy
Conclusion
SONGMICS chairs will not be able to stand the strain of heavy daily use. For the first 1-2 years, you'll find the chair sufficient and rather comfortable But that impression will change soon. With heavy daily use, it will start to show signs of aging and it can progress fast from there. 
All chairs of the brand have nifty features that can accommodate heavy-weight users, and it sure makes a very good impression. It's actually very comfortable if you are heavy and tall. But sadly, it's not meant to last. 
That's what you can expect from a China-made executive chair that costs less than 200 dollars. Though if you need an executive chair with such features and you have a very tight budget, the chair can serve you decently for 1-2 yrs. Then, it's going to be downhill after that. 
And If you're looking for an alternative with still an affordable cost, the Amazon Big and Tall chair can be a more durable option.