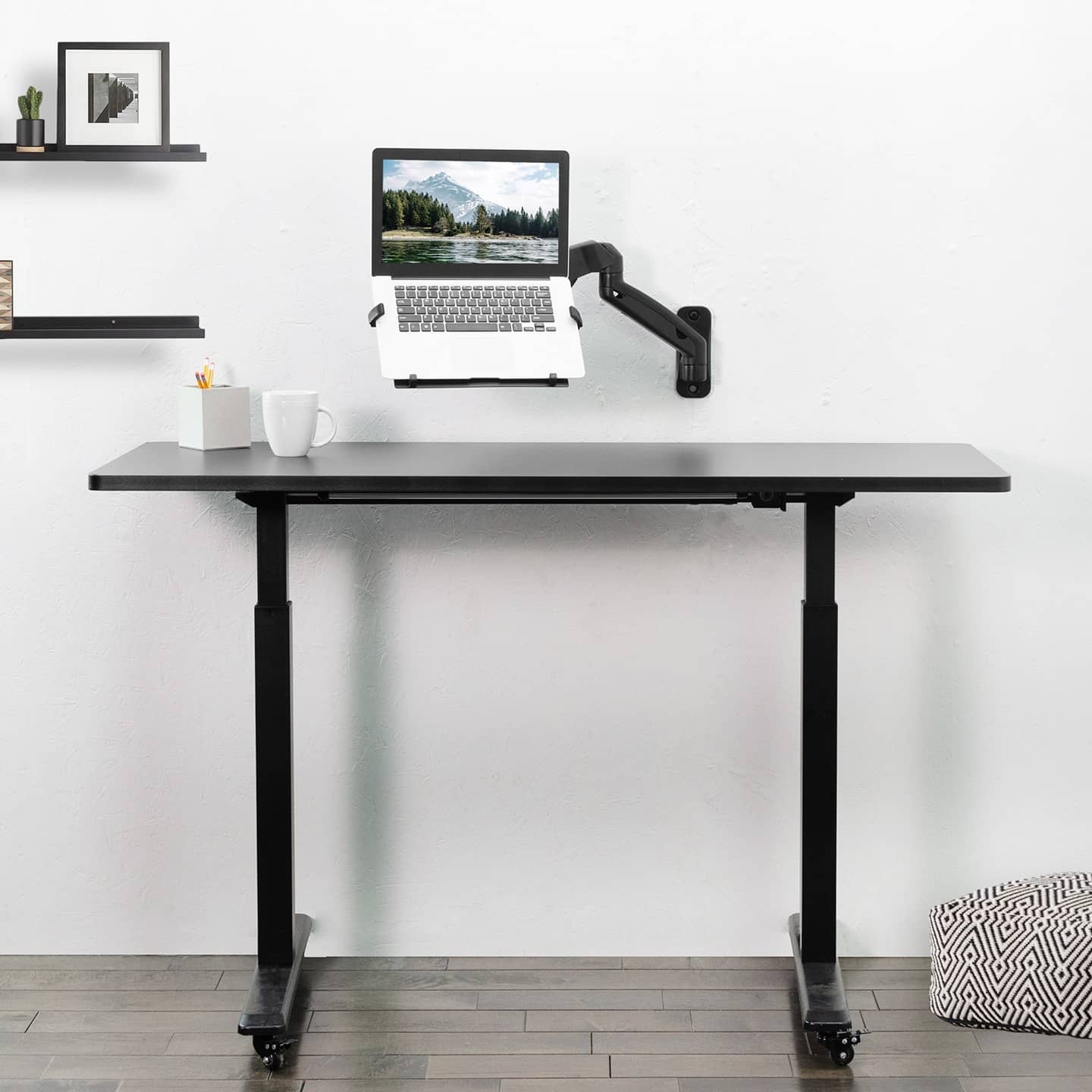 These two standing desks are not necessarily from the same pod in terms of the price.  But let's see how they'll perform versus each other. 
So we'll be comparing the 60" x 30"  VARI standing desk with a 60"x 24" VIVO.  From the looks of it, a wide spacious workspace is already given. So let's see what else is in store. 
See this table for a quick comparison
| | | |
| --- | --- | --- |
| Standing desk brand | VIVO 60 X 24 | Vari 60 x 30 |
| Price | Check | Check |
| Warranty | Limited 3 years | 5 year limited warranty |
| Height range | 29" to 48.8" | 25.5″ – 50.5″ |
| Features | 3 memory presets, timer reminder, 6 tabletop options, T legs | 4 programmable memory settings, T legs, 5 tabletop options, Free return within 30 days, and 5 years of warranty |
| Weight capacity | 154 lbs | 200 lbs |
Sturdy steel legs with wood particle tabletop- which desk scored better?
VIVO'S legs are made of steel and the tabletop is made from particle board with laminate on top. At first glance, the VIVO standing desk looks clean and well put together. We particularly love the combination of the white laminate tabletop and the white aluminum legs. And oh, the matte finish is a solution if you are quite particular with your desk catching fingerprints. You'll have no worries about lingering fingerprints on your VIVO desk.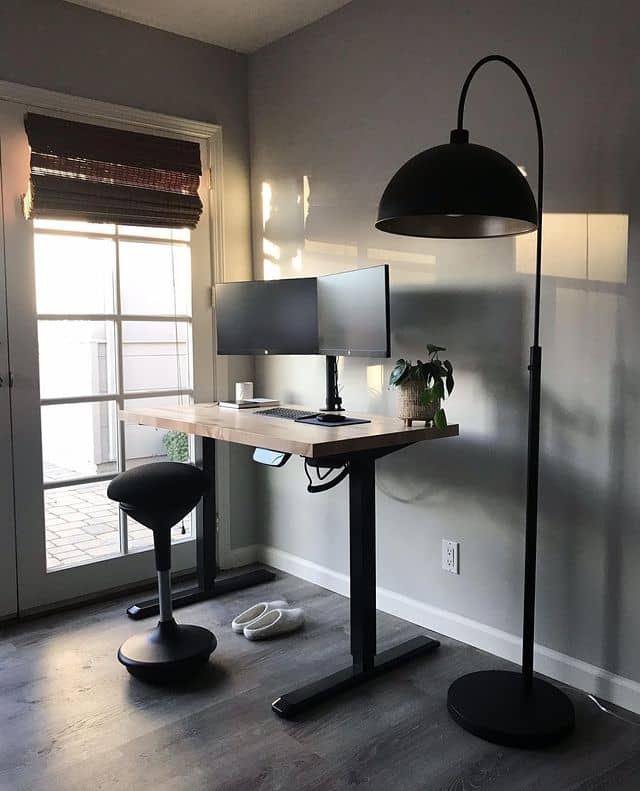 But the problem with a matte desktop, however, is that when you want to write on a piece of paper, you have to have something underneath.
So for the sturdiness score, the all-steel frame does feel substantially durable and boy, this thing is pretty heavy too. So the setup might not be a one-man job if you are a bit hesitant to lift weights.
And we can say the same thing with a VARI standing desk. It also has an all-steel frame with a laminate tabletop. And both brands offer the same number of customization options, the pretty basic ones. You can choose from the color and finish of the tabletop and the color of the legs. So these are not like Fully or Uplift gives you a smorgasbord of options.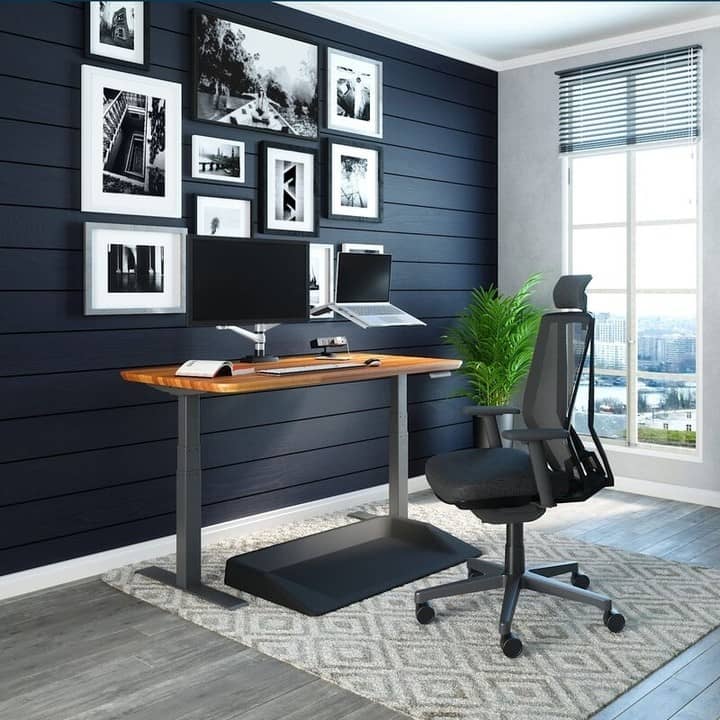 But when it comes to aesthetics, we find VARI more suitable to our liking. The VIVO standing desk is available in 6 tabletop options, while VARI offers 5. But we have already fallen in love with the butcher block table top of VARI, which it is also known for. And yeah, it's not real wood, but it does look pretty chic and almost look like real wood. Though an advantage of a false wood tabletop is that it's low or no maintenance at all. You don't have to worry about the wood aging. And you're safe from catching splinters and all. 
Both desks are also equipped with telescoping legs. So the weight distribution is even from the form to the back. These desks are then more ideal for working or schooling rather than gaming. Though you can still use it for gaming, you have to be mindful of a load of your setup. And C-shaped legs are more pro gaming because it allows you to put more of your equipment at the backend of the desk.
Sturdiness and durability-wise, it's a tie for both standing desks. And since the tabletop of both desks is made of a single board and not two parts fused together, you will not have any problems with indentation lines and they're more solid. 
But for the aesthetics, the VARI caught our attention more. And oh, the 2020 version of Vari doesn't have a crossbar anymore, so it makes the standing desk more appealing to most people's taste
Set up and shipping can be a nightmare for one of these standing desks
Now for the shipping, we had a smoother experience with the VARI standing desk. It came in three boxes, but all arrived at the same time. It's also complete with all the tools you need for the setup. 
The VIVO, on the other hand, came in a bit late. And you will receive the unit in two separate boxes. And these two boxes will not arrive at the same time. And their customer service isn't really one of the best. So you have to make fervent follow-ups to ensure that the second box follows in shortly.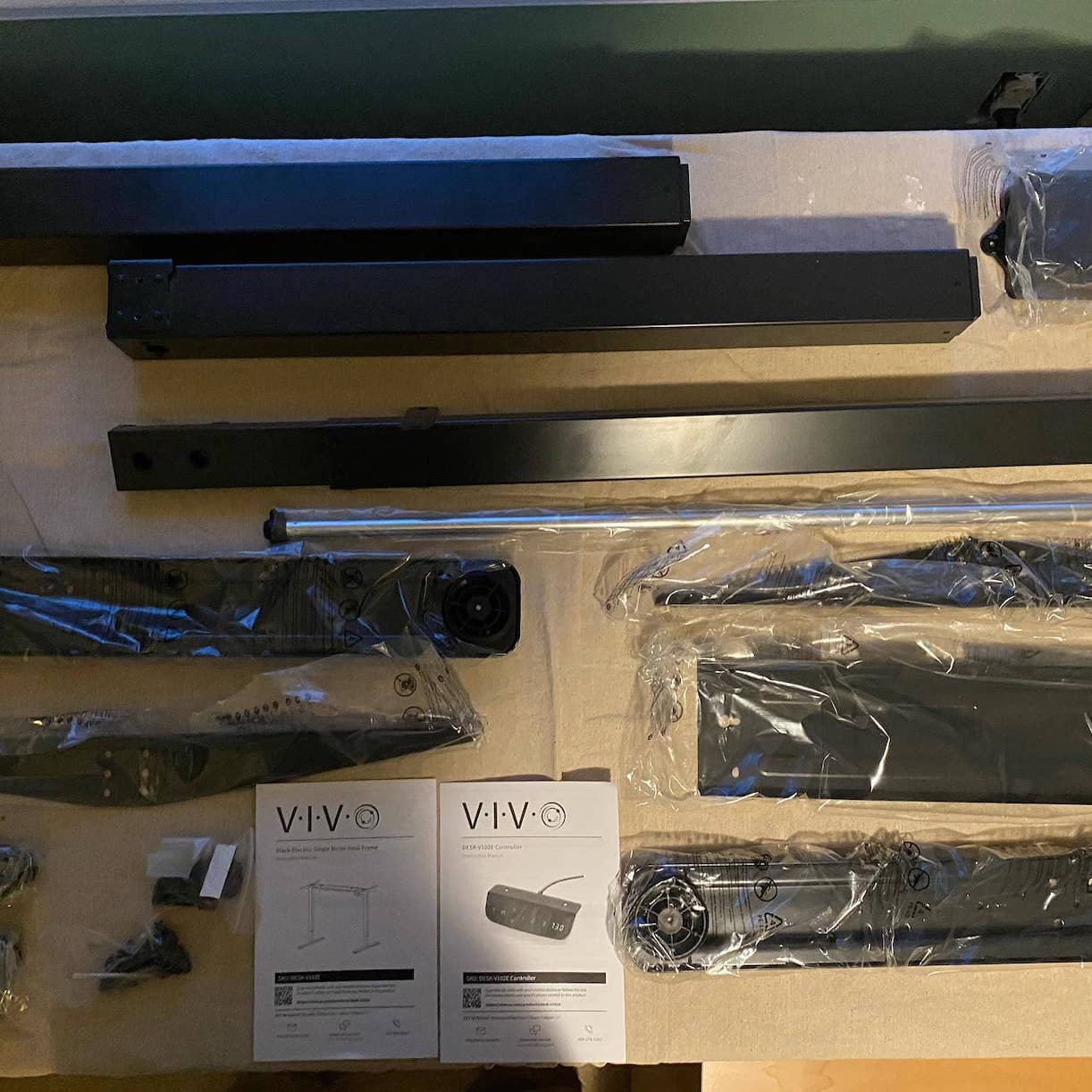 So you will be able to set the VARI sooner than you would with VIVO. And oh another difference is that the VARI's table is already connected to the frame, it came in one box. And the legs are in a separate box and you just have to connect the legs to the frame. For VIVO, the desktop is separate from the frame. So that's why the setup for VIVO is more painful despite both units having substantial weight and legs that are made of steel.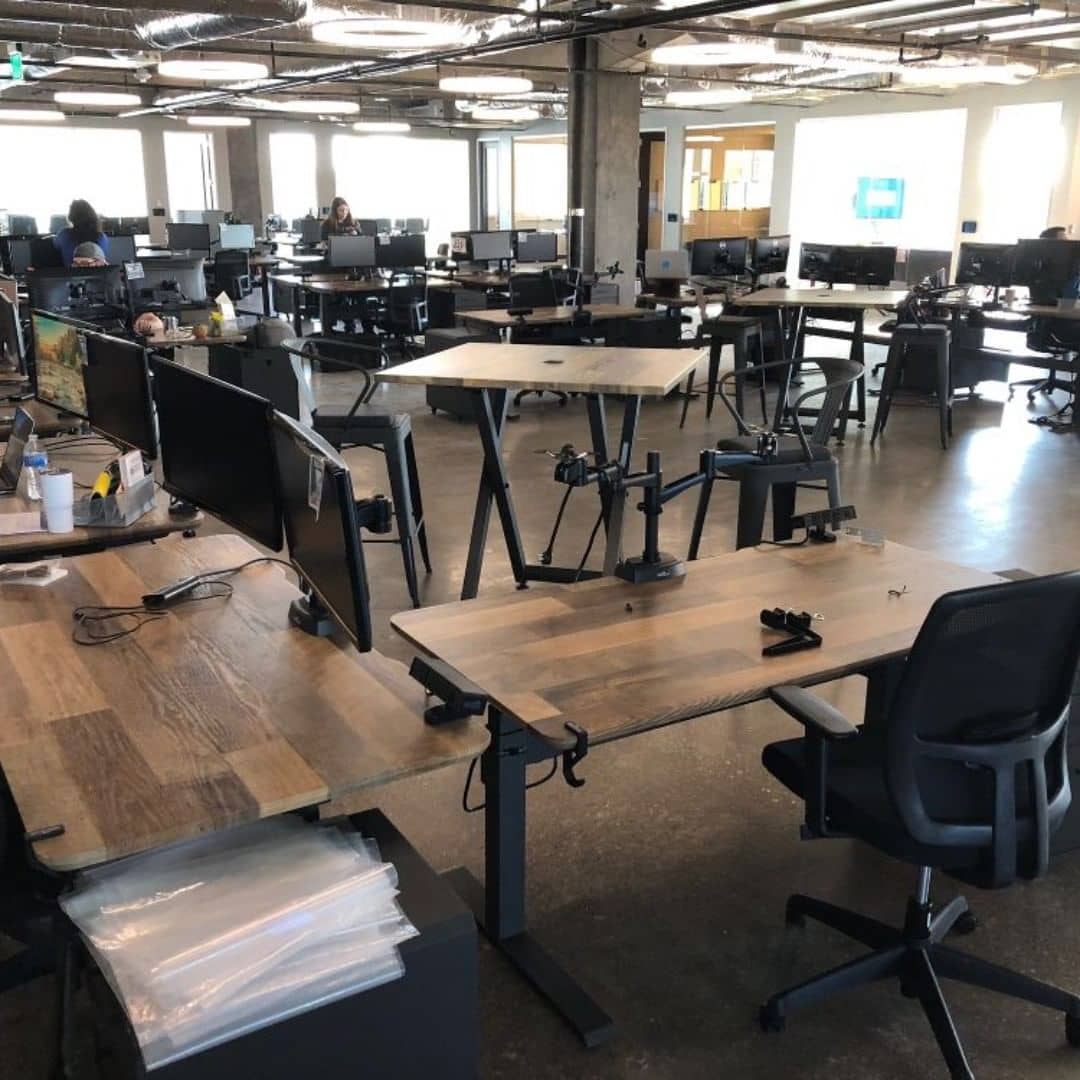 VIVO also presents a greater risk of pinching your fingers compared to VARI. 
And oh the desk of VIVO is advertised as a 60 x 24-inch unit. But in reality, the tabletop only measures 59". Though it's just an inch short, it can mean something to some people.
So the VIVO is not a desk you'd buy if you need one asap. And oh, VARI automatically ships their standing desk for free. We think you have to pay a small sum to have your VIVO desk delivered to your doorsteps. 
VARI has a wider scope of users and a less wobbly choice
VARI does have a higher price tag compared to VIVO. And the desk options we have mentioned above are a bit wider- VARI at 60" x 30" compared to the 60" x 24" of VIVO's. And though VARI Iis almost double the cost, the cost can be justified with the stability of the desk.
This VARI unit has a wider workspace too, a higher weight capacity, and has a wider height range. So it can easily accommodate short users to those who are slightly taller. VIVO, on other hand, albeit a wide working surface falls too short when it comes to the load capacity.  
And we have experienced some wobbling issues with the VIVO standing desk. Despite the two units having the same steel T-shaped legs, the VARI is more stable at the highest desk setting. So it may have something to do with the way the tabletop was attached to the frame. Remember that VARI comes in with the frame attached to the desktop already. 
And we have come across several clients not having wobbling issues with VIVO. So it may be that one way to lessen the wobble is to ensure that the frame is properly connected to the desk. And VIVO is not the easiest to assemble, so more people will have those wobbling issues because the connection isn't flawless. 
What if you're on a budget?
The price difference of the VIVO vs VARI is almost double. So what if you're on a budget? Should you just opt for a more wobbly desk?
If you will be able to set the VIVO desk properly, the wobble issues can be less pronounced, almost unnoticeable. Say, if you have a friend who knows how to tinker through a standing desk or you may opt to commission a professional. And while you're at it, you also have the option to configure your VIVO desk frame with a different tablet if you need a large working surface. You can always choose a different tabletop.  
Though it does have its advantage over the VARI. Our VARI desk control panel seems to show more wear and tear compared to the VIVO. But the motor still works fine, it's just that the plastic cover of the control panels is starting to rip off faster from our VARI standing desk. 
And we also wished that VARI does include a cable management tray already with the said price. You still have to shell out an additional +50 bucks (or more) to get one. So for some, the price can be hefty already. 
Also, VARI has one of the more excellent cable management systems in standing desks. So a cable tray can be a very nice perk to the cost that it bears. 
So to answer the question above, if you are on a budget and petite to less than 5'7", you'll find the VIVO seamless and a good value for your money. But if you are slightly taller or taller than 5'7", this is where it can be irritating as wobbles can be felt. 
VIVO vs VARI showdown for tall people: Vari win
Also if you're okay with not receiving the items all at the same time and don't mind the tedious setup, then you can go ahead and make the VIVO choice. Some people may be up for a more challenging DIY and it can be their thing.
The VARI is an excellent choice when it comes to the build, sturdiness, and aesthetics. But the price is just too hefty since it doesn't have any inclusions. But if you can splurge, then it is a good choice, it's still more affordable compared to a Fully Jarvis or an Uplift table with the same tabletop size.