Important Note: 21 April 2023, MillerKnoll shut down the Fully company, until now the Jarvis L shaped standing desk is unavailable. The Fully brand was sold to Herman Miller, and they keep Jarvis Bamboo standing desk alive but the L-shaped version is gone!
Please skip this comparison. If you want to buy a good l-shaped desk, go with the Uplift! And for more available options with the budget, check this post: Top 19 Best L Shaped Standing Desks: A Buying Guide for Newbie's home office setup this 2023
—This post is archived—–
Standing desks have grown in popularity over the last few years, and the innovation coming out of the designs for these ergonomic desks is getting better by the day. L-shaped desks allow for added surface space for files and devices, as well as allow room for multiple monitors, storage, and more features users find helpful to their work productivity and organization.
2 major brands in the standing desk market, Jarvis and Uplift, have great L-shaped standing desks that you can choose from. To compare and find out which desk is best for your needs and professional requirements, we'll review the features of each desk to hopefully make the choice a clear one.
| | | |
| --- | --- | --- |
| L shaped desk | Uplift | Jarvis |
| Desktop Style | Walnut, Ash Gray, Bamboo | Bamboo, Maple, Oak, Walnut, Spacestation Black |
| Desktop Size | 60″Mx60″R, 60″Mx78″R, 72″Mx60″R, 72″Mx78″R, 80″Mx60″R, 80″Mx78″R | 60″x60″, 72″x60″, 72″x72″, 81″x60″, 81″x72″, 72″x72″ (Oak) |
| Height Range | V2 C Frame: 25.3″-50.9″ (with 1″ thick desktop), V2 Commercial C Frame: 22.6″-48.7″ (with 1″ thick desktop) | 23″-48.5″ |
| Price | —- | —– |
| User Height Compatibility | V2 C Frame: 5'4″ to 6'10" tall (or 4'8″ and taller with keyboard tray), V2 Commercial C Frame: 4'11" to 6'5″ tall (or 4'3″ and taller with keyboard tray) | 5′ – 6'2″ tall |
| Warranty | 15 years | Unavailable |
| Weight Capacity | 535 lbs | 530 lbs |
Jarvis L Shaped Standing Desk
The Jarvis L Shaped Standing Desk has three motors, located in each one in each of its three legs. This allows this state of the art desk to move very fast and incredibly smooth. The desk also has an impressive height adjustment feature, with flexibility exceeding expectations for a desk with a lifting capacity of over 500 pounds. The power of the Jarvis L Shaped Standing Desk is unmatched in its line of desks because the extra motor and leg to help make the desk much more bottom-heavy for extra bearing. Not to mention, the stages of its lifting columns widen toward the bottom for a sturdier base. This is important for desk stability because rather than cascading down to a thinner base as with most other adjustable frames, the increase in thickness as you move down allows for more stability than offered in two legs or even three with slimmer builds. The extra leg offers no extra space taken away from you when working at the desk, making sure that extra features don't mean less space.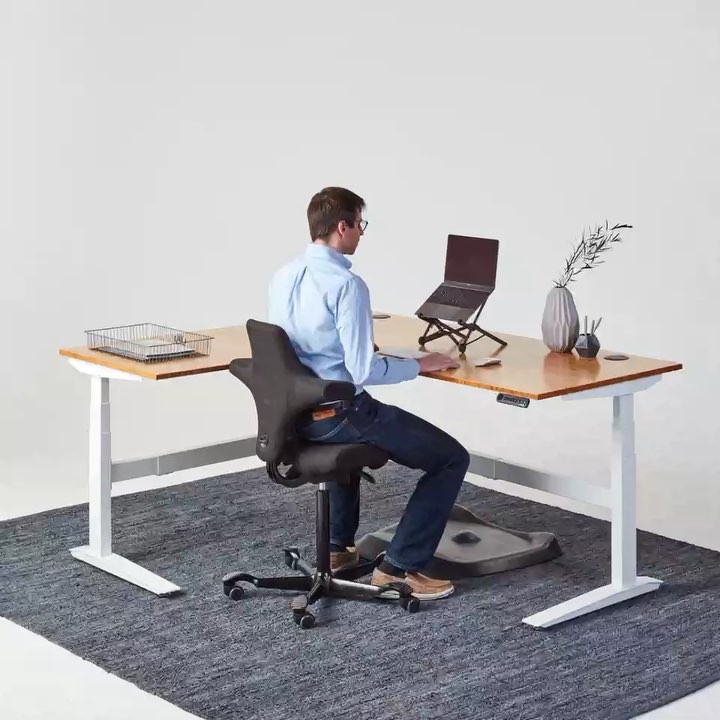 The finish of the Jarvis L Shaped Standing Desk comes in a multitude of options. For an all-natural option, the Jarvis L-shaped comes in a laminated black, walnut, or maple color allowing you to match this great desk to your office furniture you already own. For an extra bit of money if you so choose, the standing desk can also be paired with Jarvis' signature bamboo top. Popular with eco minded individuals, the bamboo used in Jarvis furniture comes from sustainable Thai and Chinese forests where no pesticides or fertilizers are used in the growing. This allows for the finish of the desk to be all natural, utilizing no harmful dyes or manufacturing that would make anything about this desk unauthentic.
Should you choose the Jarvis L Shaped and have something go wrong or even get slightly damaged, the brand does lead the industry in its warranty plans? For 7 years, all frame, mechanical, and electrical components are guaranteed to be protected and serviced should an issue arise. This offers you piece of mind, and for some desk companies, this kind of security in your purchase in unheard of. The desk features some incredible features like a 1.5" movement speed when being raised or lowered, and it is great that these state of the art features are backed by great warranty plans and a company you can trust. Likewise, the Uplift V2 L Shaped Standing Desk has many features you may find compatible with your work style and needs.
Uplift V2 L Shaped Standing Desk
Uplift market this L Shaped as being for the worker or professional that needs all the space they can get. Not only does the L Shape offer more room to work, but the entire desk itself is an ergonomic masterwork in workspace construction. You even get a say in how you form the L Shape. The L shape itself is an extension that can be placed at either end of the main desk. This allows for increased options of accessibility like left-handed friendly construction and room to move as you grow into new offices. If you order your desk and construct it one way, you can always move it; it is that easy to maneuver. Uplift also masters desk construction and flexes its designs on this desk. The solid wood rubberwood desktop is made from a dense hardwood that's harvested at the end of its life, meaning that it looks great and can sustain some of the nastiest spills and dings. It's one of the most resilient desktop materials you'll find anywhere and is produced and finished using only environmental, non-hazardous glues and coatings.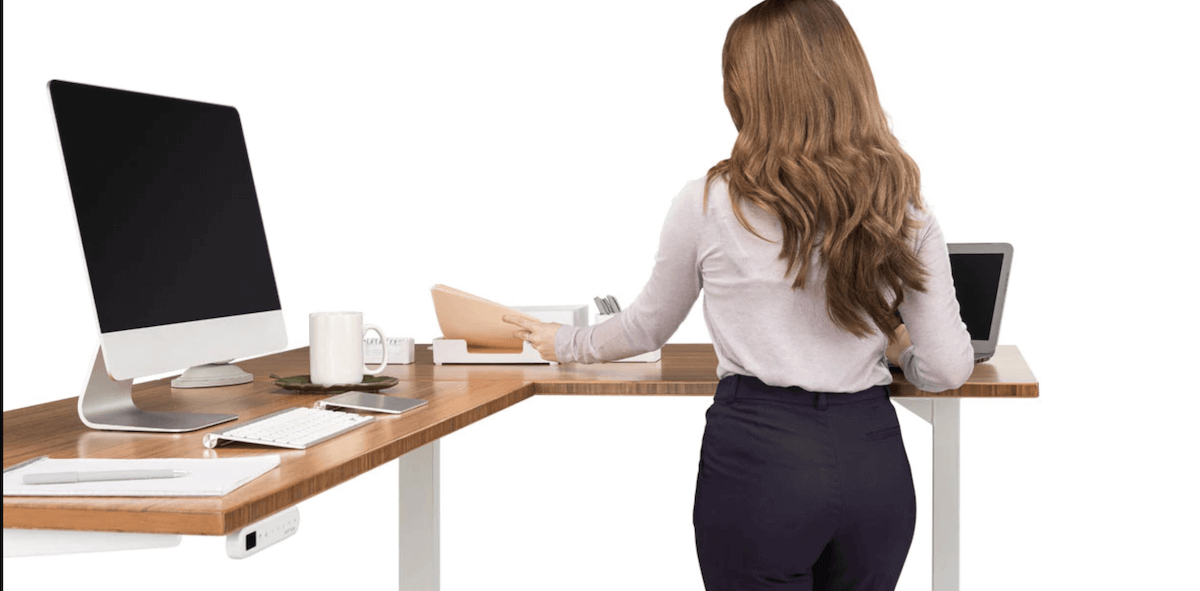 The desktop itself is even above the grade of its competition. With an extra inch of thickness in its surface, your ability to place things on it seems endless. Monitors, computers and more can be held on this nearly indestructible desk
In white, black, and natural finishes, you can match this great desk to whatever office area you decide to place it in. There is also a bamboo option for the Uplift desk, allowing you to further the eco-friendly practices that Uplift uses to extend into your work life. The bamboo is harvested naturally, and contains no dyes or extra materials. You also can choose which color frame you would like to use, including options in grey, black, white, and an industrial metallic style that fits well in modern spaces and state of the art offices. Every option you have to personalize the Uplift V2 L Shaped Standing Desk makes it feel as if it is being built for you personally, making it a very individual purchase that you can be proud of every time you use it.
Our recommendation
With many features included in both the Uplift V2 and Jarvis, the differences are small but may add to your decision of which to choose. With more customization options on the Uplift desk and more features in the Jarvis, you can decide as you based on your professional needs which fits your work style best. Rest assured, either way, you are getting an amazing desk.