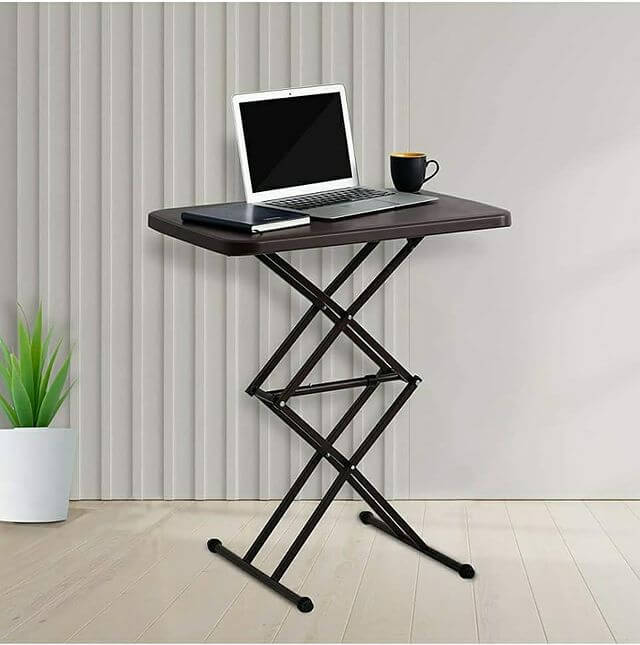 Foldable standing desks are convenient and affordable accessories. These are portable equipment that you can just grab and go. You can adjust it to any what you need and fold it in multiple ways. Let's see what brands are hot in the market right now. 
One of the features that I love the most is the 360-degree joints. It's so easy to adjust the angle of the desk to any way you want. So there is no doubt that you will definitely find the sweet spot for your neck and shoulders. You can adjust the desk to limitless angles. That's why it can be used for a variety of applications too.
The adjustable knobs give you a great combination of angles. It can give you several different ranges from the table and the bed. 
Aside from a standing desk, you can also use it as a laptop desk or a book desk. You can conveniently lay in bed while watching your favorite Netflix shows on your laptop. You can also easily work on some papers in bed. The surface is not slippery so your laptop will sit nicely on it. Though it also has baffles additional support. 
Another convenient feature is the built-in big fan underneath the desk. You don't have to purchase a separate small cooling fan to increase your laptop's temperature. And it also operates quietly. 
Overall, this is a very versatile workstation. Though if you're going to place it on the floor, it might not go high enough for taller people. It will serve shorter people best when used as a standing desk.
Features
Comes with mouse pad and 2 baffles

33 kg weight capacity

Max height of 18.9 inches

Product size is 23.2*10.2*1.6 inch

Made of aluminum and plastic
Pros
Easily rotates to 360 degrees

Lightweight

The cooling fan blows off a strong breeze

Versatile

Desk surface holds laptop well

Fan operates quietly
Cons
Not the most durable when placed on the floor

Does not go high enough if you're going to place it on the floor
If you're looking for a foldable standing desk for your larger laptops, this model fits the bill. It's equipped with a larger working surface and complete with a large fan. The fan efficiently blows air to lower your laptop's temperature. And albeit its sturdy construction, it still feels lightweight and easy to carry.
The entire unit feels sturdy and it's pretty to adjust. And since it's 360 degrees rotatable you can find your best angle for your neck and shoulders.
I find this brand sturdier than other brands of a foldable standing desk. But you do have to be careful when placing it on top of a hard surface. It might tend to slide. But it can be alleviated by placing the adhesive tape under the foot. It provides a bit of traction so that it will hold onto the hard floors.
Overall, this is great for larger 17-inch laptops. The weight capacity, built and larger desk will provide a more steady workstation.
Features
High-intensity aluminum tray

Non-slip feet

Large cooling fan 

Legs have 3 knobs

Comes with mouse plate and 2 baffles

15 kg max capacity

48 cm max-height
Pros
Versatile

360 degree rotatable

Sturdy aluminum material

Higher weight capacity for larger laptops
Cons
Mouse tends to slip away from the pad
This foldable standing desk is a great solution to working from home. It can be adjusted in limitless possibilities. And it's also multipurpose so you can use it for reading, writing, and using your laptop. It also conveniently rests on a table or the bed. 
Just ensure to not put too much weight on the desk when using it, so that it can last you longer. It does have a huge range of height adjustment and can go up to 50 cm. Though for taller users, it might not go high enough.
What I love the most is the rather big fan. It's bigger than what the competition has. And it efficiently cools off your laptop. It has mobile tabs so that your laptop will stay on the working surface even if you tilt it. But be careful not to tilt it too much.
It's a good option if you don't want your laptop placed on your legs when typing. You can conveniently bring your work to bed without your legs warming up too much. 
Features
Made of aluminum alloy and iron

Max height of 50 cm

Adjustable mouse tray

With a USB fan
Pros
Fast delivery

360 degree adjustable

Easy to use

Adjustable to 360 degrees
Cons
Might not go high enough when placed on the floor for some users
Etpark foldable standing desk seems to be decently made. The legs are made of plastic ABS plastic while the feet are made of aluminum. It's lightweight and it's easy to use. And you can configure it into different angles since it's rotatable up to 360 degrees.
It can fairly be high enough for those who have average height. But if you stand 6 feet you might find it lacking. Also, the mouse plate can be set to one height only. So another limitation for those who are taller. 
The stand is more secure than the competitors, but it can wobble a bit when you're typing with the desk placed on the floor. It's sturdy but it's not rock solid. But if you're going to place it on top of a table or use it on your bed, it's rather stable. 
Overall, it's fairly decent and can be used by short or average-sized users. And it's best for those with a light to medium typing style. As with all other brands, it's advisable not to put too much weight on the desk, especially if you're going to place it on top of the floor. 
Features
made of ABS plastic and aluminum

Measures 54 x 26.5 x 5 cm

Max height range is 18.9 cm

Carrying capacity is 55 lbs

Built-in cooling fan

Equipped with a stopper and mouse pad
Pros
Fairly sturdy

Fully adjustable

Hinges are made of hard plastic
Cons
Not for laptops larger than 12 inches
KingSaid differentiates itself from other brands by having large ventilated holes instead of a fan. If you're working in a cool environment or during the colder season, that might suffice. But say you live in a tropical area or it's scorching hot during the summer, you might miss the fan. 
It's also multipurpose. It can be used to write on, read books, or even serve as a breakfast tray. It's not the most sturdy, but it does what it's intended to. One of the advantages of this foldable standing desk is that it's the most viable desk solution when you're in bed. 
Features
Made of aluminum and plastic

Max weight of 25 kgs
Pros
Versatile and multi-purpose

Lightweight and easy to move

Fully adjustable
Cons
The Elivray foldable standing desk is a bit more durable and gears to the heavy-duty tier. It's perfect for you if you need a larger space. It can accommodate laptops up to 17 inches. And it also has a weight capacity of 50 kg.
The difference lies in the materials used for the joints. It makes use of a zinc alloy and aluminum instead of ABS plastic that most models have. It's also fully adjustable up to 360 degrees. So finding the perfect angle for work or play is pretty easy.
It's a perfect fit if you have a larger laptop that needs more support.
Features
30-day money-back guarantee

Weight capacity 50 kg

Ventilated air holes

Comes with mouse pad

Made of zinc alloy and aluminum
Pros
Higher weight capacity

360-degree rotatable

Durable and heavy-duty materials

More stable than other models
Cons
Conclusion
Foldable standing desks are quite convenient. But these models have limitations especially if you're going to place them on the floor. They can still have stability issues. And most brands can't go high enough for tall users. So it's more ideal for use when placed on a desk or your bed.