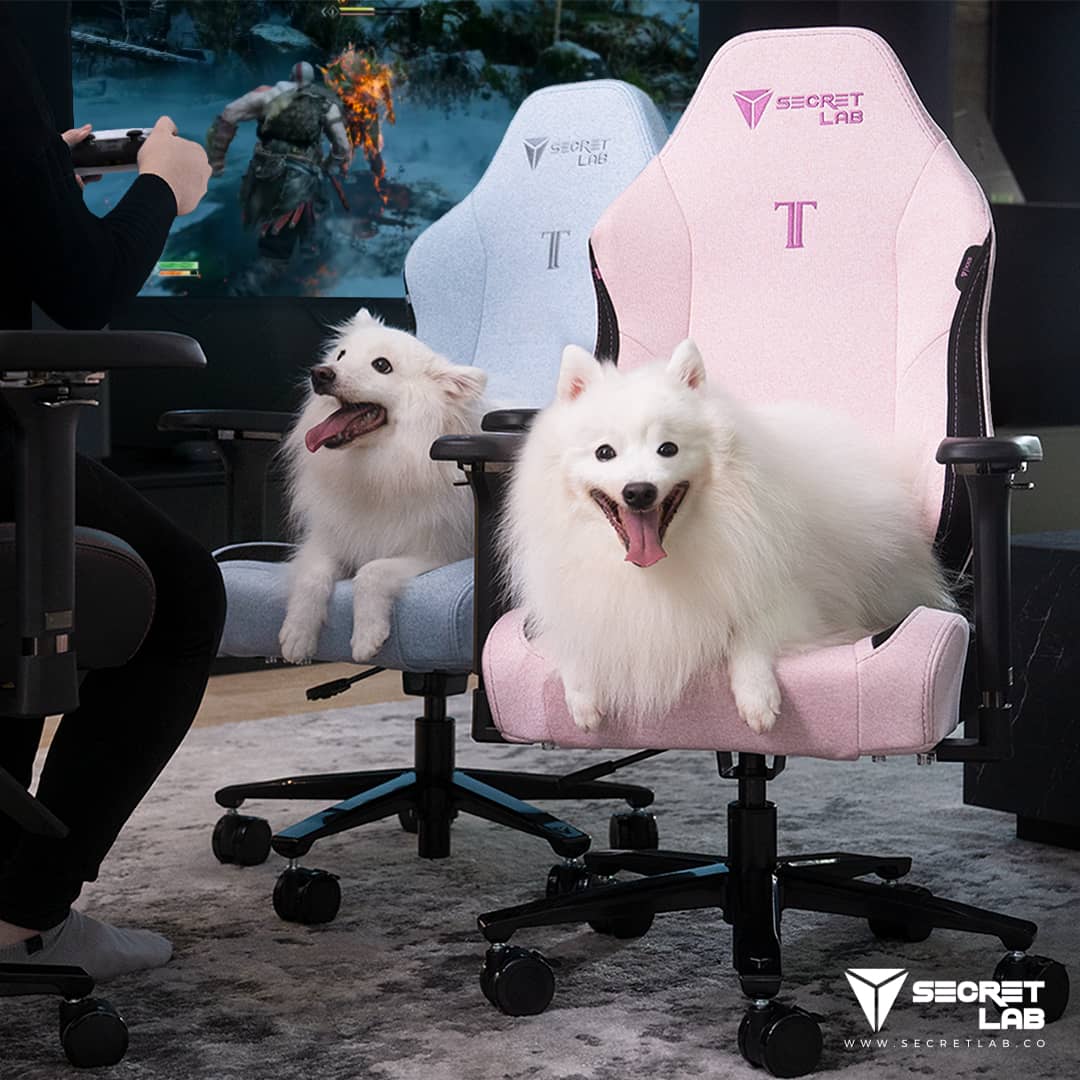 So today will be an interesting comparison because we are going to pit two prestigious gaming chairs against each other, the Noblechairs Hero and the Secretlab Titan EVO 2022. Both are considered one of the best, if not the best range of each brand. 
So let's see how we can compare them. 
Showdown
Noblechairs Hero 
Secretlab Titan  EVO 

Material

Choice of PU leather material, high-end faux leather, real leather or fabric

Choice of leatherette, softweave, or leather

Weight capacity

330 lbs

Small 200 lbs

Regular 220 lbs

XL 395 lbs

Seat height range

50.8″ – 53.9″

Sm

all  50" – 52.8"

Regular  51.2" – 54"

XL  53.1"-56.9"

Lumbar support

Depth Adjustable lumbar support

Height and depth adjustable lumbar support

Seat width

28"

Regular 22"

Small and XL ( NA)

Arms

4D

4D

Head and neck support

yes

yes

Neck pillow

removable

magnetic

Tilt mechanism

yes

yes

Rocking mechanism

yes

none

Recline function

Up to 135 degrees

Up to 155 degrees

Up to 165 degrees

Price

Check now

Check now
It's going to be tough to find the better pick between these two. They have almost the same price and both are very luxurious units from the brand. We even think that any of the two gaming chairs are a great buy. But of course, there has to still be some sort of comparison, especially if you have specialized needs.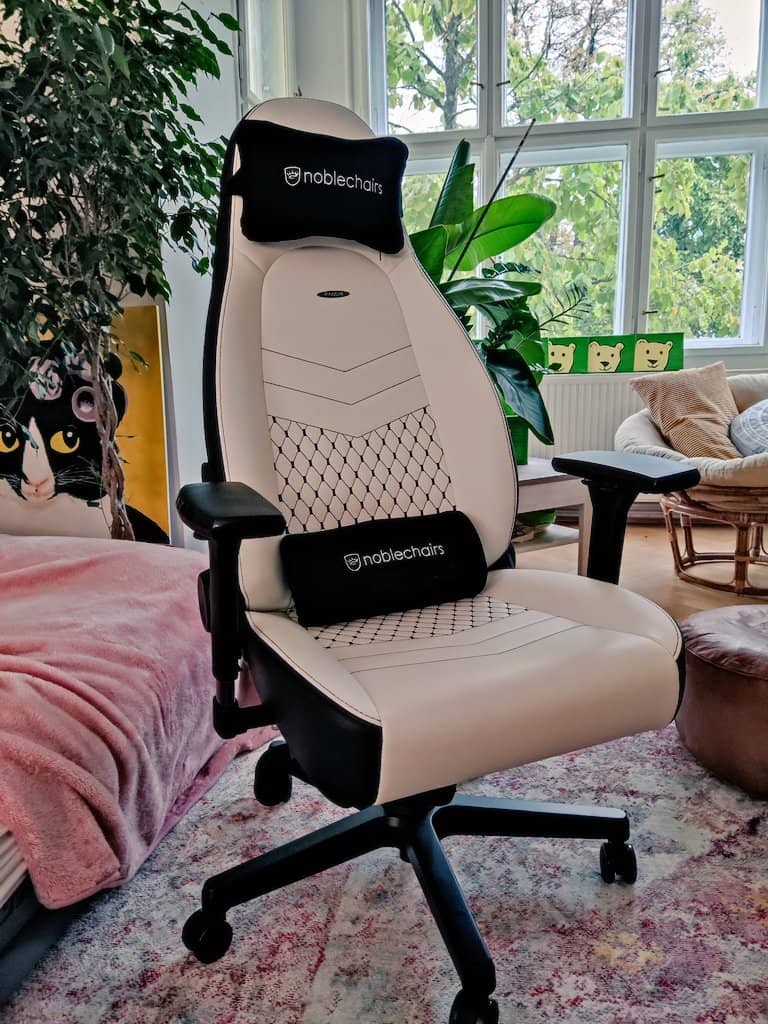 Yes, it's going to be daunting, but someone has to do it. So let's start.
Both are aesthetically pleasing but offer a different palette of design options
When it comes to the upholstery and the design, you will ever fall short whichever of the two you choose.
You can opt to have your Hero chair in 4 upholstery options. And the basic unit comes with a synthetic PU leather material. And for this article, we chose to go basic and had our Hero chair on an all-black exterior. 
Must we say that it has a minimalist approach but a very classy one. And we liked the seat design better than that of the Icon chair. The Noblechairs Icon had this reclining car seat design that is very similar to what you sit on in a sports car. And while it looks gaming-ready, this limits the type of people that can use the chair. 
And when it comes to the options, as we have mentioned it did not skimp. You can opt to have a more graphic gaming chair with bold patterns. But if you want to maintain the minimalist look but add a bit of color, you can get the same black chair with colored stitches on the backrest. 
But if you want to go all gaga and bold, you can also find funky designs with graphic illustrations. They have options for printed designs and cartoonish layouts too. So the brand was able to address two types of audience here, the minimalist and the ones who want to go over the top.
As for the EVO, it is also available in a palette of colors. You can choose from 5 basic colors and 5 vivid pastel tones.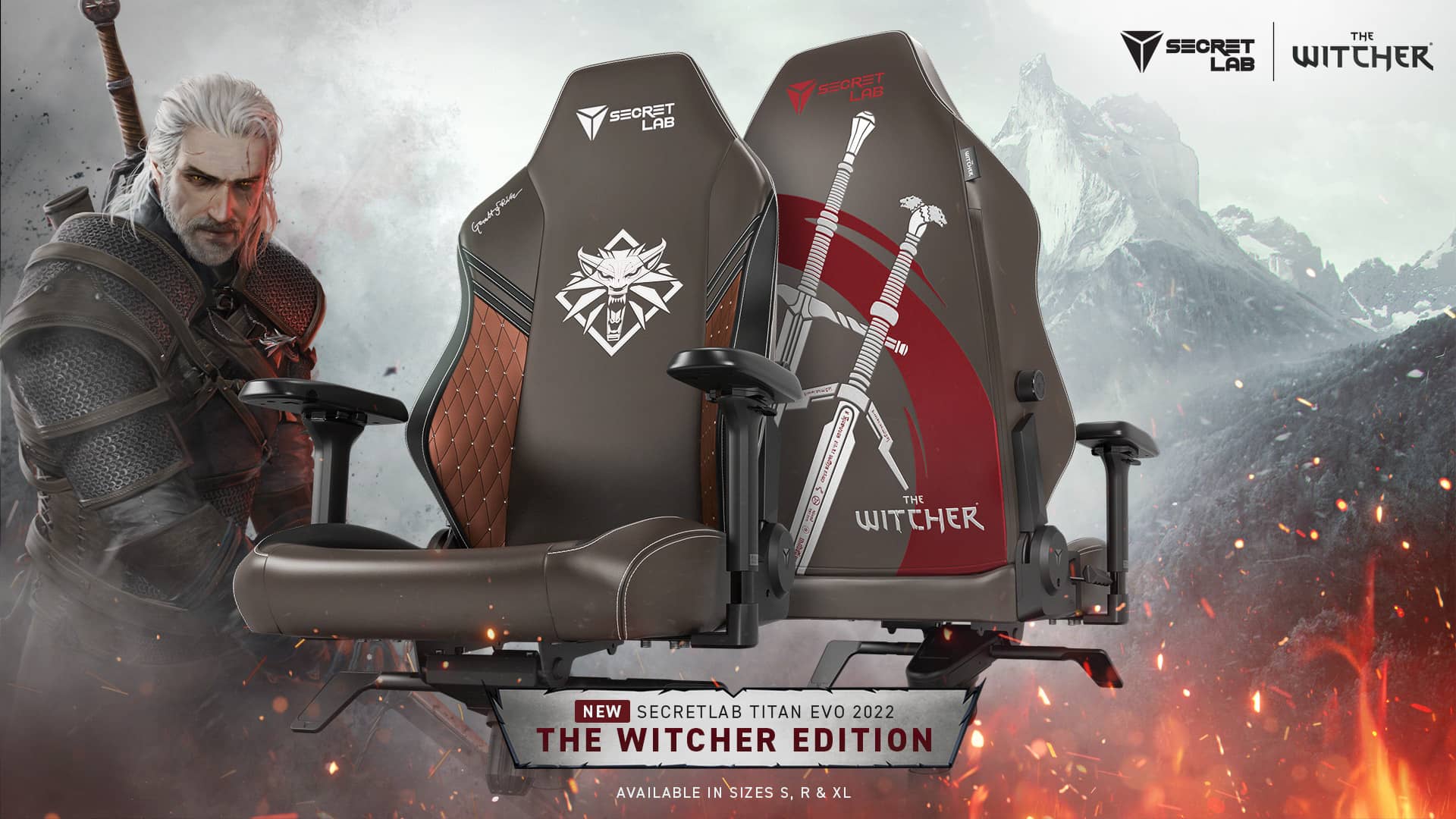 The pastel colors are just ridiculously cute and girl gamers will love to get their hands on one. Though you will not find funky and printed designs like that of the Hero. But if you want to add more texture to the chair, you can choose a different type of upholstery such as the Softweave fabric. 
The texture is subtle, yes, but the brand claims that it is a better version of the previous Softweave fabric they have been using in their previous gaming chairs. 
One is more liberating and the other one has a hugging sensation 
This is one of the differences between the Hero and the Titan EVO. The Hero has this large and flat seat that many may find more liberating. It doesn't have that bucket-style seat that restricts movement. It also has a simpler backrest, almost flat, so this is a very simple gaming chair. Which is quite different from the other range of the Noblechairs.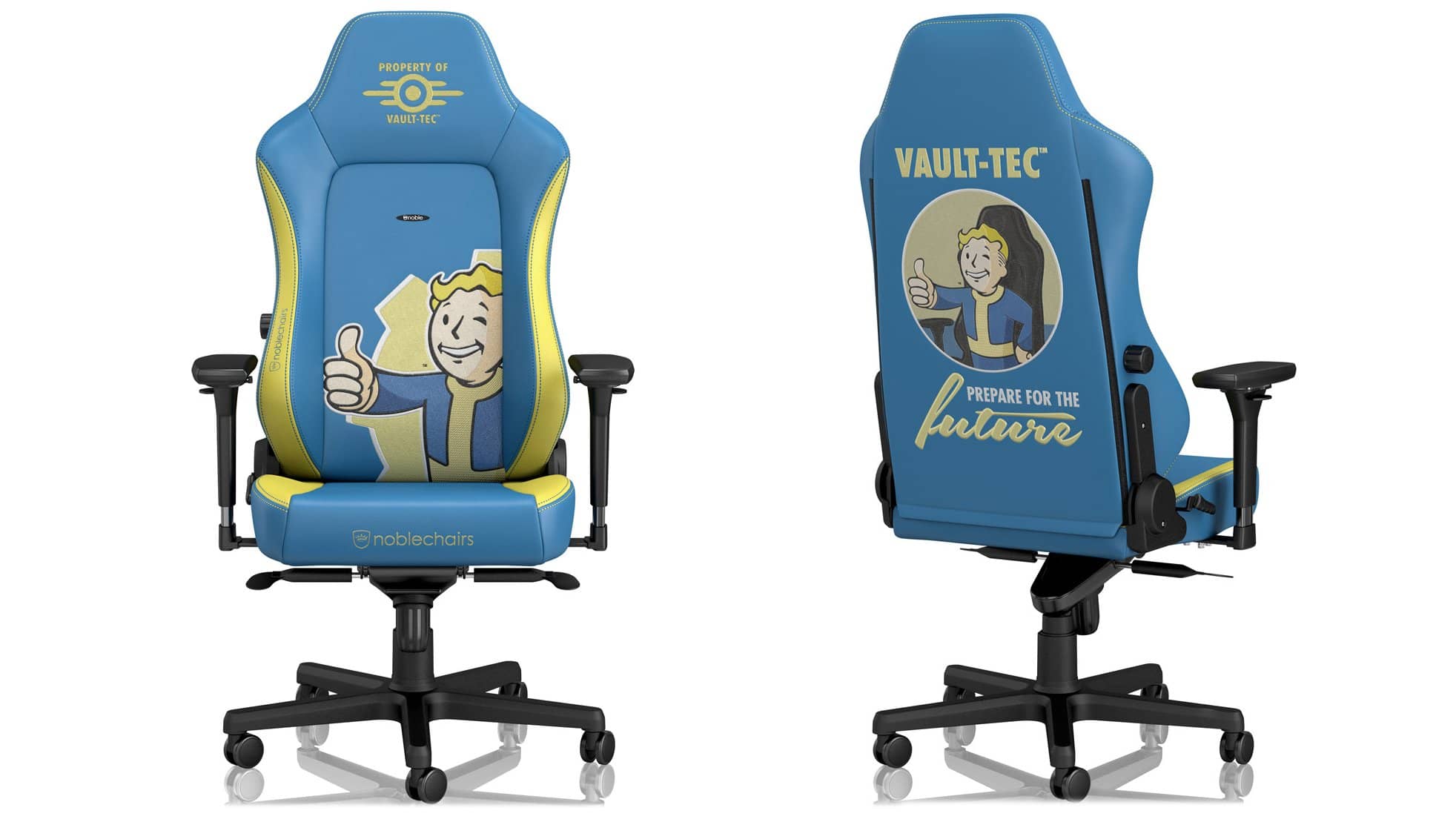 The Titan Evo 2022 features a bucket-style seat. But it's a very subtle one, the flaps on the side are less pronounced. 
And since the EVO has a wide seat too, there'll be fewer chances that you'll bump your hips on the flaps. But it will have this cradling and hugging sensation. Though the EVO chair is available in three sizes. The seat width of the small measures 22", but that of the larger sizes is not fully disclosed, but it does seem wider and larger than 22 ".
The Hero, on the other hand, has a very wide seat. And according to the brand, this is the widest compared to their other units. It is rather indulgent at 28", and without the flaps, it can accommodate those who are wider at the hips. 
An advantage of the EVO Titan 2022 is that it has a pebble-style seat. This is meant to push you to the center of the chair. So it can help you assume a better sitting posture.
We also had the same comparison when it comes to the backrest. The backrest of the Hero is flatter, though it has a slight curvature at the sides, it's not noticeable. The Secretlab Titan EVO chair, on the other hand, has a flap that kind of hugs you when you are leaning against the chair, so it will give you this cradling sensation. 
So to sum it up, the EVO feels more cradling with a subtle bucket-style seat and small flaps at the sides of the backrest. It's more liberating. 
So which is better? 
Everyone will want a different cup of tea. We find Hero more suitable for fat users with really wide dimensions at the hips and butt. Though the EVO might have three chair sizes, those who are extra blessed with more hips might find it too hugging. Well, unless you favor that type of seating experience, then this is your chair.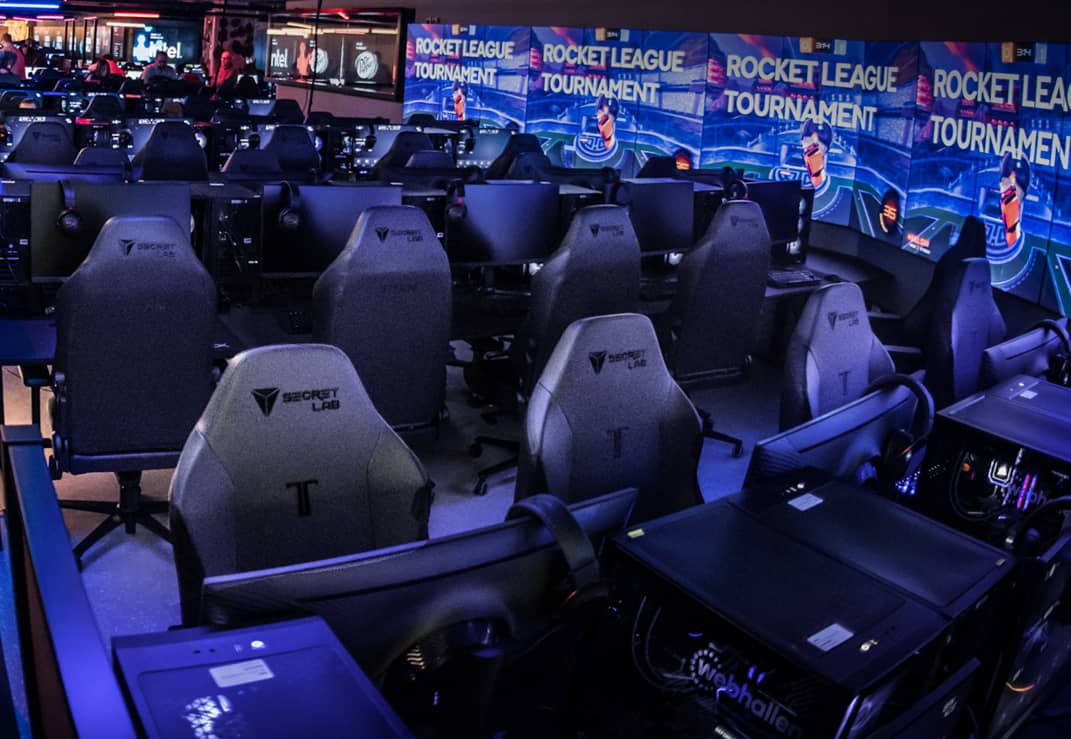 But if you want more of a liberating seating experience, the Hero will be a better option for you. 
Adjustability is king for these two gaming chair brands 
These two gaming chairs really know how to keep up with the competition. Even with the number of adjustable features, they seem to be at the peaks. Well, both units are also considered one of the prime units in their category, so we are seeing the best of the bunch.
The newest addition to an EVO gaming chair is its magnetic headrest. This is very convenient and I find that it makes up for sublime comfort. But we do have one issue, the magnetic strip seems to be too small. So it's not foolproof, meaning if you nudge it, it can fall to the floor. But comfort-wise, it is very nice.
Even the lumbar support of the 2022 EVO has a new take. The 2020 EVO lumbar support is only depth adjustable, so it limits the number of users who can find the chair very comfortable. The new EVO has both a height and depth adjustable lumbar. And each adjustment has its own dial located on each side of the chair. YOu can even adjust it while you are seated.
The lumbar support of the 2020 versions is already good, but when the brand made it height-adjustable, it can be appreciated by more users. You can also fine-tune the lumbar support according to how you want it. 
The lumbar support of the Hero, though better than that of the previous model, falls kind of short when compared to the Secretlab EVO 2022. It features a dial that you can turn and it protrudes the lumbar support. But the max protrusion is only at 1.5". So this can be unnoticeable for those who need more depth for the lower back. And since you can't adjust the height of the lower back support, there is also a limitation.
One of these gaming chairs is a "rockstar"
And when we said rockstar, we meant it literally. You will be able to rock the Hero even if it is in a reclined position. This is probably one of the more unique features of this Noblechiars unit. 
The max recline is 135 degrees. But if you add a rocking function to the recline, it can go up to as much as 155 degrees. Now for gamers, this feature can be a sure treat, especially if you are going to play from dusk till dawn.
The Secretlab is not far behind. You will be able to tilt the chair back. It also has tilt tension so you can choose the level of firmness of the tilt. Though it doesn't have that rocking motion that the Hero has. 
The not so good bits, yes there still are
So this will be just a short section because these two brands are very, very sturdy and comfortable. Compared to the other units or their predecessors, they are the improved versions. So you can get more from each chair, whichever you end up choosing.
For the SecretlabTitan Evo, here are our #whatcouldhavebeenbetter!!!
One, there is a bit of noise coming from the lumbar part when you are adjusting it. But it does become noticeable and goes away after a few days of use. Might be some breaking-in period of some sort. 
As for the Hero, our #whatcouldhavebeenbetter has something to do with the tilt function. 
The backrest can be tilted all the way right? But with that full tilt, we noticed that it tends to lean on one side. Though it's not pronounced and doesn't make the chair less sturdy, we can just tell that it is slightly leaning to one side. We're just not sure if it's the same for all units. Otherwise, it could be a problem with the manufacturing and quality control.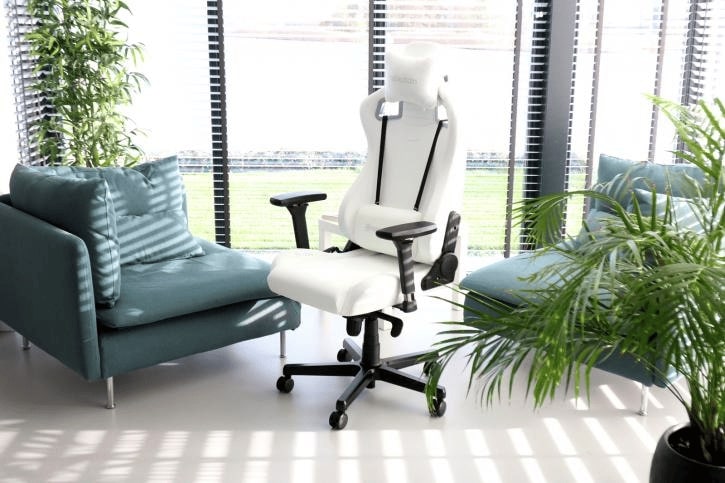 So what shall we choose?
There are details on the EVO chair that can tell that a lot of thought was put into it. We specifically love the Softweave fabric and the very nice stitching of it. And aside from the magnetic headrest, other parts of the chair are magnetic. 
For instance, the covers on the sides are magnetic too. And you can also see this in the other Secretlab gaming chairs. The Hero, on the other hand, has traditional covers that needed screwing. 
Also, the headrest of the Secretlab has a nice memory foam material and sort of has a cooling gel material too. The covering is also pretty sleek and nice. So it won't get hot and it's really comfortable and soft. The Hero also has a neck pillow, but it's not as comfy and soft as the EVO
The comfort of both gaming chairs is firm. So it has this type of support that you get from ergonomic chairs. And you can also use these for your home office. 
For the lumbar support, we had to go for the EVO 2022 version, it's 2 way adjustable. And Hero is only depth adjustable and we find the max 1.5" protrusion lacking. But it does come with a lumbar pillow for additional support. 
The arms of both gaming chairs are very sturdy and durable. But the EVO has plaques on other sides that render the chair more prestigious. But both brands have 4D arms, it just looks more polished with Secretlab.
So it's quite difficult to pick. So here is our final decision
When it comes to durability, ergonomics, and price you can never go wrong with either chair. But those who need more advanced and better lumbar support, go for the EVO!
And if you are really wider along the hips and do not want a cradling sensation, the flap-free seat and backrest design of the Hero will suit you better. The Hero also has a more minimalist and subtle design, it has a smaller logo too. So if you don't want anything too big of a logo, the basic black unit of Hero is your chair. 
And do remember that both gaming chairs provide firm support, it's not going to be cushy or soft. So if you want a softer seat, neither of these chairs will serve you. 
But when it comes to quality, craftsmanship, longevity, and features, we highly recommend both.