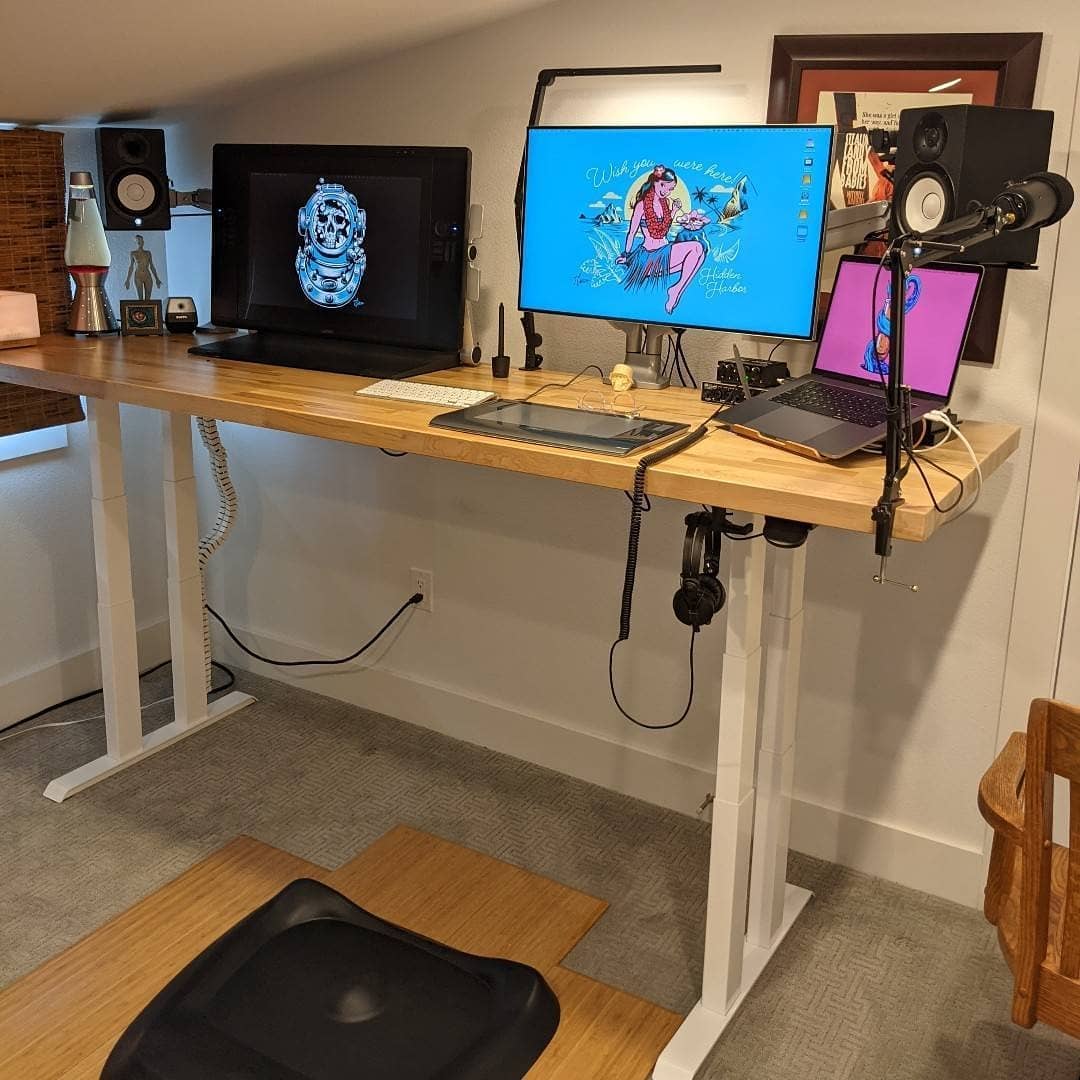 Building your own standing desk can be fun right? You get to choose the frame, the finish, and the color of the top. So what can go wrong? 
DIY can be fun, but it can also be overwhelming. And once you get overwhelmed you might make the wrong choices.  
iMovR vs Desk Haus, which is better for a DIY desk?
iMovR offers a smorgasbord of choices but it kind of feels flat
iMovR has always been one of the decent options for a standing desk that's hefty and stable. And they do have a large assortment of lovely textured wood grain tops. The brand also has options for a desk with advanced features such as Bluetooth connectivity should you need one. 
The brand does not go cheap, so you can also expect the price to be above the entry-level tiring. But when it comes to the longevity and durability of the desk, it can be trusted.
The Desk Haus, on the other hand, maybe a lesser prominent brand since it has been around just for a couple of years. The pandemic may even have brought life to it. 
But it does have something to brag about and it does seem that it has a big potential. Like the iMovR, this desk also has virtually no side-to-side shakes and wobbles. It is pretty sturdy and stable at all heights.
You may not see a lot of reviews on the brand, but the few ones show customer satisfaction when it comes to the quality of the desk. 
But when it comes to making your own standing desk, it entails more than just the durability of the product. Sure you have to consider if the unit will be able to hold itself for the longest possible time, and you'd want one with no wobbles. 
But apart from that you also have to see if you will be able to "customize " the desk according to your liking. After all, that's the reason why you went for a DIY desk right?
Which allows for more customization
Buying the parts separately can be a bit messier than buying the entire build. Even if all the parts are from the same brand, you have to choose carefully. 
Thus, you have to look at which would welcome more customization options. And it has to be laid out in such a way that you understand the choices that you're making. Especially for a brand that has lots of options, it can be overwhelming to do DIY. 
So here are a few things to keep in mind.
iMovR could have improved and updated their website
With iMovR being the older brand here, we're expecting to feel like a kid in a candy store. The brand has lots of options so it's exciting to see them laid out. And with a wide assortment of desktops, DIY can really thrill you.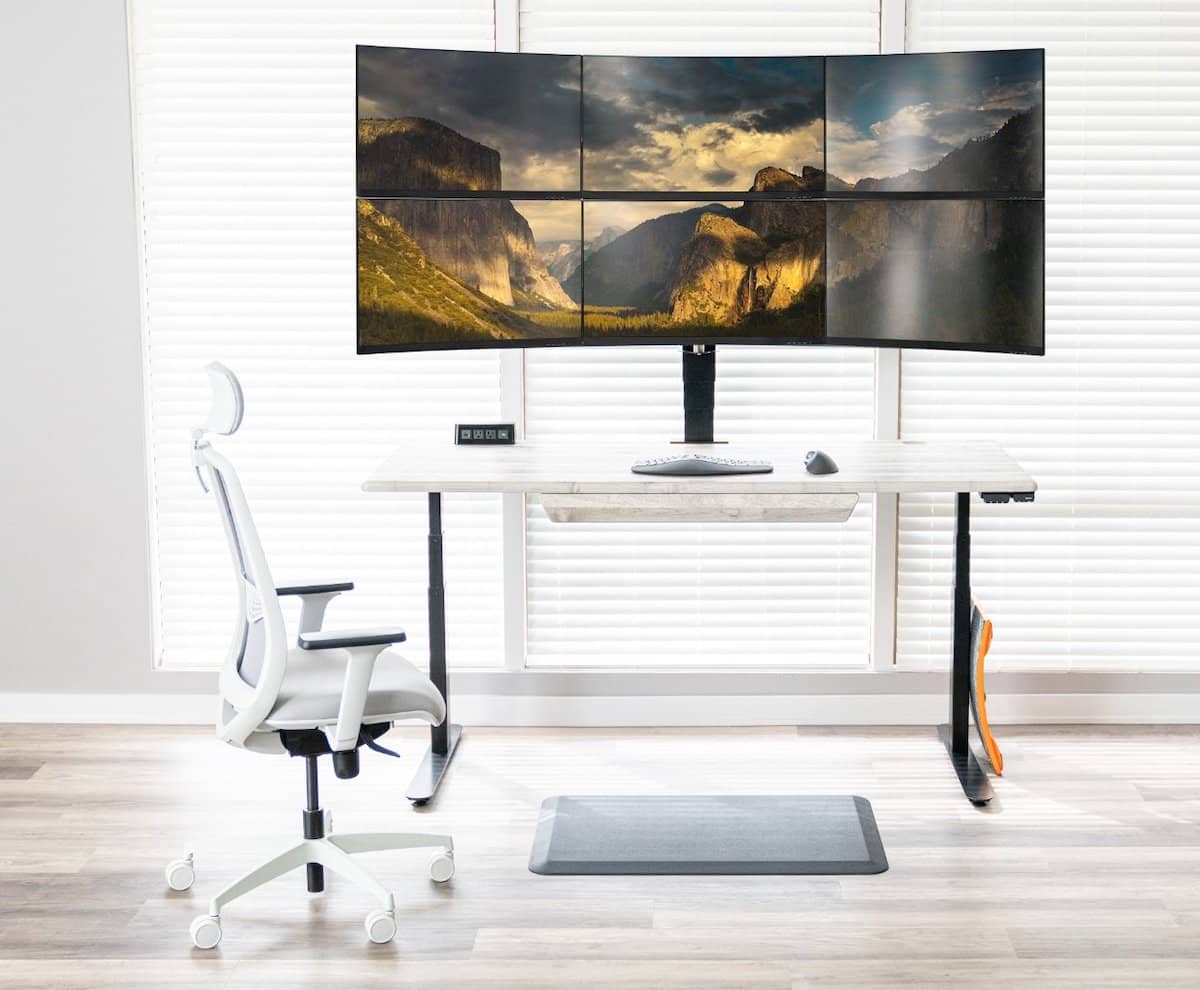 But the reality is otherwise. We did not feel that surge of excitement. 
We did feel like a kid in a candy store when we were hovering through Fully Jarvis and Uplift sites. You can see the choices carefully laid out. 
That makes DYIng not only fun but efficient as well. You will most likely be sure that you have made the right choice. 
A website that is easy to navigate through is a plus, especially if you will curate your own desk. At the same time, it has to be vibrant so that even if you're not physically in the store, you still feel like you are. 
And this is where iMovR fell short. Their website needs an overhaul. It feels old and kind of boring to go through.
Also, iMovR has more options from the color of the frames, and the size of the desks to the color of the tabletop. They do offer a liberal amount of customization. 
So if you don't have a clear idea of what you need or want, you'll have a long time figuring it out. And a huge chunk of the consumers makes their final decision once they see the options, so the site should serve as a guide. 
You have to be able to see all the choices, the specs, and what is the standard that comes with it. 
Illustrations also help, they will entice the clients more. The brand has a variety of tabletop colors. But the brand's layout of choices feels overwhelming. So if you are not keen on what you need, you might make the wrong choice.
 And that you're going to pay for that when you need to make replacements and returns. It may take a while before you can have a unit replaced. 
Though the customer service of Imover is satisfactory, the shipping returns just take too long. That's why this is also not a good choice if you're in a rush and need a desk the right way. 
The site of Desk Haus on the other hand has a more vibrant look and feel. Being a new player does have its advantages as you already know what format or look the current market is craving for.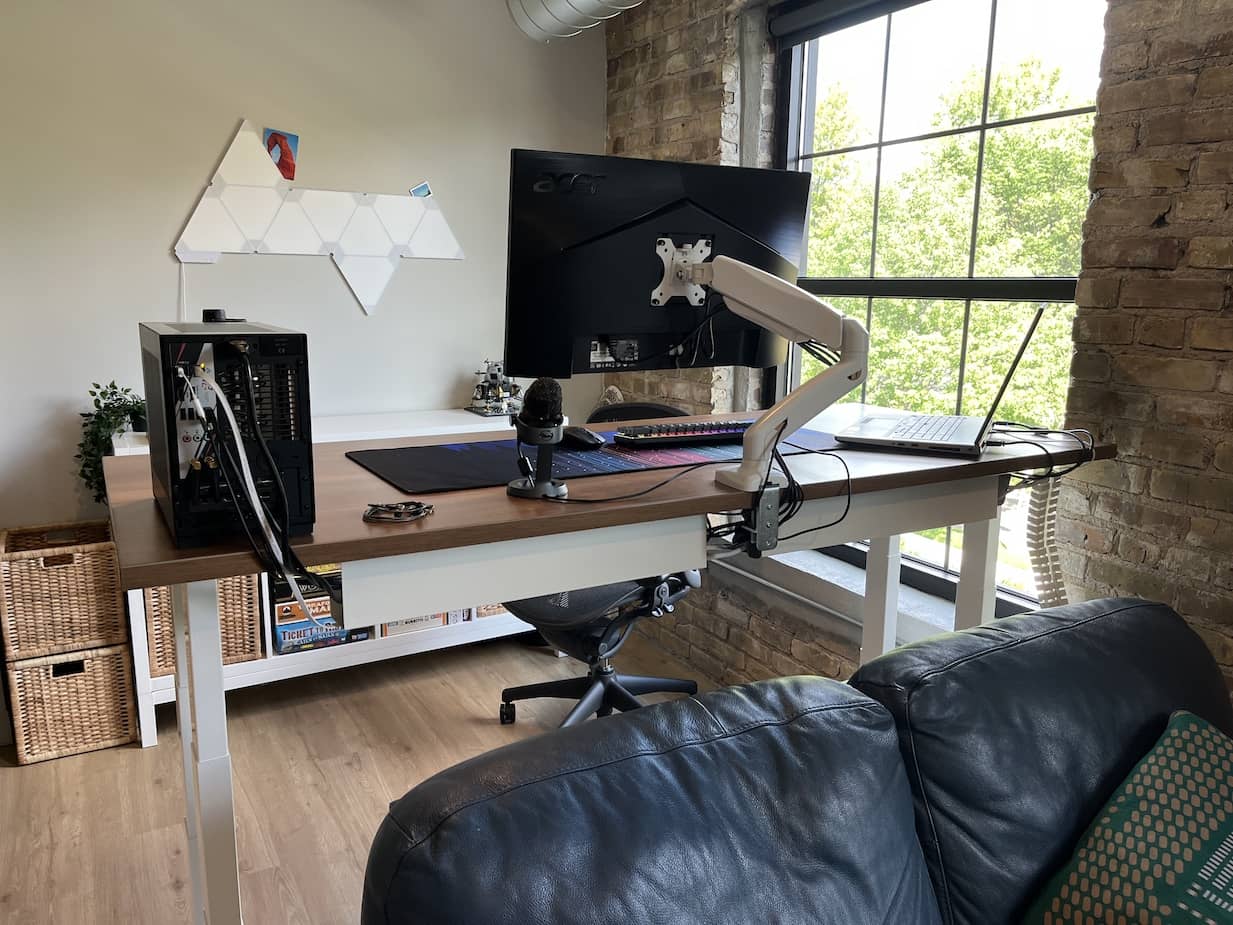 The brand does have limited offerings compared to Improve. They only have a handful of units and limited options for customization. But the difference is, that the site makes it easier for the consumers to build their desks since the choices are carefully laid out in front of you. Not to mention, they also look more enticing.
But despite having limited tabletop colors and finishes, you have several choices on how many frames or legs your desk will have. This allows you to fine-tune your options, especially regarding the weight capacity and stability of the desks. This makes it easier and more efficient to do DIY. 
And when you go to the homepage of the brand, it screams DIY. You can see that the brand has laid out the steps that you have to do to be able to build your own desk. It's informative and helpful, and this is gold for those who don't know where to start. Not to mention, the perky color would make you want to look into the site even more. 
The customer service of Desk Haus is a mixed bag of nuts
So it's like this. You either have your queries addressed asap or you have to wait. But whichever of the two, the response is often satisfactory, it's just the waiting time can be a big issue for some. 
The lack of manpower is an existing problem for the brand. Being a new player and a smaller company, they have few people or may even be a single person dealing with customer service.  
iMovR on the other hand does have satisfactory customer service. The chat support works and you will be able to get a hold of someone faster. But the difference is, that Desk Haus has a more personalized approach when it comes to addressing their client queries and complaints. And this can make one feel more valued. 
Though getting a replacement from Desk Haus might also take a while since they need more people on their team to keep up with the demand.  
iMovR has been around for years and still was not able to resolve the issue of delayed shipping. So we're not sure if they are amenable to improvement sooner. 
So which is which?
We see more potential with DeskHaus. Both brands have sturdy and durable standings desks, but you will find it more enjoyable and efficient to build your own with Desk Haus. Despite iMovR having more options, we see Desk Haus leveling up sooner too. And the customer service, though can have its caveats and the owner ranting on Reddit at times, it does have a more personal touch. 
Read more: DeskHaus Apex Pro Standing Desk Review – great for WFH situation