Smugdesk ergonomic office chairs promise great back support. These adjustable chairs are also very easy on the pocket. So let's see if they have other things going for them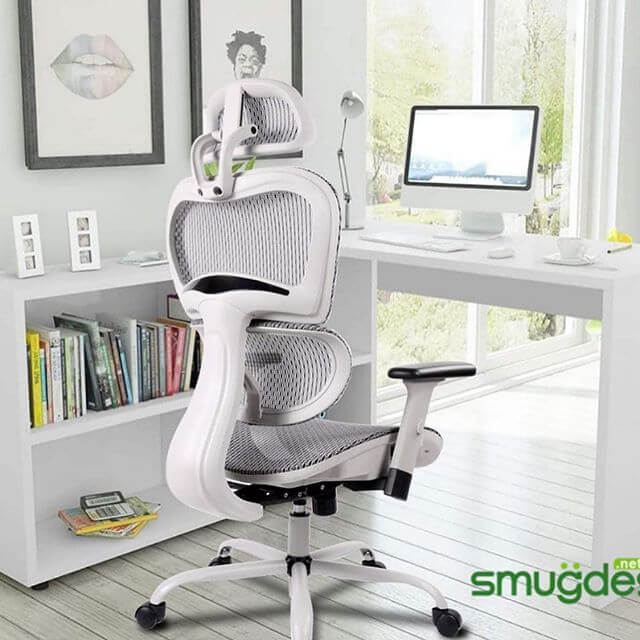 About the brand Smugdesk
Smugdesk specializes in office furniture. The brand has a wide range of office chairs, and all bear an affordable price. This brand is manufactured and made in China so that that also pretty much explains the cheaper price tag. But albeit that, many still find the brand's office chairs suite stable and solid. 
Top 3 best Smugdesk office chairs in 2023
1) Smugdesk model 0581f – Easy assembly and setup
This smug desk model is quite easy to assemble. And what makes it easy to setup is that it involves a few moving parts. And the entire office chair feels solid and sturdy, that even the screws seem heavy duty. And the screws were all aligned perfectly too. That's why it's quite easy to set it up, all it took me was 15-20 minutes.
Though the instruction manual consists of more pictures instead of words, it's foolproof. It's quite straightforward and easy to understand that photo instructions would suffice. You don't need to be a serious DIYer to see this whole thing up.
Though you might need the help of one person if you're going to attach the seat to the chair section. But for the rest of it, you can finish it on your own.
Comfort
This office chair is nice and soft to sit on. And the mesh back feels decent and comfortable on the back too. It's not that tiring nor strenuous if you're working for long hours. But of course, you can't compare it to a Herman Miller office chair in terms of the back support. But for its price of fewer than 100 bucks, it's a pretty comfortable yet affordable office chair.
The chair does not have an adjustable back, but the seat height and armest are adjustable. Though you can't adjust the back, I still find this chair comfortable. The back of the seat allows for flexibility because of its material, so I guess that makes up for the non-adjustable backrest.
It's also breathable and cool. Though the seat is padded itself, the back and the seat has a mesh material that allows for better air circulation.
Spins conveniently
Another feature that I love is the caster wheels. You have an option on the color and it rolls smoothly. There's no friction even on carpeted floors. One of my pet peeves is an office chair that makes abrupt stops with its creaking wheels. The caster wheels of Smugdesk 0581f won't feel like you're scratching your nails on a chalkboard.
The wheel is made of plastic polyurethane material, so it won't marr nor scratch your floors. It's similar to the Modway Articulate chair in terms of the ease of movement. But the price is higher than the Smug Desk office chair. One of the advantages though is that it has more adjustment range for the armrest height. So tall people might find it more convenient.
What I wished was better
The ergonomic adjustment of this chair is limited. Since the backrest isn't adjustable some people might find it not comfortable. The seat height might not be sufficient for tall people. 
If you're looking for an affordable ergonomic chair that's comfortable for taller people, the OFM Essentials Collection Swivel Mesh is a breathable office chair fit for tall people. This tall office chair costs cheaper than the smug desk but it's armless and might find the padded cushion a bit lacking.
The BodyBilt J2504 Is also a nice alternative. Though it's a premium high back chair and it has all the works comfortable for tall people. Or you can go for the High Back executive chairs of Smugdesk if you want the convenience of a lower price tag, stable and comfortable office chair for tall people. 
Overall this Smug office chair is ideal for those looking for a breathable office chair that's comfortable on the back. It can provide lumbar support albeit its non-adjustable backrest.
Where to buy this chair
Great option you can find here
2) Smugdesk model 1388fk office chair – Sturdy and solid construction
It's pretty easy to assemble this smug desk office chair. Like the 0581f, the instructions were simple and no brainer. I find it easier to assemble than the 0581f. It only took me less than 15 minutes to set this baby up. It consists of just a hex key and large sturdy screws for the assembly. 
And of course, it has more convenient features than the 0581f. The headrest is a great addition, especially for those taller users. It's a nice and convenient feature especially when you're having the chair reclined. 
The chair, albeit its affordable price (check it here), is said and feels like it's well-built. One, the screws are solid and heavy-duty. Two, the bottom of the chair is steel reinforced so there's no creaking or any noise when you're using it or adjusting the chair.
It has a weight capacity of 300 lbs and even if you maximize it, there's no shaking nor any noise. And the wheels are pretty easy to move along both on the hardwood floor and carpet. It's the same feature this model shared with the 0581f.
Comfort
This adjustable high back office chair is pretty comfortable. It has a lot of features that can make your back more comfortable without the high price. It has great lumbar support. It's even more comfortable than other office chairs that cost twice or thrice the price. 
Like the Smugdesk 0581f, it has an all mesh fabric that feels airy and cool. It's breathable and perfect for working during the hot weather. It's also easy to clean.
Adjustability
In terms of adjustable. It may have more adjustable features compared to other high back office chairs. From the back, headrest, armrest, and seat height adjustment, it's a sweet deal for its price. 
One advantage it has over an expensive Herman Miller Aeron chair is the neck support. And it costs way lower, but the smug desk can perform decently versus a premium office chair.
I also find that it fared way better than mid-priced chairs such as the Alera Elusion Swivel chair, but cost more expensive.
What I wished was better
If you're looking for a more cushioned seat, you might not find it in this Smugdesk chair. The Boss B7501 is a perfect alternative. A higher cost, but more plush and comfortable seating.
You can also try out the Smugdesk executive chair. It has a more cushioned seat that even the backrest is cushioned too.
Overall, it's a really sweet deal. It has more convenient features than 0581f. The added neck support is comfortable for taller people too. 
In terms of the overall design and features, it's quite similar to an Ergohuman chair though the Ergo chair may offer more flexibility
3) Smugdesk model 0566 office chair – Nice bossy look
From the get-go, this Leather Executive High Back Office Chair looks all stylish and classy. And if you're looking for more cushion, this is a great Smugdesk option. 
It can give you a comfortable yet bossy look without ripping a hole in your wallet. Other executive plush office chairs may cut you back by a couple more dollars 
The Serta executive chair has a price range almost the same as the Smugdesk, it retails you can check it here. But I like the stylish look of this Smugdesk office chair better. And the Smug desk 0566 is more comfortable on the legs, it won't cut off the circulation
Comfort
This executive chair is built for the bigger league. It's quite comfortable on the back and can relieve pressure points even for those taller people. And added to the lumbar support is the nice cushiony feel. So if you're into plush and softness, you'll find this executive chair a treat. 
Solid construction
In terms of construction, it's solid and there isn't any creaking sound. I think that's what most Smugdesk chairs share – sturdy and solid build. Albeit the cheap price, it's pretty solid. Everything from the screws, the base to the entire unit itself, it's one durable office chair.
The 0566 is specifically held together by a rugged metal. So the weight capacity of 300 lbs is indeed true. It feels almost as solid as a Secret Lab Omega gaming chair, but of course, this gaming chair has a more expensive and durable leather material. And it costs around 3509. But it's weight capacity is slightly lower. Plus, you'll also enjoy the same rocking motion with the Smug desk all-weather executive chair. 
What I wished was different
But like with other cushioned executive chairs, it will feel a bit hot during the warmer season. And I wished the armrest were padded too so that it can give ultimate comfort for working or playing longer hours
Overall, again, it's a sweet deal for this Smugdesk chair. It's a comfortable and affordable ergonomic chair option for those who are bigger and want a more plush seating.
Conclusion
Smugdesk office chairs are quite something, I really like the solid construction and the decent back support. And Of course, it's very easy on the budget. Though it may lack the exuberant adjustments options of some medium-range and high-end office chairs, then again, I'm complaining because of its price.
It even performs way better than other mid-priced office chairs in terms of durability and back comfort. And it's quite different from other office chairs that are made in China. It's pretty solid and doesn't feel flimsy.