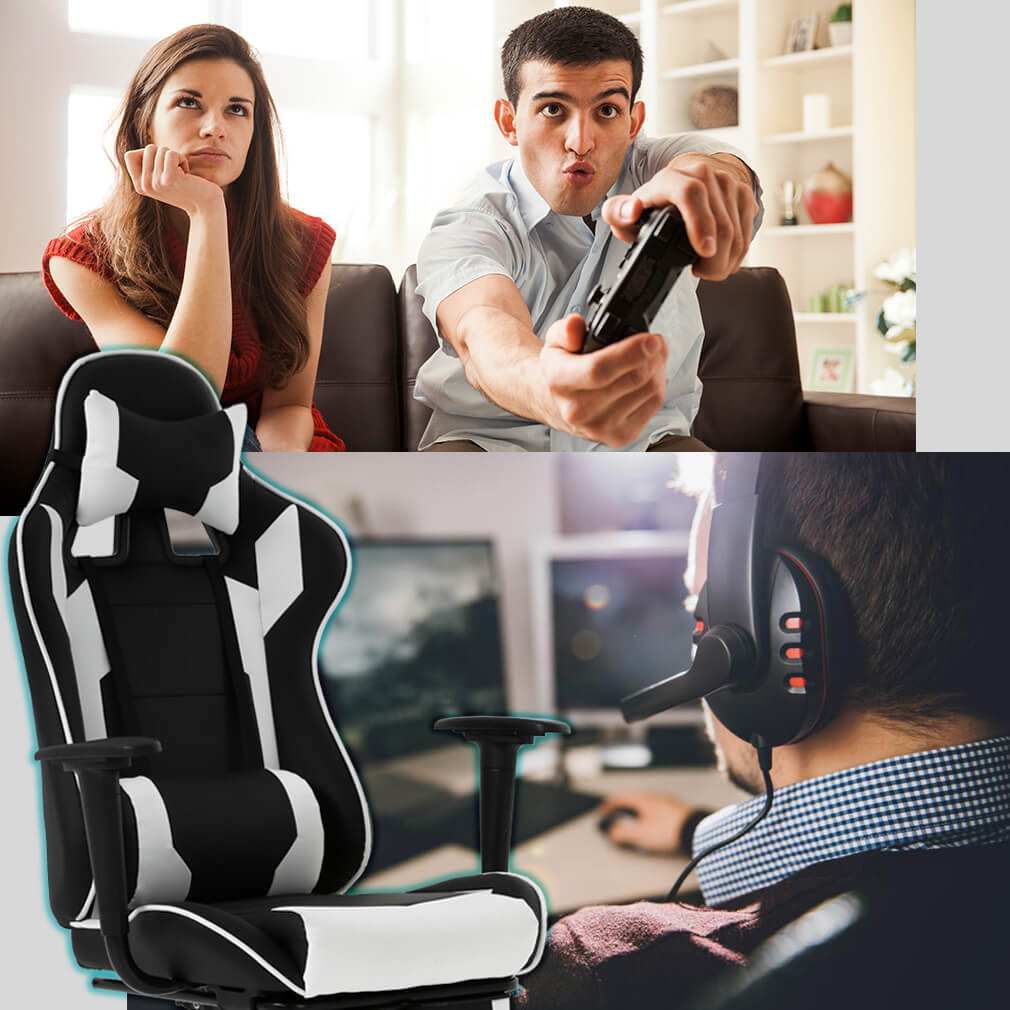 Will you be able to buy a gaming chair for your small budget? Well, with the BestOffice gaming chair, it seems like it. It sounds too good to be true. So here we are to shed light on whether you're better off saving that 100 bucks for a more expensive gaming chair or taking the plunge. 
About the brand – The BestOffice
The BestOffice PC Gaming Chair is made in China. This gaming chair offers several features but little is said about it. 
BestOffice PC Gaming Chair Review – Quick glance 
Features
The entire chair is covered with leather-like upholstery. The seat has a cushioned padding that measures 2 ½ inches. In addition, It has a head pillow on the top and a cushioned pillow on the lumbar part. You can also have the option to remove it should you not find it comfortable. Moreover, the chair also boasts an extended footrest. 
As for the arms, it has flip-up armrests. This allows you to pull up the arms anytime you find it in your way. 
Adjustability
This gaming chair can swivel to 360 degrees and it has a lever that you can use to adjust the height of the seat. 
And if you want a bit more recline, this gaming chair will indulge you. You can recline it up to 180 degrees. So when coupled with the extendable armrest and the flip-up arms, you may even be able to take a nap on the chair. So at FIRST encounter, you may find it rather comfortable and convenient 
Installation and Assembly
It's also very easy to assemble. We were able to put it together in less than 15 minutes. The average assembly time for most uses is under 30 minutes. Regardless, it's intuitive and almost anyone will be able to put this chair together. You don't even have to ask for help and you can do it on your own. 
Very affordable price
This gaming chair is perhaps one of the most affordable chairs we have encountered. That's really a small fraction of the cost of the most popular gaming chairs in the market. 
This brand may very well appeal to those who are just venturing into gaming and don't have the budget yet to complete a more elaborate setup.
Gaming worthy aesthetics
This chair screams gaming. Gamers will be pleased with how it looks. It's not too fancy, but it has the basic look a gaming chair would require- leather or leather-like upholstery, and a padded cushion. It also feels like a racer car kind of seat.
This gaming chair is very good at giving first impressions
…but must we say that first impressions do not last. Before we elaborate further into the gripes, this gaming chair can come across decently sturdy and durable out of the box. But as we have mentioned above, first impressions don't last. With all the convenient and versatile features it offers, you might think it's a steal for its price. 
But after a month's use, this chair will start to disintegrate, to put it in context. it felt loose, and it feels like it will not last for a couple more months. We all weigh more than 140 pounds and the weight capacity of the chair is 200 lbs. But we do not feel like this chair can support that weight or 150 lbs at all.
The screws started to loosen at the base part of the chair and armrests. So we won't even try anymore to use it for the next month's fear of the chair collapsing altogether. 
So head on to the next section. We'll be elaborating on the gripes that we have discovered from using the chair in a month's time.
Gripes and complaints
The seat cushion is too thin to adjust 2 i/2 inches. It did not render the chair too stiff and tough, but it does feel a little bit uncomfortable.
And since the cushion only measures 2 inches. So a lot of users will not find the seat comfortable. 
The comfort of the seat is one of the important aspects of a gaming chair. This one feels too stiff. It's not only the thickness of the padding that made it comfortable but the quality of the cushion too. It's too firm to be sat on for longer hours. 
The padding of the chair has sunken so fast. Even if we were not using the chair that much, it flattened out pretty easily. You'll be disappointed at how fast the padding would just last.

This chair is very uncomfortable for those who weigh over 120 lbs. We reckon it easily deflates if you weigh heavier than that. So this gaming chair isn't for heavy nor average-sized users. It's more for lighter-weight individuals. 

The weight limit of the chair is 200 lbs. But it won't be able to support that weight. It's not even enough to accommodate those who weigh 150 lbs. So comfort wise and safety-wise, the chair is not okay for heavier users. The band is falsely advertising the weight capacity of the chair.  

The warranty is just 90 days, Which's super stingy. You will not be able to get your money's worth with a warranty that just covers 3 months. So after 3 months, you're on your own.

Customer service is disappointing. And from the very stingy warranty period, the tip of the iceberg is the customer service. They don't know how to deal with complaints properly.
We have heard of users requesting a replacement of wrong and defective parts. They did promise to send one but they ended up making the customer wait in vain. Then only to find out that they have changed their mind. How uncool and unprofessional is that? This is by far one of the worst customer services we encountered in terms of gaming and office chairs.
The wheels don't seem to lock in place. So when we tried to lift the chair off the ground, the wheels often fell out and dropped to the floor. Also, the wheels don't seem to glide smoothly on the hardwood floors. It can make quite a noise. 

We are also able to find several wrinkles on the cushioned seat. So it seemed like that the cushion and padding of the chair were not seamlessly put together. This will not in any way affect the level of comfort of the seat, but some may be bothered by how it looks.

It has a rather narrow seat. The width of the chair only measures 14 inches. So a lot of people will find it too cramped. Those who are heavy and wide will definitely not fit into his chair.

And since the cushion is firm, it can do a number on your lower back after a few hours. Even lighter individuals might experience back pain with prolonged sitting in the chair.
Summary
BestOffice PC Gaming Chair is a really affordable chair? But should you buy it? With the gripes that we have mentioned above, if you can spare a bit more money to buy a more durable chair, go ahead. This chair is not rated to last and the seat cushion is very firm and stiff.
This chair can accommodate only those who weigh 120 lbs or less. With its thin cushion, overall build, and narrow seat, only thin and skinny users will fit into this chair. As for the durability, we're also not sure if this chair will last for more than 3 months even if you are lightweight. We've heard stories that the average lifespan of the chair is only 3 months, hence the stingy warranty period of only 90 days.  
So even for lighter individuals, we aren't going to recommend this gaming chair. Just save off your money for a few more months. The chair's features such as a pillow on the neck and lumbar, the 180-degree recline, and an extendable footrest might entice you to buy a very cheap chair such as this. But you do get what you pay for in this scenario. Or even less than what you pay for if you'll not be able to use the chair altogether. 
There's one aspect where this chair will not fail you, and it's the aesthetics. Other than that we do not recommend this chair if you do have some more money to shell. Or if you don't have enough moolah, save it. You'll be better off with a GT racing PRO. Or you can get an OFM ESS, you just need to add a few more bucks. This gaming chair is also an affordable option but it can serve you better. 
Conclusion
A cheaper chair with lots of features does not mean that it's a steal. You also have to consider durability and of course, comfort. And for gamers, comfort is very important since you'll be sitting on the chair for long hours. So if a gaming chair's price is too good to be true, it surely is.