When you're thinking of Scanidnnavain home style, furniture, and office solutions, IKEA always comes to mind first. Many people have grown fond of this Sweden based brand. But apart from IKEA, there's also a Scandinavian inspired brand, JYSK.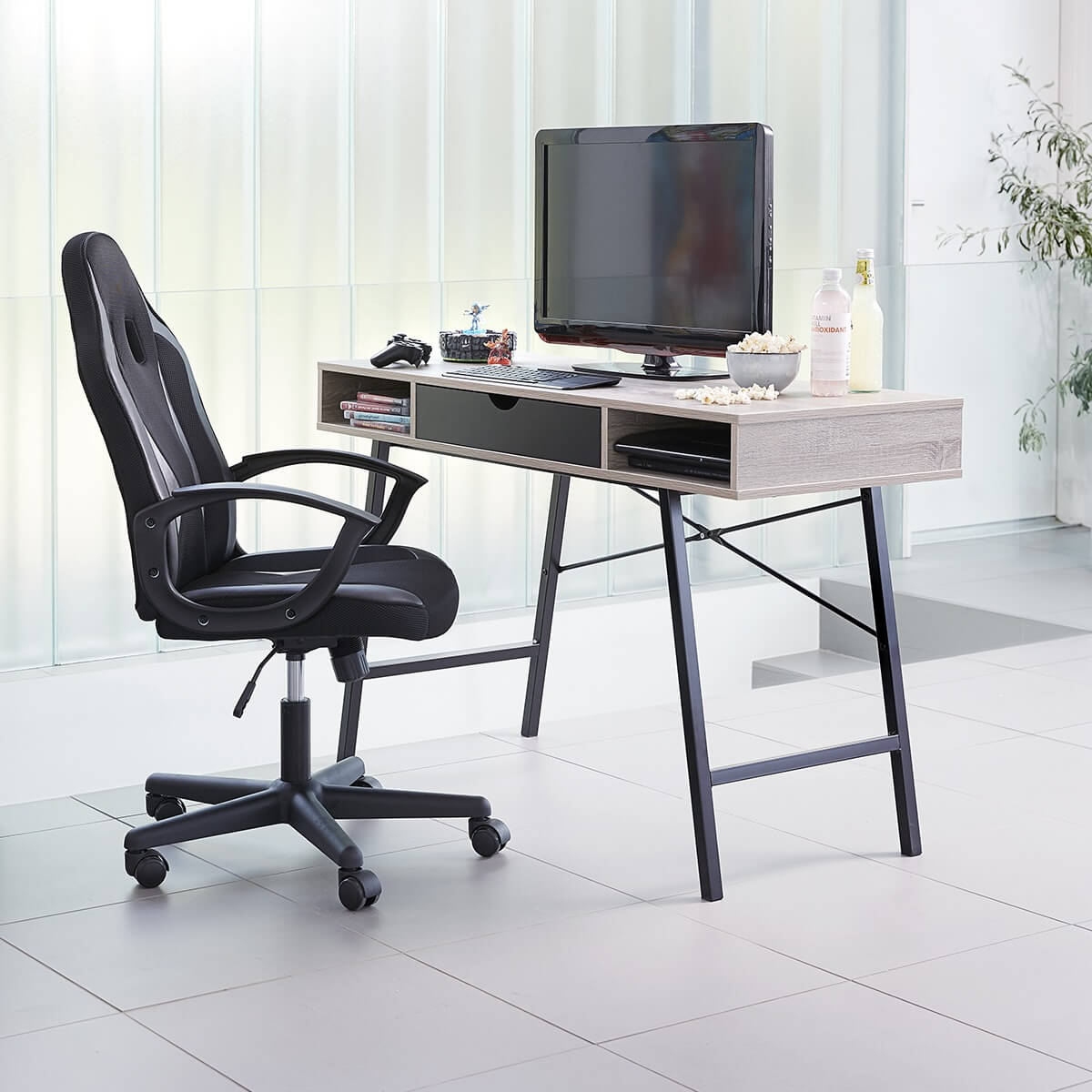 And today we'll be taking a look at some of the brand's office chairs. And let's see if it's something that you'll want to buy for your home office. 
About the brand
JYSK Group, as they are called, is a family-owned business based in Denmark. This brand manufactures furniture and decors that you can use for the home. They also manufacture office chairs and other furniture for work. It's a bit like IKEA. 
These two brands both actually boast of Scandinavian style. IKEA is from Sweden while JYSK is from Denmark. Jysk offers cheaper products, but IKEA seems to have reliable products. 
Pretty Aesthetics
When it comes to the aesthetics, JYSK office chairs are stunning. The colors of the office chairs and most of their furniture are in a neutral shade. But you can see lovely details when it comes to the material used. It can even nicely blend in your homes. 
JYSK chairs can easily pop out from a sea of other neutral-colored office chairs. That's how lovely they can be.
How does it fare overall?
Now, here's the thing. JYSK office chairs are no doubt lonely and can add more charm to your home office. But in terms of the overall quality and ergonomics, that's in question. I'll be listing them one by one.
Lacks ergonomics and adjustable features
Among the more popular JYSK chairs, the seat height and arms can be adjusted. But most JYSK office chairs function more as a task chair. There aren't any special ergonomic features that will make it comfortable for prolonged periods. You'll also miss out on several adjustable features that you often find in an entry level office chair such as the High back executive chair or the Myo chair.
Comfort
JYSK office chairs can be comfortable when sat on like the Billum and the Ravning office chair These JYSK chars have sufficient padding. But when we are speaking of comfort, it's not just the seta cushion that is important. You have to consider other factors such as the backseat and the connection of the parts to one another. And this seems to be lacking in most JYSK chairs.
Bottom line, the chairs can be comfortable when sat on for short periods.
And here is where it excels the most
The part where you'll be the happiest about this office chair is the price. These office chairs are perhaps one of the cheapest entry-level office chairs that looks stunning. 
Some JYSK chairs are just a little above 100 dollars. All of the units in the brand's range of office chairs cost either less than 100 dollars or a little over it. 
Top 3 best JYSK office chairs
Billum office Chair
At first glance, the Billum office chair reminds me of the IKEA Markus. It has the almost same high back seat with the mesh covering. And both seats are cushioned and covered with upholstery. Even the arms look rather similar, both chairs could pass off as twins aesthetically speaking.
This office chair is rather pleasing to the eyes. But I must say that if you want it to last, you must know that the brand's range of office chairs is for light-duty use only. It's pretty soft with the generous mesh back. It provides great ventilation too. And the cushion is somewhere between too firm and too soft, so it can provide decent support for your buttocks. 
But if you are on the heavier side, you have to look elsewhere. This office chair won't be able to support those who are bigger and heavier. Albeit it's a high back chair, the entire integrity of the office chair would be compromised if a heavier person would use it.
And here are some other good points. One, most average size users find it decently comfortable for their back and butt. But I won't recommend it for those who have back problems since the back super isn't really adjustable. And it does offer some tilt setting, though some users wanted more options. The seat height is also adjustable from 45-55 inches, so decent for most users. 
Three, the width of the arms is adjustable. The back seat has a subtle curve to it that's all. And four, shipping is rather fast. It's also easy to assemble the unit.
Even if you are of average height, you can still experience some creaking sounds whenever you move. If it bothers you, you have to look for other options. 
Overall, it's an affordable office chair for under 100 dollars. Even if the weight capacity is 110 kgs, I would not recommend it for heavier individuals. The foam cushion can go flat fast if you are heavy. 
So this is for those who are looking for a basic office chair with a 100 dollar budget. And you have to be of average weight to appreciate this office chair. 
Pros
Mesh back

Aesthetically pleasing

Comfortable for average size users
Cons
RAVNING office chair
The Ravning office chair is not necessarily ergonomic. But it looks rather stunning and modern. The only ergonomic about it is the adjustable seat height. But everything else is like a basic task chair. 
The chair and the seat has a padded cushion and covered with a textured honeycomb upholstery. I find the material rather pleasing to the eyes. And it's quite easy to clean should you accidentally spill liquid on it. The butterfly back looks rather unique and it feels good on the back. It can provide decent support. The overall feel when you sit in the chair is quite comfortable.
But the entire chair seems to be lacking coordination. The connection between the seat and the frames and the legs is somewhat wobbly. So I don't think this is okay for those who are on the heavier side. Though it has a weight capacity of over 100 kgs, the connection seems to be flimsy.
Overall, it's very nice when it comes to aesthetics. The butterfly backseat and cushion are pretty decent. But this chair is light duty. It's not meant to be sat on for longer hours. And those on the heavy side might topple over if they sit on this chair.
Pros
Looks modern and stunning

Easy to clean
Butterfly back seat

Decent cushion
Cons
The connection between the parts are not durable
ABILDHOLT armless office chair
This armless office chair looks modern and stunning. It's decently comfortable if you're going to sit on it for a few hours. The cushion is somewhat thin, so sitting on it for 6-8 hours can be a pain in your butt.
Other good points- the swivel of the chair is nice and it rolls out smoothly on the floors. 
Overall, it can be a usable task chair. It can easily blend in your home interiors with its neutral color and modern design. It can be decently comfortable if you're going to use it for 1-2 hours only, beyond that you can feel pain on the butt, back, or even your entire body.
Pros
Stunning design

Swivel is great

Caster wheels work perfectly
Cons
Padding is thin 

Lacks ergonomics
Who is JYSK office chairs for
JYSK office chairs are for you if you're looking for a very affordable entry-level office chair that looks aesthetically pleasing. These chairs are light-duty, extremely light duty if I may note. Though the brand claims that some of the chairs can support over 100 kg of weight, I doubt that. 
The built and the quality of the chair ain't heavy-duty. So I suggest that only lighter individuals with no back issues should use it. Also, if you're going to use it for short periods, it can still serve you decently. 
Final say
JYSK chairs are no doubt lovely and stunning. At first glance, you'd want to have one for your home office right away. And with the price, it's going to be super affordable. But there might not be a lot more aside from the aesthetics.
It's more of a task chair. Though some of the units have a few adjustable features, most don't. So it isn't for you if you need an ergonomic office chair with adjustable features. And also, it's not for those with back issues. And of course, not for the heavy and the big.