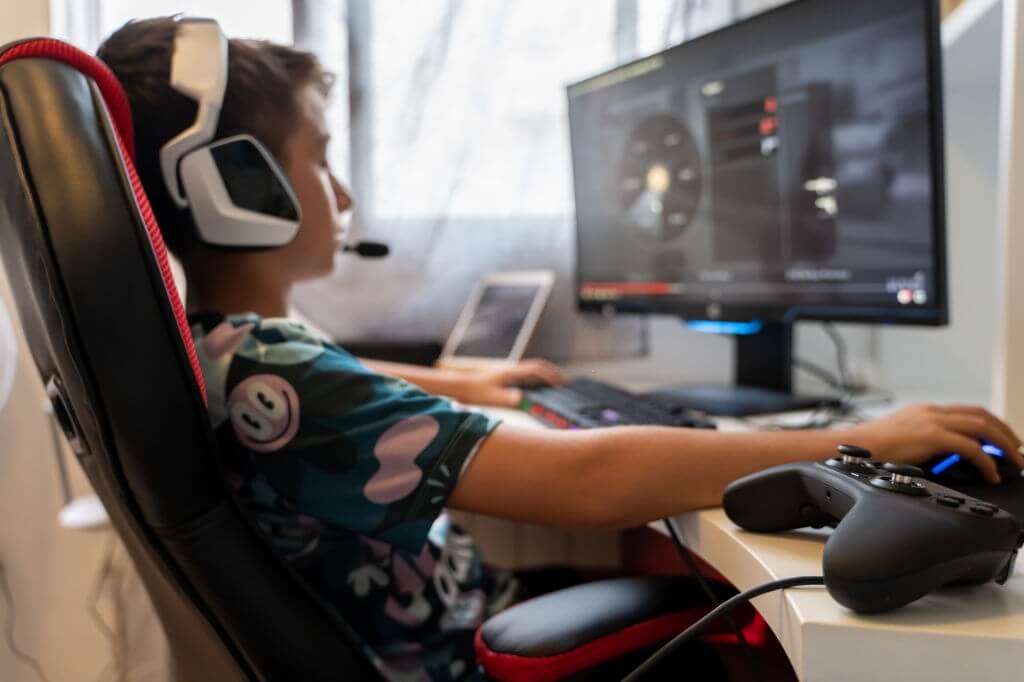 FURMAX is one of the manufacturers of affordable ergonomic gaming chairs. It also has a line of racy car type of gaming chairs. But if you're on the lookout for a gaming chair that can be used both for work and play, FURMAX also offers a sleeker and more subtly designed chair.
Let's take a look at one of the more discreetly designed FURMAX gaming chairs. This model looks different from what you're used to seeing in a gaming chair. Does it work? Keep reading. 
Furmax Office Gaming chair – The good bits
Aesthetics
It's a gaming chair that looks sleek and simple. Out of all the other gaming chairs of Furmax, this has the most subtle design. It's straightforward and simple that you can even use it as an office chair. 
If you are not into the racy look of gaming chairs, you'll probably love this FURMAX unit. And the all-black leather exterior can complement any workspace, it can easily blend in. 
Comfortable backrest and armrests
This FURMAX gaming chair is rather comfortable. Though We were hoping that the center part of the seat was padded a bit more, we found the back seat and the armrest quite comfortable.
The backrest feels nice on the back. It has great lumbar support. And though it isn't adjustable, it can cradle your back in the right way. So even if you sat for long hours, you won't have back soreness or numbness.
The armrests, on the other hand, are sufficiently padded. It's quite thick actually. The combination of the PU leather and mesh upholstery did this gaming chair well. This also makes the chair easy to clean and more breathable.
And you can also recline the chair a bit. Though it isn't lockable so you won't be able to sleep on it. But still, it can offer you a change in the angle, which is what you need if you've been sitting on a chair for long hours. We also love how we were able to rock the chair back and forth.
Quick and easy assembly
It took one of us to set up the chair in 15 minutes. You will not really need help in putting it, it's a fairly easy job. The chair is not too heavy so you can do it on your own. The instructions were clear and all the parts and accessories needed for the assembly are in the box.
Though we have heard of complaints that some customers received their purchase with no instruction manuals in it. So this is a matter of QA. 
Wide seat
This FURMAX gaming chair is quite wide. So if you are heavy around the waist, you won't feel cramped in his one. And if you are skinny or of average size, you have more room to move around in this chair. 
Upgraded wheels 
The caster wheels roll seamlessly on hardwood floors without scratching or marring them. They also don't make irritating squeaks or noise when you're moving from one desk to another. It's because the wheels are also covered with PU rubber, hence it can slide effortlessly. That's a plus because you do not need to pay extra for special wheels just to have them rolling smoothly on your expensive hardwood floors. 
The price is so great

See the greatest price here: https://amzn.to/35LV6PS
What you will not like about the chair
Not the most durable
This is one of those CHINA made chairs that can only last for, say a year. The low cost of construction and material will catch up on you. We have used this chair for over a year, and that's when it started to deteriorate.
The PU leather covering started to peel off, both on the backrest, seat, and armrests. And once it starts to peel off, you won't be able to stop it. There is nothing you can do at this point to salvage the chair.  
Weight capacity falsely presented
This FURMAX gaming chair is advertised to accommodate a maximum of 280 lbs. You would not try it if you were us. Though it can be decently stable for the first few months of use, but only for those who are of average weight. Anyone who weighs 280 lbs or near this figure, will find that the chair will start to creak. That's the sound of the screws slowly getting loose. 
The brand should have just rated it lower for the safety of its consumers. So remember this, if you weigh more than 200 lbs, do not sit on this chair if you don't want to break your back.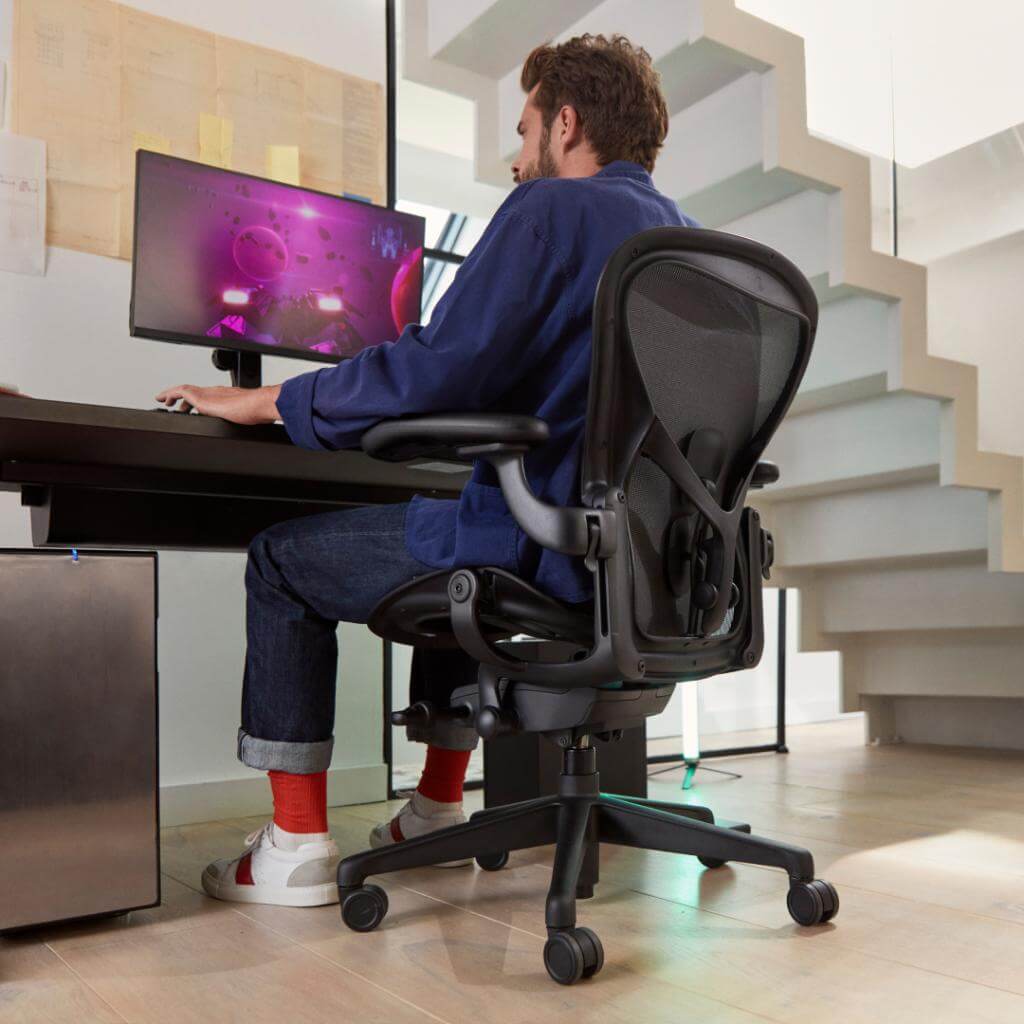 Not for the tall and heavy
So we have mentioned that this is not for heavy-duty. Nor is it for taller users or those who have a longer torso. This is a mid-back chair. So if you're tall or have a longer torso, it might not be high enough to support your entire back. So if you still insist on using this chair, you'll end up with a sore back and a stiff neck. 
And the seat height's max range is 19.69 inches, so there's no way for taller users to be comfortable in it. 
Preferably a more cushioned central seat
Out of the box, the cushion seems to have thick padding that measures 3-4 inches. But here's the thing. Yes, the cushioned seat is thickly padded and it's about 3-4 inches. But the center part of the seat where your butt lands are made of more of a mesh material. We suppose this is to help make the chair breathable. But if you have been sitting for a long time, you will wish it is also thickly padded. Well, for us that is. 
Yes, it does help with breathability so your thighs won't sweat too much. But the comfort might be compromised.
No head support
Since it's a mid-back chair, you might be missing the head support that the high back gaming chairs offer. So it's not for you if head or neck support is essential for you.
Summary
In terms of comfort, we have to give it to this FURMAX chair. For its price point, it's rather comfortable. It's well-padded, except for the central part of the seat. You'll appreciate the nice lumbar support and the padded armrests. That's why you can use this office chair for long hours.

And since it has a subtle and sleek design, it does not look too gamey. This is what sets it apart from other racing car types of gaming chairs of the brand. Thus, you can easily substitute this for an office chair. That makes this unit more versatile than other gaming chair models of FURMAX.

It's ergonomic and offers several adjustable options that will make you more comfortable. The rocking motions, the angled tilt, and the full 360-degree swivel are nice to have. 

Yes, this chair is quite comfortable out of the box. But as we have revealed above, this can only last for a while. We're giving it a year. The low cost of manufacturing and parts, ultimately will result in a shorter life span.  
So expect this chair to wither thought after the first year. From the peeling of the PU leather material to loose screws, this will render the chair unusable after a year.
The chair isn't for the tall and heavy. Though it has a weight capacity of 280 lbs, we discovered that it will not be able to bear this weight. Otherwise, you might risk breaking your back should the chair collapse. And since it's a mid-back chair taller users will not find it suitable. 

So those who are of average size or petite and lightweight users will find this chair the most comfortable. But then again, even if you are lighter, this chair will still have a short lifespan. So if you are in the market for a durable gaming chair, this is not it.

It has a rather affordable price tag and when coupled with the comfort, one would have to decide on what their priority is. Are you going for an affordable and comfortable chair or you'll save up to buy a more durable gaming chair that can last for more than a year?

This can be an option for those who are just venturing into the gaming realm while experienced gamers will be looking for a gaming chair with more bells and whistles. And of course, durability will also be a primary concern since pro gamers are already invested in their craft. It's a hassle to buy a new gaming chair every year. So they'll be looking for one with more bang for their buck. 

The brand offers a 30-day money-back guarantee. So you can still return it should it not suit you. But the warranty is quite stingy. FURMAX only offers a 6 month warranty period. So if we are to do the math, durability is indirectly proportional to the amount of warranty period a brand offers. 
Final say
If comfort and price point are a big priority, this chair can be of use to you. Just keep in mind that like most China made gaming and office chairs, this is not built to last. So if you want a gaming chair that can tick all the boxes in your list, save more bucks and buy a more durable gaming chair. 
You might want to take a look at FURNIWELL or a SMUGCHAIR gaming chair. These are also subtly and discreetly designed so they can also double as an office chair. Add a few more digits and you can take it home with you.