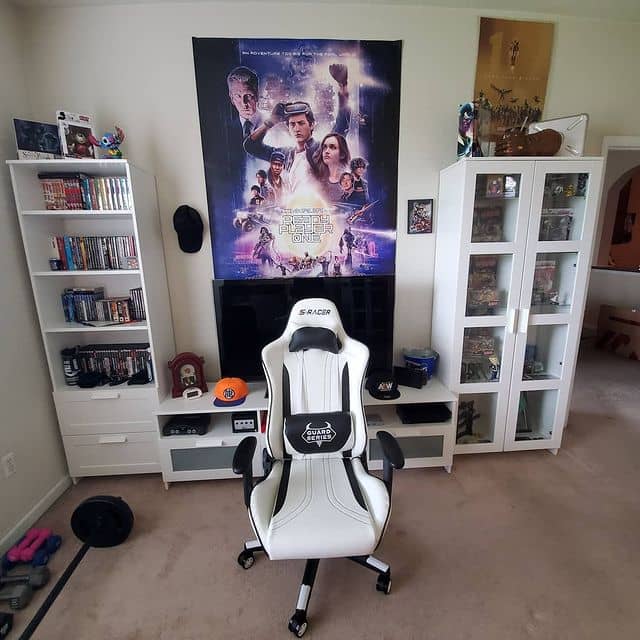 Homall gaming chairs look like a standard average gaming chair. And if you happen to catch a sale on Amazon, you may get the Homall Classic for less than a hundred bucks. Unbelieve, right?
Homall gaming chairs are entry-level gaming units that many novice gamers adore. But we have also seen several WFH folks vouching for it. And some are even quite happy with it. There are only a few gaming chairs that you can comfortably use for work such as the Secretlab Titan Series. But these chairs can cost a heft.
So let's check if this can be an alternative to your ergonomic office chairs. And the brand offers several units or models. So let's see which ones you can use for both work and play.
Homall Gaming chair

Classic S racing series

Pro racing series

 Speed series

Computer chair with flip-up arms

Seat height range (inches)

17.3-21.5

18-22.5

17.5  – 21.8

17-20.75

Recline function (

degrees)

90-180 

90-170

90-170

90-180

Material

Premium PU leather

Carbon fiber style PU leather

Carbon fiber style PU leather

Premium PU leather material

Tilt locking mechanism

✓

✓

✓

✓

Headrest pillow and lumbar cushion

✓

✓

✓

X

Color options

8

4

4

2

Weight capacity in-lbs

300

300

300

280

Seat width

14.5 – 20.5"

14.5 -20.5"

15 – 21. 3"

26"
How the Homall gaming chairs weighed on our scale
So we have tried a couple of Homall gaming chairs to see if they can indeed be a cheap yet decent alternative to office chairs. We'll go through the features of each line/ unit that we have picked above to see if it can be something you can use for WFH.
Build and quality
All of the units of Homall are quite cheap. You'll be able to score these gaming chairs with a budget of fewer than 250 dollars. And if you chance upon a sale, you might even get one for less than 100 dollars.
So you have to set your expectations here. 
The price is cheap so the overall quality of the chair cannot be compared to a Secretlab Titan or a Corsair gaming chair. 
While most chairs that we have highlighted above feature a weight limit of 260- 300 lbs, we feel that the real weight capacity of the chairs should be less than that. 
These chairs are not the most durable, but we are not going to classify them as flimsy chairs either. 
We think that if the chair is used with a max weight of 180-200 lbs, it may be able to last longer.
And since the base of the chair is more of nylon and not pure steel, we do not recommend it to those who are heavier than 200 lbs, even if the brand advertises the weight capacity to be 260-300 lbs. 
There's also one more reason why we do not recommend Homall gaming chairs to those who are over 200 lbs.
The advertised seat width of the Homall Classic, the Speed and Pro series is 20.5". But take note that this is actually the width of the seat plus the side flaps. The design of the 3 models is bucket-style seats. It's the typical racing-style seat that you often see in old-school gaming chairs. 
The flaps are a bit firm and will hit your hips if you are wider. So the actual width that you can comfortably sit on is only 14.5 " Thus, those who are above 200 lbs will normally have wider dimensions. And they will find it hard to squeeze in comfortably with a seat that is less than 15 " wide. 
Aside from the bucket-style seat, the sides of the Homall Classic, Pro, and Speed feature enveloping sides. That's why if you have wider dimensions, you'll feel too encapsulated within the seat. It can be suffocating and restricting.
Though this seat style has its disadvantages, it also has some pros.
If you prefer being enveloped in your seat, both for the back and your bums, you might find this design indulging. 
You might even be able to lean against the sides. But this will only be possible if you have average dimensions. Otherwise, even if you favor being enveloped, your hips and shoulders will not fit in. And if you try to sit on the side flaps, it can hurt your hips and it will compromise the integrity of the chair.
Though the Homall ergonomic office chair with flip-up arms boasts of a flat backrest and a flats seat, this is less durable than the other three models that we have mentioned above. But you'll love the wider flat seat and it has no flaps at the sides, so it's more liberating.
This model also has an advertised 280- 300 lbs weight limit. But it is less stable than the Pro, Speed, and Classic Homall gaming chairs. So those who have an average weight, less than 190 lbs will fit in this chair. 
The seat of this Homall office chair can also be stowed away when not in use. Though they are not adjustable, you have the option to not use them if it doesn't fit you. 
The Homall is not for the hotter months
Homall makes use of a premium PU leather material. This is pretty decent and okay during the colder months but come summer, you will be drenched in sweat.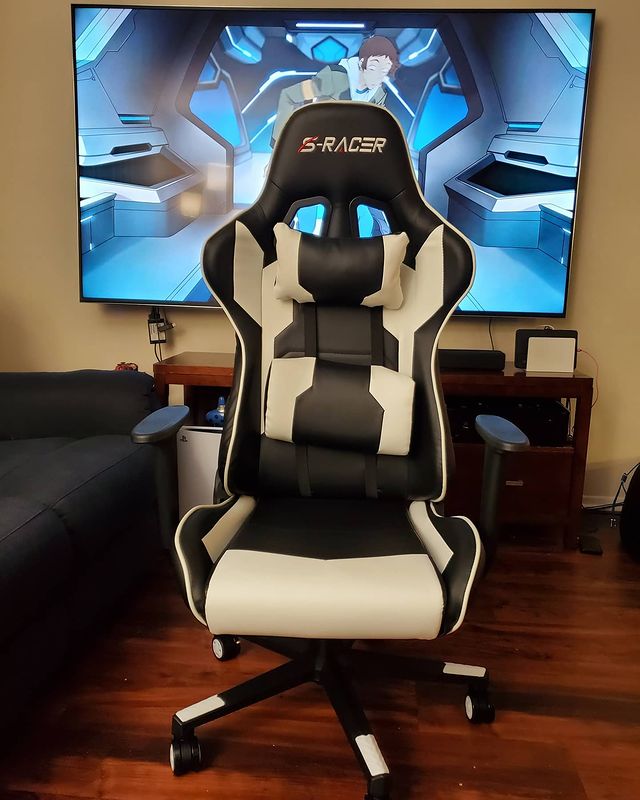 Almost all entry-level to mid-range gaming chairs are outfitted with PU leather material. because it's cheap and decently durable. but in terms of breathability, these can stick to your skin. Though some Homall units like the Pro and Speed series have a different type of PU leather, they are basically the same when it comes to breathability. 
Carbon fiber PU leather may be a more amped-up version. It's also more water-resistant compared to the regular PU material, but will still have you drenched in sweat during the hotter season. 
But it can last longer and be more resistant to spills too. So if you fancy a Homall chair but need one that is more water-resistant, the Speed and PRO series are your best options.
Sadly, we don't find this anywhere comfy for summer, unless you have a fully air-conditioned home office. You're still better off with a fabric or mesh office chair.
If you love to recline while working, you'll love the Homall chair 
The recline function is perhaps one of the best features of the chair. 
The Classic and the Homall office chair with flip-up arms up can be reclined up to 180 degrees. While the Pro and the Speed are a tad shorter by 10 degrees.
And all of the Homall chairs that we have mentioned above have a tilt limiter. So you'll be able to control the rocking back and forth motion should you want a more subdued seating experience.
We do find the recline pretty good, it was able to hold its post even when we tried to recline it all the way to 180 degrees. We didn't feel that the chair was cranking or sort of giving away feeling or rocking motion. But if you are more than 200 lbs, it's a different story. 
A heavier weight can lead to a bit of creaking sound and some unsafe feeling. Though you will not land on the floor right there and there, it can affect the longevity of the chair.
So is it good for WFH?
Here's our verdict, out of all the Homall chairs, we find the Classic Homall is the best option or alternative for an office chair. And for its price range, you can also get great value for your money.
But do consider the shortcomings of this gaming chair. We have mentioned a few above, we'll add up some more that you can expect when using the chair.
We have come across some reviews that mentioned that the Classic can accommodate those who stand up to 6'2", but it will not be an ideal fit. While that is true, we will lower this recommendation even further. This is best for those who are of average height 5'4" to 6"
Secondly, the arms are steady, which is a common complaint with most gaming chairs  So it's either the chair fits you or it doesn't. 
So if you are of average height and average dimensions, you will find the Classic sufficiently comfortable 
You do have the lumbar and pillow, which are held by straps and can be adjusted. It is not too firm, cushy enough but not sufficient for those with back and lumbar problems.
Third, the comfort of the material is decent, it's not too cushy but it's not too firm. But it can get really hot during the summer, so that's something to consider too.
Design-wise, this is very similar to several bucket-style gaming chairs such as the GT racing and the OPSEAT Master series. But this may have more pronounced flaps at the backseat.
So if you favor an enveloped feeling both at your bums, hips, and lower back, you'll find this comfortable. This style can be either comforting or too restricting.
Alternatives to the Homall Classic chair
Merax gaming chair
The Merax gaming chair costs within the same price range as the Homall Classic chair. But we do find the material more grippy and it is a bit more scratchy.
The bucket-style seat is also the former side compared to what we have experienced with the Classic Homall chair. You can also recline the Merax gaming chair up to 180 degrees.
The advertised weight capacity is 260 lbs. We also think that like the Homall chair, it should only be from 190-200 lbs. The bucket-style seat also limits the chair to those of average dimensions. 
But what can be an advantage is that the backrest does not have those higher side flaps that you'd see in a Homall Classic. So this is an alternative if you do not want that encased feeling.
Ficmax gaming chair
Like the Merax and the Homall, you'd be able to buy the Ficmax with the low budget
And it looks the same as the Homall Classic. But it does have several advantages and updated features.
One, it has a pull-out footrest. Though the connector of the footrest at the chair is a bit flimsy and shaky, heavier folks will not find the footrest comfortable. But this is a more heavy-duty unit compared to Homall because of its steel construction.
Two, the arms are height adjustable. And three, the lumbar pillow has a massage function. 
But the best advantage of all is that the brand offers a lifetime warranty on the frames while Homall offers just 1 year for all the parts. 
Final thought
The Homall Classic car is an alternative to your office chair. If you favor a gaming-style chair with a fully reclinable backrest, this gaming chair will oblige. Sure you can find ergonomic office chairs that can recline, but not as much as a gaming chair. And it can run a hundred more dollars too. 
And WFH folks also want to sit back and recline, and your regular office chairs are not up to that.