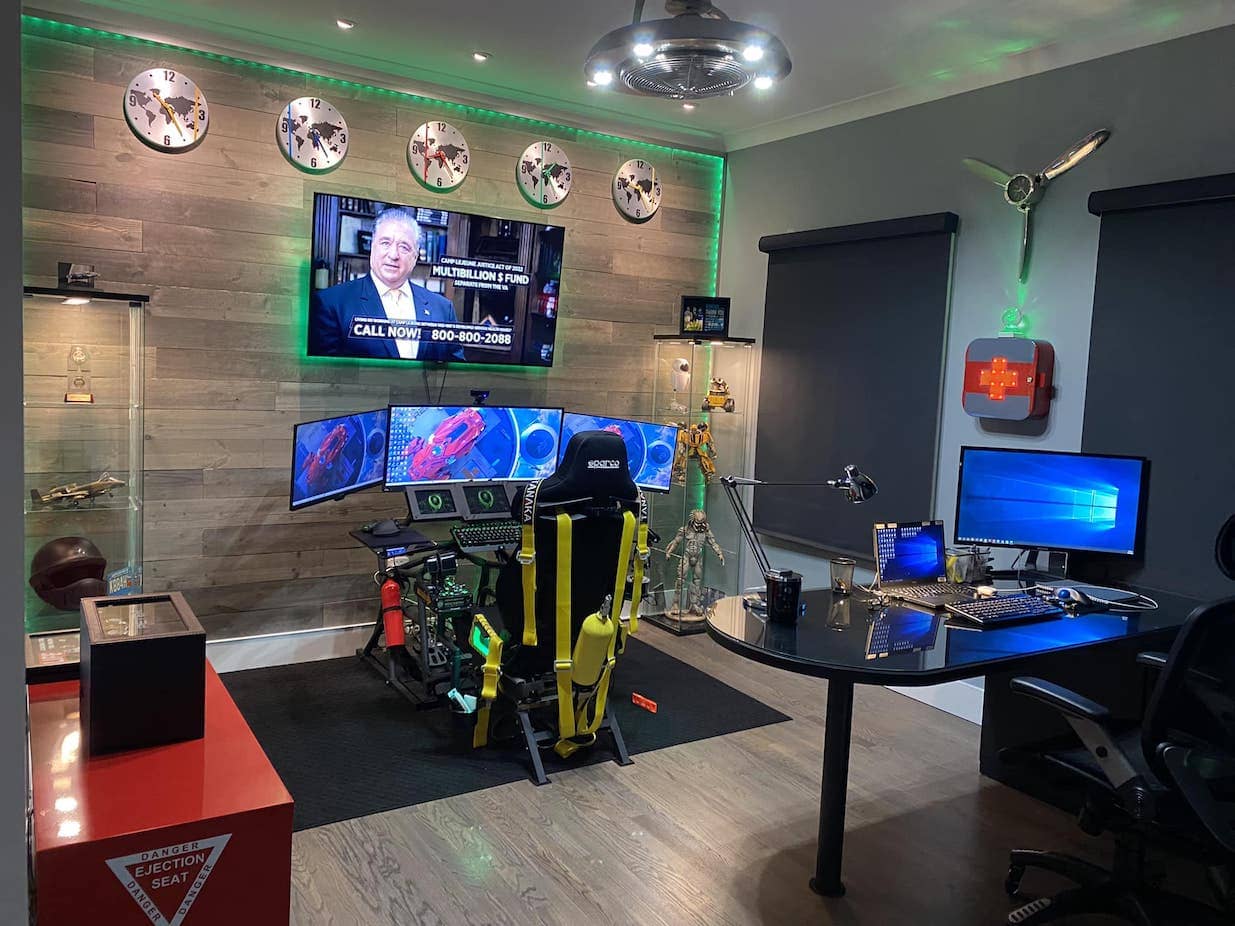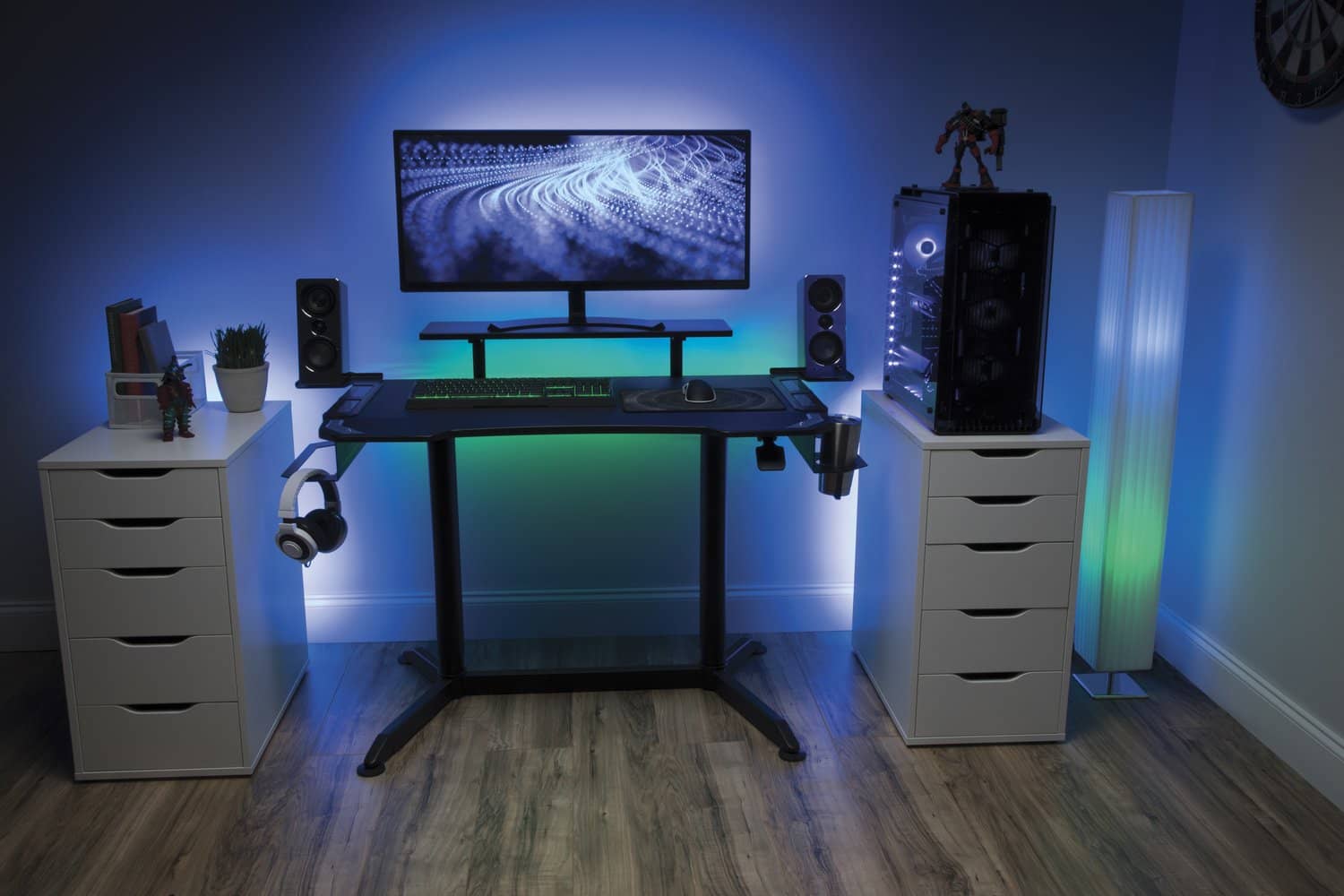 You want a nice setup for your gaming room like the picture above
Or so much color like this?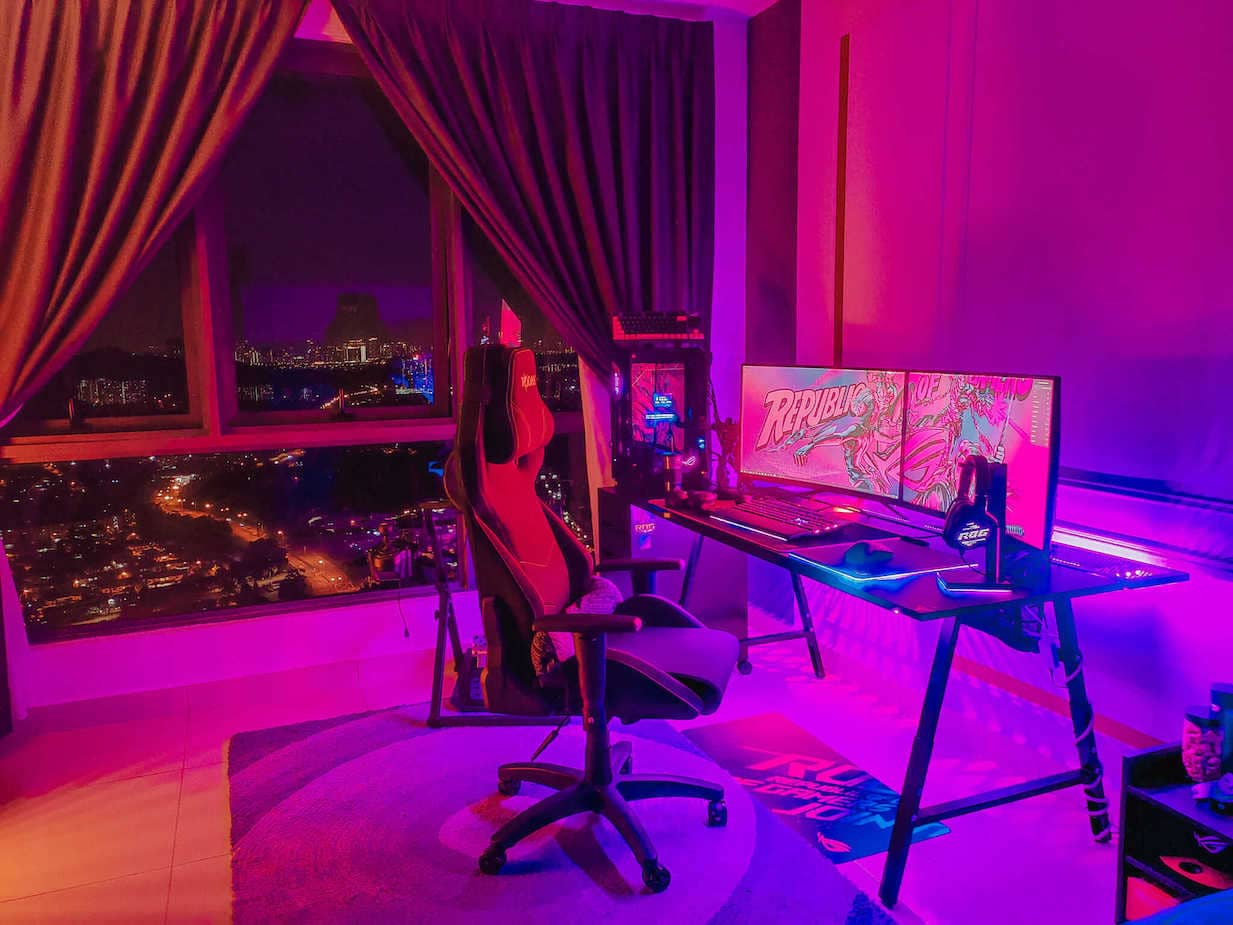 Everyone interested in gaming knows how vital it is, to set up a gaming desk. Individual criteria will vary, but the general purpose of a gaming desk will manage to be ergonomic, for all those hours of gameplay, and holds all of your gaming accessories, such as joysticks, keyboards, steering wheels, gamepads, displays, and much more.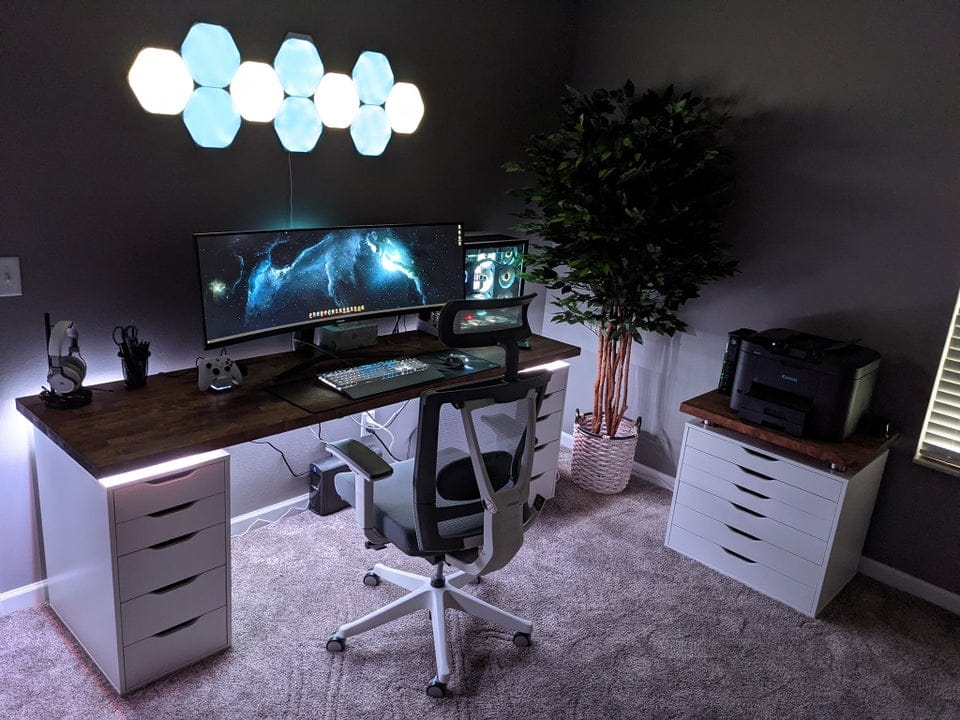 Having a good gaming desk will add fun to your gaming session because you wouldn't be sore and cramped.
However, there are many ways to make a desk for gaming with everyone having their own ideas, tastes, and needs. In this post, we'll give you some decent ideas to start building your own desk and a few things you need about a gaming desk. Start with an example first
An Example of building a gaming – standing desk with a custom frame
According to standardizedwar on this post, we'll see how he build a great gaming room
"Had a blast watching the whole plan come together. My buddy was able to build a beautiful custom walnut top (a bit shy of 2″ thick) with some beveled edges and then helped me mount everything up (I'm not to be trusted with drilling into nice things). The plan was to use a healthy mix of parts from all my favorite desks I've seen on this sub. Parts used are as follows:
– Amazon Basics dual monitor mount with I believe a 1/2″ hole drilled for a grommet mount
– SUDS cable tray/modesty panel
– This super cheap aluminum laptop stand which is surprisingly the best one I've ever owned. It's got full silicone feet all the way around to protect the desk surface
– Tripp Lite 12-outlet power strip with 15-foot cord
– Dell WD19TB Dock Mount by Section117 Design
– Artemide Tolomeo Micro lamps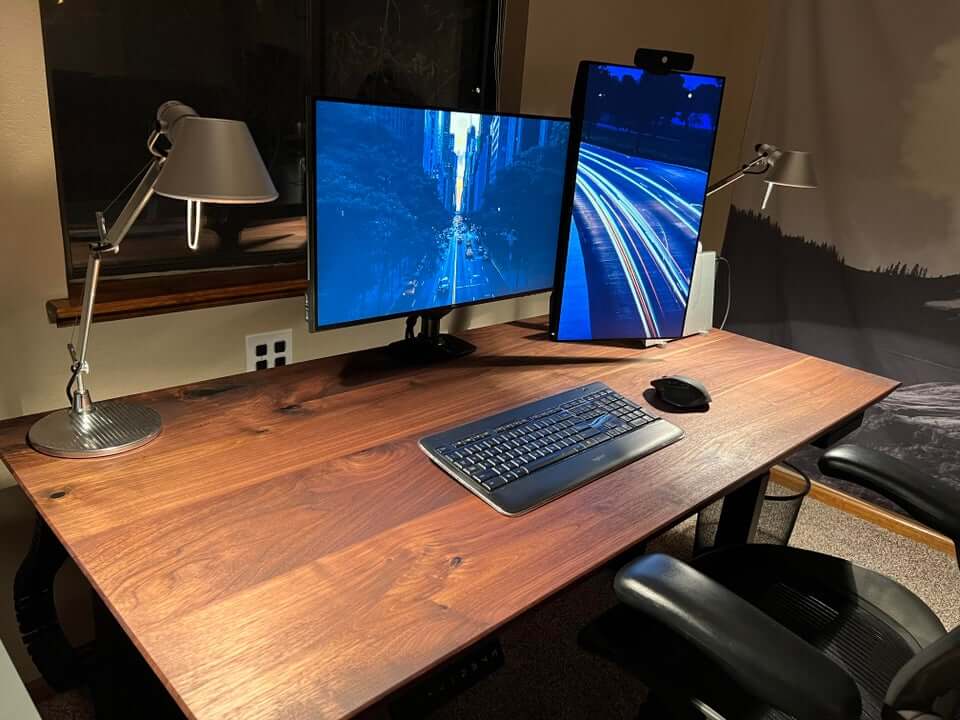 I also got some fancy new braided DisplayPort 1.4 cables from Cable Matters. The 6ft length ones are perfect for MST daisy chain between the left and right monitors on the AmazonBasics mount without any leftover slack but still allowing a range of movement.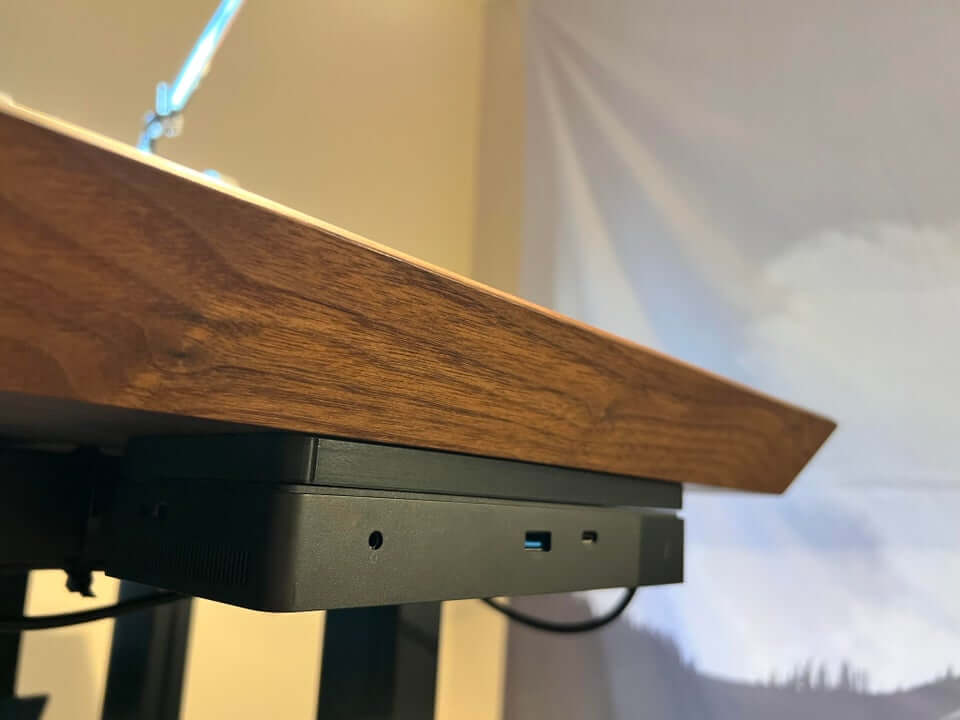 These Artemide lamps are incredible. It's such a massive "upgrade" to go back to incandescent bulbs as someone who suffers from pretty severe eyestrain on a regular basis. Good lighting changed the game for me, and they're nice and adjustable. The build quality of everything made by Artemide is second-to-none, there is nothing better. Worth the cost to get something that belongs in r/BuyItForLife! I'll wait for Lutron to have a sale to order their outlets which have a handy little RF remote that wouldn't look too ugly sitting on the edge of the desk.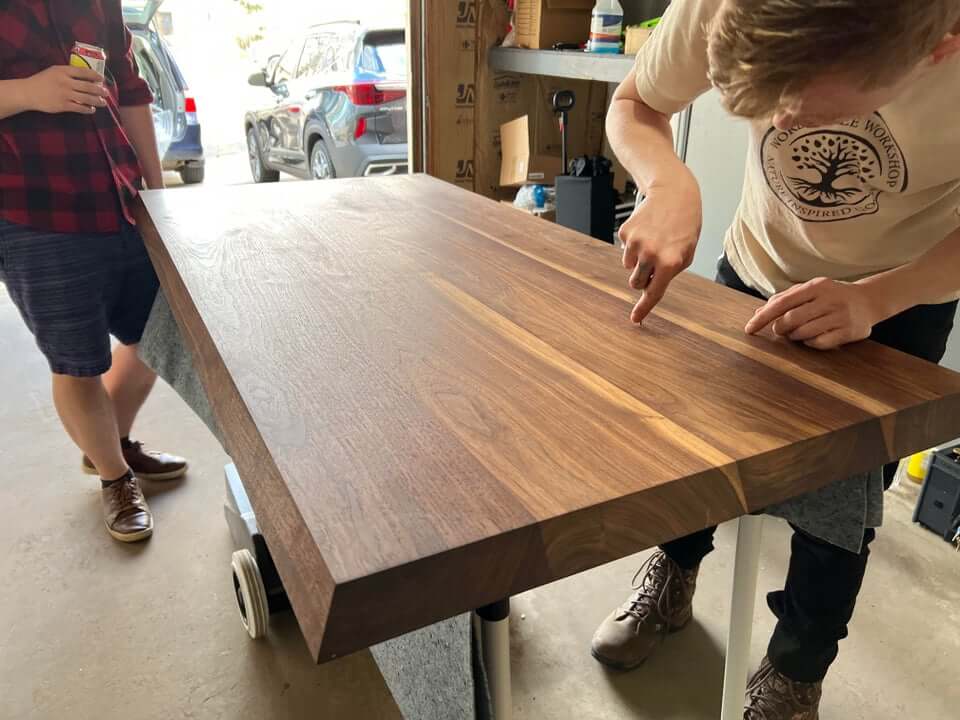 The Pro Max is ridiculously sturdy, even on the carpet at 47″ high when I'm standing. Very little wobble and the grommet mount may be adding to the stability as well. The programmable (not the paddle) controller is simple and does exactly what it's meant to do without being too visible.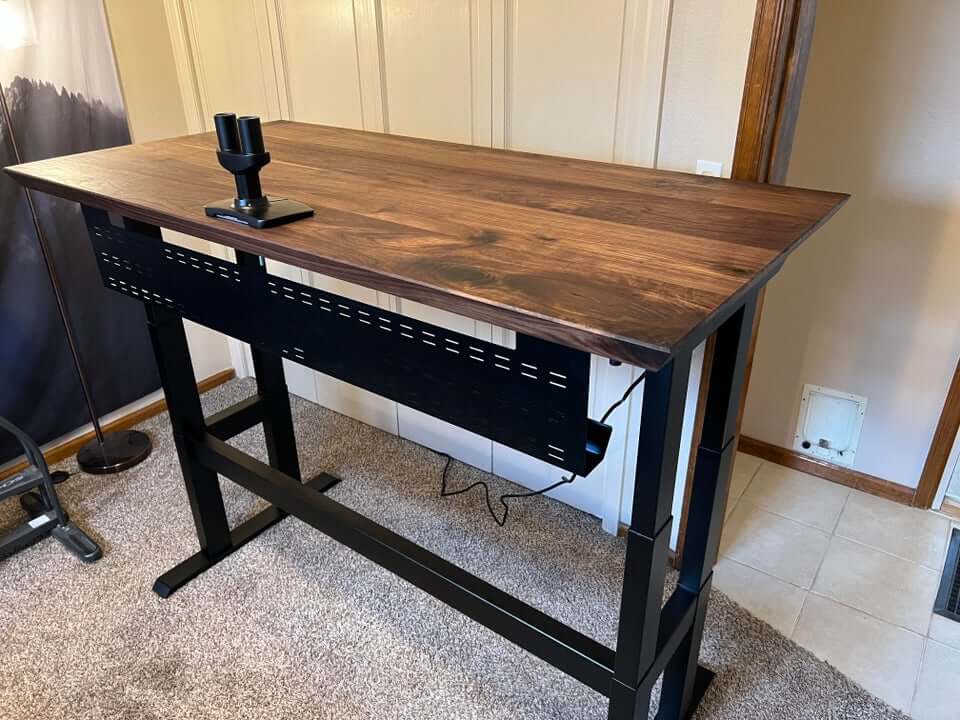 The ONLY thing I would have wanted to be different was the manual for assembling the desk, or lack thereof. Seems like a lot of people were fine with the youtube videos but I much prefer some papers I can move around, look back to the previous page, etc. My phone was too small for me to see what they were doing and my laptop was annoying to keep moving around the room. There were some notes like "use the small screws" which just really made things more difficult than "use the screw labeled xyz". Not the end of the world and I got everything together, it just took a little longer than it would have with a printout.
All in all, it's a 9.5 out of 10 from this perfectionist tech guy."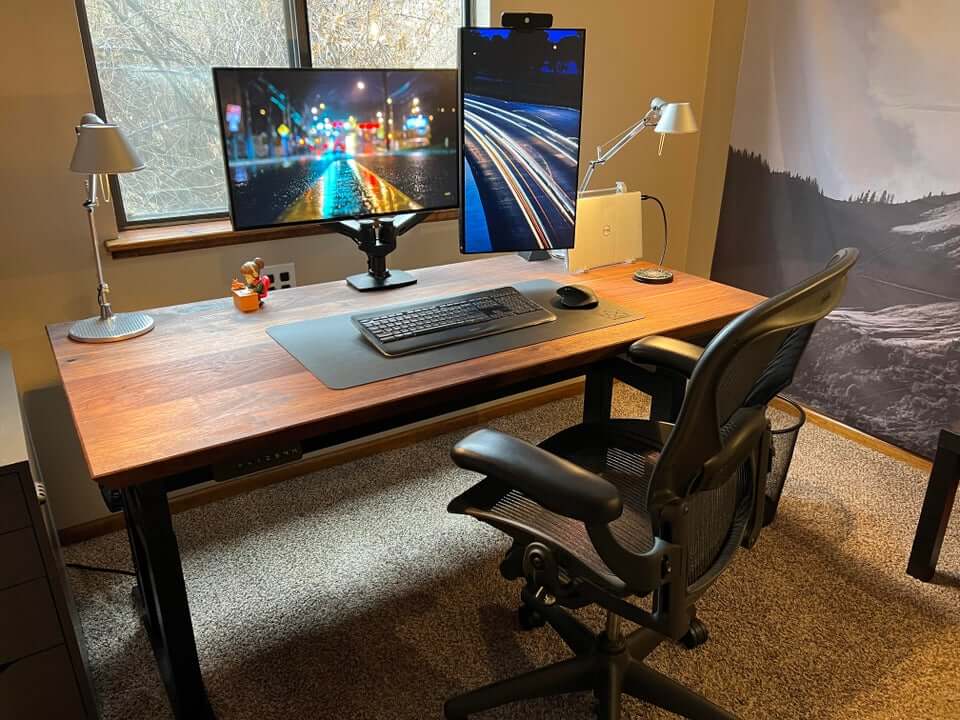 Look, it's amazing, right? You can do the same thing and we'll teach you how to do it. How to set up a perfect gaming desk
If you need more ideas, look at some pictures below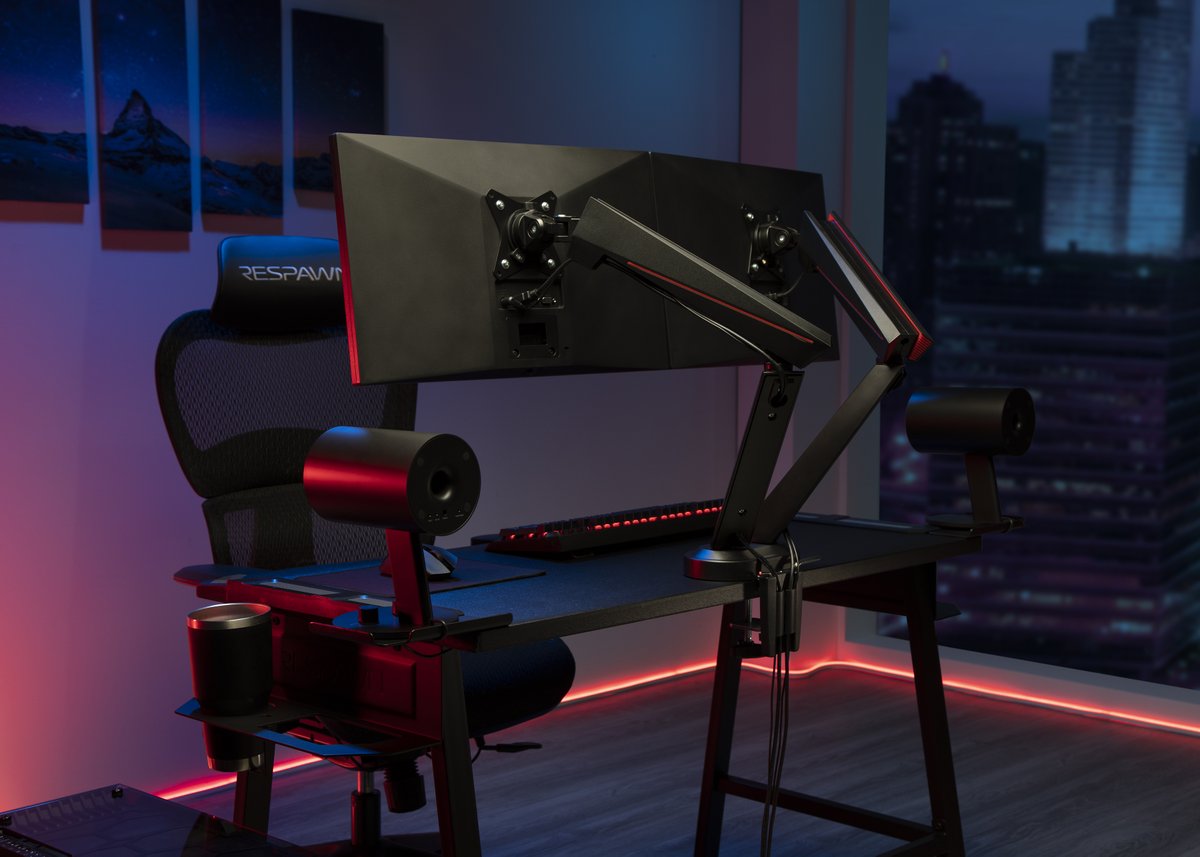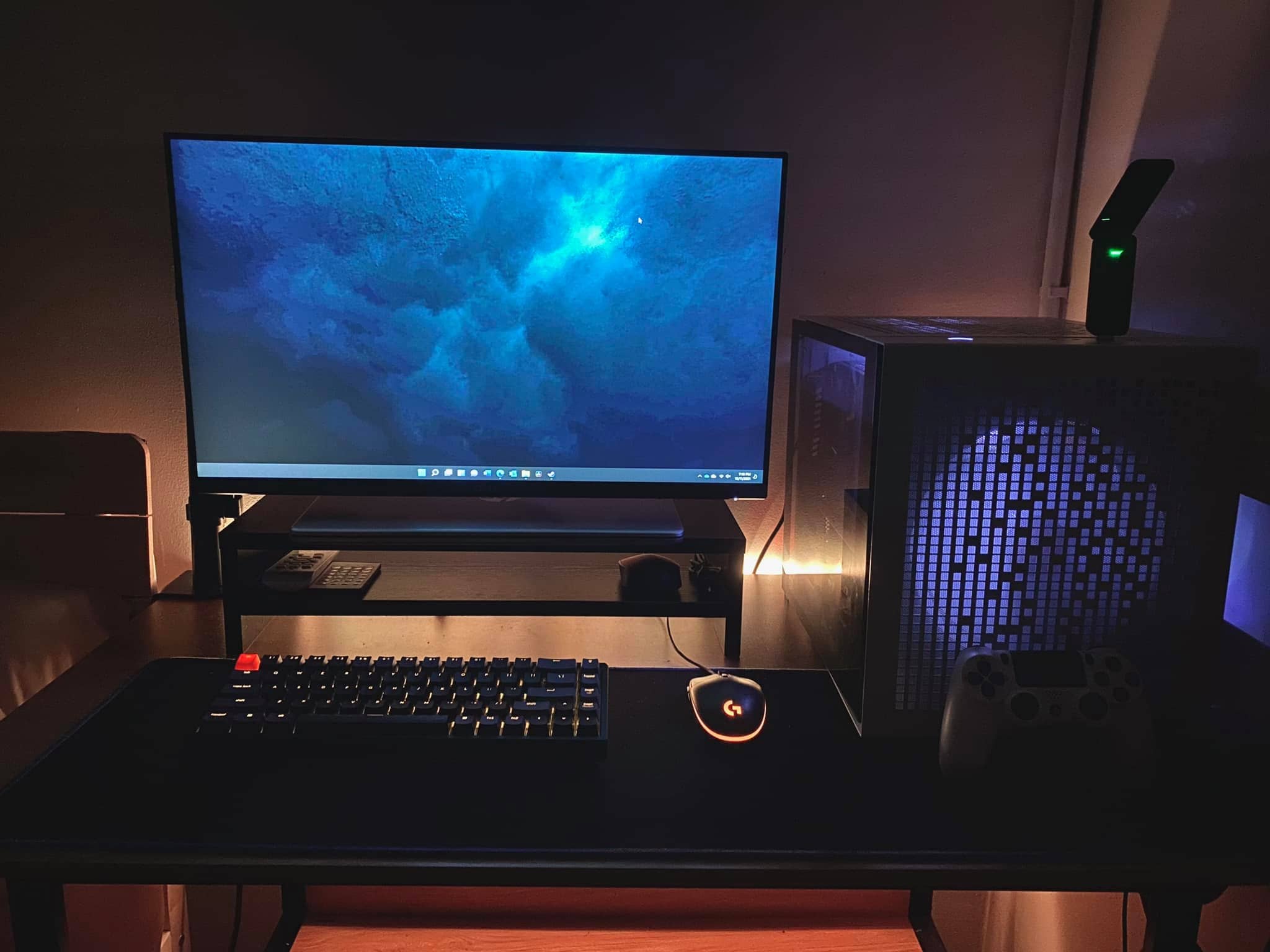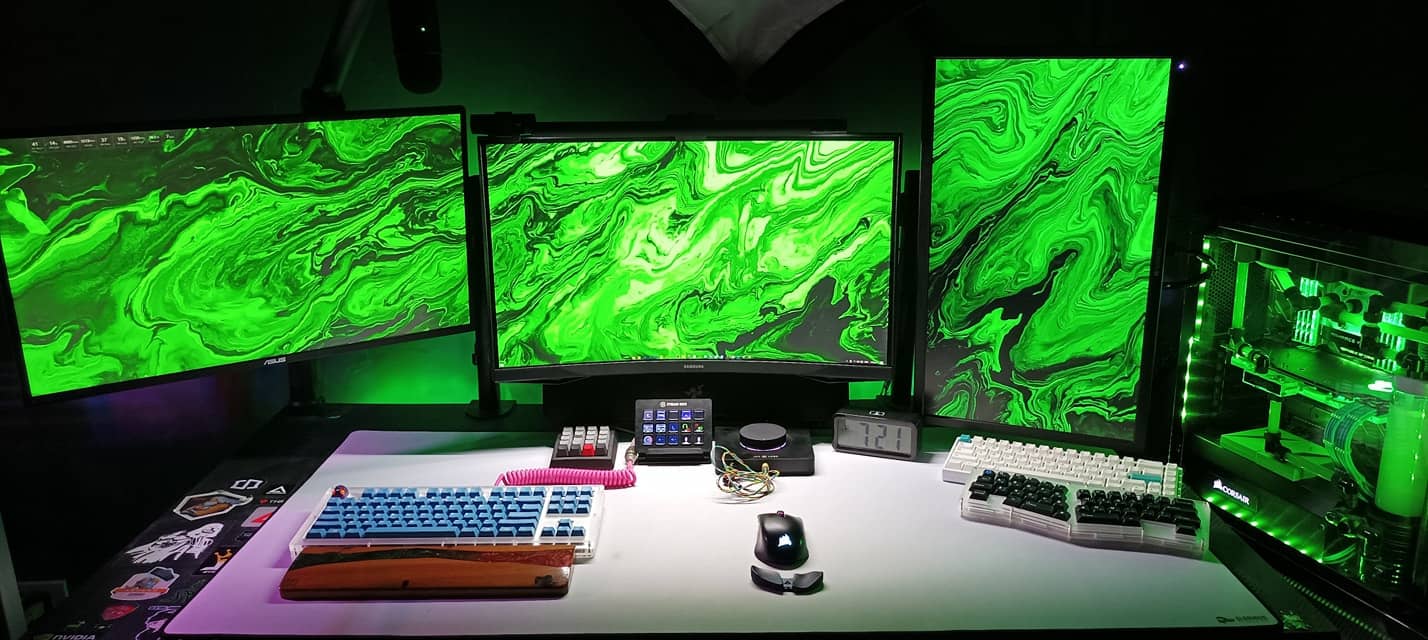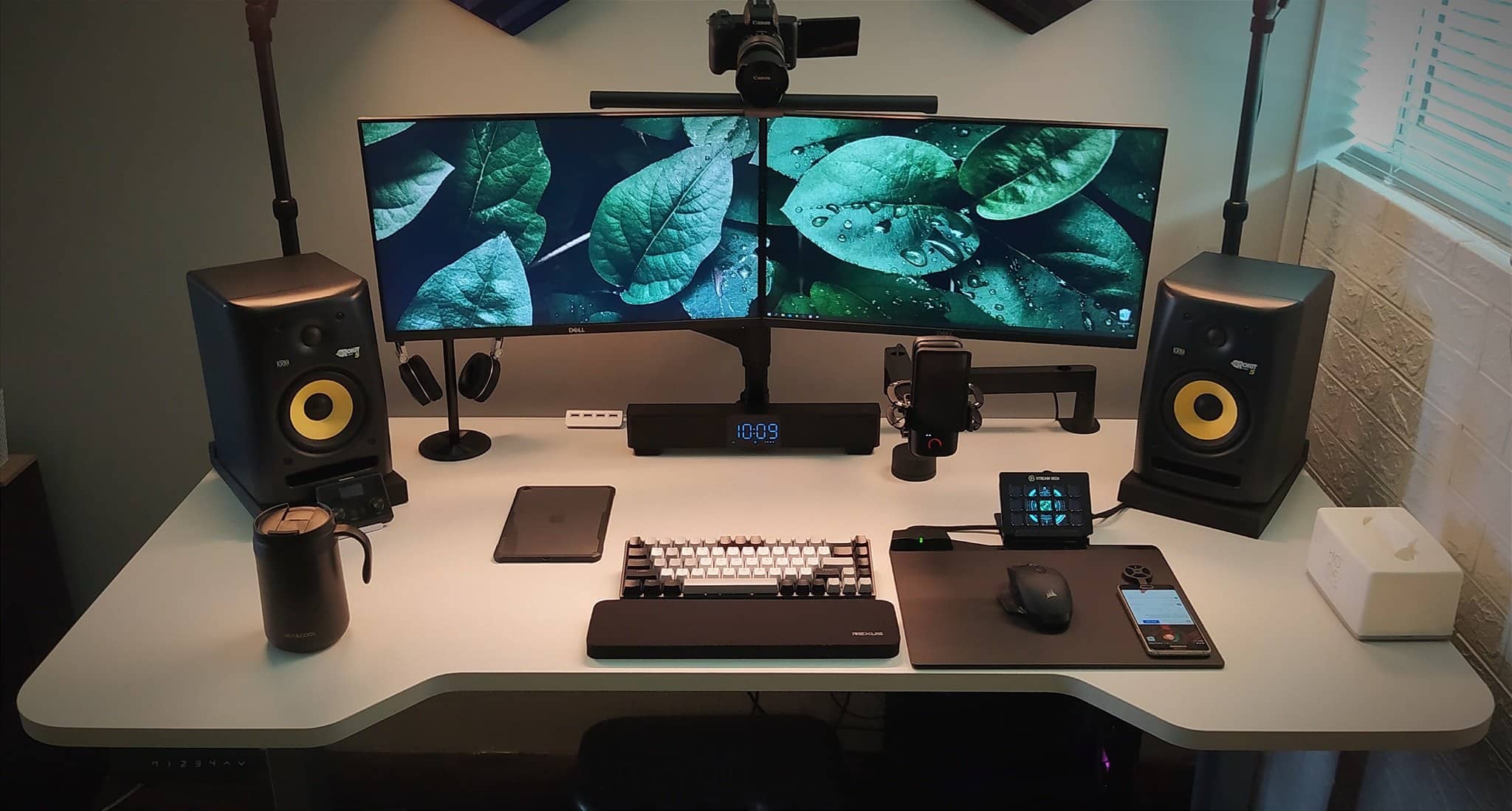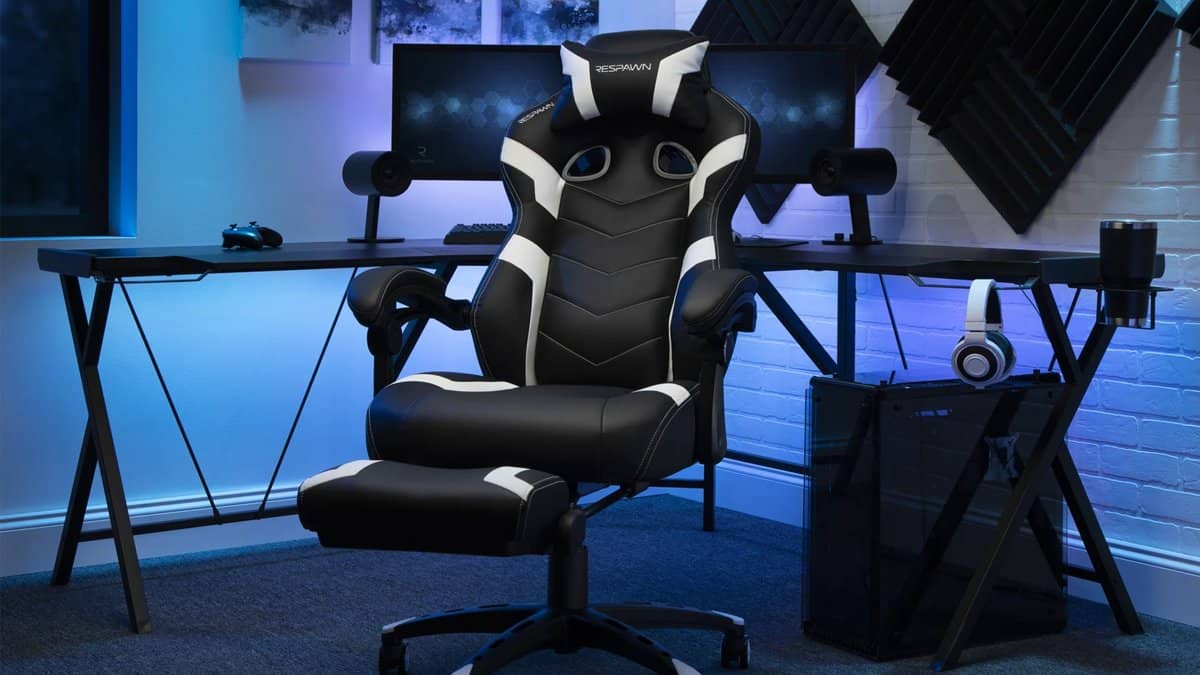 Impressive? Keep scroll to find out how to make your own gaming desk setup!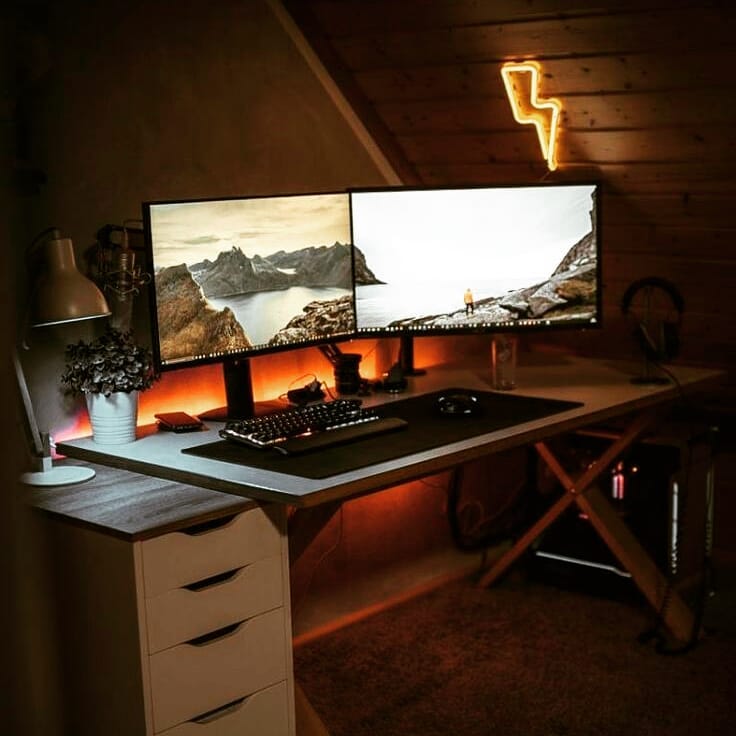 Things You Need To Know About Gaming Desk
You need to consider some factors before setting up a gaming desk. Below are a few considerations to administer when you need a gaming desk:
Materials
Desks are made from different materials, and gamers need to ascertain the level of materials used in their next gaming desk before deciding on a particular product. Your desk must be robust and durable enough to accommodate heavyweight for the long term. You also need to make sure that the materials are strong enough to withstand from scratches and chips.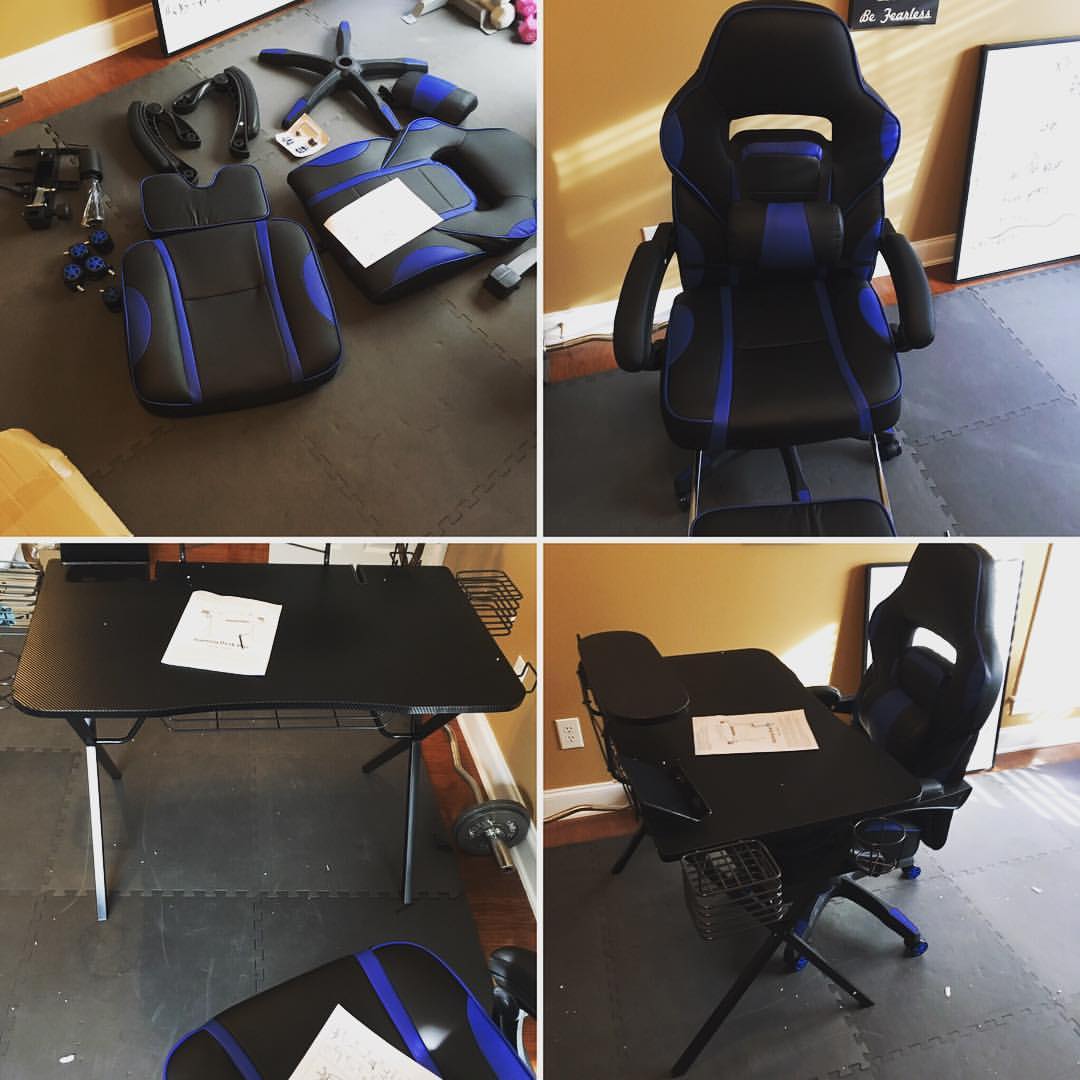 Assembly
Ensure that the desks must be simple to assemble if not assembled correctly, expect lots of issues with the use of it. Most companies try their best to minimize parts and reduce setting time as much as possible. So, following the manufacturer's instructions carefully when assembling is essential.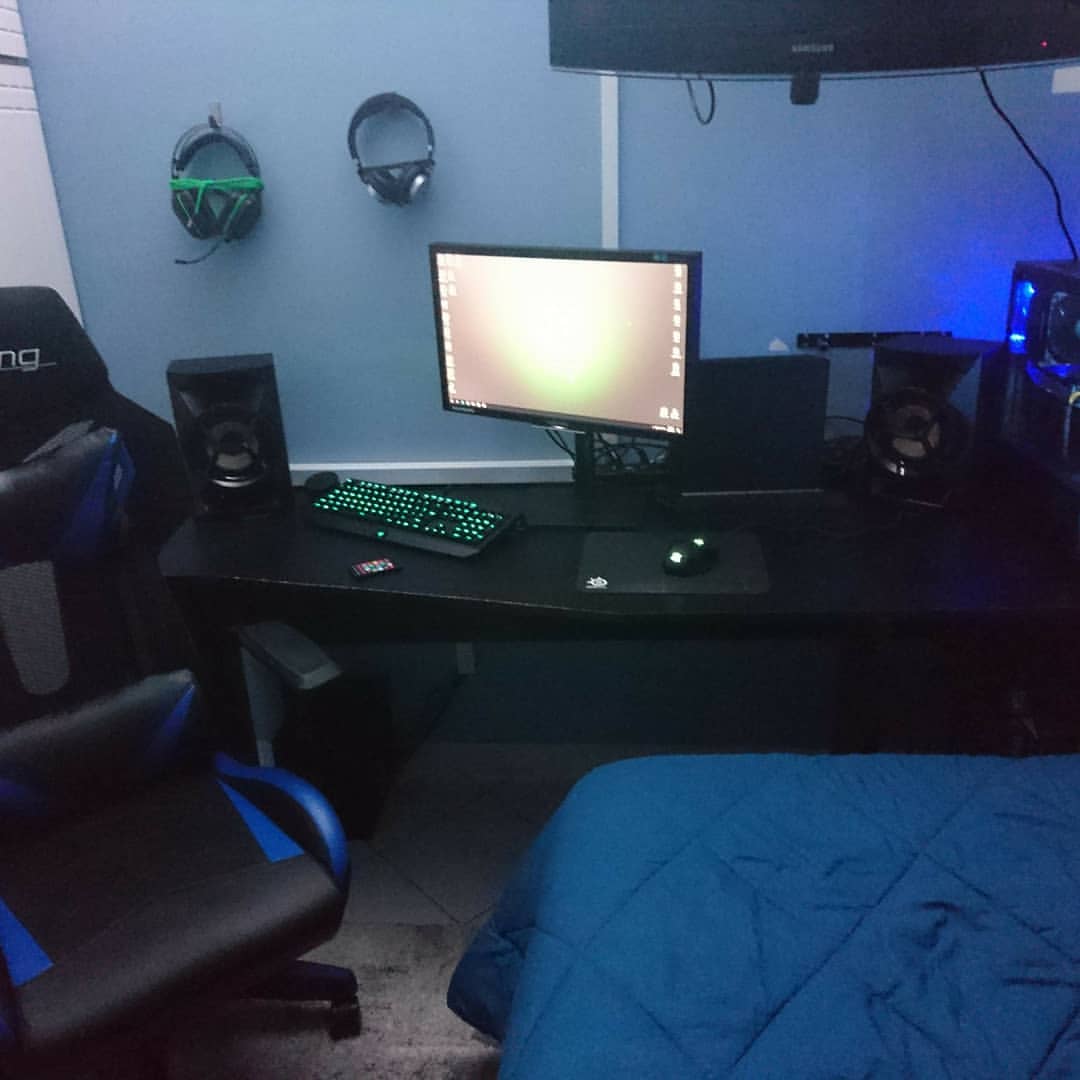 Weight
The Gaming Desk must be well structured and sturdy to be able to carry substantial weight. A gaming machine can take much weight so ensure the structure is crafted from durable materials that can hold much weight. Once you understand the structure and the weight each desk can carry, then it is easier to understand and establish your gaming setup.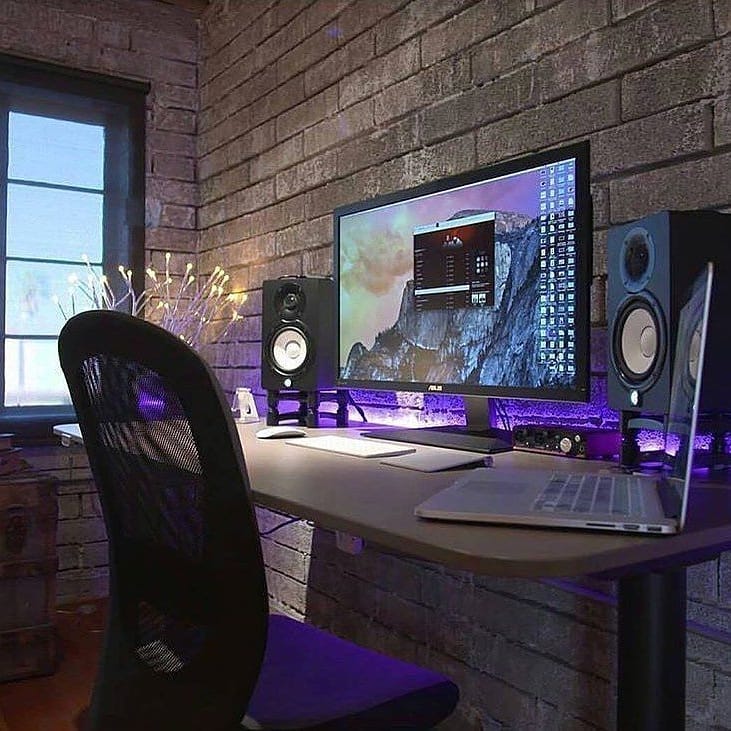 Ergonomics
The desk should be built to deliver ergonomics. Ergonomics means producing product designs for human use. Human factors come into this, such as making sure the desk's height is appropriate to the seating position of the gamer, ensuring the posture of the player is straight with the neck position, and so forth. The gamer must be comfortable while playing games to avoid any injuries or strains.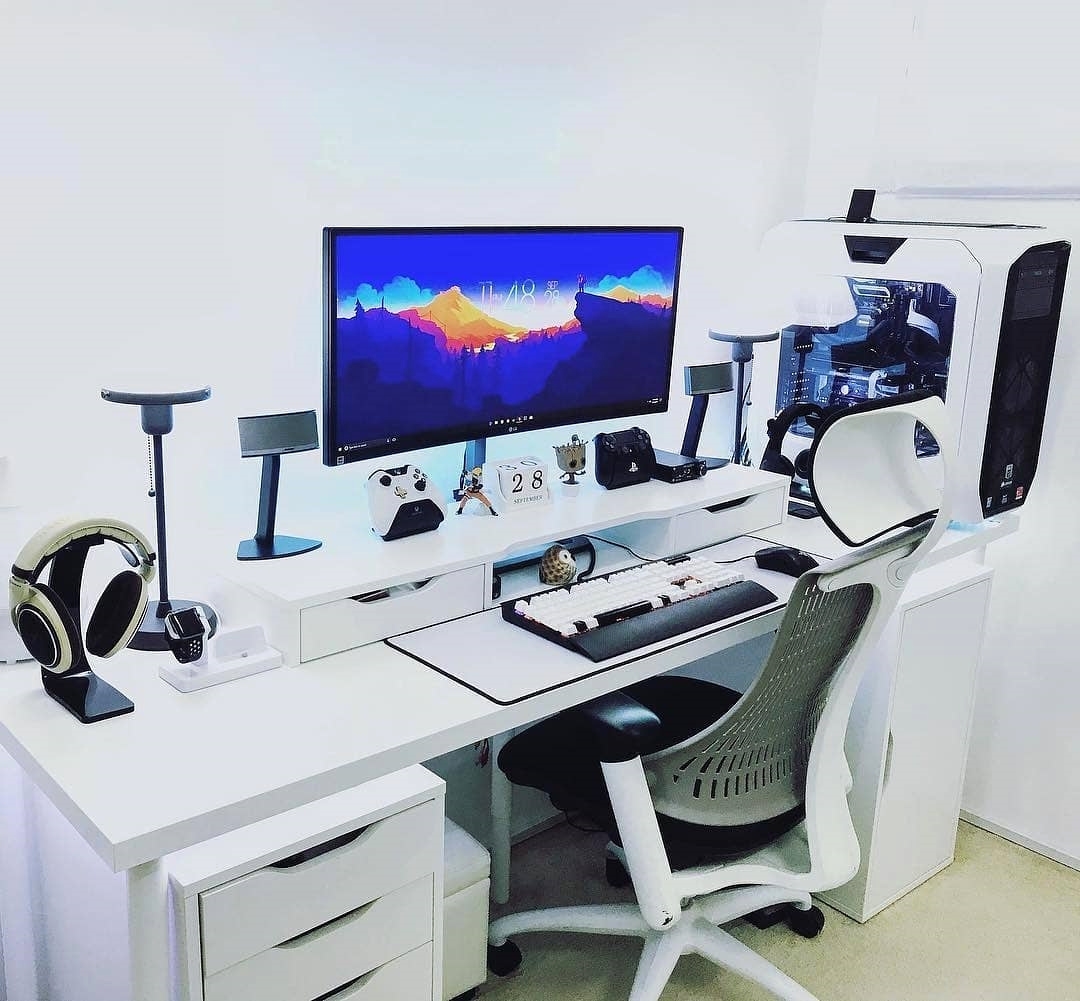 Shape
Deciding on the perfect shape that can fit your TV, monitor or game console before purchasing a gaming desk is very important. You can choose a variety of gaming desk shapes, such as the rectangle, L-shaped, and U-shaped. Make sure the desk can keep all your accessories organized and fit inside your room.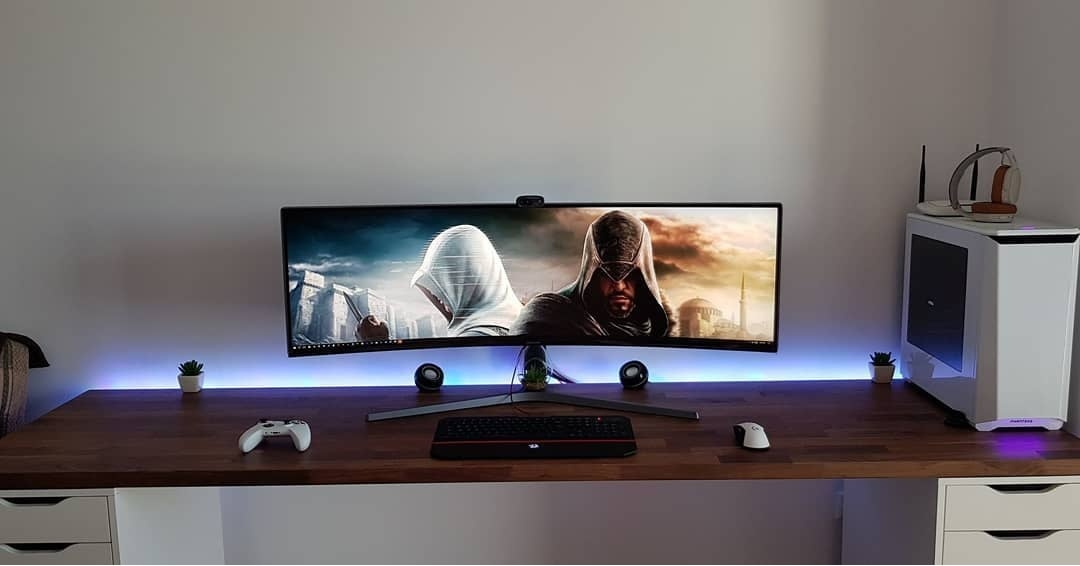 Style
The desk style is another crucial aspect. You are going to be spending hours on this desk so make sure you get something that is visually appealing to your sense of style.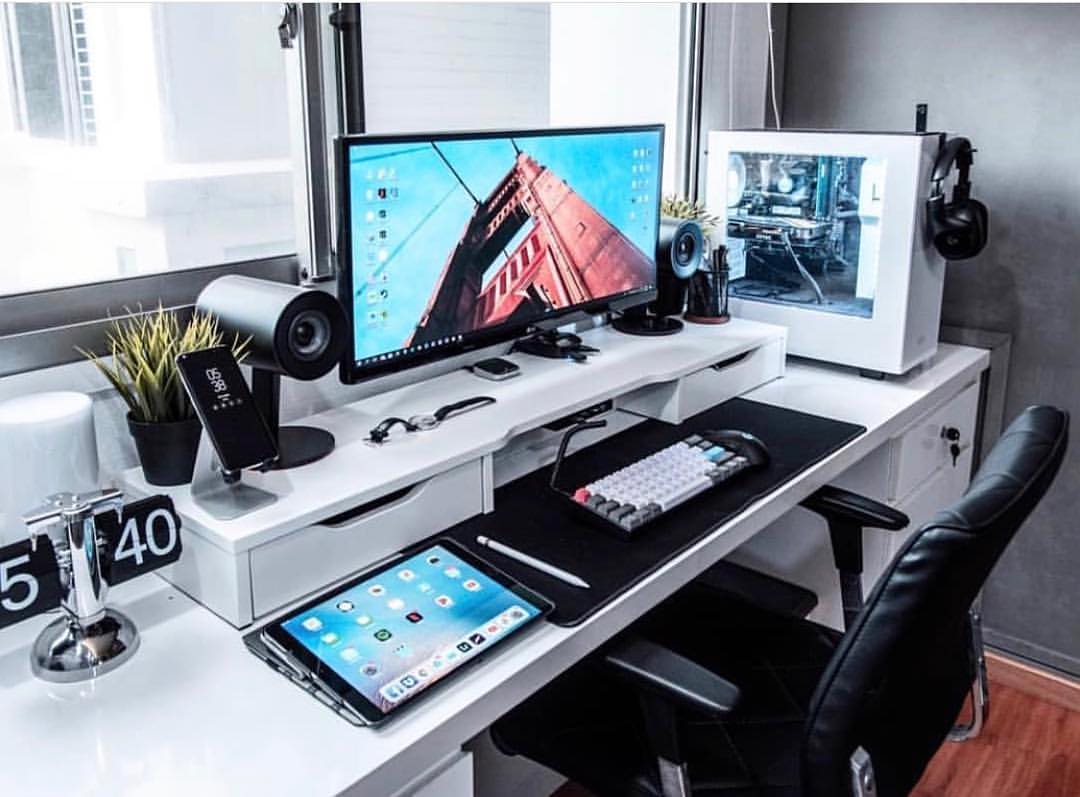 Budget
Budget is the last but not the least. The market offers a wide range of gaming desks with all different kinds of specifications. However, to ensure the desk you plan to buy is worth the purchase, setting a budget range of what you will spend is essential. It is entirely your choice, but you would want to get the most out of your desk.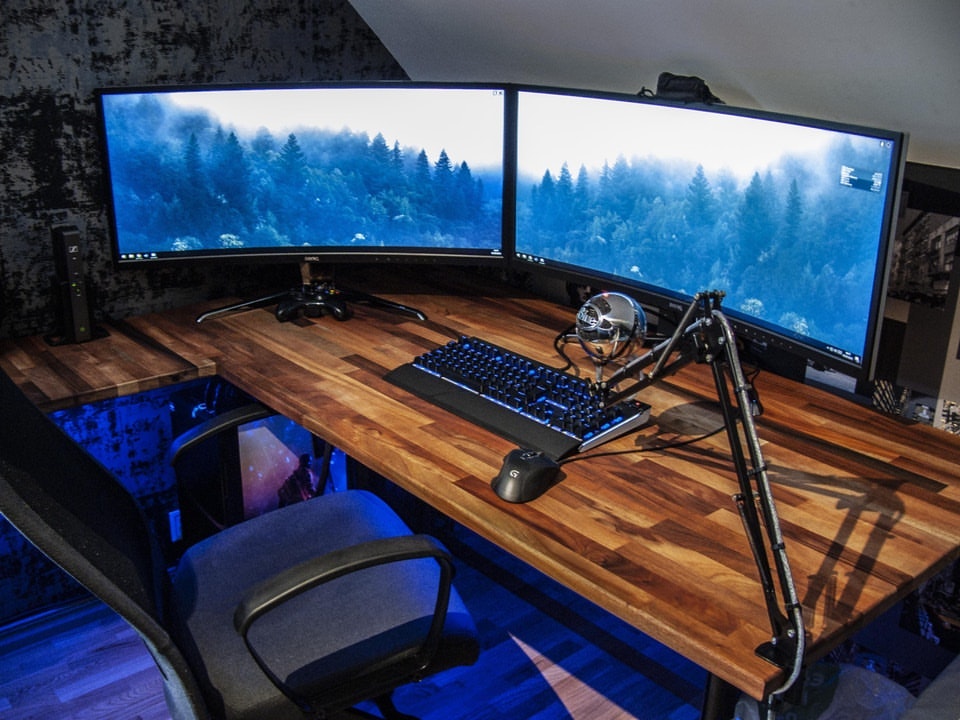 How To Build A Gaming Desk – DIY gaming desks
Building your own custom desk to fit your type of gaming may be challenging, but it will be well worth the effort. You can design your desk to your specific needs such as what kind of gaming you like to do, for instance, are you a PS4 gamer, Xbox lover or do you sit for hours playing computer games. Below we've gathered a list of things to do to set up your own gaming desk.
The Desk
Let's start with the desk! You need a durable table or desks like that will hold the weight of your all video games system, game racks, sound system, monitors, and all their accessories. You also need a desk that has a reasonable amount of depth because your TV or monitors will take up some space. A great way to save desk space is to mount your monitor or TV onto the wall or use a multiple monitor mount.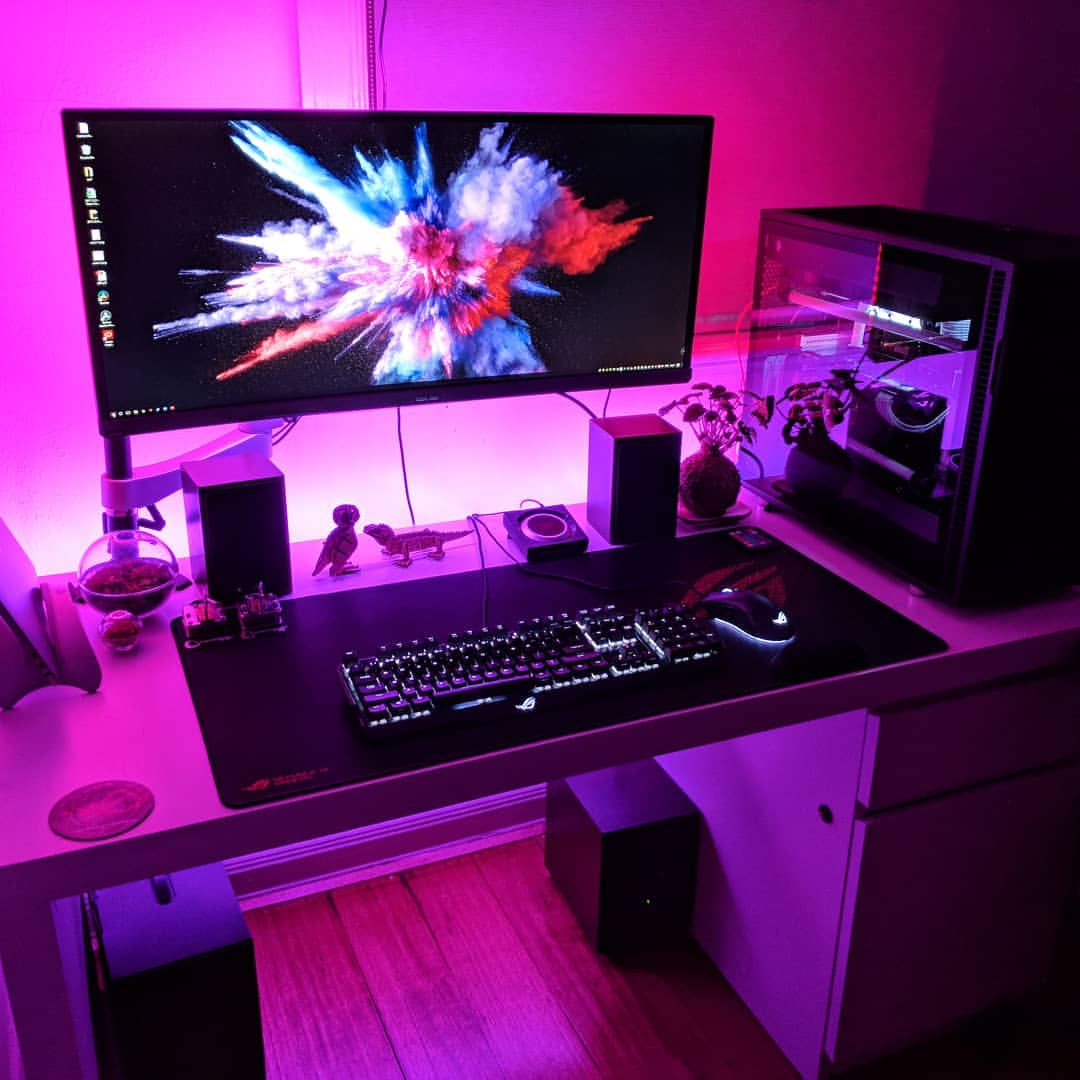 Digital Displays
One of the essential parts of building your own desk is your digital display. Make sure you have a digital display with the best resolution no matter the size of your monitor. An excellent digital display makes sure you have the best gaming experience and getting a crystal clear picture could make a big difference between winning and losing.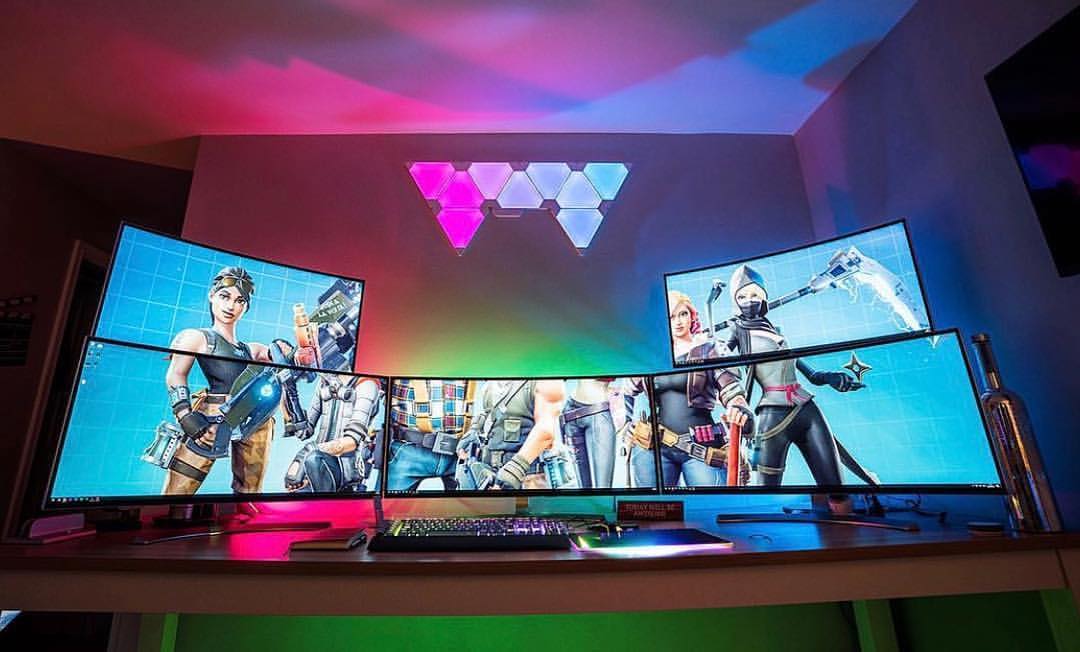 Gaming TV Stand
A TV stand might be a great addition to your gaming desk if you are a professional gamer. Another option is a dual stand that can hold both your TV and laptop if you use a computer to update or streaming videos and channels. You can also mount the TV on the wall if you have a blank space on the wall.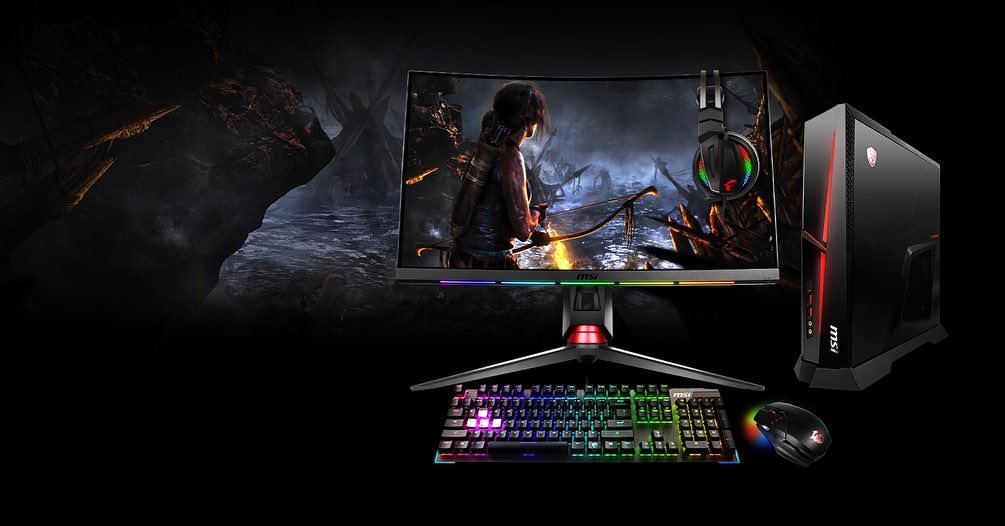 Electricity Installation
Setting up a perfect gaming desk means having companies and gadgets running across the table, which can make everything look looked up. As prevention, set all the cables under the carpet, behind the desk, or connect them using a quality extension cable to reach the power socket.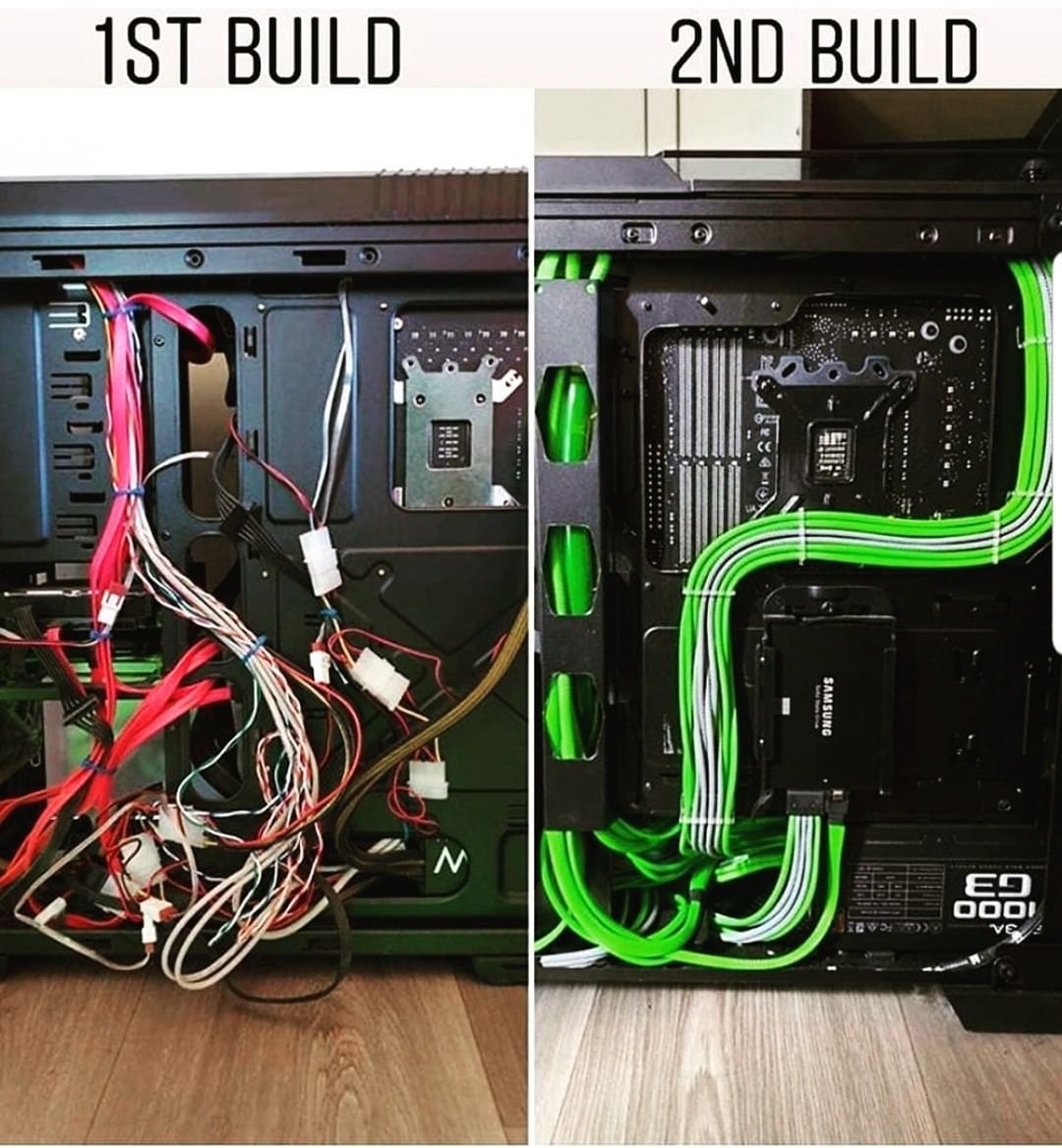 Lighting box
Lighting box is one thing that wouldn't sit on your desk but would look great in your gaming room. You need to install the light at various parts of the room, based on your preference. Your favorite games like Zelda, Destiny, or Call of Duty will look amazing in a backlit frame when you use a lighting box.  Keep in mind that light should not be placed on the wall opposite the TV.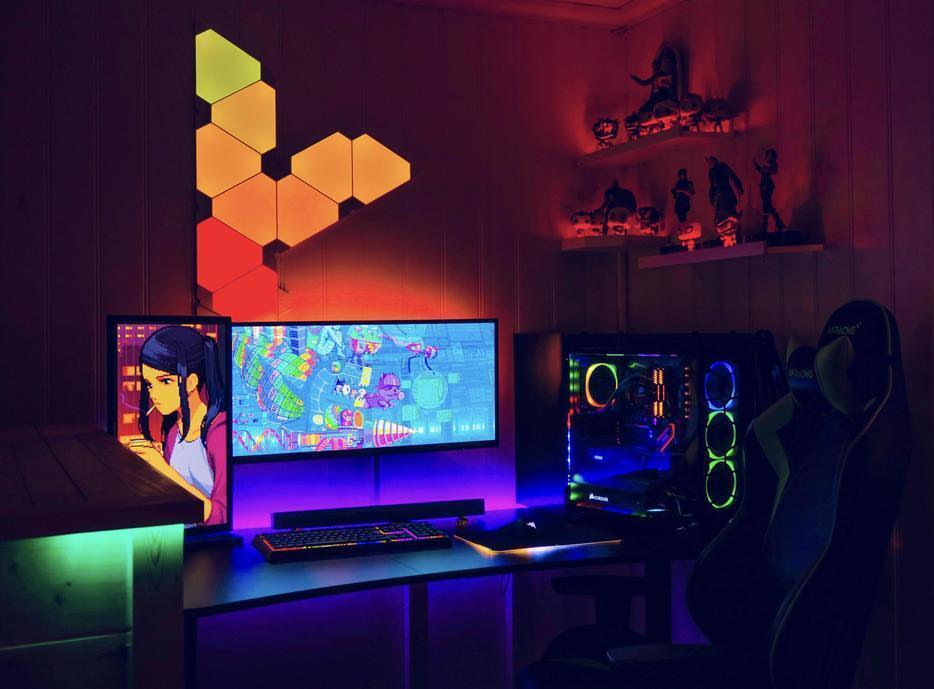 As you can see, you don't have to break the bank before you can create a customized gaming desk that you want. There so many YouTube Videos you can watch to build your own desk apart from the steps we have explained above. Remember your gaming desk setup can be worked on over the years, so you don't need to go all out straight away.
More Concentrated Setup
After a long day of work, you get home, and all you want to do is turn on your console, and get transported to a virtual paradise where the only thing you have to care about is how to get through the next level.
With a gaming desk, everything needed for the best gaming experience is right next to you from your console to the monitor. You will enjoy every bit of your gaming experience when everything is close to you.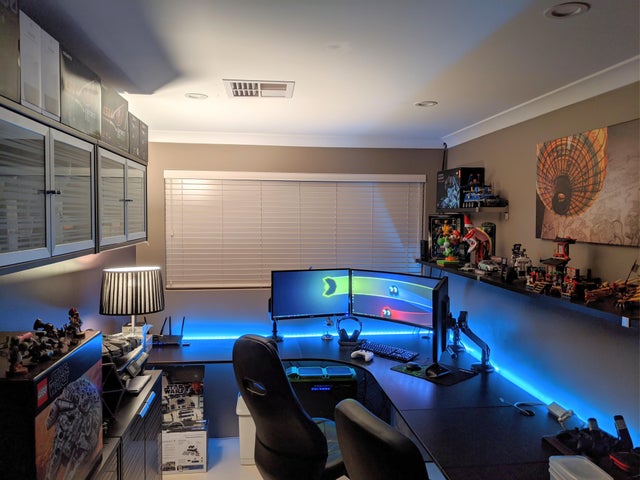 Correct Posture For Sitting At Gaming Desk
Sitting by your screen requires the right posture just as with any other desk. You must get your body into a mode of sitting up straight to put the least strain on your body. Below are a few correct sitting positions that set the least pressure on your body.
Your knee level should be at a 90-degree angle for full support.

Sit up straight and keep your hips and shoulders at the same level.

Your chair should be reclined to a 100-110-degree angle for more support.

Your feet must lie flat on the floor. You should adjust the height of the gaming desk to suit your level as you sit down on the chair if it lifts your feet.

The chair must support the lower back. You can use foam that supports the back to keep it from stress after long hours of gameplay.
Why Not Just Use A Table?
Sometimes, the reason why you consider upgrading your desk game maybe that you feel cramped with limited mobility or your old desk may be unstable and unable to fit a chair under the desk.  When a desk is terrible, you feel trapped and uncomfortable, and the result is less concentration and performance. A good gaming desk lets you put attention into that next overwatch-ranked game.
Whether you probably spend more time playing games per week than any other activity or it's just five-hour gaming sessions per week, it's time to consider making those long hours more convenient and enjoyable by getting a good gaming desk.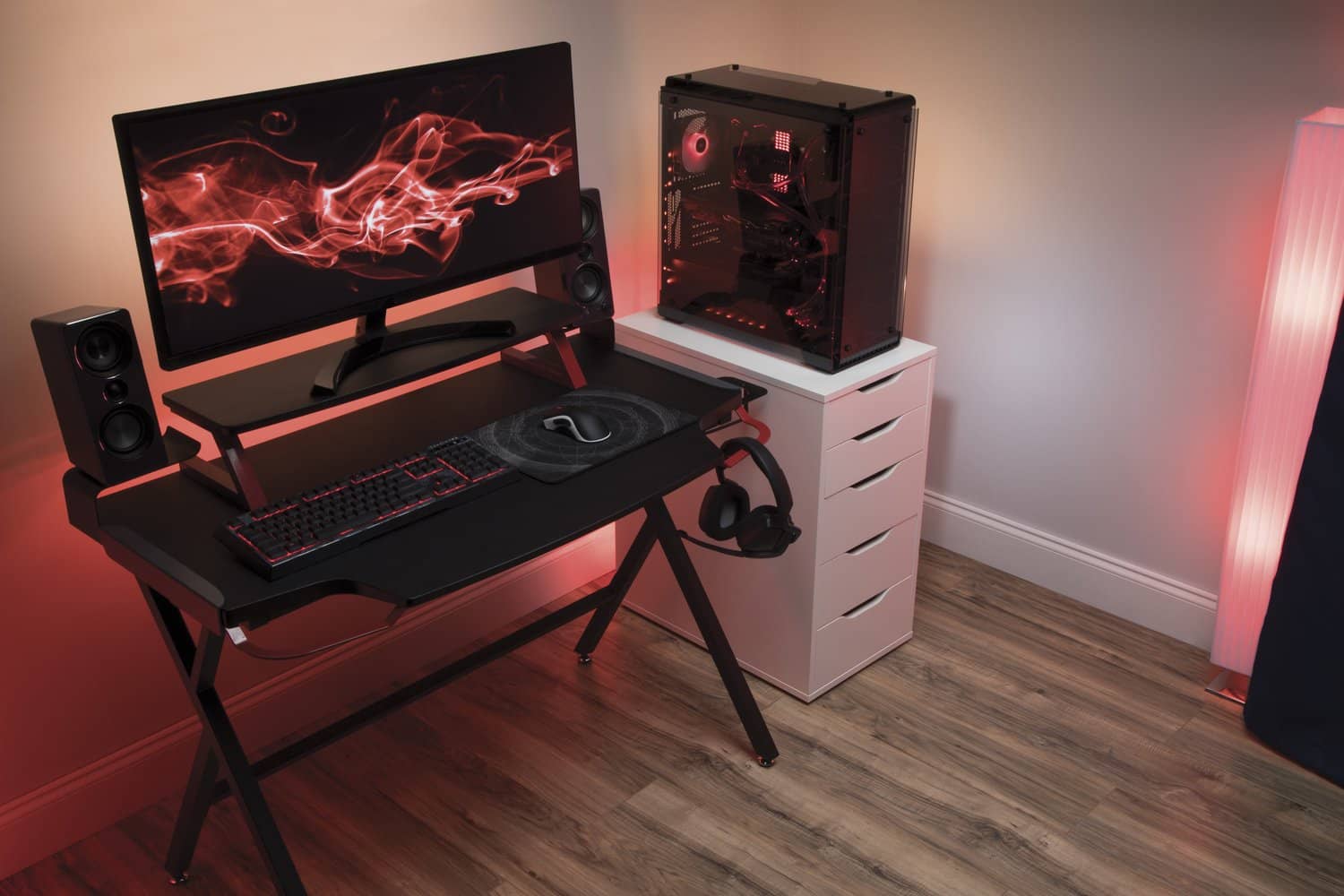 Frequently Asked Questions
What Makes a Good Gaming Desk?
A good gaming desk can offer players a stable surface on which they can play their games, as well as providing comfort and ergonomics. Some of the gaming desks also consider the player's hydration levels and offer cup holders for drinks.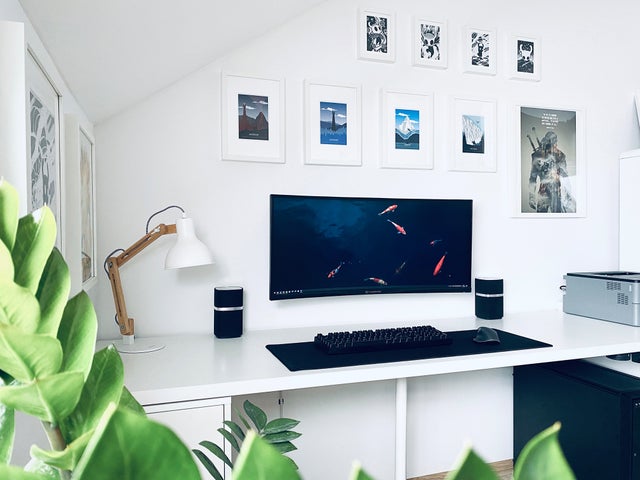 Should I Have Enough Space On My Desk for Two or Three Monitors?
The general rule of thumb is that you need to overestimate when it comes to available space on your desk in case you ever need to add extra displays, like TVs or monitors.
How Can I Maximize My Gameplay Experience?
An excellent way to maximize your gameplay is to find a desk that suits both your style and your intended use. Having a comfy and ergonomic gaming chair to sit on, and enough leg room under the desk is essential.
How long do Gaming Desks Last?
A desk can last for many years if it is looked after and not abused by excessive weight loads. The material used in the making of the gaming desk will also determine the lifetime.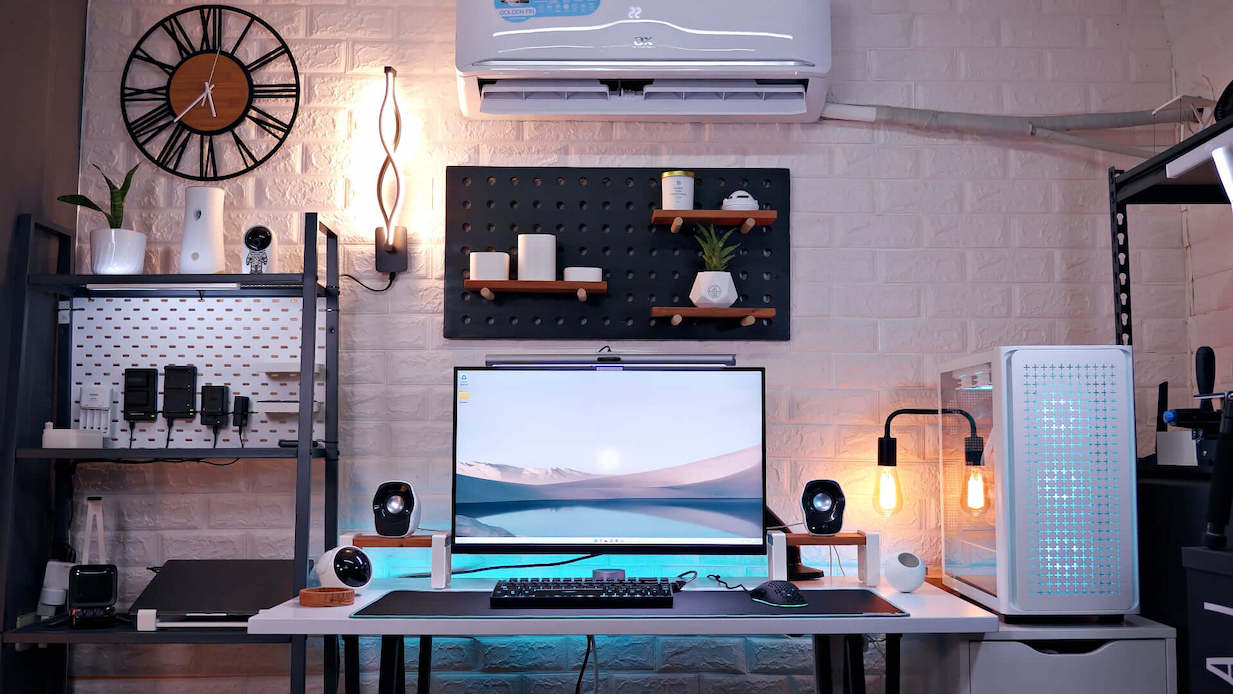 Can I be too tall for a gaming desk?
Gaming desks are designed for an average height, but some are adjustable for short people. If you're too tall, you should get in touch with the manufacturers to find out what height is ideal for you.
How much does a gaming desk cost?
There are so many desks in the market that cost hundreds to thousands of dollars, but the reason this price varies is the different functionality and features offered in gaming desks. Therefore, it's essential to determine your budget when planning to buy one.
How important is maintaining a good posture when sitting at a gaming desk?
One important thing that you also need to take into account during your gaming is your posture. You can develop herniated disks, deep vein thrombosis, and repetitive stress injuries, and if you spend hours gaming without good physical habits.
Which type of gaming desk is best?
If you want to have everything in front, then a standard desk will work fine for your needs. If you prefer a more gaming station feel, then go for an L-shaped product. This type of desk can work very well in a corner for general space-saving. U-shaped gaming desks are often a decent option but tend to be a bit constricting.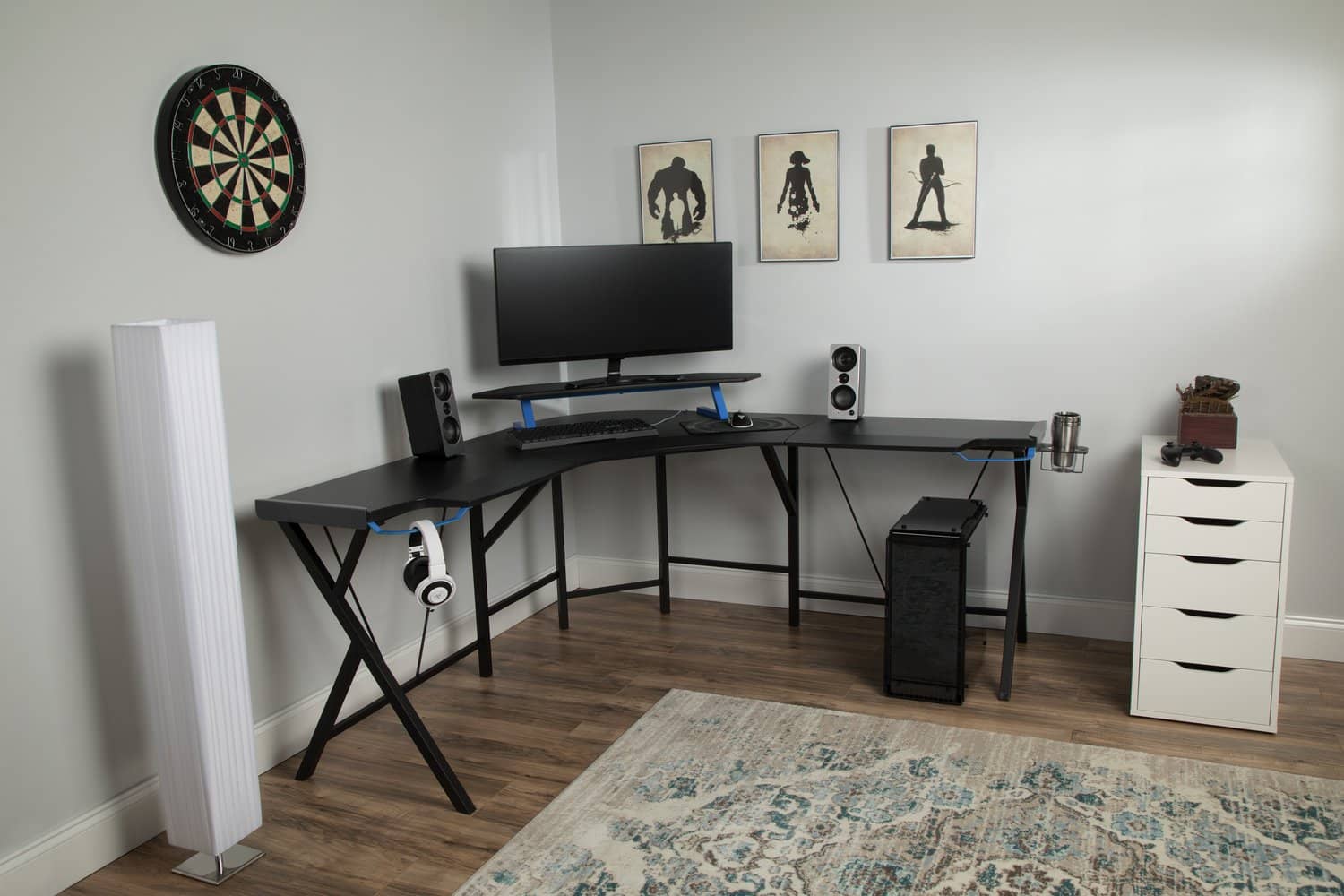 Can some desks be used for multiple gamers?
There are plenty of gaming desks for multiple-gamer on the market. Some gaming desks are large enough to accommodate two gamers. If you and your friend love to play team-based games, then gaming desks for multiple-gamer can be an excellent option for you.
Should you invest in a gaming chair as well?
If you're going to be spending hours playing games, it's a good idea to invest in a dedicated gaming chair because they are designed to provide additional comfort and support for the long haul.
Best Gaming desk setup ideas for gamers
+92 ideas updating…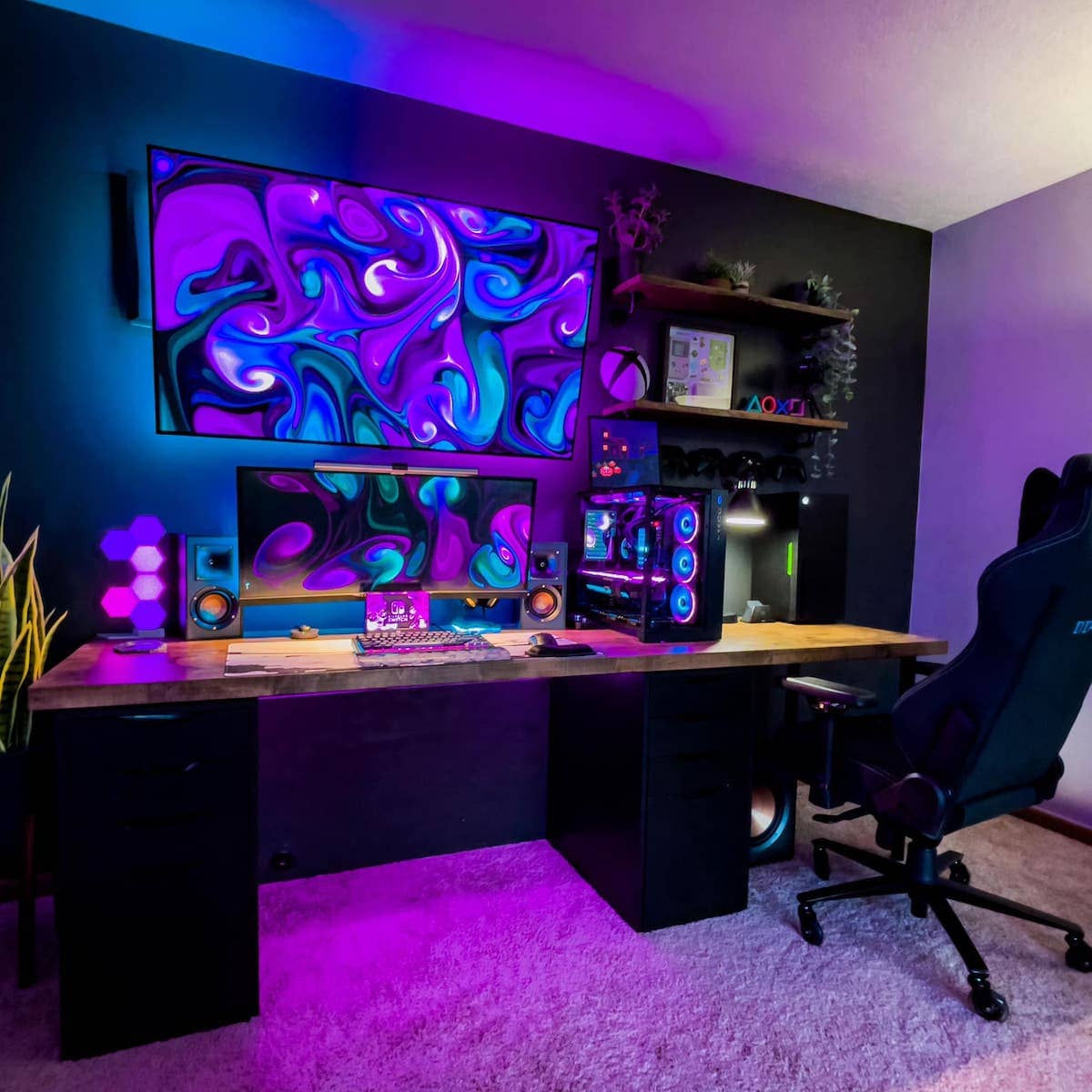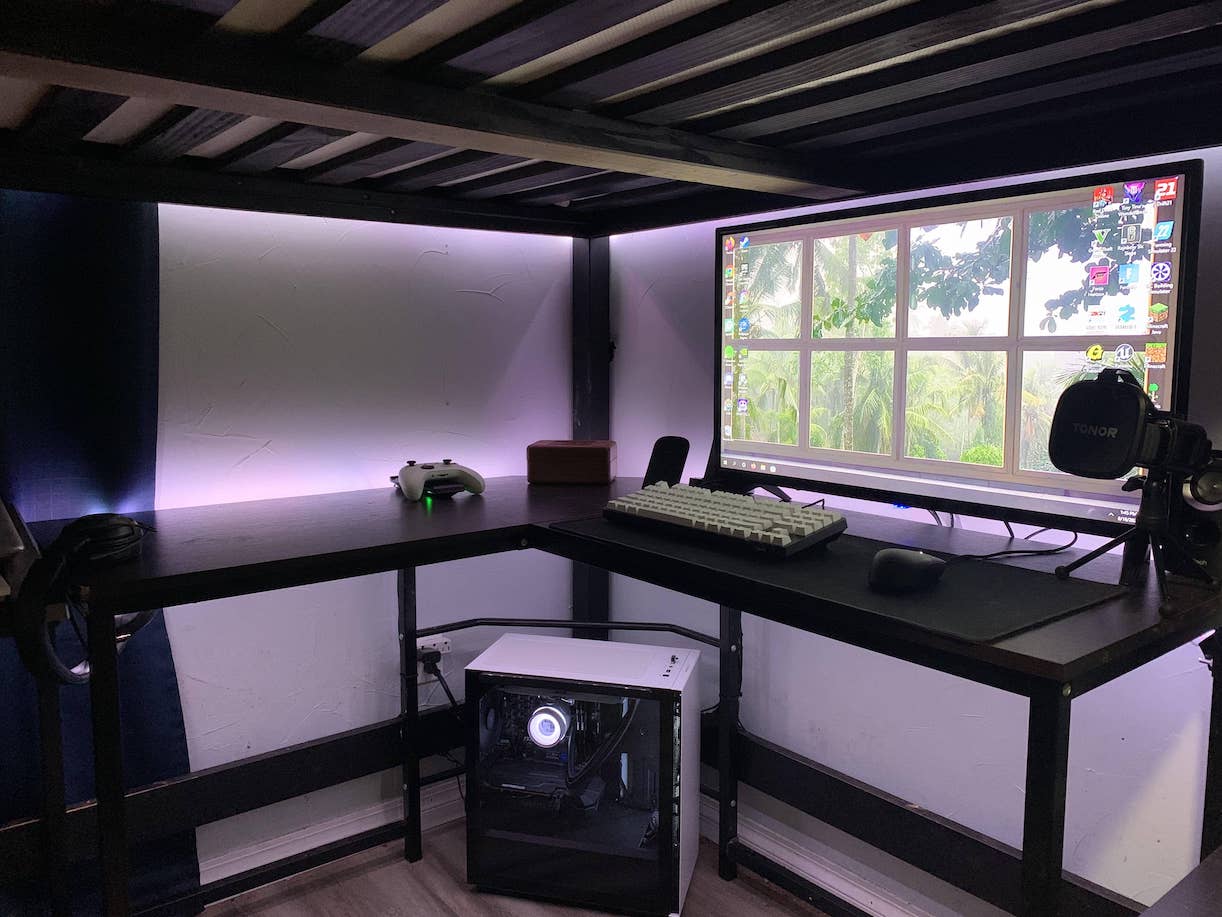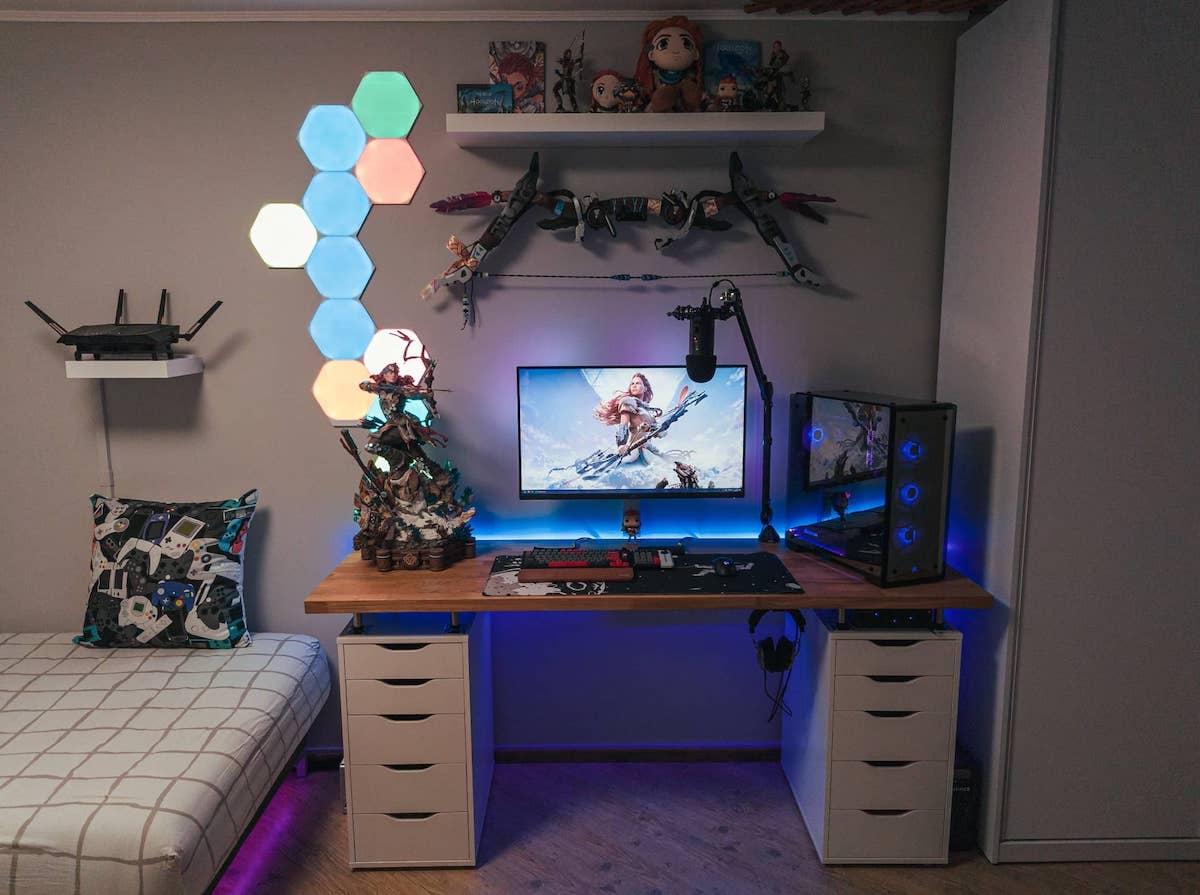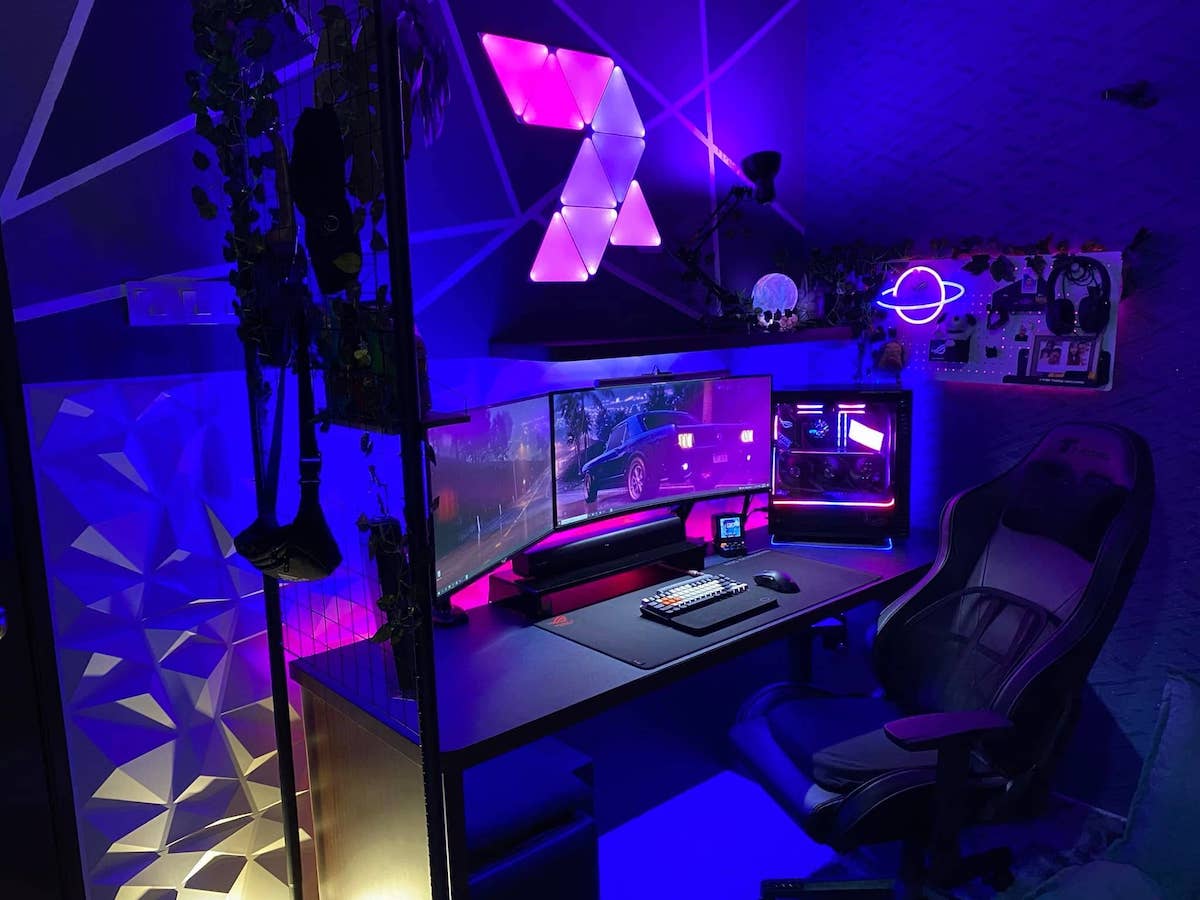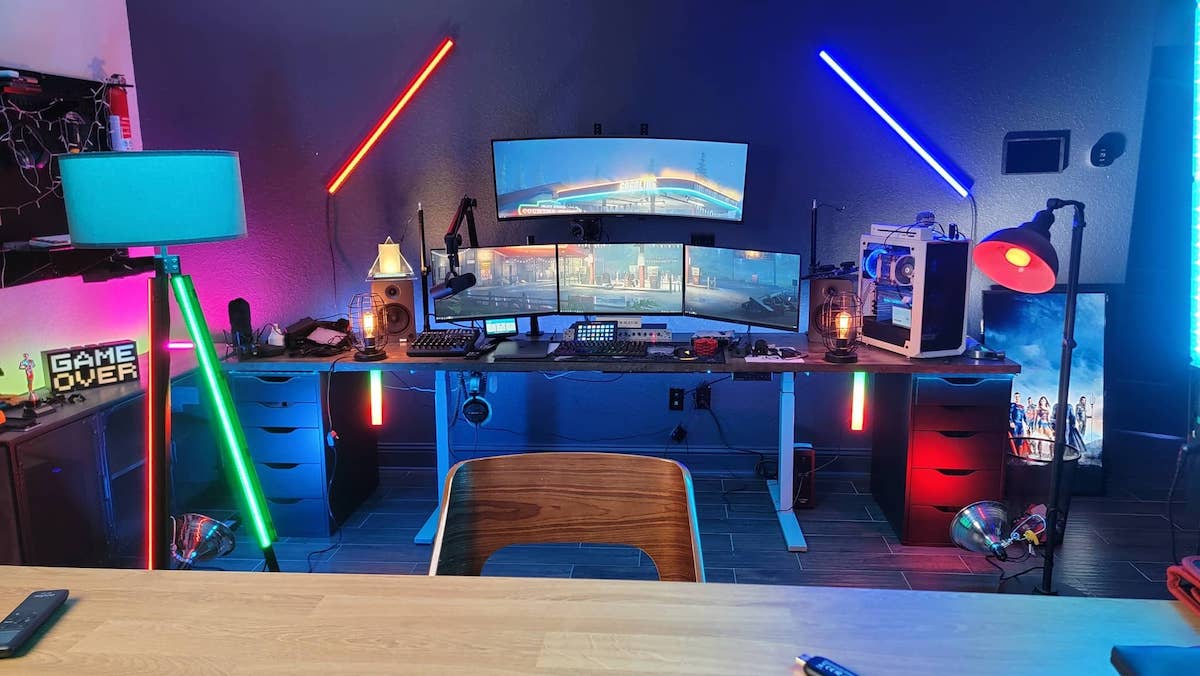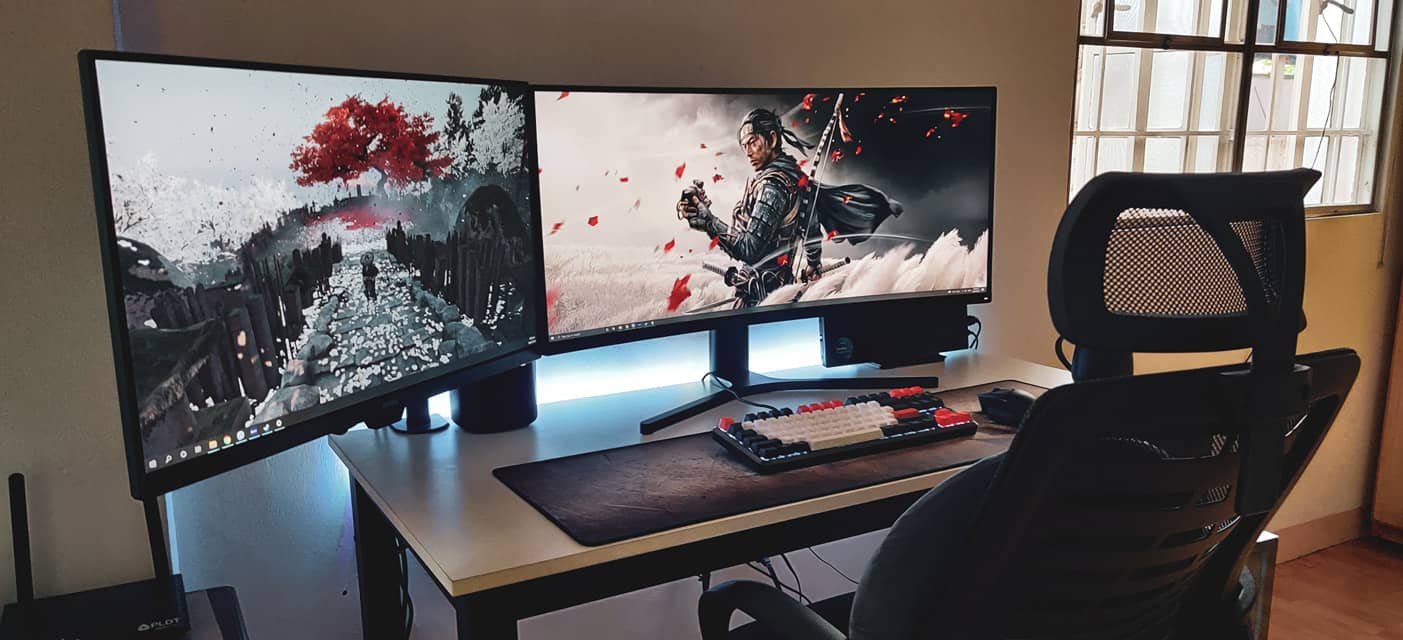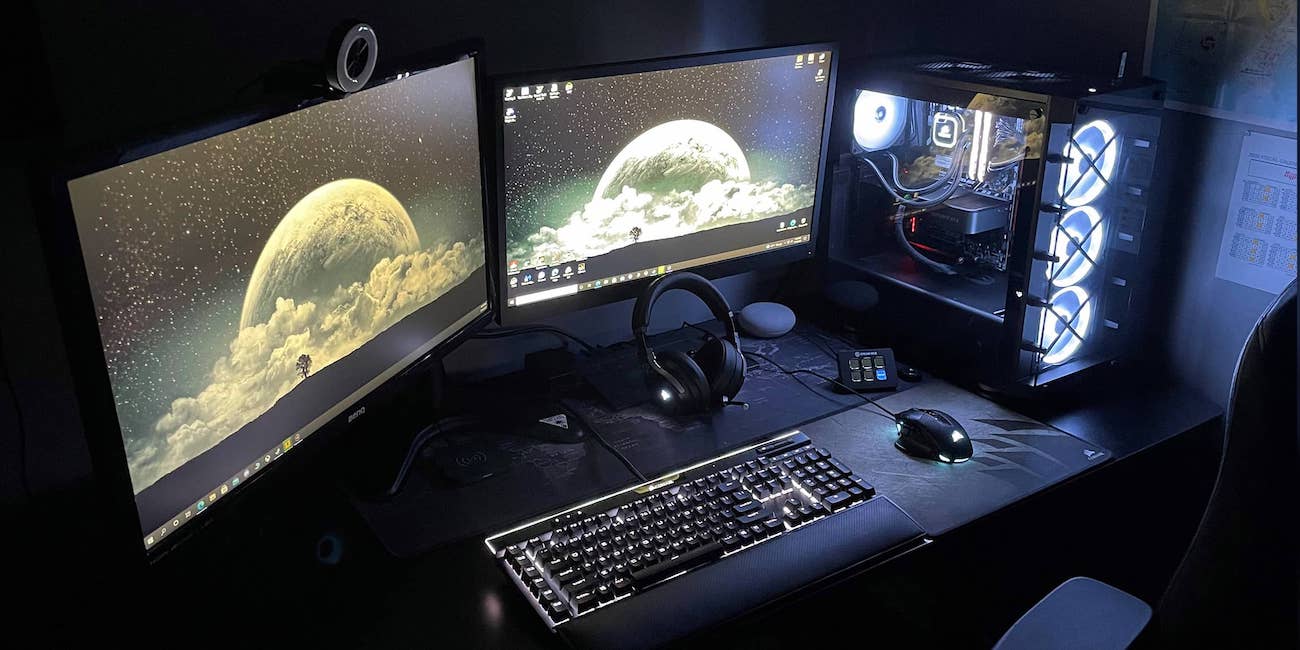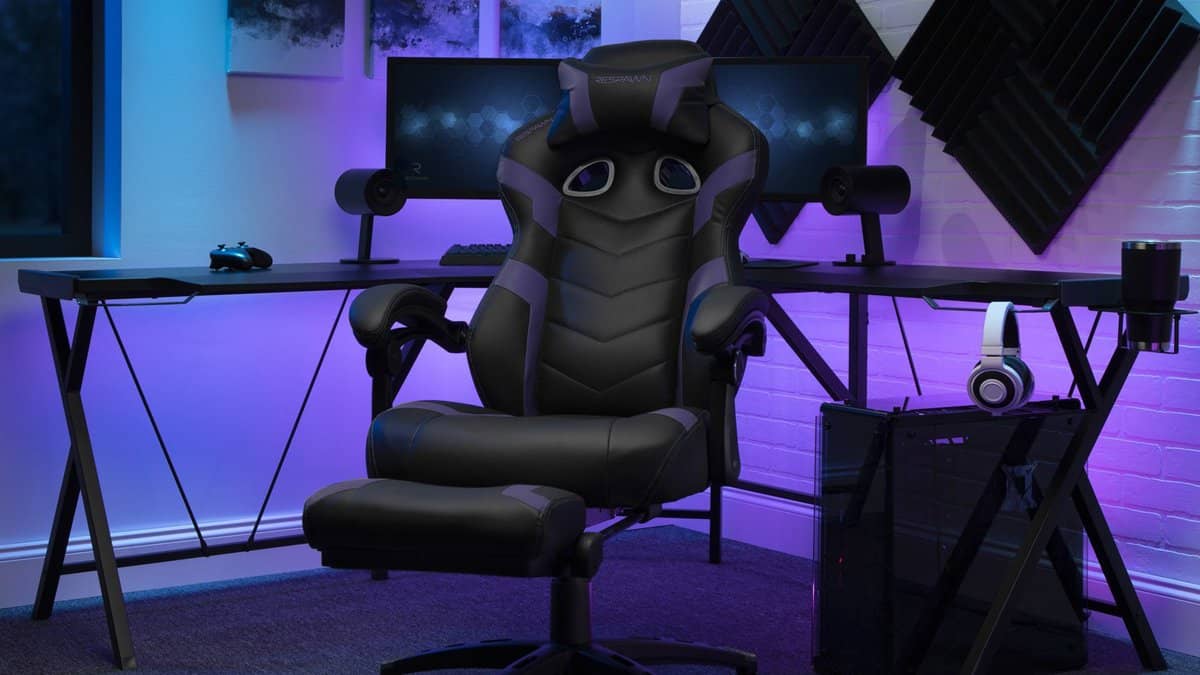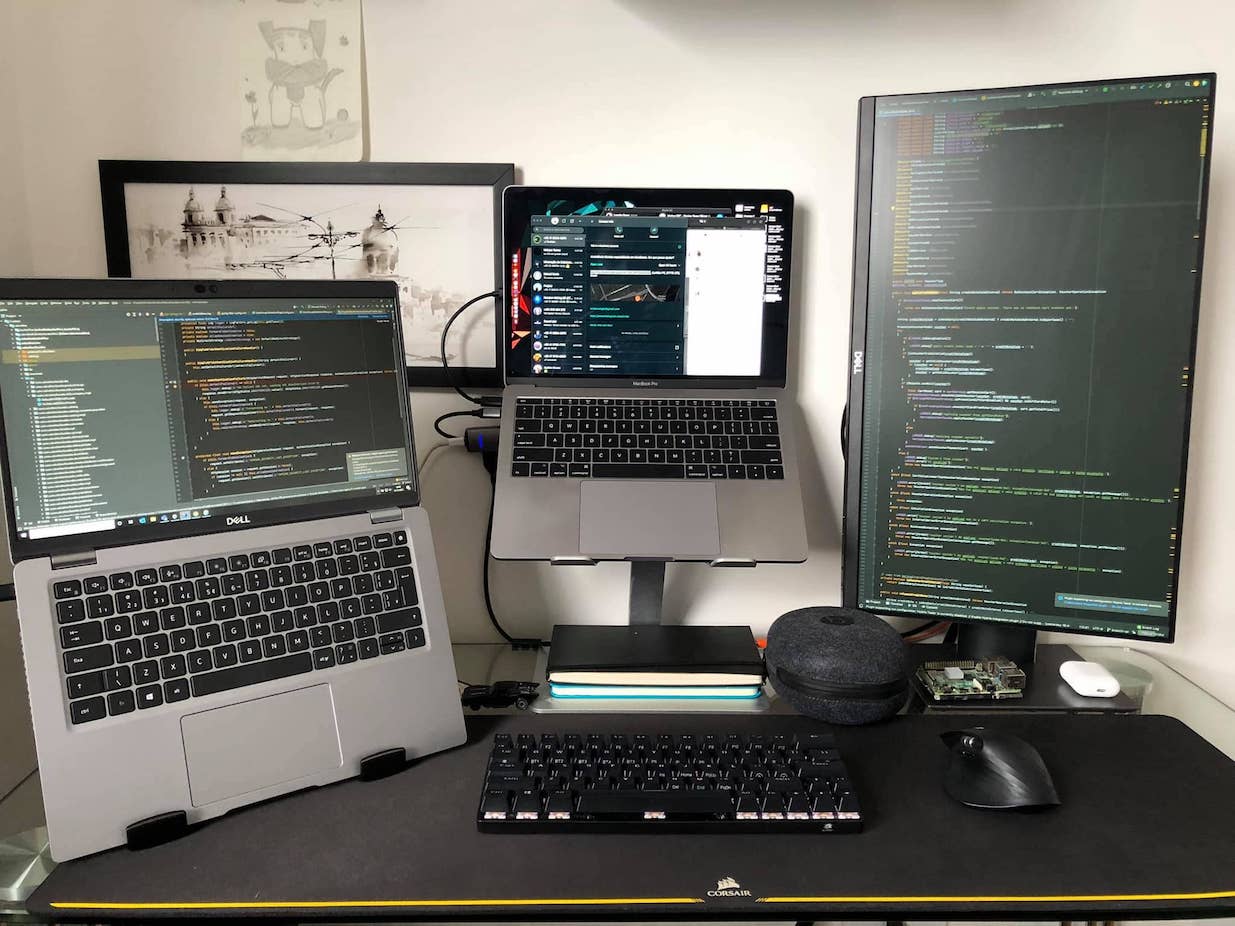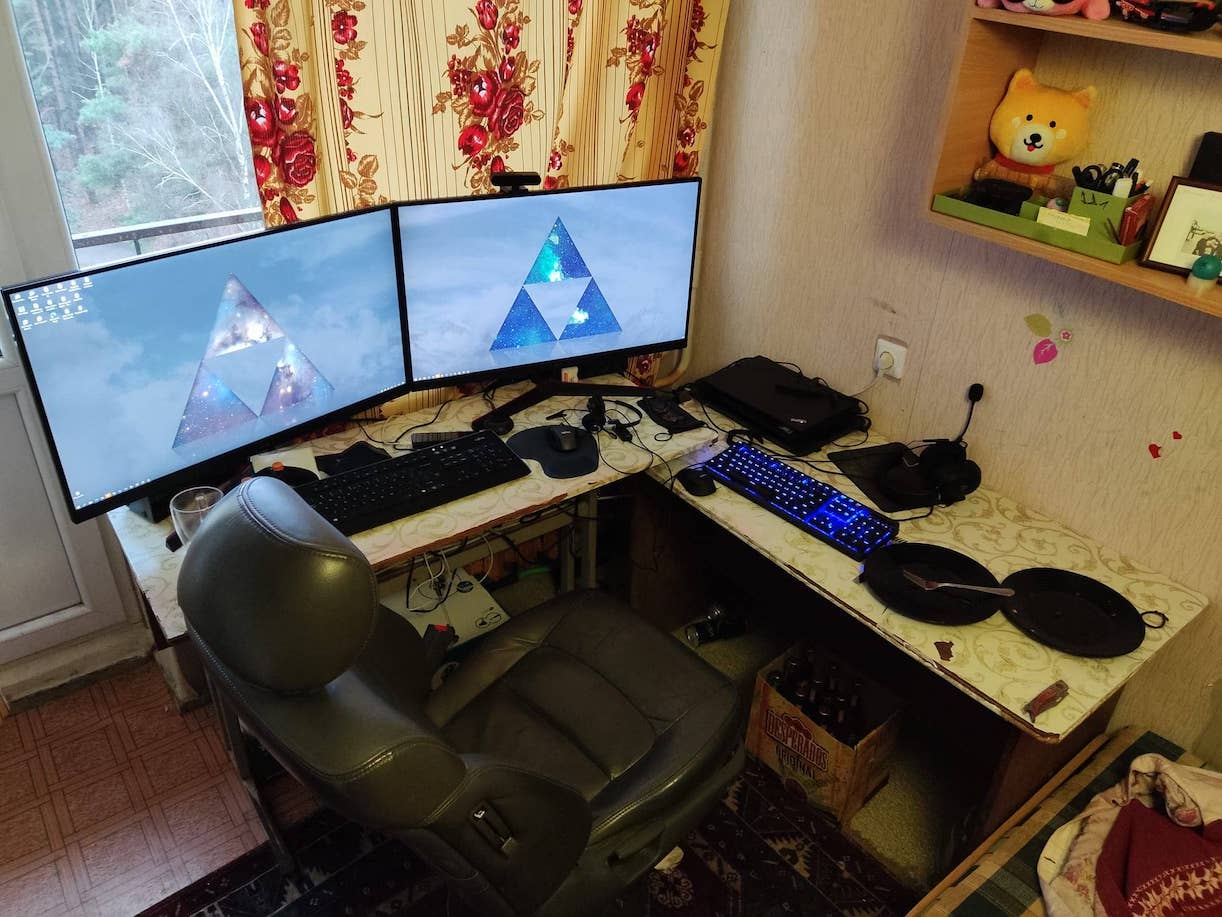 Conclusion
Gaming desks are essential equipment to get started with gaming for both the young and old enthusiasts. Your gaming desk must be simple to set up. You need to get a desk that suits your personal needs whether you're planning to build your own custom desk or buying a new one.
Your only task is to become clear about what you want before going through the process of setting up a new gaming desk. We guess you enjoyed reading this article on "How to set up a Gaming Desk?" if so, please comment and share