Steelcase Amia Office Chair is a good choice for the office worker who has a long time working in their chairs or perhaps someone who works from home and needs something that can be very comfortable for hours at a time. The Amia isn't just one of the most comfortable chairs out there, but it also looks nice when you have it in your workplace or even when you have it at your home.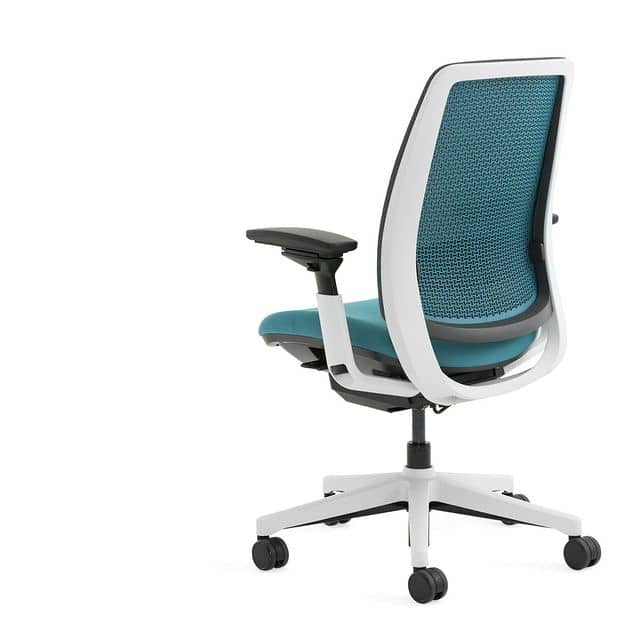 Steelcase seems to have been won over by the design themselves when they put it on their site back in 2010 so why not go with them? It sounds like a pretty safe bet, doesn't it? If you want a reasonable price, a good-looking chair that makes you feel good, go for it. It has a nice design, quality materials used and the best warranty in the business. If you want to read more about Amia vs Amia Air, well, you come to the right place.
The Steelcase Amia might not be a popular Steelcase Chair like the Leap V2, but it should be gaining more attention than it is getting. In this article, we'll explore why you should give this office chair a second glance. And we think you'll be happy that you did. There is surely more than meets the eye.
Steelcase Leap and Herman Miller Embody is getting more attention, but Amia deserves it too
The Amia may not look fancy like a Herman Miller Aeron. And it isn't also heavily advertised and marketed like the Leap or the Embody. But you'll be surprised that this chair performs at par with some of these more popular premium office chairs. 
Amia vs Leap vs Embody
Amia and Leap have almost the same adjustable features and ergonomics.
Both the Amia and the Leap are comfortable for sitting for longer hours. They have the same material and padding, but the Leap does have slightly thinner padding. 
Though it doesn't easily flatten to the bottom like most mid-range office chairs, you can tell that the padding is thinner. So the Leap can come across as too firm for some people. So if you want a bit more cushion for your tush, the Amia can indulge you. The padding of this office chair is a bit cushier and softer than what Leap has. But though it's softer, the Leap has a more contoured seat, which can feel more cradling.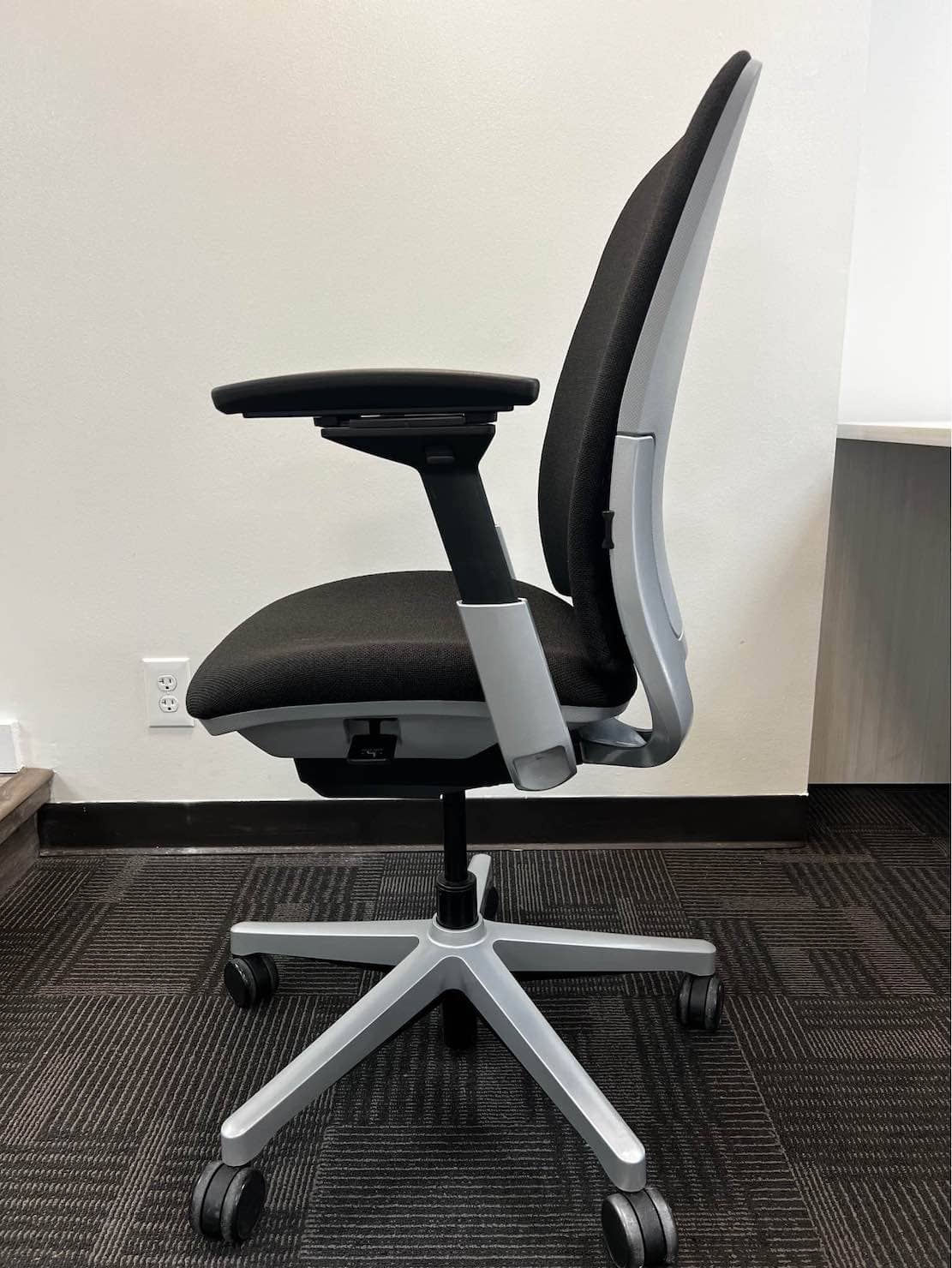 Amia is a very uncomplicated Steelcase chair. The design is more old-school and does not have the curvature that premium office chairs have nowadays. Though the backrest is a bit curved, it's very subtle and almost seems flat. It doesn't have that S shape pattern that most people are preferring nowadays, that is why the Amia can come off as too rigid for some people. 
That may also be one of the reasons why it's not as popular as the other Steelcase chairs because the design may be outdated. 
Amia also has a very subtle, almost unnoticeable lumbar support. Though it has the same LiveBack technology that is also used in other Steelcase chairs, the lumbar support of Amia is just too soft. So some users, especially those who need a more firm backrest and more pronounced lumbar support will not find the Amia useful. 
When it comes to the arms, ergonomics, and the build, everything is pretty much the same. The Leap has more tilt lock position and the Amia can only be locked upright. The Amia is one of the first few units of Steelcase so it's just common for the new models to have more to offer.
But Amia does have more to offer. With a robust overall build, quality and comfort, the Amia deserves more attention. You can get the same quality chair as leap but at a lower price. 
And there's a certain department in which the Amia excels more than the Leap, any Steelcase chairs, or any Herman Miller Office chair. And these will be the highly adjustable arms. The chair offers a wider range of adjustments for the armrests, so you can fine-tune it to your needs.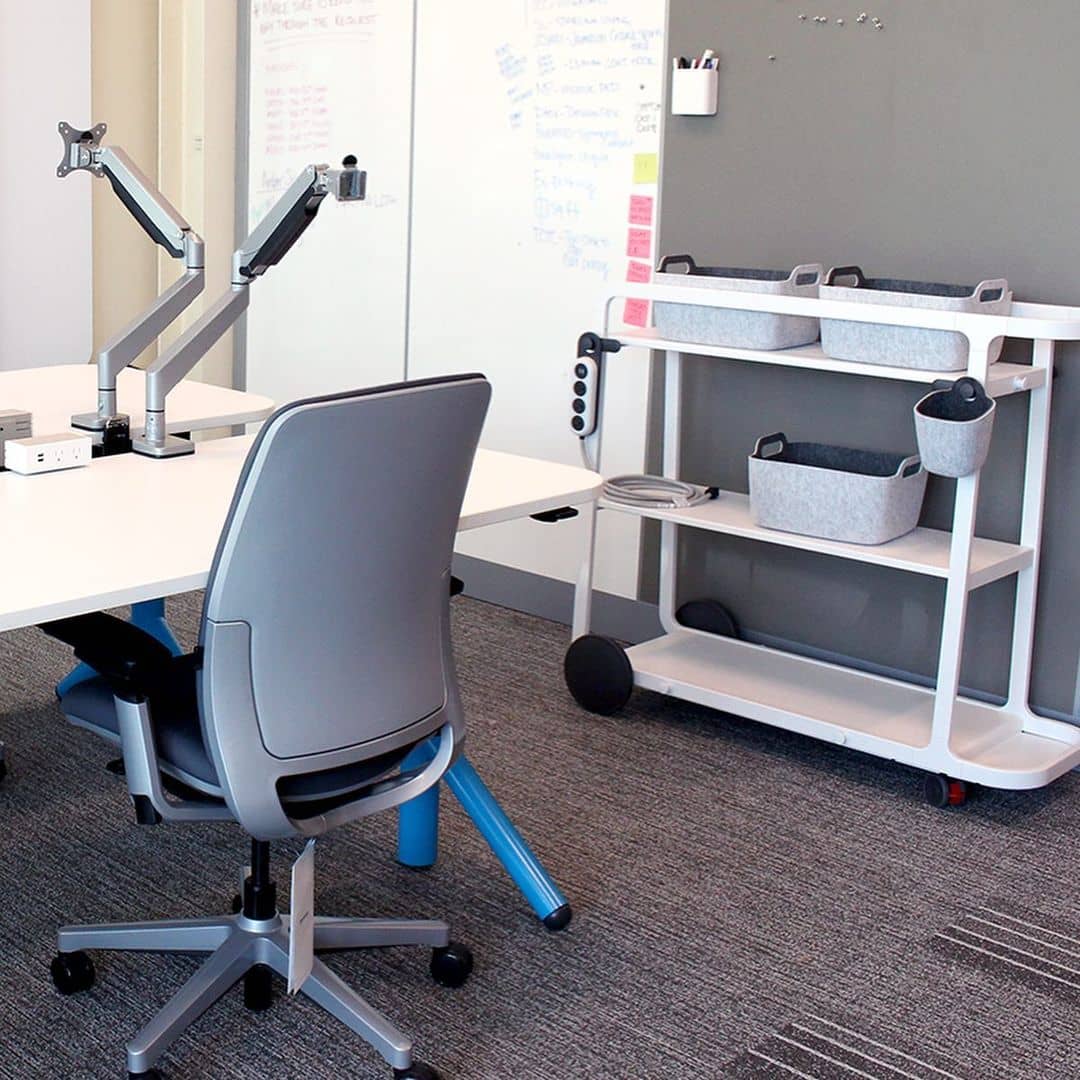 Now the Amia is also a no-fuss uncomplicated office chair. The controls are simpler and straightforward, there is no learning curve. 
Some people may have a challenging time tinkering through the basic adjustments of the Embody, you won't encounter the same problems with an Amia chair. Even a senior citizen will be able to hover through the features easily. 
What went short with Amia chair
One, Amia may compel you to go for another option is that it does not recline. The Amia feels more upright and some users may find the back recline lacking, especially if you are not used to sitting upright. You might also find it too rigid on the back.
Two as mentioned above, some may find the lumbar support too soft and too subtle. 
Amia vs Amia Air
The difference between the Amia and Amia Air is basically the backrest. With the Air, the backrest is made of mesh, making it more breathable. Though the basic Amia Air chair does not come with a lumbar slide or adjustable lumbar support, so you need to upgrade.
The backrest of the upholstery version, the Amia has a slightly less pronounced backrest compared to the Leap right? But the Air seemed like it had better backrest support compared to the Amia. Just be sure to outfit your Amia Air with the optional lumbar support since it's not included in the basic unit. 
So to simply put it, the Air is the mesh offering of the Steelcase Amia. It's a better option if you're somewhere humid and hot. 
Best Amia Chair alternatives
1. Steelcase Leap
Number 1 does not come as a surprise since we have been comparing the Leap with Amia earlier. That being said, if you want a more pronounced lumbar support and don't mind the additional price, the Leap is a great alternative. 
There are just a few things that you are going to sacrifice if you are choosing Amia over Leap. One, slightly thinner padding. And two, the arms are still wonderful but it will feel like you're doing a downgrade.
And the Leap feels slightly hotter compared to the Amla even if it has the same padding. 
2. X-Chair X1 Task Chair
This is an all-mesh chair that can be a mesh alternative to the Amia. It is also highly ergonomic and has loads of adjustable features. And the arms are performers, it offers fine-tuning options, though the arms of the Amia are still better.
And for the lumbar support, X-Chair X1 Task Chair can create the perfect balance. It doesn't have a too aggressive lower back nor does it have barely-there lumbar support, it sits right in between. So this is a great alternative if you find the Leap too aggressive and the Amia too soft. 
3. Knoll Regeneration chair
Some users may find the Amia toot upright. And though you can rock the chair, it doesn't seem seamless and feels sticky. 
So if you want a chair that can seamlessly move with you, this Knoll chair will oblige. Hitting it doesn't have a rocking motion, the Knoll Regeneration chair is built with a that's better than mesh. This is very flexible and can follow your back's every movement. So it doesn't feel too tight or rigid. 
It can lend sufficient support without having too much given. So it has that perfect balance that more users will find suitable for their needs. 
This Simple yet quality Steelcase Chair has yet to prove its worth 
If you are finicky about the arms and want a durable and highly ergonomic chair at the same time, we highly recommend the Steelcase Amia. This underrated office chair has some of the best if not the best adjustable and ergonomic armrests. You'll be blown away at how comfortable these arms are.
But of course, some features can be compromised such as a barely-there lower back support and a more upright position. But you just have to know the level of comfort that your body needs.
And looking at the features and specs of this chair, it can be a dark horse that can prove its worthiness soon. You may even find it more comfortable than that chair you're using. 
Overall, this may be the simplest of the highly ergonomic and quality office chair options.