When getting a treadmill (such as Proform Pro 2000, NordicTrack 1750, or Sole F85) is too expensive, or you have limited space under your standing desk, or you need something for moving easily, it's time to think about a walking pad!
Walking pads may not be as popular as under-the-desk treadmills or ellipticals. But they do have advantages over the more elaborate and heftier treadmills. They are more pocket friendly. And make sure the price does not have to get in the way of your daily walking habit.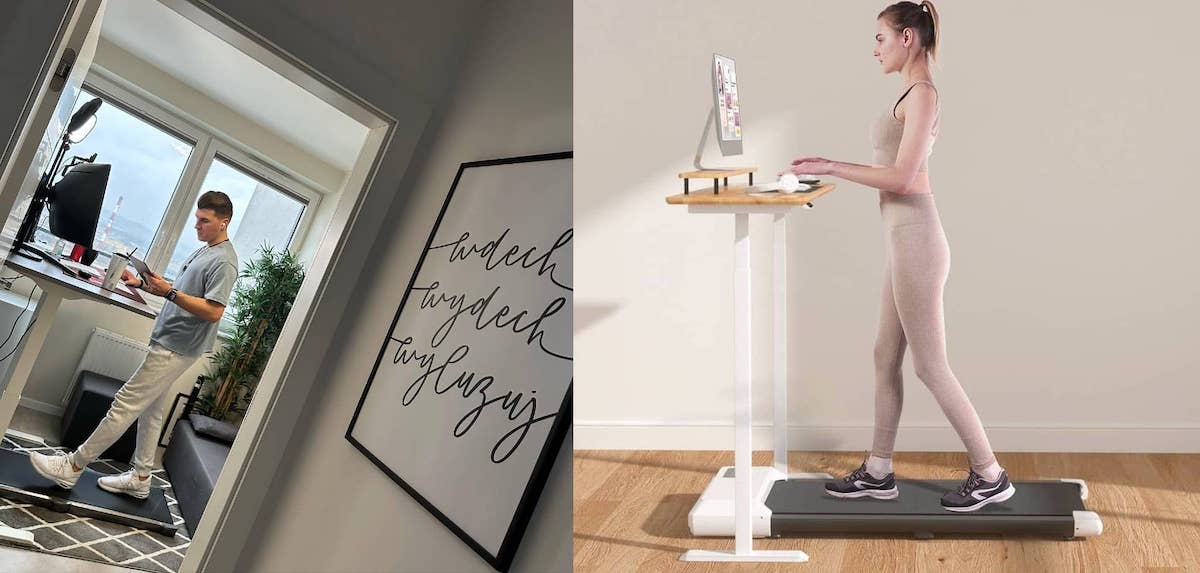 So let's pick the best from the lot
Walking pads
Dimensions
Speed

(km/h)

Weight

capacity

Deck

length

WalkingPad X21
55.9″x28.3″x40.16″
0.5-12
240 lbs
47.6"
S1 Walking pad
56.8″x20.3″x4.9″
0.5-4
220 lbs
32.4"
A1 Pro Smart
56.5″x21.5″x5″
0.49-6
220 lbs
32.3"
Urevo
58.5″x21.7″x4.2″
0.8-6.4
265 lbs
40"
Go Plus 2 in 1
51.5″x23.5″x6.5″
0.8-6.4
220 lbs
41"
Red Liro
52″x25″x42″
0.8-12
220 lbs
41"
How about small spaces? Here are some suggestions:
| | | | | | |
| --- | --- | --- | --- | --- | --- |
| Brand | Dimensions | Speed range | Weight capacity | Belt size | Incline range |
| Lifespan TR1200-DT3 | 63″x28.5″x7.25″ | 0.4 – 4.0 MPH | 350 lbs | 50" x 20" | none |
| JTX MOVELIGHT | 56"x21.5"x 5" | 0.4 – 4.0 MPH | 220 lbs | 48" x 17" | none |
| LifePro pacer mini | 59.4"x27.2×53.1" | 0.5- 3 MPH | 220 lbs | 49.2" x 16.5" | Up to 7% |
| Merach smart | 52″x28.9″x 41.9″ | 0.6-3.7 MPH | 265 lbs | 57" x 22" | none |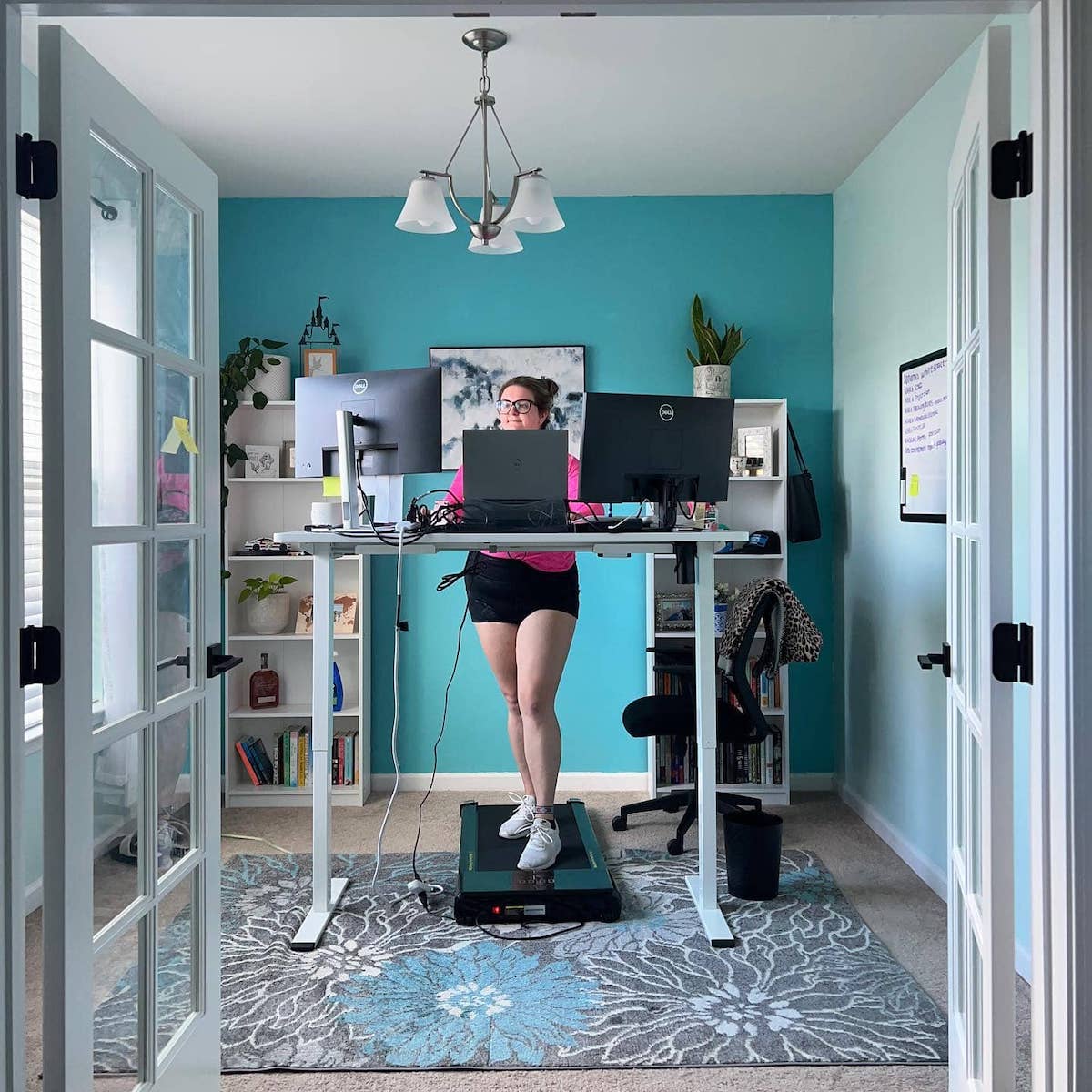 WalkingPad X21 Double-Fold Treadmill
The WalkingPad X21 Double-Fold Treadmill is a game-changer in the world of fitness equipment. Its double-fold technology makes it stand out from its competitors, as it takes up less space than traditional treadmills and can be stored in an upright position. This feature is particularly beneficial for people living in small apartments or houses where space is limited.
The first X21's standout feature is the one-touch operation panel on the handrail that allows for easy control of the treadmill. The hidden LED digital display screen with an industrial aesthetic design adds to the machine's overall luxurious appearance. And it also has NFC pairing to make Android users access the interaction interface directly.
The KS Fit app allows tracking users' time, speed, steps, and calories burned in order to monitor workout history and helps you stay motivated and track your progress over time.
The X21 also has an integrated luxury frame made of black spray paint that enhances the machine's beauty and durability. Other features, such as overload protection, automatic standby, and child lock function, make it a safe and convenient option for people of all ages.
Compared to the S1 Walking Pad or the A1 Pro Smart, the KingSmith X21 has a higher weight capacity of 240 lbs. This makes it suitable for the average person and provides a comfortable workout experience. And if you are someone who is on the heavier side, then you may need to consider other treadmills with higher weight capacities, such as UREVO (we mention it below).
Where to buy
UREVO
This UREVO U1 walking pad has a heftier weight capacity of 265 lbs. So if you're looking for one that has more amp and offers more support and shock absorption prowess, this is it. It's stronger than the Kingsmith X21 but you can't run faster than 4mph (a.k.a 6.4 km/h)!
It also has a larger LED that allows you to track your speed easier. It does feel heavier and stronger than the above-mentioned units. 
What also sets it apart is that it has a data memory function. It can record your waking stats during a 10-minute pause while retaining your overall walking data. So this can be a great tool for tracking your progress. But keep in mind that it will reset when you've reached 10000 steps. 
The pause function is also a bonus, most walking pads lack this feature. It's either you start or stop. So there go all your data and walking stats. 
It is heavy duty but it's not difficult to move around. It has wheels for easier transport. The deck length is also a bit longer so it can be used by those who stand 6 feet or with longer strides.
And despite the heftier built and more comfortably longer deck. It shares the same limitations with the other units. It is also primarily controlled by a remote, so lose it and you will not be able to use it.  
S1 Folding Treadmill
If a tight space is stopping you from getting a walking pad, this is for you. The S1 is simple, has no fuss, and can easily be folded up for storage. You can easily store it vertically and unfold it when you're ready to do your daily walks. 
There's nothing fancy about this walking pad. It functions as advertised. We do love the option to connect it to Apple Health, you'd be able to see your steps in one place. 
It can also be connected to an app, but here's the thing. The app is basic so it should be normally easy to use, right? But It can be irritating and confusing to use. But once you get the hang of it, you'll be fine.
We also would like to see improvement in the increments of the speed. We'd love to see smaller increases. As of now, you can go from a bit slow to a rather fast speed. For some, this may not be an issue. But if you need to gradually build up your speed and cardiovascular endurance, you will find it too demanding.
It can also be a bit loud at times. And the shock absorption is not the best. That's why even if it is rated for those who weigh up to 220 lbs, we see this best for skinny to average-sized users. 
This walking pad does feel sturdy and well-built, not just for those who weigh over 220 lbs. Heavier people may find it uncomfortable to walk on due to the lack of support on the surface.
A1 Pro Smart 
It's not called a smart walking pad for no reason. The selling point of A1 is that it has Intelligent Speed Control. That means that the running speed is controlled by the human motion trajectory. So You will be able to control the speed as needed, thus mimicking your pacing when you're running outdoors.
This looks a tad more stylish than the S1. It looks sleeker and has an LED display that adds a more modern touch to the unit. It also comes with an optional safety handle. It comes in handy if you're still training your core for longer walks. It is also decently built and stable.
And it will be able to bear more weight. But it is not the best when it comes to shock absorption. So if you are heavier, you might want to use shoes with a cushion to make them comfortable to walk on. 
And like the A1, the app can be annoying to use. It is clunky and quite a chore to sync to your Apple watch. 
We'd also love to see smaller increments in speed and a pause button. This is perhaps one of the common limitations of walking pads, you will not be able to pause them.
But we appreciate how quiet it can be. It can be used at night without disturbing others. 
And your walking routine need not catch the attention of your officemates.
Also, we see it best for those with short to average strides, or petite to persons of average stature. If you are tall and have longer strides, you may find this not challenging at all. 
It can also be folded and stowed away easily. Thus it is also suitable to use in smaller rooms. 
It's also quiet but the app can do better. But it does look more polished and modern but it shares the same nuisance when it comes to the app. And oh, like the rest this is mainly controlled by remote. So better not lose it. Though you may be able to ask for a replacement from the manufacturer, it can be hard to reach them.
Go Plus 2 in 1
What advantage does the Go Plus have over the other walking pads on our list? It can help you create a more personalized walking routine with its 12 programs available. These exercise programs are also easy to flow and even beginners will find them doable. You can choose from an array of programs to improve your cardiovascular fitness, boost your health, and burn fat.
This is a 2-in-1 product too, you can use it either as an under-the-desk treadmill or as a walking pad. But keep in mind that once you install the handles, you will not be able to fold them down. So you have to decide how to use it before setting it up. 
This unit can be hefty too, so while you can remove the rails to switch from a walking pad to a treadmill, it can be a chore. 
Some may find this walking pad narrower than usual. So you may opt to change your walking style if you're used to running in a wider one, or better choose a different unit.
This also needs some break-in period. Give it 4 or 5 days and would feel the belt running more smoothly than it did out of the box. 
Red Liro
It's similar to Go Plus with the 12 running programs. It's also a 2 in1 unit that you can use either as a walking pad or an under-the-desk treadmill. But what sets it apart from the rest is that it has a greater walking speed range. It also has smaller increments and more options. Couple this with the multiple running programs and this can offer more variations in your walking and running routines.
So this is for this looking for more upgrades in their walking routines in the future. 
As for the downside, at lower speeds it is quiet. But as you go faster, the knocking sounds become significant.
—
How about compact walking pads?
A WFH situation has some challenges. And one of those is keeping a regular fitness routine. BUt you don't have to miss a single cardio day, even if your home office is a bit cramped. Compact walking pads are the solution to your problem. And we've compiled decent ones that are not flimsy. These can help you stick to your fitness regimen sans the smaller space.
Lifespan TR1200-DT3
Our favorite feature of this unit is the lifetime warranty on the frames. So you can rest assured that you are getting your money's worth. So you can expect this to be a bit more stable. And the weight limit can also attest to the stability and durability of the unit. This can then be used by chunkier folks. 
The downside is the console is pretty large and looks outdated. So aesthetic-wise, it's not too inspiring to use. But it will prove you wrong once you step on it.
JTX MOVELIGHT
This compact and light walking pad is recommended for beginners. It's easy to set up and also comes with a remote control so that newbies can easily access the features of this equipment. This also feels quite steady, stable, and sturdy. That's something that newbies must experience so that they will be inspired and feel safe to run or walk every day.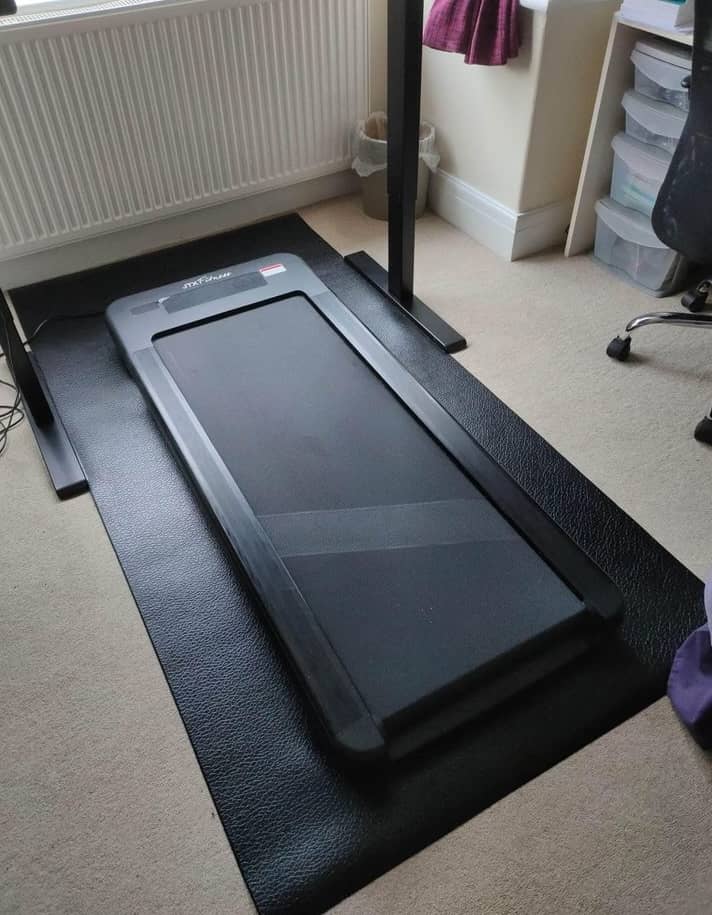 It does have longer dimensions. So you have to check for the storage or if it can fit underneath. It might be too long to be placed under some desks or sofas. 
LifePro pacer mini
If you're looking for progression, this is highly recommended. Most of the choices on our list lack incline features. The liberty to change the height of the running belt can add intensity to your routines, and you can miss this out with some units. So if you want to add more challenges to your daily walk, this is a great option.
This can also track time, speed, calories, and steps. You can use it completely flat, or you can crank it up to a 7% incline.
This is also very quiet and feels quite stable. You can feel that nice bounce when your feet land on the belt, it does not hurt the knees and is perfect for a low-impact run and walk.  
But keep in mind that the running belt is short. So this is not for taller people or those with longer strides.
Merach Smart
This is a smart walking pad best if you want to enjoy seamless running and walking at the same time. Not all compact units are suitable for running, though you can use them all for walking.  
It also has a safety handrail that can make you feel more stable during your workout.tls something not all units in this list have. Thus, that also makes it ideal for beginners and older people.
Walking pads can still do wonders for your health
While these may seem inferior to you under the desk treadmill, they can still help you keep up with your walking routines.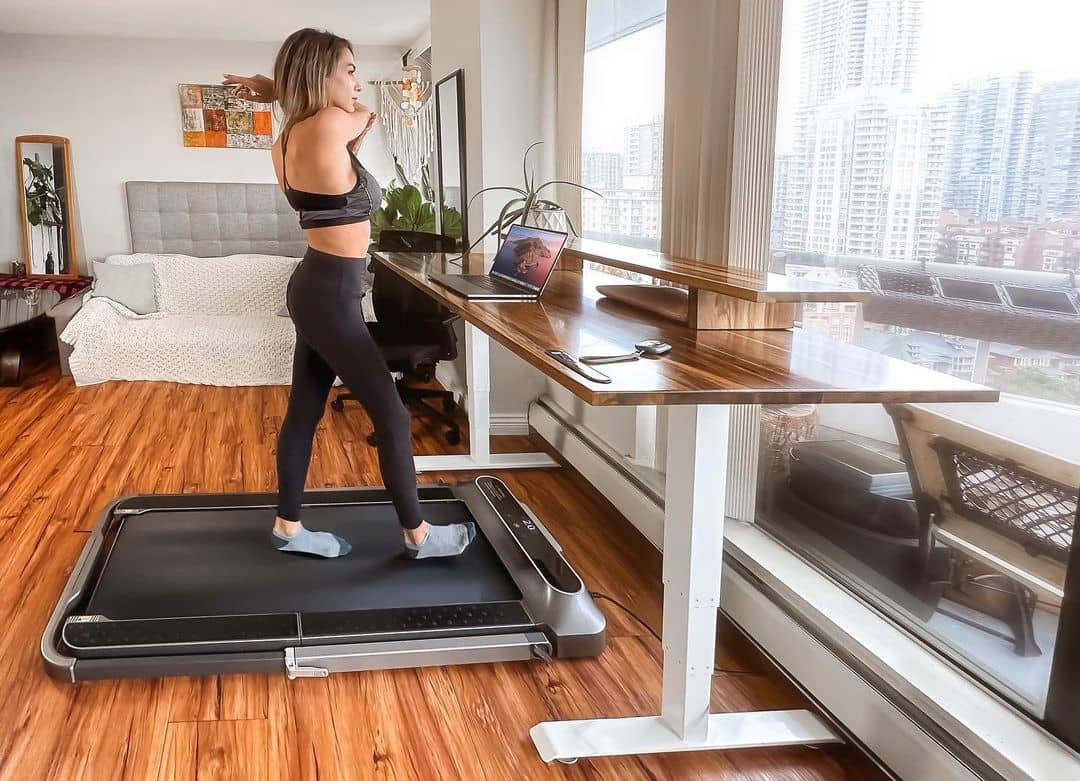 There are instances wherein treadmills are not viable options. 
One, it can be more expensive and two, it can be bulkier. So those who are looking for something old male and who live in thigh spaces will find walking pads a great alternative. 
You may also like: