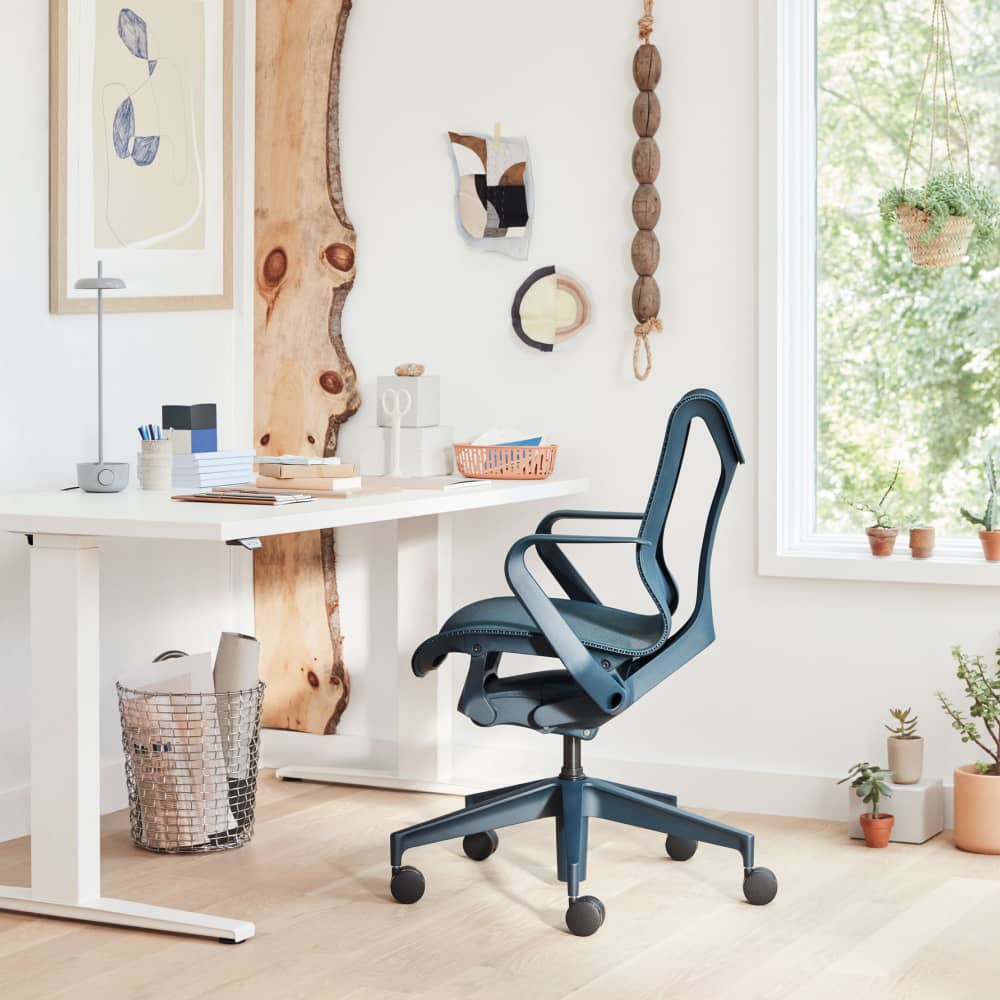 The Setu Chair is often dubbed as one of the most comfortable yet elegant meeting chairs in the market. Let's see how well it fares if you're going to use it for collaborative work.
About The brand
If you are a big fan of the ergonomic chair, you properly know that Herman Miller boasts premium desks and chairs. And even a meeting or drafting chair can cost twice or thrice the price of most brands. Apart from the Setu chair, the brand also offers Setu products ranging from tables and ottoman to other chair models. All of which bears the minimalist and elegant design.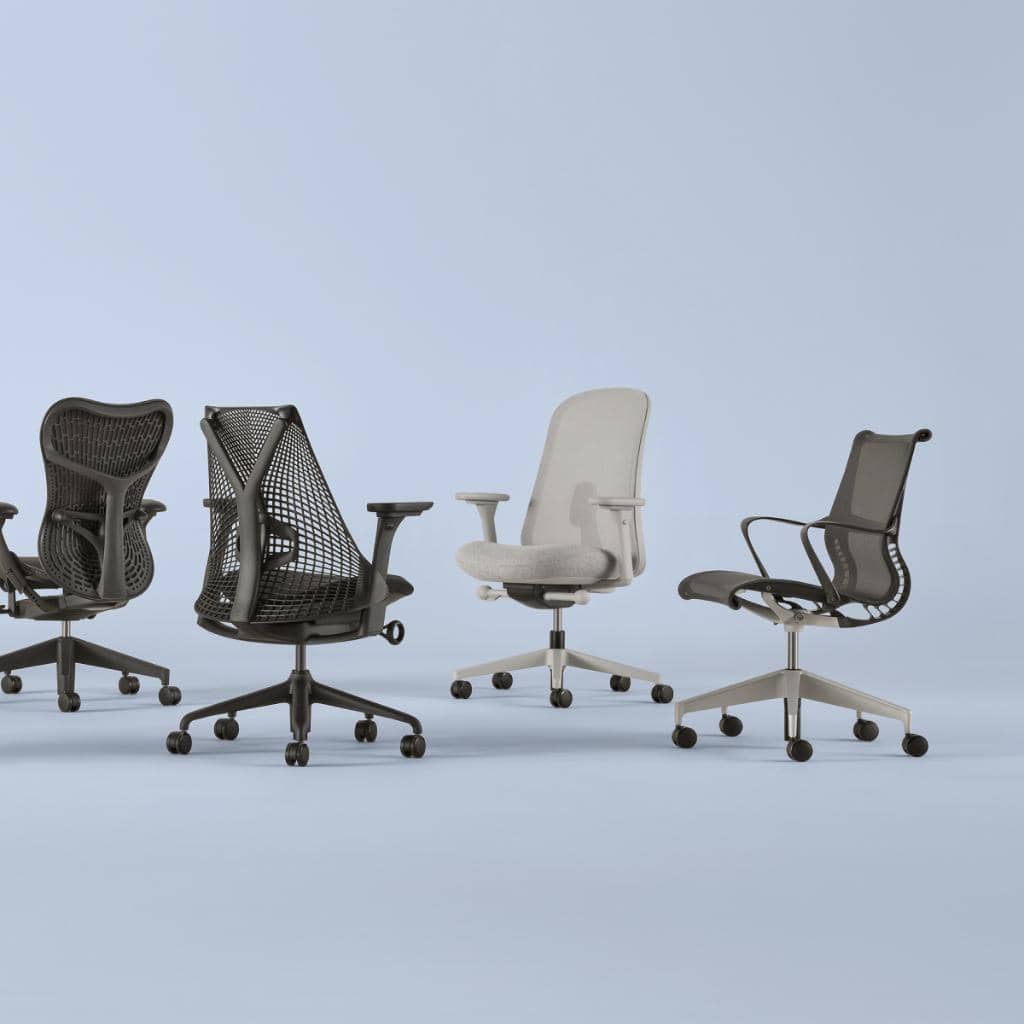 Aesthetics
The overall design of the Setu is elegant, simple, and intuitive. It looks sophisticated and comes in an array of luxurious-looking frosted colors. It has a minimalist style. It also looks well made and durable. Well, that's to be expected from a Herman Miller chair. But kudos to the brand for making a chair that looks basic yet luxurious at the same time. There is nothing too fancy but it has its own tale to tell, so to speak. 
Honestly, the Setu intrigues us. We are curious as to how the designers were able to put up a chair with such innovation yet make it look and feel so basic. 
Features and adjustability
The Setu has only one feature that you can adjust, the seat height. Apart from that, everything else is stationary.
It is a simple-looking chair with almost no adjustable features. But there is something about it that makes it stand from the rest. The brand was able to fuse a recline function into the chair without any mechanism. At first glance, you'll think that the Setu is a basic task chair. It doesn't have any knobs or levers for adjustments like the more popular chairs of the brand. 
The Setu has a kinematic spine that allows the back of the chair to flex independently. So you can still enjoy a decent recline even if it has no adjustment options. What we love about it is that the material is so flexible and not too firm. An all-mesh chair can feel too rigid and firm, that is what we have experienced from almost all mesh chairs that we have tried.
We were also pretty content with the rocking motion and the recline even if it doesn't have a tension lock. It feels so smooth and nice for the back and the lumbar. And we felt supported throughout. 
Construction and built
It is a sturdy chair made with alloy caster wheels. You would not be disappointed with the overall construction of the chair. And the fact that it's made with premium materials and outfitted with an innovative design, you won't find any complaints about the construction of the Setu.
And even if it's durable, it's a portable chair too. It's quite lightweight. That's why it is ideal for collaborative meetings or whenever you need to grab a chair for impromptu sessions with the team.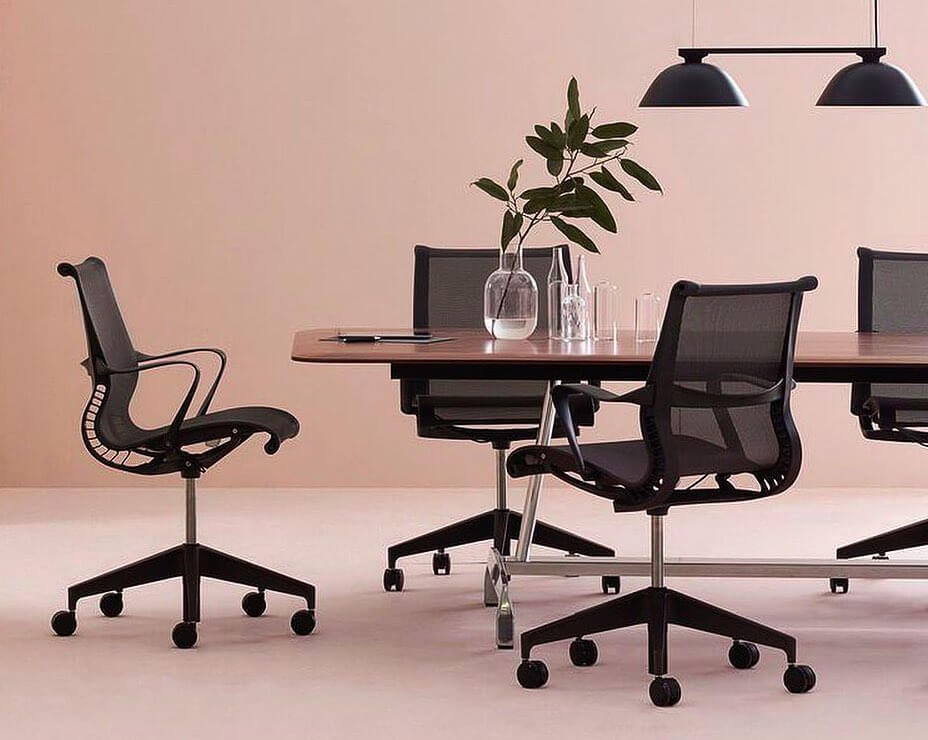 Seat and backrest
The back and chair seat is made from a special type of mesh material called Lyris. It is a premium mesh and it's instantly when sat on the Setu. The mesh material is softer and more flexible, even more, flexible than what you can experience with the Aeron and other chairs of Herman Miller. 
There is not any adjustable lumbar, yet it feels comfortable on the back. The combination of the premium mesh, the kinematic spine, and the large indent shape at the lower back gave my lumbar decent support. 
But the support is firm. It's a little less firm than what you experience with the Aeron, but it isn't plush or dreamy. So you won't find it comfortable if you are looking for plush snuggle-like comfort. 
And since the support is firm, it is comfortable for several hours only. You'll notice that the low profile of the backseat is lacking. So it's not comfortable for prolonged sitting.
We also have another gripe with the seat and weren't expecting this. At first glance. The Setu looks a bit wider. Thought it's wide enough to accommodate heavy individuals. And since it has a weight capacity of 300 lbs, it's a chair that can accommodate heavier folks.
 But no, the seat seems too narrow. Rather, it's ideal for average-sized or petite users. So if you put on weight over the quarantine period, it can feel cramped. 
Lyris is a very breathable material. I'll give plus points to the chair in this department. It feels cooler and more comfortable.
Armrests
The arms of the Setu are referred to as the ribbon arms. It comes in a ribbon shape and as I've mentioned earlier, it's stationary. It looks elegant, yes. But that's just about it. Even if the chair is rated to hold up to 330 lbs, heavier users will find the chair cramped because of the arms. You won't be able to widen the armrests. And when you recline, the arms go with the entire chair. Especially if you are wider around the waist, you'll find it too narrow. 
A narrow seat coupled with a stationary arrest can be frustrating for heavy users. So . users with small to average built will be able to find the chair comfortable. The armrests are not padded so that's another thing to consider.
Should you want this chair but find the armrest too restrictive, you have an option to buy the chair without the ribbon arms. 
Customization and warranty
Since it's a Herman Miller chair, you can also customize it. But since it does not have adjustable features apart from the seat height, there are few options to choose from. These options are the change in the type of caster wheels and the color of the frame. 
You can also opt to have fabric upholstery instead of the Lyris mesh material. But the Setu is all about the Lyris and the kinematic spine. So we will not recommend having it in fabric upholstery. It'll ruin the entire Setu chair experience.
When it comes to warranty, Herman Miller is one of the kings. A 12-year warranty comes with almost all of the brand's desks and chairs. So you are pretty covered in this department. 
Additionally, the brand also offers a 30-day money-back guarantee. So there's no harm in trying it out if you think the char will fit your needs. You can always send it back should it not satisfy you. 
Overall impression
Petite users and those with average frames can find the Setu comfortable.

It's a low-profile chair. Petite and average-sized users will find it comfortable. But only for a few hours. Afterwhich, your back may be looking for something with a wider and higher backrest.

You will find it too narrow if you are thicker around the waist.

It's a minimalist chair. So if you like simplicity and durability at the same time, you'll love the chair.

The support is not plush, but it's not too firm either. The material is ultra-responsive and feels softer than other mesh materials

It's one of the most breathable chairs. Kudos to the premium Lyris mesh.

If you are the fidgety type, you'll find this chair restricting. Yes, the backrest and the structure can support your spine and the recline is nice to have, but the lack of adjustable options may feel limiting.

It comes in fully assembled so you can use it straight from the box. And it's portable and lightweight so you don't need help in unboxing it. 

It's a comfortable meeting chair. So it would be nice if an office has a selection of Setu chairs that their employees can grab for meetings and collaborations. It's more of what I'd say as a supplemental office chair. Meaning you need another chair that you could sit on for longer hours. 

Setu is a greener option. It's made of 93 % recyclable materials.

You can enhance the comfort of the chair when you pair it up with a Setu ottoman. This can be an option for those who want to buy Setu but find the seat too small. 

Where to buy this chair with the good option: https://amzn.to/3piMybM
The version with casters has a 5-point base. The version with glides has a 4-point base.
The Setu has extremely lightweight (about 17 lbs), which enhances its portability
It comes in both fixed arm and armless versions. Some people recommend the armless version because it feels less confining, the fixed arms that don't look as nice can get banged up after use , and finally, it looks even sleeker
Cheaper Alternatives to the Setu chair
The Setu does not come cheap for a chair of its kind. So we are listing a few cheaper alternatives that you can also comfortably use for meetings. It won't be as comfortable and innovative as the Setu, but it can fit the bill.
Modway edge drafting chair
This chair features a slight S curve that can give decent support for our lumbar. The backrest has a mesh material while the seat is padded. And compared to the Setu, it has a higher backrest. 
Additionally, you enjoy several adjustable features. The downside, it's not the most durable office chair. But it can be quite comfortable.
XUER ergonomic office chair
It's heavy-duty, has a built-in lumbar support, and breathable mesh material. The bonus is that it has a high backrest and it's equipped with a neck and headrest. 
The downside? While the chair has a comfortable and ergonomic back, the seat is quite uncomfortable for most users. It has this odd-looking extremely concave-shaped seat. We really are not sure what it's supposed to do for the body. Whatever it is, it's not working for this chair. 
Herman Miller Alternative 
If you still want to go for a Herman Miller chair and price is not an object, the backseat of the Aeron feels similar to that of the Setu chair. And if you find the Setu Too narrow, you can choose the Aeron C. The Aeron B has a somewhat similar size to the Setu. the downside? Of course, it'll be pricier.
Conclusion
The Setu Chair is not designed to be sat on for longer hours. Though petite users will find it comfortable, they still will not be able to work for long hours on the chair. 
The lack of adjustable features can put off most users. On the other hand, if the Setu chair will be used for meetings and office collaborations aka limited hours, a lot of users will find it comfortable. That's why it can function better for everyone as a meeting chair.