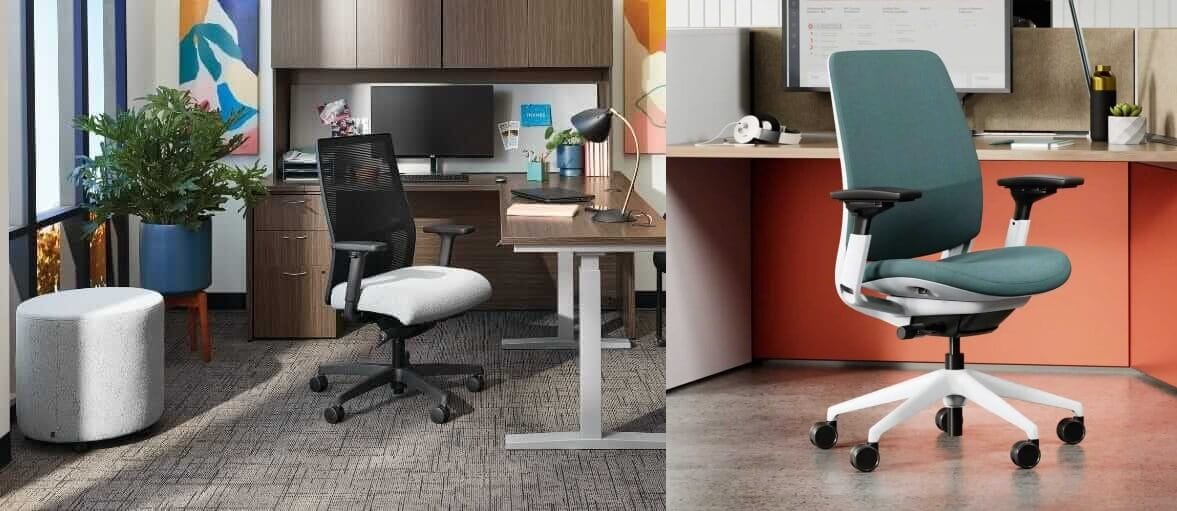 The Hon Ignition 2 has been referred to as a more affordable alternative to the Steelcase Series 2. It is indeed a rising star and can be quite comfortable and ergonomic for its price.  
But can it fare well against the more high-end Steelcase unit?
Which is more comfortable? Let's see below. 
Office Chair

Showdown

HON

Ignition 2.0

Steelcase

Series 2

Seat height range
17.25-21.25"
16.5"-21.5"
Seat depth
17"-19"
19.25"-22"
Weight capacity lbs
250
400
Seat width
20"
19"
Deals Today
Check the Black Mesh
Check the Pink Lemonade
Series 2 is more heavy duty
One of the reasons why many go for a Steelcase is because of the craftsmanship. Like Herman Miller, these can be refurbished and resold, and many will still buy.  
Comfort-wise, these are also very indulging, though they are not the comfiest as most can be too firm. 
But the price can be a real turnoff. And here is where Series 1 and 2 come in. These are the budget-friendly options from the brand. So you can still own a Steelcase unit even if you can't spare more than a thousand bucks for an office chair
Series 2, is the more upgraded version of Series 1. And even if it is the budget-friendly option from Steelcase, it still has the same quality. So it is heavy-duty. And despite having a combination of steel and plastic parts, this chair can still last for the long haul.
The load capacity of the Series 2 is also more at 400 lbs. compared to the Hon chair's 250-300 lbs capacity. The Ignition 2, despite having substantial heft, cannot compare with the build of Series 1. 
So if this is your only gauge in choosing between these two chairs and you are heavier, then it's a no-brainer what you have to choose. 
The Series 2 is sturdy but it is quite firm
And here is the twist.
Though the Series 2 is very sturdy, it is quite firm. It even feels more like a task chair to us. 
Though the chair has a more innovative back technology, you do not have an option to recline the chair. 
The Series 2  will remain upright no matter what you do. It can have a little tilt but it is very minimal, almost unnoticeable. There is not even a midway position. Thus, it will be a great task chair for whenever you need to do typing jobs.
So sitting on it for longer can be strenuous for some, especially if you do not favor a firm back support.
Even if you outfitted your Series 2 with adjustable lumbar support, the chair will still be upright for working more than 6 hours a day.
But despite that setback, the cushioned seat of this Steelcase chair is indulging. It feels more comfortable than the Ignition 2's padded seat. So if you don't mind a more frigid backrest, you may still find it comfortable for long hours.  Otherwise, you'll find the more flexible mesh back of the Ignition 2 more suitable for your needs. The seat of the Series 2 is also a bit wider and more indulging on the butt. 
Live back technology vs the ilira stretch mesh
The Series 2 has a Liveback technology so the chair can somehow flex to support your spine. While the Hon Ignition 2 has an ilira stretch mesh. So the lumbar support of the Hon chair 2 isn't special, it's more of a general height adjustable lower back support. Hence, it's not pronounced and might not seem like it exists. But the mesh material of the chair, on the other hand, can offer support whenever you move. 
So how would you know which of the two is more suitable for your needs?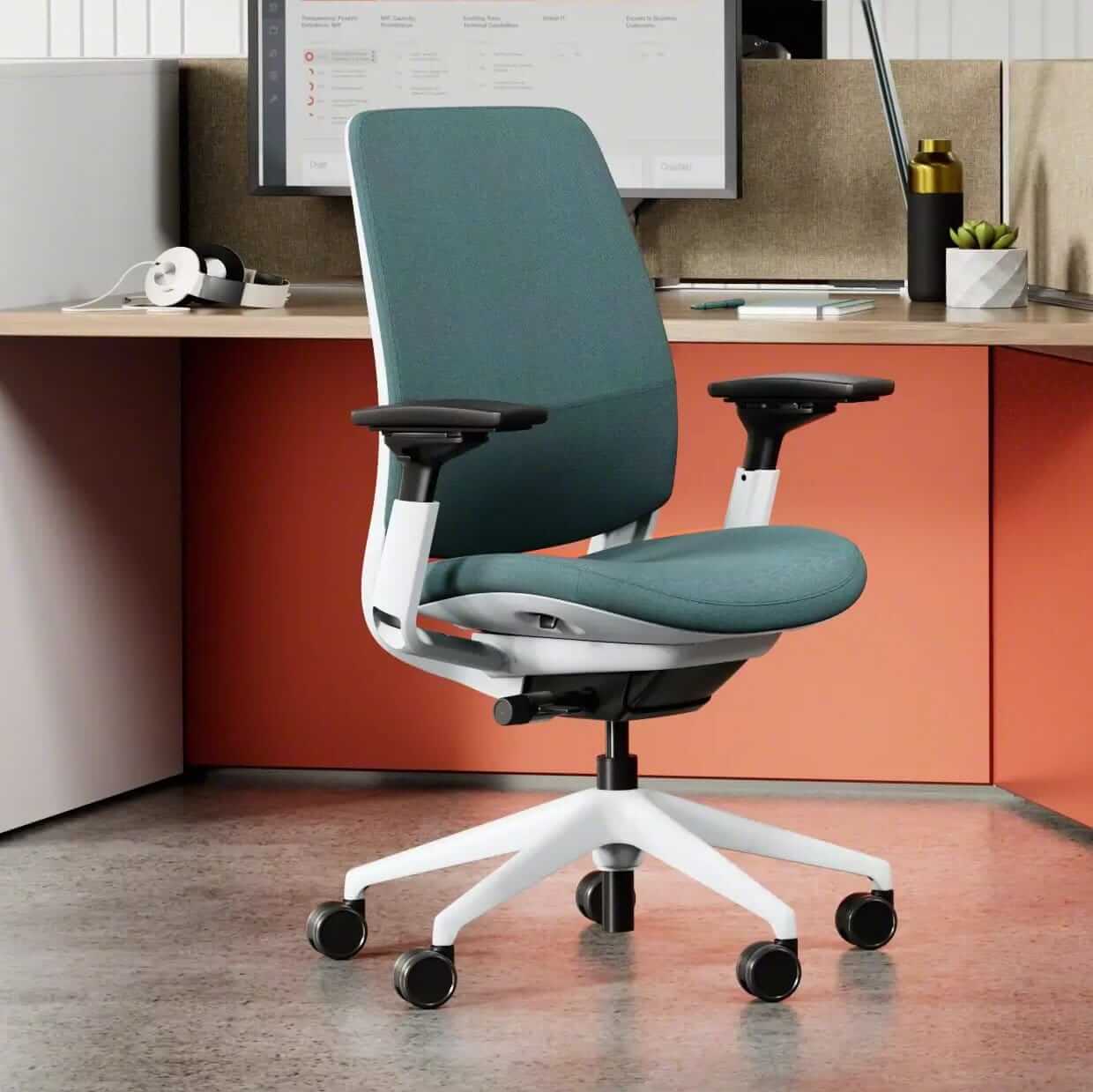 The Liveback technology of the Series 2 is more pronounced. Thus if you need to have more firm support for your back, then this is a better choice since you really will not feel the lumbar support of Ignition 2. But you have to be prepared that you will not be able to recline the chair no matter what.
The Ignition 2, on the other hand, has a recline function, and options for tilt positions, but lacks that pronounced lumbar support. So if you need a softer backrest and you need to recline or change the position of the backrest but you don't need a more pronounced lumbar support, then this is a better choice. So this will fit more those who constantly move while they are seated.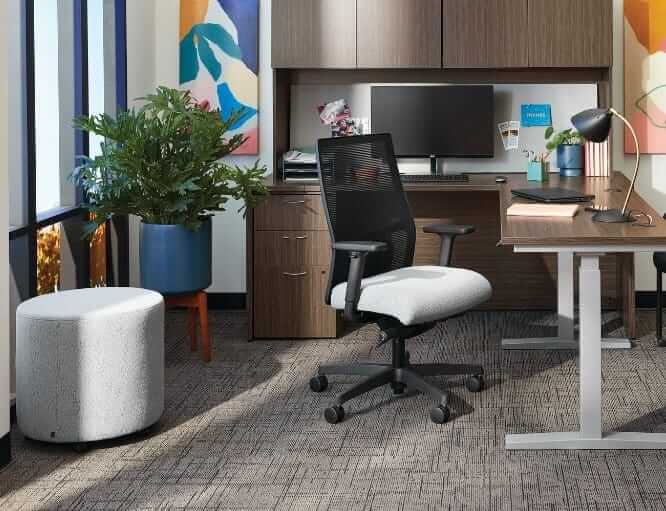 Other things to note for Series 2
Aside from being a more uptight chair,  there are other factors that you have to consider if you have your eyes on Series 2. 
The conjunction of butt and lower back is not the most comfortable. But you can adjust the lumbar support to find the sweet spot. The thing is, the basic unit does not have an adjustable lumbar support. 
So if this irks you, you have to add a few moolah to have your Series 2 outfitted with one so you can take care of this little nuisance. 
You'll then see that adjusting the lumbar support will automatically transform the chair into a more comfortable seat.
Also, as with the Gesture, the seat and back of the Series 2 work together, which means that as you lean back the seat pan will slide forward.  There is not much to choose from and no recline, just minimal tilt. So this isn't really a comfortable chair for gaming since you will be mostly upright while sitting in the chair.  The Ignition 2, on the other hand, can also be used for gaming.
Also, the seat height range of Series 2 is pretty similar to that of the HON chair. It can be amenable for those who are slightly petite to slightly taller users not more than 5'11".
Which is better?
The basic thing to consider is that the Series 2 is more supportive for the back but has a more upright setting. Thus it's not great for folks who want to recline or have a little more lean. 
If you don't want to go all-in on the gamer aesthetic, then this simple, well-featured task chair can be a decent choice. You get to enjoy Steelcase's impressive design and workmanship. Not to mention, the customer service is also one of the best.
Otherwise, Ignition 2 will be a better choice. But you have to live with merely existing lumbar support. But the chair does feel very comfortable, but will not have that pronounced lumbar support. So it's not a great option for those who have lower back issues. 
The Series 2 also feels more like a task chair, a more ergonomic and comfortable task chair that is. And some people who do not really have to sit longer than 3 or 4 hours may do okay with a task chair or one with a more upright setting. 
And also you have the price to consider. You need to add more money to outfit your Series 2 with adjustable lumbar support. 
Though some already find the static Liveback technology sufficient. So unless you do, then an additional adjustable lower back support may be warranted.  The basic Series 2 is just around 350 or 400 bucks. If you add up the adjustable lumbar support and 2-way arms, it can rise up to 700 or 800 dollars. And that can be a couple more dollars compared to a  Hon Ignition 2 with the works. 
Aesthetics-wise, the Series 2 may look like an ugly duckling. The Hon unit looks more streamlined and posher. But you can instantly tell which is a more sturdy unit once you sit on it. And coming from a high-end brand, the Series 2 has more heft and will definitely last longer than a  HON Ignition 2.0.
So there really isn't a single answer as to which chair is better. If you're looking for a better build and customer service, go for the  Series 2.  Which is better in ergonomic features vs the price? Definitely the Ignition 2. So the answer really depends on which department is your priority.