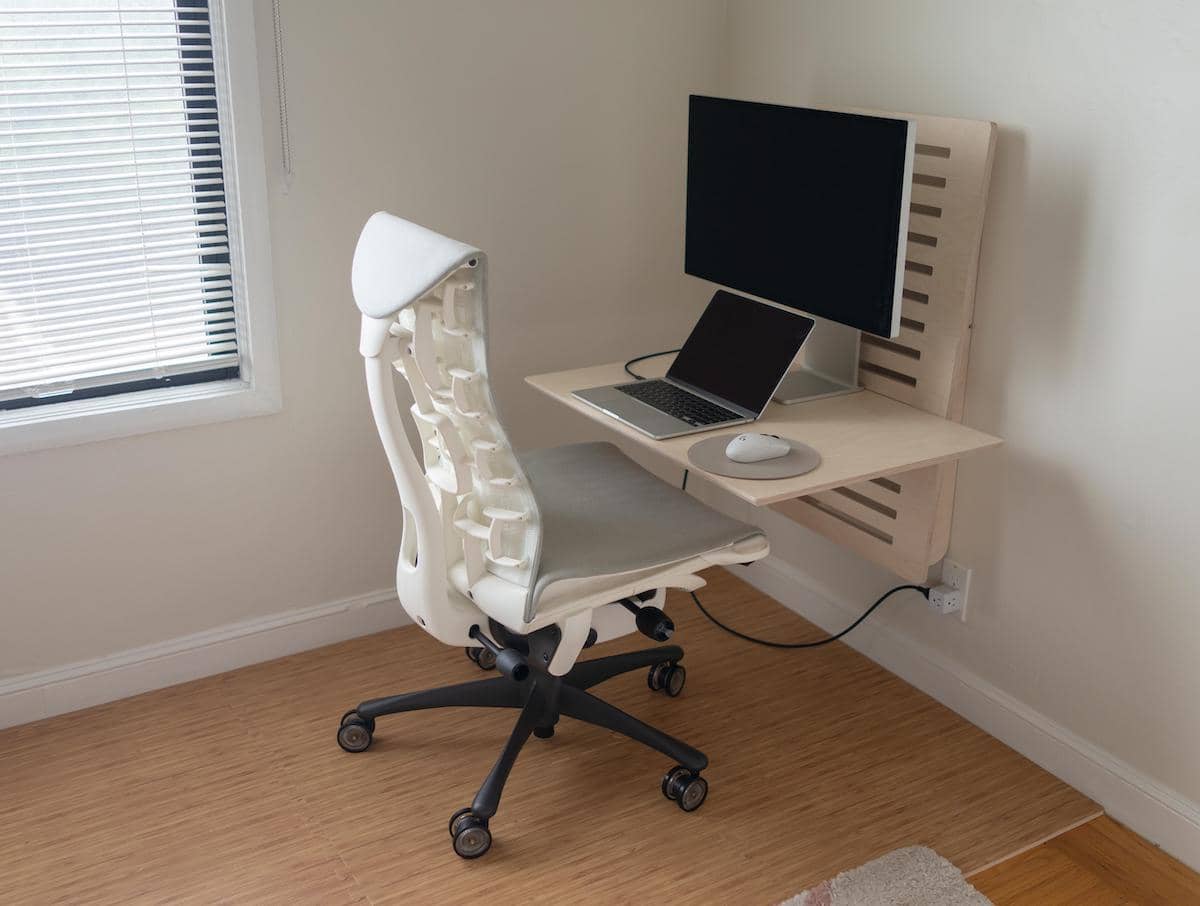 Armless chairs are great for conferences and meeting halls. But there's always that question, will it be able to provide a comfortable seating experience? To be able to say yes to that, you have to choose armless chairs with lumbar support.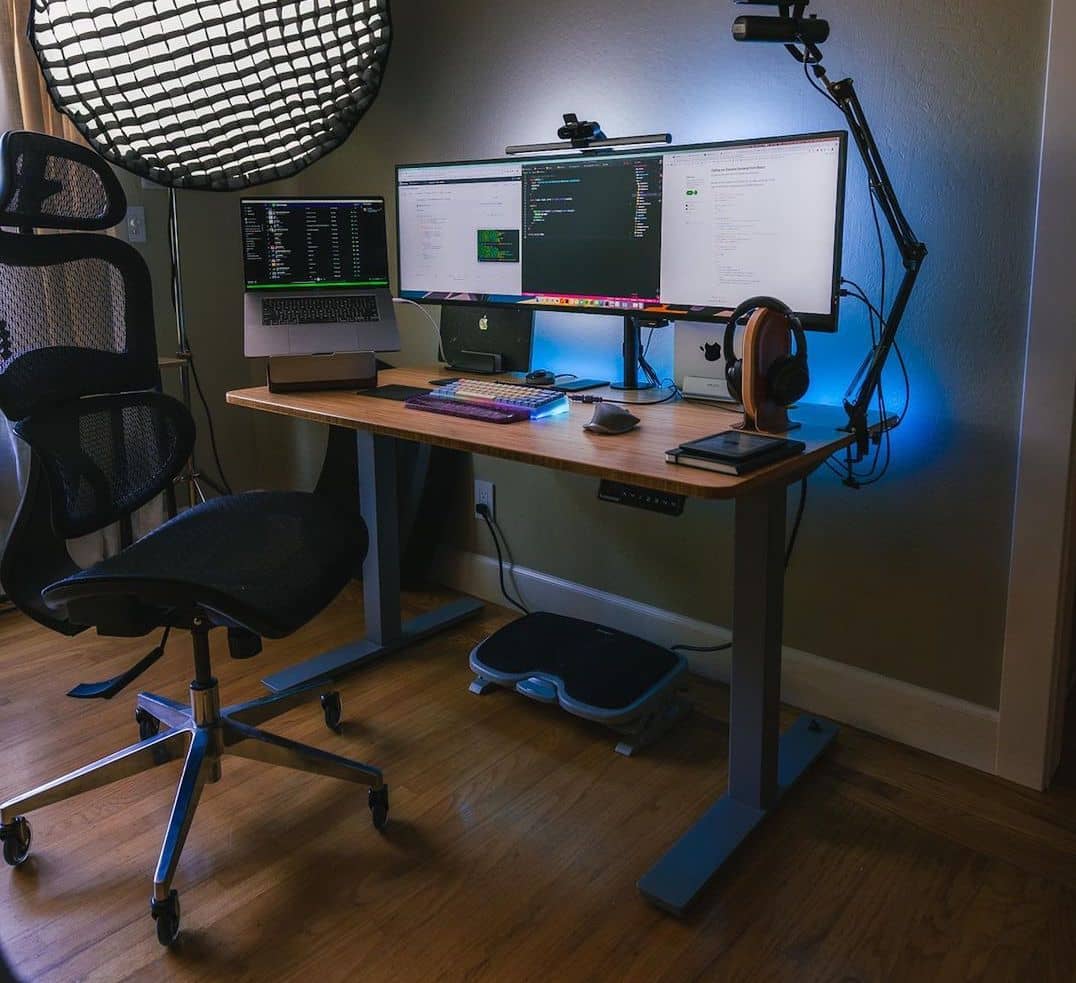 Why Skip the Arm Rests on Your Office Chair?
Armrests can be detrimental to you and may encourage poor posture by allowing you to abduct the shoulders, meaning your elbows are away from your sides. The forearms then approach the keyboard on an angle, which requires the wrist to bend in order to type. This type of wrist bending can increase the risk of tendonitis. Chair armrests may also create pressure on the soft tissues of the forearm and elbow, particularly if they are hard, or if they are used to rest an elbow in a "thinking" posture. They may encourage the worker to rest the entire forearm on the armrest and operate the mouse or keyboard by wrist and finger movement alone, like a "windshield wiper" action. This posture also can be associated with tendonitis.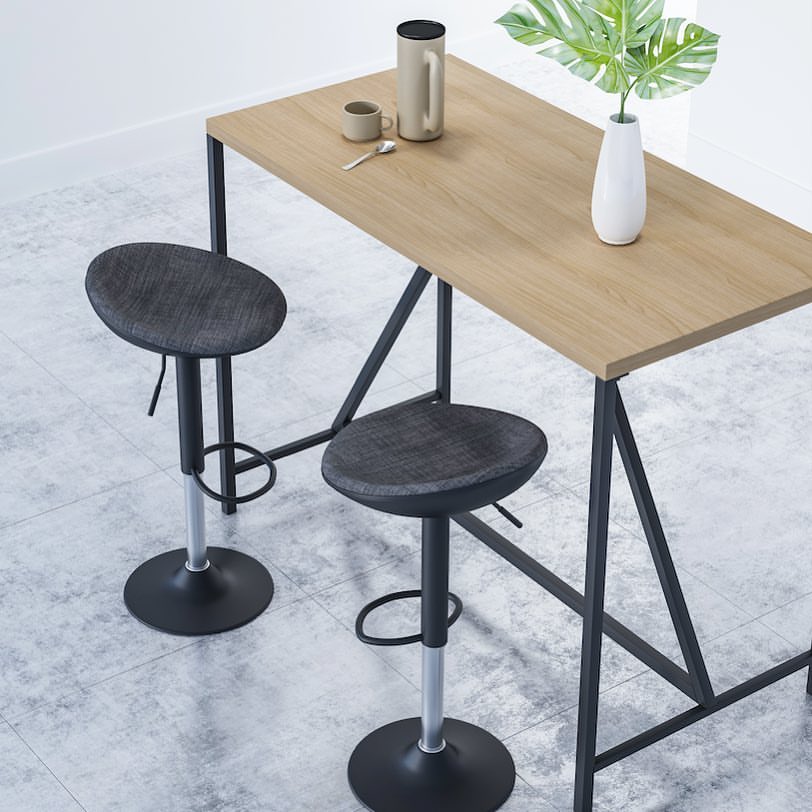 Office chairs with armrests may also force you to sit further away from the work and reach to type and mouse, such that the shoulders are flexed, meaning your elbows are forward from the sides. This posture does not require muscle effort while the arms rest on the armrests, but the muscles do have to work much harder every time the hands move between positions, like the position switch between the keyboard to the mouse. To be useful as a "rest", the worker typically adjusts the armrest to elbow height. However, this is the same height as the keyboard/mouse surface. The armrests often strike the work surface when the worker attempts to tuck the chair in close to sit in a "good" position; by the end of the day, the worker has given up trying to sit close to the work, and leans, perches or slouches in the chair. Over time, these small posture positions may hurt your health and physical fitness.
Leaning on an armrest on your office chair hurts your chances of taking advantage of some crucial postures that help with focus as well. Our gaze naturally rests 1-2 inches below eye level, so having the top of whatever you're working on any higher than eye level can cause you to crane your neck up to see your work, causing neck and eye strain. Leaning or hunching over on an armrest can distort this eye level and hurt our necks over time.
Posture matters more than you may think. In fact, there's evidence that whether you sit up straight or slouch affects the quality of your work. To understand why, it can be helpful to look back at our evolutionary ancestors. Millions of years ago, if you were sitting or lying down, the chances were pretty good you were in a relatively safe spot and could let your guard down. If you were standing or moving around, though, being extra attentive might mean the difference between finding food and becoming prey.
Today, our bodies still have this expectation baked in. That means, depending on how you hold yourself, there could be huge differences in how your body operates, which could have major implications for office workers looking to boost their productivity. Armrests are more crutches than actual rests and could be damaging your productivity and work quality. For that reason, it's helpful to skip a chair with armrests if you find yourself using them too often. A seating option that may pique your interest for an office chair without arms is also one that has other health benefits included.
And we've just made a list of the 5 best armless office chairs with lumbar support for you. 
Office chairs that give you no choice but to have 'em with no arms
Inbox Zero armless office chair
This armless chair from Inbox Zero is a nice find if you are looking for one that is priced below 100 dollars. The chair is a combination of a mesh backrest and a padded seat. Then the backrest has this S-shaped backrest that conforms to the natural curve of the spine.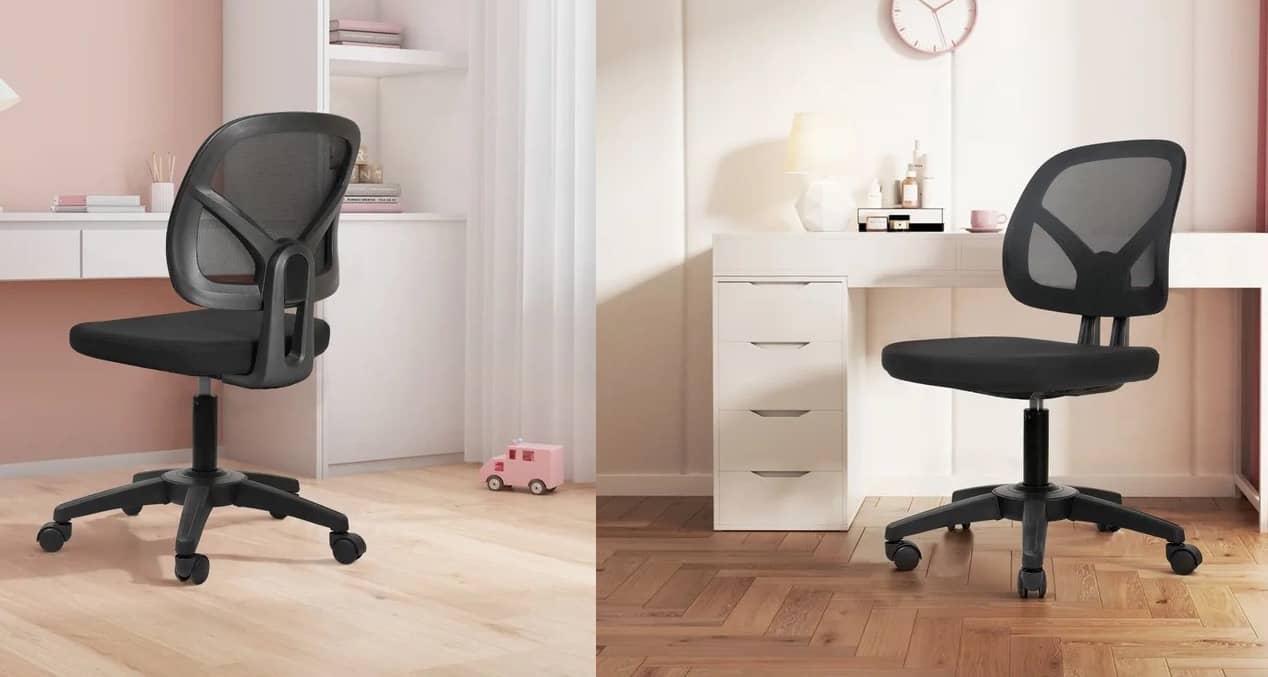 The frame at the back has this Y shape that can provide decent support for both sides of the back as well as the lumbar region.  
So albeit the absence of adjustable back support, it is decent enough if you are going to sit for only a few hours.
Thus we see this as great for tasking, and for use in the conference room. It's also great for meetings and collaborations.
Office chairs with Flip up arms
Boliss big and tall chair 
Those who are on the chunkier and on the taller side will find more value in this chair. Since it's a flip up chair, you have the liberty to push the arms aside if it's in the way or if it's not serving you. 
This chair is durable and pretty much one of the more muscular ones on our list. Hey, It's a big and tall chair, so it must be hefty to accommodate that extra weight.  
It can bear a weight of up to 500 lbs. And the brand's claim is true. When sat on by a bigger user, it did not creak or make any noise that will make you think it is being overburdened.  
And having no arms gives one more seat space, you may even be able to lift your legs and rest it on the seat. 
The seat is deeper too.  You'll be able to adjust the angle even a few degrees and it would alleviate the feeling of sliding out of the seat.
The chair has a slightly S-shaped curve and a soft lumbar cushion that can provide basic back support.
Though it is more of a subtle type of support, so those with back problems may find it lacking. But this chair can be rather comfy for those who need to prevent their backs from falling too flat against the backrest. 
Nouhaus Ergo flip
Nouhaus is a famous office chair brand with the high-end product name Ergo3D. But the runner-up is not a bad idea, the Ergo Flip!
The Ergo Flip chair, like the Sayl, is also one of the more ergonomic offices on our list. But this one is on the budget-friendly side, so it can be an alternative if you find the Sayl still too much.  
It comes with arms, but it's the flip-up type. So like the Boliss big and tall chair, you simply stow it away if you don't want to use them. 
And since it's an all-mesh chair, this could be used all year round, especially when it gets too hot. 
The Ergo Flip has adjustable lumbar support, and it sort of can move with you. It's not as flexible as the Sayl, but it is still better than other cheap mesh chairs when it comes to responsiveness.  
The mesh material can support micro-movements, this is also a great use for conferences and meetings where you have to do a lot of collaboration.  Also, it has a 135-degree tilt, so it can offer a bit of a resting zone for those who have been sitting on the chair for 8 hours.
The ergonomic headrest adds up more value to the chair.  But there are quite a few limitations.
One, the build of the chair is not hefty, thus this is better for skinny peeps. And since the dimensions of the chair are on the slimmer side, full-grown adults might find the chair a bit cramped. 
Though stowing away the arms can render the seat space wider, those who have wider backs may find the chair too narrow
That's why, aside from skinny users, we also see this best for adolescents, perhaps those who are still attending courses online.  Also, it will be suited for those of average height up to 6'0", but not for taller ones. 
Chairs with optional arms
Herman Miller Sayl
This Herman Miller chair can be fitted with or without arms. If you go armless, the chair can still provide that fluid and sublime back support, some even love the Sayl chair without the arms.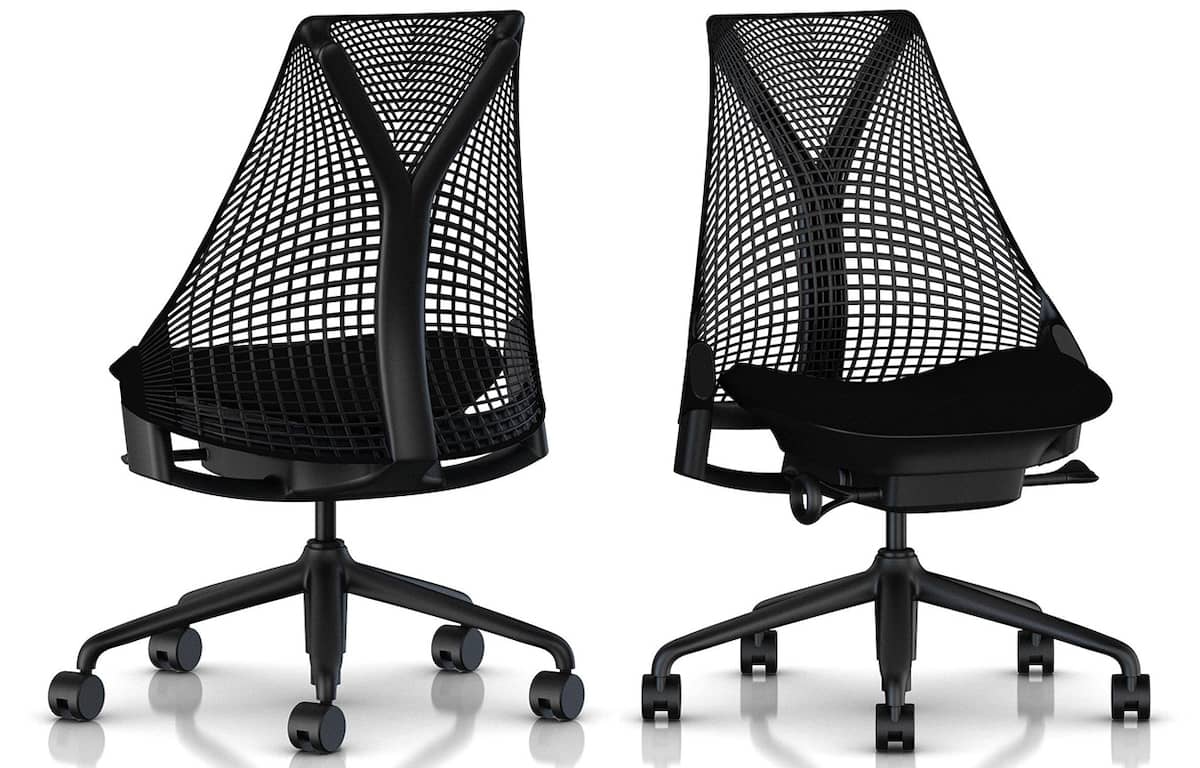 You get only stationary arms, should you want more ergonomic ones you have to shell out more. And upgrades for Herman chairs do not come cheap. That's why having fixed arms is almost the same as having armless.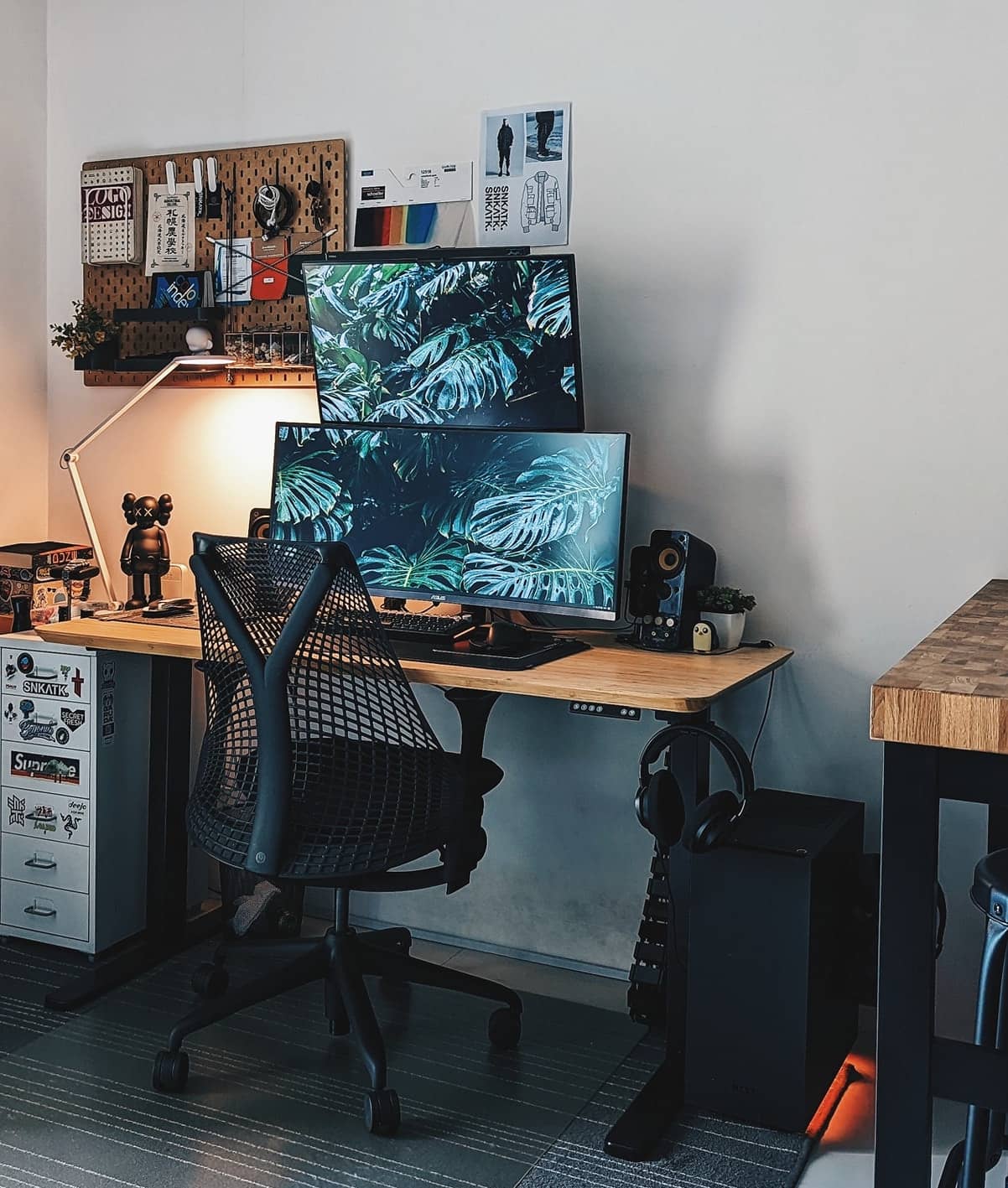 Out of the chairs on our list, the Sayl can provide the most intuitive back support. And since it is also made from a premium rubber material, it is the most flexible. And if you prefer the feeling of weightlessness while still being supported, this is it.
The Sayl has several features that make up for the above-average comfort and support for the back.  
The lumbar support for the basic unit is fixed. But it does hit the right spot. And when combined with the ingenuine backrest design and the very flexible material, some may not see the need for an adjustable lumbar.
But keep in mind that Sayl has a low back. Thus, it will be comfortable for those who stand under 6 feet, but taller folks will not be able to get the support that is as sublime.  They might find the chair too short for them. 
As for the seat width, it measures 19.5". Not here's the thing. With the arms, this might not be okay for those with wider hips. But without the arms, you may have a bit of a spillover of your hips and thighs, but it will not render the seat uncomfortable. Despite a bit of a narrow seat, those who have slightly chunky hips may still sit on the Sayl without any discomfort. 
Hon H5703 task chair
This Hon task chair features the same cushy seat that the Ignition 2.0 became famous for. So albeit a very affordable price tag, the seat feels like a premium one. Apart from that,  the H5703 is also one supportive task chair that you can use for work.
It has a synchro tilt mechanism that allows you to keep your legs planted on the ground as the chair tilts back. You will be able to recline the backrest further than the seat. And it ensures that the body is still in the proper alignment. 
The chair looks very basic,   it may even get lost in a sea of task chairs. But it can function both as a task chair and office chair. 
It is indeed packed with a lot of features. It also has a tilt lock and you can push the chair in an upright position, thus perfect for typing jobs.  You also have the tilt tension so that you have a say on the resistance of the backrest. The ability to recline the backrest and the option to adjust the tension makes it a bit akin to an ergonomic chair. 
Also, these three features make the H5703 very supportive of the back. 
The basic unit comes with no arms. But you also have the option to get it with arms. The arms are pretty basic though, it only adjusts up and down and there isn't anything special with the material or the shape.  So even without the arms, it will not affect the comfort of the backrest or even the entire chair.  
We also see it as a great seating option for meeting and conference rooms. And if you don't fancy those bulgy futuristic-looking office chairs, this is a great alternative if you're just going to sit on it for several hours. 
Why get an armless chair – Other ideas from experts
Why buy an armless office chair when you can get the benefit of 2D, 3D, or even 4D arms?
Here are some reasons why
Sometimes, the arms just get in the way
And this is often true when you're using a traditional desk instead of an adjustable one.  
You might not be able to sneak the chair under your desk if you're not using it. Especially if you have a keyboard installed underneath the desk, you will find it impossible to slide a chair. 
Space savers
Most armless chairs have a sleek and straightforward design. You can easily drag it from one room. They don't require space and you can line more chairs in a meeting room should you opt for armless ones. So it's great for spaces where you need to seat a lot of people but have limited space, such as conferences.
And since you can slide them under the desk, this will also save space and can make it look less cluttered.
More economical
Armless chairs often have a very affordable price tag compared to their armed counterparts. That's why they are a better seating option for a small business.
Even for chairs like Sayl where you have an option to get one with the arms, you have to pay an additional fee.
Though there can be an exception if you're buying flip-up arms. Whether you decide to use the arms or not, the price remains the same. 
They provide unrestricted sitting
If you often find your hips protruding from the side of the chair, you may want to opt for an armless one. Since they have no restrictions on the side, a little spillover will be okay.