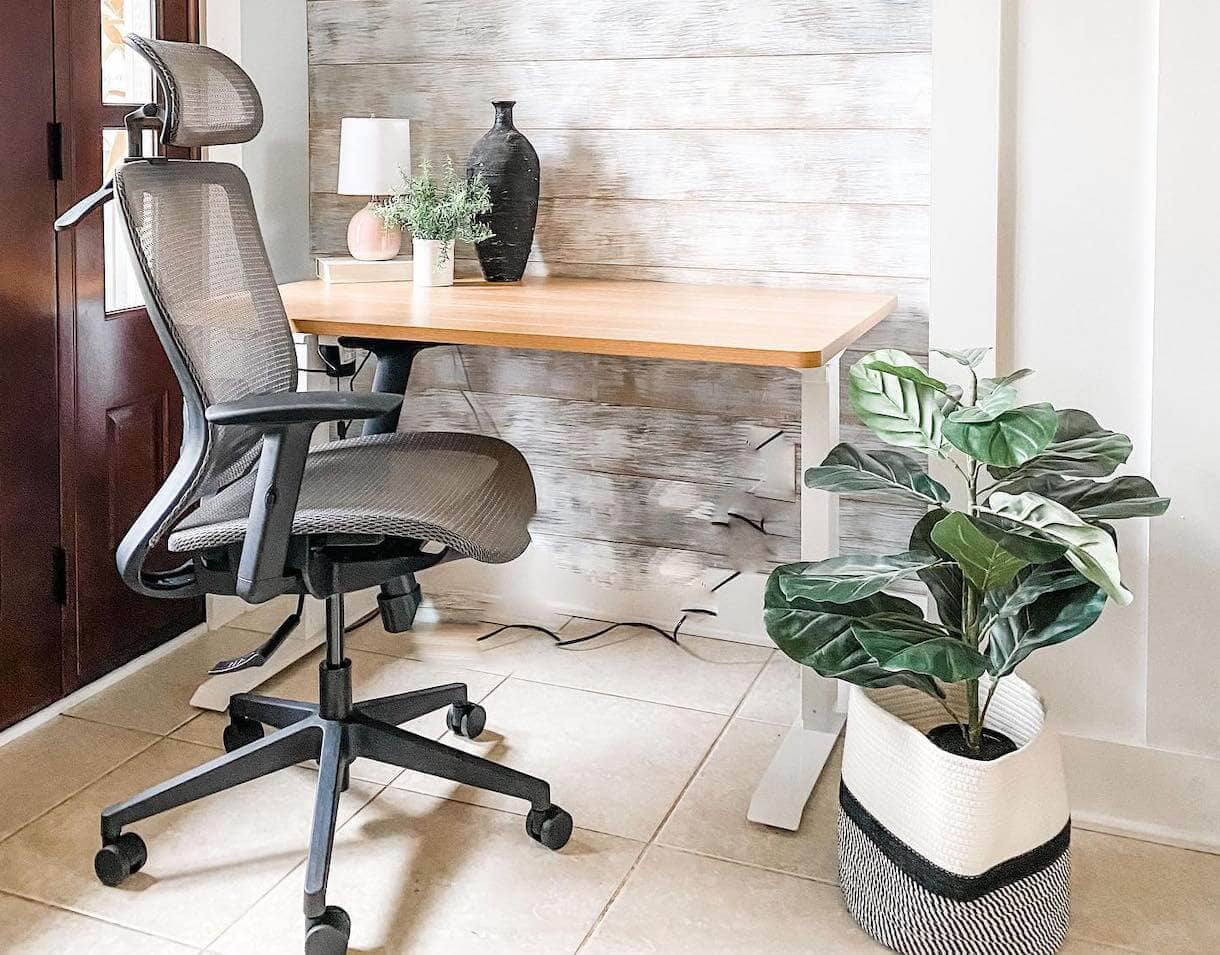 A lot of ergonomic chairs are advertised to help support your upper back and lumbar, but not all can. 
And if you are in need of some serious posture correction and have a budget of under 500 bucks, you are on the right page.
We have curated a list of our favorite office chairs when it comes to spine correction and healthy spine alignment. 
So hop in and go in for the ride. 
Check our comparison table below first. 
| | | | | | |
| --- | --- | --- | --- | --- | --- |
| Office chair brand | Height range | Weight capacity | Seat depth | Seat width | Features |
| Ergo3D Nouhaus | 18.5"-22.4" | 275 lbs | 16.3" | 19.7" | 3D armrests and adjustable lumbar system, 135 degree back tilt, 2D adjustable headrest, rollerblade wheels |
| Duorest Gold Ergonomic Office Chair | 16.8"-21.3" | 400 lbs | 19" | 19" | Removable and height adjustable armrests, dual backrest, design,  made of synthetic leather, tilt tension and lock |
| Sidiz T50 | 17"- 21" | 180-275 lbs* | 18.3" to 21″ | 18.5" | 3D armrests, forward tilt,multi limited tilting mechanism, 360 swivel, adjustable seat slide,tilt stretch adjustment, high mesh back, headrest,adjustable lumbar, adjustable depth |
| Ticova ergonomic office chair | 16.5-20.5″ | 280 lbs | 16'- 20.5" | 20.5" | High backrest design, mesh backrest and padded seat,  adjustable lumbar support  height and depth, 3D armrests, 90 – 120 degree tilting angle with lock |
| Flexispot  OKA BS9 | 17"-21" | 240 lbs | 18" | 26" | 3D lumbar support, 90-120 degrees back tilt, cushioned W seat, recline feature |
Ergo 3D Nouhaus
One of the reasons why we choose the Nouhaus office chair is because of its advanced lumbar support system. 
The lumbar support is quite pronounced and can help you assume proper posture when sitting for longer hours. 
But it's not too pushy like an Aeron. It sits in the middle of being too pushy and being lax. This can help provide the proper support without your back feeling too tired at the end of the day.
And at the same time, since it's not too pushy and firm, you will also feel cozy and comfortable. We didn't find our backs getting too tired because it had to "workout", in a sense. 
The elastomer material of the backrest also is a big plus. It feels soft, flexible yet supportive enough and it doesn't feel too hard or wirey like some mesh chairs. The mesh material offers a cradling feeling similar to some good and more expensive mesh office chairs such as the Eurotech Vera. 
And since it has 3D arms, you will be able to adjust the armrests to your needs. And this can also help you assume neutral spine alignment. 
But these chairs are quite roomy. So you'll notice that the armrests are a bit wide and far from one another. Thus, it's ideal for slightly taller and heavy users.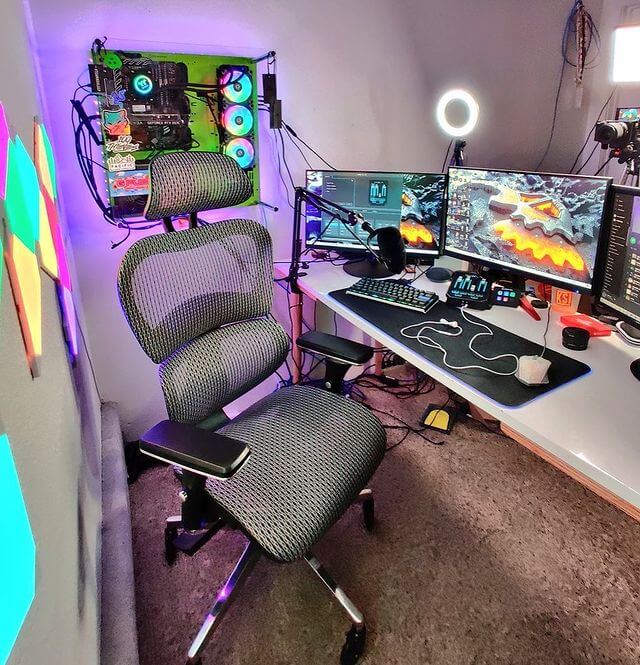 So if you're petite and skinny, you'd find that the chair is too wide and too roomy. Though it can be a good thing to have more space, you will not be able to use the arms. The arms will be too wide apart for those who measure 125 lbs and below. 
Overall, we find this office chair solid and stable. It can accommodate users who stand up to 6'1" – 6'2". It can also be comfortable for those with average height and weight. So if you stand 5'5" and lower, the seat will not be able to go low enough to be comfortable for your legs. 
Though there are certain areas where the chair could have been better.
One, the headrest is not as durable as the rest of the chair. It is 2D, but we were having a hard time locking it in place.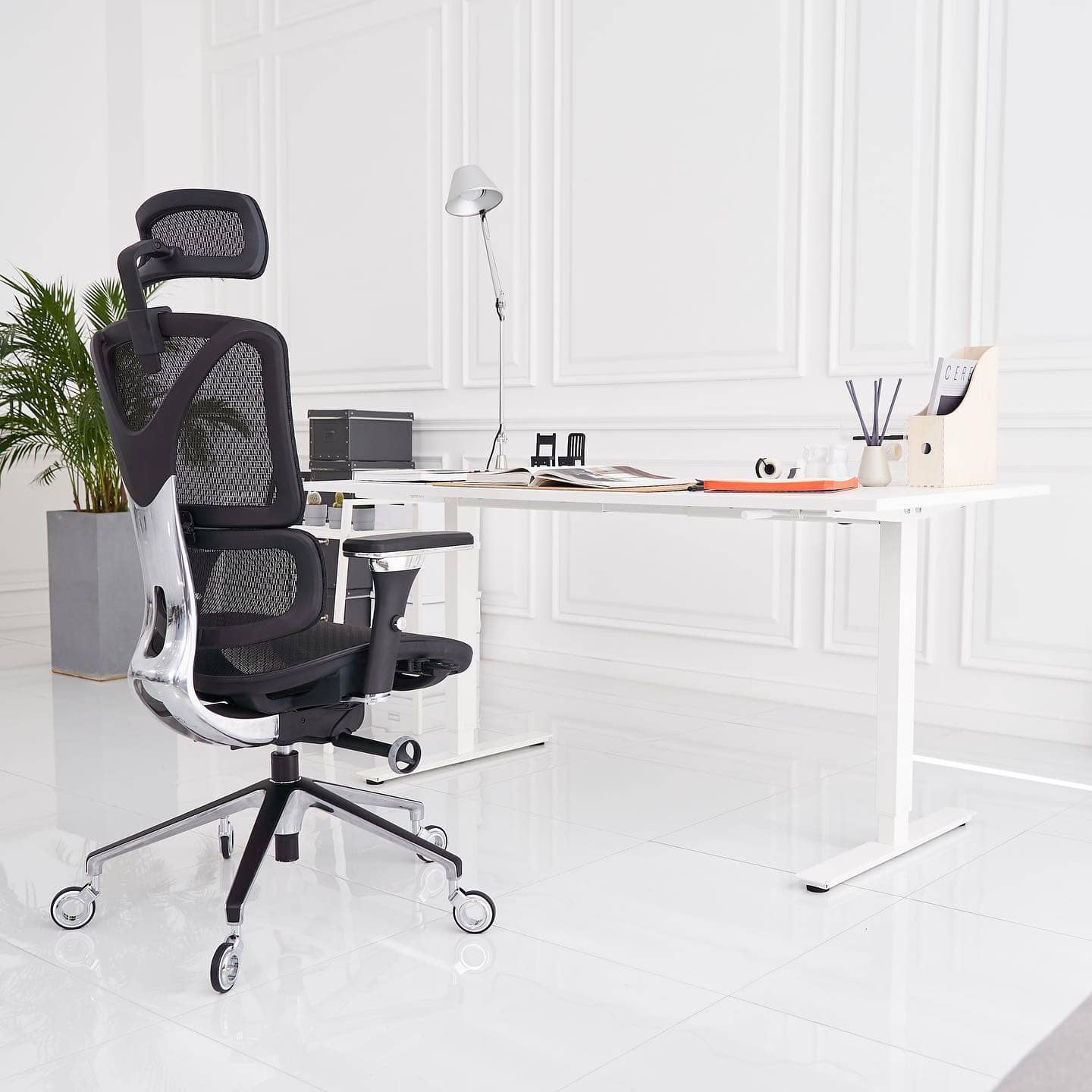 Whenever we try to push our head against it, it will fall down. So there seems to be a problem with the locking mechanism. 
And oh, one of the reasons why we are also confident to recommend this chair is that a posturologist is also involved in designing this chair. So you can be assured that it means serious business when it comes to posture correction. 
The shape of this chair's backrest conforms to the natural curve of the spine. The wider section of the back measures 18.5 " and the narrowest section, which is the lumbar measures 15". So this shape can help petite users assume good spinal positions. But the 15" width at the lumbar will not be sufficient for those who are wider at the waist.
But for petite users, you'll find that the shape of the backrest helps correct your slouching. It may feel a bit pushier compared to the Ergo 3D, but it's not too bossy like an Aeron.
And the best feature of the chai is the unlimited tilt positioning. Though you may not be able to recline the chair, the tilt positions also allow a breather. So even if it does not have a recline, you have lots of options on how far back to tilt it. 
And you can also adjust the strength of the tilt depending on your preferences. If you wait to be loose or a bit tight, you just have to adjust the lever. 
The lumbar cushion is also nicely padded, so it is quite comfy for the lower back. 
The seat depth is also adjustable. So if you are of average height or petite but with longer legs than your upper torso, you will still be able to find the sweet spot. Sometimes. It can be challenging to find an adjustable chair that can cater to petite persons with longer legs, so this will also solve your dilemma. 
One of the limitations, however, those who stand above 6 feet may find that the seat cannot go high enough for them. And the chair can creak a bit when used by heavy folks. So we recommend it for those who are of average height and average weight and petite users.   
And the chair is mostly plastic. Though it doesn't affect the look, this somehow is the cause why the chair creaks with a heavyweight. 
So even if it's decently durable, we are not sure if it will hold up well if you will maximize the weight capacity of the chair. And the cushion is also thinner so it can easily flatten out when sat on by heavy dudes. 
Duorest Gold Ergonomic Office Chair
This unique office chair is underrated. And you may not have heard it or read about it before. But it can indeed help you assume a healthy and proper posture when working on for longer hours.
It has a unique backrest design. It has this dual backrest that movies on the X, Y, and Z-axis. It feels quite similar to the butterfly backrest of the Mirra 2, except that the Mirra has a single butterfly backrest and it has more of a premium price.
We find the dual backrest very supportive and cradling for the back, especially the lumbar. It can help correct your posture without being too pushy, even if you have been sitting for the whole day.
And oh, this chair is designed to be sat at a 135-degree angle. While it has been a common perception that an upright 90-degree angle is a perfect posture, some don't find this to be comfortable at all. It can push the lumbar inwards and cause soreness and back pain. So this chair can also help prevent back pain.
And it also has a tilt lock so you can also switch to a more relaxing zen zone whenever you want. 
The combination of the Y-shaped back design and dual butterfly backrest can help you achieve a neutral spine position. These are also sufficiently padded, soft but not too firm nor too cushy. So it can satisfy more users' definition of comfort. 
This chair is sufficiently adjustable, but it is a chair that you need to dial in. There are several adjustable knobs, but it is too tight. So this can be a turnoff for some users. 
TICOVA ergonomic chair
What made the TICOVA office chair land on our list is its 3D intelligent back. 
Looking at it from the front, you will not see anything unusual. The shape doesn't have a pronounced S curve, though it is slightly S-shaped. 
But look at the back part of the chair, you'll be able to see the unique design albeit small and not fancy-looking like more premium office chairs such as the Fern has, it does its job.
We also love that it's not too firm, nor too loose. It offers the right amount of support without being too weary for the back. So it can appeal to the comfort level of most people. And oh, it has a Posturefit Support, similar to what Aeron has. So in terms of proper posture, you're fully covered. 
And you can adjust the height and the depth of the lumbar support. This is a nice addition since most ergonomic chairs only have a height-adjustable lumbar.  
It also has a wider seat height range so it has a wider scope of users.
One of the downsides, however, we find that there is too much play when the back is reclined. It feels a bit too wiggly for our liking. Thus, we recommend it for users with average weight and height. The wiggle and the wobble can become stronger when sat on by someone heavier. 
Flexispot Oka BS9
The Flexispot BS9 has more of a rather basic and unflattering design, the arms and the lumbar support are not adjustable. But it also comes in a bright orangey hue, so it's sure to pop out.  
And despite having basic features, it does help you correct your posture. It has something to do with the design of the backrest and the technology that lies underneath.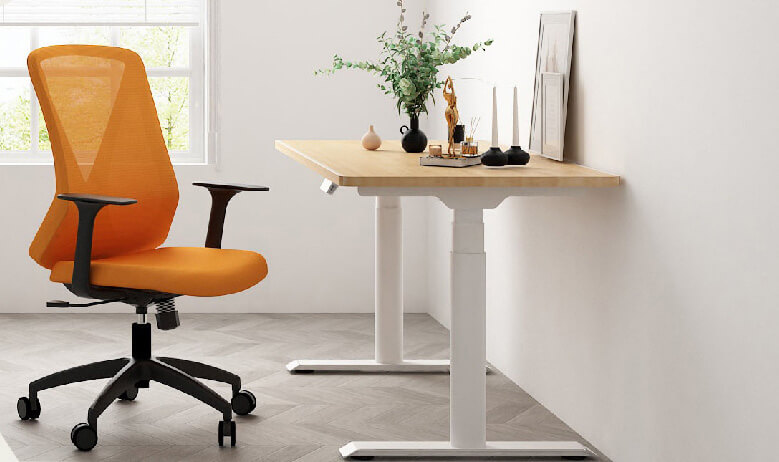 This chair has a 3D lumbar support system. It means that the chair can support the gap between the upper back and the lumbar. This can prevent you from slouching while providing decent back support. 
The backrest meshes and the seat is made up of a thick and very comfortable cushion with a mesh material. So we find it very cradling for the buttocks too. This is also one of the more cushy chairs that can offer decent support for the spine.
It's also one of the few chairs under 500 dollars that has a functional recline. You can recline and lock it in position. So it can offer a pretty cozy haven when you're taking a break. 
The downside is, among our other choices, it may have the weakest lumbar or lower back support. So this is more of a light-duty office chair when it comes to posture corrections. Thus, best used for a few hours.
So if you need more serious support, other options can indulge you such as the SIDIZ T50 and the Ergo Nouhaus.
How did we choose these office chairs?
Our top picks help you keep a neutral spine position for optimum spinal health. So even if you're working for the entire day or just need to finish a task for a few hours, we have your back, well literally. 
But while several adjustable features such as the arms, lumbar support, and seat depth are crucial in making a chair supportive for the spine, there are also other factors that we considered.
We also took into account how the backrest was designed and the underlying technology that can help you assume the proper posture, even if you are going to sit for the entire day 
The chairs can either mimic the shape of your spine or have a live back technology, or adjustable curved backrest system. For instance, the TICOVA office chair may not have a pronounced S curved back, but it does have an intelligent back system and PostureFit support, the same as what you can find in an expensive Aeron.
And the Duorest Ergonomic chair may only have fixed arms, but it does have a very unique dual back design that can support proper spinal alignment.