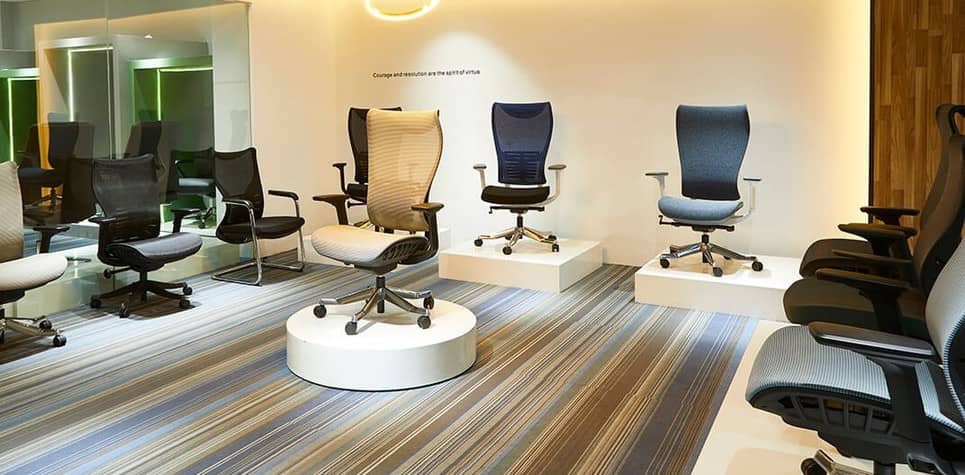 When it comes to office chairs, there is no one-size-fits-all for everyone.
Some people need chairs to accommodate their height a bit more than a standard chair might be able to offer. For example, many chairs are big and tall, only left to accommodate users that have a taller or wider frame by having a wider and deeper seat pan and taller chair backs.
The problems with petite people are much bigger!
One of the shorter people's problems is finding an office chair that can go low enough for them. And if you stand below 5 feet, the challenge is greater. There are not many options in the market, ergonomic enough, to say the least, So a task chair or a drafting chair with a footrest may seem like good alternatives. But they lack the ergonomics.
Is your 5-feet flat height making it difficult for you to find a comfortable office chair? That wouldn't be a surprise. In a recent survey by our testers in California, the average height for American men is 5'9 while 5'4″ is the standard for women. And almost all office chairs in the market today cater to the standard height or even taller. 
For a short person, you might have your legs suspended from the seat. And this can cause strain on both your legs and back. The too-high seat height always cuts the circulation of your feet. Even the best ergonomic chair could be torture for your legs and back if it's too tall for you.
In this post, we have compiled a handful of office chairs shorter people can find comfortable. And the good news is, not every chair is over $1k
Let's see some budget options on the table first!
And we won't miss any high-end chairs. But they will show up later!
What is a good seat depth for a short person?
A good rule of thumb is that a seat depth of 16-18 inches is generally comfortable for most people. For those who are shorter in stature, a shallower seat depth may be more comfortable, while taller individuals may prefer a deeper seat. Ultimately, it is important to choose a seat depth that feels comfortable for you.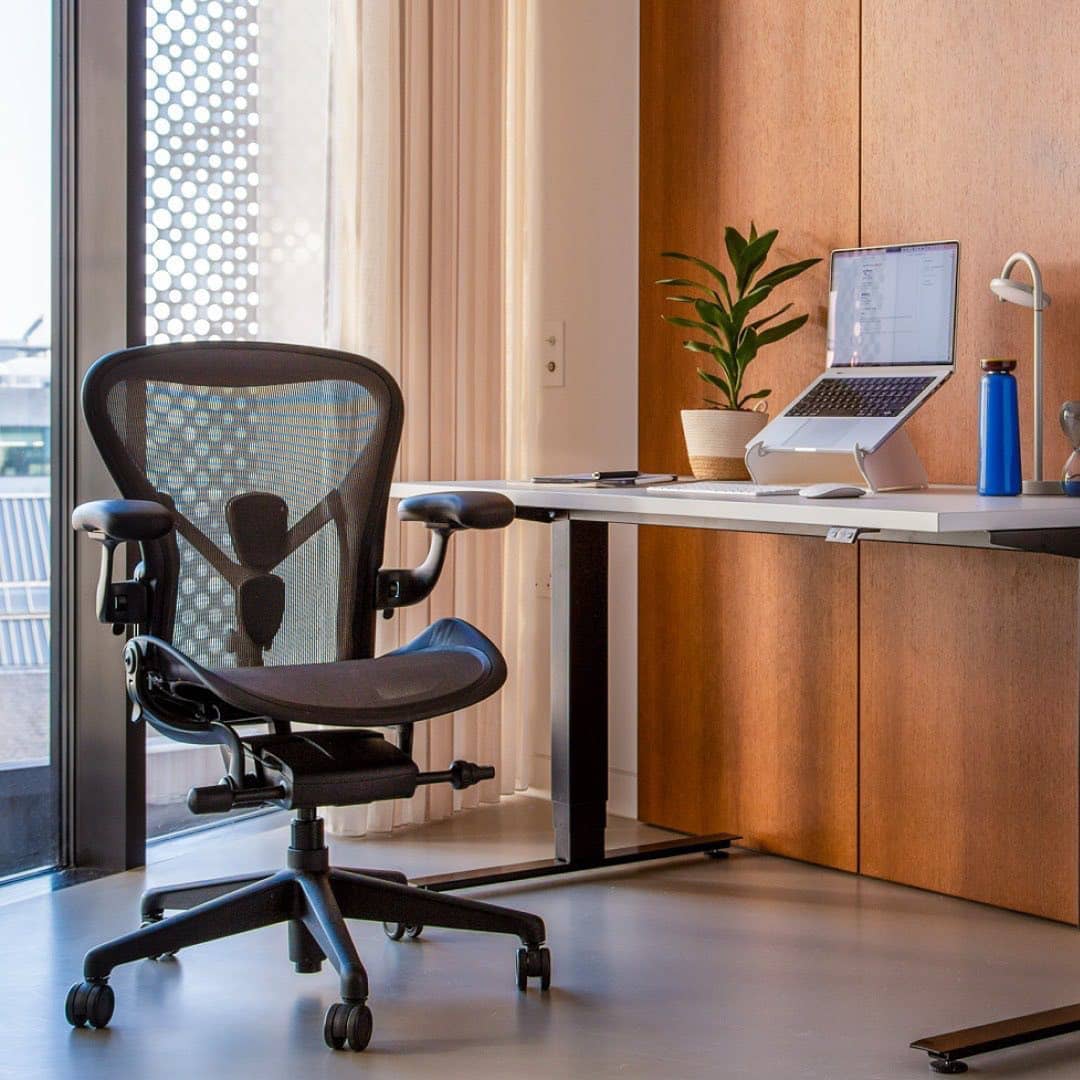 To give you an idea of measurements, the seat height for petite chairs usually ranges from 20-23″H. The back height for standard chairs can range anywhere from 21″H to 27″H, while the back height of petite chairs is typically around 21″H. The best office chairs for short professionals that we'll highlight in this article usually feature a back of 21.4 inches.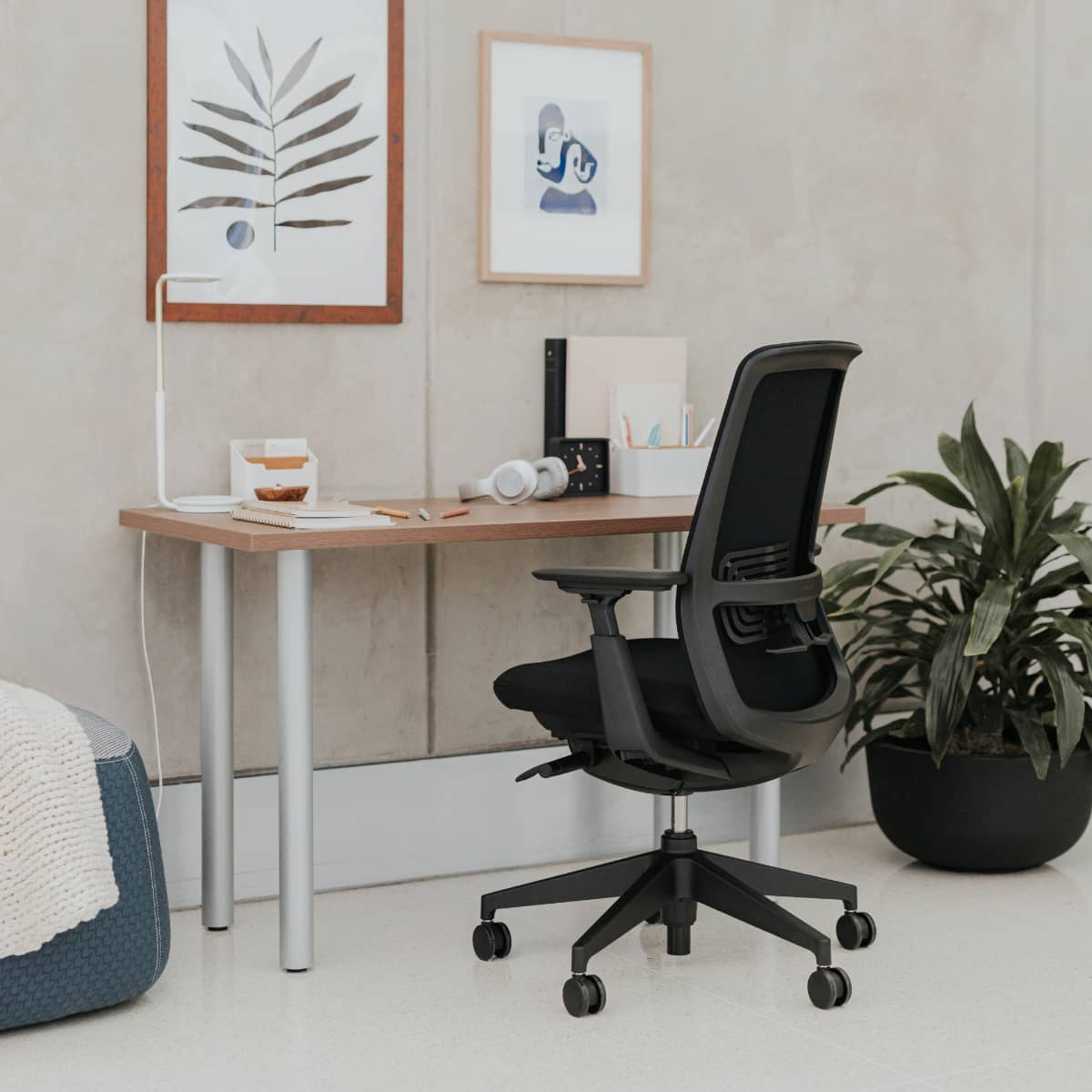 For shorter people under 5 feet, you would need the chair to go down to at least 16 inches. This will enable you to sit comfortably with your feet flat on the floor and your arms at a comfortable 90-degree angle with the desk. Otherwise, you will have your legs hanging from the seat and this can cause back and leg pain and numbness.
And if all else fails, you might just have to use a footrest, which is not so bad, but that would mean more cost. Most office chairs have a minimum height range of 17" or 18" and this is too high for petite people. Unless you have a standing desk, otherwise, you should avoid them
Top 15 Best Office Chairs for Short People
On our latest list for 2023, the top #4 picks are high-end products, such as Herman Miller Aeron or Steelcase Amia. But we understand that not everyone can afford $1k+ to spend on a luxury chair, so our experts also test & recommend other budget options. The other chairs on our list are available for those who don't want to break the wallet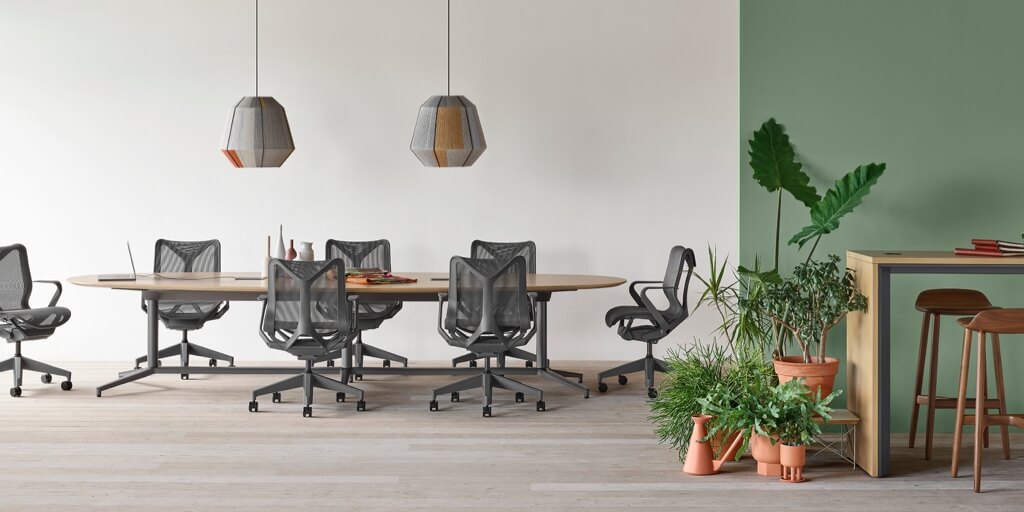 If you have read our review, you already know the reason why Are Herman Miller Chairs so expensive? But forget about the price, focus on the quality, it's really worth any cent
Because Herman Miller is one of the best ergonomic chairs in the market that provide great lumbar support. And it's nice to see that the brand has a chair that's perfectly suited for petite individuals. 
The Herman Miller Aeron chair size A can comfortably seat individuals with a height range from 4'10 inches to 5'9". You get the same comfort and luxury that this US brand offers. It has several features that make it a very comfortable office chair.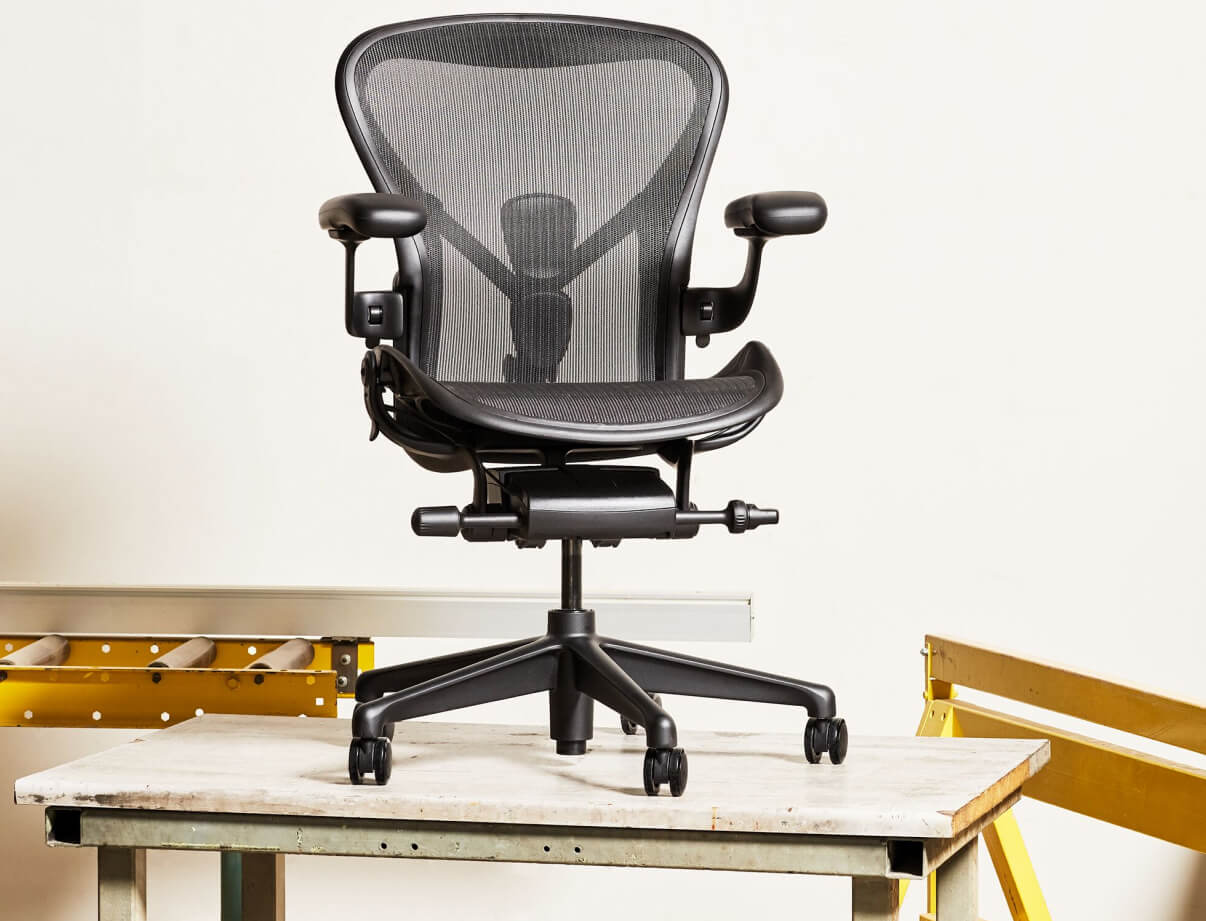 The back and the seat have webbing. And this provides the chair with good ventilation. And it's quite customizable too. The brand's website gives you options for upgrades. So you can choose to add any of these for an additional cost:
Adjustable lumbar support or posture fit SL

A tilt limiter and seat angle

Height-adjustable arms or fully adjustable arms or you can opt for the built-in stationary ones

A choice between leather or standard armrest

Carpet caster wheels

Check price

of Aeron
These nice upgrades make this Herman Miller Aeron chair even more comfortable. And what's nice about it is that you have options on whether to get it or not depending on your needs. And of course, that's with your budget considered
All in all, it's a perfect ergonomic chair if you have the budget for it. It's adjustable where you need it to be.
Pros
Durable polished aluminum legs

Has customizable features

Breathable backrest and seat

Offers 12-year warranty

Great recline function

Comes in fully assembled
Cons
The seat may not be comfortable for some who are looking for more cushion

Doesn't offer seat depth adjustment

So pricey
Because this chair is so expensive. Sometimes you may think of a remaster Aeron. That's not a bad idea but you should be aware of the fake unbox Aeron. If you don't want to regret when spend your money somewhere else or with unknown dealers, check this post carefully: How to Spot an Authentic Remastered Aeron Chair
Read reviews of true users on Herman Miller's community
Some people like Aeron because it's more comfortable compared to the Embody and the rocking motion is better too ===>>>> source
This high-end office chair boasts 16 adjustable features. And that could offer a lot of comfort for those who are petite. 
It offers adjustable options for the following features and short people will surely find the sweet spot. 
You have three options for the backseat- mesh, mid, and high back. The mid and high back are adjustable.

For the seat style, you can choose between petite and minimal contour.

You have an option either to get the two-way adjustable headrest or the adjustable neck rest.

 There are 7 types of caster wheels to choose from.

If you fancy memory foam, you got that choice!

 DIY or fully assembled? You choose!

You can also add on a thoracic support cushion and inflatable lumbar support.
Among the adjustable features, there are 3 which are quite important for petite individuals. First are the adjustable seat depth and height. The lowest seat height adjustment is 15.75 inches while the lowest seat depth adjustment is just around 15.5 inches. That's very comfortable for someone who stands at 5 feet.
Secondly, the adjustable armrest offers 360-degree rotation. The brand's armrest, which is referred to as the 5-way arms, is perhaps the most adjustable in the market. And Neutral Posture XSM is known for this feature.
Another icing on the cake is that it gives you options to customize your chair or add upgrades to it. So you're buying a chair that you really need. You're not just settling for what is built-in or lacking. You can also choose from 3 different lumbar supports.
In a nutshell, it's specially designed for the most petite. Its highly adjustable features can accommodate even those who stand below 5 feet.
Pros
Has 13 adjustable features

Highly customizable

5-way adjustable arms

Comes with a Fring footrest

Comfortable cushioned seat

Has an inflatable lumbar support

Offers 2-seat back style (mid or high back)
Cons
The many customizable features may be confusing for some
Where to buy 
Steelcase Amia – best office chair for short heavy person
Steelcase Amia is a high-end office chair brand that's suitable for the short and heavy.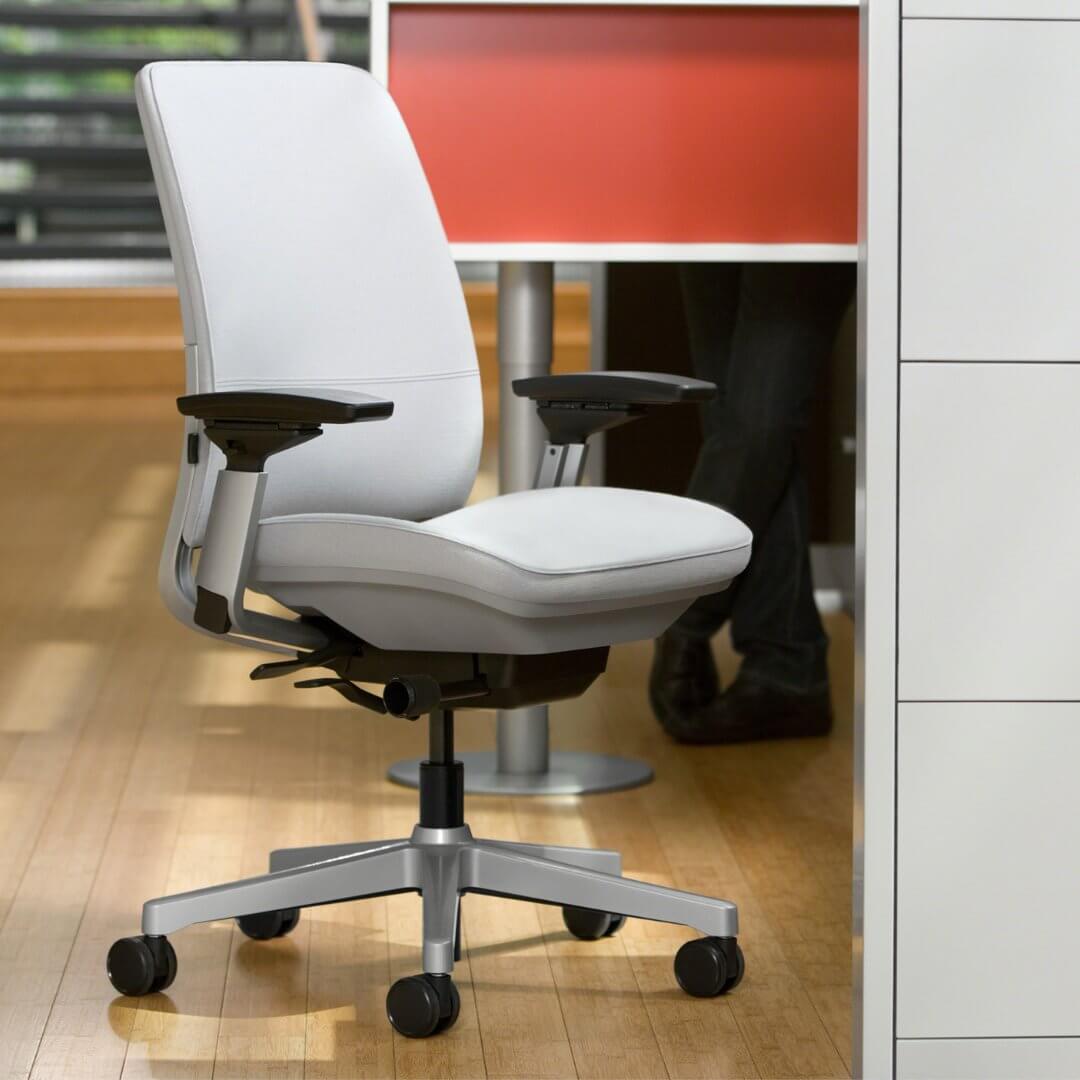 Compared to the more popular Steelcase Leap V2, the Amaia has a significantly lower price. And it's the perfect Steelcase ergonomic chair too for petite people. 
And what makes it stand out from other office chairs is that it has a seat depth adjustment. Most office chairs lack this option. And this is an important feature for those with short legs. The chair height status is 16 inches but it can go a bit higher to accommodate slightly taller people.
Amaia boasts of some features similar to Steelcase Leap. It has the same 4D adjustable armrest, that the brand is known for. 
Another advantage is that you can configure some specifications of the chair. You have fabric options. You can choose to have it sewn, upholstered, or go for the leather. And a mesh backrest and seat are also available. 
And lastly, it's known for its LIve Lumbar technology. This offers great back support for people of all stature.
In conclusion, it's a high-end chair that has high-end functions too. The comfort that it can give you is well worth it.
Pros
Has seat depth adjustment

4D armrests

Offers a 10-year warranty

Features a Live Back technology for optimum lumbar support

Comes in fully assembled
Cons
The slight tilt may not be for everyone
Where to buy
Aeron drafting stool Size B
Like the ergonomic chair, the Aeron stool is pretty comfortable for petite persons.  But unlike the Aeron chair, it does not offer 3 sizes. It instead goes only by a single size and it is tantamount to the Aeron chair B size. Albeit having only a single size, a lot of petite users will find this drafting stool comfy.
It lacks a headrest, but the Aeron stool doesn't need one. Because the chair is quite flexible and can support your back as you move. You might not miss having a headrest at all.
Of course, for the quality, this is two thumbs up. And you can also expect almost the same functionality and comfort as you could get with an Aeron chair. But this has an additional foot ring at the base. Thus, this drafting stool is also perfect for working on bars.
The foot ring may be different from a footrest, but you can still find a nice retreat for your feet. And this stool might be pricey, but hey it's still a Herman Miller product. With that said,  you can expect sublime back comfort. It's a flexible chair with premium quality, so it can last longer than other chairs on this list.
This is a perfect fit for you if you do not really need to recline but just have something to rest your feet against. And you have the features of the Aeron chair. So if you have back issues and need serious back support, this is a good choice.  Among our top picks in this list, the Aeron Stool can provide the best lumbar support. So petite users with back problems will benefit the most from this stool.
SIDIZ T50 is another highly adjustable ergonomic chair suitable for short people. And it has one of the loveliest designs on the market too.
The biggest need for petite people would be the adjustable slope and seat depth. This allows you to configure the chair to your height. One of the challenges of petite individuals is the lack of adjustments. And this chair has almost everything adjustable.
Another advantage is the S-shaped backrest. Though the backrest isn't adjustable, the lumbar support is fully integrated with the chair with the curved backrest. It mimics the natural curve of the spine. And you can adjust how much it tilts forward. 
And also, it offers a comfortable reclining seat. The multi-recline function offers 5 ranges. It's easily adjustable too and feels quite stable. There may be a slight creaking noise when reclining this seat, but it's nothing too bothersome. 
All in all, it's a stylish and affordable office chair for petite people. If you're loving the Herman Miller Aeron design but find it too expensive, this is the best alternative. 
Pros
Breathable mesh back

Slope and seat depth is adjustable

Fully adjustable armrest

Has a multi-recline function

Integrated lumbar support with an S-shaped backrest

Has a 360-degree swivel function

Easy to assemble
Cons
Though breathable, the mesh backseat doesn't look like it could last

Not for those looking for an office chair with a cushioned seat
Where to buy
We have lined up a few office chairs for short person with neck pain problems that you'll find comfortable. And these have a footrest or a foot ring at least. 
A kid's chair for adults? Yes, you heard it right. This is the only kid's chair on our list that can be used by petite adults. It might be, in fact, the best option for those who stand below 5 feet. 
The SiteRite Ergonomic chair may lack adjustable features and may not have adjustable armrests. But the way it was designed was meant for the user to achieve proper body alignment.  And the armrests are rounded and it is surprisingly comfortable. We also love the soft cushiony seat and the backrest.
The footrest can be detached. So if you want to maintain the optimal 90-degree angle position but find that your legs are not touching the floor, you can attach the footrest and it will help your body achieve the optimal position.  The footrest comes in the form of a semi-half foot ring. So this is not a reclining office chair, in case you thought it is.
The chair contains only a few adjustable features such as seat height and seat depth. As such, it has a unibody design. The downside, since it has a unibody design, it's whether you fit in the chair or don't.  But this unibody design with the soft cushions is what makes this chair very unique. And oh, the back support is rather good too. 
Modway Edge is one of the best options for an affordable office chair for the petite and chubby.
It's built with heavy-duty materials and can support a weight of up to 300 lbs. It has backrest dimensions of 19 x 19.5 and seat measurements of 18.5 x 19.5. These are the sweet spots of comfort for short people. 
The entire build of the chair is durable. It's made of an iron frame and uses vinyl materials for its upholstery. But the trade-off is with the seat itself. It's comfortable and cushioned. But the vinyl cover and sponge tend to deteriorate quickly.
Though the lumbar rest is quite comfortable. It has a curved shape that follows the normal shape of your spine. Though it can't be adjusted, it can follow your spine's movement. And in addition, the waterfall design seat adds comfort to your legs. 
It also has a synchro-tilt mechanism that's quite convenient when you want to recline your seat. You can have your legs comfortably flat on the floor while in a reclined position.
Though it can't be fully reclined and it feels more like a subtle rocking than reclining.
In a nutshell, it's a heavy-duty chair for the short and those who are on the heavier side. It's also one of the low-priced stylish office chairs in the market today.
Pros
Heavy-duty materials that can last long

S-curved lumbar support

Flip-up arms

Breathable mesh back

It has a synchronized and tension function. 
Cons
The armrests aren't adjustable

The cushioned seats easily deteriorate
Where to buy
HBADA office recliner chair
The HBADA recliner chair has a mesh backrest and headrest and a cushioned seat. For a first, the package was already pretty impressive, so a good start.
All the parts felt quality and had a bit of heft to them. And it came in one big box. It's also easier to set up. The instructions were clear and there were also illustrated step-by-step guides on how to install the chair.
And we love the metal base, it does feel quite sturdy. The foundation of the chair is quite dependable so you'll know that it can last for years. For the comfort of the seat, we love the combination of foam and mesh. It lets you enjoy the best of both sides.  
And the padded seat is sufficiently padded, but it's not too soft.  Though it's a bit on the firmer side, some users might find it quite thin. So this might not be for you if you need a more cushioned seat. 
Also, the mesh material of the chair is a bit tough compared to other mesh chairs. So you would not want this chair if you need something softer for your back. But we do love the adjustable lumbar support. It functions as advertised.
And oh, this chair ticks almost all the boxes on our list. For an affordable price, it offers almost the same set of features as other more expensive chairs. It can also recline up to 155 degrees. And when combined with the footrest, it will be sublime. The leg support function is pretty stable too. It does not have any give so it will not sway unintentionally. 
And petite users will find this chair very suitable. Even if you recline the chair further back, the seat will remain flat. So your legs will not dangle from the front edge of the chair. 
We also love how the headrest has tons of adjustments. It can cradle your neck even if you're in an upright or fully reclined position. And it locks in place and doesn't move unnecessarily.
Overall, this chair is very comfortable. It can offer more features compared to how it is priced. But be prepared to wait for a longer shipping time. You will not be able to get this chair on your doorstep asap. 
This chair stands out because it has a hefty set of features that you can enjoy at a very fair price. And it's a reclining chair, so you can take a snooze.
Flash Furniture high back office chair with footrest
The Flash Furniture chair features a foot ring instead of a footrest.  We included this type of chair on our list because it can still provide comfort for your tired legs,
And the Flash Furniture high back office chair is pretty comfortable too.  It does not have adjustable lumbar support but the curved S-shaped backrest supports the shape of your spine. The chair does push you to sit in an upright position. So it can be a bit on the firmer side. 
The seat is also meshed and has a sloped waterfall front edge. So your legs will not feel numb after a full day's work  And you can use the foot ring to rest your feet for a break. This is not a recliner chair but is still very comfortable for most users. We even felt our back supported and there was not any pain after the entire day. 
And the arms are flip-up type. So you have an option to stow them away in case you need more room on the sides. This can be a yay or a nay depending on your preference. But surprisingly, even with the lack of adjustable features, it provides very decent back support. 
The downside is, it's not the most durable. That's why this is only for petite users. Those on the heavier side will find that the chair creaks with every move.  So if you like lots of lumbar support without shedding too much money for an Aeron stool, this is a great option. 
Sidiz Ringo
Sometimes, the more petite ones have to go through the kids' section to get a suitable pair of jeans or a shirt. And the same thing goes with an office chair. And there's absolutely nothing wrong with that. 
To be honest, it can be rather challenging to find one if you are below 5 feet. That's why DIYs such as adding a footrest is the more common solution.
Budget-wise, Sidiz is a brand known for its sufficiently ergonomic yet affordable units. So budget-savvy ones will be happy, especially those who need more ergonomics in their chairs. 
Ringo looks very perky and cool. It can blend well in a minimalist room with white interiors. Aesthetic-wise, we're loving the vibe it is giving out. 
The backrest can be adjusted in 4 stages, this is to give room for the growing child. And as an adult, this gives you four ways to find the most suitable position and angle for your back. The seat depth can also be adjusted in the same manner.
The Ringo will be comfortable for those who stand from 3.6 ft to 5.2 ft. And oh, it also has a built-in footrest should you need to have a surface to rest your foot against. It will give you more liberty in movement, especially if you're working longer hours.
Senator Dash 
If you're shorter, you'll still be able to find an ergonomic chair that you can adjust to suit your preferences. Like the Ringo, the Dash chair gives you additional possibilities to find that sweeter space for your back and legs.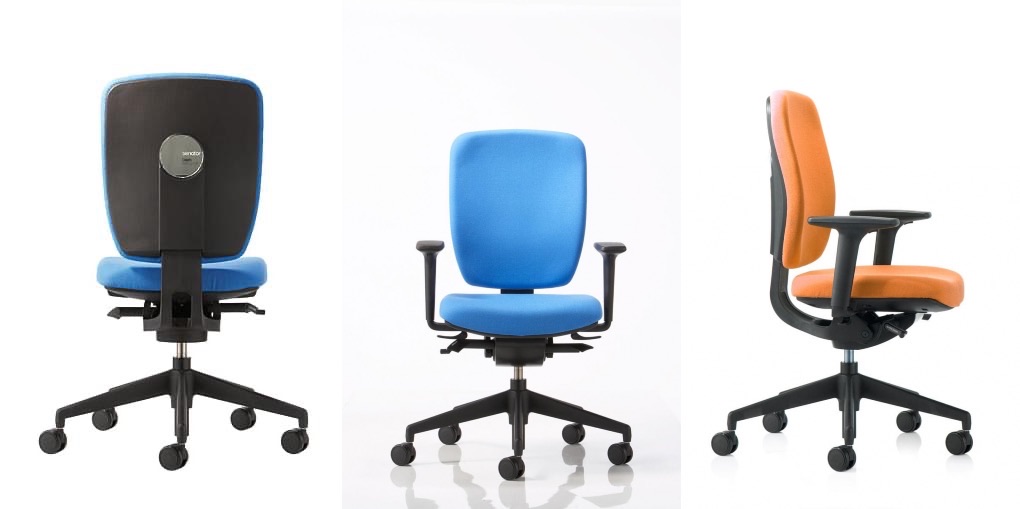 This petite chair has adjustable features the same as any standard-sized office chair. You will be able to adjust the seat depth and height. And if you need additional lower back support, the adjustable lumbar works decently. The combination of the adjustable seat depth, height, and lumbar can accommodate more petite users with varying leg lengths
It also has a synchro tilt mechanism that allows one to get into an active sitting position. Even for a standard-sized office chair, you don't see this feature that often.
Aesthetic-wise, it looks clean and simple and resembles much of a task chair. But you'll have more liberty in fine-tuning the chair to your comfort. The seat and backrest are padded, not too thick and contouring, but decent and comfortable enough.
It has a total of 9 adjustable settings that you can tinker through. You would also be able to tilt the chair forward, back, or rock it. So it can be amenable to micro-movements at the same time. Thus we're seeing this as quite suitable for working longer hours. It can break that monotonous sitting position.
OM Paramount Petite 
This petite char resembles the Dash chair except that it has more of a rounded d backrest. it can also be adjusted to suit your needs and dimensions. You have the adjustable seat depth and height, which allows you to get into a more specific spot where you can work better without straining your neck, back, shoulders, and legs. Even shorter people may have longer legs than the upper body, so an adjustable seat depth may also be one of the factors you must consider. This enables you to find that workable space for your legs and lower back.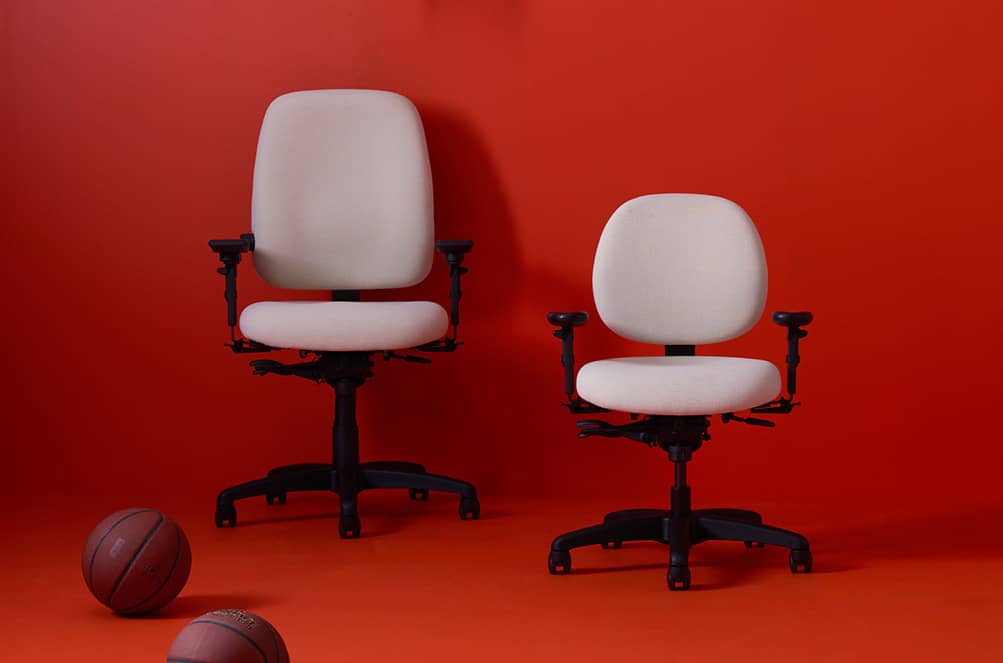 Also, the backrest and seat are quite cushy and thick. So while it may resemble a regular task chair, it definitely feels more comfortable and softer.
Avo Chair
This is quite a chair that looks like half of an avocado. So aesthetic wise we're all covered, plus points for creativity there. This quaint and cute chair can also be a quintessential item in your home office. It had this rather comforting charm that just makes you want to sit back and relax.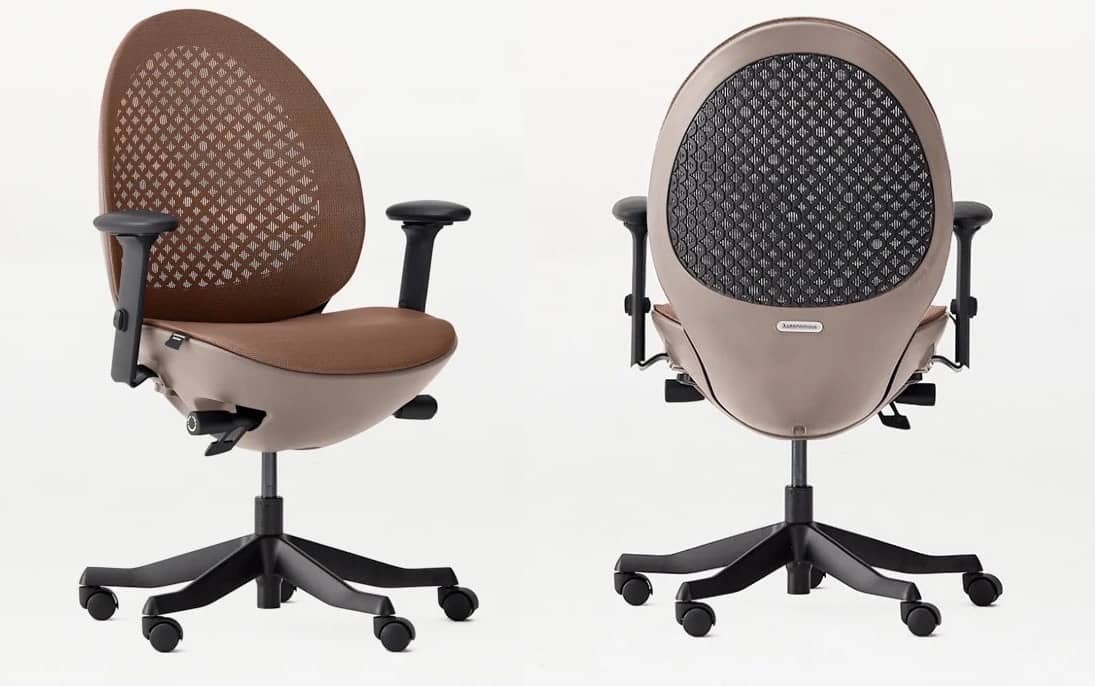 Ergonomics-wise, it's not a lot, but you'd still get the basic functions that you need to get yourself into a comfortable sitting position. You'll be able to adjust the seat height, and the armrests, it also has a back tilt and tension. So take note that the seat depth is fixed, so it's better to lounge by the chair first before buying, especially if you have longer legs.  
Kerdom
This mesh chair satisfies petite persons who are looking for a more breathable office chair. It also has a more affordable price compared to the other options above, so this is the most budget-friendly choice. 
It might lack an adjustable seat depth, but you have the basic adjustable features such as the seat with range, a tilt, and a recline. So you can still infuse mini movements into the chair within the day. It also has a lumbar bar that can offer sufficient support should you be working for longer hours. Though it might be best if you have serious back concerns, it will suffice if you just need basic back support. And for its price, you will not be able to complain. 
What is important for a Short Person
There is no set height that you have to be, however, it's important to keep in mind your ergonomic office chair should fit you comfortably. This includes the seat height and the distance between where your knees bend and where the end of the chair is. It's best to have a little bit of space between the end of the chair seat and where your knees bend. Your feet should be able to touch the floor.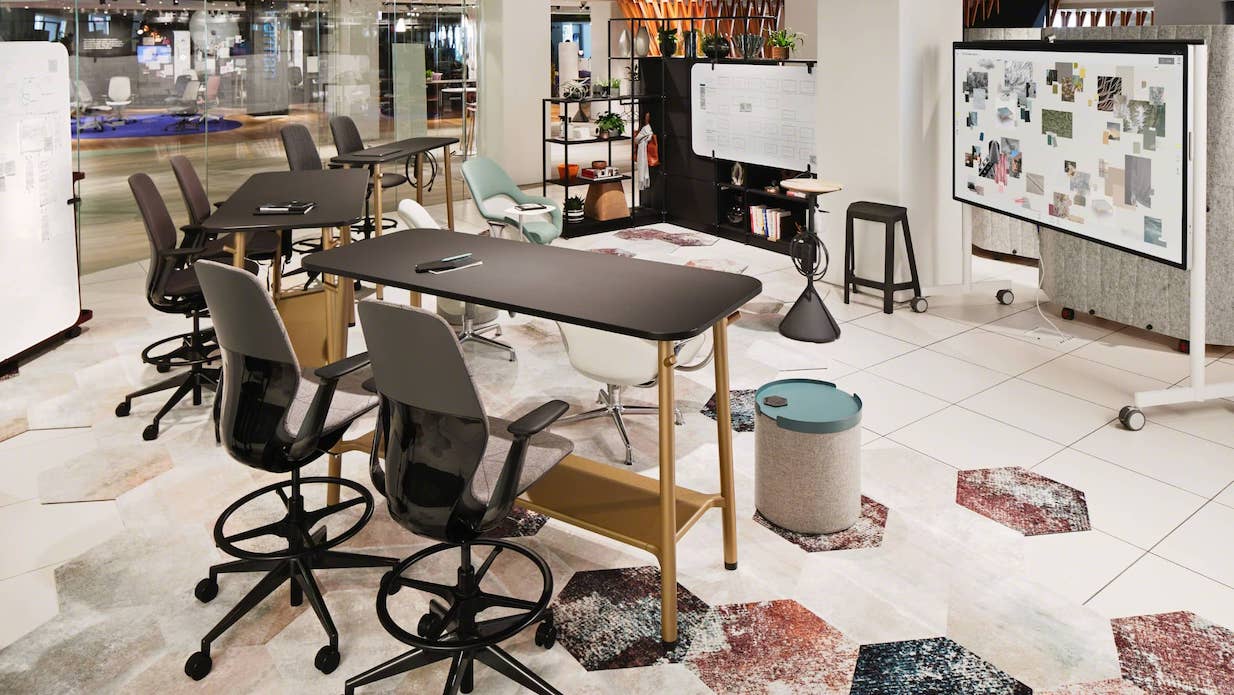 Getting the right height adjustment will set your hips and low back in as healthy a position as possible for the activity of sitting as well. The hip position you establish when you get the height adjustment right provides a starting point for all the other chair adjustments. If you are short, it can be increasingly difficult to find a chair that has the correct height adjustment for the chair's seat. Once you've got the height so that it fits with your frame, the next adjustment to make is the seat depth. Why? When made correctly, the seat depth adjustment enables you to access support from the chair back without cutting off circulation at your knees. Seat depth measurement is about how far forward your body is – an ideal seat depth is one that positions you with as much comfort and support as the chair can give. With the chair supporting you properly, your body does not need to work as hard to keep you upright. If you are short, the ability to get support to sit upright from a chair on which you cannot reach the floor is nearly impossible.
Finding a good recline feature can also be difficult for short people. Depending on your chair's features, reclining can often be a problem if it has fixed-tilt tension. This is mostly a problem for lighter-framed users who find themselves fighting their chairs when trying to recline. Once again fixed-tilt tension is designed to suit the weight of an average-built person and is much too stiff for lighter people.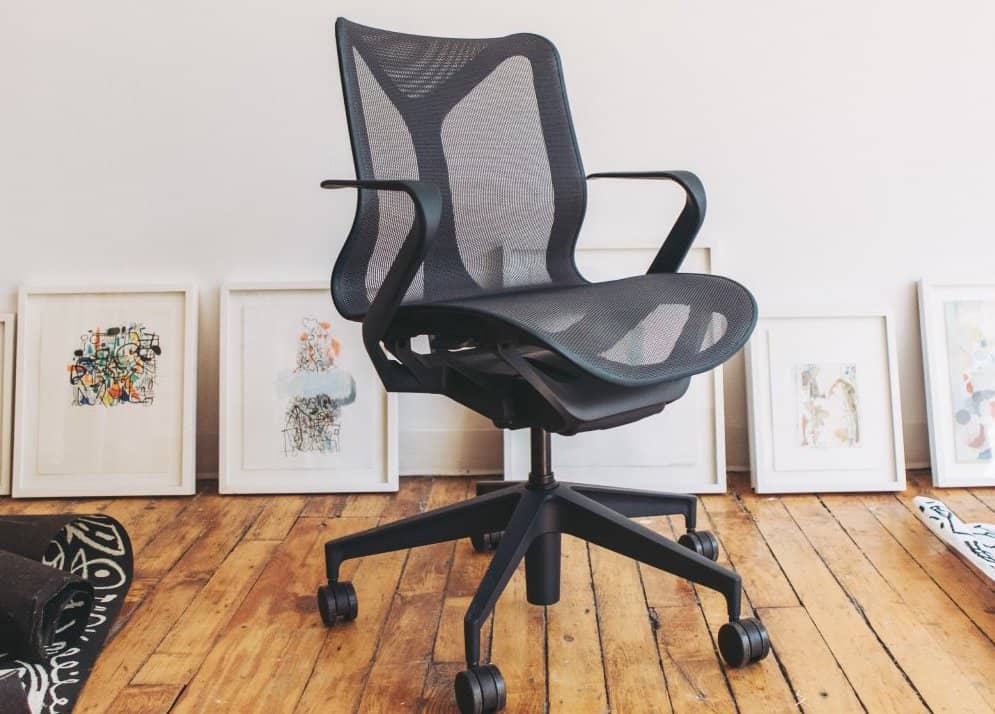 Make sure any chair you consider has either adjustable tilt tension or adjusts automatically to individual user weight. Typical weight ranges start at 100 lbs and go up to around 250 lbs.
Seat depth is also another key adjustment missing from far too many chairs. Without it, it's often difficult to gain good leg comfort. Unfortunately, there is no simple workaround for fixing this. Low-cost budget office chairs are highly unlikely to be suitable for petite users as they lack the adjustments and flexibility needed to achieve good working task chair comfort. The best part is thanks to technological advances, you do not need to spend $500 on a great office chair for short people. There are options available for short professionals looking to buy a new office chair that won't break the bank and happen to be designed for user comfort and accessibility. 
Recommend by Our Experts 
Sometimes, petite users have a hard time finding a suitable office chair for them. Because you should know that chairs, like a lot of office furniture, are not often built with shorter heights in mind.
In a perfect world, you would have a chair that allows you to find the perfect seat height, back and seat angle, recline options, and most of all, feel like the chair is yours. Well, the world is not perfect, but those chairs do exist. Your job is to keep finding!
We hope at the end of the day, you can find the perfect office chair to help you work productively!