Do you want a standing desk after you have read about the ill-effects and dangers of sitting for long? However, you are not sure how you will feel standing and working and don't want to spend a great deal of money on a standing desk.
You may be working from home or have your own small office and don't have the budget to splurge on a new-fangled idea. Or you are more of a DIY person and would like to custom-make your own standing desk.
The fact is that you can easily make a DIY standing desk that will still give you the health benefits that you are looking for. And you do not have to spend a great deal of money to buy one. What's more, making your own will give you greater satisfaction. Here are some DIY standing desk ideas.
The Standing Desk Riser
When you already have a desk, you may not want to make another one just to get the benefits of using a standing desk. A riser that you can put on your existing desk then makes perfect sense. It is quick to make, is easy on the pocket and will not disappoint.
A standing desk converter can be as simple as a block of wood. An empty box made of wood or even strong cardboard can be placed on your existing desk and you will get the height required. It should be large enough to provide an adequate working surface for your workstation, laptop or computer. You may also use an empty wooden drawer turned upside down if it is big enough or use two empty drawers and put a plank of finished wood or a table top on them. This is quick and simple to do and does not require much work.
If you want to make it yourself, you can simply take a piece of wood and attach it to aluminum or wooden legs. The wood can be sanded and polished or you can varnish it or even put laminate on it. Make sure that the legs are covered with rubber protectors so that your existing desk is not damaged, particularly if the riser is movable.
You can make small or large standing desk risers, according to your needs. This can be simple or fancy, depending on how much space you have and whether you want a permanent structure or something you can get rid of if it does not suit you.
Alternatively you can use a narrow table with small legs that you can place on your existing desk to give you a desk that actually has a double height. The space below the narrow desk can be used to put other stuff that you may need for working or you can use to store books and papers.
In case you work from home or in a small office and only need to use a laptop, you can simply fix a wall mounted drop leaf table. This can be a space saver as it can be folded down or up and rests against the wall. You can make your own with piece of wood as well and fix it against a wall.  
Getting Standing Desk Bases
You can buy a standing desk frame and put your own top on it to make a standing desk. You can get these in a range of options to suit your budget and they offer adjustable heights. The bases may be manual or motorized. In fact the more advanced models will even work with Bluetooth or digital controls for adjusting the height.
It may be possible to buy a table top for this or you can make your own, using a plywood block, cutting it to the right size and finishing it as desired. Make sure that the frame is sturdy enough to support the weight of the top you use.
Many of these standing desk frames are available online or you may even get them in shops. They have different warranties so it is best to check before buying as many are made in China and may not be the sturdiest. When you buy a standing desk frame it may require easy assembling or even come pre-assembled. You only need to put the top on it and this should be of a size the frame will support.
DIY Standing Desk – The Easy Way
Now you can make a full-fledged standing desk easily. A simple standing desk can be made if you use a bracket to support the desk and put a wooden top on it. This is can only be against a wall as the brackets have to put into the wall. This is a kind of floating standing desk and if you put in two shelves of different heights, you will also get some kind of storage or use the bottom one to place your keyboard and mouse. It does not take a lot of space either.
Or you can buy one of the many standing desk kits that are available online. Ikea and Amazon are only two of the places you can get a kit from. These are reasonably priced and do not take a lot of time to put tighter as you get all the components in one package. Some kits do not have the table top, so you may have to get that separately. However, the instructions are easy to understand and you should be able to put it together quickly.
When you custom-make your own standing desk you can adjust the height of the table and even add some supporting tubes or frames at the bottom of the desk that will give the desk greater stability and also allow you to use them as footrests while standing and working.
5 Different DIY Standing Desks
There are numerous DIY standing desk kits available in a knock-down condition. These are usually easy to assemble and require minimal effort. They also offer some degree of customization so you get many benefits when you buy a kit like this. Some of the popular DIY standing desks are:
Autonomous SmartDesk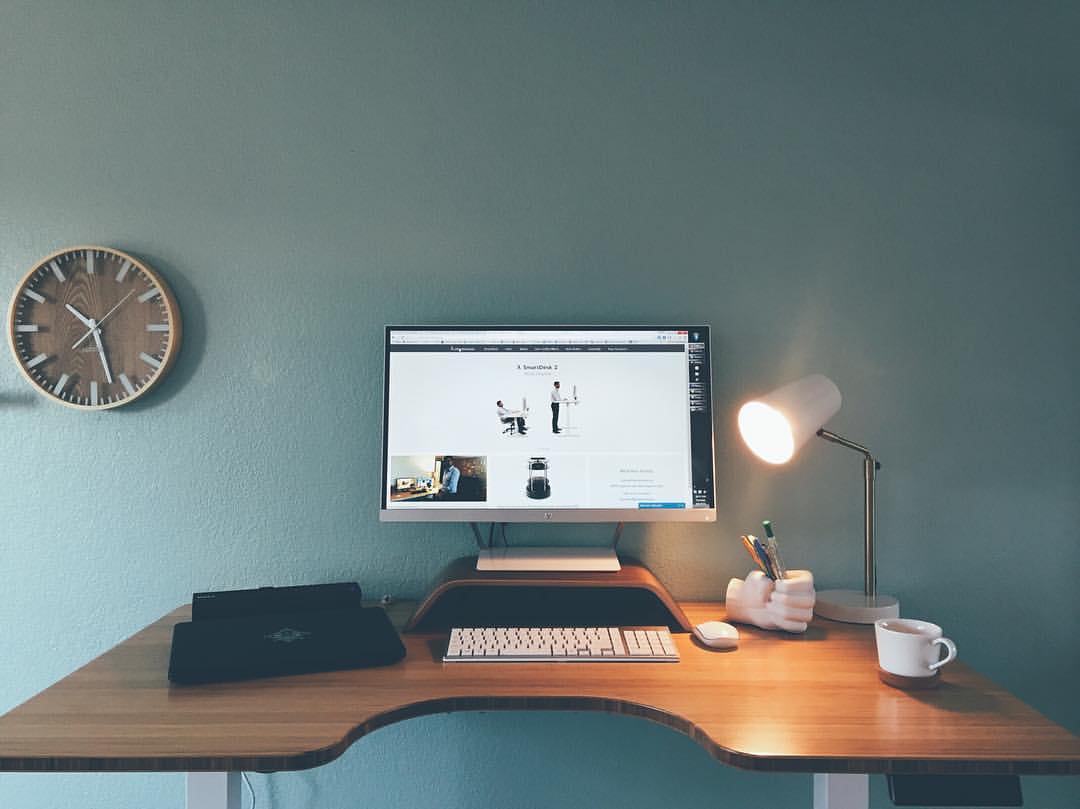 This comes with a powder-coated steel frame that is motorized, making its conversion for sitting and standing very easy. You can get either the single motor version or the dual motor version. You can get a digital keypad for easy customization of the height. The size of the frame is adjustable, so you can fit a conveniently sized desk-top to it. As it is motorized, you do need an electric connection nearby.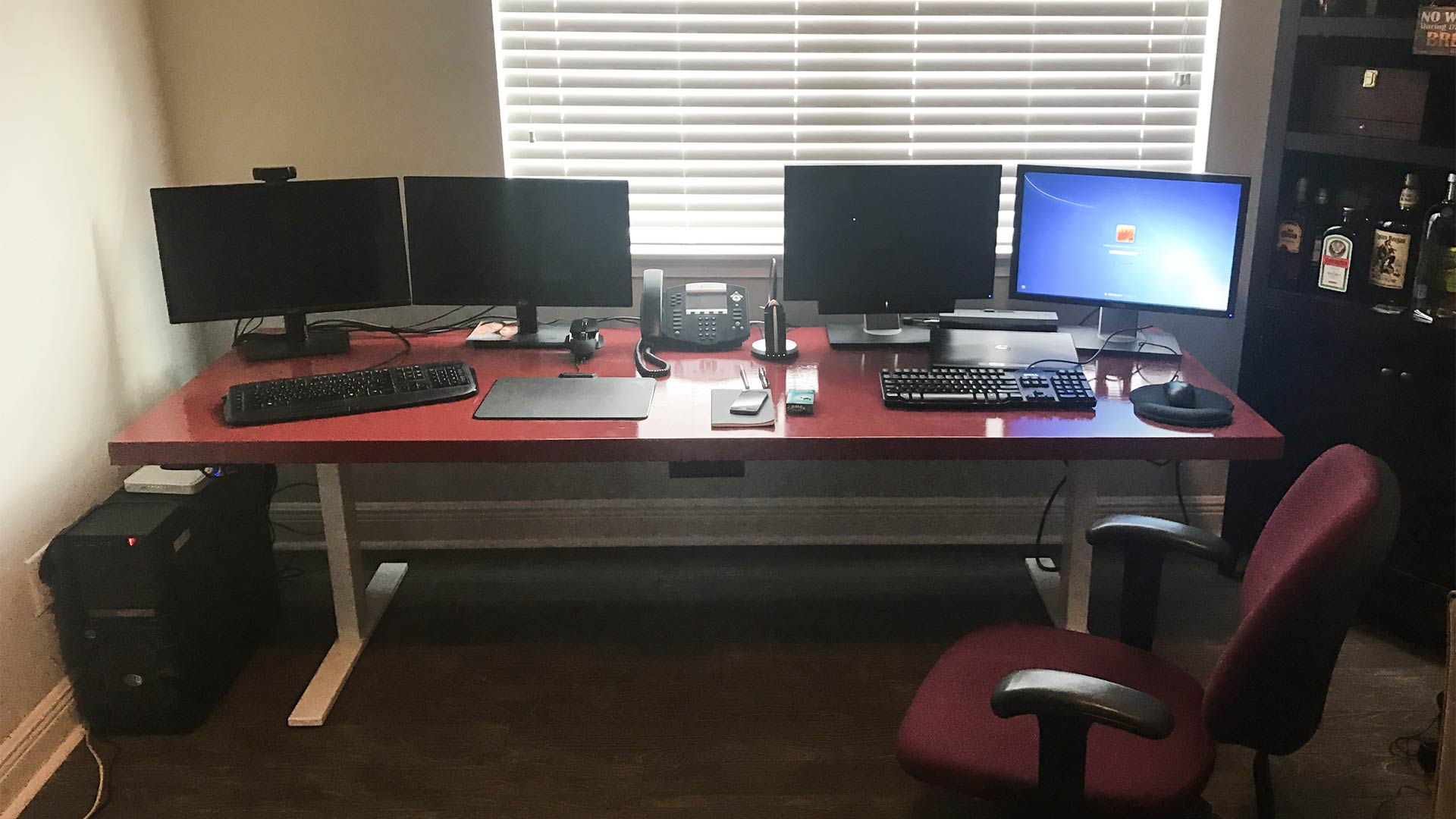 StandDesk Pro Base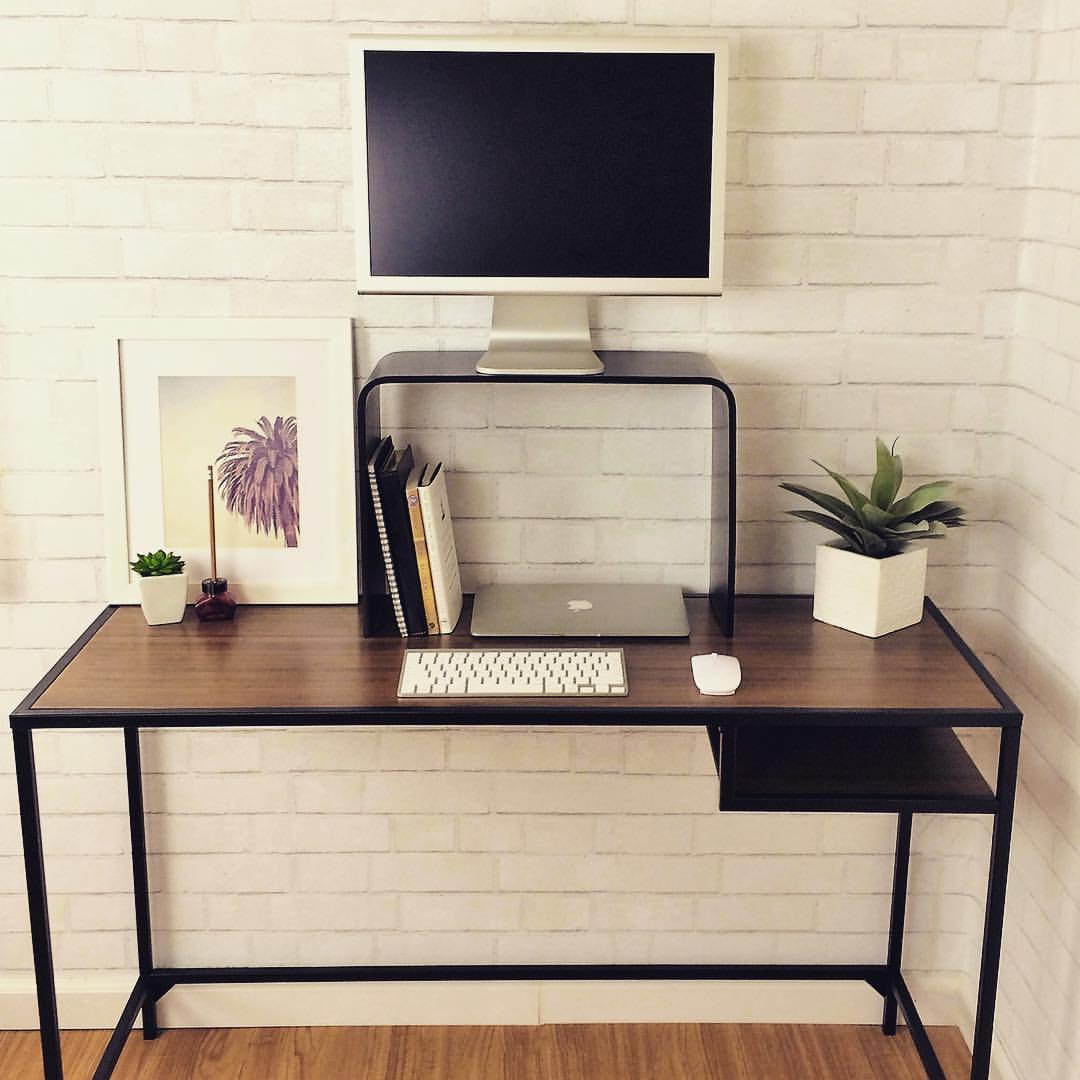 This one is economically priced and what's more comes with a 10-year guarantee. It has an electric dual motor to make its conversion easier and it comes with different height pre-sets that are programmable. You have to get your own desk-top available in various finishes and sized for this.
iMovR Lander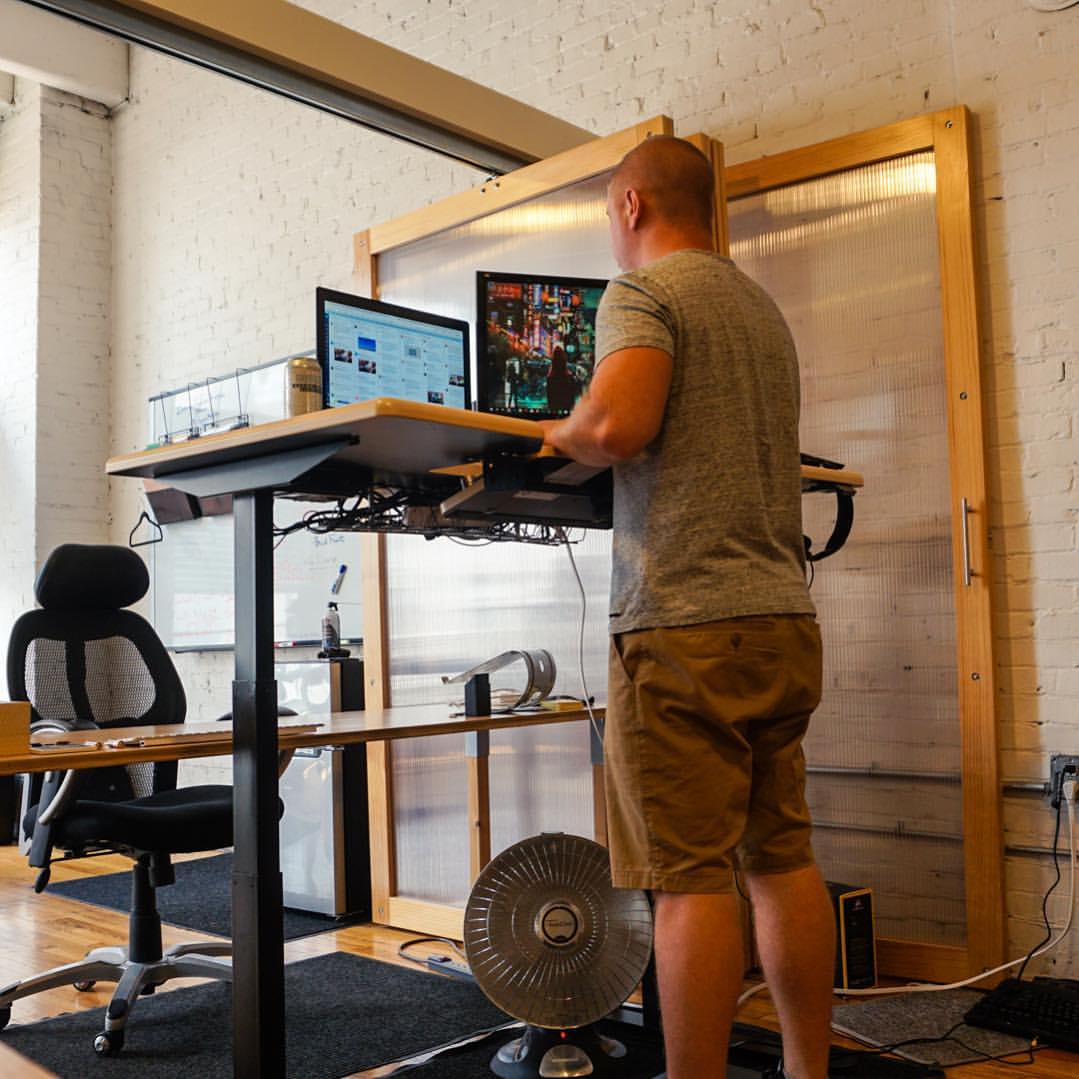 A high end model, the base is motorized and comes with smartphone compatibility and an LCD touch paddle for ease of movement. The smartphone along with the base can remind you when it is time to get up if you are sitting or vice versa. It also has a 10-year warrant and is a top of the line thanks to the many features it offers along with greater stability so that it can carry greater weight. This brand (iMovR) has a number of different bases including Freedom and Vigor at various price points and with different facilities.
Jiecang Base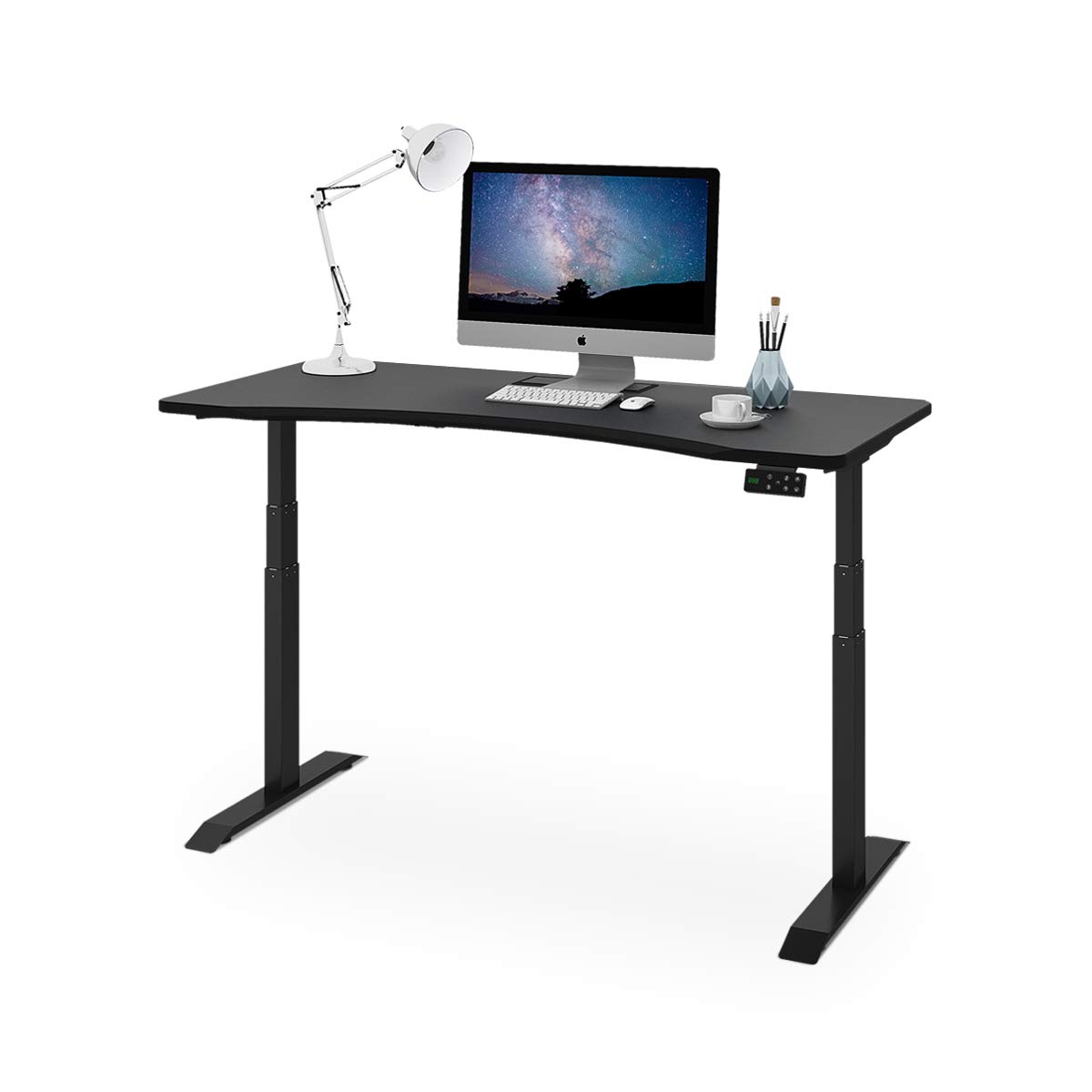 With an aluminum frame that carries a 7-year warranty, this one is reasonably priced for the budget consumer. It comes with a digital hand control and the motor makes it easy to use. You can choose from a range of tabletops sold by the same company to complete your sit-stand desk. The base comes in a number of models carrying various brand names and also offers 3 leg and 4 leg variations.
Ikea Bekant Base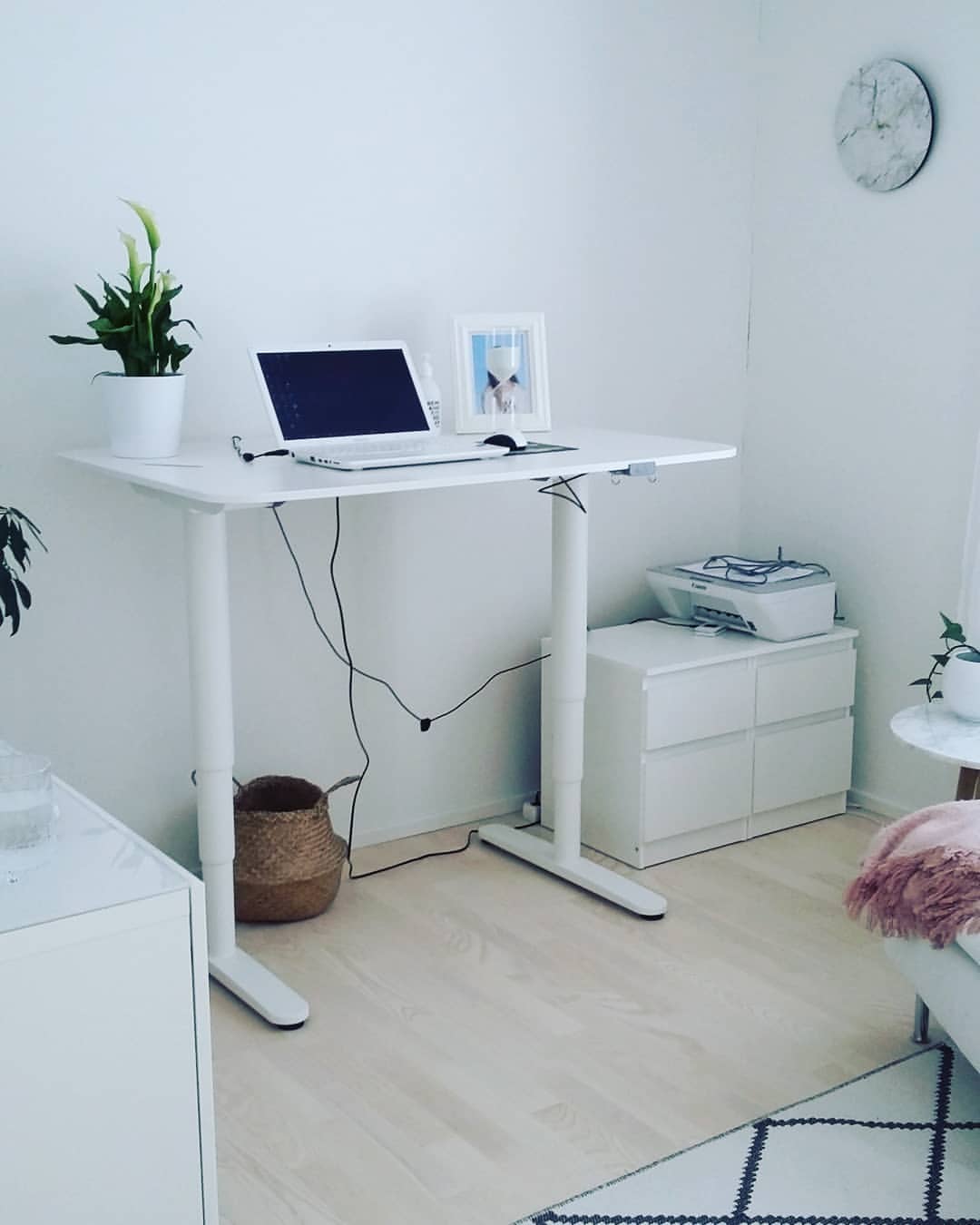 Ikea offers a range of frames that are simple and height adjustable but are largely fixed or you can opt for the more expensive motorized versions. Apart from frames you can also get a choice from a varied selection of table tops in various sizes and shapes to suit your requirements.
You can get a whole range of frames in a knock-down condition that is easy to assemble, requiring only a few basic tools.
Desktop or Table Tops
Before you decide on a desktop or table top that you can attach to the frame, you should first decide on your budget, the space you have or need and the material you would like. These tops are available in
MDF

Hardwood

Reclaimed wood

Powder coated

Laminated

High pressure laminate

Wood

3D Laminated

Plywood

Natural wood

Bamboo
Each of these materials has its own pros and cons. And if you plan to use a sit-stand desk for a long time it is best to put your research in place and choose something that is going to last you a long time even if you have to fork out more money at the outset. After all, you are going to put expensive equipment on top of it and you don't want something that will stain or scratch easily as the maintenance costs work out high.
Of course, if you already have an existing desk that can be used by removing the tabletop or even a large enough piece of wood or ply at home or even an old door, you can repurpose them to use with your frame. If you already are handy with tools and do carpentry work, you may take this up as a project. The wood may need to be painted or polished as needed.  
How Can You Alternate Between Standing and Sitting?
If you are using a standing desk for the first time you may find it difficult to stand constantly. In fact, there are some things that are difficult to do while standing. In any case new studies show that it is best to alternate between sitting and standing so that you get the benefits of standing, while not being prone to the negative effects of constant standing.
A motorized standing desk is a good idea if you need to alternate between sitting and standing. But there is another, cheaper alternative. You can get a high-standing chair similar to a more comfortable version of a bar-stool. Or you can get a standing desk stool.
A standing chair is a great option as you can perch on one and get some relief from standing constantly. It also offers greater flexibility and it is somewhat height adjustable. A standing chair usually does not have back rest or may have minimal back rest, so it is something you need to get used to and you may not be able to sit on it constantly.
Standing chairs are available in different shapes and sizes and some may be more comfortable than others, depending on your own size and build. They are uniformly quite small and do not take up much space. They are a great option so that you can sit and stand and reap the benefits of using a standing desk.
If you have decided you would like to stand and work or at least alternate between sitting and standing, then you have already chosen to be healthier. Once you start standing, you will be more productive and various aches and pains that you suffer from may well disappear.
And if you are an avid do-it-yourself aficionado or hobbyist, you can easily make your standing desk. With a large number of options available online and in stores, you are actually spoilt for choice if you want to get a DIY standing desk kit. These are easy to put together and you can also either buy a desktop to with it or make your own. These options can result in a unique sit-stand desk that is probably more comfortable and reasonably priced for you than any of the high priced options that you buy in the market.