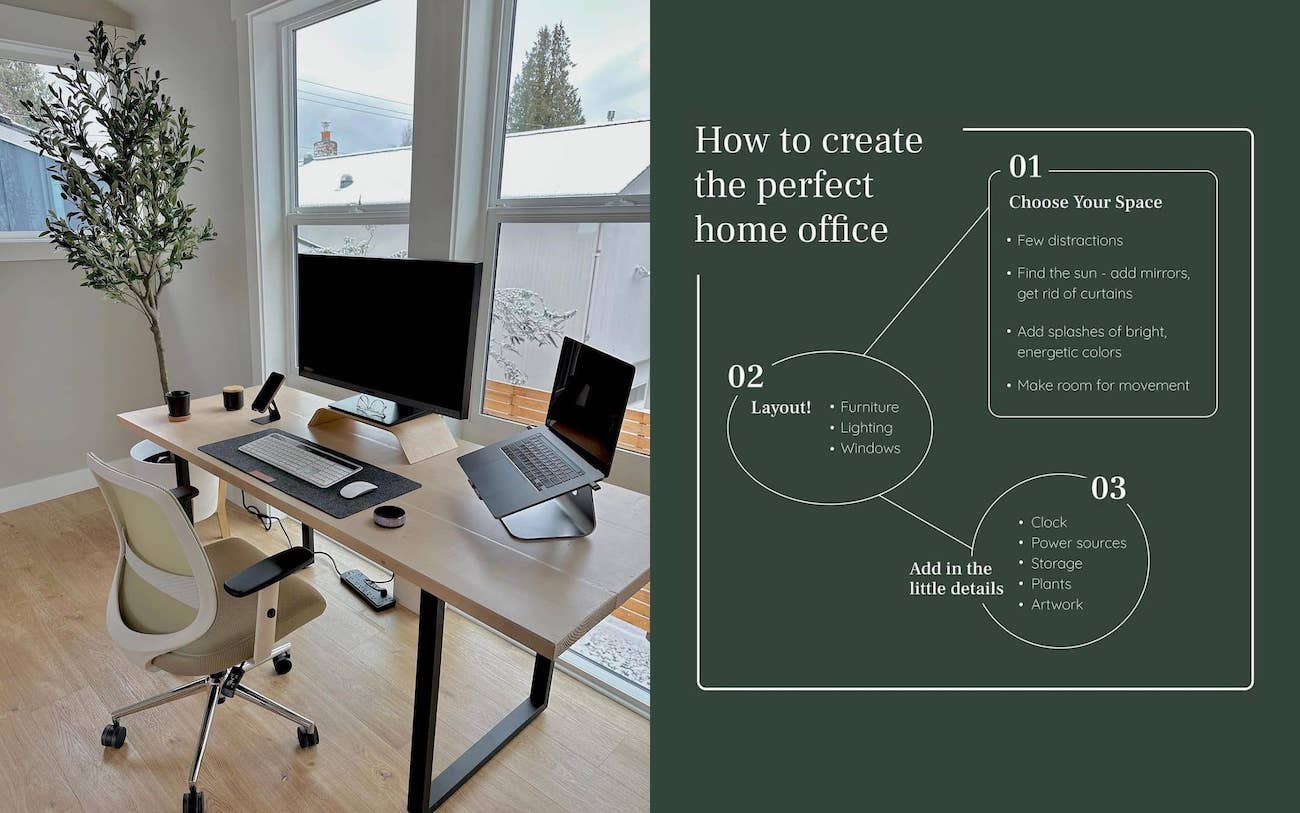 Congratulations, you got your dream standing desk! Now what's next?
You'll need a few accessories, maybe more than one. An office chair or smart clock and keyboard tray, you name it!
There are a lot of different standing desk accessories on the market in 2023. Some will help to ensure you feel good by making sure you are comfortable and working in an ergonomic position. Others will help to keep your working environment tidy and clutter-free. Whatever your objective is in your workplace, there are plenty of options for you. Here are the 11 most wanted standing desk accessories that pair well
Ergonomic Stool
An ergonomic stool that is specifically made for both sitting and leaning is important to have because it is likely that you are not going to stand all day long, every single day. You may already have a chair that you use, but if it doesn't raise up high enough for you to be able to lean onto comfortably, you are missing out. Being able to lean onto a stool gives you a third option during your workday. Why limit yourself to only sitting or standing? An ergonomic stool can provide some relief for your feet, legs, and back, but it will allow you to continue to keep your muscles engaged.
When shopping for a stool, look for one that is easily adjustable, you want to be able to go from leaning to sitting as quickly as you are able to change your desk from standing to sitting. If you have a treadmill paired with your standing desk, ensure the base of the stool is the right diameter to be placed on top of the treadmill and that the base distributes weight evenly, so as not to damage the treadmill. A stool that has a shock-absorbing cylinder will provide more cushioning when sitting and leaning. You will also want the stool to be light enough to easily move out of the way when it's not being used.
Take a look at some Ergonomic stools: Top 5 Best Office Ergonomic stools & Complete guide for buyer
Standing Mat
The next accessory you'll want to consider getting is an anti-fatigue mat, or floor mat designed specifically for standing on that will absorb pressure points from hard floors. If you have carpet in your office or house, this may not be an accessory you opt for, but if not (or even if you do!), definitely think about it.
A great standing mat will allow you to stand longer and more comfortably each day. Many of them are also labeled as anti-fatigue mats. The thickness of the mat is very important in providing the right amount of cushioning. Mats come in all thicknesses, and a mat of at least ¾" is great to ensure that the edges won't curl up over time. Mat's now come in a variety of colors, finishes, and patterns too, so you can choose one to completely customize the look and feel of your workspace.
When choosing a standing mat, make sure that you measure your desk and are selecting a mat that is as wide as the space you occupy when standing at your desk. If you work from edge to edge of your desk, you should make sure your mat is at least as wide as your desk is so that you won't become uncomfortable or roll your ankle by stepping on the edges of the mat or having to constantly move your mat over. Also, make sure that the bottom of the mat has a texture that will grip the flooring it is placed on, so that it will not slip from underneath you.
We recommend for you – The 5 Best Standing Desk Mats for 2023: Reviews and Buying Guide
Monitor Arms
Another accessory to consider is a monitor arm that allows you to adjust the height, rotation, and tilt of your monitor. It's really nice in particular if you're wanting to keep your desktop space free for other accessories or not getting in your way when using the desktop for occasional seating purposes.
Monitor's arms are easy to install and most monitors are now slim-lined and lightweight making them perfect for a monitor arm. Raising your computer monitors up to eye level is needed in order to reduce neck strain. Being able to move your monitor closer to you or further away is necessary to reduce eye strain. In order to work while keeping your body in the position recommended for correct ergonomic posture, the location of your monitor is crucial.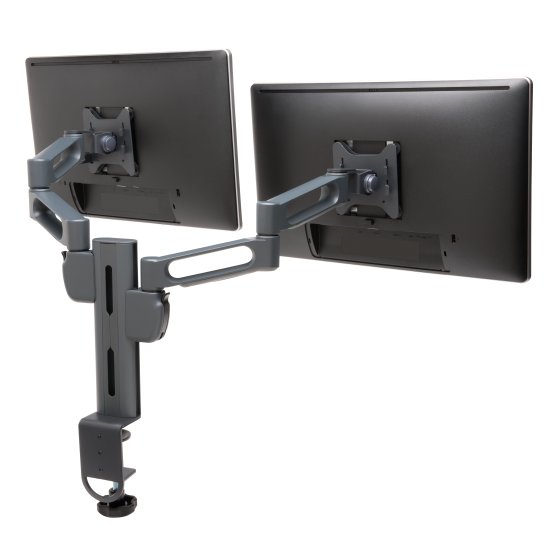 As you change height often when working at a sit-stand desk, you should look for a monitor arm that moves both up and down, as well as forward and backward. Monitor's arms are available in all sizes, there are even some that hold as many as three different monitors. A monitor arm also works as a space saver by freeing up valuable desktop space and reducing clutter. This will give you more table space for everything else you need to do your work.
Check some good monitor arms here
Wire and Cable Management
There are a lot of different types of wire and cable management devices available. For desks that are movable, you need to ensure that cables and wires do not get damaged with the frequent movement of the desk. Many of the wire management trays tuck under the desk to help hide unsightly tangles and stow the cables out of the way. The cables will then move up and down with the desk as it moves.
When purchasing a cable management tray ensure that the model will work with your desk, some installed by screws, others by tape or Velcro strips. Decide exactly how much space you need in the tray and read the measurements carefully to be sure that all of your cables will fit in the tray. Some of the trays will even accommodate surge protectors and adapters. You can also purchase a power supply unit to attach to the desk if you need additional power, data, or USB ports at hand.
Keyboard Trays
If you have extra space next to where your keyboard goes at your desk, you might want to consider a keyboard tray or platform that isn't cluttered and free of accessories. This accessory will keep your hands in a neutral wrist extension for typing/coding which may help prevent carpal tunnel syndrome over time from bad mouse usage
This is a great product that will both keep you healthy and help to clean the clutter off of your desk. Keyboard trays can be attached underneath the front of your desk or clamped onto the desk. They will help to position your keyboard at the appropriate level and angle for your wrist height. An ergonomic keyboard tray can help to alleviate wrist pain and carpal tunnel that you may experience from typing at a flat angle or at a height too high above your wrists.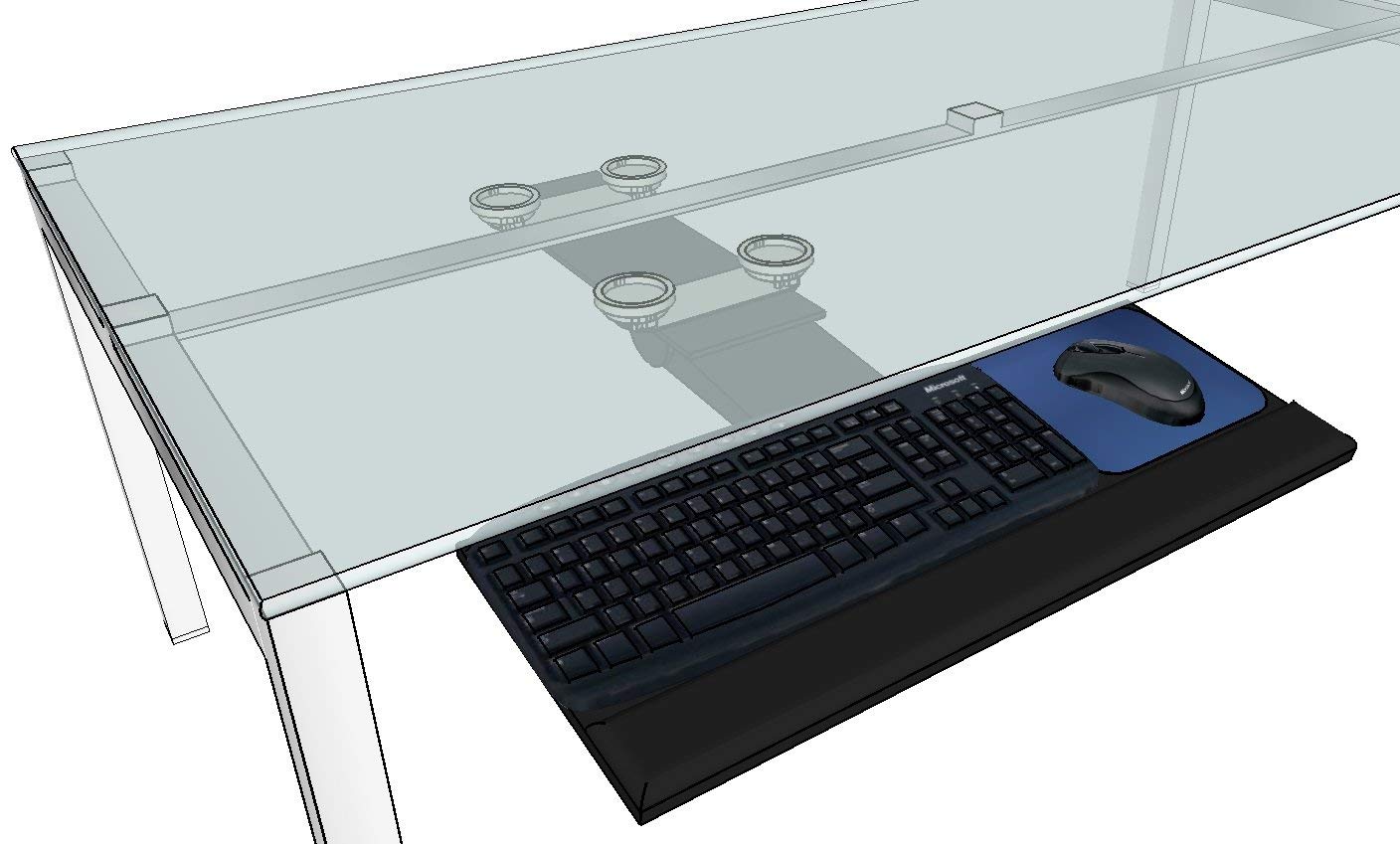 Before purchasing a keyboard tray, measure the size of the keyboard you have. If you have an extra-wide keyboard be sure to purchase a keyboard tray that will accommodate its size. A keyboard tray is easy to install and many have rails that can be attached under the desk which then allow you to slide your keyboard under the desk and out of the way when not in use. There are also models that double as drawer space.
Storage Units
Most sit to stand desks are table-shaped, so they don't have any drawers or storage attached to them. Unless you are the most minimalist of people, you will need somewhere to store office supplies, files, and any other items you need to do your work. Purchasing a set of drawers or filing cabinets is a great solution. Even better if they are on wheels and able to move around easily.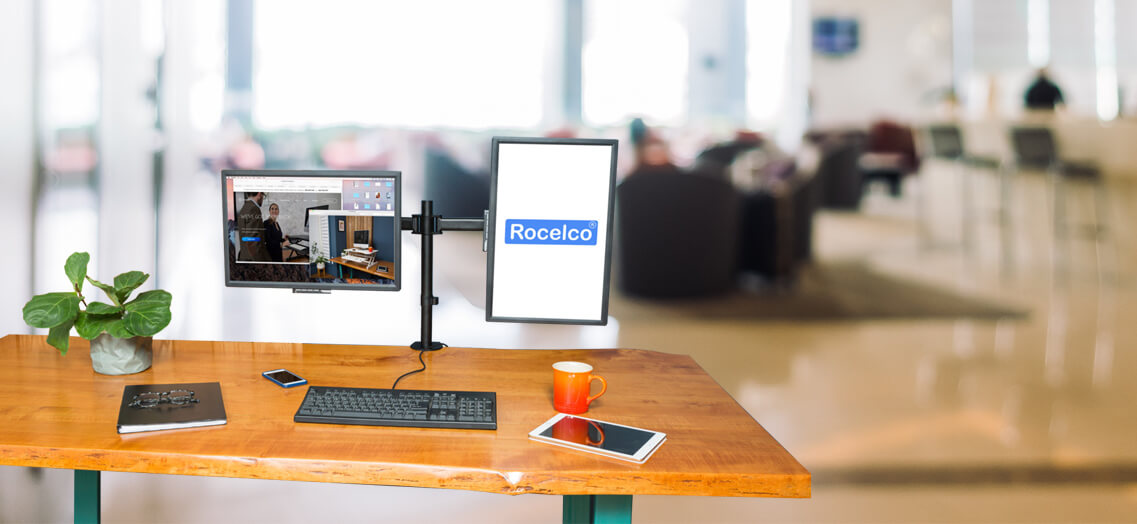 If you'd like to place the drawers or cabinet underneath your desk, measure the desk at the lowest height and make sure your storage unit is shorter than this height with any casters already added into the height range. If you plan on placing the drawers in between the desk legs, measure the width available when you are seated at the desk. You don't want to purchase a storage system that ends up being too wide and taking up your leg room. Your comfort is the top priority here and ensuring you have room to move your legs and feet around under the desk without feeling closed in is key.
Ergonomic Footrest
A footrest is great, not only for when you are sitting but for when you are standing or leaning as well. Yes, you read that right, even when standing. When we are standing for even a few moments we naturally begin to shift our weight from foot to foot. The footrest will help to alleviate foot pain that can be caused by standing too long. If we stand in one position for too long it can also lead to hip and lower back pain. By placing one foot on top of the footrest while you are standing, you've shifted your balance slightly and this can help to fend off hip and back pain. It can also help while you are sitting by raising your feet up in order to reduce pain and stress on your body.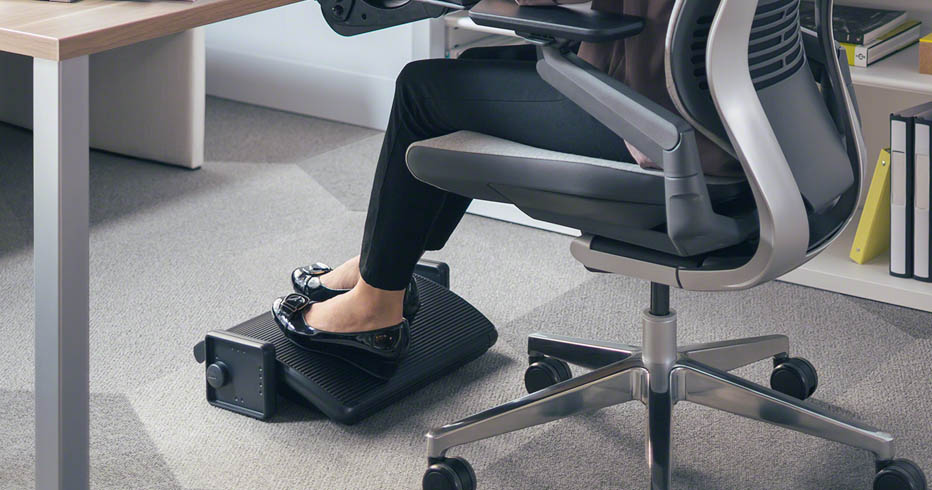 Look for an ergonomic footrest that can be adjusted to multiple angles. This will help to make sure you can adjust it throughout the day whether sitting, standing, or leaning. You want to aim for a footrest that will let you sit with your knees level with or slightly higher than your hips. The bottom of the footrest should have some type of anti-slip padding or backing to keep it in place so that it won't slide out from underneath you. There are even more luxurious footrests that have massagers built in.
Swivel Out Mouse Tray
Most standing desks are flat tables with legs that raise and lower. If your desk doesn't come equipped with a tray for your mouse, you may want to invest in adding one to your desk. Firstly, it will free up desk space by placing your mouse on a separate surface. Secondly, most mouse trays include a mouse pad on the tray, so that eliminates the need for a mouse pad.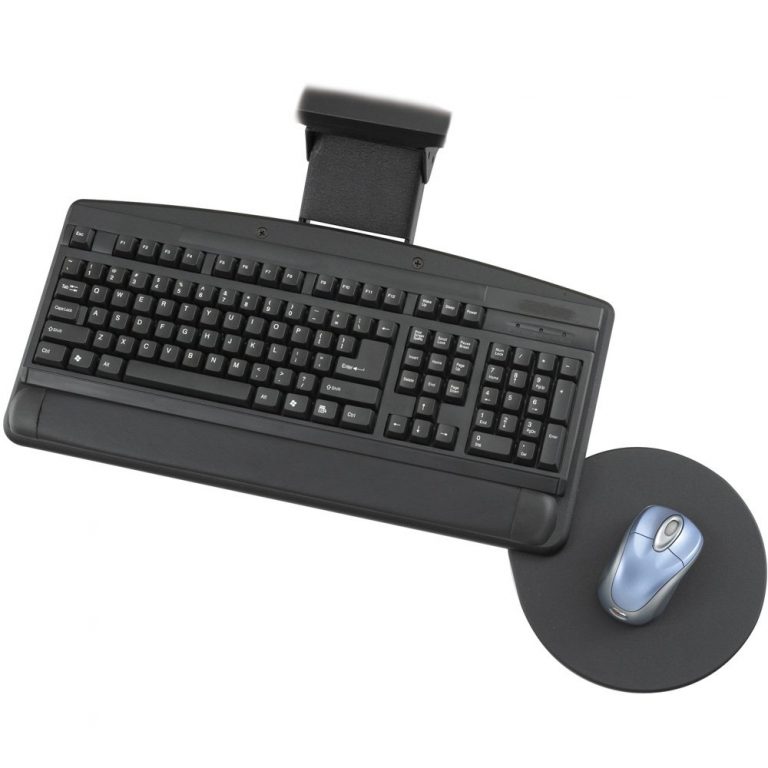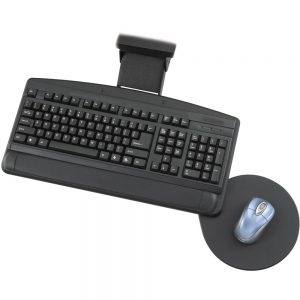 Thirdly, an ergonomic mouse tray can be positioned at different angles in order to alleviate wrist pain that happens from utilizing the mouse at a flat angle. A swivel-out mouse tray is a great option as it will attach to the bottom of your desk and you can move it under your desk when it is not needed.
CPU Holder
One problem that most new sit-stand desk users don't think of is the placement of their CPU. As your desk rises, the cords to your CPU will rise as well.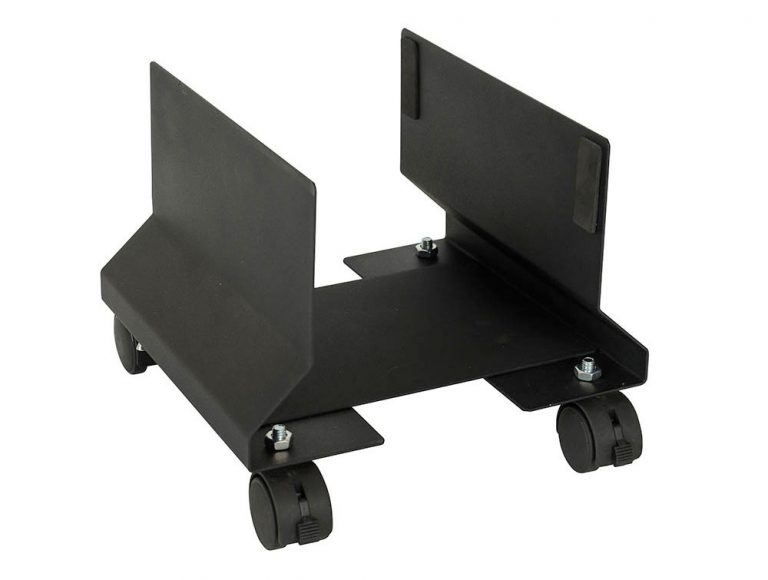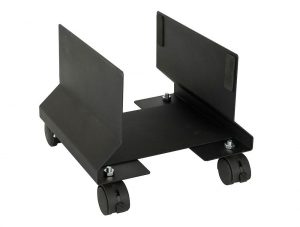 If your CPU is placed on the ground, the cords may not be long enough to accommodate this. Placing your CPU on top of your desk is one solution, but that takes up valuable desk space. A CPU holder is the best solution.
Installation of a CPU holder under your desk will keep it out of the way, but still within reach. Attaching it to the underneath of your desk will allow the CPU to move up and down with the desk and you don't have to worry about any cords getting caught in the moving pieces as they will all be the right length no matter if the desk is up or down. Pair the CPU holder with a cord management system for a clean and uncluttered look.
A modesty panel is a good addition as most standing desk models do not have a back since they are shaped like a table. If you are placing your desk against a wall, a modesty panel isn't necessary, but if you want to place your desk away from a wall, a modesty panel will add privacy and a more finished look to your desk.
Many models can also help clear the clutter by providing cable management solutions too. They are usually very easy to install and you simply purchase one that is the appropriate length for your desk. There are modesty panels for the back of your desk as well as the sides of your desk, so it will depend on your desk placement as to which pieces would be best suited for your use.
Our recommendations
These accessories will make your working life easier, more comfortable, or calmer by clearing up the clutter. Adding any one of these items can make a big difference in your office. Pair a sit-stand chair and a monitor arm for great alignment at any height. Use both a standing mat and a footrest for less back, knee, and foot pain. Pick up a keyboard tray and a mouse tray to ensure the correct ergonomic positioning of your wrists to help alleviate wrist pain. A CPU holder and cable management system will ensure that everything is nice and tidy. Whichever accessories you decide to try, you can be sure that they will benefit you in one way or another.