Whether you're already in the corporate setting or still in a WFH situation, sticking to your fitness routine should be a priority. 
And having tons of deadlines, work, and back-to-back meetings is not an excuse anymore to skip out on your daily walk or run.  And an under-desk treadmill is just what you need to keep in shape while working in front of the computer.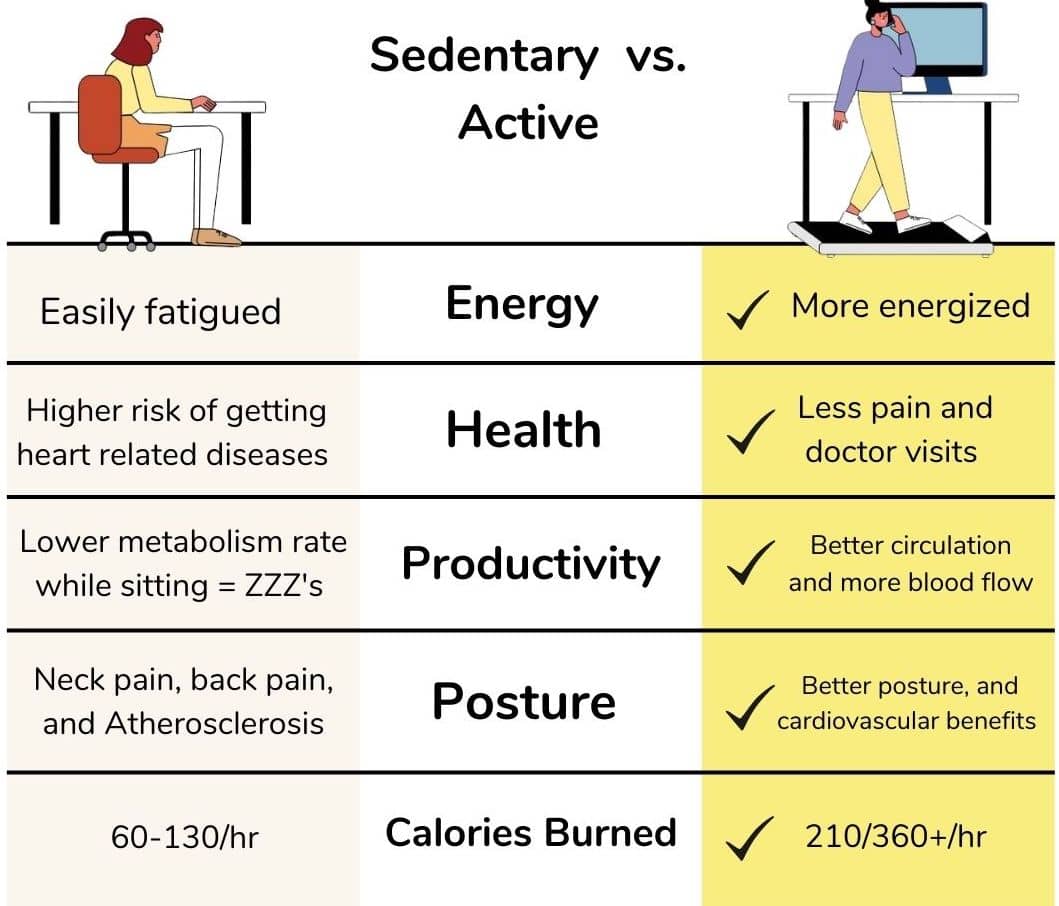 If you don't know what it is, we explain it in a very short, simple way. An under-desk treadmill is a complete treadmill unit that can be placed under a sit-stand desk or regular desk. It typically has a motorized belt and is easy to adjust for speed. And below here are our favorite brands – recommended by our experts (both testers live in Miami, US.)
Treadmill
Dimensions
Speed

range

Weight

capacity

Belt

size

TR1200-GlowUp by Lifespan
63″x28.5″x7.25″
0.4-4.0 MPH
350 -400 lbs
20"x50″
Bluefin fitness task
58"x66"x41"
0–5 MPH
260 lbs
17"x15.7"
Mobvoi Home Treadmill
51.9″x26.2″x 44.5″
0.62-8.7 MPH
265 lbs
16"x40"
Unsit under desk Treadmill
39"x56"x5"
0.3-2.0 MPH
400 lbs
40"x30"
WalkingPad Folding Treadmill
35.5"x 25"x8"
0.3-7.4 MPH
240 lbs
47.6"x18.1"
1. TR1200-GlowUp Under Desk Treadmill
This Lifespan desk treadmill has an old-fashioned look that the younger generation might not really dig. It has this standard size, so by all means, it's not a small one and it lacks a screen where you can see the speed that you're running at. Instead, it has a console where you can see all the information you need. 
The thing is, this treadmill is very quiet and it is very nice to walk on. The belt is pretty wide and we did not feel at any moment that we would accidentally step on the treadmill. 
It's not the most modern-looking and pretty treadmill, but when it comes to the function, you will never be disappointed. It is super silent and you can even use it while you're on conference calls, maybe use noise-buffering headphones for better results. But it will not give you away at any point.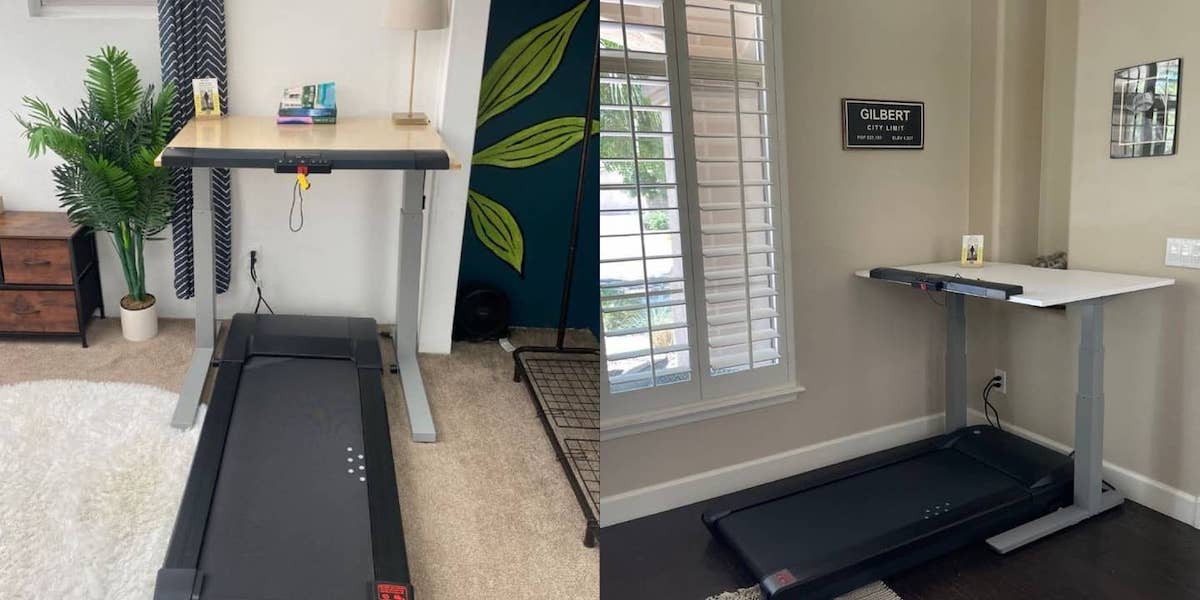 It is also very sturdy and durable.
Aside from the old-fashioned look and the larger footprint, the console might be the defining factor on why you would forgo this option. Aside from being chunky and looking outdated, the wires of the console are kinda challenging to work with. It will make your desk area kind of messy. So this is an important thing to consider if you have your eyes on this unit. Also, this is quite heavy and a large portion of the machine is designed to be placed under the desk. 
It also has a premium price. And most of this goes to the interiors of the machine and how it works well. Because aesthetically speaking, it's just not outdated, it kind of looks flimsy and all plasticky. You will not be able to justify the price if you would only base it on the looks. But the moment you run or walk on it, you'd know why it costs that much. 
2. Bluefin Fitness Task
If you find the Lifespan treadmill too expensive for its outdated technology and looks, then the Bluefin will be a better option.
It has a more budget-friendly price but it has more modern features such as app connectivity and remote controls. This can be an extra or even an essential feature for those who are used to having everything smart. If you have a smart home, then this can be a nice addition to the family.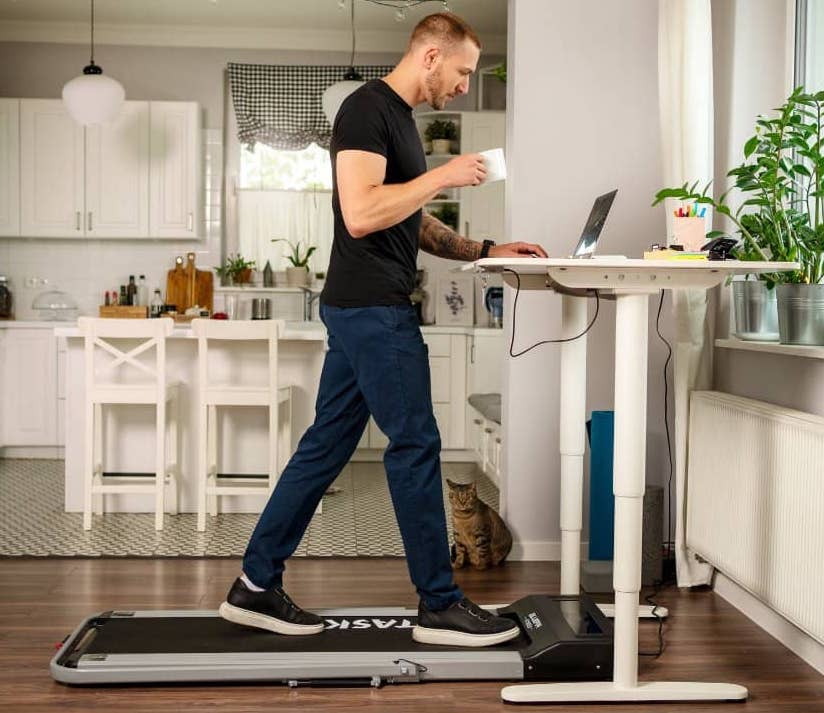 You can easily connect to the app via Bluetooth and it will be easier to track your progress. You can also play music on the treadmill. 
The cons are, the belt is a bit narrow and many may find the top speed still too low. So this is not for those who have a more competitive streak and want to update their speed often. 
We see this is better suited for beginners or those who just want to maintain a steady pace and do not really need to increase intensity. Because for sure, you will find the top speed not challenging anymore. 
This is also a great option if you only have a small footprint of space for the treadmill. The belt is thinner but you will still have enough to walk on, so it will suffice for an easy walking routine. It also has a screen that is found on the riser. 
Performance-wise, it feels also nice to walk on and the treadmill runs smoothly. 
Another con is that since the belt is narrow, this might be insufficient for taller users. The longer strides might find this treadmill not challenged.
3. Mobvoi Home Treadmill 
This is another option for a treadmill with a smaller footprint. It is very compact and has a modern and sleek design that the younger generation will also love. It's easy to operate and does not cost a fortune. Thus, making it a viable option if you're a beginner and want to keep things simple.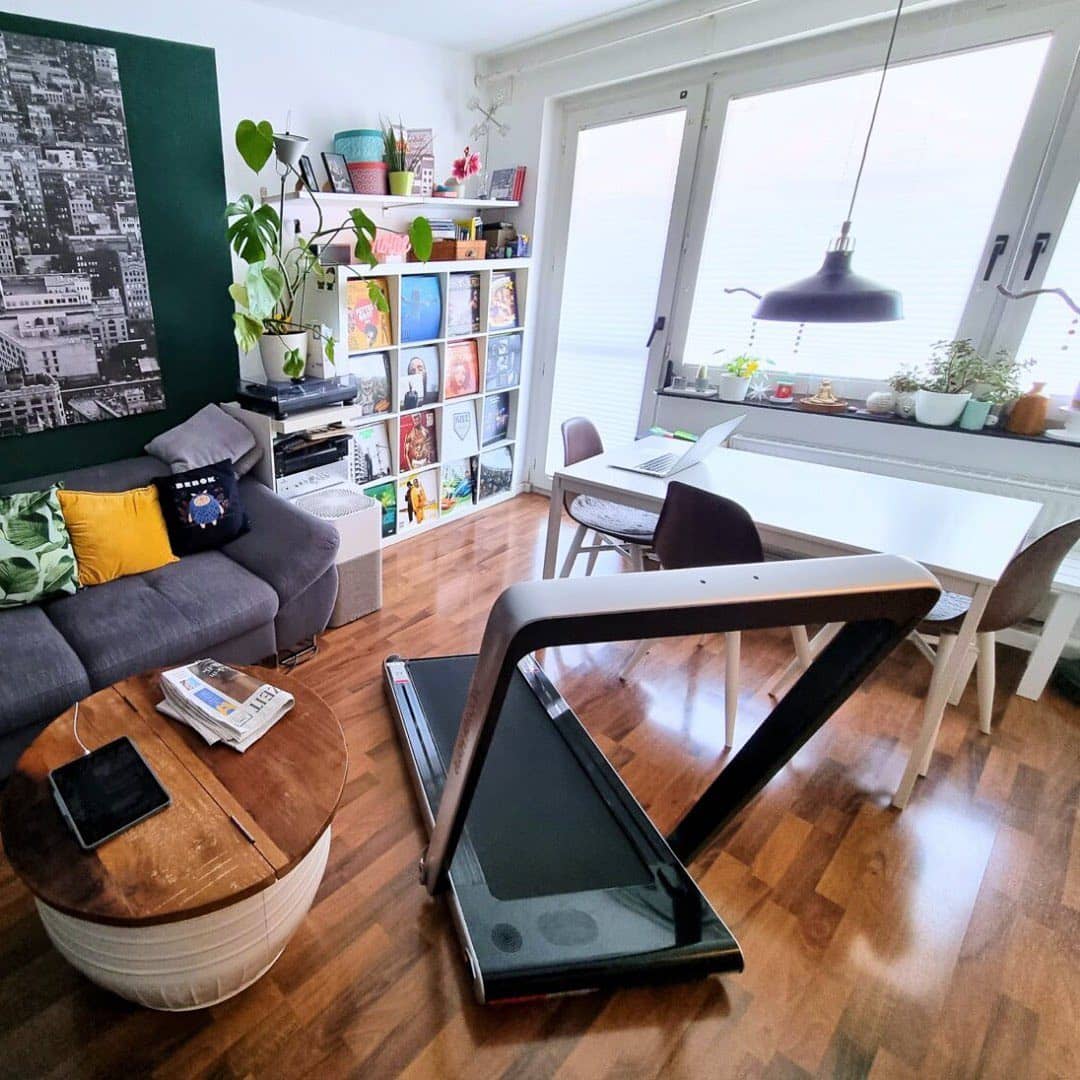 Albeit all that, it is well designed and offers the basic functions. But like our number two unit, one of the caveats is the lower max speed. So there you go, another treadmill that beginners or those who want to take it slow will value.  
Also, the instruction manual for the setup can be a little confusing. We find it better to refer to the illustration or the diagram instead. Most do. 
It can also transition easily from a treadmill to a walking pad, so this further consumes less space. 
But of course, the smaller footprint will account for some sacrifices. The belt under the treadmill is a bit too thin. But performance-wise, it runs smoothly and doesn't have that jerking motion you often experience in cheap treadmills. 
4. Unsit Treadmill Desk
If you're looking for a wide desk treadmill that can accommodate bigger folks, this will solve your problem.
It has a wider belt and a more heavy-duty construction that can take on those who weigh as much as 400 lbs. And even if you don't weigh much, you will appreciate how sturdy this unit is. This is one of 'em desk treadmills that can last for a long time.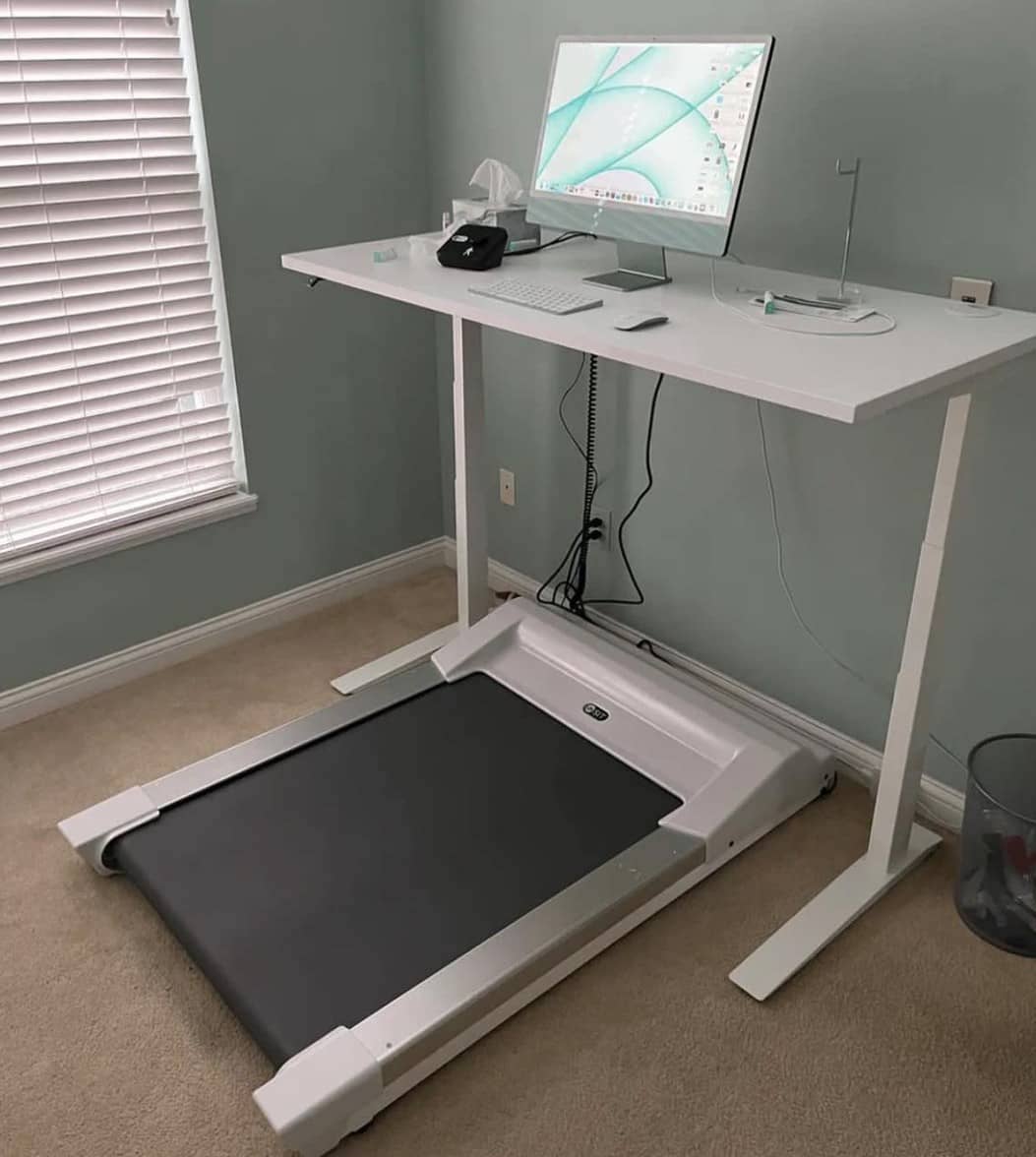 It is also pretty silent, thus you can still do your morning run even if you're at a zoom meeting. But the shape is rather different. It's not rectangular and long, instead, it has this squarish design. So this is one thing to consider since most people are used to running on a rectangular pad. Though an advantage of this shape is that you will be able to maximize the usable space and the treadmill will not stick out of your office zone. 
It also has modern features so you can connect it to an app via Bluetooth. 
Another caveat is, the top speed is also quite slow. The max speed is only 2 miles per hour so this is not for those with the most competitive streak. 
5. WalkingPad Folding Treadmill
This may not be a desk treadmill per se, but it definitely will suffice. This is a running pad that is perfect if you're on a budget and has a small space under the desk.
But make no mistake, this may be dainty looking, but it is quite durable and strong. 
It has a wear-resisting material, high friction running belt, a durable plastic cover, and a high-density wooden board.
One of the caveats is that the on-and-off switch is in a very awkward place. So it's not that user-friendly and easy to access. The switch is located in the front way down the floor. This also goes for the remote UI, it's not intuitive.
It's quite portable too and easy to fold so you can easily get it out of the way should there be a need. And oh, this is for those who want to increase the intensity of their program soon. You have to be able to walk a certain distance before you can increase your speed. So this baby ensures you are singing to your fitness routine seriously and safely. 
But keep in mind that this is not light. Even if it has smaller dimensions and is easily foldable, it still has a heft to it. And we don't mind that since you won't really be moving it often from one place to another.