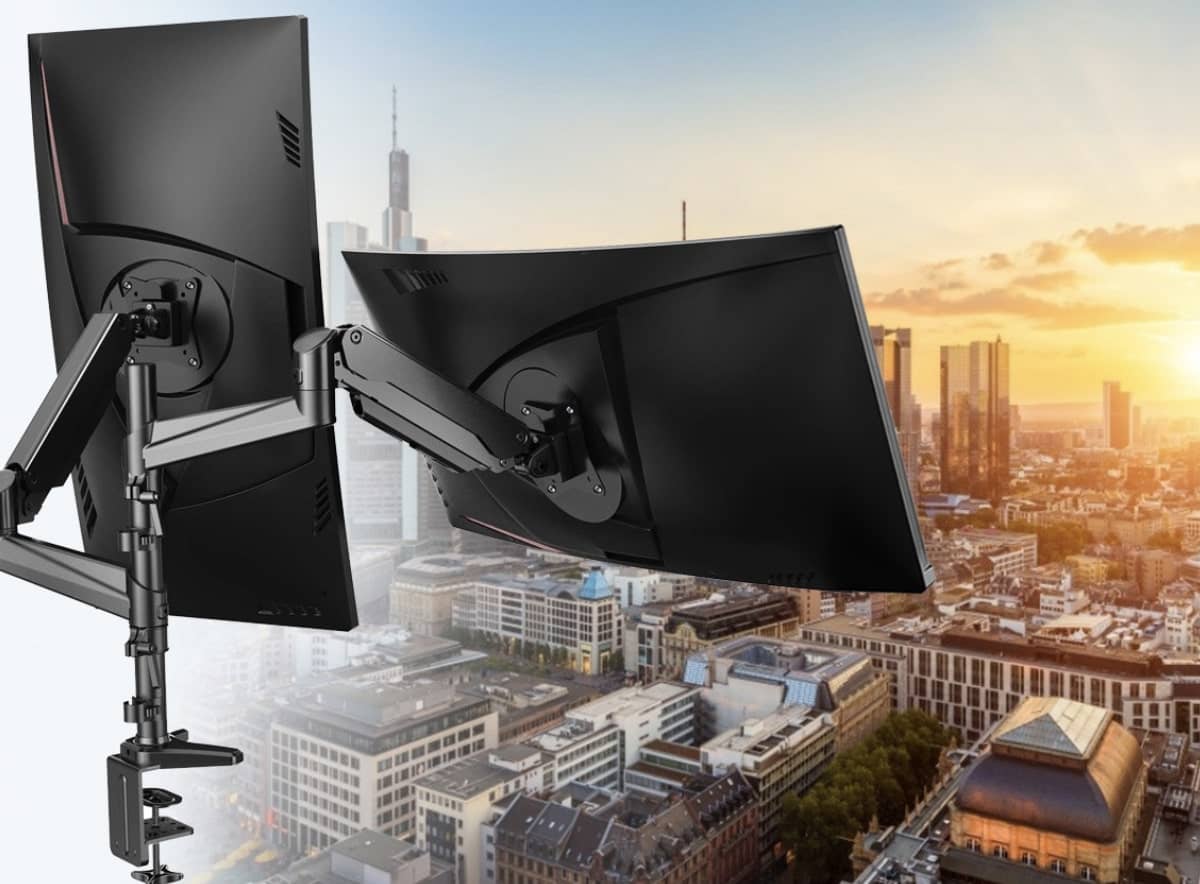 If you're scouting for fully articulating dual monitor arms for a super cheap price, the HUANUO dual monitor stand seems to be perfect. Aside from its competitive price, let's see what the raves are all about. 
About the brand HUANOO
HUANOO is a China-made brand. The brand also manufactures laptop desks, risers, and accessories that can supplement working from home.
Shipping and parts
Every part has its own plastic packaging so the metal components do not rub against each other. So you'll be able to receive all the parts of the monitor arm without any scratches. And they are also labeled properly for an easier setup. It also comes with 2 VESA quick release adapters. So you don't have to buy it separately. 
And if your monitor requires a different type of screw, you're pretty much covered. The brand tossed in several types of screws depending on the requirement of your monitor. So this is an extra that we highly appreciate. Instead of just packing in a universal screw, the brand took it a step further by adding several types of screws. So you're sure to find one that fits your monitor. 
HUANUO Dual Monitor Stand review
Easy to adjust
This is a durable monitor arm that can accommodate 2 monitors that measures a max of 32 inches. It can be easily pulled close to you, tilted up and down, or you can easily change the orientation of your monitors. And what's great is that you can do all those without using too much energy or power. And we didn't feel any wobble at any of the given positions. 
And the package also includes three Allen keys. Now this accessory is quite useful. It has a loop that gives you an option for cable management. Also, these Allen keys go to the back and let you adjust everything on the monitor. This accessory makes it very easy to tilt, change the orientation, or reposition the monitors. 
You can also have a different height set for each arm. And whenever you need to adjust it, it's quite easy to do so. 
Universal
This HUANUO monitor arm pretty much works with all computers and monitors that are VESA compatible. It's also made from aluminum material. Even though this unit is pretty durable, it is quite lightweight.
And it's rated to accommodate a max of a 32-inch monitor. We must say that the claim is true. It didn't cause any shaking and it was able to hold the tilt. It's durable but we were surprised at how light it can be. Thanks to its aluminum construction, you don't have to work an arm each time you readjust it. Those who are used to arms with a little bit of heft might find these too light though.
How to Setup and install
It's fairly easy to set up the HUANUO monitor arm. All the needed accessories are included in the package. Though you have to ensure that you have tightened everything well. Otherwise, there will be wobbling and shaking. And we have seen complaints of how the Huanono arm came with a noticeable amount of wobble. And we reckon that it can really happen if you have not properly tightened the connections of the arms. So that's a crucial key to having everything stable. 
The arms can sag if it's too loose. So that's what you have to look out for when setting it up, especially if you have a larger monitor to mount on the arms.
But we must say that since it's made in China, you have to be prepared for a very hard-to-understand instruction manual, it's made up of broken English. So we did not find much use in the instruction manual. What we did instead is that we hovered through YouTube. And there you can find an array of tutorials on how to set up the desk. 
How about the footprint
You might want to allow at least 10 inches of clearance behind. It's not compact and might need a lot of space. So you have to ensure that you have enough space at the back to be able to readjust the monitors freely. 
The HUANUO has a large range of adjustment levels and movement, so definitely it will need a considerable amount of space at the back. Also if you have a larger monitor than 27 inches, a lot more space than 10 inches on the back from the walls. Otherwise, you will not be able to position two desks side by side.
Sufficient cable management
We've mentioned above that the Allen key has several slots where you can loop your cables into. In addition, the unit also has an additional compartment with a cover for cable management. So it was a pretty neat setup, with no cables and wires dangling. So we're pretty happy with that one.
You can opt to use either one or both, depending on how you want to organize your setup. Though we find the slots on the Allen key were easier to use for managing the cables than the compartment with a cover. 
 Summary
It's a full range monitor arm. You can tilt, pull, move the monitor up and down, or change the orientation of your monitor.

We also find it easy and convenient if you want to change the height of your monitors. 

We love how organized this unit can be. The brand tossed in accessors for the cable management. It gives you options on how you can organize your wires and cables.

Is there a wobble? Yes, there is, but we only experienced a slight wobble when we bumped into the desk. Otherwise, it was able to hold the position of the monitors. We tried it with two 27 inch and 32-inch monitors and it seems to hold up pretty well. It didn't shake when we were typing.
When not tightened properly, the monitor can swivel like crazy for one of the arms. So you have to sufficiently tighten the installation so everything will be stable. We have heard of complaints of a really wobbly arm, and this is common for an improperly installed HUANUO.

The VESA adapter is a quick release, so that makes it easier to change monitors too.

It has rather universal designs that can fit most motors that are VESA compatible.

The look of the arms is nothing fancy, it's just basic and minimalist.

You have to allot a considerable amount of space at the back of your walls.
Especially if you are going to position the two monitors side by side, you have to allot 9-10 inches minimum. If you are using a 32-inch desk, a lot more space. 
The packaging was good and all the parts were complete. As we have mentioned earlier, the brand tossed in several VESA screws. So whichever your monitor may require, you can somehow find it in the package.

You have two options to mount the arm via C clamp or grommet installation. We find the grommet installation a sturdier base. 

These arms are not compatible with glass desks or tables that are made from particle boards.

Overall, it's an affordable and fully articulating arm that can serve you for several years.
Where to buy it with great deal
Alternatives to the HUANUO gas spring monitor arm
Mount IT monitor arm
These dual monitor arms are also fully articulating. It can accommodate monitors that measure 27 inches. We also love how easy it is to adjust and reposition the monitors. And it is decently stable and sturdy too.
Though the HUANUO offers a better cable management system than the Mount-It dual gas spring arms.
Like the HUANUO, this can also be installed via a C clamp or grommet installation. And it can support monitors with a max measurement of 27 inches. It also features a covered tray for better cable management. In addition, it's also stable and durable arms that allow you to easily reposition your monitor.  
This Is the best alternative if you're using a monitor and a laptop. One arm holds the laptop while you can mount the monitor on the other arm. It's also VESA compatible so it works for most monitors. It's made from aluminum alloy and exudes a more sophisticated look.
The ELETAB is a great option if you have a small space and don't have enough clearance behind the wall. The gas spring arms are reduced in size so you can still get a fully articulating arm but with less requirement for space. It can hold monitors that measure up to 32 inches. This dual monitor arm also works great with a privacy screen. 
It's also equipped with a compartment with a cover for better cable management. In addition, it has several slots at the back where you can conveniently keep accessories. So you can have the Allen wrench handy whenever you need to tighten or loosen the connections.  
Final say
Overall, we find the HUANUO monitor arm a good value for your money. If you're scouting for a minimalist yet sturdy monitor arm, we recommend this one. Just ensure that you have ample space, especially if you will mount this near a wall. Otherwise, you will not be able to maximize the functionality of these arms.  
Moreover, it has one of the more competitive prices for arms that offer a decent and usable cable management system.