Working from home has indeed resulted in people's search for a comfortable and ergonomic office chair. Those who are not sticking to a budget will straight away go for an Herman Miller Aeron, Embody, or a Steelcase chair. But what about those who don't? There are still a lot of decent, affordable, and comfortable office chairs that will not break the bank. Among those is the Hon Exposure mesh chair.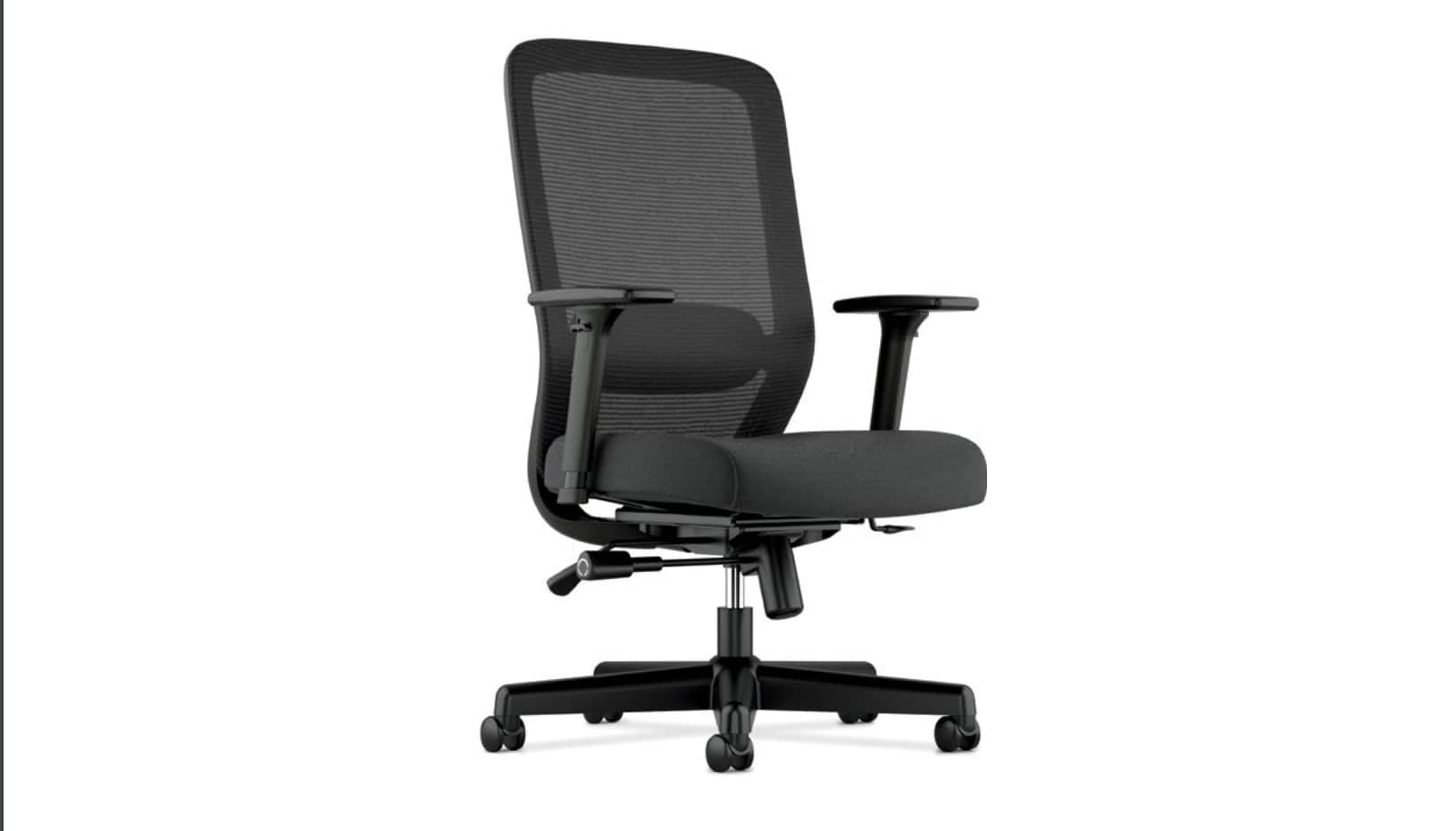 But we're also wary of ergonomic chairs at an affordable price. Sometimes, or most of the time, there are more compromises than advantages. And these compromises might or might not work for you. So to see if it's worth the compromise, we will be reviewing the HON exposure mesh office chair (see the price of this chair now!)
Not love at first sight
At first glance, this isn't an office chair that you'll want to get. It does not look fancy, or does it have a unique charm or design to it. This office chair even looks a bit bulky to us. So now that everyone's going gaga over minimalist style and sleek office chairs for the home office, it's easy to overlook the HON Exposure.
So we get it, there is nothing aesthetically appealing about this chair haha. And when you glance at it on the side, it has this curved design for the backrest that is supposed to make you more comfortable. 
At first glance, it really doesn't look like anything that will amp up your comfort. But hey, we're just judging it by its appearance, we'll see if it will be justified later.
So this chair looks just ordinary. If you don't know its features, you might not take a second look at it.
Though the chair also comes in another type of upholstery, such as full leather, it does not seem to do much to enhance the aesthetics of the chair. And we still favor the mesh back over the full leather one because it kinda feels too hot. 
Surprisingly solid and sturdy
One of our qualms when buying an affordable ergonomic chair is the built. We have come across several comfortable office chairs with a lot of adjustable features, but some tend to feel flimsy and cheap. And we reckon it will just take two years before you'd be needing to look for a replacement.
Well, this chair is solid. It feels sturdy and well built. We've mentioned above that the chair may look a bit bulky. But this unattractiveness also makes up for the solid build of this HON chair. So you have to compromise design and beauty for the sturdy and solid built There You go, that's the first compromise that you have to consider if you have your eyes set on this office chair.
This chair has an ample frame so it can also support those who are a bit heavy. There will be no creaking sounds and you will not feel like the chair is going to tear apart. The chair is made of a combination of hard plastic and metal. So this chair is set to last for years. 
Adjustable in so many ways, well except for the armrest
As much as this chair lacks visual appeal, we find it rather comfortable. 
One, the chair is a hybrid one. The backrest has a mesh covering. So this kind of feels flexible and moves with you. And if the weather gets too hot, you'll still find working in this chair rather comfortable. 
But the seat comfort is subjective. It's not too firm and not too lush either. The comfort is too firm for some users. But some don't seem to mind it. The seat comfort works more like active support. It can be too aggressive and pushes you to sit upright. 
And speaking of the seat, it is rather adjustable. One of the things that we liked about this office chair is that it has several adjustable features. So you can fiddle your way through the settings to find the most comfortable working position.
As we've mentioned above, seat cushion comfort is subjective. It's whether you find it comfortable or not. You can adjust the seat in almost any way. It also has a seat depth so you can pan it forward or backward. It works well for those with longer legs.
Another feature that you'll also find in a Herman Miller or Steelcase chair is that it has a synchro-tilt mechanism. So this is a breather after working for several hours. This will allow you to recline to a comfortable position and just lend your back a rest. 
The HON Exposure chair also has adjustable lumbar support. It works decently, though it's not as aggressive as that of the Aeron. But if you have a bad back, you'll be able to appreciate this feature. 
And the bad bits
So you get several ergonomic and adjustable features, but there is one part of the chair that is not as ergonomic as the rest are, that's the armrest. The armest are only 2D, so you will not be able to pivot it. It only goes up and down or in and out. 
 So this is the second compromise that you have to think about. And oh, this chair also lacks a headrest. Though it's not a big deal, some users will prefer one that offers their chair like the Ergo chair 2. Or at least an option to upgrade to one.
Also, though this HON chair has a pretty good range for the seat height, it might not be able to go low enough for those who stand below 5"11". Or if you're looking at using it with a desk that's lower than a bar table, you might see that it will not be able to go low enough. 
And we have mentioned that this chair has a decent weight limit. Yes, it can work for the tall and heavy. But if you're looking for an office chair that can carry over 300 lbs, better look elsewhere. The weight capacity of the HON Exposure chair is 250 lbs. 
HON Exposure vs HON Convergence
If you think the Exposure chair is not for you, HON has an office chair that looks a lot like the Exposure. And it has an adorable tag too. If you're smaller than 5'll, then you'll find the Convergence more suitable, and if you are worried about the budget, please check it here. It can go low enough to be able to accommodate those that stand 5'4. 
Also, the cushion of the Convergence chair is more cushy and comfortable. It feels more cradling than the too firm and aggressive Exposure chair. So if you find the Exposure chair too firm and aggressive, the Convergence will indulge you.
And also, it has a rather different backrest. Though the overall design looks similar, except that the backrest has a handle at the top back part. And the backrest and seat are also a bit wider. So this can accommodate well those who are a bit wider around the waist. It also has a heavier weight capacity than the Exposure, it can bear up to 275 lbs of weight. 
In reality, the Convergence is referred to as a task chair. But since it has several ergonomic and adjustable features, it can very well be called an ergonomic office chair too. And oh, you have an option to use the chair with or without the lumbar support. Some users are already content with how comfy it is even without the adjustable lumbar support.
Overall
The HON Exposure chair is quite urgent and has a lot of adjustable features. It's value for your money. We have rounded up the compromises that you have to consider in favor of a more affordable ergonomic chair.
The seat cushion can be too firm and aggressive for some.

The chair is set too high so if you stand below 5'11", you will not find a suitable working position with this chair.

There isn't any headrest.

This office chair is not visually appealing despite several options for the upholstery material.
So these are the concerns that you have to live with if ever you fancy the HON Exposure.
Final Say
So we have listed what you will expect with the HON Exposure. And if you have your eyes set on this ergonomic chair, make sure the compromises are one that's in favor of you or you can work around with.