If you're tight on the moolah but need a more comfortable and ergonomic office chair. You've landed on the right page. Though you have a budget to stick to, it doesn't mean that you should skimp on the quality too. Not all functional ergonomic chairs have sky-high prices. We are going to list down 10 of the best ergonomic and adjustable office chairs under 500 bucks that works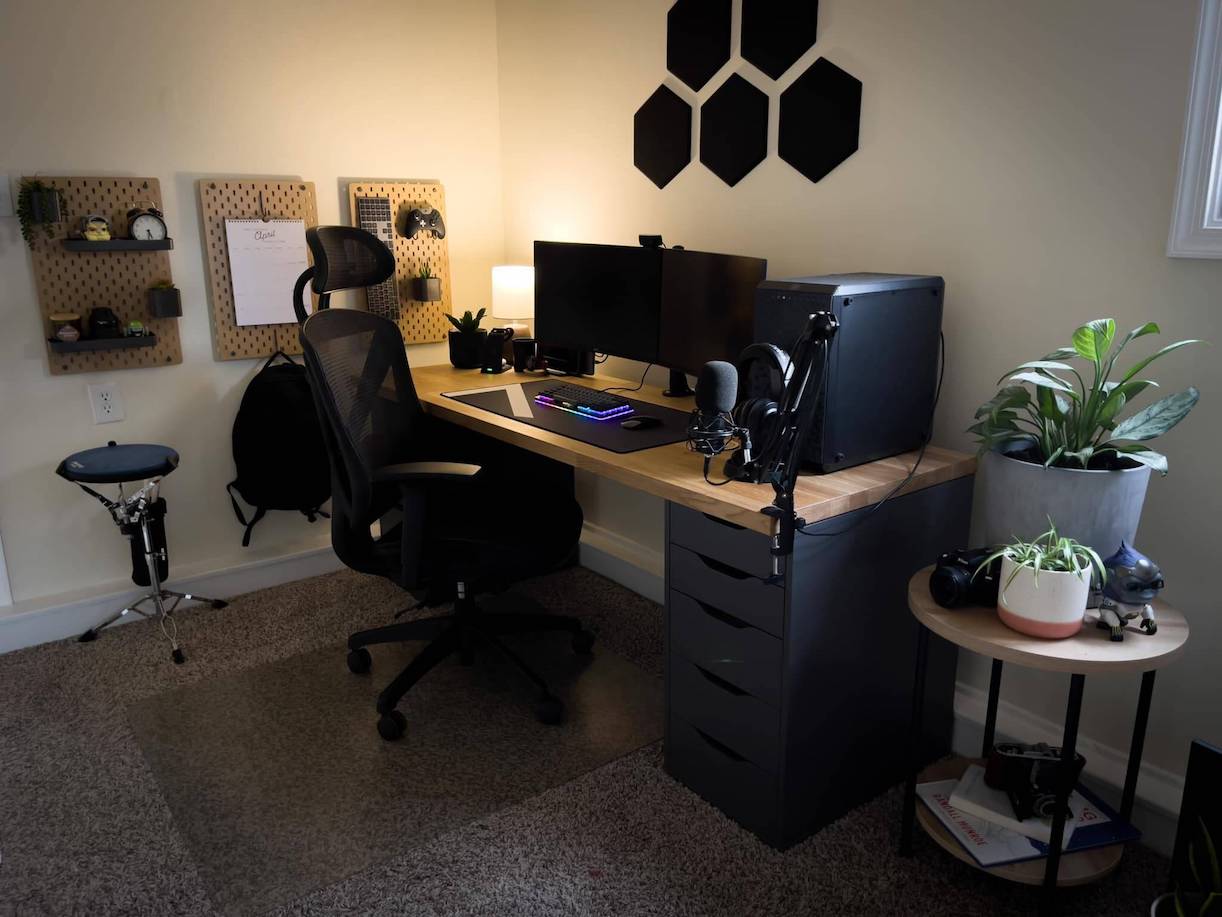 Affordable Office Ergonomic Chairs under $500 that Work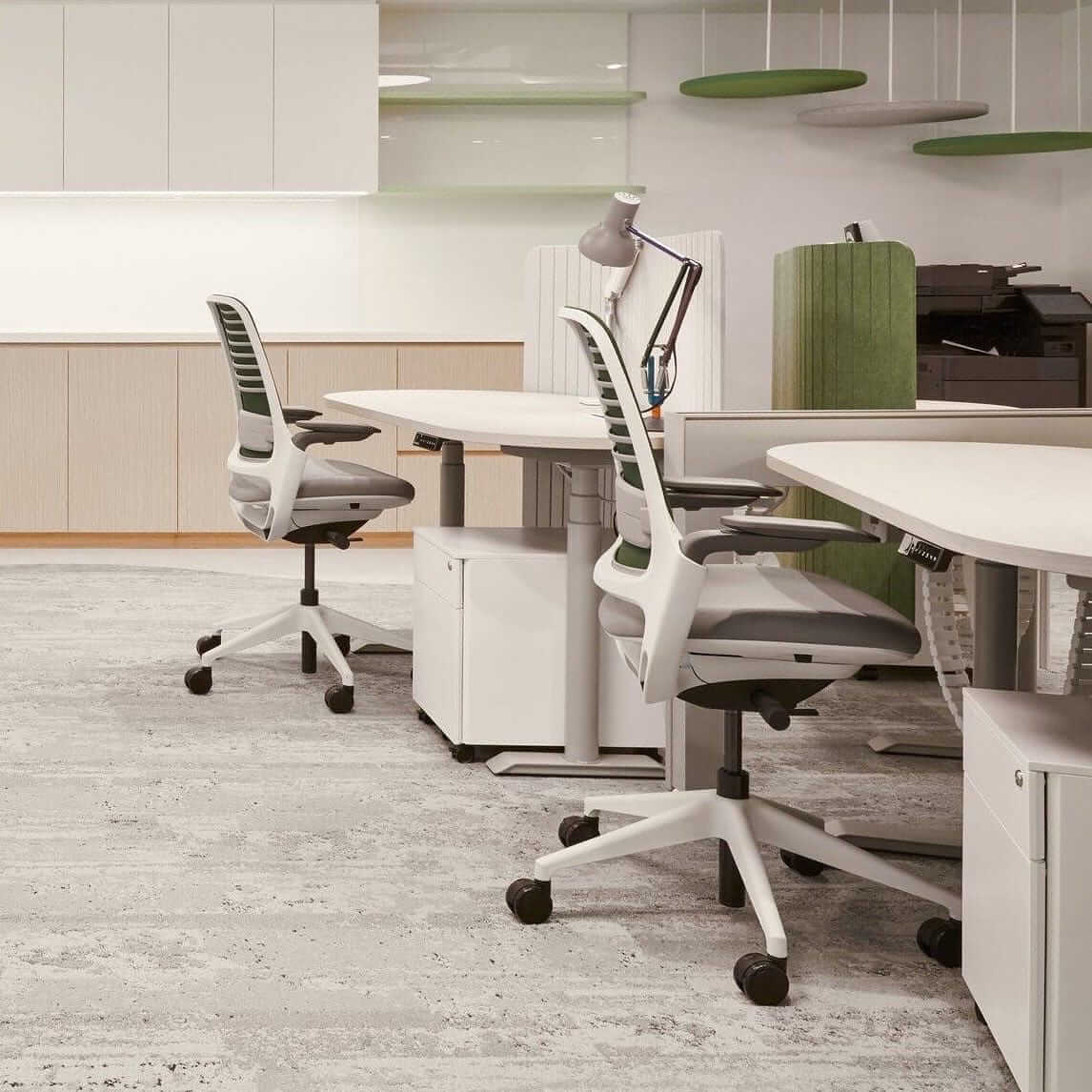 The Series 1 chair is one of the affordable office chairs of Steelcase – a known high-end brand for office chairs. The Series 1 can be a comfortable chair for mild to moderate use. Like the other chairs of the brands, it has a solid and well-built construction. And the design of the chair is also something that you can be happy about. 
The seat cushion has a dense amount of padding, not too plush but it's also not too firm. And it's quite comfortable for most people.  
In terms of adjustability, this affordable Steelcase chair is on the top tier. It has lots of adjustable features. The height of the lumbar support is adjustable, though you can't adjust the amount of support that you want. But that option is fairly lacking in the most affordable ergonomic office chairs.
The tilt limiter and recline can be adjusted, but you only have one knob for the 2 features. And it doesn't have many reclining options. It doesn't offer many reclining options compared to the higher-priced Steelcase chairs, And it also has a seat height adjustment. So you won't be uncomfortable behind your knee.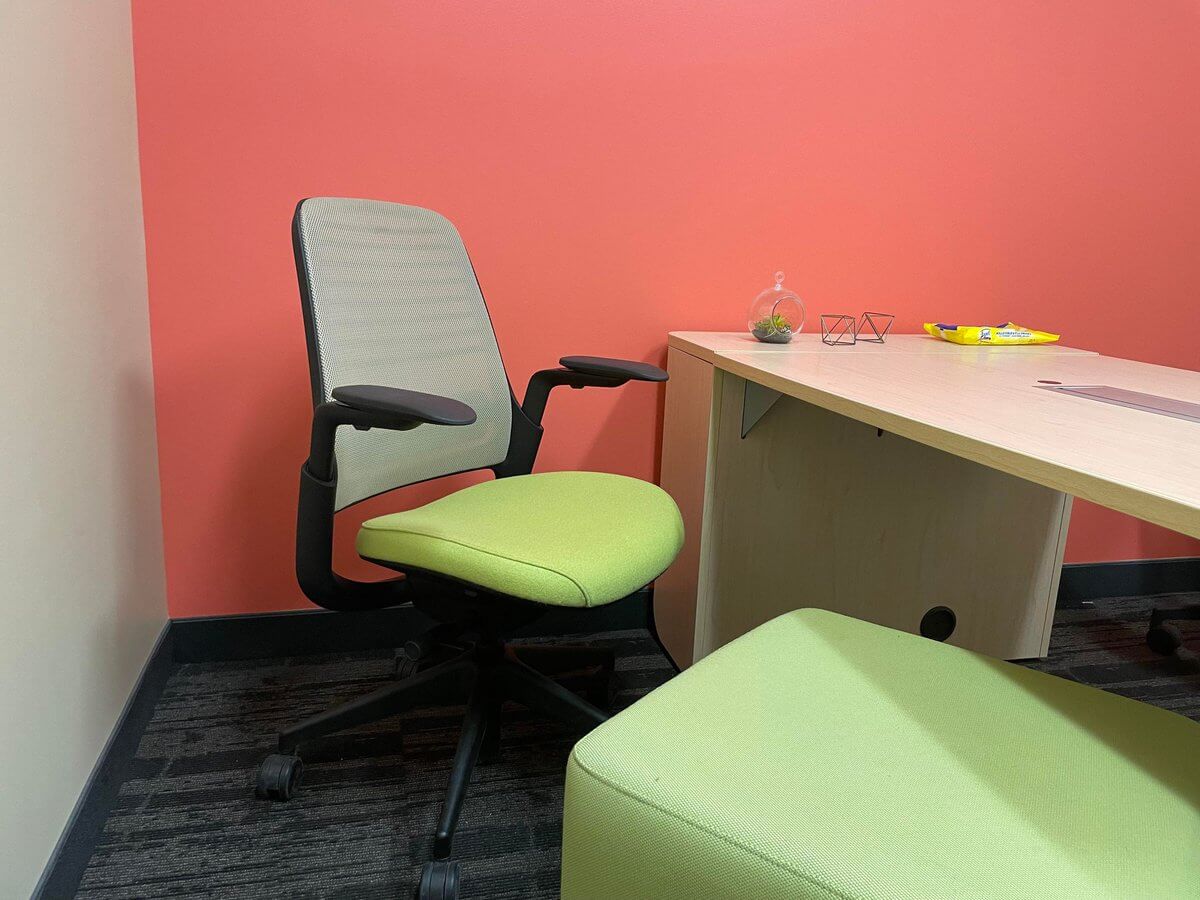 The armrests are also adjustable in several ways. And it's constructed differently. It's attached to the backrest, so this is something you have to look into before getting this chair. Some may like this feature and others may find it limiting.
The lumbar support is fairly good, but it may not be exceptional. 
Overall, it's a comfortable chair for its price. And if you're keen on getting a Steel case chair but you're not yet ready for the cost, this is a great option for you.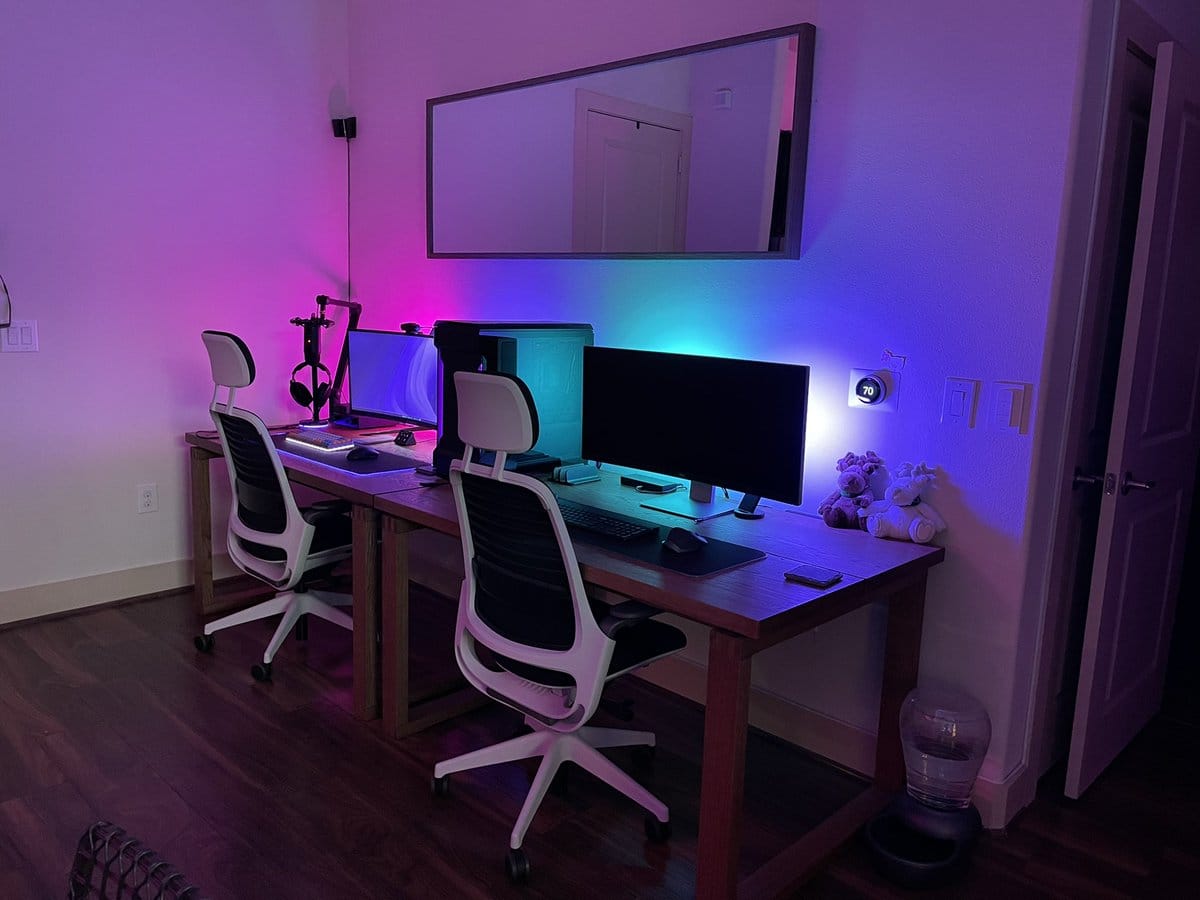 Pros
Durable and well built

Has a comfortable seat padding

Great lumbar support

Has a lovely design
Cons
Limited reclining positions
Check out more other Steelcase chairs:
The Autonomous Ergochair Pro is a great steal at its price. This office chair is intended for prolonged seating. It's a very comfortable chair and almost feels like you're sitting on a mattress.
And if you tend to slouch a lot when sitting, this chair can help you with that. It has pretty good adjustable lumbar support. and the shape of the backseat encourages proper posture. So you won't experience any tightness when standing up.
It can also be reclined. It does have a counterbalance adjustment to prevent the chair from reclining too much. You can also securely lock your preferred recline position. We find that the lock is quite secure and pretty much holds itself.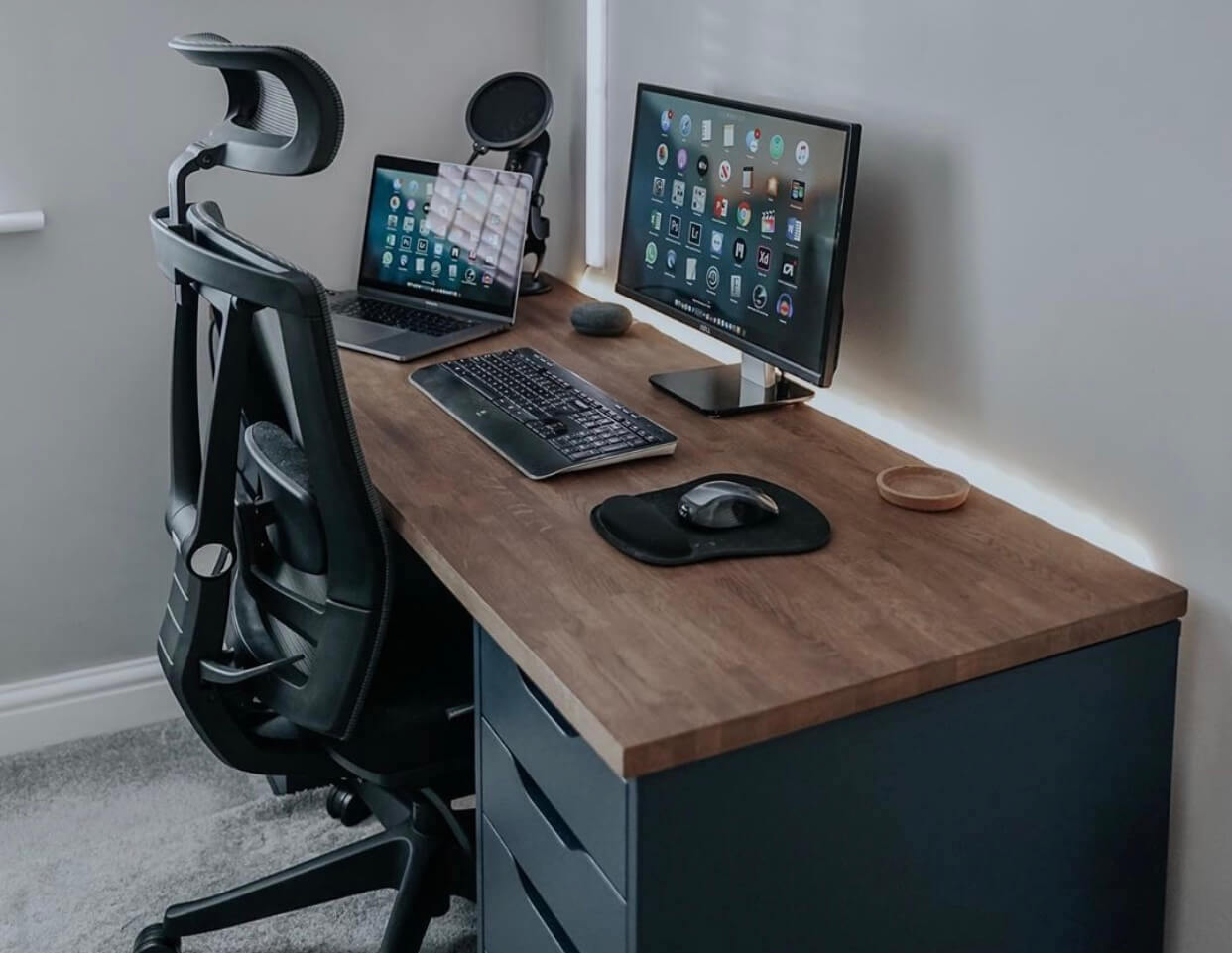 If the affordable price is not enough, the brand made it a point to break down where the cost went to. It's something not all brands do. So when you check their website you'll see 
Assembly is quite easy. The package also contains a hex wrench for the setup. The only thing is it does need a break-in period. So your body has to gradually adapt to the chair. But once it does, you'll find it very comfortable.
As for the design, it has an all-mesh back that encourages better ventilation. So it's rather comfortable even during the hot weather. The seat is properly cushioned and has enough width so you have more room to move around. 
We do have some qualms with the armrests. They have a very different design, they're a bit concave to the middle. We find that quite uncomfortable. Though it can be adjusted in 3 ways, it's not the most comfortable armrests we've tried.
Overall, it has several adjustments that can fit people of almost any size, just as long as you're within the 350 lbs weight capacity. It's pretty comfortable to sit on for a prolonged time.
Pros
Encourages proper posture

Breathable and comfortable

Wider seat

Great lumbar support
Cons
Armrests aren't that comfortable

Terrible customer services
Check the great price of this premium version today: https://amzn.to/3inOYky
This ergo chair offers loads of adjustability that makes it a comfortable chair for office or gaming. One of the things that We love about this chair is the lumbar support. It's built-in but it naturally conforms to your spine's shape and it follows your every movement. The backseat is flexible and made of durable material. 
The headrest is also fully adjustable, so the chair can pretty much accommodate people of varying heights. How adjustable is the headrest? it can be rotated, so it can provide ultimate comfort. This is something that you won't see in most chairs. Though the chair can be used by most people, you can maximize the rotatable headrest if you stand no higher than 6'2'. Beyond that, the headrest might give minimal support. 
The adjustable armrests are 3 way, so that's something really useful. It also doesn't feel wobbly or flimsy. You can also use the chair comfortably without the armrests. 
One of the qualms We have, however, is the seat depth. It's not adjustable and can be uncomfortable for those who have longer legs.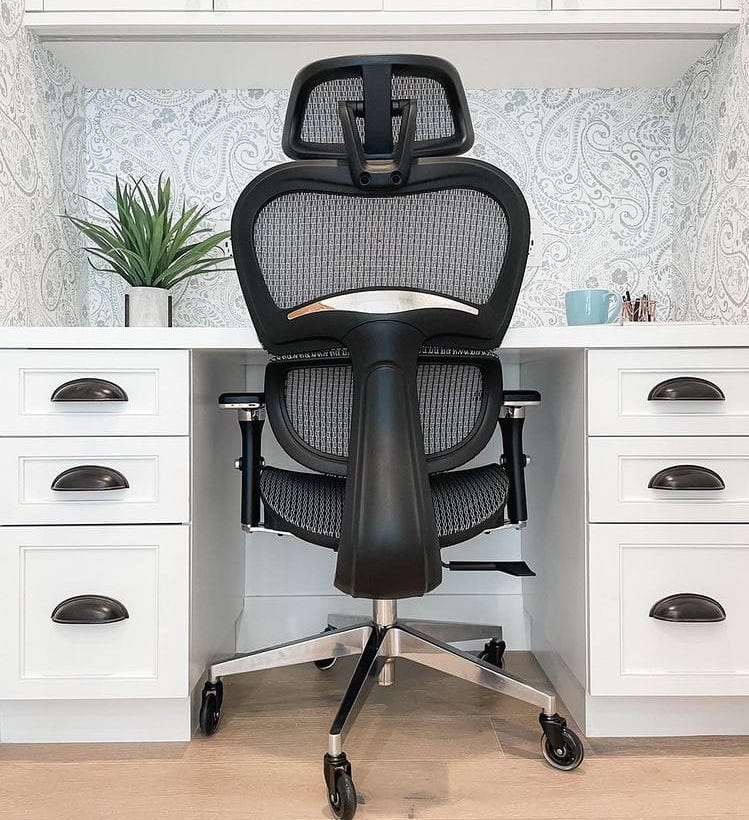 In terms of durability, it's neither flimsy nor premium. And although the entire char is mainly made of plastic, there is metalware that adds up to its durability. 
And you get to choose from 4 different colors. The design may not be for all, but it's decent enough. And the chair has more of a breathable material rather than soft padding. But you do get thin padding on the backrest and seat, though some may find it quite invisible.
Pros
Fully adjustable and rotatable headrest

3-way sturdy armrests

Great lumbar support

Highly breathable material
Cons
No seat depth adjustment

Long-time shipping
More info in detail about this office chair: Nouhaus Ergo3d Ergonomic chair review – fit perfectly to your body?
The IKEA Markus is one of the most comfortable, well-built, and affordable office chairs on the market today. It's a mid-range office chair that can also be used for gaming. You also have an option to choose between the leather and a fabric option, though the leather material costs a bit more. And We find the fabric material more comfortable.
The padded seating is adequately cushioned, it has the right firmness without feeling too tough. Then the high mesh back seat is quite breathable. And it's nice and firm. It also has a slight curve to it. So it can support the normal curve of your spine. The built-in lumbar support cushion helps keep proper posture while you're seated.
It doesn't have fancy features and it's more of a minimalistic chair. It has a flat seat design too. But what's best about it is that the seat is really wide and you can even cross your legs comfortably. This is actually what most people love about the MARKUS. 
But the biggest advantage of the IKEA Markus is its price points. It might be hard to find a chair that can be used comfortably both for gaming and an office that has the price. Though there can be some trade-offs. One, the armrests aren't adjustable. And We really don't find it that comfortable, sometimes it seems like the chair will do without it. So, the armrests don't have much relevance. And two, though it can give decent lumbar support, the head and neck support may seem lacking.
Though there are adjustable features that you can enjoy such as the tension of the recline. But keep in mind that it does not recline as much as the other expensive brands.
The lack of adjustable features means that this office chair isn't for everybody. It's not for people who are too tall or too short. But if you have an average weight, this is the perfect office chair for you.
Pros
Breathable mesh backseat

Sturdy and well built

Very comfortable for people with an average height

Wider seat
Cons
Maybe you also like: What is the Best IKEA Ergonomic chair?
OM TRULY Ergonomic chair
The OM Truly has a polycarbonate back. It's actually designed to be on par with high-end chairs such as Herman Miller and the Steelcase Leap.
What makes it stand up to the big brands is that it's also one of the most customizable office chairs that are mid-priced. Like the expensive brands, you have options to change the mechanisms, the lumbar support, and even the caster wheels. And you just need to pay for the upgrade. It's still quite affordable even with all the upgrades.
It's also one of the most adjustable and ergonomic chairs that we have tried. It has a seat height and depth adjustment. So you can find that sweet spot in case you have longer legs.
It also has a single tilt mechanism and tension adjustment. And you can choose from 5 lockable positions. You can choose from a fixed recline position or a freely reclining one. 
So if you want more bouncy, rock and forth motion, just loosen the tension knob. And it's easy to adjust the backrest, you just need to slide it up and down. As for the armrest, the unit boasts of 2 way armrests. But you can upgrade it to a 3 way or a 4-way armrest. And you can also pop in a headrest when needed.
And the back angle adjustment is something that you don't commonly see in most ergonomic office chairs. It allows you to change the tilt of the chair, even before you adjust the recline. 
Furthermore, the polycarbonate backrest has an S-shaped curve that mimics the shape of your spine. And the material is soft and can follow your every movement. And you have an option to have more pronounced or subtle back support by adjusting the knob at the lumbar support area. 
But there might be some features that won't go perfectly well. So the polycarbonate back is flexible. And for me, it offers great back support, but this material is not for everyone. And the cushion might be too firm for some, especially those who favor plush mattress-like seats. And the armrests felt a bit flimsy and did wiggle a bit.
In a nutshell, it's a highly ergonomic, adjustable, and customizable chair. And for this price range, you might find it hard to find something like it.
Pros
Highly customizable

Highly adjustable

Has a back angle adjustment

Offers a lot of upgrades
Cons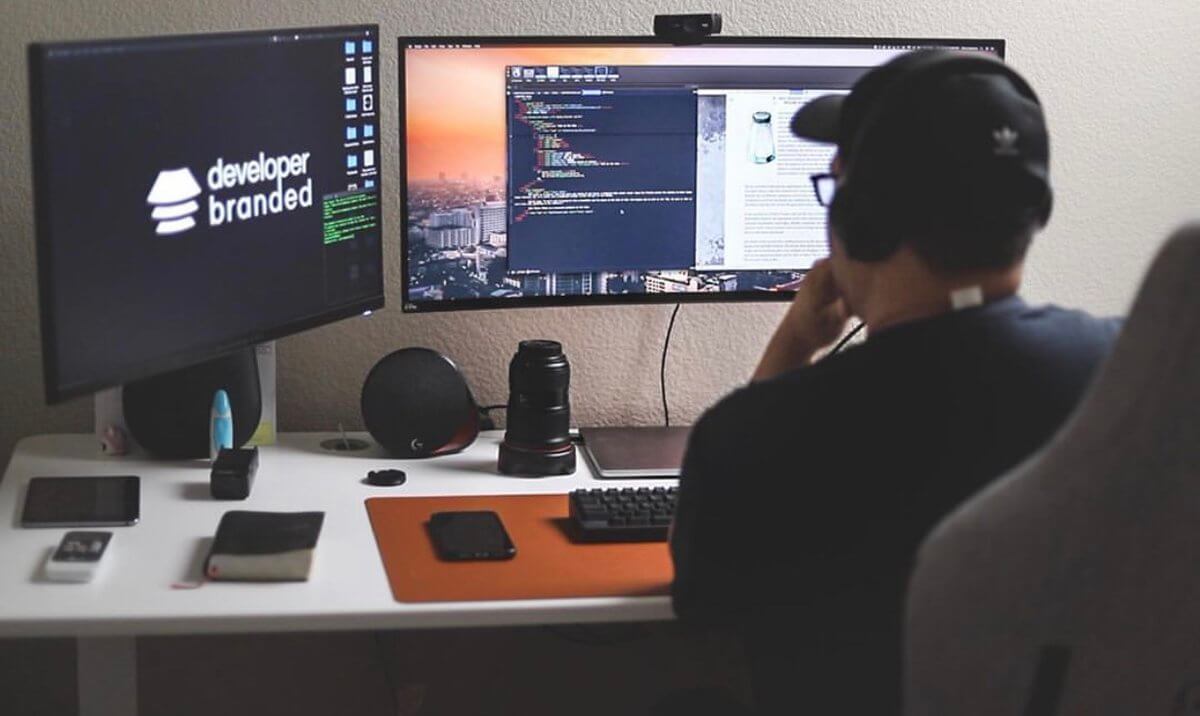 The Eurotech Vera may have the most comfortable backrest for a mesh office chair. It has a back support that almost everyone can find comfortable. So whether you're tall or short, this is an ergonomic chair that can give very good support.
This chair looks rather basic and does not have too fancy features. But it's one of the most comfortable office chairs we have tried. It does have a wider seat and there are no sharp edges that could be uncomfortable for your legs. The cushions are quite comfortable but don't expect a plush one. But it's not too firm, it just has the right softness. So if you're looking for a very soft and plush office chair, this isn't that.
In terms of adjustability, seat height and depth can be adjusted. It also has a cache tilt mechanism that offers 4 various locking positions. So pretty much it has the basic adjustable features you'd be looking for in an ergonomic office chair. And the armrests are 4D too.
Overall, it's a basic ergonomic and comfortable chair with a basic of adjustable features.
Pros
Well-padded seat

Has a wider seat

Offers great lumbar support

Sleek design
Cons
It may not be that comfortable for shorter people who stand less than 5'3"
AKIR chair
The AKIR chair may not be the most durable, but in terms of disability and comfort, it has a lot to offer
The seat of this ergonomic chair has some of the widest that I've ever tired. It's also nicely padded and extremely comfortable. There are no hard edges that can be abrasive to your skin. The seat is actually the best feature of the chair, it's ultra soft but it doesn't easily sink. While there are plush office chairs in the market today, they can easily bottom out.
The AKIR chair's cushion is likely to hold its form even with longer use. So if you're looking for a durable plush seat that doesn't sink over time, this is a great option. 
The breathable back mesh adds up to the comfort this chair has to offer. It feels cool and the adjustable backrest offers great lumbar support. And you're in for a treat, if you're in love with the nice cushion of the AKIR seat, the lumbar support also features the same high-quality padding. So it's really very comfortable on your back. It's great for those looking for more lumbar support.
Oher adjustable features are the armrests, seat height, and depth. And it also boasts of a multiple tilt positions
In a nutshell, it's a very comfortable and plush ergonomic office chair.
Pros
Nicely padded seat and lumbar support'

Features a wider seat

Had several adjustable features

Very comfortable
Cons
The built could have been better
What about the best office chair for $300 or less?
Is it possible to find a decent and comfortable chair with a 300$ budget? Since you get what you pay for, does it mean that you have to settle for second best?
It actually is possible. You can start your home office setup with a comfortable office chair without breaking the bank And some of the top picks can also be used for gaming. What's the best office chair for 300 bucks or less? Keep reading to find out!
Note: These office chair below is not ergonomic. If you really need an ergonomic chair with a budget, please take a look at the 5 chairs we have mentioned above.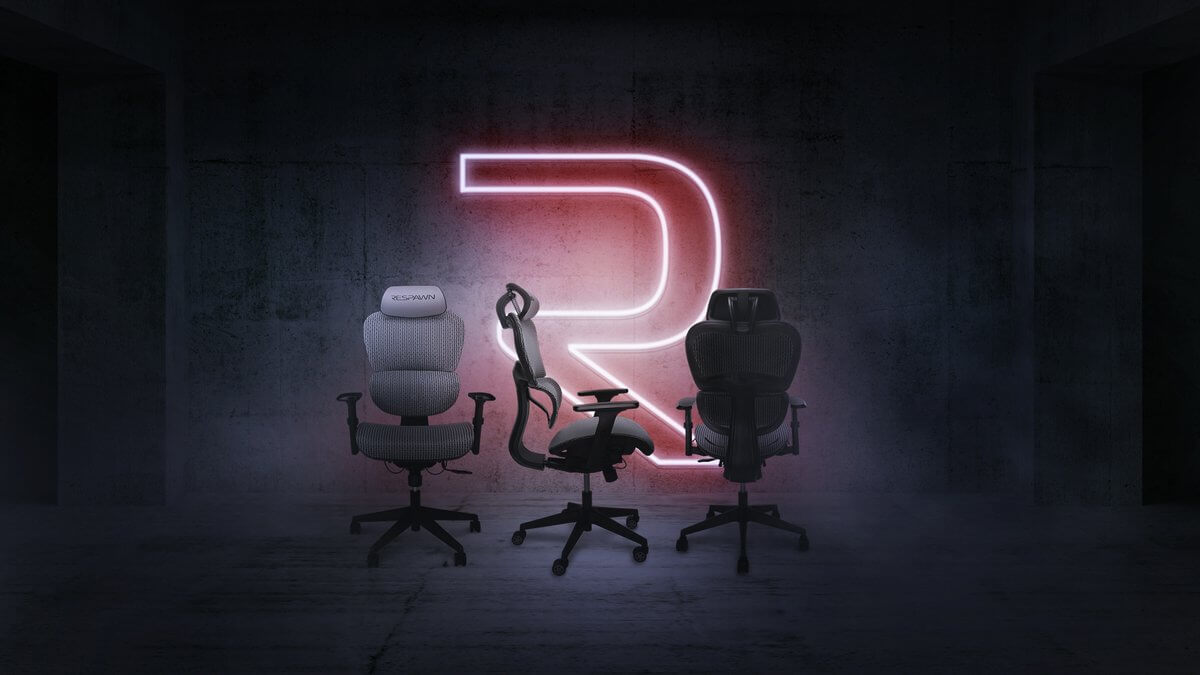 The OTG is a decent task chair that can offer comfortable seating for up to 6 hours. 
If you do enjoy a rocking motion in your office chair, this is a great option. It also has a tension knob, so you can choose how firm or how to lose the rocking tension is. In addition, it has a tilt mechanism and it can also lock in an upright position. And it also has several other adjustable features such as the armrests.  
And the seat depth can be adjusted. This is one feature that you won't typically find in an office chair within this price range. Even some more expensive brands than the OTG 11692 don't have this. So this is really a great feature that can make the chair more suited for different people. Another feature that makes it comfortable, is the mesh backrest. This keeps you cool while working
The total look of the chair is sleek and simple. It has mock leather upholstery. So if you want a leather look and feel but can't afford a genuine leather chair, this is for you.
Pros
Beautiful mock leather upholstery

Seat depth can be adjusted

Offers a rocking motion with adjustable tension

Has a breathable mesh back
Cons
Armrests can only be adjusted up and down
The BOSS B6023 stands out with its infinite locking position and the back angle and seat angle independently. While most chairs only have one adjustment knob for both features, the BOSS B60233 gives you more liberty.
The infinite locking options give you the freedom to choose any point you feel most comfortable at. So finding the sweet spot is very easy. And you're not confined to a detailed number of options. This makes the chair more suitable for a lot of people. 
Other adjustable features are the armrests, seat height, lumbar support, and tension knob. We always love how you can adjust the tension of the recline. Whether you want it too firm or too loose, it's up to you. 
We also love thickly padded seats. The seat is designed to hug your butt naturally. It has a natural curved shape that feels really comfortable on your butt it feels as if the foam is hugging your butt. So if it's very accomodating for prolonged seating. It's perhaps one of those chairs that you can use for long hours in front of the computer.
The combination of the adjustability of the chair and the design of the seat makes it one of my top choices for prolonged working. 
Pros
Infinite locking position

Independent adjustments for tilt function and seat angle

Contoured padded seat 

Highly adjustable
Cons
The padding is not of premium quality

Long-time shipping
Boasting 400 lbs weight capacity, the Sadie Big and Tall is an affordable heavy-duty office chair. The seat is very accommodating for bottom-heavy men and women. It's wide enough so you still have enough room to move around a bit sans the wider below the waist dimensions. And it doesn't feel too cramped up.
The chair and even the parts have a substantial weight to them. So this gives you confidence that this heavy-duty char is really meant to bear such weight. It feels sturdy, solid, and well built. And even if you've been sitting for 6 hours or more, you won't hear any cranking sound.
It's a comfortable chair designed for bigger people. And it has several adjustable features. The seat height and lumbar support can be adjusted to your height requirements. Though We wished the lumbar support was some sort of locking mechanism so it would stay in place. Sometimes it tends to move up and down.
As for the setup, it's easy to put this chair altogether and the assembly tools are included in the package. You just have to bear with lifting the heavy parts. So if you're physically challenged, you can ask someone to help you assemble this office chair. 
The seat is also well-cushioned. And it doesn't sink easily. So it really accommodates heavier people without the seat bottoming out after several or even prolonged use. Though tall and thin people might find the seat too wide. But if you love the extra room, it can be your chair. 
Pros
 Well-cushioned seat

Solid and has a substantial weight

Easy to assemble

Perfect for those who are bottom-heavy
Cons
The lumbar support doesn't have any locking mechanism

Long-time shipping
Conclusion
These economic office chairs can give you the best solution if you have a small budget! We hope you were able to find your chair from our list! Be free to ask us anything at anytime