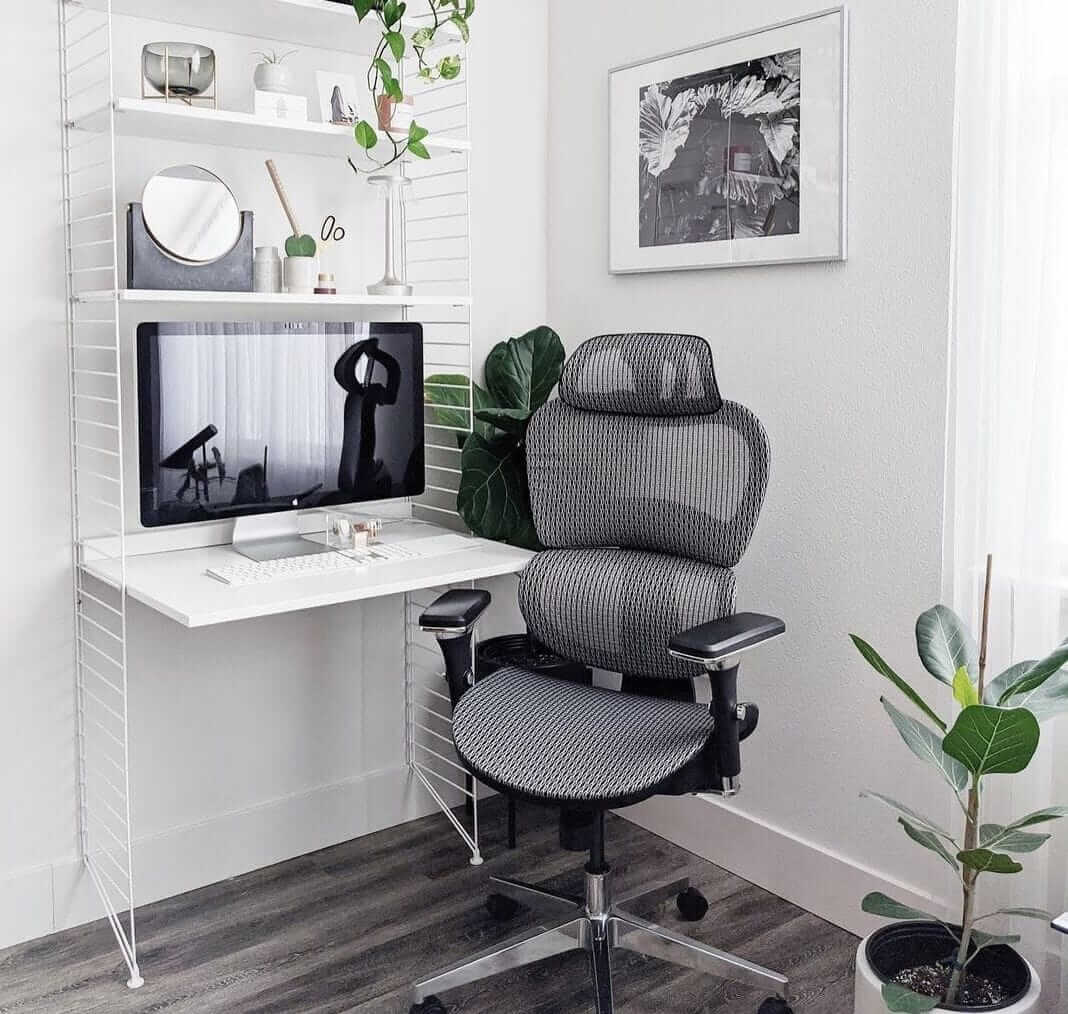 You'll see lots of praises online for this mesh chair. It's quite impressive if it's true. It boasts a different type of technology for the backrest but not at a very steep price. So we'll have a look at it.
We'll also see what other ergonomic chairs can be alternative solutions in case the Ergo3D doesn't sit with you well. 
What's with the dynamic lumbar support system
This feature is perhaps the best selling point of the Ergo3D. 
Most comfortable and supportive ergonomic chairs have adjustable lumbar support. So you have that bar at the back or a knob that you can adjust to change the height, and sometimes, the depth of the lumbar support as well.
And you will not see that bar in this chair. The lumbar support is more of a built-in thing, And it's referred to as the dynamic lumbar support, which is more intuitive. So it is more fluid and surprisingly feels less rigid than the Aeron. it can move with you and provide lower back support if you stretch or lean over. 
So yes, there is validity in this claim, it really did provide that sublime back support sans adjustment options. And you don't even have to find the sweet spot since the chair can automatically adjust itself for you. 
This is great for those who really do not know how to find the perfect setting for their lumbar support. This is perfect for those who don't want to fidget through a lot of adjustment knobs and features just to find a more comfortable sitting position. So, it will look like a simpler solution for those in need of more back support. 
And the nice thing about it is that it doesn't affect the price tag that much, it's still more affordable than high-end chairs and brands with sublime back support.
But though this is some cherry on the pie, not all people would want cherries on their pies, right? 
There are still some who would want to go old school and have the liberty to adjust their lumbar support on their own so this is not the chair for them. 
The 135-degree tilt is a bonus
Another feature that had a lot of people falling in love with this chair is the super recline option or the 135-degree tilt. Though you will notice that you will not be able to fully recline the backrest, you can tilt it up to 135 degrees. And it's one of the very few ergonomic office chairs within its price range that offers such liberty.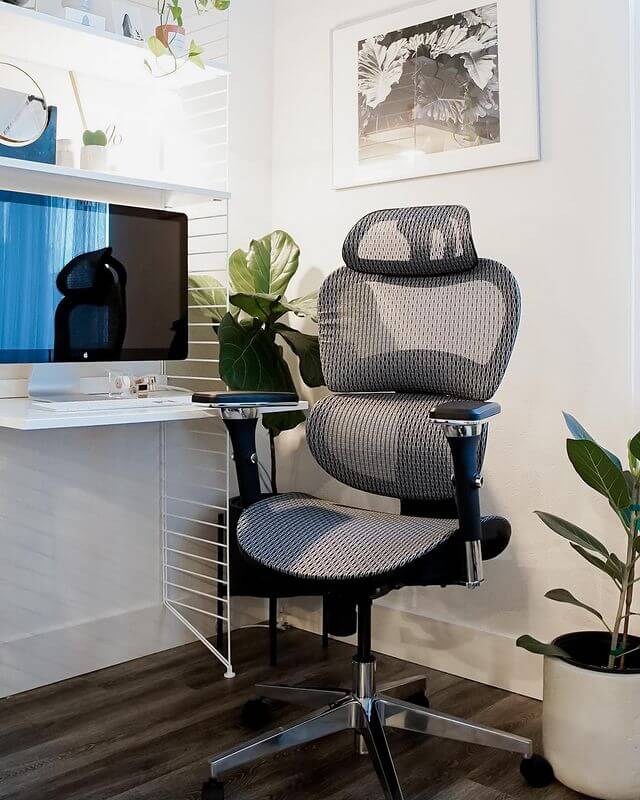 You will still be able to see lots of tilt options or a semi-recline position in most gaming chairs. But on ergonomic chairs? No. Even if you scour the internet, you might even come back empty-handed. 
So this is what also sets it apart from a sea of potentially impressive office chairs. Even a high-end Steelcase Series 1 or 1 will not indulge you with this. 
It's a great pick for 5'6"- 6'1" folks
This is a mesh chair that will not be comfortable for petite users or very tall guys. 
The construction of the chair is not flimsy given its price range. But it has more of a sleek facade. You will often see this unit advertised as a heavy-duty chair that can withstand 275 lbs. 
And this can be mistaken for a chair that can be used by big and heavy dudes because it's "heavy-duty."
The heavy-duty here means that it's solid and sturdy, but it doesn't mean it's for the big guys, 
And with mesh chairs like Ergo 3D, it's better to not fill the capacity of the unit to the brim, especially if the construction is not over the top such as high-end brands Steelcase and Aeron. But the Ergo 3 has a better build than what you're paying for it. 
Though it may somehow resemble an Aeron Miller and the mesh material is quite comfortable, it's not there at that level yet in terms of the construction.
If you try to maximize the load capacity of a medium-duty mesh chair, you can feel the material or the frame underneath the seat digging into your buttocks. The mesh material, though sturdy, can sag with a bigger load.  
And not filling the glass to the brim will also preserve the integrity of the mesh material. Though heavy and big users might find the chair decently comfy for a few days, it will sag. And you might soon hear a creaking sound.
Petite users, on the other hand, will not be able to rest their feet flat on the floor. That could be numbing and tiring for the legs. So 5'6" is the perfect minimum height. 
Also, the seat depth and seat width are lacking for the big boys. The seat depth is only 16.3" and the seat width is only 19.7. If you are on the heavier side, you need an office chair with a seat depth and width to be around 17"-20".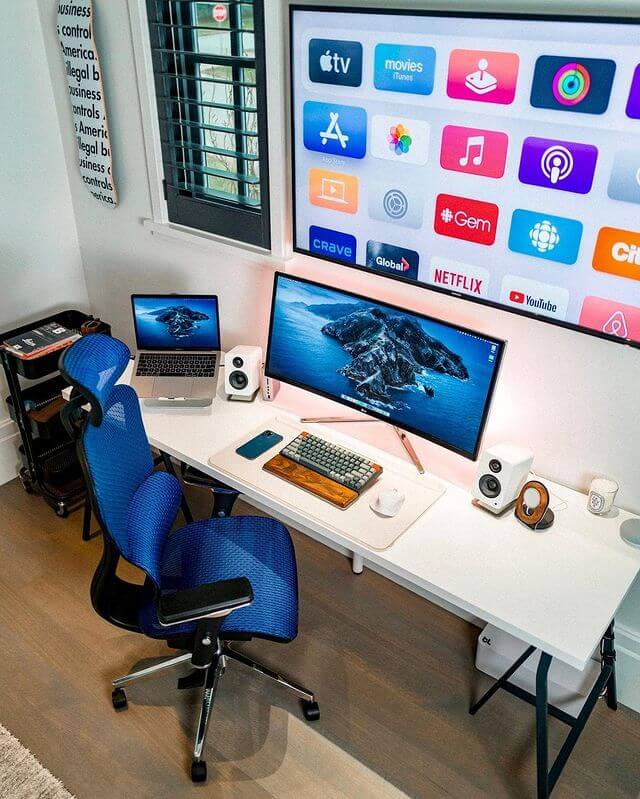 And the 17" might still feel a bit too cramped for those who are bigger around the hips. A width or depth of 18" is the perfect number. This will ensure that you can rest your back against the chair and still have 2 to 4 inches between the back of the knees and the seat of the chair and this will be a better sitting posture.
So you see, albeit having a higher backrest with an optional adjustable headrest, it is more of a sleek and semi-dainty sitting solution. 
And these are what you have to live with
Of course, for a mesh chair that comes with this cost, you can't expect it to be perfect. And here are some of the things that you have to live with should you decide to buy one for your home office.
The headrest of the Nouhaus is not the best. It can be a bit shaky. And though it has multiple locking positions, it doesn't really lock-in. So if you push your head more firmly against it, it can go out of place.

The arms are yes, 4D, but these can be too wide for skinny users. Also, it will not be able to go low enough for petite users. And even those who are 5'6" might still find that it can't go low enough for them if they have a longer trunk than the upper body
We understand it suits not everyone's cup of tea
Not everyone will love an ergonomic chair with an intuitive back. 
Here are some Ergo3D alternatives. We'll also compare them a bit with another so that you can make a quick decision.
Seat height range

Seat width

Seat depth

Ergo3D

18.5 – 22.4″

19.7"

16.3"

ErgoPro

18.5 – 22.4″

20"

15.9"-17.3"

Sidiz T50

17" to 21"

18.5"

18.3"-21" 

Herman Miller Aeron

A

B

C

15-19"

16"-20.5"

16"-20.5"

19"

20.25"

25"

16"

16.75"

18.5"

Autonomous & Ergohuman

17"-21"

20.5"

18.5"
Nouhaus Ergo3D vs Nouhaus ErgoPro
The Pro has a bit more leverage over the Ergo 3D. The construction and the design are the same. But it has a slightly wider seat and the seat depth can be adjusted with the highest setting one inch better than the Ergo3D. So this can be used by folks who stand up to 6'2".
Also, the wheels are on steroids. Instead of the standard caster wheels, the ErgoPro is outfitted with the brand's Pro wheels, These are the next-level caster wheels that can roll softly and easily on any surface. It can also be used on carpeted floors. 
These are larger wheels with a hollowed center. While we don't see it as much of an asset in a home office, it can make your job easier in the corporate setting. This may not be a noticeable feature unless you need it. Those who want to roll while working will find that this makes a big difference. 
You can easily slide or roll from one desk to another or answer phone calls on the other side of the room without having to lift your but off the chair. It also adds an element of fun.
And oh, it does have a synchro-tilt. So in addition to the dynamic back support, it can also provide proper spinal alignment when you're in a stationary position. 
Nouhaus Ergo3D vs Sidiz T50 Home Office Desk Chair
The SidizT50 has a seat height range of 17" to 21". So it can go lower and can be used by those shorter than 5'6". So it's an alternative for petite users. But It's still a dainty chair that cannot be used by taller users since it can't go higher than 21".
But it does have more adjustable features up on its sleeves. The seat depth of the Sidiz T50 can be adjustable, whereas the Ergo3D is fixed. It has a seat depth from 18.3"-21" while the Nouhaus chair measures 19.7. But the seat of the Sidiz is a bit narrow compared to Ergo 3D.
Also, the SIidz has an adjustable lumbar. It also feels decently sufficient. This is also one of the features that made this Korean-made office chair a hit in the international market. This can be your chair if you prefer fidgeting through options. 
Nouhaus Ergo3D vs Herman Miller Aeron size A
Albeit the differences in prices, we can still compare these two office chairs. The Ergo3D can also be seen as taking inspiration from the infamous high-end chair. It's also one of the cheaper alternatives to the Aeron. The Aeron A will have more similar dimensions to the Ergo 3D.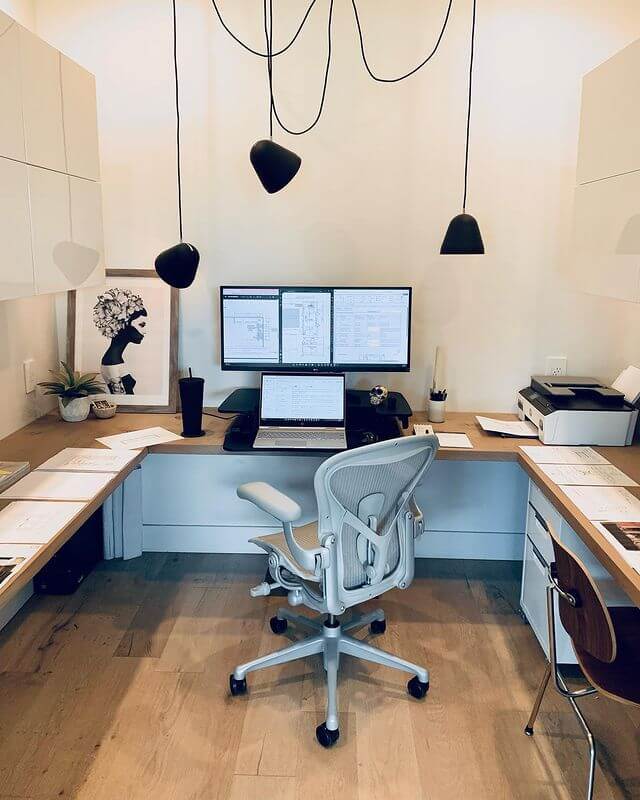 They also share several things in common and they can be very indulgent for you back.  
But even if the Aeron comes in three sizes, all users will still find the backrest not high enough for them. The Aeron C has a wider and deeper seat, but the backrest will still not be enough to support tall users.
The seat can go higher than that of the Nouhaus chair, but the problem is that the backrest is more of a mid-rise version. So they may still feel the plastic frame digging into their shoulders.
Though in terms of adjustability, Aeron has more teeth. But it also doesn't have a seat depth adjustment. But it still makes the Aeron more ergonomic than the Ergo3D. 
In addition, the mesh material is also more responsive. Though the Nouhaus chair feels comfy, Aeron has a different level of mesh material. It's looser at the center but it's very taut at the sides. So you can really see this chair moving with you. 
The lumbar support of the Aeron is adjustable, both depth and height. So if you want to be able to control the intensity of your back support, Aeron is better for you.
And of course, we have the arms. The arms of the Herman Miller chair are more stable and more supportive. You can expect all of the parts to be of high quality since it's a high-end brand. 
Thus, if you need your chair to be more ergonomic and are particular with solid arms but don't mind the mid-height backrest then you benefit more from the Aeron. But of course, it will have a steeper price. If that is the only issue, then you can scout for second-hand Aeron chairs. 
Nouhaus Ergo3D vs Ergohuman Mesh chair
These two all-mesh office chairs look very much alike. Both have a headrest and the seat height range is pretty much the same. And both can be tilted up to 135 degrees. 
But the Ergohuman has some advantages over the 3D. The seat is slightly wider by an inch. And the seat depth is also 18.5", so the additional inches can be enjoyed by taller users. 
Though the Ergo3D has dynamic back support and an intuitive design, the Ergohuman has a synchro-tilt mechanism. So even if the backrest isn't as intuitive, this type of mechanism makes way for better spinal alignment and better circulation in the legs.
So both back support of each unit is comfy and has something better to offer. Both are impressive, but they function in different ways, 
And here is it. We see the Nouhaus better for those who move a lot when they're seated. Thus they will need a chair that can move with them.
While the Ergohuman will offer a very supportive backrest and great spinal alignment for those who don't move much when seated. They will benefit from the synchro-tilt mechanism better than dynamic back support. 
Dynamic means movement, so if one will not move that much while seated, it's not going to make such an impact.
Also, the more intuitive Ergo3D is for those who don't have much of an idea of how to find the perfect spot for their spine. The backrest will adjust itself for you. 
Take away
The Nouhaus Ergo3D is one of the more responsive and supportive mesh chairs. It has its own category with an intuitive back design. Though the chair is sufficiently durable and sturdy, we can't really refer to it as heavy duty. Because these are the chairs that are fit for big guys. 
But if you are 5'5 to 6', then you will find this very comfortable. It is made for those looking for a simple sitting solution but should be very supportive of the movement.