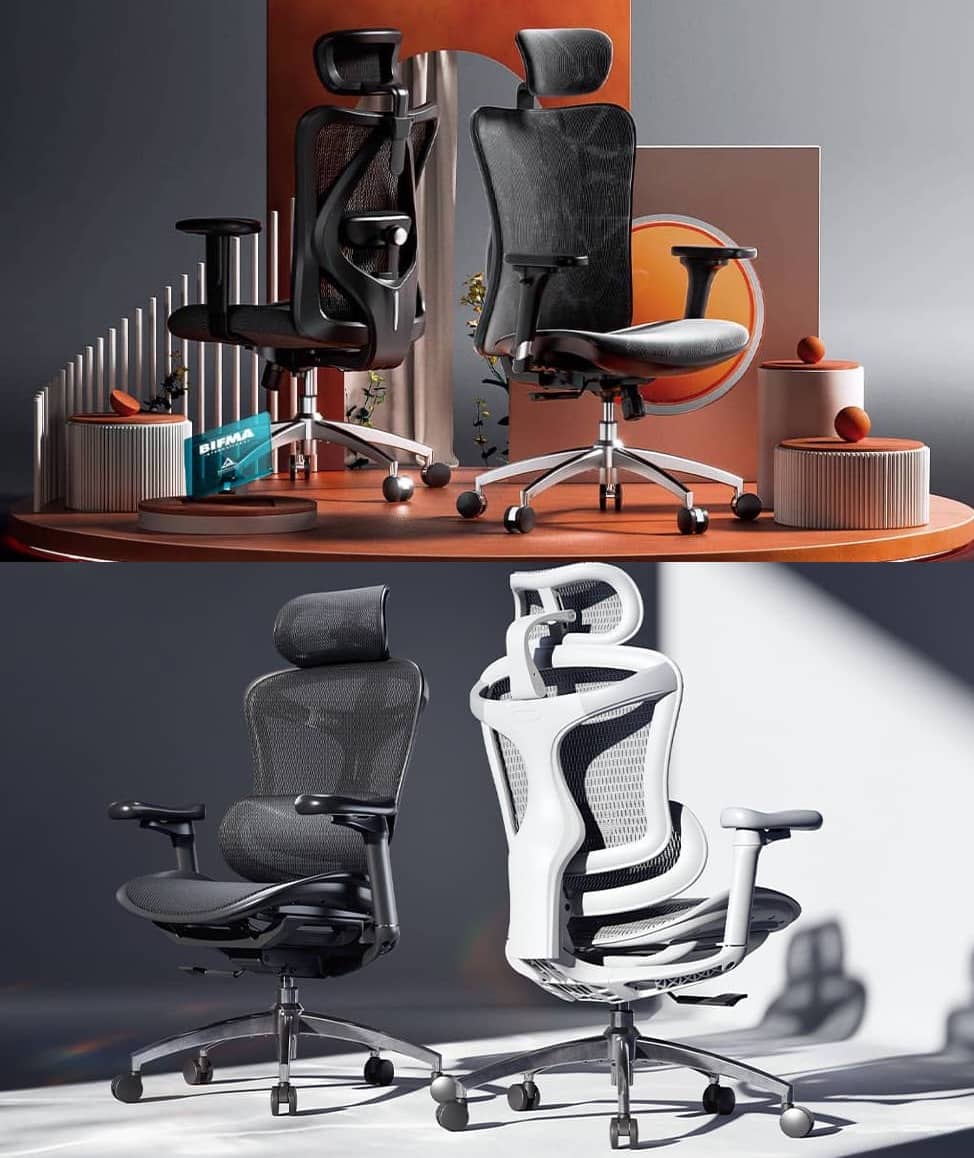 The SIHOO brand makes budget-friendly office chairs that can give ample adjustable options. You'll be able to adjust the chair to your needs without breaking a hole in your wallet.
So let's see what makes these two SIHOO units different and which can be a better seating solution for you. 
| | | |
| --- | --- | --- |
| SIHOO models | M57 | Doro C300 |
| Seat height range | 17.9"-21.8" | 15.75"-17.72" |
| Lumbar support | Height and depth | Self-adjusting |
| Seat width | 20" | 20" |
| Seat depth | 20" | 16.53" |
| Weight Capacity | 110 lbs | 300 lbs |
| Check price | https://sihoooffice.com/products/m57-ergonomic-chair | https://sihoooffice.com/products/sihoo-doro-c300-ergonomic-office-chair |
Self-adjusting vs a 2D lumbar support
If you are on a tight budget but need a chair that can give sufficient lumbar support, you might have to scour the market just to get one, it's not common to see a chair under 400 dollars that can give, if not sublime, at least back support. You'll need exactly one if you plan to work for longer hours.
And this is why SIHOO has become one of the household favorites. It has several units priced under 500 dollars that have enough ergonomics and lumbar support for those that need it.
So let's take a look at what makes M57 and C300 different. M57 has an adjustable lumbar support. You will be able to adjust its depth and height. This lets you have more liberty to the amount of tension and if you would want to be a bit more close to your desk. An adjustable lumbar depth also allows you to use the chair for tasking jobs or whenever you need to have the body geared towards the desk a bit more.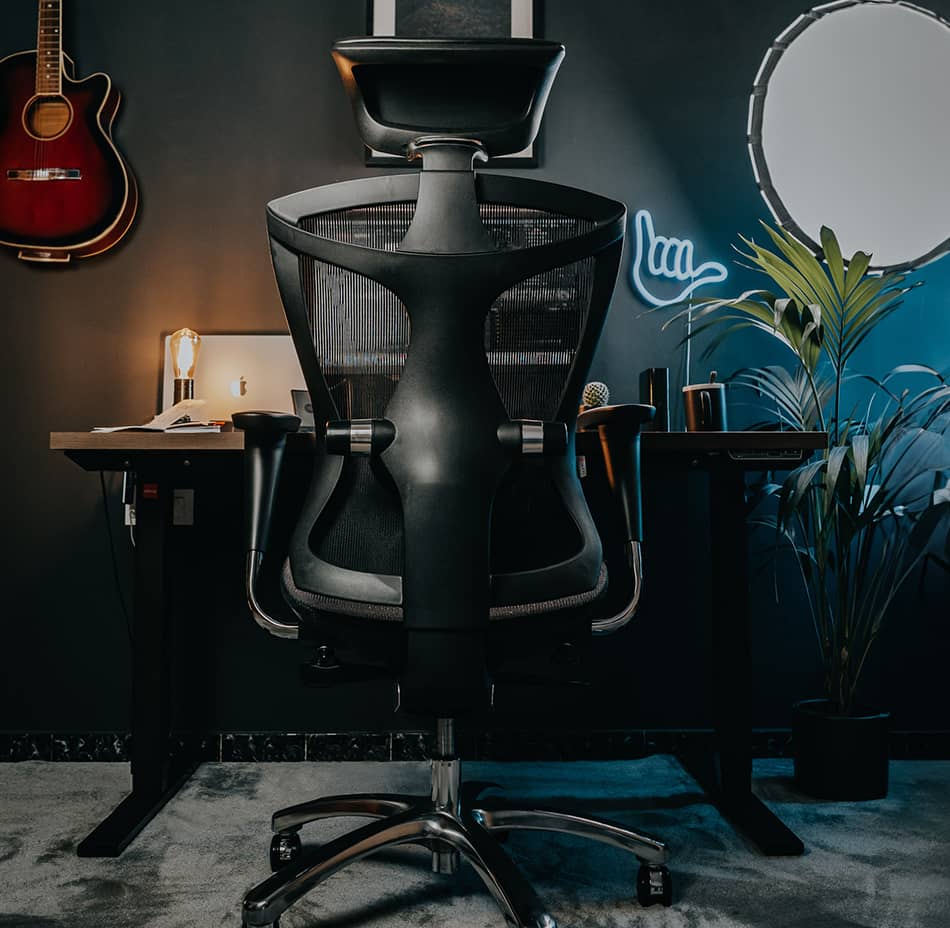 The lumbar support of MF7 might not be the best if you will compare it to other intuitive premium chairs with very significant back support. But it is enough to mold your back to the backrest and have more space to spare for mini movements. So unless you need very significant and more aggressive lumbar support, you'll be happy with what M57 can offer.
Now let's see what C300 has up its sleeves. The chair is overall a more premium and adjustable version of the M57. They look similar in terms of the built and the all-mesh upholstery. But what you'd notice is there's an additional component on the C300, that's the dynamic lumbar support. It has a bit more ergonomics than the chair. And it is adjustable, but in a rather different way. It doesn't have any knob or lever that you can turn to change the height and depth of the support. But since it is dynamic, it will be able to adjust itself to the user. It is slightly intuitive if you look at it this way.
Now this can come as a surprise since the C300 is still quite easy on the pocket. Yes, it's a more premium choice than the M57, but it is still quite affordable.  
And how does it work? The dynamic lumbar support is quite significant. And is not too aggressive like an Aeron, but you feel that there is more presence compared to the M57. And even when you recline the chair, the dynamic lumbar support follows your movement.
These mesh chairs feel slightly different from one another
M57 is a decent mesh chair that is not too soft or too luxurious, but it is not also abrasive. So unless you're longing for a premium mesh feel, then this would suffice. One thoughtful feature this mesh chair has is that the lip of the seat has a cushion at the edge. So when you sit on it, you will not feel the plastic edge of the seat pressing against your thighs. This can spell more comfort, especially if you are going to work for the entire day. But the disadvantage is, if the temp rises it can be more sweaty in this area, since there is a cushion. 
The C300 has a more premium feeling mesh material. You can almost compare it to sitting on a hammock. The feeling of weightlessness adds to the comfort. Thus you will be able to sit in this chair comfortably longer than you would with the M57.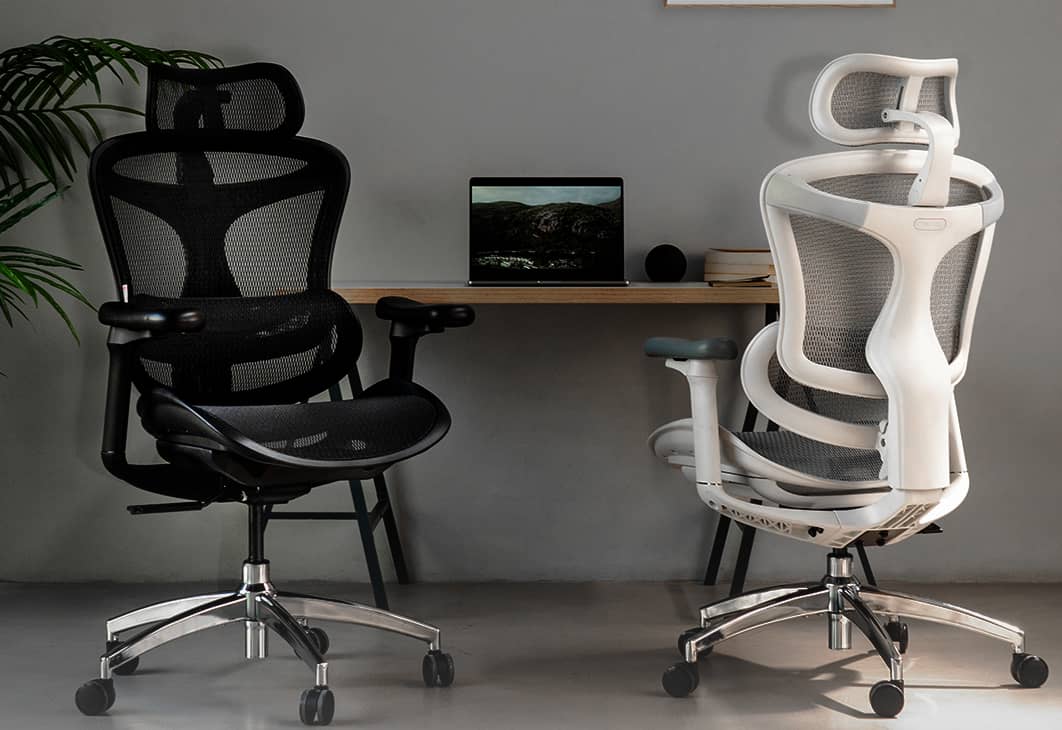 And for some reason, the mesh material of the C300 feels more airy and breathable, perhaps due to the more expensive materials used. Though it's not full of luxe and premium, you can tell which is which just by sitting on it.  
The C300 is a more adjustable and ergonomic optio

n
The dynamic support of the C300 is one of its best-selling features. This also helps distribute the weight on the backrest evenly. This further helps minimize the fatigue you may feel on the hips and the entire back. That's why this is the chair that you can sit longer in. The hammock-like feel will have less strain and pressure on all parts of the body.
It is the better option when it comes to ergonomics. it is also a tad more expensive than M57. But it also has its Achilles heel, and here it is. The arms of the C300 are adjustable like that of the M57, but it is too manipulative. It feels like even with subtle movements, you can easily change the position of the armrests. And this is actually not good all the time. If you are in the middle of doing a report and you accidentally knock the arms, you need to reposition it to get it back to a comfortable spot. And this can happen quite too often for some.
C300 is ideal for people with an average height
The seat height range of the C300 makes it ideal for average-size folks. So if you are shorter or taller, you will not be able to find the correct angle and position for your needs. So if you belong to either the higher or lower end of the height spectrum, then this is not the chair for you. 
The M57 can go a bit higher, so slightly taller people will still find the chair comfortable.  
The choice between a more substantial lumber vs a subtle one
Here are very simple things that you can think about when choosing between these two SIHOO chairs.
Both chairs have a substantial build, they are not too flimsy. But the C300 feels more pumped up and stable than the M57.

The lumbar support of C300 is more intuitive, it adjusts itself to the user and that f the M57 can be adjusted both height and depth via a know. Also, the lumbar support of the C300 is more significant. So you have to choose between these and what your lower back needs are. 

The mesh material of C300 feels more premium, softer, and more breathable

But the arms of the M57 feel more stable.

Slightly taller people might not fit into the C300 while they may still be able to find their sweet spot in an M57