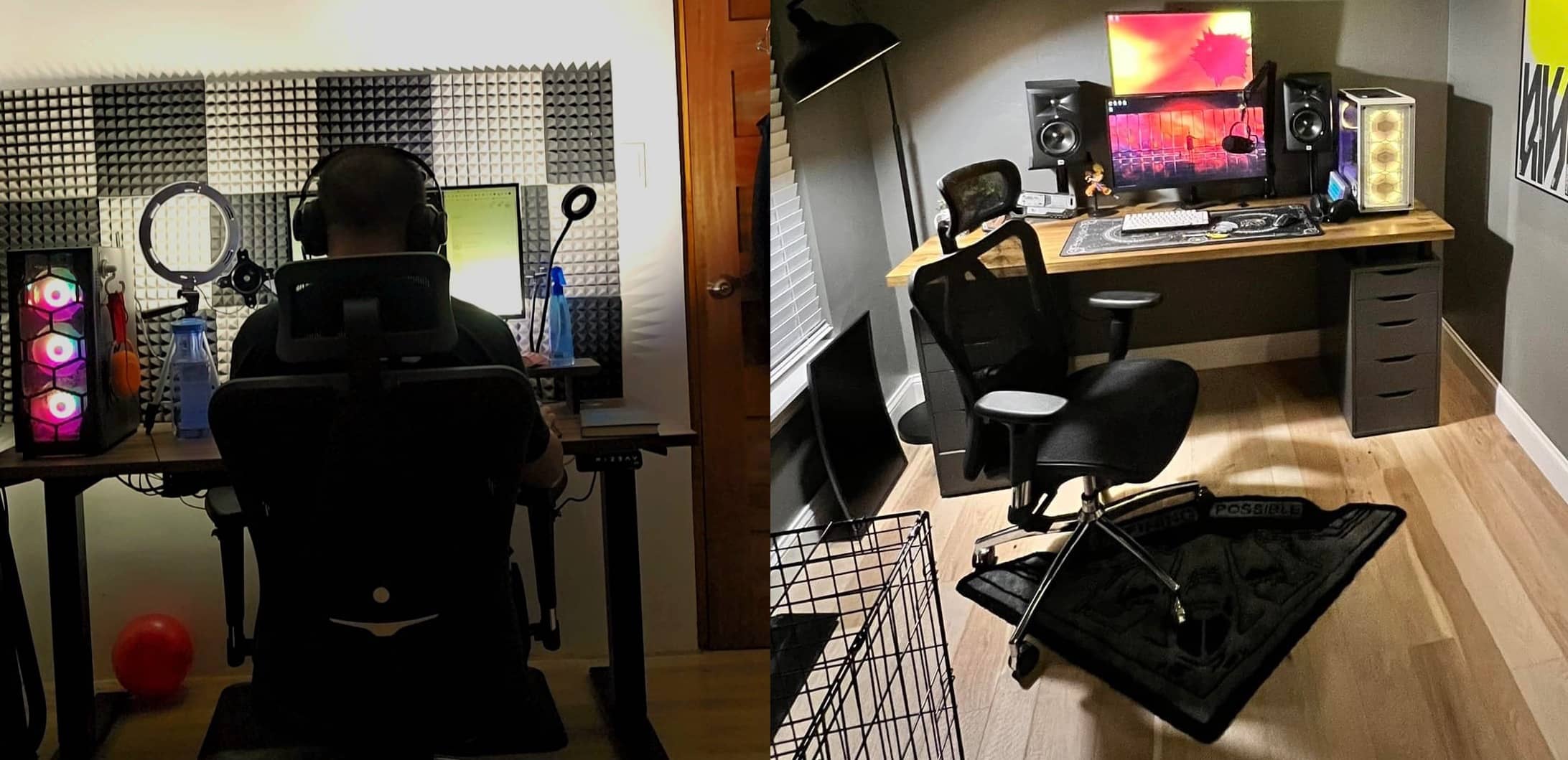 Is that possible to find a good desk chair for your home office within $200?
Yes, but not easy. You have to dig more and more. You also have to wait for big events such as Black Friday or Prime Day.
Whether you're looking for a second chair or a more affordable seating solution for your home office, you don't have to settle for anything less. 
You'll find these office chairs surprisingly comfortable despite the lack of ergonomics. 
And let we tell you guys some secrets!
What to Look for in a budget Office Chair
Sometimes you don't need an expensive ergonomic chair to keep you comfortable in front of the desk. And buying cheap does not mean that comfort should be compromised.
You can stay within your budget without breaking your back.
Here are some tips on what you should look for.
A proper size
While budget options may lack ergonomics, it doesn't mean you have to settle for a chair that doesn't feel comfortable for your dimensions. You should still have to be able to adjust the chair for your lumbar support needs, height, and the angle of the arms to the desk. Also, it should be able to go high enough or low enough for your height.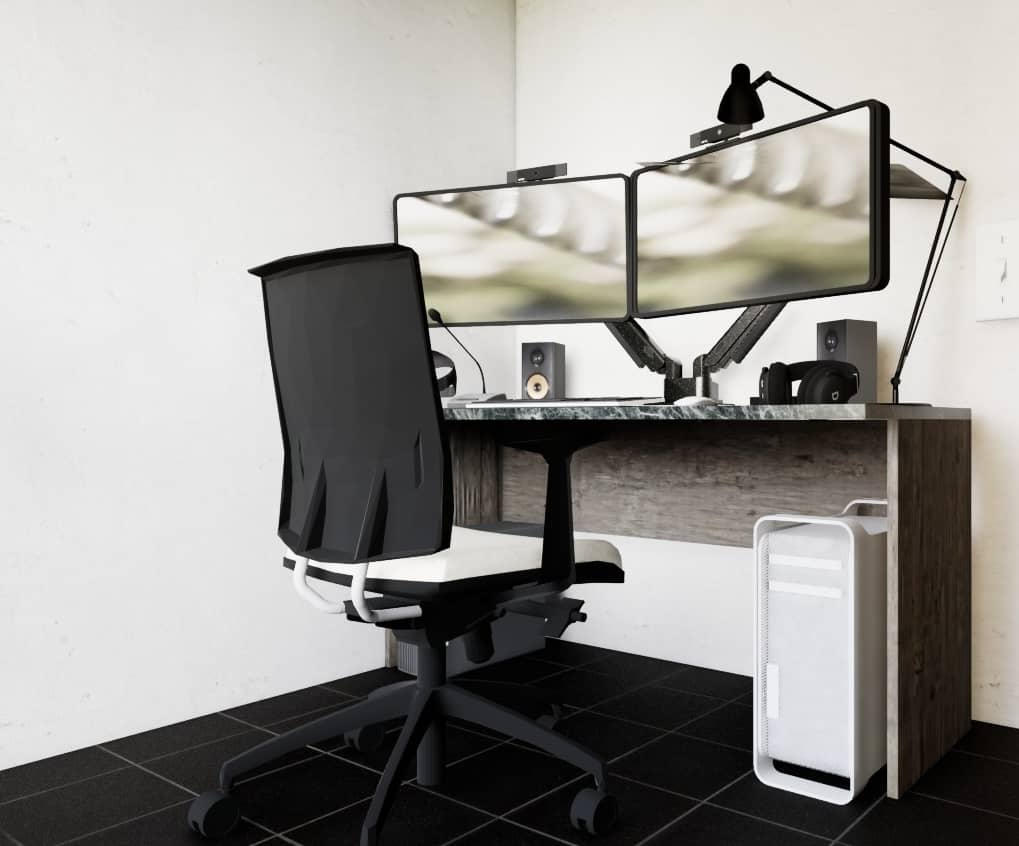 We've got decent options that somehow allow you to tinker through the adjustments. While it may not have the bells and the whistle like more expensive office chairs, it can suffice. 
Make sure to try the chair out before buying
Local store is always the best place to go first
Online purchases make it easier to snag an office chair without the need to go to the physical store. But when chairs lack adjustable options like most budget office chairs do, it is best to try the chair out before buying them. 
You don't want to spend $200 and then find out that the chair should be gone asap!
Remember that comfort is subjective. What one finds sublime may be a nightmare for your back. So while reviews help a lot to weed out the bad stuff, you still have to be able to try the chair out yourself. 
Finding a comfortable budget chair can be a challenge
Scoring a cheap yet decent office chair can be a tough task. With the lack of ergonomics, there are only a handful of options available. 
But you can still be able to find one that fits right into your budget and the small of your back. 
And you'll be able to find more choices with the upcoming Prime Day of Amazon on the 10th and 11th October this 2023
You can also check out the Black Friday Sale in November. You'll be able to find a smorgasbord of cheap yet comfortable office chairs. You can expect a lot of sweet deals so it's now or never!
Our 5 favorite Office chairs under 200 bucks
So let's not beat around the bush anymore. Let's see what office chairs you can buy with your 200 dollars. 
​​Staples Carder Mesh Back
This comfortable mesh back office chair has a nice set of adjustable features. It even has a recline and a tilt tension, something that not all 200-dollar budget chairs do not have.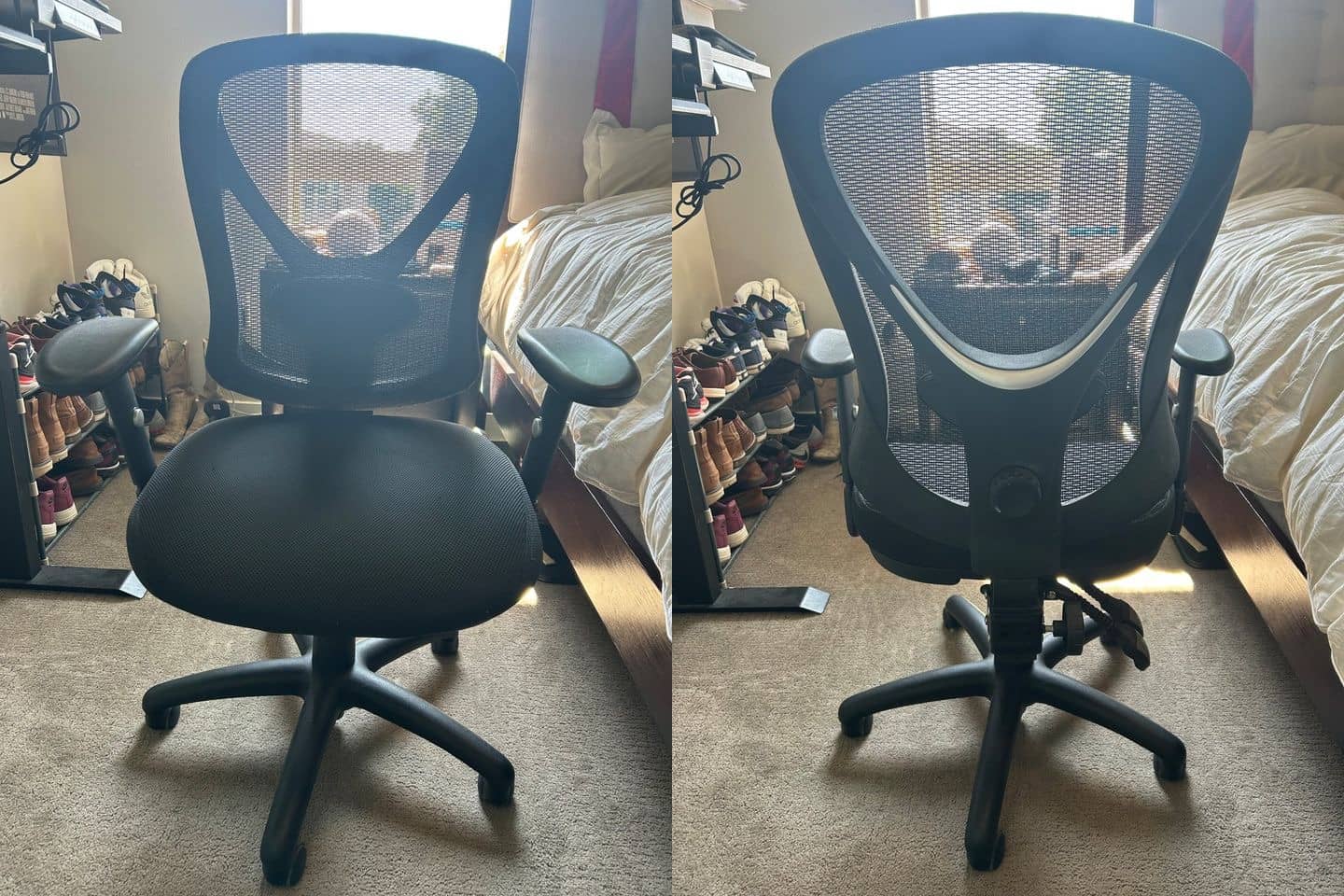 We love that the lumbar support is adjustable, this will make you able to last in the chair longer so you can burn the midnight oil more comfortably. It has an adjustable bar but the shape of the backrest itself has a slight and subtle curve that conforms to your spine
For the drawbacks, the cheaper chairs often have a less desirable seat cushion, and this is not an exception. The center is plush, yes but it sinks and doesn't bounce back. But the lumbar support of this cheap chair is something for its price. 
Furmax Office Chair with Flip UP arms
Furmax is a brand with lots of budget chairs.
This chair we mention in this post is another budget office chair that has a sublime lumbar support system. It is unique and this can make you last in the chair longer. It's the best selling point of this chair.
The lumbar support is dual-system so instead of a single support that extends across the width of the chair, it has two wedge-like supports on either side that almost feel like two hands supporting your waist. This means that your spine doesn't get any direct pressure while still being supported.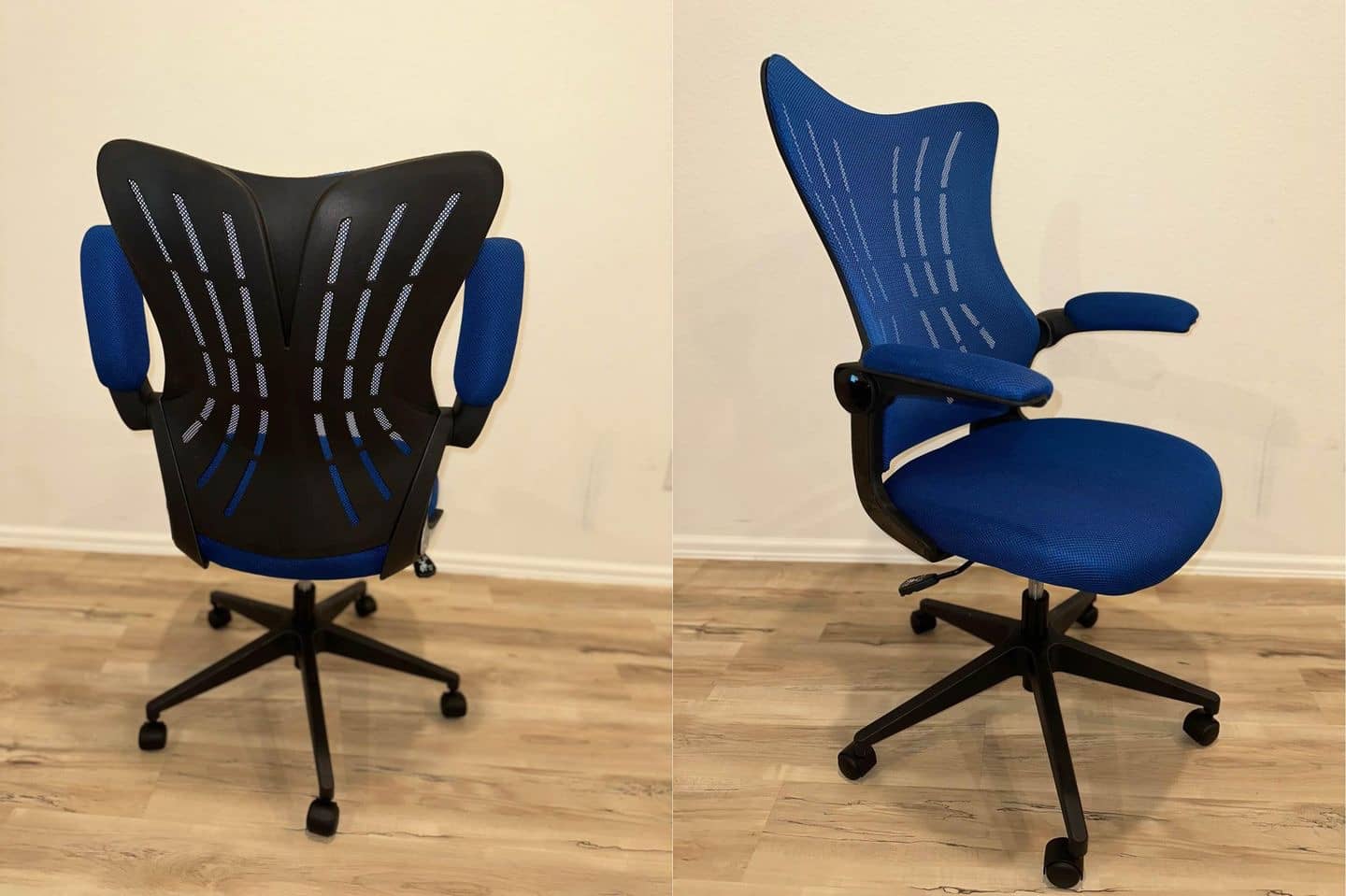 You just have to settle with the lack of adjustable features, well most cheap chairs have this common denominator. And the arms are not padded, so you will feel a bit of scratchiness when singing the arms for a longer time. 
Molents task chair
This is a task chair that feels quite comfortable. Aesthetic-wise, it is not the best-looking book on the shelf, but it is quite sublime and ideal for those who need to get up and work quickly with less fuss.
It also has a smaller footprint, thus making it a great solution if you are in a cramped space. You don't have to sacrifice comfort over space requirements and budget. 
And while it is quite comfortable, being a task chair has its limits. The adjustability is limited to the height. And doesn't sit well with taller and heavier folks. 
BestOffice OC-H03 Chair
Moving from a basic task chair, this number has more to give. The backrest of the chair has this nice S-shaped curve that most mid-priced ergonomic office chairs have, this makes the chair more workable for longer hours of work. It also has a simple lumbar support system built directly into the backrest.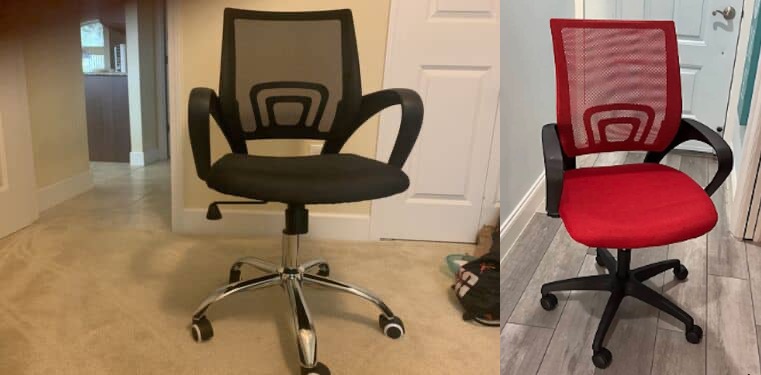 The seat cushion is very comfy and sublime too, not to mention the mesh backrest makes it a suitable choice for the hotter temperatures. 
We also love that the arms have more room for the legs, you'll not feel cramped up, and gives you more liberty for movement.
For the bad bits, this is not for taller users since it cannot go high enough and lacks adjustability for those standing 5'8" and above. 
Smugdesk Mesh Chair
This is our favorite mesh chair for under 200 bucks. It does not feel scratchy despite the cheap material and of course, feels very cool on the back. But keep in mind that it's not as firm as mid-price or more expensive mesh chairs, but it feels decently comfy for 4-5 hours of work. We also love that it has a built-in lumbar support system that gives basic back support for those who don't need a more pronounced lower back cushioning
But this is more of a light-duty unit and has a lower weight capacity. 
You can still get a cheap chair, but we have a better idea…
Being on a budget presents a lot of challenges and limitations, especially if you're looking for a more ergonomic office chair that can help you work better. 
So, how about a standing desk?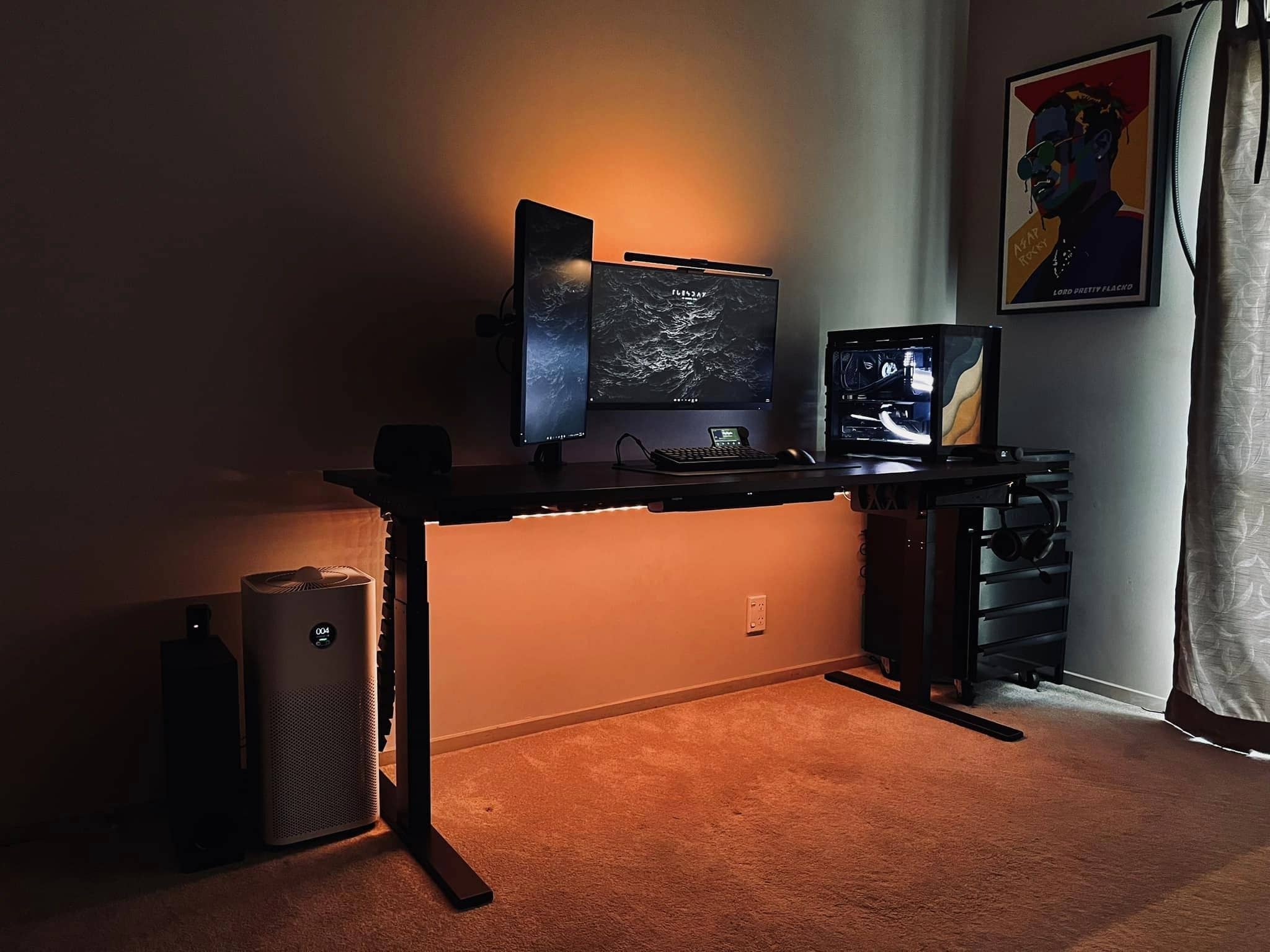 Never thought about it? Well, just do your research and find some real deals. The budget is the same as a chair, but you can get out of back pain problems (if you can switch between sitting and standing at least 3 or 5 times everyday)