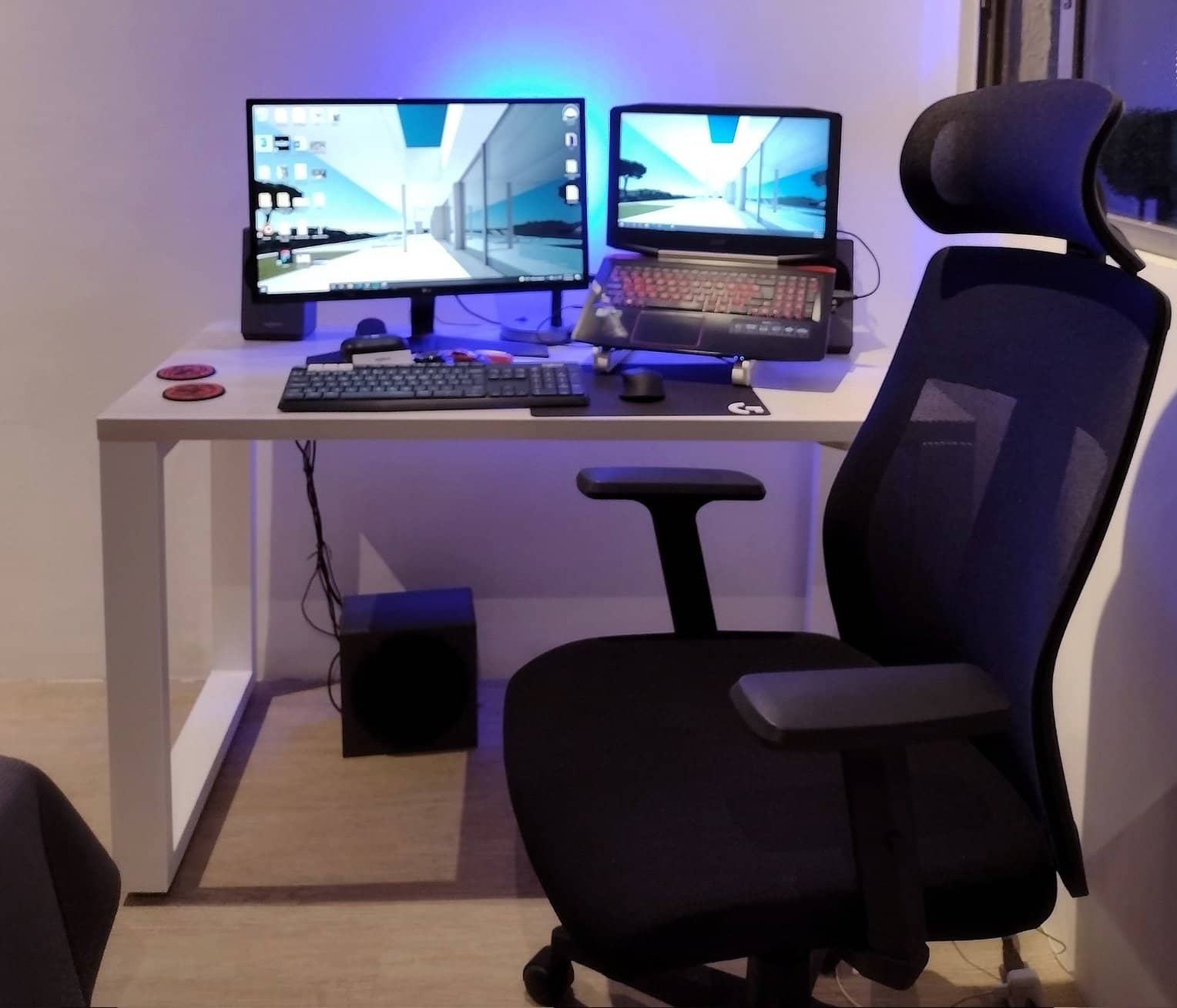 We have rounded up affordable office chairs that can accommodate the bigger folks. These units can take on that challenge. So you don't have to worry if your office chair would give away or collapse. These office chairs will be happy to seat your big and heavy tush.
Sadie big and tall office chair – Best minimalist
This big and tall office chair from Sadie is quite heavy-duty and able to accommodate 400 lbs of weight. And it pretty much functions as an advertisement. It is massively supportive for those who are on the heavier side. It's rock-solid, stable, and steady. 
You get a comfortable plush padded seat. It's rather a plush seating experience and we did find the seat rather wide. So those with big hips will also be quite comfortable in this chair. Aside from that, the arms can be adjusted up and downs, and they can also be moved in and out. Changing the width of a chair makes it more accomodating for heavier and wider users. So if you have bigger and wider hips, you will still be able to squeeze yourself easily in the Sadie office chair.
And the lumbar support is also very supportive even for those with a bad back. Comfort-wise, the Sadie chair is a king. You'll also enjoy that it can go far back and it can even rock easily.  The rocking motion is subtle and not too loose. So you'll still find the chair very stable.  It does take comfort very seriously. 
Then we go on to the bad bits. The Sadie chair is also advertised as a tall chair. But we didn't find it comfortable if you stand over 6 feet. For one, the backrest isn't a high back one. And though the mesh backrest is utterly comfy, it will not be able to go high enough to support the entire back of a tall user. 
Overall, this chair is perfect for those who are big and heavy. But it isn't ideal for taller persons.  This chair might not look bulky, it has a minimalist style. It's very simple and has no fuss. But it does the job of supporting heavier users.  And quite comfortably at that.
Space Seating Big and Tall Air Grid – Best Value Office chair for your Money 
This Space Seating Big and Tall has a max weight capacity of up to 400 lbs. And it surely lived up to its namesake, the air grid. We find this chair very cool and breathable. 
At first glance, it looks like a pretty basic chair. And the design of the chair is clean, minimalist, and streamlined. Like the Sadie big and tall chair, it is simple and has no fuss. 
The arms are also adjustable. It doesn't go only up and down,  these can also be widened so it can seat those who are heavier by the waist and those with wider hips.
The seat is wide and it also has a taller backrest that measures  23.75 inches. So it can fully support the entire back of a taller person. 
One of the best features of this big and tall chair is that it has a lifetime warranty. It offers a very generous warranty for some parts of the chair. So this will be worth your spending and you can rely on the reliability of the unit.
The downside is, though it looks clean and simple, this big and tall chair is quite challenging to assemble. And while some petite users might find other big chairs also comfy, we cannot say the same with the Space Seating office chair. Petite and small users will not be]\- able to find a comfortable position albeit with a decent number of adjustable features. 
La Z Boy Delano Big and tall – Best Plush Comfort Office chair
This Delano big and tall executive chair from La Z Boy will indulge those who love an office chair with a great recline function. We all know how comfortable and indulging La z boy chairs are. And this big and tall executive chair is no exception.
We love how you can enjoy the memory foam feel at a reasonable price. So expect it to be cushy, comforting, and indulging.  It offers a lush tush experience, so to speak. It is to be with soft leather, so it is not scratchy on the skin. This will make you want to grab a bag of popcorn if we may add.
This chair is also quite durable and stable. And it can hold around 400 lbs. So rest assured that it will not make any squeaking noise even if the weight capacity is maxed out. And lumbar support works as advertised. 
Also, this is aesthetically pleasing. It has this old charm of brown bonded leather and a thickly padded chair. It looks very classic that it can even take you on a trip down memory lane.
The downside is that the armrests are fixed. Though it is very supportive, you will not be able to make any adjustments to it.  But at least the arms are padded and quite comfortable. So adjustability is probably the weakness of this chair.
Overall, this executive chair is built for comfort. It is a nice seating fit for those who want a more cushy and plush comfort. Comfort is king but the adjustability might not be. 
HON Wave big and tall chair – Best Heavy duty
This executive chair is made more solid and heavy-duty since it can handle over 450 lbs, a tad higher compared to other options in our list. Also, it can fully support the entire back of a taller person. Both the backrest and the seat are wider so you will not feel restricted or cramped.
And like our first two options, the arms can be adjusted up and down, then in and out. This is another important feature of a big and heavy chair. It gives more leeway for those who are wider around the waist and hips. 
It also has the combination of a mesh back and a seat cushion. Heavy users tend to sweat more, and the backrest allows for more ventilation so you can find it more breathable. But you can enjoy a plush comfort with the padded seat. The seat itself is soft and squishy. 
In terms of adjustability, it offers a decent number of adjustable features. From the seat height, the 4-way adjustable arms to the synchro-tilt and lumbar support, you can enjoy several ergonomic features. Thus, it can be comfortable for more users, aside from those who are heavier, even average size users will find it comfortable. 
This has something to do with the warranty. There have been several complaints that it is rather difficult, if not impossible to ask for replacement parts even if it is still within the warranty period. The warranty period in itself is quite stingy at 5 years. So the customer service of this brand isn't something to be happy about.
AmazonBasics big and tall executive office chair – Best Budget Friendly
This big and tall executive office chair from Amazon is very unobtrusive. It will not stand out but it can easily blend in a sea of otter midrange executive office chairs. If you're on the hunt for a very affordable unit, one of the best picks for a big and heavy chair. 
It looks traditional and mimics a leather executive chair with its faux leather covering. And though the weight capacity of this chair is somewhat lower compared to our other top picks, this is still acceptable for a big and heavy chair. The seat is not too plush but it is not too firm either, so many will still find it comfortable. It isn't as lush and plush as the Delano executive chair but it will not feel too hard on your butt.
That's why this executive chair is touted as made for the general public. The type of comfort it offers sits right in the middle. It's made in such a way that more people, the general public, will find it sufficiently comfortable. And it also has the basic adjustable features that many will need in an office chair. 
The downside is, the material and faux leather used in this chair are the most breathable. So it is not suitable for those living in hotter areas. Come summer, you might not be able to use this without the AC on. 
Also, the faux leather does not look posh. You can instantly tell that it's faux and that's also one of the reasons why it will not stand out. It  can just instead blend in with other faux leather executive chairs 
Also, the arms are fixed. As what you'd get with most executive chairs. You can't do anything to adjust them. And you might find the 1-year limited warranty quite stingy. 
We love that it's not a "you get what you pay for " type of chair. Despite several qualms, It is decently stable and has the basic adjustment features that you need to find a comfortable spot. 
Final Say
If you need a budget-friendly big and heavy chair, you can afford the AmazonBasics big and tall executive chair. If you need more muscles in your office chair, the  HON wave chair will be able to support those who are heftier.   
If you are looking for a more plush seating solution, you can get that with the Lazy Boy Delano executive chair. But if you want to get the most value for your money, the tall and heavy chair from Space Seating is a perfect choice. And lastly, the Sadie big and tall office chair has a minimalist style. It is simple and clean but it also has several durable features.