Ergonomic mesh chairs can be a sweet solution if you need a more breathable chair for your home office. But there's the risk of getting one with a very rigid mesh material, especially if you are on a specific budget. Some affordable mesh chairs can be too firm and lack flexibility, this can be painful for the back and the entire body.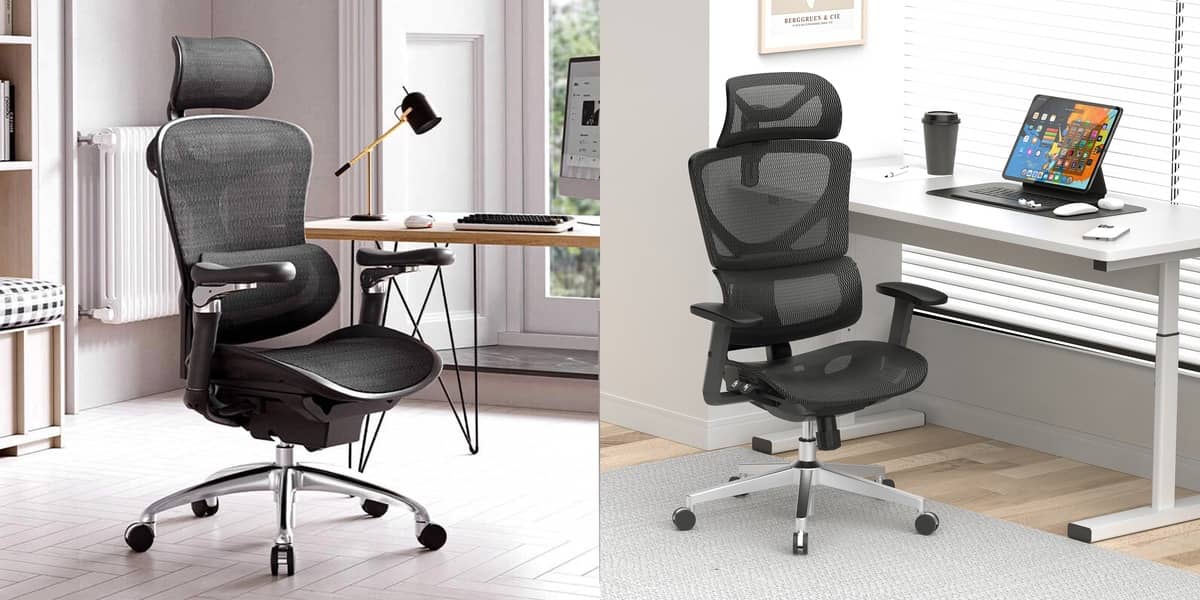 We have here today – the showdown between 2 models: SIHOO Doro C300 vs Odinlake Mesh chair. 
These are two budget mesh chairs that appear to be quite promising. Let's see if they really are.
| | | |
| --- | --- | --- |
| Mesh chairs | SIHOO Doro C300 | Odinlake 743/743Plus |
| Seat height range | 15.75"-17.72" | 18.5" – 22.5" |
| Weight capacity | 300 | 350 – 500lbs |
| Arms | 3D | 4D |
| Seat depth | 16.3" | 18.5" |
| Seat width | 20" | 20.5" |
| Where to buy | sihoooffice.com/products/sihoo-doro-c300 | |
The SIHOO Doro C300 is a pretty mesh chair
We have to say that for the aesthetic appeal, this SIHOO chair was able to elevate itself. This all-mesh chair has a modern and futuristic look that can appeal to a lot of people, especially those who are into sleek seating solutions.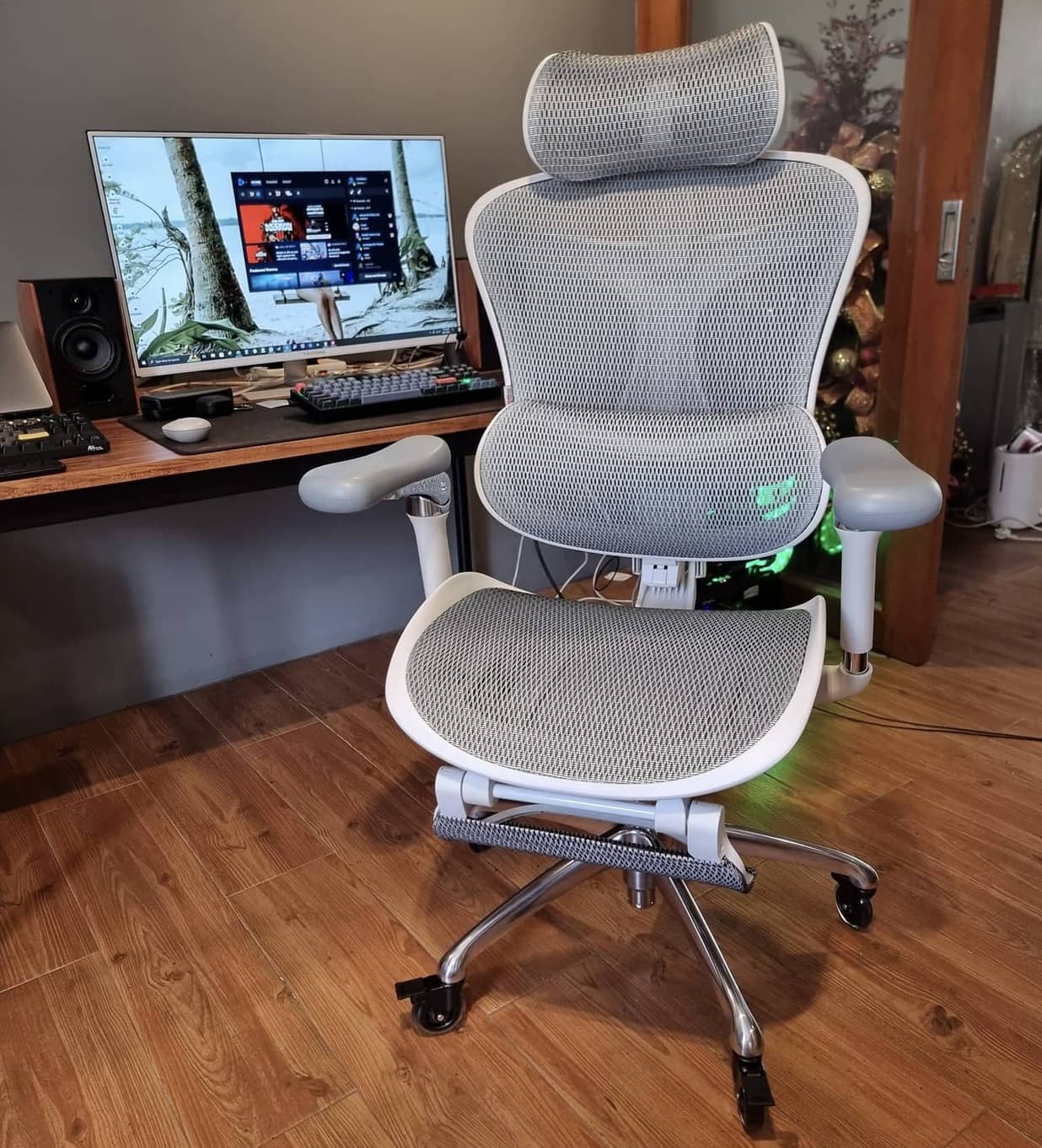 It may even resemble the look of an Aeron but with a taller backrest and a headrest. It does not look premium though and you can tell that it's mostly plastic materials, but it does look cute enough for its cost.
It is surprisingly comfortable despite the scratchy mesh material
The material used in this mesh chair is not the best. But there are certain reasons why you can still find it a comfortable chair despite the specific level of scratchiness on the mesh material. 
Yes, you can tell that the mesh is quite rough and very different from how an Aeron or a more expensive mesh chair feels, but it does seem to flex decently enough. The mesh, despite lacking smoothness, is sufficiently flexible. It can follow your movement so that you can still feel supported even if you do not have your back flat on the chair.
Apart from the flexible mesh material, it also has a more intuitive lumbar support.
The lower back support is quite dynamic, it is referred to as self-adaptive. So you will not be able to manually adjust the height nor the tension of the lumbar bar, but it can adjust itself to you. And surprisingly, it did the job just fine.
The lumbar bar also comes in the same mesh material as the entire seat. So you have that adaptive lower back support and the decently flexible mesh, and it can spell wonders for a tired back. That's why this can be one of the more comfortable mesh chairs you can sit on for longer hours.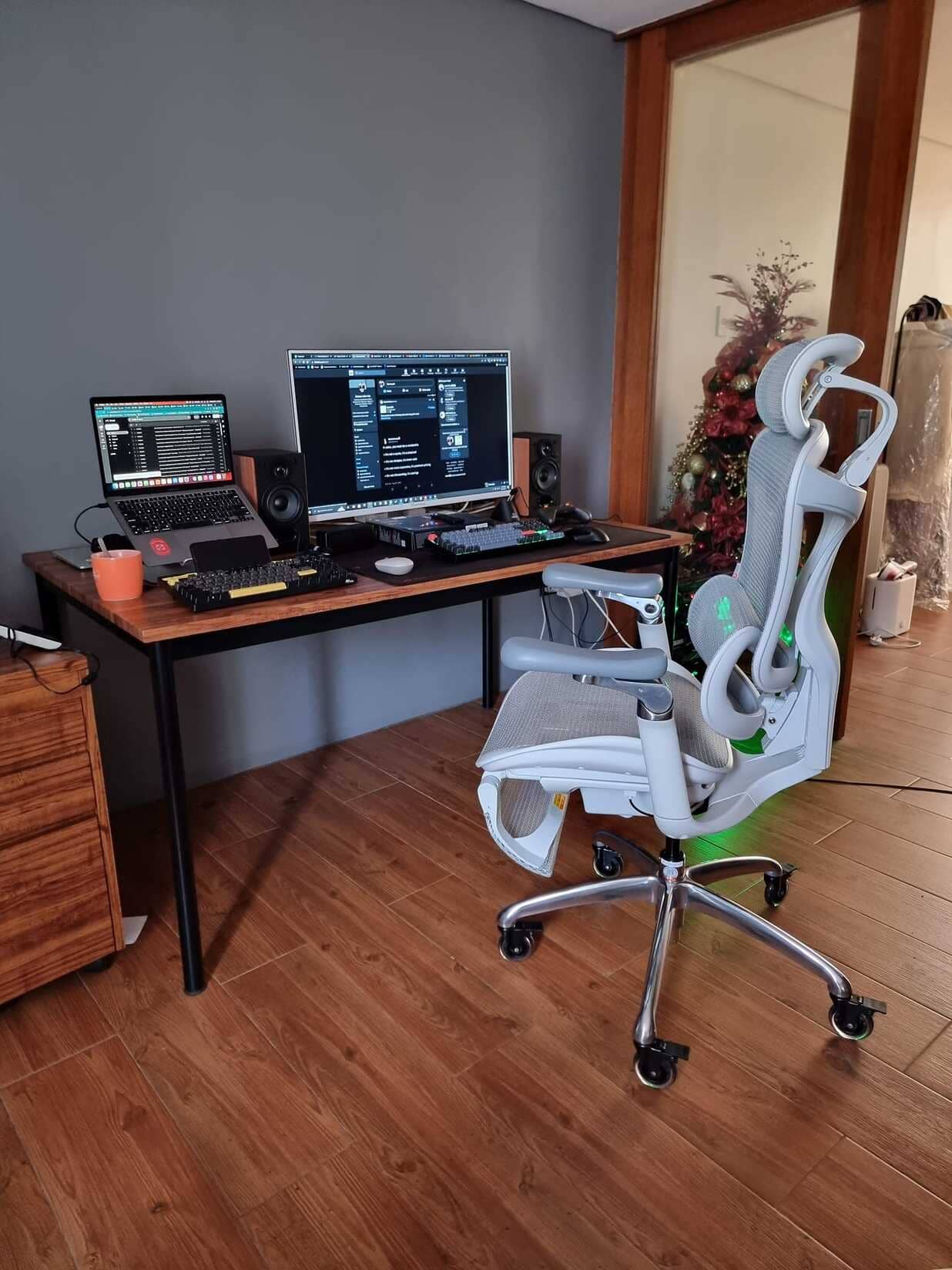 But just keep in mind that the scratchy mesh material can be a massive tradeoff for some. So you might want to avoid wearing shorts when sitting on the chair. Or have the parts of your body that come in contact with the mesh covered with a soft fabric. But if you're not particular about how the mesh slides on your skin, by all means, do as you please.
What we did not like
The SIHOO arms are adjustable, but you can feel that significant plastic feeling. It also easily goes out of place. Even if you lock it in a certain position, it's bound to give away at one point.  So we can imagine those with chunkier arms having to not so grand time readjusting the arms now and then.
This is not for tall folks
The SIHOO mesh chair is best suited for those of average height. The chair can not go high enough for those who stand 6 feet above. The backrest of the chair comes in two parts that are fused. So taller people might not find the perfect spot for their lower back, and the lumbar spot might hit them in the wrong places, pinching the lower back most uncomfortably. 
This is a chair that you have to sit on first to be able to tell if you will fit into it. Otherwise, it can be a nightmare of pain for your back.
The seat pan is also quite narrow and the entire dimensions of the chair are sleek. 
So this is not a good choice for chunkier and taller users. But it could work for those who are slightly petite. 
Some might also find themselves sitting more upright with this SIHOO mesh chair. The lumbar support is positioned about the backrest, so you have to pull the chair quite close to the desk for the top of your back to rest against the backrest. This position can be very beneficial if you need to do tasking jobs or you have to be closer to your desk. 
Odinlake Mesh is one sexy chair
Let's now take a look at the more expensive option,  the Odinlake mesh chair. Two units caught our attention, the 633 and the 743. 
Let's explore the 633. Even from afar, this chair screams sexiness. This is a mesh slash cushioned seat chair that has a sophisticated appeal. It also has this gaming vibe that players may find suitable for their man cave
The chair looks like it has a sleek dimension, but it has a wider seat and a bigger overall size compared to the SIHOO mesh chair. 
Like the SIHOO, it also has a headrest. But the backrest comes in one solid piece rather than two pieces fused. So it looks more seamless and does have a more well-thought-of design. This single backrest component also makes it more comfortable for more people since it does not have the risk of having the fused backrest components poking against any part of the back. 
Then we have the Odinlake 743. This chair is more similar to the SHOO compared to the 633. The backrest also has two components that are fused.  The lumbar support is also fixed. However, we did find the 743 has a more pronounced curve for the lower back support.  We also love that it follows along with any reclining you may do, keeping the support for your spine there no matter what position. So it's a tad more flexible than the SIHOO mesh chair. 
Which has better back support?
One of the common denominators of these two chairs is the lower back support is not the standard one you see in mod-price chairs. 
The adaptive back support system of the SIHOO is satisfyingly dreamy for those of average height. It was able to support movements as well, so even with slight turns and twists, the chair will still be able to support your back.
The lumbar support of the Odinlake 743 is adjustable, you'll be able to change the height. The shape of the Odinlakes' lumbar bar is more curved and conforms to the natural shape of the spine better.  It is also more adjustable compared to the SIHOO, so more people will be able to tweak the chair so they use it according to their needs. 
Odinlake 743 vs SIhoo,  the Odinlake chair feels more solid and stable. We particularly noticed that the arms stay in place since they appear to be better built. 
Mesh vs mesh 
So for the final round, let's pit the 743 against the SIHOO all-mesh chair. They may look identical but you can easily tell which mesh chair has better material. The Odinlake does cost more and you can also tell it the moment you sit on it. 
This chair also has wider dimensions, so more people will be able to find it suitable. But since the lumbar support is fixed and also has a two-part backrest, it's best to sit on the chair for a couple of minutes before deciding to buy it. That's the common nuisance of chairs with this type of backrest. It either fits you or it doesn't. 
Which is the better option is very subjective. You have to weigh the price versus the type of lumbar support it can offer. Getting the more expensive option will also mean enjoying a more adjustable,  stable, and robust chair.