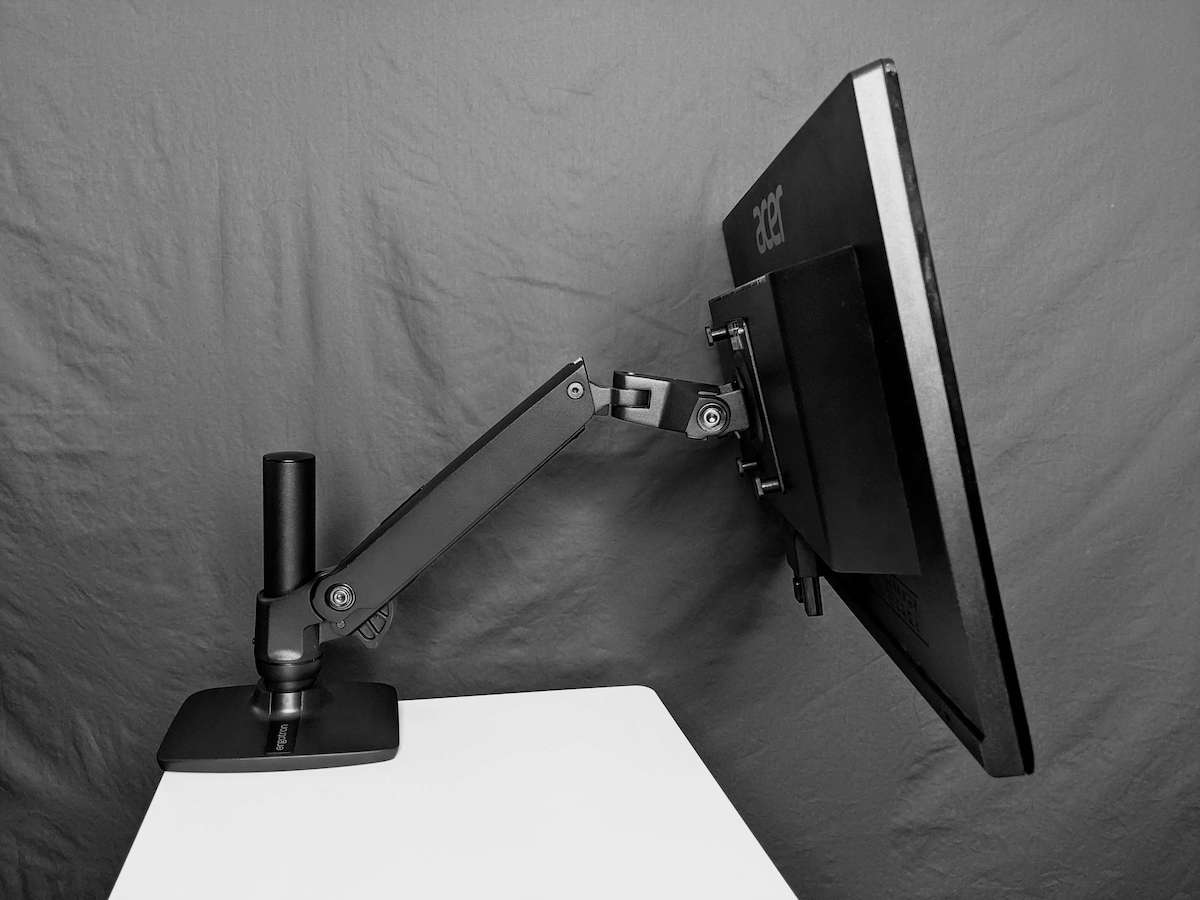 When your monitor arm isn't rated to hold your large LCD, it can result in issues. You can have tilting issues, wobbling, and worse, your monitor can come crashing to the floor.
So, go over our list of the recommended heavy-duty monitor arms that can support your 34-inch monitors. 
This single monitor arm is stylish and heavy-duty. It can hold wide monitors as heavy as 42 pounds. 
This monitor arm has a substantial weight so you're sure that it means serious business. So if you aren't keen on lifting or mounting heavy objects, you might want to ask help in setting this up. 
It's easily movable and allows for a great range of motion. You can swivel it to 180 degrees, tilt it to 75 degrees and it also features a 360-degree rotation. Another useful safety feature is that it won't bump your walls. This monitor arm is equipped with a rotation stop that prevents that from happening. Thus, preventing both your walls and your monitor arm from damage or scratches
It's also a real value for your money. Yes, it has an above-average price tag, but it's made of industrial steel material. And you'd get the most bang for your buck because the brand offers a 10-year limited warranty. And with a warranty period as good as that, you can be assured that the brand is rock solid.
It also has a decent cable management system. Just makes sure to purchase longer cables because the standard length might be too short for this system. 
One Of the qualms maybe, but not really an issue is the lack of a model that has a flat or a semi-flat back. While some are satisfied with the unit overall, others wished that it has options. And you might just have a challenging time, at first, getting the wrench key for adjusting the tension into the proper position. But once you get the hang of it, it's going to be easy to adjust the tension.
In a nutshell, the Ergotech HX desk is perfect for this, looking for a sleek, streamlined monitor arm that can hold their wider and heavier monitors. It's sturdy and heavy-duty. It's a stiff monitor arm that you won't have to worry about the slightest wobble, because there won't be any
Pros
Flexible

Has a rotation stop feature

Moves around nicely

10 year warranty period

Streamlined and sleek

Better cable management system
Cons
It may require longer cables

Some people claim that after a few months of use, sometimes the Allen bolts that hold the base in place are stripped and will need replacing with new material if possible or else this could cause problems down the line when installing other parts
Related post: Top 5 best Ergotron Monitor Arms – best warranties in the market
The Monoprice Workstream monitor arm slides like butter on hot toast when you're adjusting it. It easily raises, lowers, pulls, and adjusts a comfortable position for you. The gas spring system is such a bliss for this application. It also swivels and rotates to 90 degrees.
If you're looking at getting this dual monitor arm for your 34 inch LCDs, each arm can support a maximum weight of 19.8 lbs, so pretty heavy-duty and reliable.
One of the qualms is that it might have limited flexibility and tilt options. But when you're working with two large monitors side by side, that's bound to happen. 
So this moment arm is perfect for those who need a side-by-side view of their 2 monitors. Interior designers and financial pros often find this feature very useful
Pros
Well made and solid

Easily adjustable

Affordable price

Looks simple and nice

Does not wobble
Cons
Limited flexibility and tilt
EchoGear Single Monitor Arm
One of the common problems of larger monitors is that they tend to droop. Sure, it can support your ultra-wide LCD, but sometimes, it might not offer the best tilt tension. The Echogear single arm monitor allows you to increase the tilt tension of your large LCD. You just have to utilize the additional screws that are included in your purchase.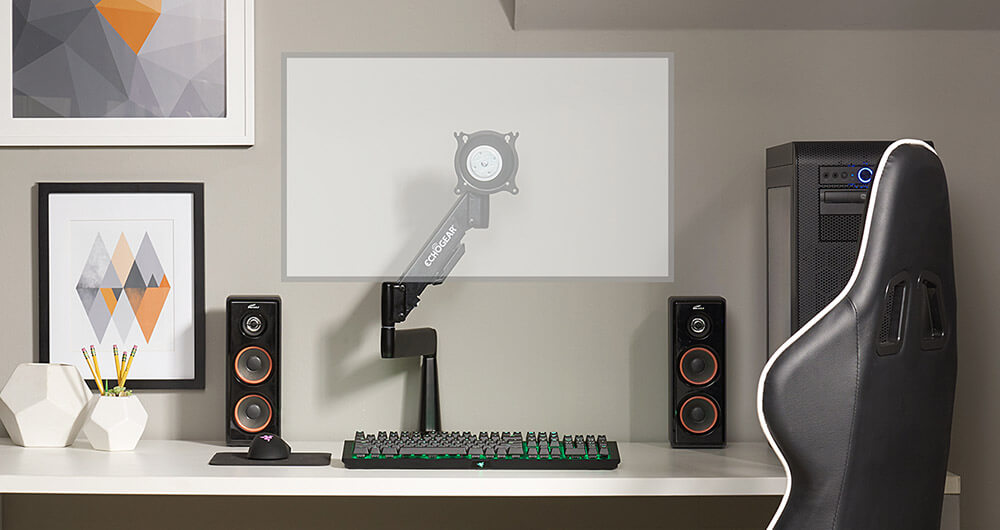 Furthermore, it's easy to reposition the LCD. It tilts to 90 degrees, swivels to 180 degrees, and can extend forward up to 12 inches. It's pretty easy to find a sweet spot where you can work comfortably for long hours. It's also easy to move it vertically and horizontally. So you can fiddle the monitor around as you please. It's pretty easy to move and reposition.
The setup is a breeze as well. You'll be able to put it together in under 30 minutes. The instructions provided in the manual are clear and easy to follow. Even if it's your first setup, you'd probably get it. And for a clutter-free workspace, it comes in with a cable management system. It works pretty decently to conceal the cable and wires. 
This monitor arm can be attached to your desk via a wobble-free C clamp. This is one of the main advantages of the brand. It ensures that the base is stable, firm, and won't shake. It can be mounted on a desk from .5 inch-3.25 thick. So it pretty much has a wider scope and can accommodate most sit and stand desks. 
And even when the arms are fully extended, the monitor won't go anywhere. It feels robust and solid.
And if the monitor arm feels too loose or too tight, you can use the hex screw that's provided to adjust the tension. You won't have any issues adjusting to it too. It also comes in neatly packed.
Pros
Compatible with a lot of desks

Stable and firm

Longarm reach

Easy to move and adjust

Flexible arms

Easy to assemble
Cons
Wobbling may happen if the screws aren't tightened properly
Loctek monitor mount
This Loctek monitor arm has a gas spring system, thus making it very easy to adjust and reposition the monitors. The Loctek monitor mount is heavy-duty, has a substantial weight, and feels kind of premium too. 
It also has a cable management system. It does its job, okay, but it could be better at hiding all the cables and wires from plain sight. But you can expect minimal clutter on your workstation. Though if you want a totally clutter-free desk, you have to use additional cable ties or another system to manage the cables. Especially if you have a lot of stuff connected to your monitor, you might find the provided cable management system lacking.
Furthermore, it offers a decent range of movement. You can move the monitor up to 85 degrees upward and 15 degrees downward. Though for a 34-inch LCD, you might not be able to maximize the movement of the monitor downwards. 
The icing on the cake, if you have any queries or issues with your purchase, their customer service is quite responsive.
One of the qualms with the unit is that it isn't that easy to adjust. Hex screws have to be easy right? But since the adjustment knobs and everything is integrated into the arms, you might find it challenging at first. It takes some getting used to in terms of adjusting the tension.
Overall, it's a good option if you have a larger and heavier monitor or LCD.
Pros
Comes with accessories

Solid and heavy duty

Great customer service

Looks sleek and premium

Do not wobble or shake
Cons
How to choose the Best Monitor Arm for 34 inches ultra wide?
Some people get confused that is 34-inch monitor good for work or which size monitor is best for gaming. The answer is yes, for both!
The 34-inch monitor arm is a good size for work because it gives you plenty of screen real estate to work with. It's also a good size for gaming because it allows you to see more of the game world around you. However, if you're looking for the absolute largest monitor possible, then you'll want to go with a 49-inch model.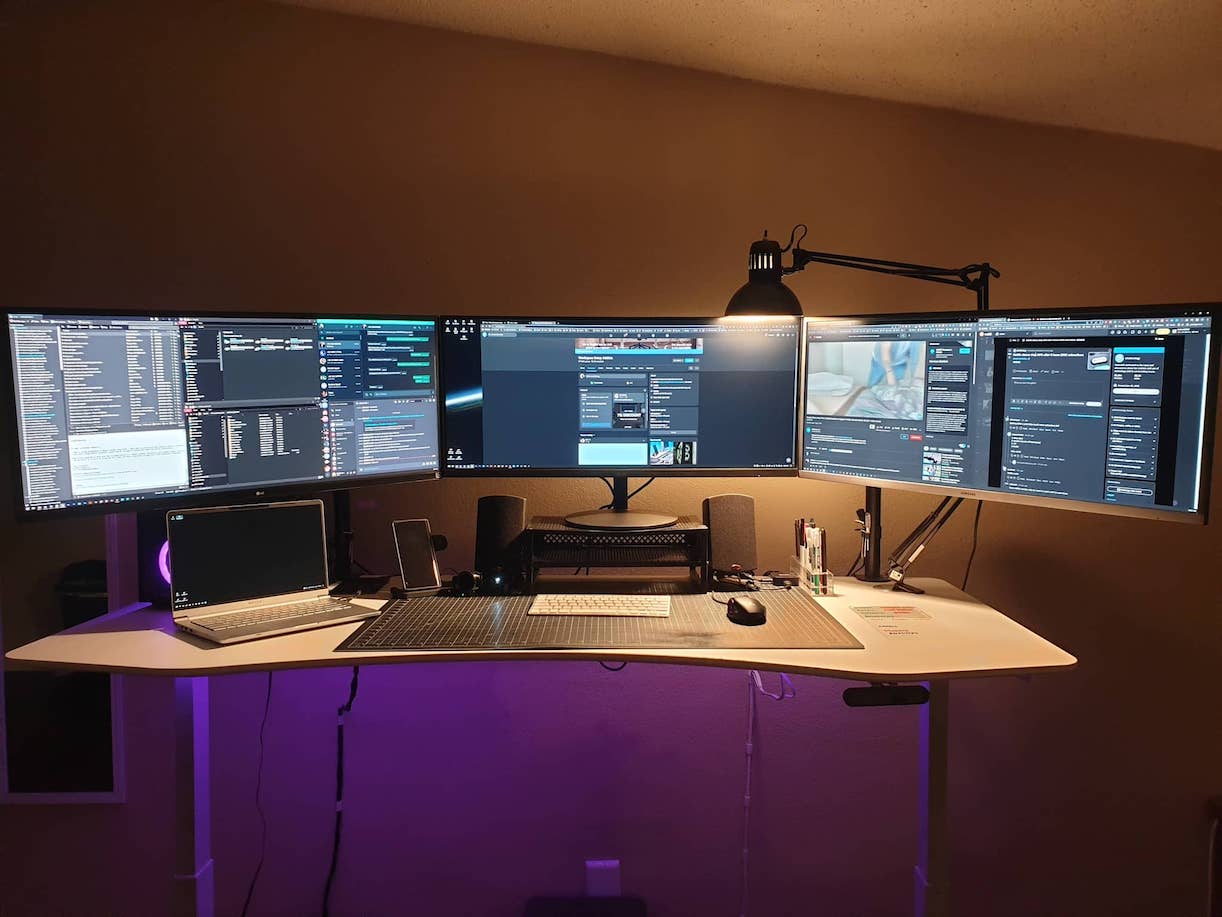 When choosing a monitor arm for your 34-inch ultra-wide monitor, there are several things you need to keep in mind.
Weight of your monitor
Some arms are only rated for monitors up to 27 inches, so make sure you get one that can support the weight of your 34-inch model. An example of a good arm for heavier monitors is the Ergotron LX Wall Mount LCD Arm.
Why weight capacity is the most important factor to consider? Because a 34″ monitor can weigh up to 20lbs. If your mount isn't rated for that much weight, it could come crashing down, taking your beautiful monitor with it.
Available space
If you have a small desk, then you'll want an arm that can fold up close to the monitor when not in use. But with a large tabletop, then you can go with a more robust arm that extends further out. The Vivo Dual LCD Monitor Free-Standing Desk Mount is a good option if you have limited space on your desk.
Mounting options
Most monitor arms will come with either a clamp or grommet mount. If you have a thick desk, then you'll want to get an arm with a clamp mount. But if your desk is thinner, then you should go with a grommet mount.
The Humanscale M/Flex Arm is a good option if you need both mounting options, as it comes with both a clamp and grommet mount.
Range of motion
The next thing you need to consider is the range of motion of the arm. Make sure it can swivel, tilt, and rotate so you can position your monitor in just the right spot.
Adjustability
You also want to make sure the arm is adjustable to fit your height. Some arms have fixed heights, while others allow you to adjust them to match your needs.
Cable management
If you want to keep your desk tidy, then you'll want an arm with an integrated cable management system. This will help you keep all those pesky cables neatly organized and out of sight.
Price and features
Finally, you'll want to compare prices and features to find the best arm for your needs. There are a lot of different options out there, so take your time and find the one that's right for you.
Conclusion
If you find your large LCD and motors dropping and wobbling, you need a more heavy-duty monitor arm. It should be rated to support larger monitors. And our list of the best brands for larger monitors can fully support your 34 inch LCD while providing a decent or even exceptional range of movements