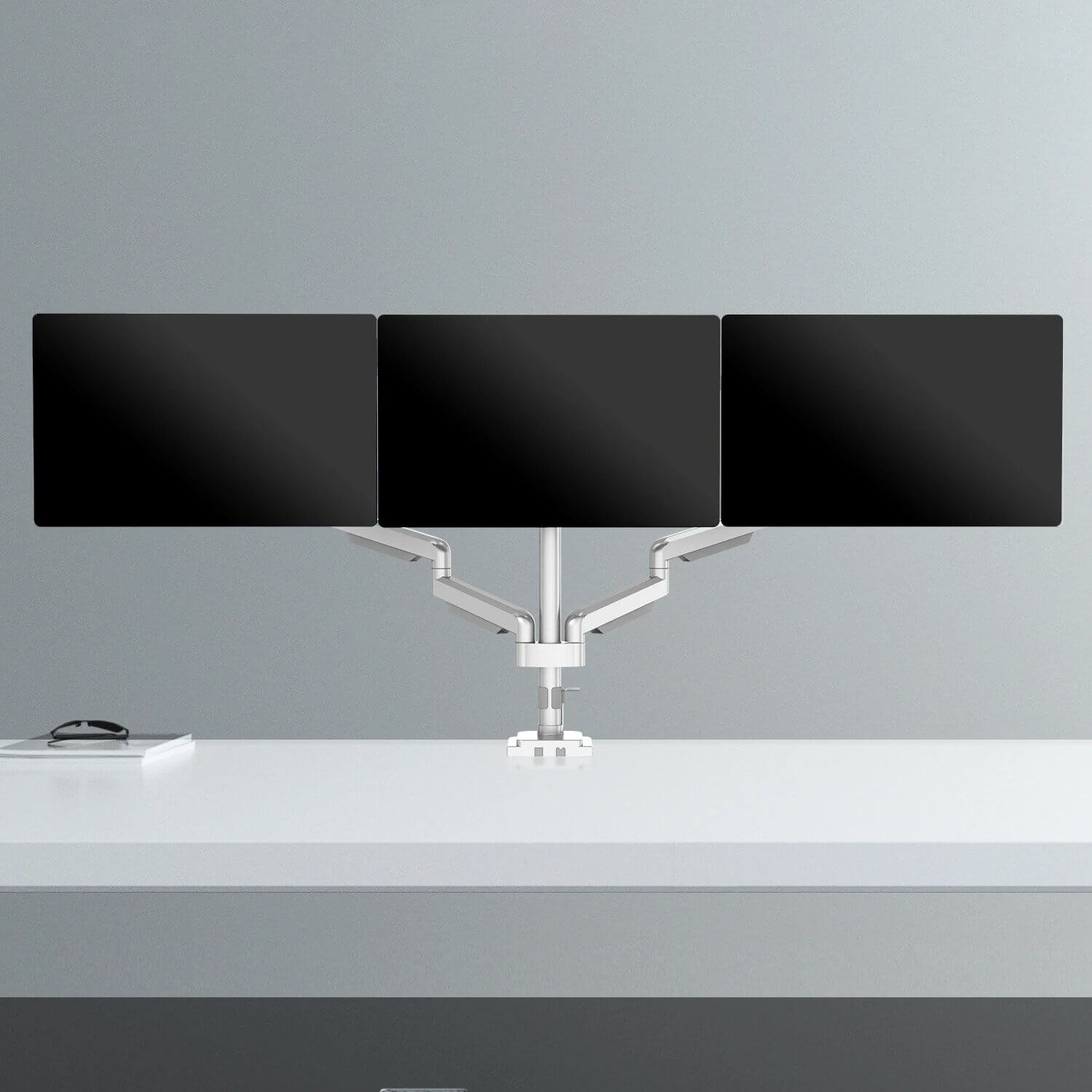 For a more elaborate workstation, a triple monitor setup is warranted. Either you need the monitors placed side by side or stacked on top of one another, you need a unit that's strong enough to support all three monitors. We have discovered two units from WALI that might be able to fit the bill. Let's see indeed if it does. 
This gas spring monitor arm allows you to place all three monitors side by side. It can make up for a curved setup.
The packaging was neat. All the components are complete and stashed in one box but each part is also separated with a carton covering. So that protects each metal component from bushing against one another. It also comes with VESA mounts so you can use any LCD that has VESA screw holes.
This WALI monitor arm is also one of the more affordable gas spring arms for a three LCD setup. It can accommodate monitors with a maximum measurement of 27 inches And each arm can bear 15.4 lbs. 
We find this unit quite heavy and stiff. Yes, it's heavy-duty and a well-built unit. But of course, you also have to deal with the hefty weight. And the joints are quite stiff too, so you have to be prepared for a bit of arm work when setting this up. Even when loosening the bolts and screws, it won't give you an easy time. That's why installation can be tricky and challenging
But in return, you can expect this monitor arm to be stable and there are no wobbles. Albeit the challenging installation, it's pretty easy to adjust the monitors. And there isn't any cheap or flimsy feeling when you're repositioning your monitors.
Also, this triple-monitor arm is not compatible with thin desks and tables. Thinner desks will not be able to support the built weight of the unit. Thus, we recommend this one to be mounted on a heavy and thicker desk, especially if you're going to mount this via C Clamp. 
We also tried mounting a 34 inch LCD on one of the arms, and it was able to hold it up pretty nicely. So this unit can bear more than what the brand claims, at least for one of the arms. 
So to summarize
Cable management is decent and we are happy about that.

It doesn't wobble or shake

Some of the parts come in preassembled. But that still does not change the fact that it can be hard to set up for most users. 

It is a heavy and stiff unit so you will have challenges in mounting it.

It works better for thicker desks, especially for C clamp installation.

It is very rigid and stiff, loosening the screws and bolts is hard.

It's very affordable for its heft.

The range of motion is vast. It can be tilted to 45 degrees, swiveled up to 90 degrees, and the best is that you can rotate it up to 360 degrees.

The unit has a shiny nice finish. 
In a nutshell, this triple monitor stand is probably one of the most solid and hefty arms we have tried ( of course, for one with its price range). So this is suitable for those who want a more solid base. But as mentioned earlier, loosening the screws can be a pain in the ass. So this will benefit you most if you won't change the height of the desk. Because it can really be frustrating. Once set up, it has to stay as is. This Is that kind of monitor arm.
This gas spring arm also comes in a dual monitor option. It basically has the same specs except that it only offers to mount for 2 monitors.
This type of monitor stand is best suited for work where you need to stack monitors. A vertical arrangement can help you compare charts and graphs better. Hence, it will allow for a greater flow of work.
One notable feature of this triple stacked monitor stand is that it's quite strong with a heavier weight capacity. With each arm having a weight capacity of 22 lbs, it can accommodate a heavier LCD that measures 27 inches. Thus, you can expect that there will not be a single wobble at all. It's solid as a rock.
But in return, there is a limitation that most users might shun at. Compared to other brands, it has a very limited tilt function. You can swivel it to 90 degrees and rotate it 360 degrees, but you won't be able to tilt it as much. You can also adjust the height of the desk.
So if you want a solid arm that will allow you to tilt the monitor, this is not it. 
Another letdown that we have discovered is that this unit doesn't offer a decent cable management system. And with three monitors mounted, those cables can be messy. The cable management system that comes with the purchase is too small and won't be able to accommodate all the wires. So you have to do a DIY band clamp the wires to the arms. And this will not look very nice and you won't be able to hide the cables properly. 
In addition, this hefty monitor stand is also suited for a 4-inch thick desk. It seems like most of the monitor arms of WALI are built for thick r and more durable desks. This is we reckon, to accommodate the bulkiness and heftiness of the units. All the parts are made of solid metal material, so this is to be expected. 
Summary
This triple-stacked monitor arm stand has a higher weight capacity. It's a solid vertical mount.

It's solid as a rock, very stable, and will not wobble.

You can adjust the height, it swivels 90 degrees and rotates 360 degrees. So it can offer a pretty decent range of movement.

But if you need to tilt your monitors, you won't be able to. That's one of the limitations of this unit.

It came with all the necessary accessories. It arrived in good condition. And each metal part has a separate carton packaging. So we received all the parts in their full glory without any scratches. 

The cable management system might look like it was meant for another smaller capacity unit. With three monitors, you have to deal with more wires and cables. And the cable management system that's in the box is just too small. It won't be feasible no matter how much you try to squeeze all the cables in. So either you have to accept a messy setup or do a DIY to manage the cables.
Overall, this stand is solid and again very hefty. But you have to sacrifice two things, one the tilt. And two, the lack of cable management. So you have to choose on which your priority is. But in terms of durability and stability, we are going to vouch for this one. And you'll be able to get a really solid monitor stand that can support a three monitor setup and it does not have to be expensive. 
Impressions on the WALI monitor stands
From our experience, all monitor arms of the brand are quite solid and durable. That's why it's more suitable for thicker desks. We have encountered some users who were able to mount it albeit their thinner desks. Using a board above and below the clamp seems to work. So you may also be able to try that if you have a thinner desk but keen on buying a more solid monitor stand.
These units are also very stale for their price. So even if we unintentionally bumped our hips against the table, there isn't any wobble. This is a great option if you have kids running around your home office. This strong base will hold the three monitors quite well. So if you have a larger and more elaborate setup, you'll be able to find WALI monitor stands quite fitting. 
Final Say
The WALI monitor stands are made for the bigger league. These are strong and sturdy units that offer a rather solid base.