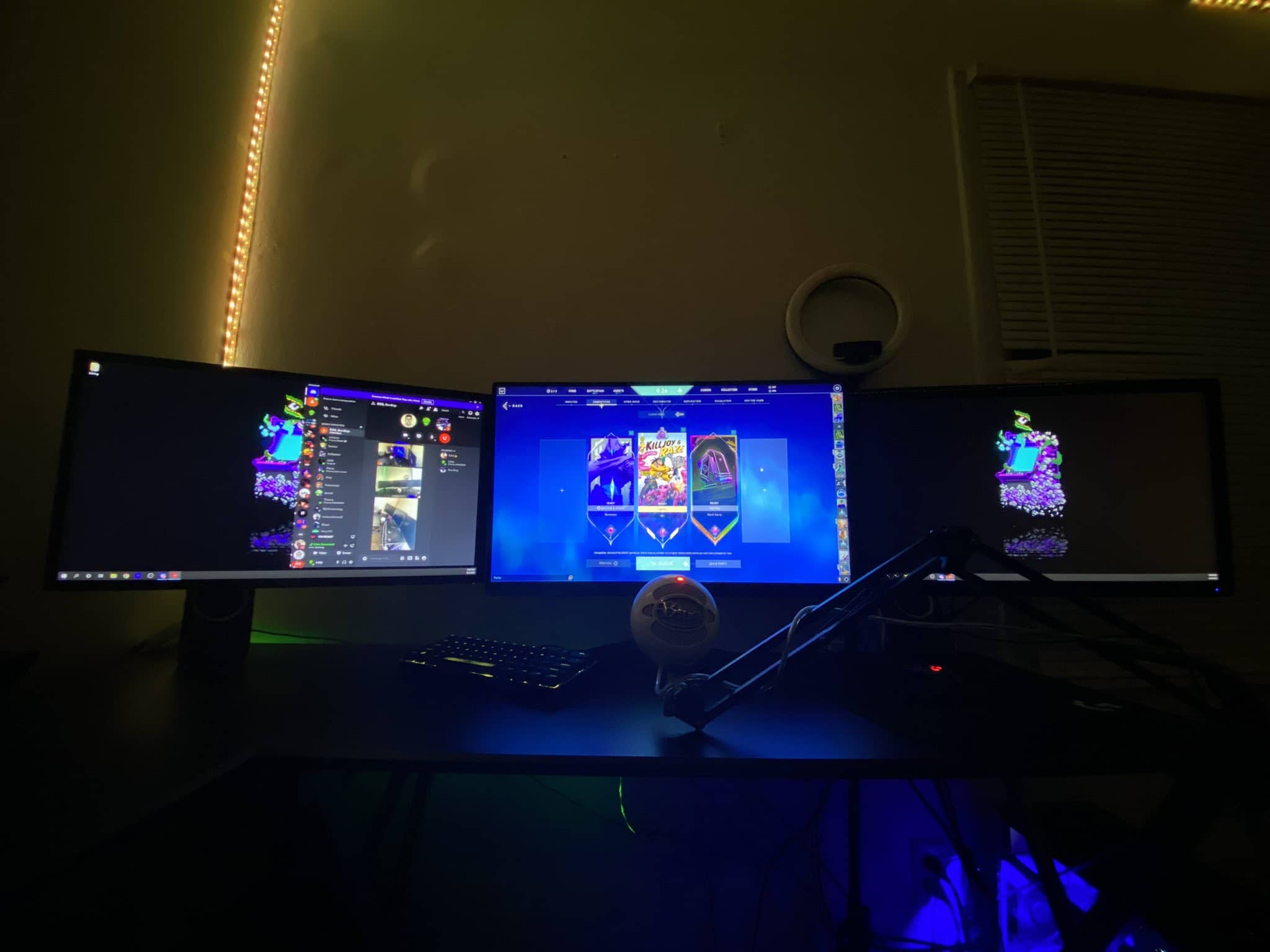 A triple monitor stand is such a space saver. It allows you to effortlessly work on three monitors while freeing up a lot of space on your desk. Not to mention, the best brands on our list are highly ergonomic and adjustable. So you can easily find the most comfortable spot. Hover through our top picks so you can decide what brand to get for your home office. 
What to Consider when choosing a monitor arm for three screens
Before buying a triple monitor stand, you should do your due diligence. Your requirements are different from the others, so no one shoe fits all. 
But this guide will help you spot the most suitable unit for your workspace.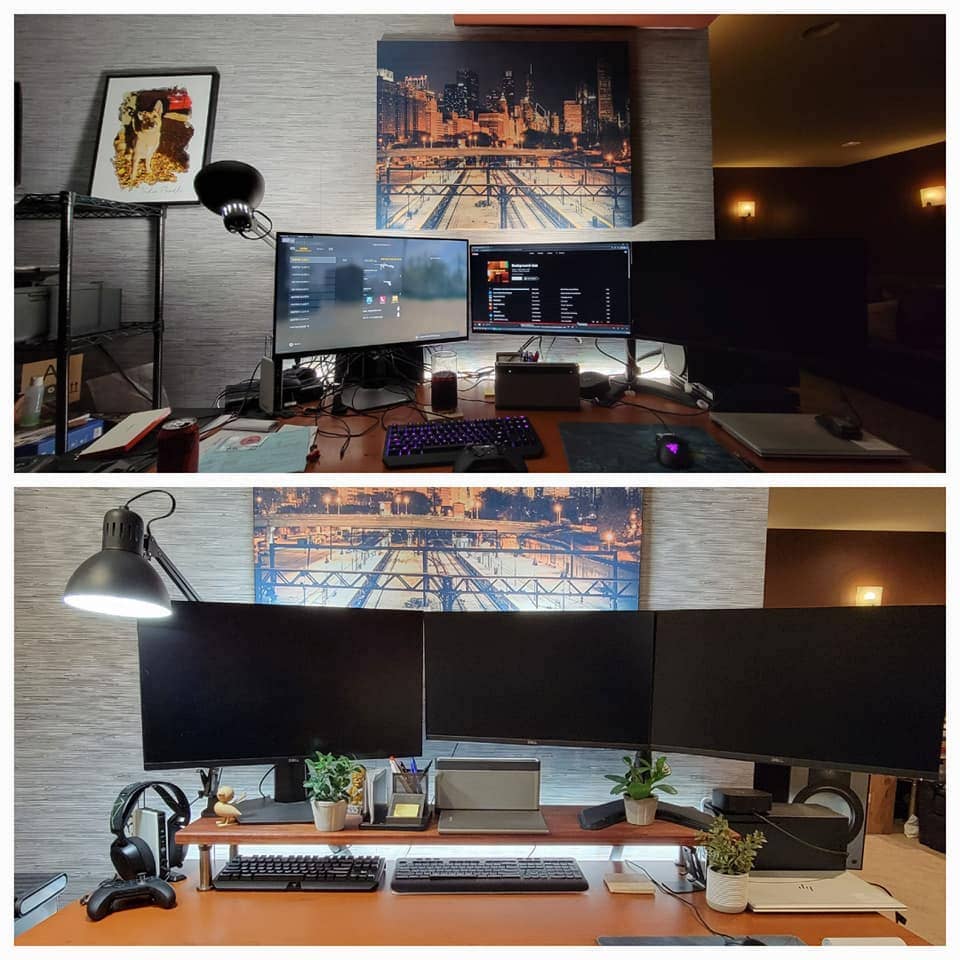 Adjustment options
There are several adjustment options that you have to check. There is the stand's height range, the tilt's degree both up and down, and the swivel. 
Some units will allow you to reposition the monitors to a full 360 degree. And then there's the maximum distance where you can pull the screens closer to you.
And not all arms are super flexible. Those with articulating arms will allow you to adjust the screens independently and give you more range of motion. On the other hand, some monitor arms have more of a stacked design where you can only adjust the two screens while the third arm is stationary.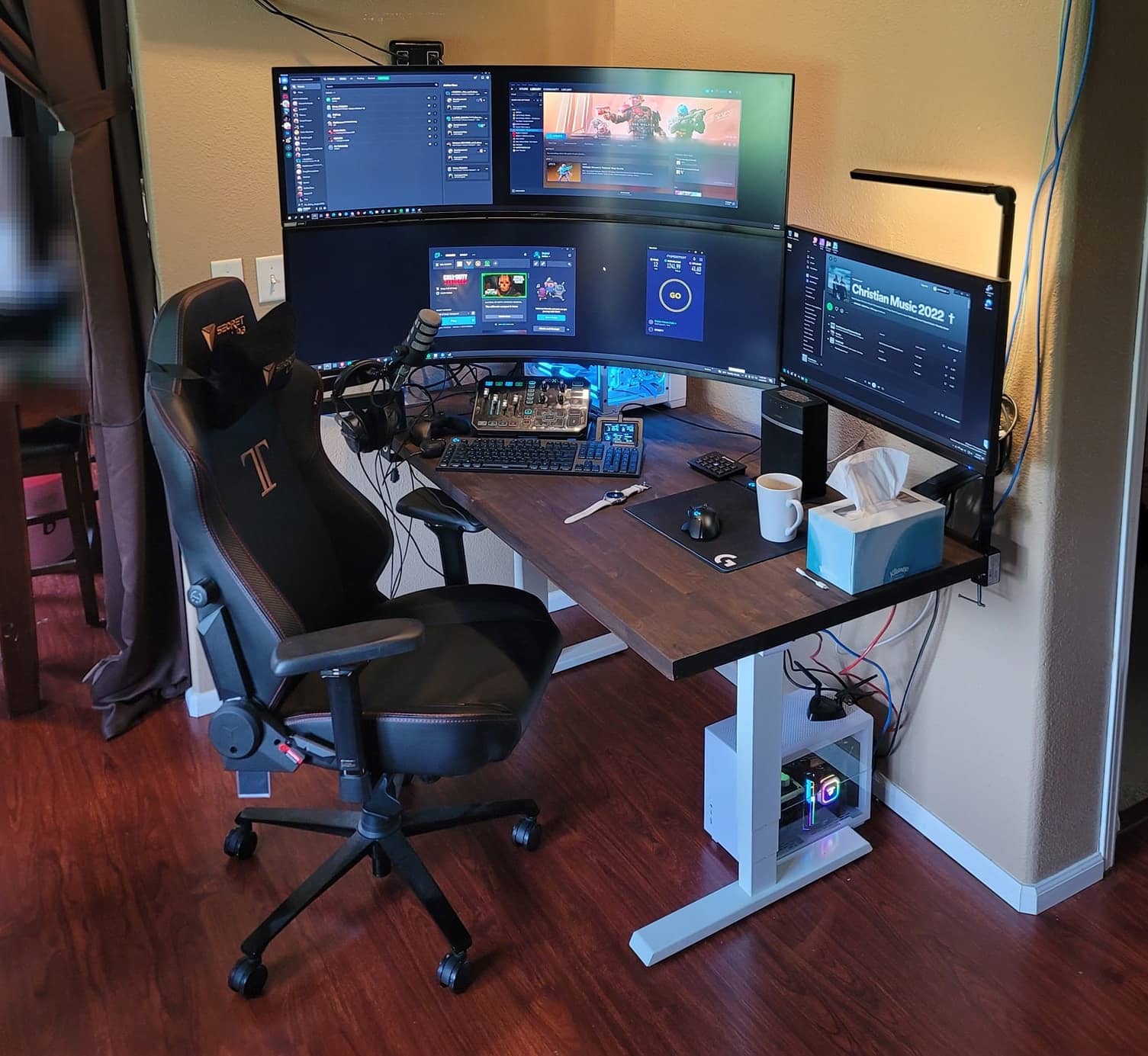 These factors are dependent on your needs and how much flexibility you need.
Space 
How big is your desk? 
Consider the desk's depth and how far you can pull the screens towards you. Get it wrong, and you can either have the screens too close to your face or too far from you.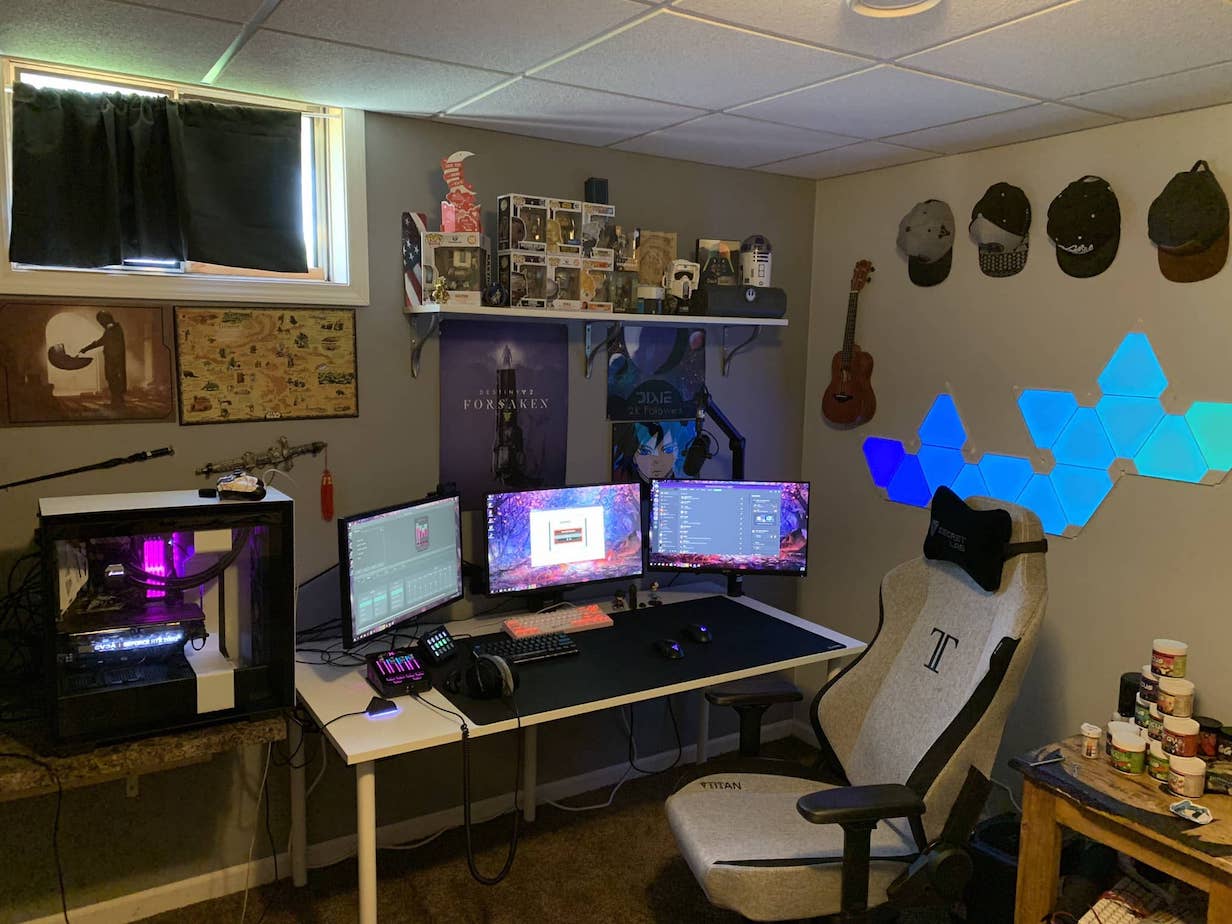 And when we speak of space, you also have to consider the footprint of your home office. 
Will you be flushing the desk too close to the wall? Different units may require varying clearance from the wall so you can use the arms more efficiently. 
The standing desk
If you're using a standing desk, you need not be worried about the height range of the stand. Since you can adjust the desk, this will not be an important measurement. Instead, you have to consider the mounting style of the arms.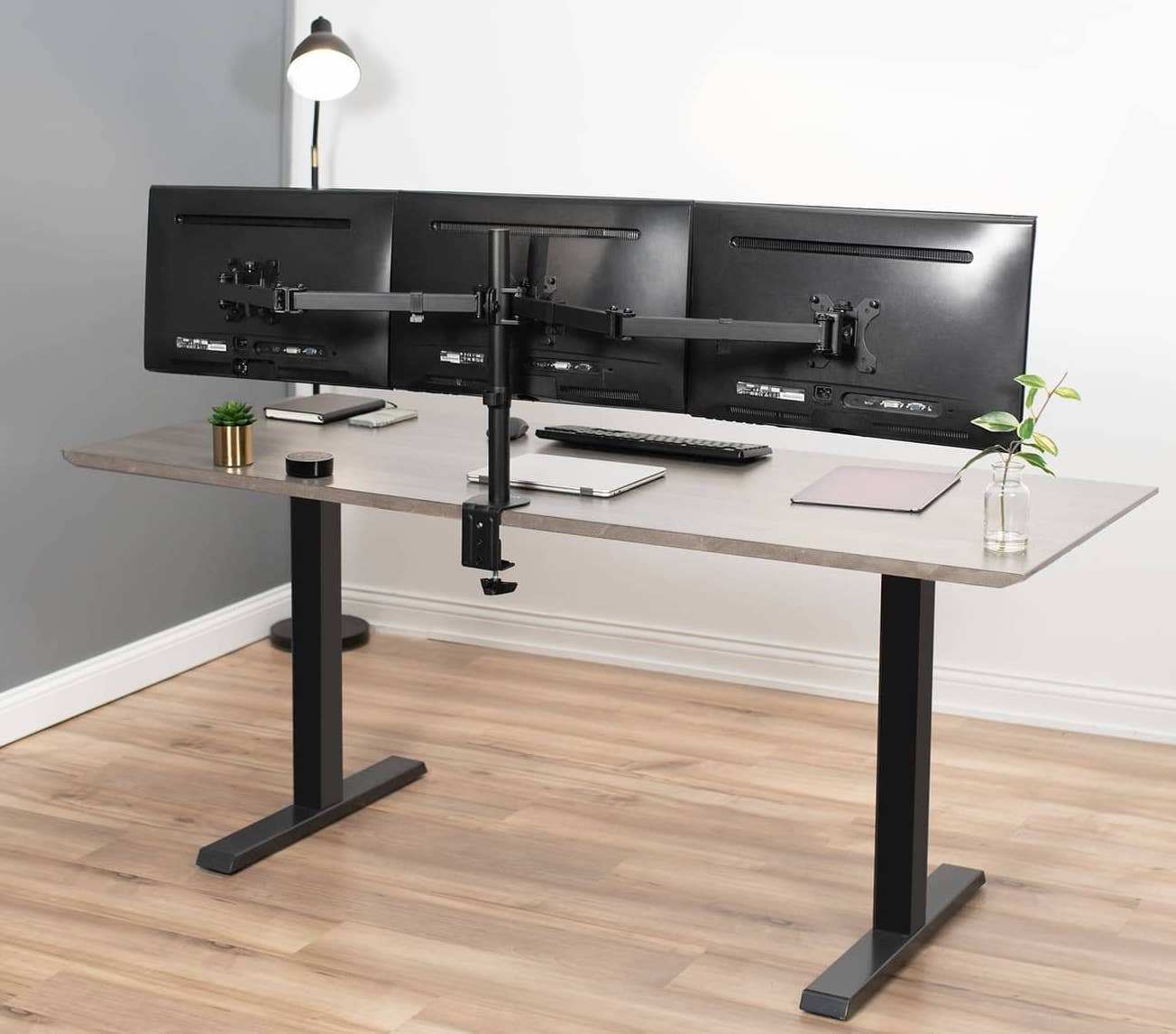 Will it be mounted via grommet holes, a C clamp, or is it freestanding? Not all sit-stand desks can be outfitted with a C clamp. 
Also, each monitor arm has a recommended desk thickness if you mount it via a C clamp. So to ensure that the unit will be steady and stable.
Weight capacity and size of monitors
How big are the screens, and how much do they weigh?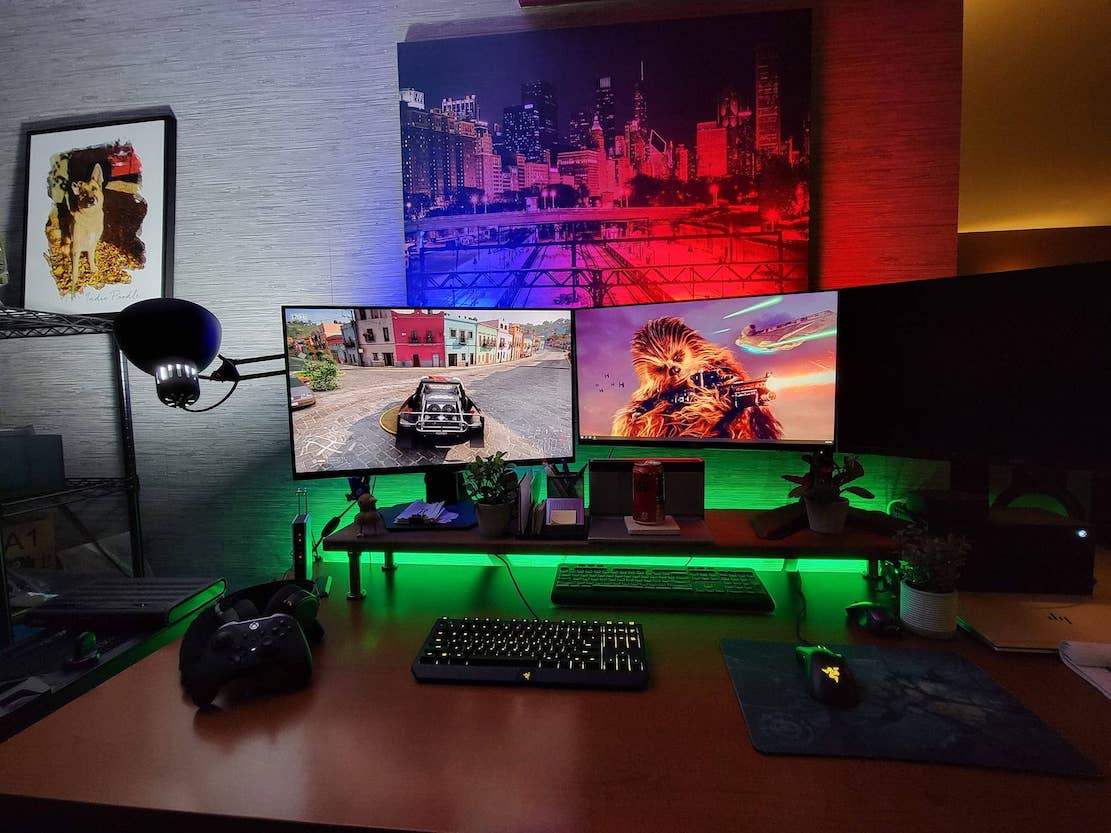 Be sure of the recommended monitor sizes and the load capacity of each arm. Going beyond the recommended numbers will result in the monitors sagging, bending, and bumping against each other.
VESA compatibility
You need a VESA mount to attach a monitor to the arm. So always check for the VESA compatibility of the monitor arms. 
They may have varying VESA mount types, so double-check if your screen matches that of the arms. Otherwise, you will not be able to use both.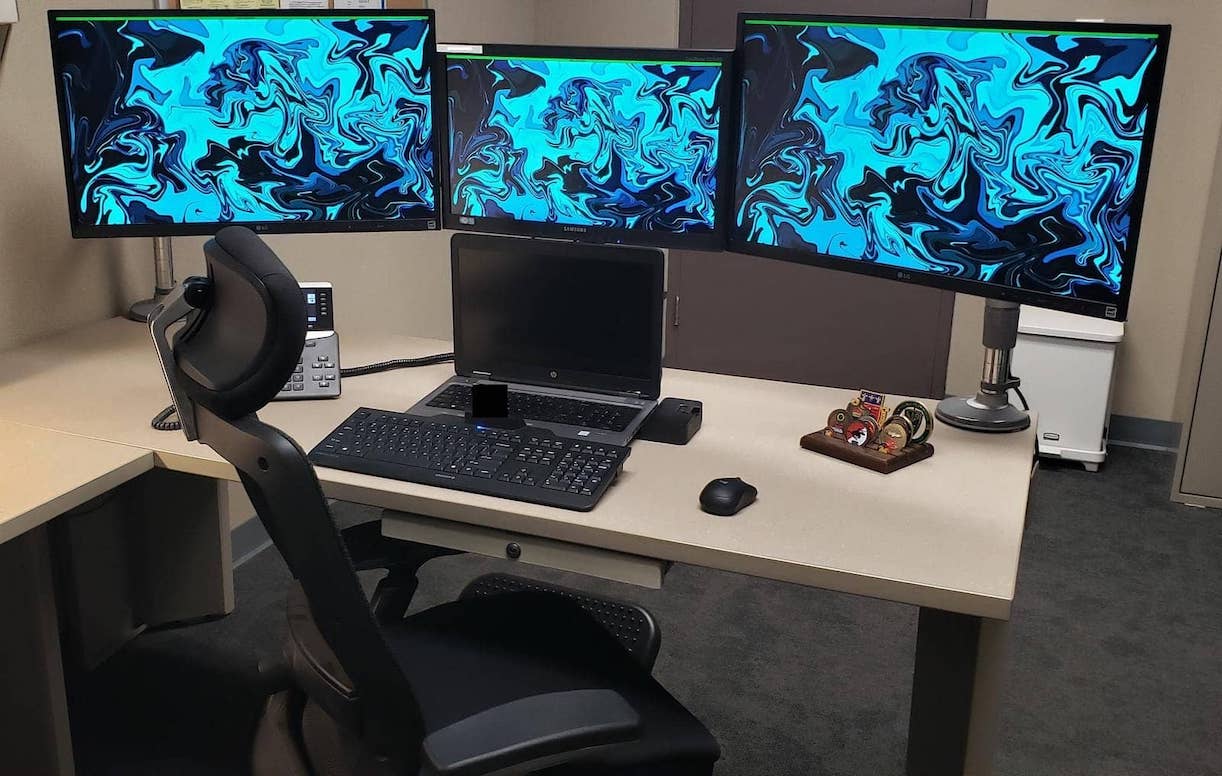 Warranty
Brands with a longer lifespan often have a more extended and generous warranty. 
A sturdy monitor arm ensures that it will be able to bear the load of the screens without bending or sagging.
It is essential because once the arm breaks while your screens are still mounted, this can cause significant damage to the arms. It may even render it beyond repair.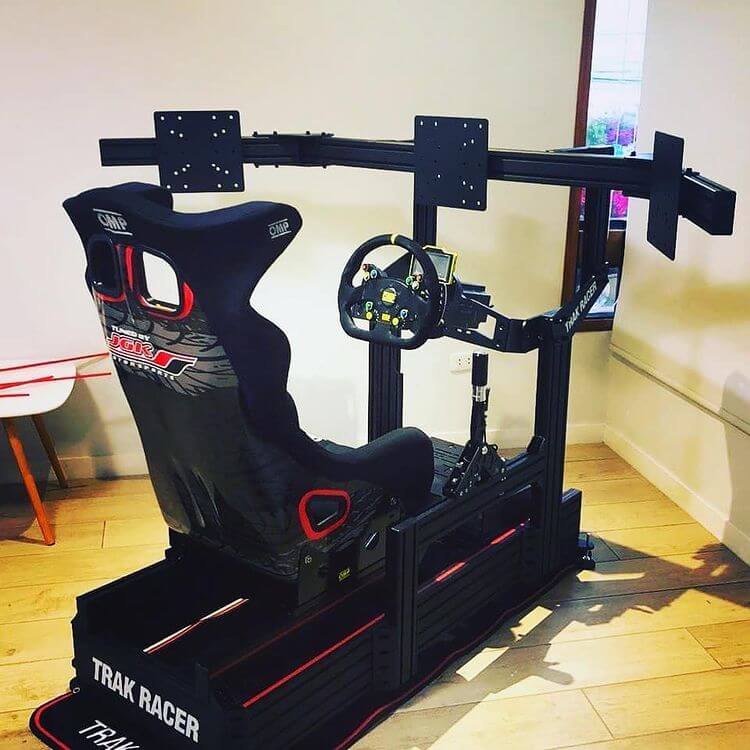 Best Triple Monitor Stand For a Busier Workstation – top 7 picks in 2023
The Mount It! with 3 monitor stand is primarily made of alloy and metal. It has very few plastic parts that's why it feels solid and strong. And it can surely hold a lot of weight with its carrying capacity of 46 lbs for the three arms. 
When an arm mount is going to carry three monitors, it has to be made of robust material and solid construction. And We felt confident that Mount iT! won't let you down.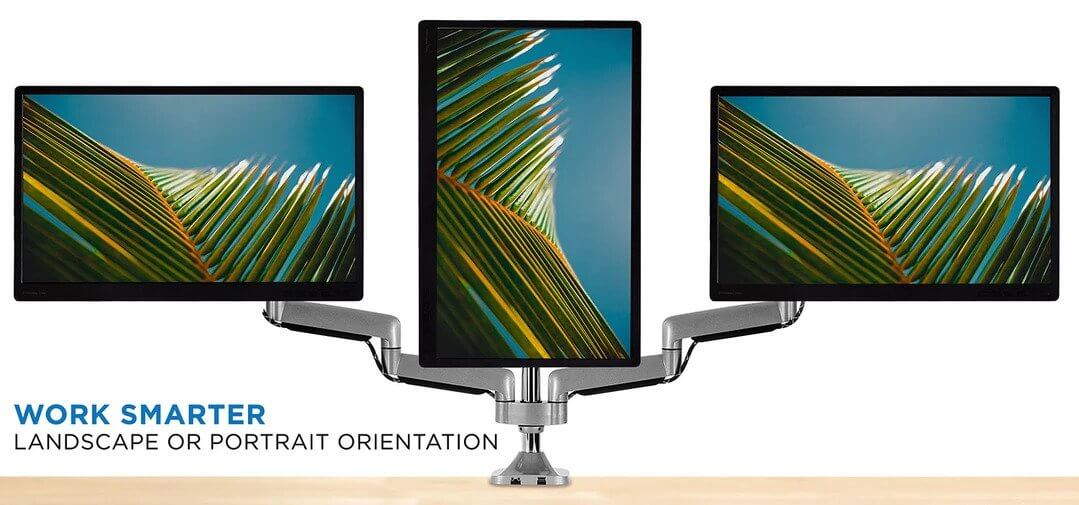 The brand also gives you options to clamp it on your desk via a grommet system. We find the former easier. The installation was pretty fast and it took us just a couple of minutes. 
Therese are also fully adjustable arms. You have an option to decrease or increase the weight capacity of each arm by using an Allen wrench. It's like sort of tightening the screws so that your monitor snugly fits. We were able to mount three 32 inch monitors without any problem. It feels steady and doesn't wobble. Some users have complained that it wasn't able to hold their 3 monitors. So don't forget to make the necessary adjustment to increase the weight capacity of each arm. This accounts for most of the complaints.
In addition, the cable management system is pretty good. We were able to conceal the wires and chords from 3 motors. But it does work best with a more flexible wiring system. If your chords are too thick and not too pliant, you might have a challenging time looping them through
The setup of this mount is that the three monitors are placed side by side. Thus, it's ideal for those who have to compare charts. Architects, designers, and financial analysts will benefit from this kind of setup. Though you can also use it for a more elaborate gaming experience.
Features
180-degree swivel

180-degree rotation

90-degree tilt

Built-in USB, audio, and microphone ports

46 lbs weight capacity

Ideal for screens up to 32 inches
Pros
Solid and sturdy metal construction

Can be tightened for a snug fit

Does not wobble

Decent cable management system
Cons
Center mount lacks forward and backward adjustments 
HUANUO Triple Monitor Stand – Full Motion Articulating
It is one of our favorites when it comes to fully articulating arms. The unit can hold the three screens rather well without sagging or bending. If you need more range of motion, we highly recommend the Huanuo. You can even make a 360-degree rotation with each of the monitors. 
It is also relatively easy to adjust the arms. We see this working best for those who need a more dynamic setup with multiple monitors. 
And if you tend to reposition your monitor several times a day, this will be a treat. It can make your work more accessible, and you can be more productive. 
It is also heavy-duty and comes with cable management, so you can easily organize your setup. The cable runs with the arms, but it looks sleek and will not get in the way of the long articulating arms. So this is also one for the books if you need an organized and clean setup.
You also have to ensure that you leave at least a 5-inch clearance between the back of the desk and the wall. So that you can maximize the usage of the unit, that's why it can also eat up more space. So if space is a problem, then this is not for you. 
WALI's triple arm standing three monitor mount is ideal for three 27 inch monitors. It's perfect for those who need a setup with two monitors placed side by side and one monitor on top. This mount is easily installed in your 4-inch thick desk via a C clamp or a grommet installation.
The monitors are mounted on a 31.5-inch pole. And this is height adjustable. One of the main advantages is that each arm can easily rotate to 360 degrees so it's easy to reposition the monitor vertically or horizontally.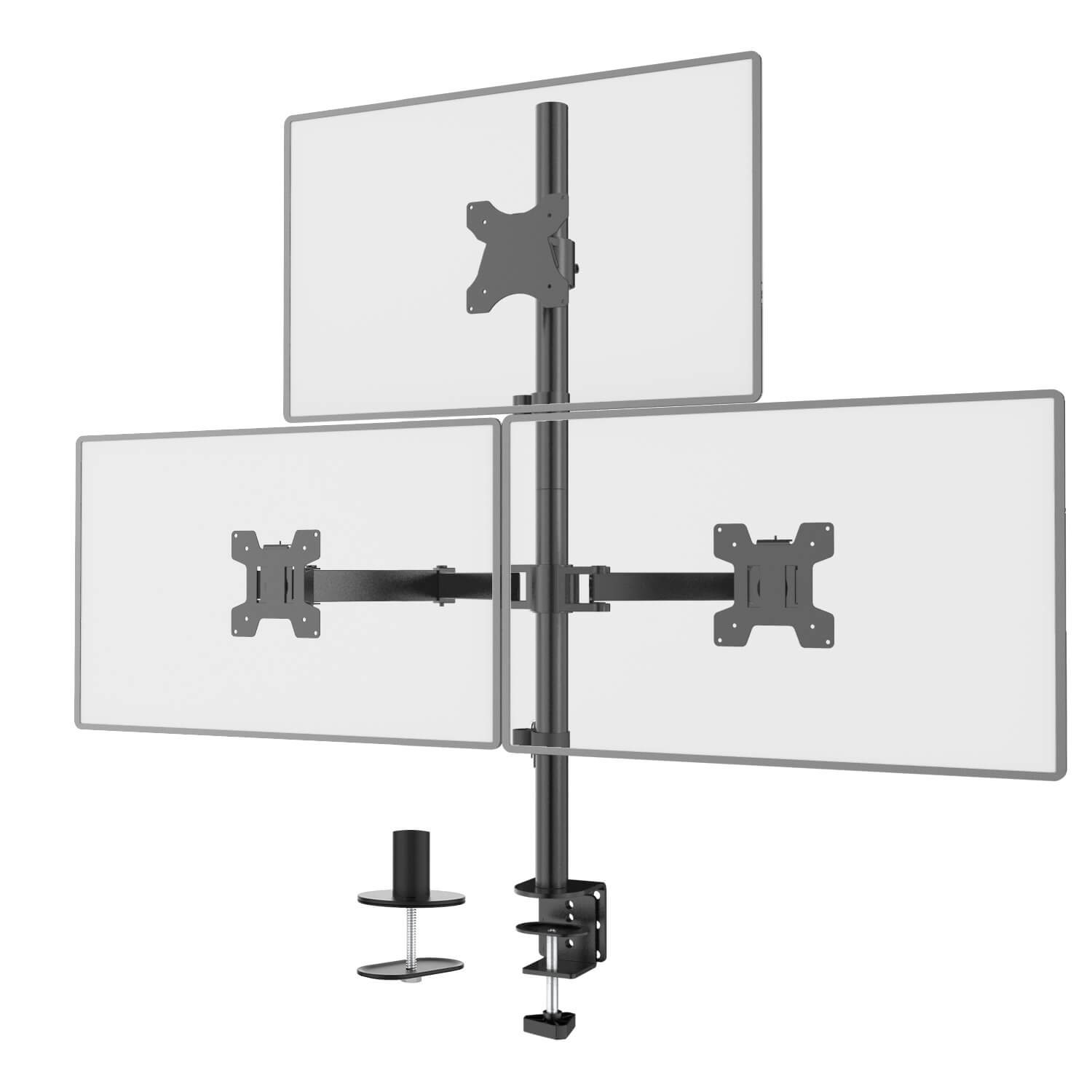 And compared to other pole-mounted stands, it's quite easy to install. You'd receive all the hardware labeled in pouches. And the instruction was dumb proof. So it will only take a few minutes to set it up. As for the overall construction, it's made of aluminum and steel, so this mount is decently strong. 
The VESA screws included in the package are also equipped with a plastic handle. So it's very easy to adjust. And you can properly align the monitors. It's quite different from the VESA screws and knobs that are quite frustrating to adjust.
This mount can decently hold 27-inch monitors without wobbling and issues. The tall pole also helps to stabilize the monitors.
Features
22 lbs weight capacity per arm

For 27 inch monitors

10-year warranty

90-degree swivel

360-degree rotation 

15-degree tilt
Pros
Easily adjustable VESA screws

Easy to install

Solid and sturdy

Easy to reposition the monitors vertically or horizontally
Cons
The cable clamp amount is too small
VIVO Triple STAND-V103
This monitor arm feels substantially decent and sturdy, though not as heavy-duty as the Echo Gear. But this unit seems to maintain its integrity even if you have maximized the load capacity. 
On the other hand, the best selling point of this unit is the extensive range of motion. In terms of articulation, this allows more flexibility. 
It is an excellent choice if you need to reposition your screens more often. 
We also see this best working for 39″ or bigger desks. Thus, the arms may become too close to your face if you have a smaller table. You also will not be able to maximize its usage. 
For the caveats, you might be unable to keep all three screens at the same height no matter what you do. 
The screen in the middle will always be a few inches higher than the rest. So this is also something to consider if you need all three monitors to be in one line. 
You also have to be careful where you place your desk. It might need a larger space. If you put it too close to a wall, the arms might bump against the wall and each other.  
Overall, this is best for more oversized desks and a bigger space.
This triple arm monitor combines fully adjustable arms and a pole mount. A pole mount does have its advantages, it can add up to the stability and durability of the arm mount. And the most notable advantage of this three monitor mount is the fully adjustable arms, it can be extended up to 27 inches. Though the center mount kind of stays in the middle, it can be tilted up and down.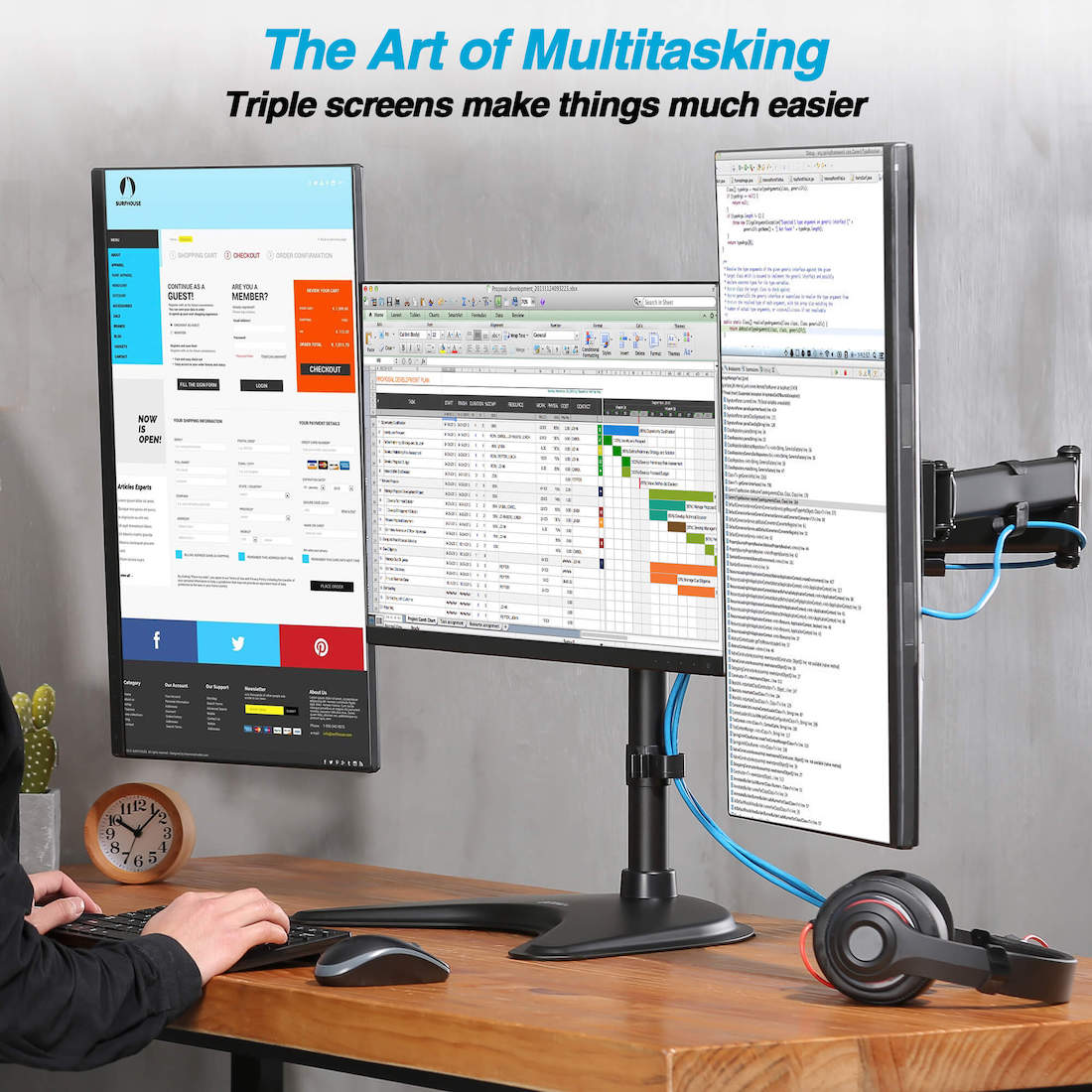 In addition, the height of the pole can be adjusted up to 32. 6 inches. So if you're tall, you can find a nice spot for you to comfortably work. 
This unit is also pretty easy to install, either via a C clamp or a grommet system. You can also top mount it. So you don't need to hover under the desk to fit into your tabletop. We love the convenience of having it mounted right on top of the desk.
Overall, it's a sturdy stand that allows for great customization. One of the things We wished were better is that the arms have no true locking. It has a few countersunk bolts but nothing more than that. But apart from that, this setup is amazing. You can fully achieve that lovely arc for your monitor setup
Features
13 inch to 27-inch monitors

90-degree tilt

90-degree swivel

180-degree screen rotation

With 22-inch pole mount

3-year warranty

Weight capacity of 15.6 lbs per arm

C clamp or grommet system installation

Height adjustable up to 32 .6 inches
Pros
Sturdy and solid base

Fully adjustable arms

Top mount option

Stable and does not wobble
Cons
No true locking for the arms
If you're looking for a three monitor mount for your extra-large PCs, you have landed at the right spot. This 3 monitor mount from TechOrbits can hold monitors that measure up to 30 inches. The gas spring arms ensure a sturdy unit yet it's fully adjustable. It's also easy to reposition them. 
The overall look of the unit is classy and pristine. And it features a floating screen position. It feels very fluid yet strongly munted. It feels premium but it doesn't bear a premium tag, and We like that the most. You can upgrade your workstation without shelling out too much money.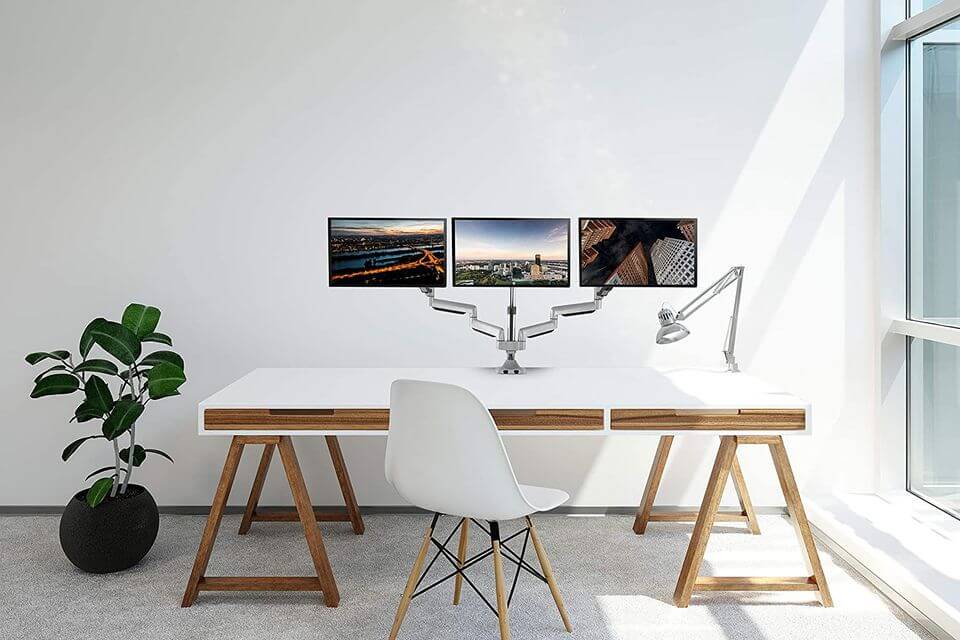 Installation is okay but doesn't forget to tighten the spring arms. It has to be a bit tense so that you can fully appreciate the unit once you mount your monitor. You might feel that the arms might sag a bit after installation. 
It's pretty normal and what you have to do is to tighten or add more tension to the arms by using the Allen wrench. But once you have added tension, it will pretty well hold up three 30 inch monitors. 
This monitor mount looks really sharp. It's for you if you want a more stylish yet sturdy floating arms mount. 
Features
Weight capacity of 15. 4 lbs each arm

Gas spring

For 13 inch to 30-inch monitors

3-year warranty
Pros
Stylish and classy

Has cable management system

Arms are easily adjustable

Strong and sturdy support
Cons
Might need constant tensioning
If a center pole adds up to the stability and sturdiness of an arm mount, the LANGRIA triple monitor mount excels in this department. It features a very sturdy center pole. It's a 7 mm metal forked base. This heavy-duty chrome-plated center makes the unit robust and solid. 
The Langria is one of its kind and perhaps the first to offer this kind of heavy-duty base. So rest assured that the unit can easily hold your monitors.
It's all solid metal. We find it to be the most adjustable mounts in the market. Not to mention, for three monitor mounts, it's quite impressive. 
You can easily move the monitors and it will hold up pretty well. It has so much adjustability that you can position the three monitors at different heights. It pivots, it swings well so that you can even mount it on a smaller 48-inch desk.
One of the cons might be the too bulky base. But if you have room for a bulky solid base on your desk, you'll definitely be okay with it. This also means that the unit is rock solid. And for a free-standing mount, this is one of the most stable we've come across yet. 
Features
360-degree rotation

Weight capacity

30-day return policy

17.6 lbs per arm

45 degree tilt up and down

For 15 inch to 7-inch monitors
Pros
Heavy duty

Highly adjustable

Easy to reposition
Cons
Some find the base too bulky
Conclusion
So there you have it. These three monitor mounts can support a more elaborate workstation where you need a monitor either placed side by side or at different heights.