The Jelly Comb monitor stand comes in two colors, black and white. We find the white unit better and it resonates with the name of the brand rather well. The white desk riser has this jelly thing kind of vibe going. So yes, it kind of looks fun and playful, and modern at the same time 
Though we really do not dig the black unit. You'll be able to notice a cheap plastic feeling with this one. So we are going to give it the benefit of the doubt and explore more on its features. 
What makes the Jelly Comb monitor stand unique?
A limitation of a monitor desk riser is that it's a stationary one. Compared to articulating arms, you will not be able to reposition your monitors, let alone change the height. Though the Jelly Comb monitor Stand still has this same problem, it does offer one adjustable feature that you might find useful.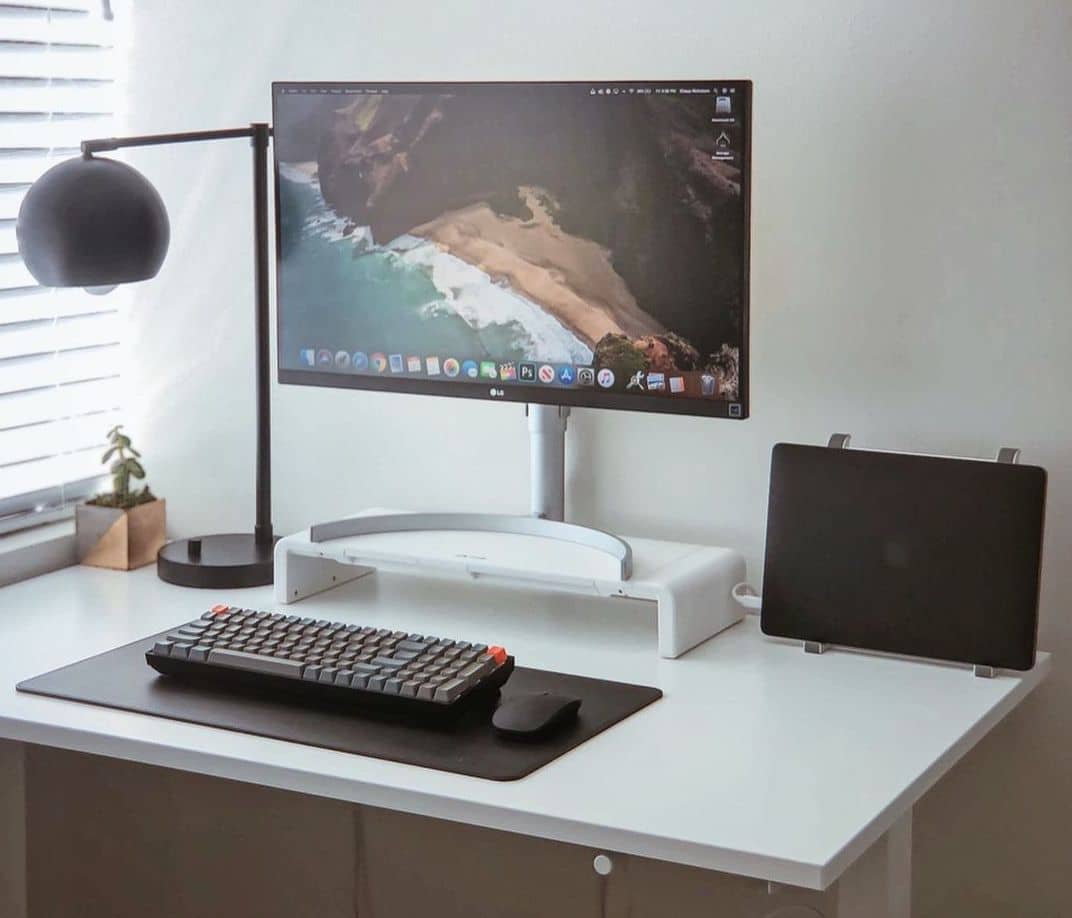 The width of this desk riser can be changed. And you have four configurations. You can change the width of this desk riser from 16- 20.5 inches. So you can use it for your larger laptops.
You will also be able to configure where to put the small drawer. You can opt to put the drawer on the right side and have the cellphone holder on the other side. Thus, in terms of customizations, this little unit here indulges you just for a bit. Though you will not be able to adjust the height of the desk riser such as the AmazonBasics monitor stand. But you can adjust how big and wide of a space you want to work on. 
It also has a tiny drawer
It is also equipped with a small drawer. And when we say small, it's quite tiny and you will only be able to put in small items such as pens, pencils or a charger. And we were quite surprised at how small of storage space the drawer is. 
Though you can tell from the photos in advertisements that it's a small drawer, we were not expecting it to be this small. So the drawer sort of acts as auxiliary storage for very small items. So if you are looking for one that has more storage space, this will not serve you well. And oh, do not buy it solely for the drawer, otherwise, you will be disappointed. 
What we liked the most
We have mentioned above that it does have a cell phone holder where you can place your phones upright on one side of the desk riser. If you're working on your phone and laptop at the same time, you should consider having this. This makes it easier to hover through your phone without having to hold it. Thus, it makes your work easier.

And since your phone is held upright, you will be able to respond or see notifications right away.

It's versatile and portable. Since you have options to change the width or the length of the desk riser, you can also use it for other things. It serves well as a notebook holder or a mini TV stand too.

We all love how easy it is to adjust. You just literally have to pull the two legs or bend it to shorten it. It's dummies for beginners actually. You don't even need a manual to tell you how to adjust the unit. 

It does have some room beneath the desk. We can store your keyboard and mouse. Also, it can act as a dust cover so that your keyboard will not accumulate much dirt. But take note that only shorter keyboards will be able to fit underneath this desk riser. 

This desk riser has a 55 lbs weight capacity. It is quite stable and durable enough. And as for the rated weight capacity, it is what it is.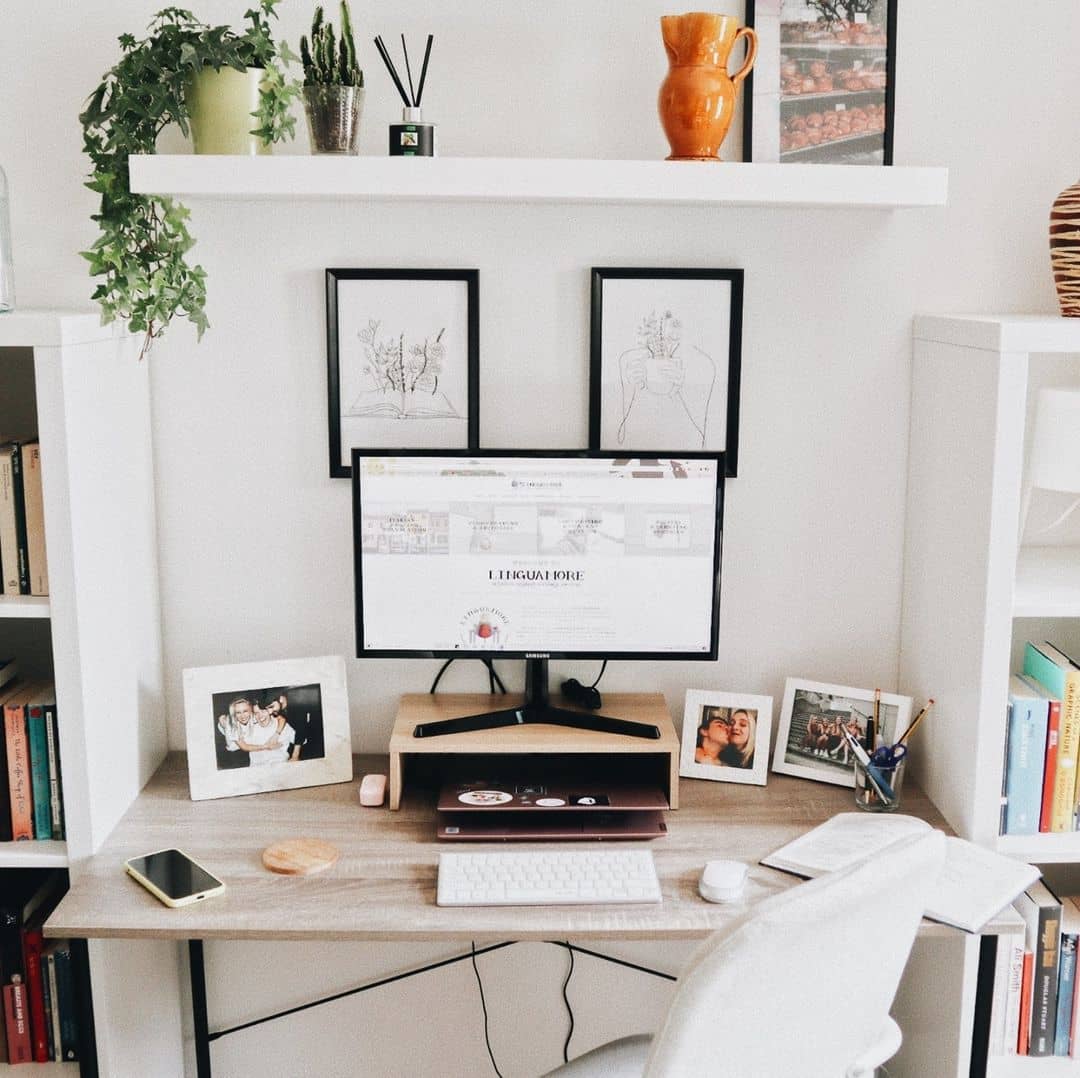 What we hate about it
The cell phone holder is not for everybody. If you have a chunky phone or your phone has a case, it might not fit into the cell phone holder. And also, both the cell phone holder and the tiny drawer are pretty thin. This is perhaps the flimsiest part of the desk riser. Also, the drawer does not easily close and open.
There have been some complaints that they received their purchase with some dents. Though we didn't experience the same, there were several who were not happy with how it was handled during shipping. 
Overall
This Jelly Comb desk riser gives you the option to extend the length of your monitor stand. We do find it decent enough since we did not encounter any stability issues with it. Our monitor did not tip off the riser or anything like that.
We were able to buy this for about 20 dollars, with the sale and all. Though we saw that some merchants offer it as high as 30 dollars. If you'd ask us, it might not be worth it for 30 dollars. Though the unit is okay and doesn't wobble, it is not worth it if you need to shell more than 20 dollars. 
If you want to be able to widen the space of the desk, this can perhaps serve you well. And aesthetics wise the white unit looks pretty chic. It looks almost the same as a Klearlook desk riser. It's also length adjustable. But the Jelly Comb has more configurations and features a wider desk area. 
What about the Jelly Comb ergonomic laptop mount
One limitation of the Jelly Comb desk riser that we have reviewed above is that you may only be able to change the length of the desk riser. And since you cannot change any other dimension, it is not ergonomic. So if you need to change the height of the platform, you will find the unit lacking.
If you're one of them, then the Jelly Comb ergonomic laptop holder might be a better option for you. 
This laptop stand boasts of 9 different height configurations. That's one of the advantages it has over the Jelly Comb desk riser. It's a simple item but it can give you a more ergonomic solution. Also, the design of the desk riser, since it's elevated from the ground several inches higher, it has better air circulation. So your laptops will not overheat. Or you might not need a fan to help diffuse the heat. 
It also has 2 cell phone holders located on each side. But the downside is, it has a lower weight capacity at 22 lbs compared to the Jelly Comb desk riser. And also, you will not be able to change the width of this unit. And it can only accommodate laptops measuring 17″ 8.5 x 8.5 x 0.76″.
In terms of stability, it does feel pretty steady and doesn't wobble.
But in terms of aesthetics, we are digging the mint green color of this ergonomic laptop stand. This is perhaps the common denominator of all Jelly Comb units. They look cool, hip, and have a young vibe. These units will be able to perk up your desk area. 
Final Say
The Jelly Comb desk riser is a simple and basic solution to elevate your laptop a few inches from the ground. In terms of the features and functions, it looks similar to the LEXVSS monitor stand. It is also width adjustable and you get to have USB ports at the front. It even has the same weight capacity.
But if you're looking for a desk riser with storage space, this Jelly Comb desk riser is not a good option. Some advertise this unit as one with ample storage space. But it's actually more of just a tiny tray, so don't buy this if you are looking for one with more storage space. 
But if you're looking for a basic solution, then this will be able to suffice your needs.