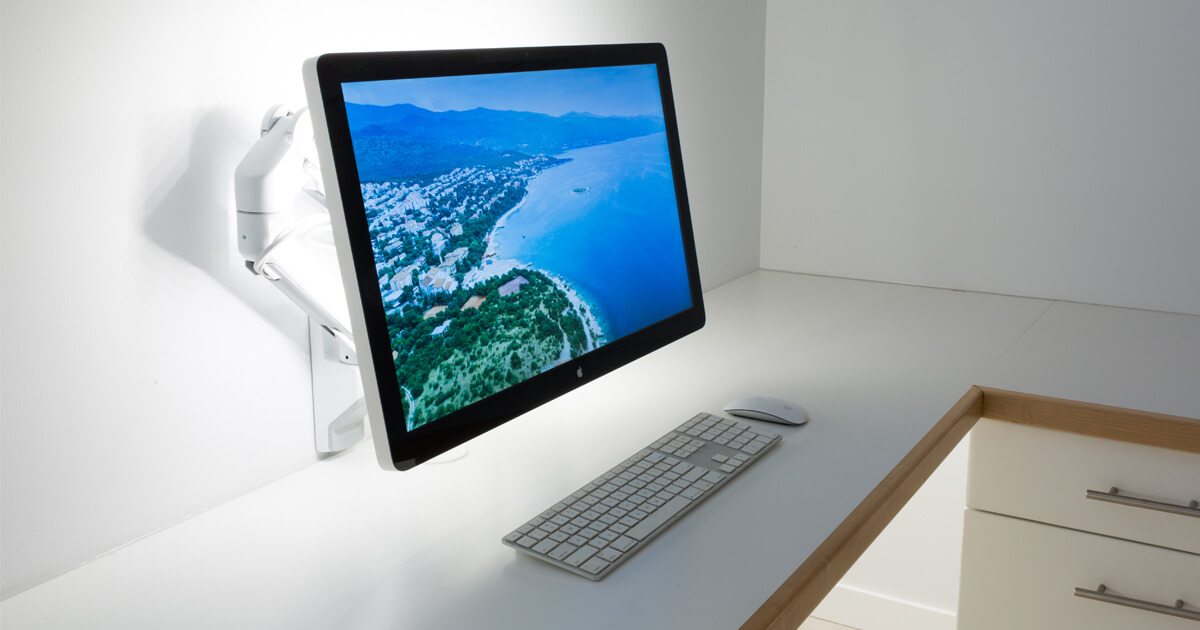 The Ergotron monitor arms are known for having one of the best warranties in the market. And this brand isn't necessarily cheap. It costs a bit higher than a mid-range monitor arm. It does not add up extra or additional features, but it's still hot in the market. Let's see why.
About the brand 
Ergotron is both manufactured in the US and China. The brand is known for making office solutions ranging from workstations, mounts, standing desks, mobile carts, and charging stations. In addition, the brand provides custom solutions for home offices and several companies. 
See the Ergotron store, click here
The LX Monitor arm is available in two models, the standard one and the pole. The pole is perfect for tall users. The maximum height is 25 inches of the standard is from the tabletop, whereas the pole is 34 inches for the tabletop. And it may be the only choice from the brand that's suitable for taller users. Hence, the Ergotron LX has a wider scope of users. 
One of the notable features of this model is its flexible metal arm. It can help you work more efficiently. Especially if you are a digital artist, you'll find this monitor arm the only unit that you'll need, unless you're going to add a monitor to your workstation.  
It has a great range of motion. You can pan it out perfectly. And The overall construction is robust, it's technically a beast, so to speak.
It's made of aluminum and heavy-duty metal springs and joints. The brand mentioned that the maximum carrying capacity of this monitor arm is 20-25 lbs. With its solid construction, it can be more than that. But of course, we'd stay within the safe range. So that means that even if you maximize the carrying capacity of the unit, it will not wobble. 
Another plus is the wire management system. It runs from the monitor to the frame itself. So you can conceal wires and cable. Thus, your workstation can look presentable and clutter-free. Hence, boosting your productivity. And the metal crossbar also gives a great range of motion.
The Ergotron LX monitor also has one of the best, if not the best warranty for monitor arms- a 10-year limited warranty. 
So if you're keen on getting an LX monitor arm, it can hold a 30 inch LCD that weighs no more than 25 lbs. 
Overall, it's one of the best monitor arms that you can buy for larger monitors with a low angle of view.
Pros
10-year warranty

Beefy construction

Easy to assemble

Good range of motion
Cons
Grommet mounts not included
Where to buy
The LX DUAL with two monitors and two arms are ideal for an elaborate workstation. It can free up more space from your desktop. 
As with the LX monitor arm, this model also has a beefy construction. It feels solid and less likely to wobble. It also has a pretty good range of movement and they don't bump against each other. 
The arm can hold as many as two LCDs measuring 30 inches each. But then again, the movement might be limited.
The range of motion is likewise, impressive. You can even flip the monitor upside down. It's built with tighter tolerance and better materials than other monitor arms sold on the market.  
It has a substantial weight too. Though it may be a bit heavy for some, this can speak volumes of the sturdiness of the unit. So a heavier weight is a good thing if you ask me. 
Furthermore, it's easy to keep clean and clutter-free workstation. You can easily hide the cables and wires with the cable management system. 
The downside is, it can only go up 16-18 inches from the desk. That's why it's perfect for low angle views. But it does not mean that you can't do anything about it. 
One solution is to mount it on a pedestal so you'll have more free space on the table, and the angle will be a bit higher. And another option is to purchase an attachment from the brand so that you can increase the free space to 4-8 inches. 
Pros
Easy to install

Perfect for large monitors

10 year limited warranty

Easy to use

Has a cable management system

Has theft deterrent anchor holes
Cons
Raises only a few inches from the desktop
Where to buy it
What you'll love with this LX dual direct arm monitor that it won't protrude too far away from the desk. That's a common problem with some monitors arms in the market, it veers too forward. The arms aren't too bulky either, but it feels rock solid. 
Also, it doesn't lean or sag to one side, so it's pretty stable and sturdy. You also have an optional extending arm should you be using a wider table. And it has ample adjustable heights too. So you can configure the height of the arms depending on how big your desk is.  
In addition, this type of mount is perfect for those who need a side by side view of two monitors. It comes in very handy when you're comparing charts and excel files.
Though a limitation of a dual monitor and one arm mount is that the angle can be locked in. Because the two monitors are side by side and they are on the same fixed mount, there's a bit of limitation in the movement. So this is one thing you need to consider if you're looking into buying this model.
You might run into positional problems if you maximize the carrying capacity. But it's pretty much easier to mount and line up the monitors. 
It's going to a reliable unit if you don't mind the limitations in the angle once you have two large monitors side by side. And if you want a minimalist setup, this is a better option than the two mounts with the two arms.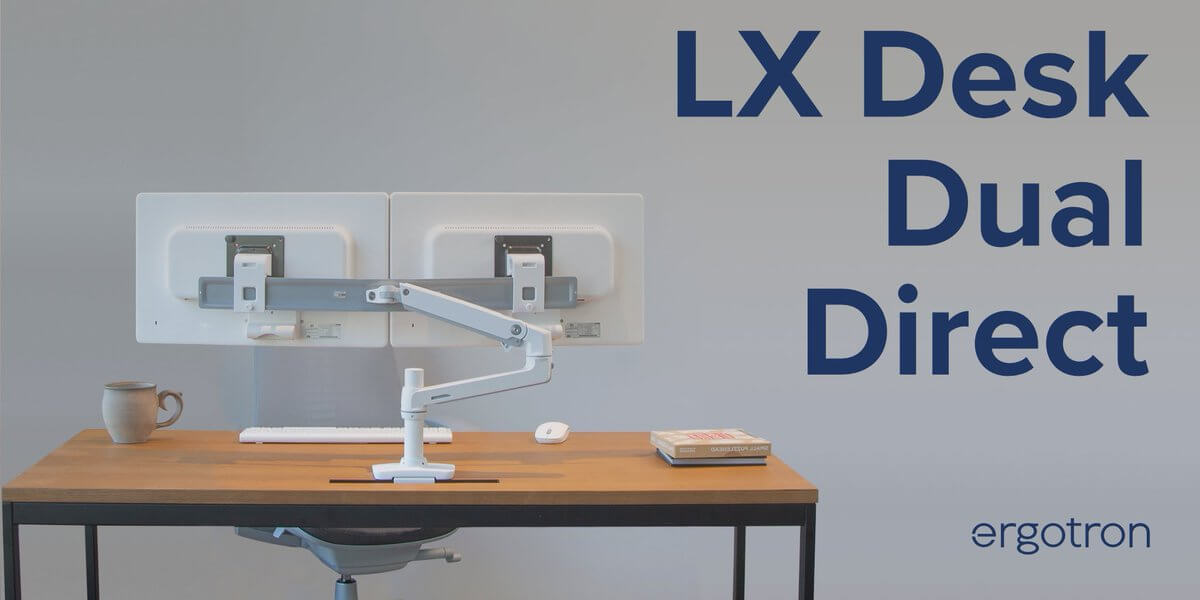 Pros
Ideal for side by side view

Minimalistic and clean look

Robust and solid construction

Perfect for low angle views
Cons
Some limitations in the angle
Where to buy it
This Ergotron wall monitor arm is built for the big league. It can support larger monitors of up to 30 lbs. 
It has an impressive 360-degree pan. And you can feel the robust construction of the unit. 
Aesthetically, you'll also love the sleek and clean look. The polished aluminum finish looks great in your living room or home theater. And you'll definitely enjoy the limitless range of motion. It can tilt, expand, and as mentioned above, it can rotate up to 360 degrees.
It's advisable to soft mount the monitor first before mounting the arm on the wall. So you can check the range of movement first and if it does swivel in the correct direction. 
It's a very sturdy wall-mounted monitor arm. And the aesthetics won't disappoint too. The arms are thick and you'd not worry if it can support your heavy LCD unit. Because it surely will. 
It also comes with a cable management system. Though you won't be able to hide the cables from plain sight, it does a decent job of keeping the wires and cables underneath the bottom of the arm.
Overall, it's a sturdy and reliable monitor arm for a single monitor setup using a larger and heavier LCD unit.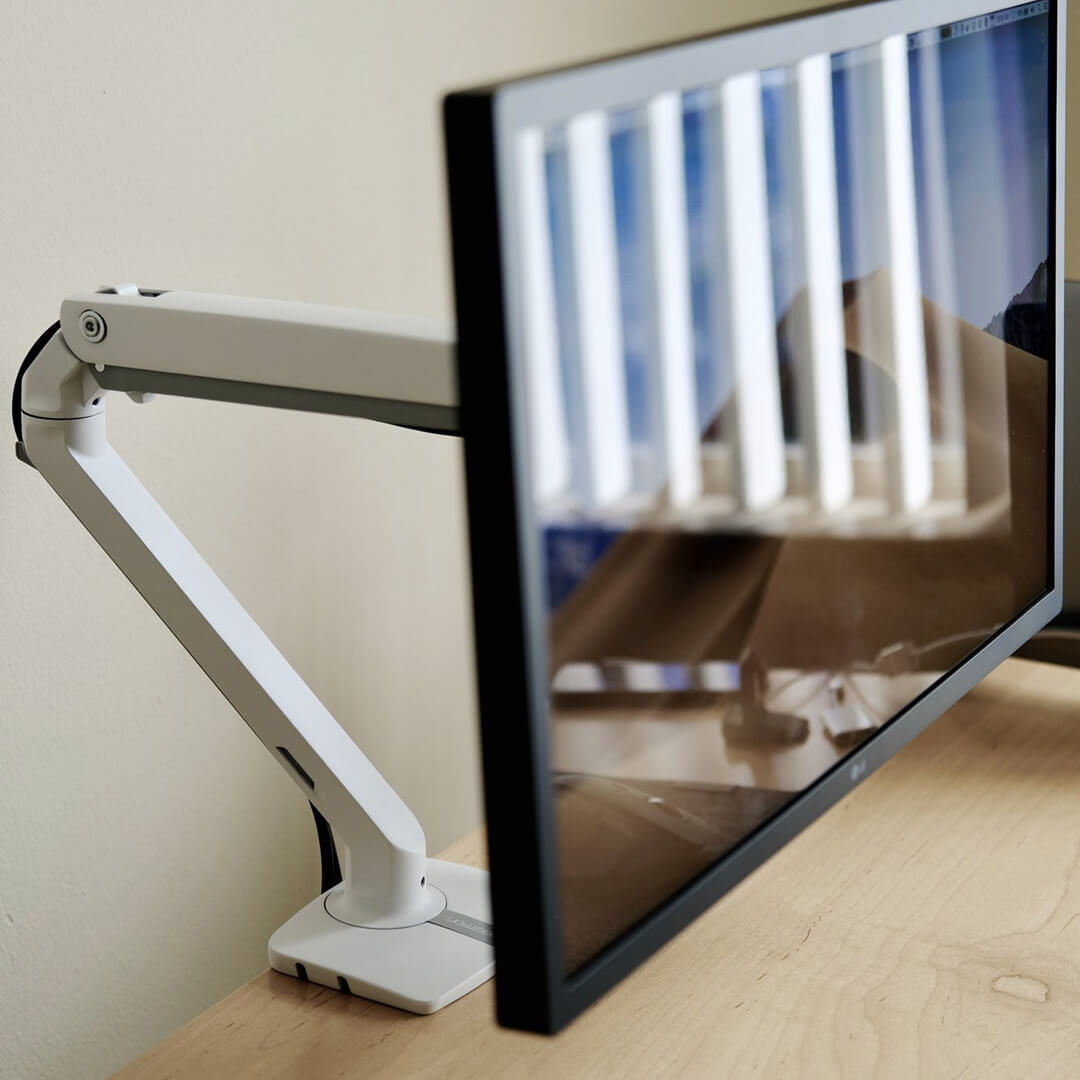 Pro
Solid and sturdy

Heavy duty

Meant to hold bigger LCD units

Wide range of movement

360 rotation

Sleek and polished look
Cons
The wire management system could have been better
Where to buy it
This wall mount monitor arm is designed to hold 2 monitors at a time. It's equipped with a telescoping adjustment that allows you to easily adjust and retract your monitors. So you'll be amazed by its flexibility.  
And like the other models that we have reviewed above, this also boasts of 360-degree rotation. That actually should be one of the standards when buying a monitor arm.
If the MX Wall monitor arm is heavy-duty, this has a beefier body. It has a rugged steel construction that can accommodate various LCD sizes.
Moreover, you have a lot of mounting options. You can mount it against any sturdy vertical surfaces. 
Pros
Easy to install

Flat-panel display supported

360-degree rotation

Great aesthetics

Robust steel construction

Impressive mobility. 

Easy to clean steel exterior
Cons
Has a 5-year limited warranty, shorter than those offered by other Ergotron monitor arms.
Where to buy
Conclusion
One of the few things that stand out from an Ergotron monitor arm is the long warranty period, beefy and solid construction, and a great range of movements. This brand isn't fancy nor does it have additional features that might make it more innovative, but it's one of the most reliable and heavy-duty monitor arms you can find.