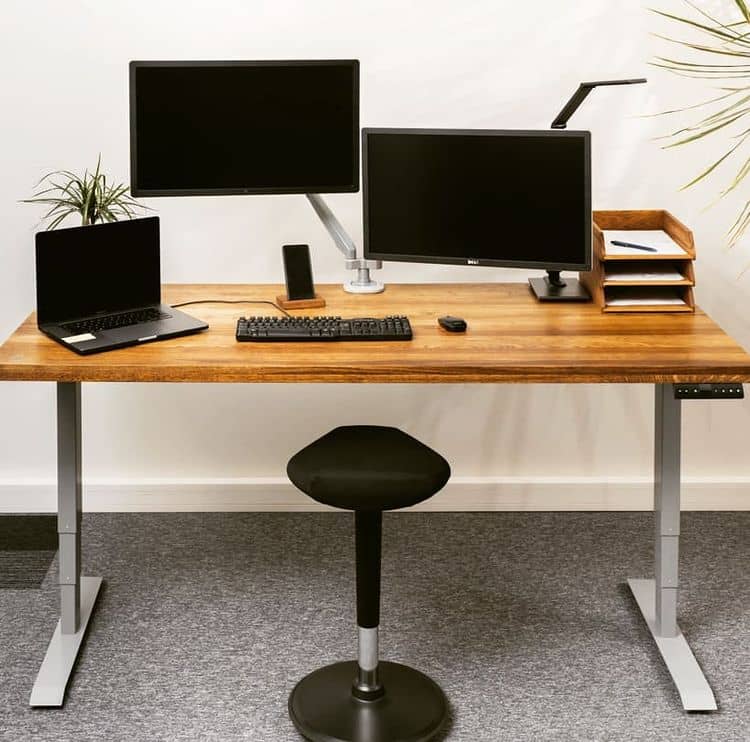 If you live in the UK, these are the monitor arms that are selling like hotcakes. So we will look into each one. We'll also suggest what they are best used for. In this case, please be sure that we are not sure about the shipping services due to the different locations. But the other factors, such as the quality, the size or the budget, we believe you trust the right one
Invision PC monitor arm – best for larger monitors
This Invision PC monitor arm is very robust, solid, and heavy-duty. It can accommodate any monitor up to the larger 35-inch ones. What we love about it is that it can still allow for 360-degree rotation even if you have maximized the weight capacity of the monitor arm.
Features
Can accommodate monitors up to 35 inches

360-degree rotation 

Reinforced streamline die-cast alloy frame and steel ring compression swivel fittings 

2-year warranty

 +85°/-30° incline adjustment 
This arm is made from all-metal material. But you will not have a challenging time with the setup. It's very easy to install. And this is a strong yet flexible arm for larger monitors.
What can we say, it has plenty of reaches. So this is perfect for you if you are looking for a heavy-duty and robust arm that has a longer reach. It has extra length that will give you more options to angle your screen. And since it can be rotated to 360 degrees, you pretty much can rotate and angle the arm any way you need it to. 
And oh, it has a little USB port at the base for your convenience. Also, the cable routing system is decent. It's not the best, but it can make up for a clean and tidy workstation. 
One of its downsides though is that it needs a lot of room behind the screen. So this might not be okay for you if you have a cramped working space. And oh, it doesn't look as sleek as the other monitor arms on our list. Though the construction is all metal, the finishing makes it look rather cheap.
BONTEC dual monitor stand – Best for a small desk with a two-monitor setup
This dual motor arm can accommodate dual monitors and can sit them side by side. We highly recommend this arm for those with small desk space.
Features
180-degree swivel

 VESA mount 75/100

 Rotate to 360 degrees and 90-degree tilt

For 13-27 inch monitors

A load capacity of 10 kg for each arm

The maximum arm extension length of 430 mm

Desk clamp or grommet base installation

Desk thickness from 10mm to 85mm

Built-in cable management clips
We find this dual-arm very solid and sturdy. And we love that it has built-in cable clips for easy cable management. All the parts are also well made, the threading on the screw holes is perfect. And once you have mounted your monitors, you will not have any worries about them dropping to the ground. It just feels so robust and sturdy.
You will also be able to set it up in a jiffy. And another feature that we love is that this monitor arm has a clip holder for the Allen keys. So whenever you need to adjust, tighten or loosen the tension, you know where to find your alien keys. And you will also not lose them! This is a very simple yet convenient feature that we wished all monitor arms would have.
It's also easy to adjust the height of the monitors. And you can rotate it to whichever way you need it to be. 
The downside, however, you will not be able to adjust the screens independently. Also, you can adjust the height of your monitor arms but it can be a hassle to do so. You have to loosen the tension on the main pole mount. And since all the connections are really tight, you might have a challenging time loosening them. A little elbow grease might help.
This monitor arm is recommended for those who have two screens and a small to average size desk. And if you don't need to adjust the two screens independently, you'll find this a very suitable arm.
HUANUO Single monitor stand – Best versatile
This HUANUO single monitor stand lets you enjoy the best of both worlds. You can take advantage of the polearm and gas spring. You get a more stable installation. And at the same time, you have more reach.
Features
VESA mount 75/100 mm

Black frosted shell

 automotive-grade gas spring cores 

C clamp or grommet

Hidden cable management system

A load capacity of 2-9 kg

180-degree screen motion
The problem with pole-mounted monitor arms is that they are hard to adjust. And with gas spring ones, they have limited reach if you want your monitor above the desk. This type of monitor arm allows you to easily adjust the arm. And at the same time, you can raise your monitors higher. 
It offers a lot of height adjustment options. So this HUANUO monitor stand is very versatile too. It has a pretty good range of adjustments. But at the same time, you can feel that it is durable and does not wobble at any position. 
The connection is tight enough. And you will not have any problems with the stability. The pole does not move even if you are rotating the screen. 
One of the downsides, however, is that the gas spring may seem a little stiff at first. We thought that it would not be easy to adjust, but what you need to do is just adjust the tension with the hex screw that comes with your purchase.
And oh, we tried to maximize the weight capacity of the arm. It doesn't wobble. However, when we try to tilt it away or towards us, it seems to have a bit of challenge bearing the 9 kg weight. So if you need to tilt your monitors often, we recommend mounting a lighter monitor arm. Otherwise, this might not be the product for you. 
You can install this monitor stand via a C clamp or grommet. Though the C clamp is a more convenient and handy option, we suggest installing this arm stand by drilling holes. This will ensure a more secure connection, especially if you are going to maximize the 9 kg weight capacity of this monitor arm. 
ErGear single monitor stand – best basic
This single monitor stand looks quite stylish and classy. The glass base part of the arm will match a contemporary office. Through the put-off is the small plastic part above it. We wished it had some sort of a cover or was made from a different material.
Features
60-degree swivel and 360-degree rotation

VESA mount 75/100

Max weight capacity 8 kg

The screen size of 32 inches

Concealed wiring design
It looks sturdy and durable. And it is one stable and solid monitor arm. Once you move your screen, you will not worry if it will fall, it doesn't shake or wobble a bit. But the problem is, once you have mounted your screen on the arm, it will be difficult to adjust it. And for the monitor arm to hold the tilt, you have to tighten to and use a significant amount of force
With that, we recommend this to those who do not need to readjust their monitors as much. This would make up for a classy stand to mount your screens higher than the desk. Though the function may be limited compared to the other options on our list, this is a durable arm make no mistake. 
Overall, if you need to raise your screens from the desk and free up space on your table, this is a great purchase. And this is a classy-looking and very very robust arm. But keep in mind that it can be a pain to adjust. 
HUANUO 360 degree rotatable single-arm – best for lighter monitors
This is the second HUANUO monitor arm on our list. But this time, this arm is suitable for your curved motors measuring 13-27 inches. 
Features
VESA Mount 75/100 mm

For 13-27 inch curved monitors

Tilt range from -50°to +35°

180° swivel and 360°rotation

Can raise your screens 39.6 cm from the desk

C clamp or grommet installation

Hidden cable management
The brand advertised this monitor arm with a weight capacity of 6 kg. But we did realize that it is best used with a lighter screen. When outfitted with a heavier screen, it tends to wobble a bit. But when fitted with a smaller and lighter screen, you can still get your money's worth, it will still be durable and stable.
And one of the advantages of this monitor arm is that it is pretty easy to adjust. It allows for multiple angles. And you can also rotate your screens vertically.  
And you also have to have enough room behind the desk so that you can maximize the multiple angles. Otherwise, you might have your screen too near your face. So this will not be suitable for those with a cramped working space. But if you have a deeper desk and an average size to a large working area, this can be your monitor arm. 
Final Say
One of the common denominators of the monitor arms on our list is that they are all made from sturdy and durable construction. The strong build and no wobble make these a popular choice among those who are living in the UK. It seems to be the number one priority compared to the flexibility of the arms.