The Jarvis monitor arm is one of the most affordable monitor arms in the market today. Even it's a cheaper price tag, let's see what else the Jarvis monitor arm has going for it. 
About the brand – Fully
Recently, Fully is sold to Herman Miller
Jarvis monitors arm is manufactured by the same company that made one of the most popular mid-range sit-stand desks, the Jarvis standing desk.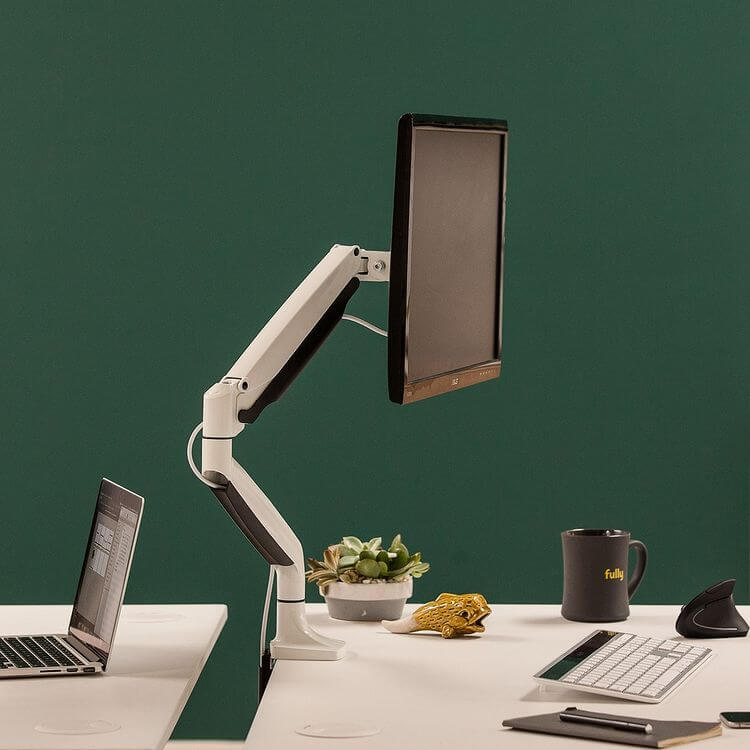 Jarvis monitor arms Review
Let's take a look at the brand's single and dual monitor arm. We are going to enumerate the pros and cons so that you can best decide if it's for you. 
The single arm
Versatility
The Jarvis monitor arm has a simple and universal design. And it's compatible with a lot of desks. So even if you have a Versa or a Vivo sit-and-stand desk, you'd still be able to mount a Jarvis monitor arm. This is perhaps one of the conveniences the brand offers. 
Unlike other monitor arms such as a Varidesk, you can use almost any type of desk. The Varidesk is mostly compatible with a desk from the brand, so that's quite a limitation there.
You can also mount the monitor arm in two ways. One, via a clamp that you easily attach to the desk. And two, via the grommet holes. 
So it offers again, more versatility to the users. And this is something that some brands lack. Therefore, you'd also find the Jarvis monitor arm pretty easy to install. Since you have two mounting techniques to choose from, you can choose the most applicable one for your desk and circumstances.
And it can be mounted on a table as thick as 3 inches. So you have a smorgasbord of desktops that you can use the Jarvis monitor arm with.
Shipping and packaging
The brand offers free shipping to 48 countries within the United States. And with a 30-day money-back guarantee and free returns, you can easily send in the product if it does not satisfy you. So there is pretty much nothing to lose here.
But do take note that you have to return the monitor arm still in its pristine condition and housed in its original packaging. 
The product arrived neatly packaged and the parts were separated. So it's easier to pick up the pieces and connect A to B. It also won't take you long to set the entire thing. And it also comes with an Allen wrench that you're going to use to tighten the screws and all.
Carrying capacity
The Jarvis monitor arm can hold monitors from 13 to 32 inches with a maximum weight of 20 lbs. So it can pretty much accommodate LCD and monitors that are a bit bigger. The maximum height of the table is pretty decent at 19 inches. 
Though it can't go as high as 25 inches from the tabletop like the Ergotron monitor arm, it can still free up space from your desk. Though the Ergotron LX monitor arm is a great alternative if you want one that goes several more inches from the desk.
And even with Jarvis's wide range of adjustments, taller people might still find it lacking. And another great alternative for taller users is the Ergotron Pole. It can raise as much as 34 inches from the desk. 
Features we love
Aside from the versatility, the Jarvis monitor arm has a wire management system that really works. Other monitor arms such as the one that Ergotron has to seem lacking. The Jarvis monitor arm, on the other hand, has a better cable management system. 
It has parts attached above and below the arms, so you can better organize your cables and wire. It's easier to declutter with a better system.
Another feature that we find pretty convenient is that it's quite easy to adjust the Jarvis monitor arms since it makes use of a gas spring system. So there is no break-in period needed. 
We also love how easy it is to lower raise and rotate the monitor to 360 degrees. It also feels stable and doesn't wobble. The platform is quite steady and it's very easy to reposition the monitor. You don't even need to use force.
As for the overall look, it looks sleek and stylish. It's also clean and pristine. It may even look more stylish than other more expensive brands such as the Ergotron. And the aesthetics pretty much matches the entire build of this monitor arm. It's sturdy and heavy-duty. No wobbles at all.
The downside
The Jarvis monitor arm is one of the easiest to mount since a clamp-on mount is an option. It's also a cheaper alternative to a premium mount-on monitor arm such as Humanscale Mflex. But of course, when compared to a premium brand, it does have its limitations.
The warranty period of the Jarvis monitor arm isn't that extensive compared to other premium and midrange brands. That's why you really have to take advantage of the brand's 30-day free returns. Because you won't really be happy with the warranty period. 
Who is it for
It's a more affordable alternative that works for a wide range of desktop sizes and brands. So if versatility is the name of the game, it's one of the winners. If you have an average height, you'd find this monitor arm very reliable and convenient. 
Jarvis dual monitor arm
What makes the Jarvis dual monitor arm different from the brand's single monitor arm?
The two units pretty much share a lot of features. One, it has the same overall look. It looks clean, pristine, and stylish. Two, it has the same carrying capacity, except that it's times two since it has two arms for 2 monitors. Three, it rises above the desk up to 19 inches. It's pretty much the same with the single monitor arm unit.
Four, it can accommodate the same size of monitors, 13 to 32 inches with a maximum of 19.8 lbs each arm.
What we love the most
As with the single monitor arm, it can be mounted in two ways on a wide range of desktop size. It can be mounted on a desk as thick as 3 inches. So we are still loving those features.
And it's also easy to reposition and swivel the monitors. Swivel It vertically or horizontally, pull it toward you or push it a bit further, it's very convenient. The unit can have a substantial weight. But it isn't too heavy that you need the help of someone else to put it together. It's just a " bit" heavy. But for me, that's an advantage since we can tell that it's solid and well built from its weight alone.
It's also stable and does not wobble. It has an industrial-grade weight to it. And you can feel and see that the monitor arm is made of high-quality materials. 
Some qualms
This one is not a biggie, but you may have a bit of a challenge tightening the tension. We think it would depend on your muscular prowess. Some users didn't encounter such a challenge. While for some, it took them a few days to tighten it to perfection.
Is Jarvis for you?
Both the single and dual monitor arm from Jarvis share the same specs and features, except mounting 2 monitors for the latter. So is it for you? It's great for those looking for an affordable, stable, and fully adjustable monitor arm. 
It's for those who want more liberty in choosing their desktop. Since Jarvis pretty much is compatible with almost all desks, you are not going to be limited. And if you hate tedious setups, you're going to be happy with how easy to install this clamp-on monitor arm is
But if you are taller, it might not be able to rise high enough from the desk. So you might miss out on that sweet comfortable angle.
And with the free return, it's a great value for your money, just make sure to take advantage of the 30-day money-back guarantee because the brand does not offer a comprehensive warranty for the product.